This Halloween mystery food game kicks your Halloween game ideas up a notch because you eat the disgusting food! Instead of just using this as a touch and feel box for Halloween, it's a taste guessing game filled with gross foods. Awesome weird food mystery box challenge for teens or kids of all ages! (Great Halloween game for teenagers!) If you're looking for creepy Halloween food games or funny guessing Halloween games for all ages, this is it!
How To Make A Halloween Mystery Food Game Taste Test Challenge
Halloween time is great for guess the food games because you can put together dreadful food combinations (even evil!). Our game goes beyond the popular Halloween feel game. With this version of gross food games, you get to taste the Halloween dishes! So it's the ultimate of food guessing games!
Here's how to play the Gross Foods to Guess for Halloween Game…
How do you play guess the food game?
To play the Halloween mystery box with food:
Affiliate links are used on this site. As an Amazon Associate I earn from qualifying purchases. Read more in our DISCLOSURE.
Decide on you Halloween food items (make it edible halloween food!). Cook and prepare your gross food items.
Get boxes for each Halloween food. (The number of boxes should equal the number of food dishes.) Each box should fit completely over the food dish. Cut a hole in each mystery box, large enough so that a hand can fit in. Write numbers on each box and the name of the food. For example, #1: Witch's Boogers.
The object of the game is to guess what food Halloween dishes / gross party foods are made of.
During the Halloween party, you can have each person play individually or you can divide the group into teams.
Each player (or team) gets a blindfold and clipboard with a list of numbers, names of the dishes, and a line for guessing next to each one. (For example: #1 Witch's Boogers: _____________ a line for the guess ideas.)
To play the Halloween food guessing game, each player is blindfolded. They must stick their hand into the food mystery box, grab a piece of the gross food item, and taste it. If you're using spoons or forks, make sure each player uses a different one for each bite or stick individual spoons or forks into the food. (You can also set up the food as individual bites on spoons or forks and instruct them to reach in and grab a spoon or fork with the food on it.)
After tasting the food, the player turns their back to the box, remove the blindfold, and writes what they really think the food is or the guess the body parts ingredients. For example, next to Witch's Boogers they write macaroni and cheese.
Player moves to the next box, places their blindfold on, and then repeats the process until they've tasted all the Halloween treats.
Game ends when each player has tasted each disgusting Halloween food item and has written their guess.
The player who guesses the most gross foods correctly wins a prize!
The full list of Halloween gross food guessing game ideas and foods that feel like body parts is below! KEEP SCROLLING for Halloween guess game ideas (guessing games food list)! Also, don't miss more creative Halloween ideas at the bottom!
IMPORTANT NOTE ABOUT EATING GROSS FOODS CHALLENGE GAME: Some people may be uncomfortable with being blindfolded and putting food into their mouths that they can't see. Assure people that these are all normal food items and that there is nothing really gross. (Like, they won't really be eating bugs, etc.!) Give people the option to sit out of the game (without peer pressure) if they're uncomfortable!
What is the Halloween guessing game gross food?
The Halloween Gross Food Guess game is one of those fun Halloween holiday games or guessing games for Halloween where you use disgusting food disguised scary body party. Partygoers haves to guess what's in the Halloween dish by feeling or tasting the foods. Some people call it the corpse game because there are pretend rotting food "body parts" in the game.
There are different ways to play the guess the food Halloween game, so adapt it to your own Halloween party needs!
Looking for more guess that food game or Halloween feel box ideas?
SEE OTHER HALLOWEEN GUESSING GAMES HERE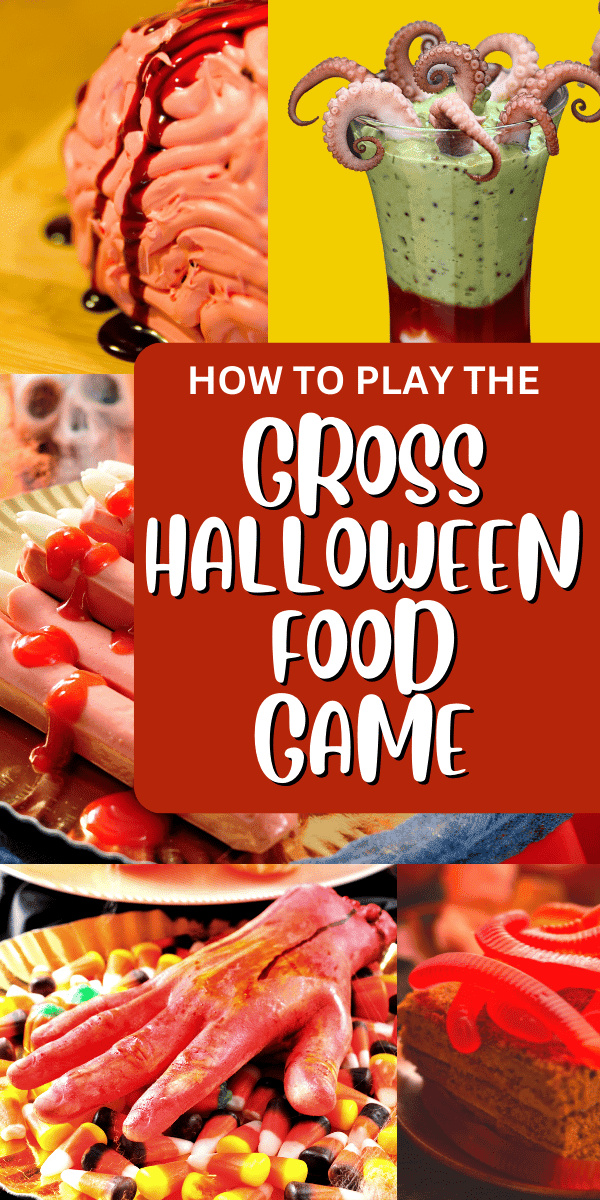 Now that we've covered how to play the Halloween scary food guessing game, let's get to our Halloween gross guessing game ideas…
Edible Gross Foods Box Ideas
Each person tastes the Halloween named food (no peeking) and then writes their guess on the paper.
Some people call this the Halloween spaghetti game. But, go beyond just spaghetti in a bowl as guts (or the Halloween story with spaghetti and grapes) with these elevated Halloween food ideas! We didn't make these items that feel weird to touch, but also foods that are gross to eat, too!
Here's the best list of body part foods and gross food ideas for Halloween…
Guess the food game ideas for Halloween:
Witch Boogers: cooked rice in honey (Super nasty body parts idea!)
Dog Vomit: cooked pasta pieces in cheese sauce (or tapioca pudding)
Ear Wax: pumpkin puree
Monster Toenails: cooked pumpkin seeds (These make really fun Halloween gross food ideas for preschoolers!)
Zombie Ears: large, chewy dried fruit (like big apple pieces or apricots)
Witches Fingers:

cooked apple sticks

Eyeballs: peeled grapes
Human brains: cooked cauliflower with tomato sauce (spaghetti sauce) (I mean, brains are the best gross food for Halloween, right? This make super gory Halloween food!)
Heart: peeled, stewed whole tomatoes (you can get them in a can)
Tongue: thick pieces of ham, add some glaze to make it wet (super gross guess the foods idea!)
Guts in Skin:

spaghetti in a hot dog bun

Worms in Dirt: pudding cups with gummies
Ribs: mini riblets
Giant's Boogers: cooked peas
Coagulated Blood: jelly or Jell-O
Spider Eggs: Boba like these
Spider Webs: cotton candy pulled into thin wisps
Ants: sunflower seeds
Bloody Fingers: little smokies in ketchup
Zombie guts: learn how to color spaghetti green
Wet Witches Hair: cold spaghetti
Cat Poop: Tootsie Rolls in crushed graham crackers (of the litter)
Empty coffins: vanishing tomb rolls
Get creative with your edible body parts Halloween or your gross edible Halloween treats! Also, learn how to make a brain cake and many more gross foods for Halloween!
DON'T MISS THESE OTHER FUN HALLOWEEN BLOG POSTS:
Fun Halloween Movies to Watch with Kids (Great idea for younger kids Halloween!)
Easily Transform Store Bought Halloween Treats Into Fun Party Foods!
Fun Witch Themed Halloween Games For Kids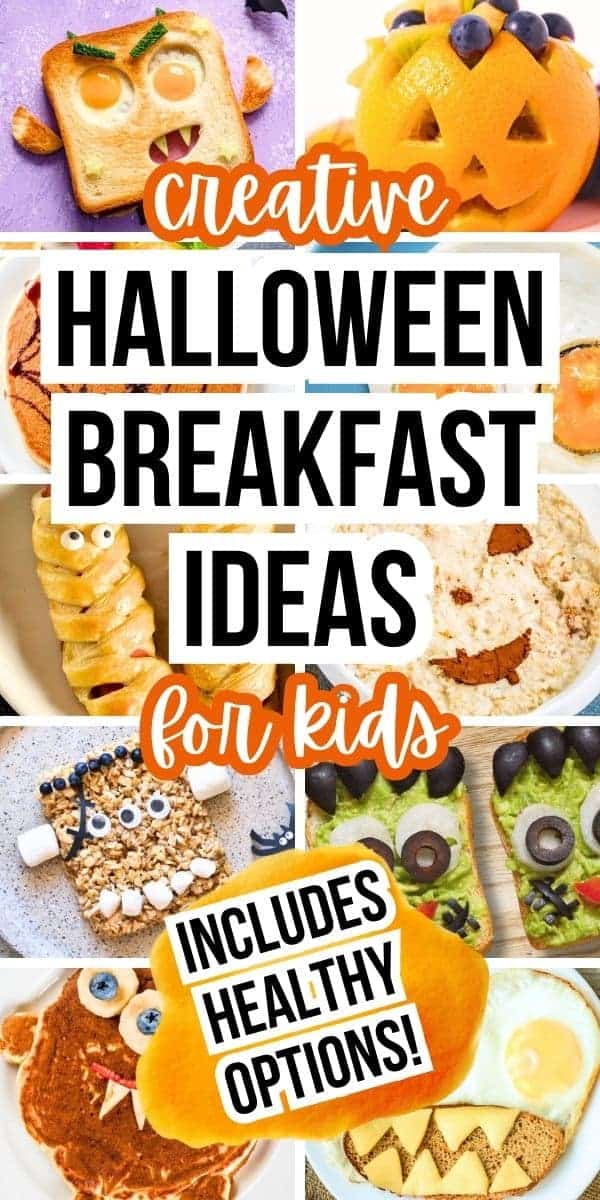 What are your favorite Halloween gross games?
Have fun playing the Halloween mystery food game at Halloween parties!
LOOKING FOR FUN COOKING PRINTABLES FOR KIDS?