Pickle corn dog bites are corndogs stuffed with pickles and make a yummy snack for kids, fun party food ideas, game day recipes, or creative lunch ideas for kids (and, if you just love pickle recipes!).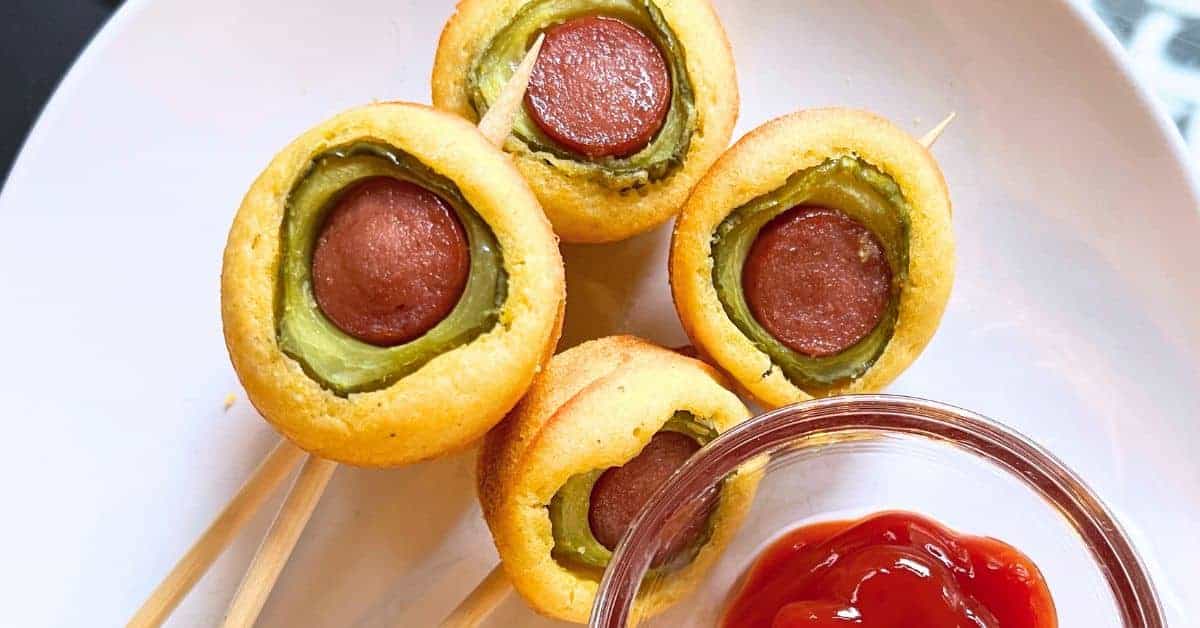 Homemade Pickle Corn Dog Recipe
I first had a this as a dill pickle corn dog state fair recipe (what is a Dilly Dilly dog, anyone?!) and LOVED it! (Apparently, there's a Disney world pickle corn dog too, but I've never had that one.) After that, I decided to recreate a bite-sized version of pickle hot dogs at home (mini corndogs!)! Instead of a fried pickle corn dog, we decided to make them baked corn dogs kid snacks.
Easy Ingredients For Pickle Corn Dogs On A Stick
To Make A Pickle Dog Recipe, You'll Need:
Jiffy Corn Muffin Mix
Milk
Eggs
Large Whole Dill Pickles
Hot Dogs
YIELDS: 24 MINI PICKLE CORN DOG MUFFINS
Affiliate links are used on this site. As an Amazon Associate I earn from qualifying purchases. Read more in our DISCLOSURE.
See the full dill pickle corn dog on-a-stick recipe instructions below and how to make a pickle corn dog step-by-step.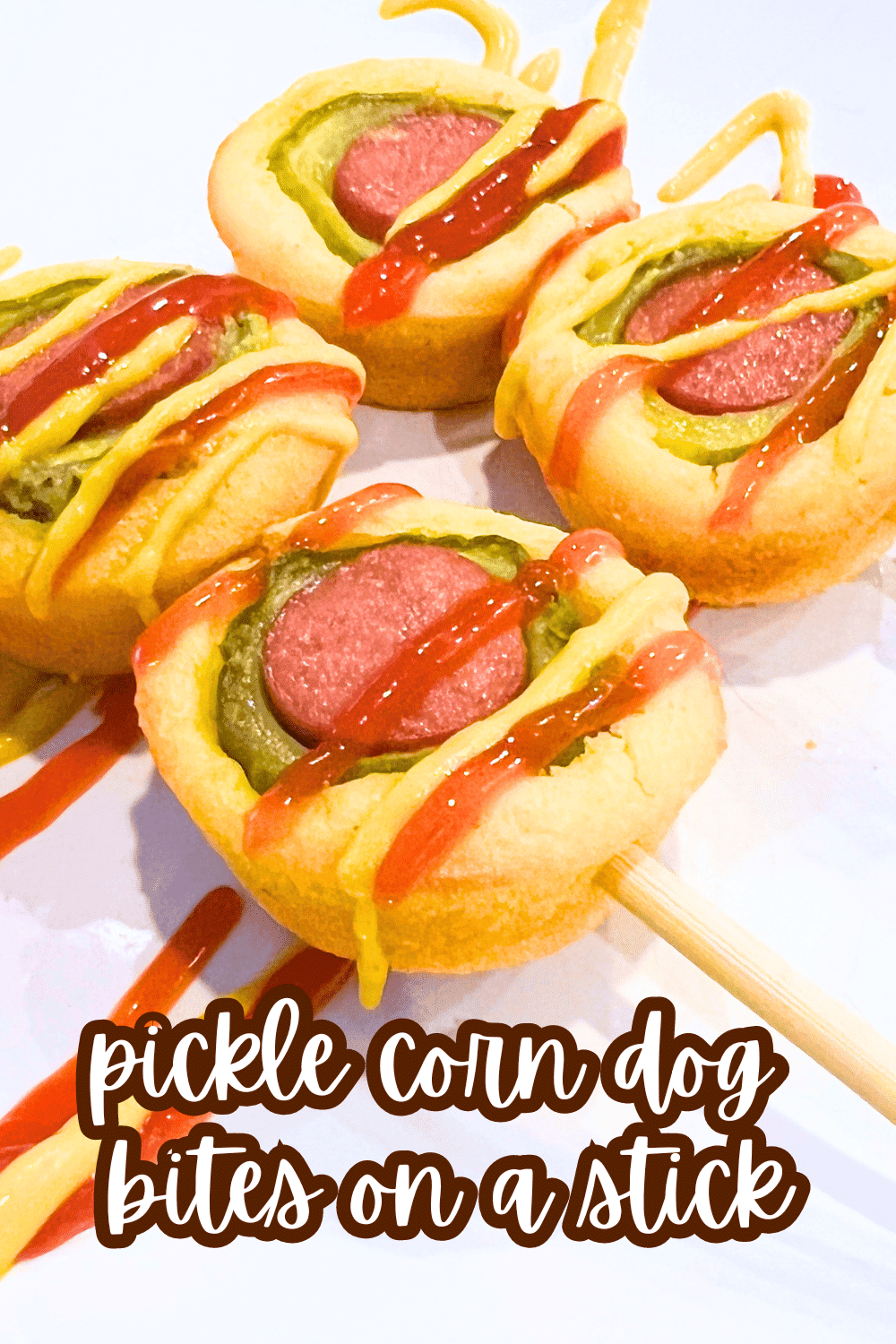 Before we get to the recipe, you may be wondering what is a pickle dog?
What is a pickled corn dog?
A pickle corn dog is a hot dog stuffed into a pickle and then battered and fried like a regular corndog. It's served hot on a stick, just like regular corndogs, and can be dipped in ketchup or mustard (or your favorite corndog sauces).
Sometimes, people call pickle dogs Dilly Corndogs, pickle stuffed corndogs, or crusted pickle corn dogs.
If you think "Yuck! hot dog pickle corn dog sounds gross!" definitely give it a try. It's so good, especially if you like pickles on hot dogs!
(Someone even told me they make these as peanut butter pickle corn dog! I'm up for trying it the next time we make them. Stay tuned and I'll let you know if we try dill pickle corn dogs with peanut butter!)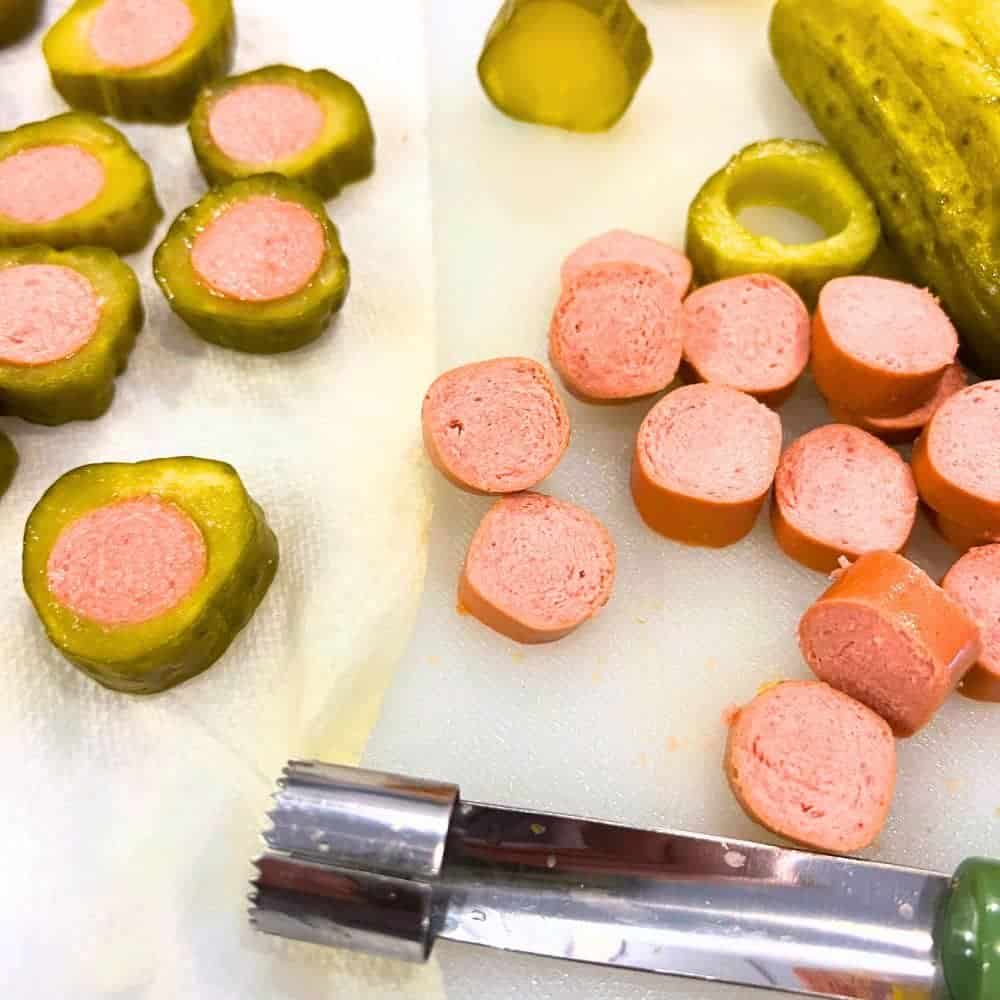 Corn Dogs With Pickles And Hot Dogs Recipe Tip: Use an apple corer to make holes in the pickles. The hotdogs perfectly fit into them!
MORE PICKLE RECIPES TO TRY:
Dill Pickle Pumpkin Seeds Recipe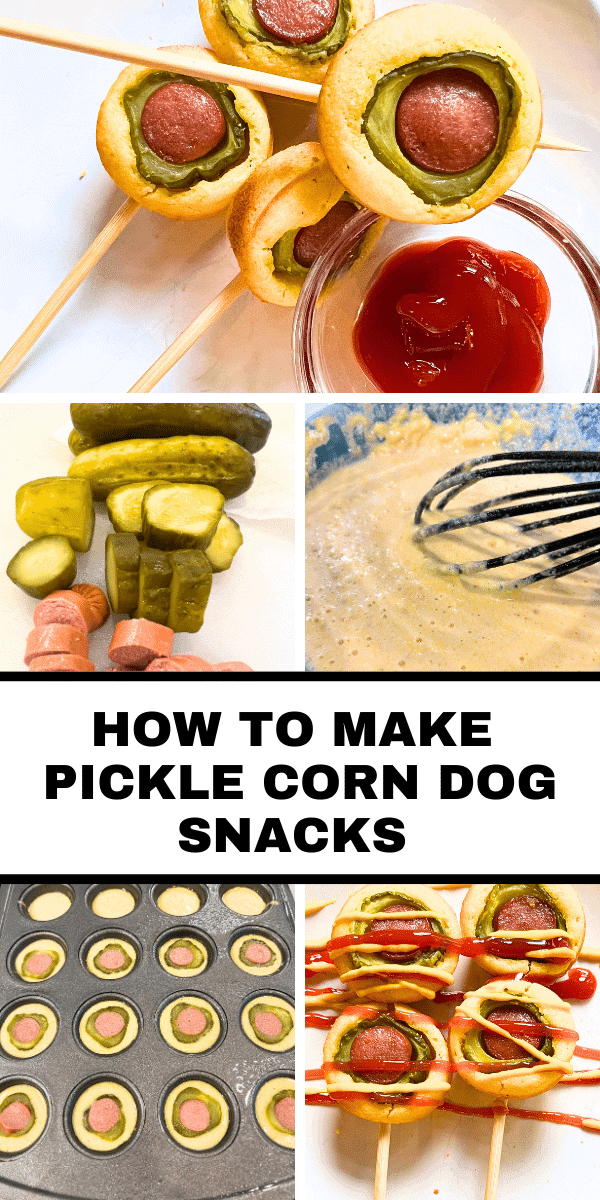 How To Make Pickle Corn Dog Bites Step-By-Step
I loved this as a big pickle corn dog from the fair! They are usually made with big dill pickle hollowed out and stuffed with a hot dog, but the bite-sized corndog muffins seemed to be easier to make at home. We made these as easy snacks, but they would also be great DIY appetizers for parties! Kids love these pickle stuffed corn dog, so add them to your easy recipe rotation.
Mini Pick Corn Dog Recipe Ingredients
8.5 ounce box of Jiffy Corn Muffin mix
1 egg
1/3 cup milk
2 hotdogs (uncooked)
3 large whole dill pickles (amount you need will depend on size of pickles, we used 3)
Cooking spray
Ketchup and mustard (optional, for dipping sauces)
To make mini pickle corn dogs at home, you'll also need these materials:
You could try this as a pickle corn dog air fryer recipe if you have mini muffin tins that fit in your air fryer. We didn't try it that way, so I can't give corn dog air fryer cook times. You can also make them fried pickle corn dog recipe in hot oil.
You can also make these as corn dog without stick and just as mini corn dog muffin dippers! But, if you're using them for a party, I think it's easier if you put the corndogs on a stick.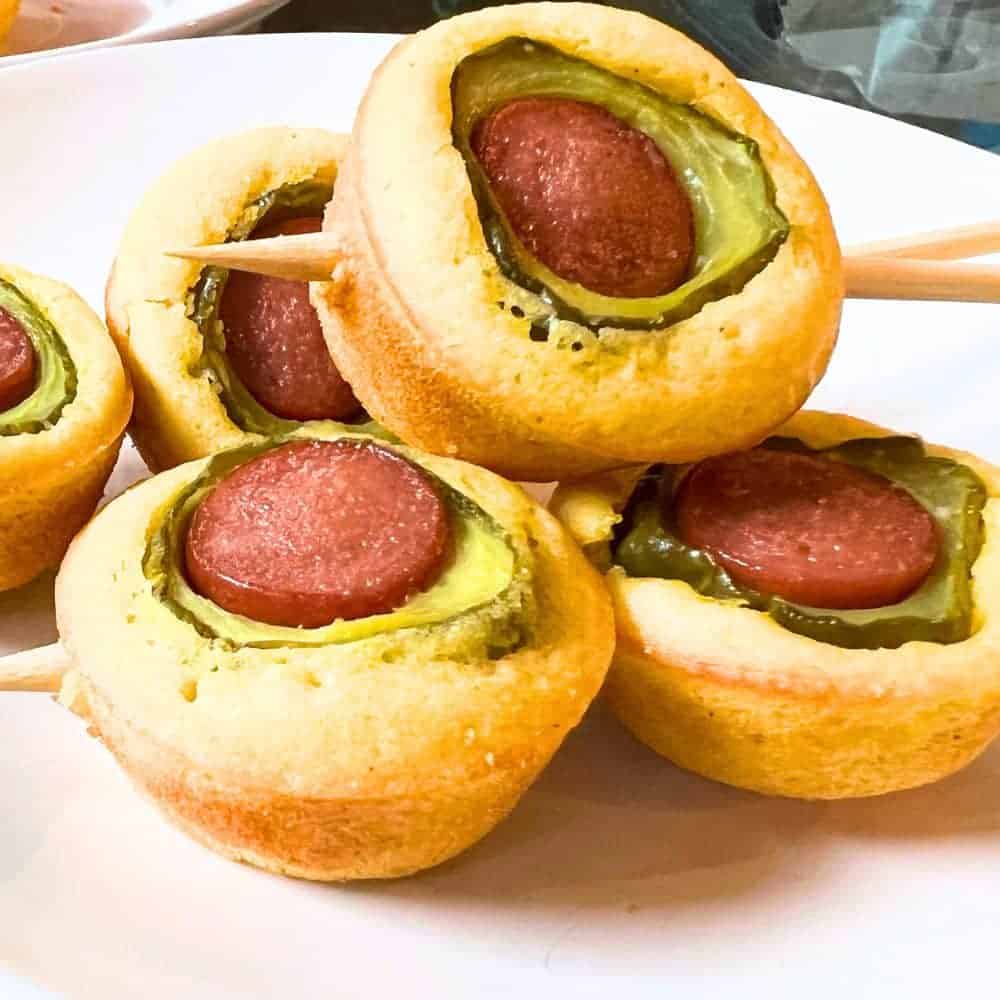 Pickle Corndog Recipe Instructions
How to make pickle corn dogs:
Preheat oven to 400°F. Spray muffin pan with cooking spray and set aside.
Slice hot dogs into 1/4-inch pieces. Set aside.
Slice pickles into 1/4-inch to 1/2-inch round pieces. (At least as thick as the hotdog pieces, if not a little thicker.)
Using the apple corer, make a hole in the middle of each of the pickle slices. Place hot dog slices inside of pickles. Set aside.
Make corn muffin recipe according to the Jiffy package directions with milk and egg. Spoon prepared corn muffin batter into the prepared mini muffin tin, about 1/2 full.
Gently push the pickle hotdog pieces into the batter. (One pickle hot dog piece per muffin cup.)
Bake 10-15 minutes until muffin batter is cooked through and golden brown on top.
Once cooked, allow pickle corn dogs to cool slightly and then place on skewers for serving. Serve with mustard, ketchup, or other favorite dipping sauces.
YIELD: Makes about 20-24 mini pickle corn dog muffins, but may make more or less for you depending on your muffin pan size and how you cut pickles.
FUN RECIPE TIP: Add on some large eyes like this for fun Halloween foods for kids or for the gross food game!
Try More Fun Recipes Kids Love: Spaghetti In A Hotdog Bun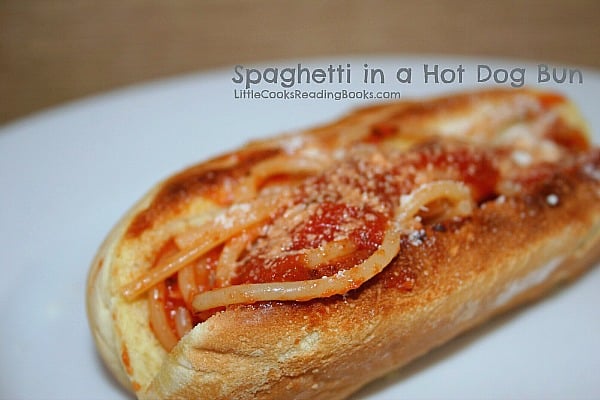 Enjoy your pickle corn dog bites!
LOOKING FOR FUN COOKING PRINTABLES FOR KIDS?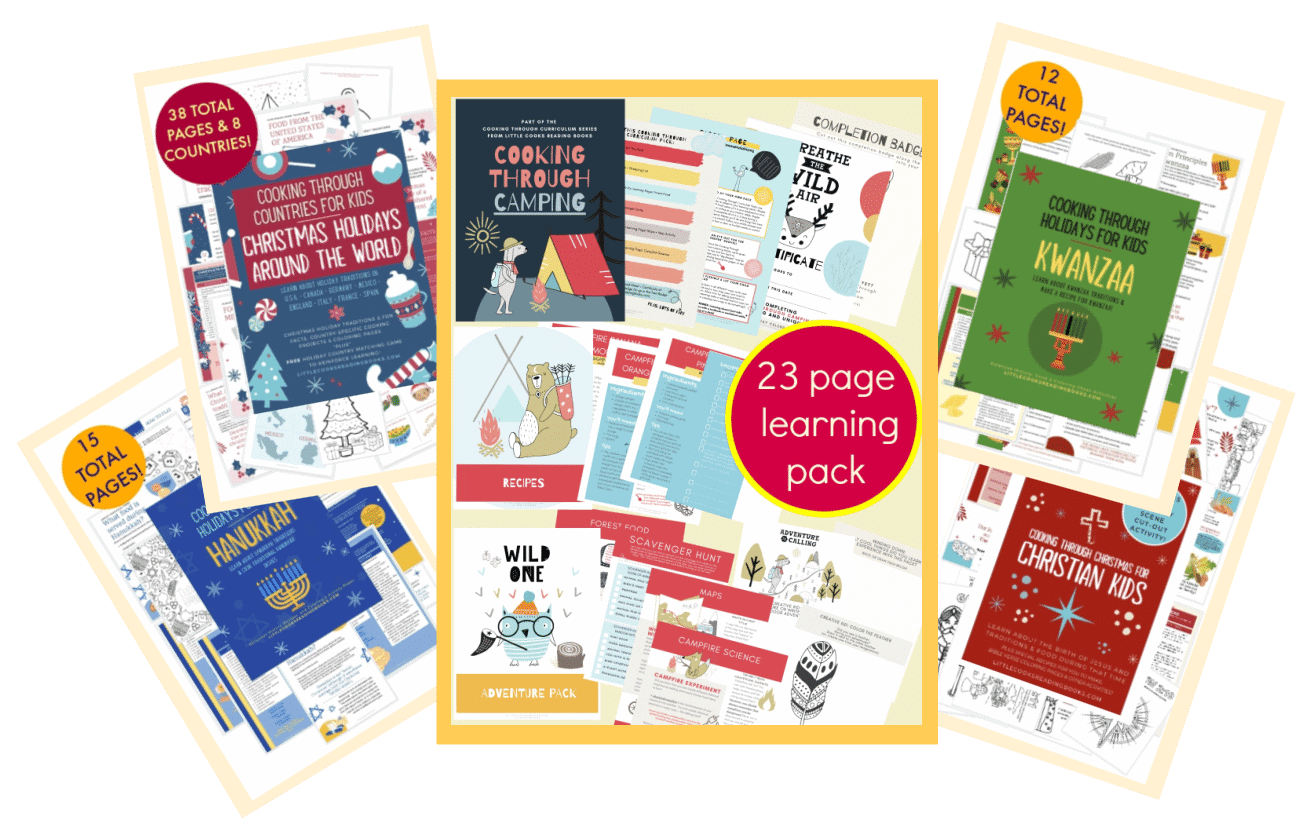 As an Amazon Associate I earn from qualifying purchases. Please refer to our
DISCLOSURE
.