Cheap and easy tissue paper pumpkin for all preschool crafts or fun Halloween craft projects for all ages! You can probably do this easy pumpkin idea with a few simple supplies you have around the house!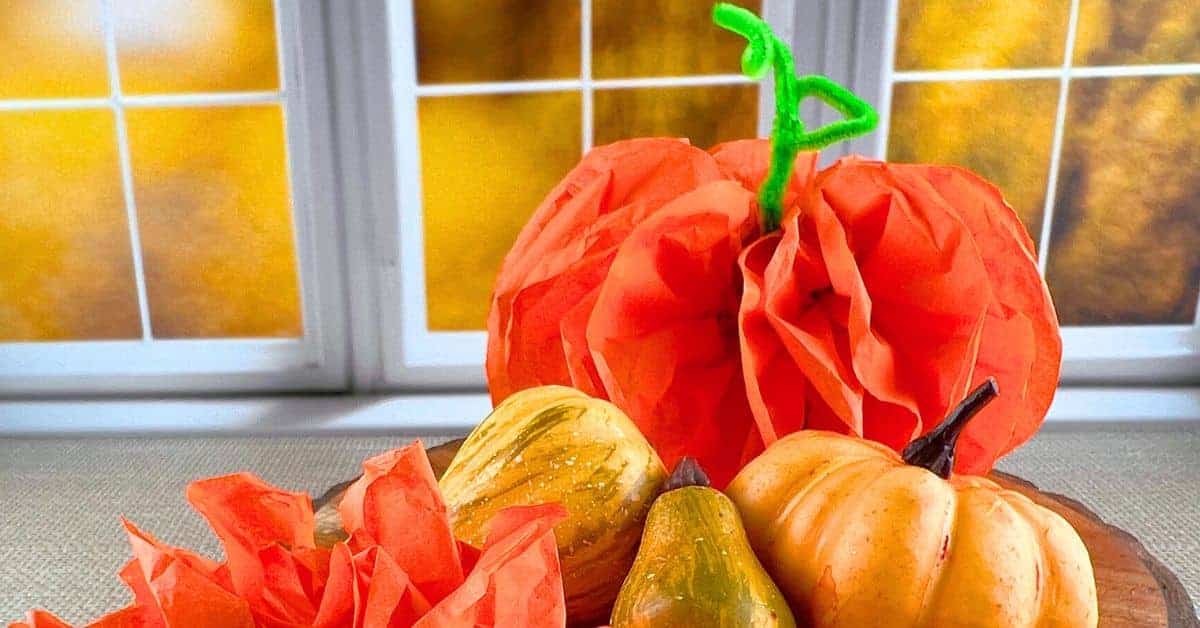 Simple Tissue Paper Pumpkin Fall Project
My daughter and I had so much fun making these easy pumpkin crafts! I love that you can make them with preschoolers for fun autumn fine motor skills practice, but this is even a fun for teen Halloween crafts or an easy autumn activity for a group.
How do you make a pumpkin out of tissue paper?
To Make Mini Paper Pumpkins
Orange tissue paper
Green pipe cleaners
Scissors
YIELDS: 1 mini pumpkin
CRAFT DIFFICULTY: Easy
Affiliate links are used on this site. As an Amazon Associate I earn from qualifying purchases. Read more in our DISCLOSURE.
Those really are the only simple supplies you need to make this craft (no Mod Podge, glue or tape needed)! I love that this is a cheap and easy pumpkin craft for kids.
CRAFT TIP: See the full pumpkins craft directions and step-by-step images below. Don't miss our recommendations for pumpkin children's books to pair with this fall activity for craft and read kids activities.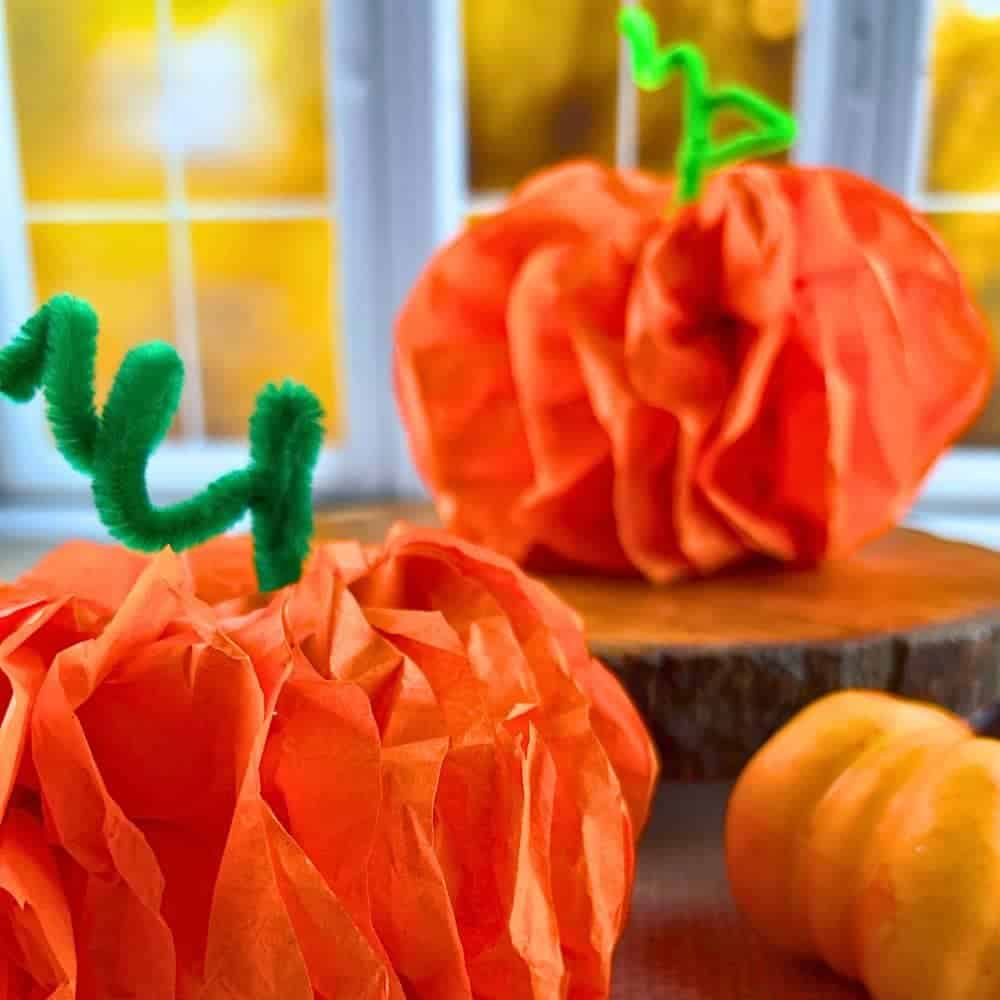 How To Make Tissue Paper Pumpkins
These mini handmade pumpkins are great DIY Halloween decorations, easy DIY fall decor, or even a fun fall party craft and favor for kids to take home! (These are not flat paper pumpkins, they are 3D paper pumpkins!)
Don't forget to check out our recommendations for favorite children's pumpkin books after the tissue paper pumpkin crafts directions.
TISSUE PAPER PUMPKIN CRAFT SUPPLIES
12 square sheets of orange tissue paper per pumpkin
1 green pipe cleaner per mini pumpkin
Scissors
YIELDS: 1 mini pumpkin
DIFFICULTY: EASY
TOTAL CRAFT TIME: 15 minutes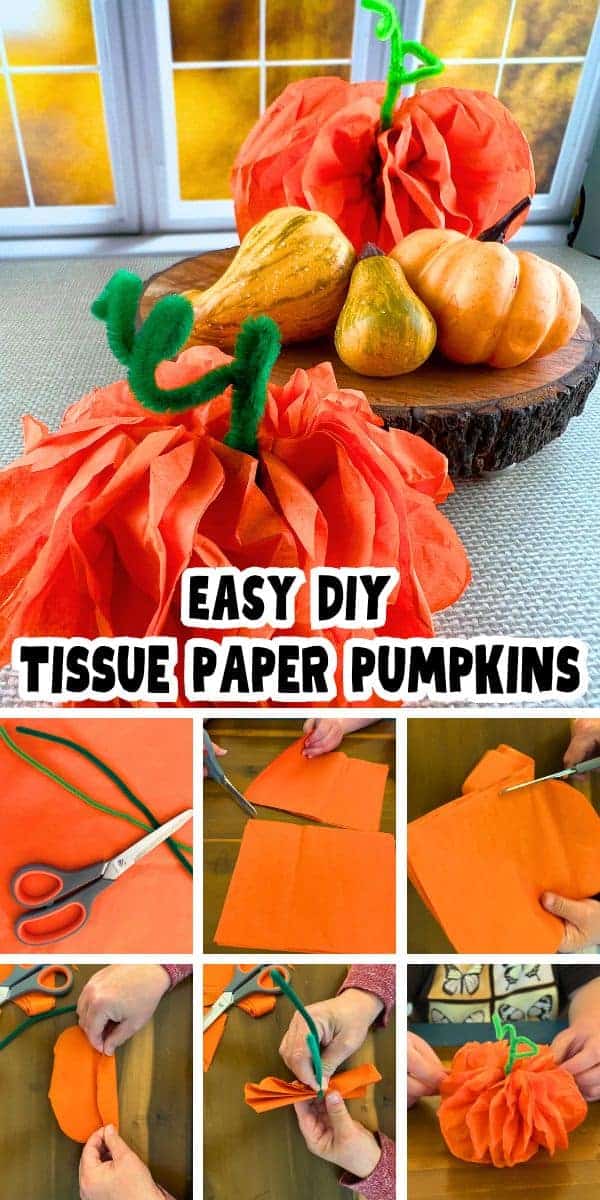 TISSUE PAPER PUMPKIN CRAFT INSTRUCTIONS
1. Prepare your paper.
If you don't have square sheets of orange tissue paper, cut a large sheet of tissue paper into half to make squares.
Stack 12 sheets of square orange tissue paper on top of each other.
TISSUE PAPER PUMPKINS CRAFT NOTE: If you want bigger pumpkins, use larger sheets and also more sheets stacked on top of each other. We wanted mini pumpkins, so we used square pieces of tissue paper with a total of 12 sheets. Remember though, the more layers of pumpkin tissue paper, the harder it may be to cut for little hands.
2. Cut paper into a pumpkin shape.
Keeping the paper evenly stacked on each other, cut the paper into a circle shape.
Keep it more circular and less oval. Doing this will help your finished mini pumpkin be more round.
Discard the leftover paper you cut off.
CRAFT TIP: If you're doing this craft with younger kids, you can help them by drawing a circle onto the paper and binder clipping the paper together to help them.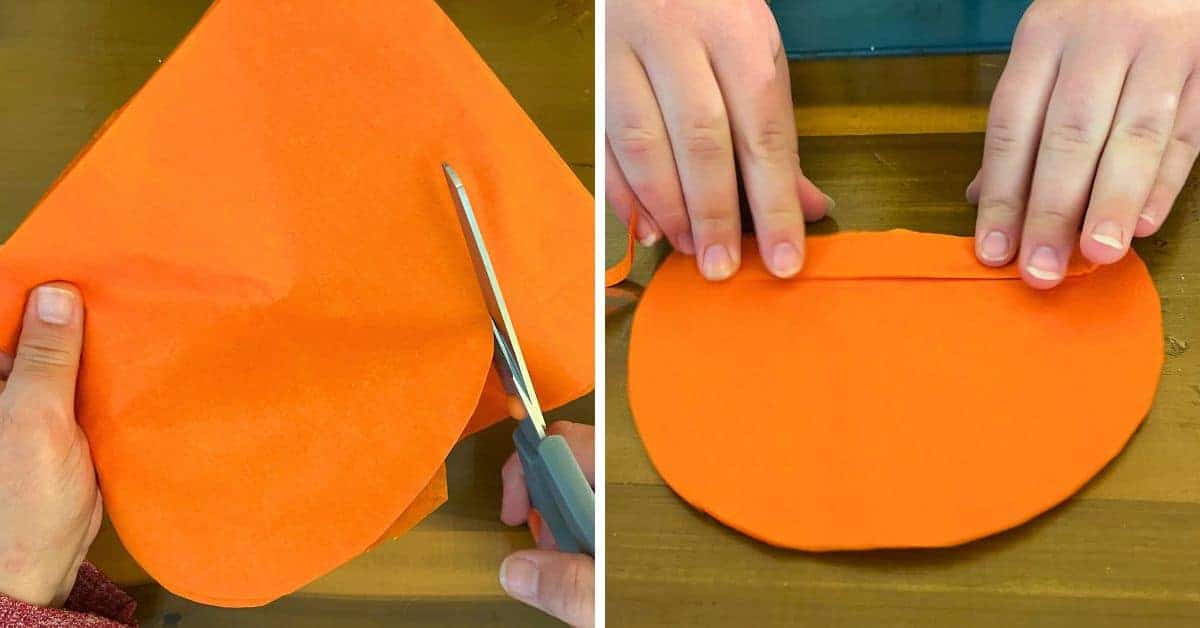 3. Fold your paper.
Make sure your cut paper is still stacked evenly and then accordion fold your paper back and forth.
First, fold one side, then flip it over and fold the other side until you have a long length of folded paper.
4. Add the pipe cleaner.
Fold your pipe cleaner in half so that it is even.
Hold the pipe cleaner so that the open ends are up and slip the fold paper in between the pipe cleaner.
Carefully but firmly twist the pipe cleaner at the top of the paper. This is what will make your pumpkin stem later!
(It will kind of look like a little butterfly with antennae!)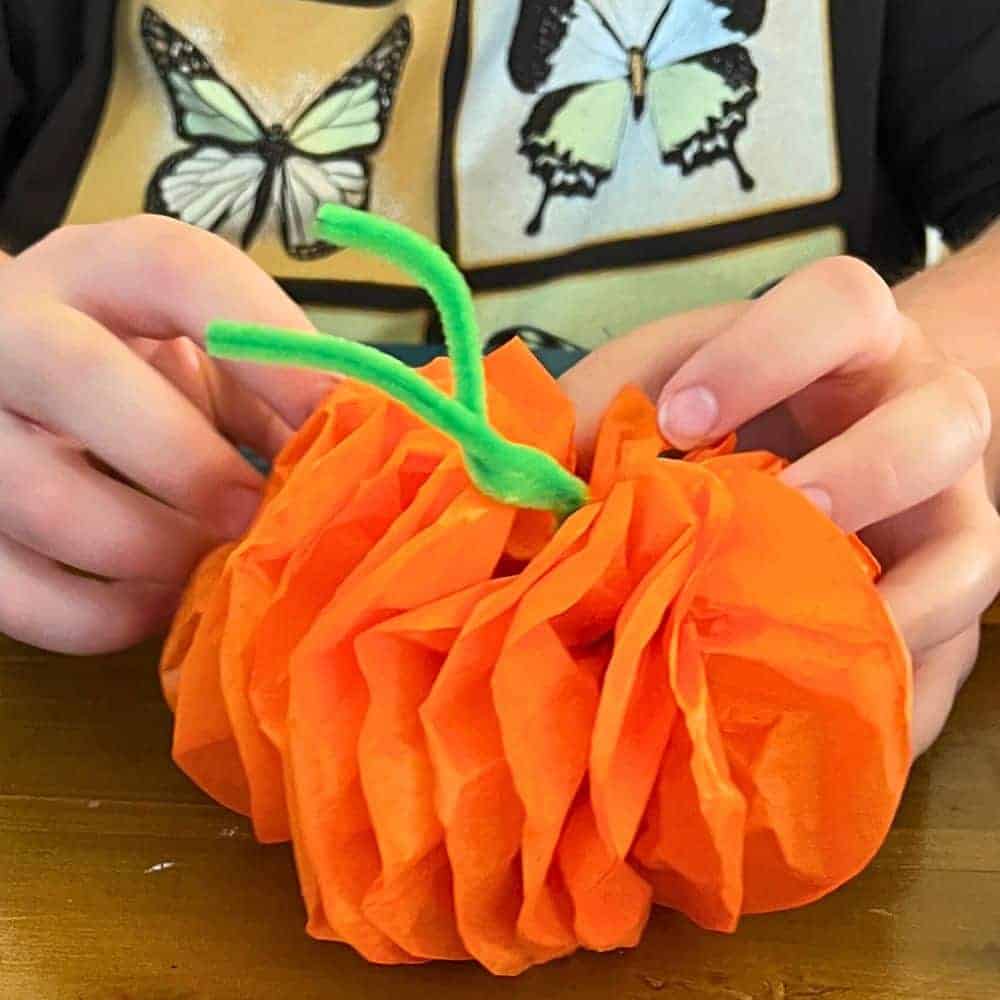 5. Fluff your tissue paper pumpkin!
Being careful not to tear the paper, gently start opening sheets of the tissue paper.
It is easier if you do one site and then the other, rotating back and forth.
IMPORTANT CRAFT TIP: The tissue paper will rip very easily! If you're crafting with young kids, you may need to help them with this step of the craft.
6. Finish your tissue paper pumpkins.
Once your pumpkin made from tissue paper is all fluffed out, you may find that you need to trim some of the edges with scissors to made it more round.
(I had to do this because I didn't realize I made my pumpkin circle more of an oval shape.)
You can also use your hands to shape it a little more.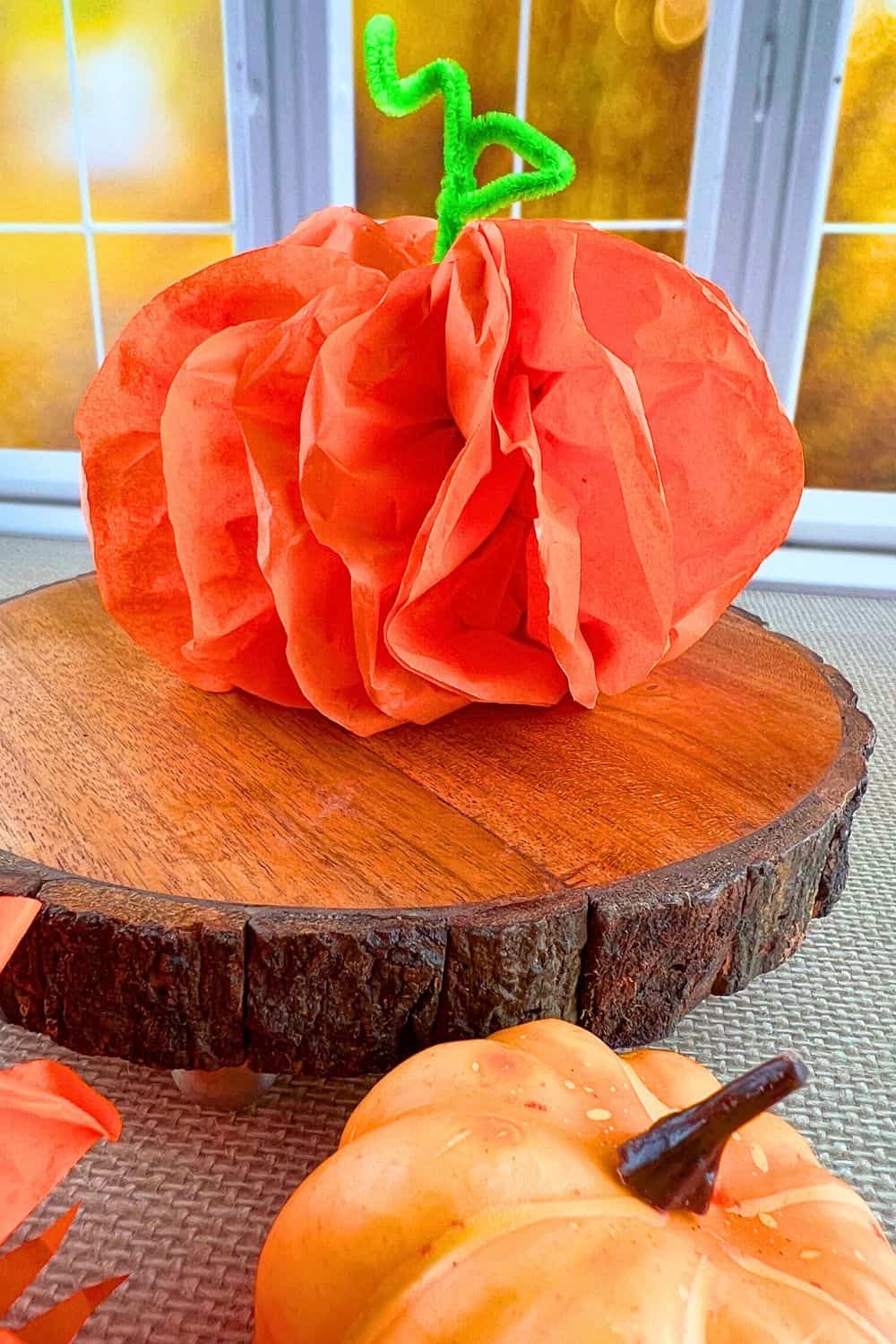 7. Create your pumpkin stem.
The last thing you need to do is create your pumpkin stem out of the top of the pipe cleaner.
I twisted mine together a little and then made a curly coming off with one side (like a leaf), but you can shape your pumpkin stem into any shape you want!
Best Children's Books On Pumpkins
Pair up this fun kids' books with your tissue paper pumpkins for crafts projects. (More pumpkin-themed activities below, too!)
Craft & Read Ideas: Our Favorite Pumpkin Books For Kids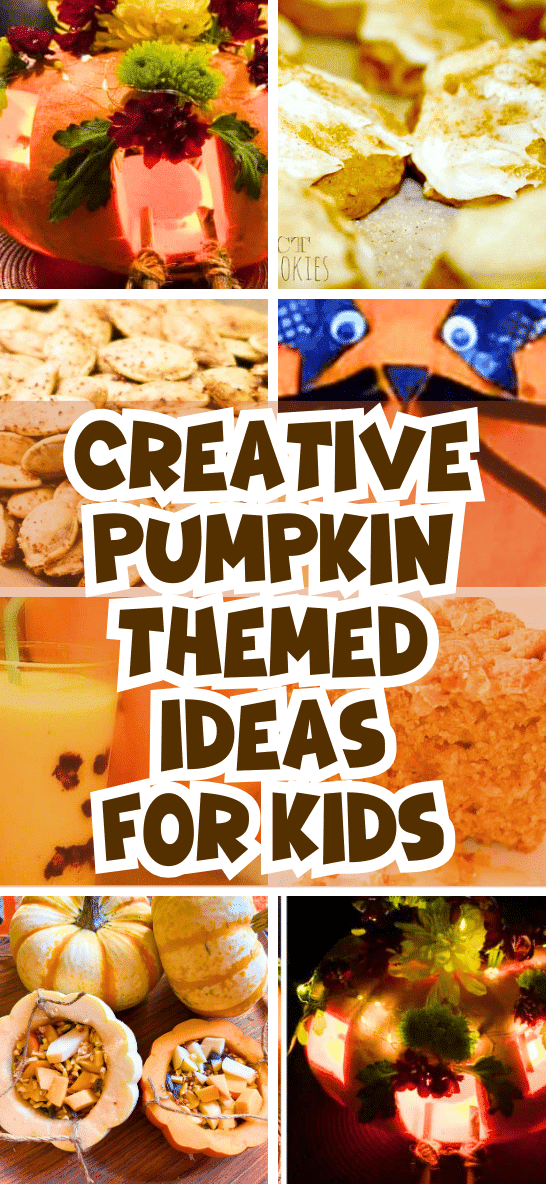 More Pumpkin Craft Ideas for Kids
Fun Pumpkin Themed Activities:
Tag us with your mini tissue paper pumpkin pictures! We'd love to see it!
LOOKING FOR FUN COOKING PRINTABLES FOR KIDS?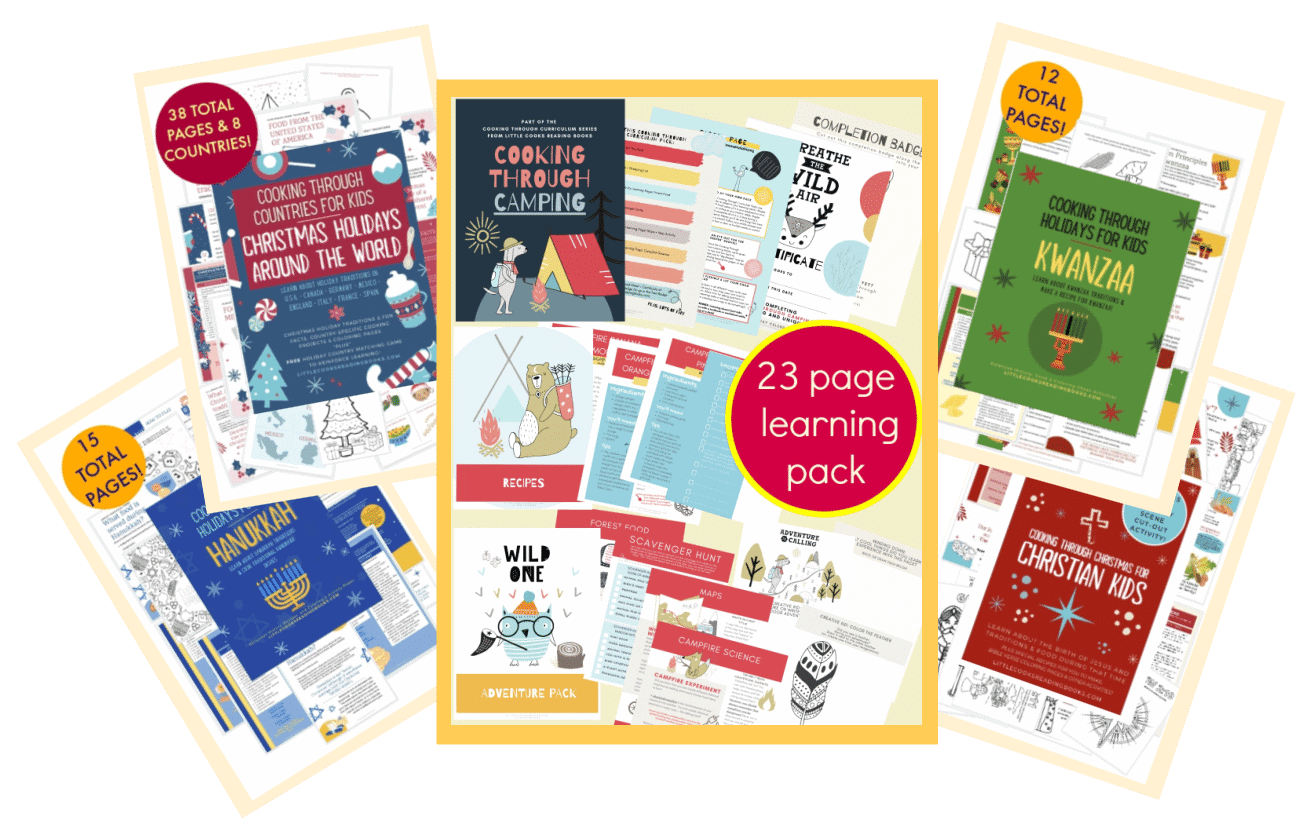 As an Amazon Associate I earn from qualifying purchases. Please refer to our
DISCLOSURE
.