A fresh pumpkin bird feeder is a great fall nature craft and answer to what to do with leftover pumpkins after Halloween decorations or Thanksgiving centerpieces! (Recycle your pumpkins and reuse them!) This is an easy bird pumpkin carving craft for fun fall kids activities ready in just minutes! (Great squirrel feeder, too!)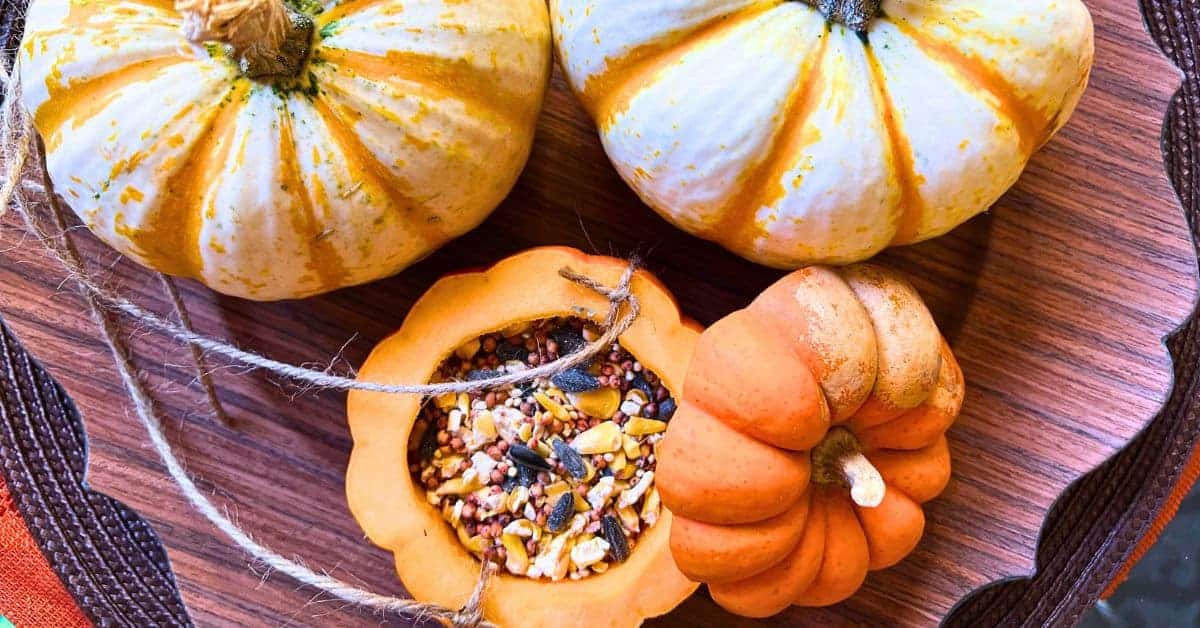 How To Create A Pumpkin Bird Feeder
These easy pumpkin feeders for birds ended up being one of our favorite autumn crafts / backyard projects. Not only are they super cute crafts, but this a good use for those uncarved pumpkins you use for table decorations and fun pumpkin patch craft ideas, too!
How do you make a pumpkin bird feeder?
Mini pumpkins (see craft not below on best pumpkins to use for bird feeders!)
Bird seed / wild bird feed
Twine
Knife
Scissors
KEEP SCROLLING for the full craft instructions for DIY pumpkin bird feeders and bird feeder images. We give step-by-step directions on how to make pumpkin feeders, what is safe to feed birds (see bottom on unsafe things to feed birds!), bird FAQs, and even fun children's books to go with bird kids activities! Don't miss them in the post and full fall kids craft tutorial below.
Affiliate links are used on this site. As an Amazon Associate I earn from qualifying purchases. Read more in our DISCLOSURE.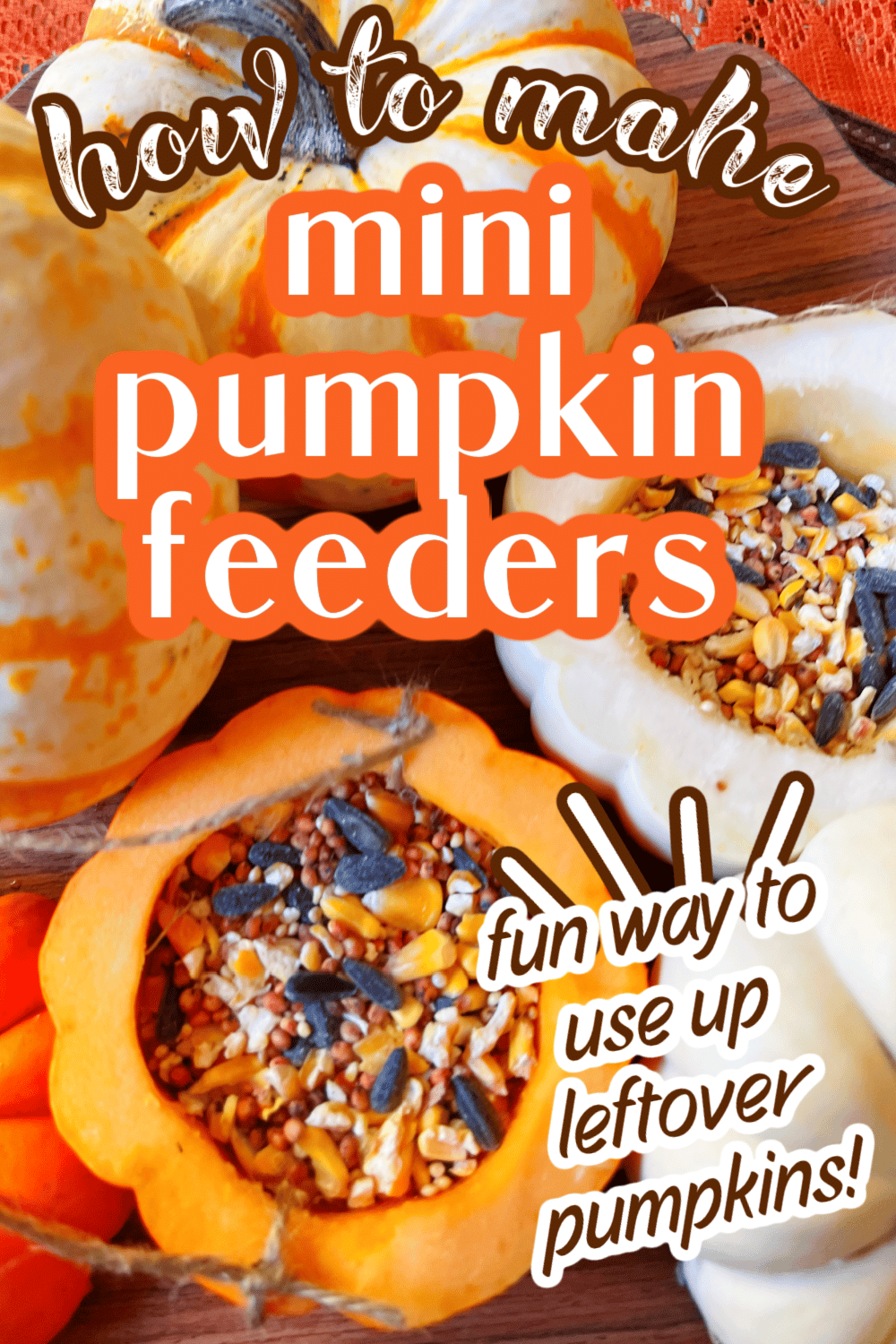 Before we get to making a pumpkin craft for birds, let's cover some craft FAQs…
What Can You Feed Birds: Is pumpkin safe for wild birds?
Do birds eat pumpkin?
You may be wondering if birds like pumpkin or can wild birds eat pumpkin raw? The answer is yes! Many birds eat pumpkin, especially when it's in a form that is easy for them to consume, like cut into small pieces or diced. If you're offering pumpkin to birds, make sure it's plain and free from any seasonings, salt, or additives. Birds do not need additional flavorings, and some seasonings could be harmful to them.
You can place small chunks of pumpkin on your DIY bird feeder. (We placed ours on top of the birdseed, but you can also put them on the bottom of the pumpkin feeder and then add the seeds on top.) Make sure the pieces are cut small for the birds.
IMPORTANT TIP: Never use canned pumpkin pie pumpkin for birds, animals, or wildlife! It has seasonings added that can be harmful to animals.
(SEE OUR LIST BELOW OF THINGS NEVER TO FEED BIRDS!)
Is it OK for birds to eat pumpkin seeds?
Pumpkin seeds and squash seeds are OK for birds to eat. Plain, unseasoned pumpkin seeds (like fresh pumpkin seeds) are a nutritious food source for many bird species. They are rich in essential nutrients like protein, fiber, and healthy fats, which can be especially beneficial for birds during the fall and winter when other food sources may be scarce.
ALSO CHECK OUT THESE FALL IDEAS: What To Do With Your Leftover Halloween Pumpkins (Creative Ways To Reuse Pumpkin)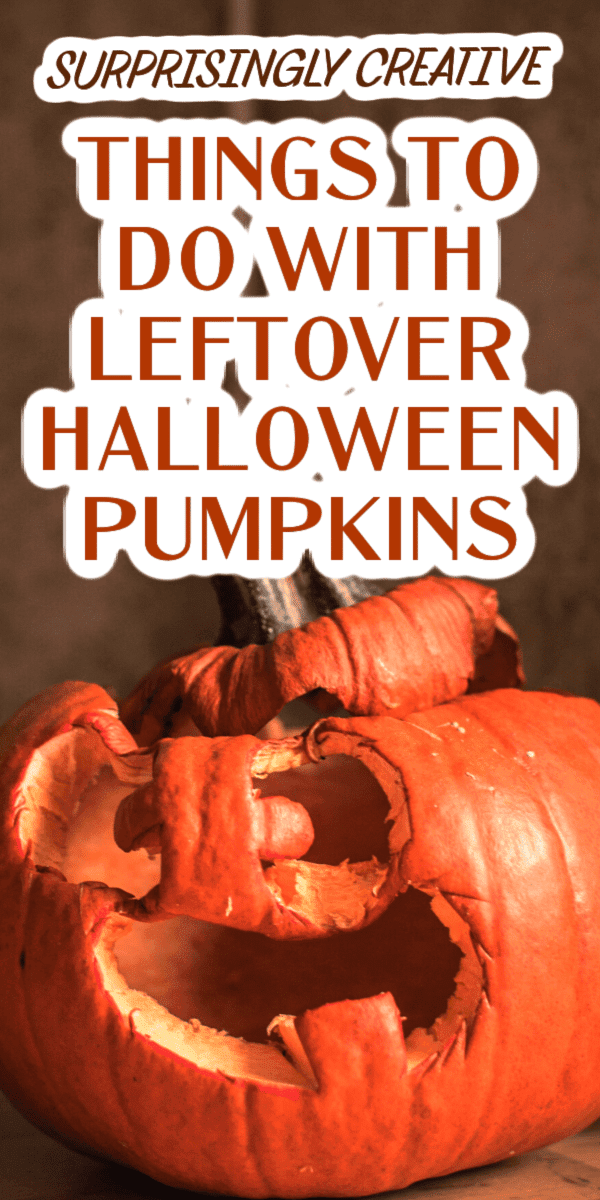 Can I put pumpkin guts out for birds?
Yes, you can put pumpkin guts (the stringy and pulpy interior) and also the seeds out for birds after you carve pumpkins. Plain pumpkin insides and seeds are good for wildlife animals and birds. Don't add any additional seasonings!
OK! Let's get to the step-by-step instructions for the bird pumpkin feeders!
Pumpkin Bird Feeder DIY Instructions
If you're wondering how do you make a bird feeder for kids project, this is a simple birdfeeder idea and fun DIY projects for fall — whether you're looking for easy preschooler pumpkin ideas or even adult fall crafts for fall harvest.
We made these last year and we'll definitely make a pumpkin birdfeeder with fresh pumpkins each year for our DIY fall projects. (I love that it's a great way to reuse the pumpkins you buy for autumn decorations!)
You can also make this a fun Halloween craft by carving pumpkin faces when you make your own pumpkin bird feeder. Then you can have your own bird jack o lantern feeder or Halloween squirrel feeder!
How To Make Bird Feeders From Pumpkin
Craft Materials:
Mini pumpkins – recommend orange pumpkins and not white pumpkins (see craft not below)
Bird seeds (wild bird feed)
Twine (equal lengths of twine)
Knife
Scissors
DIY Pumpkin Bird Feeders Directions
1. Pick your pumpkins for your pumpkin bird feeder.
We used mini pumpkins in orange and white. You can even use pumpkins you have leftover from decorations or table centerpieces.
IMPORTANT CRAFT NOTE: We noticed when we cut the white pumpkins they had a different smell than the mini orange pumpkins. When we hung our pumpkin feeders outside, the birds ate out of the mini orange pumpkins and did not touch the white pumpkins. We won't be using white pumpkins when we make them this year.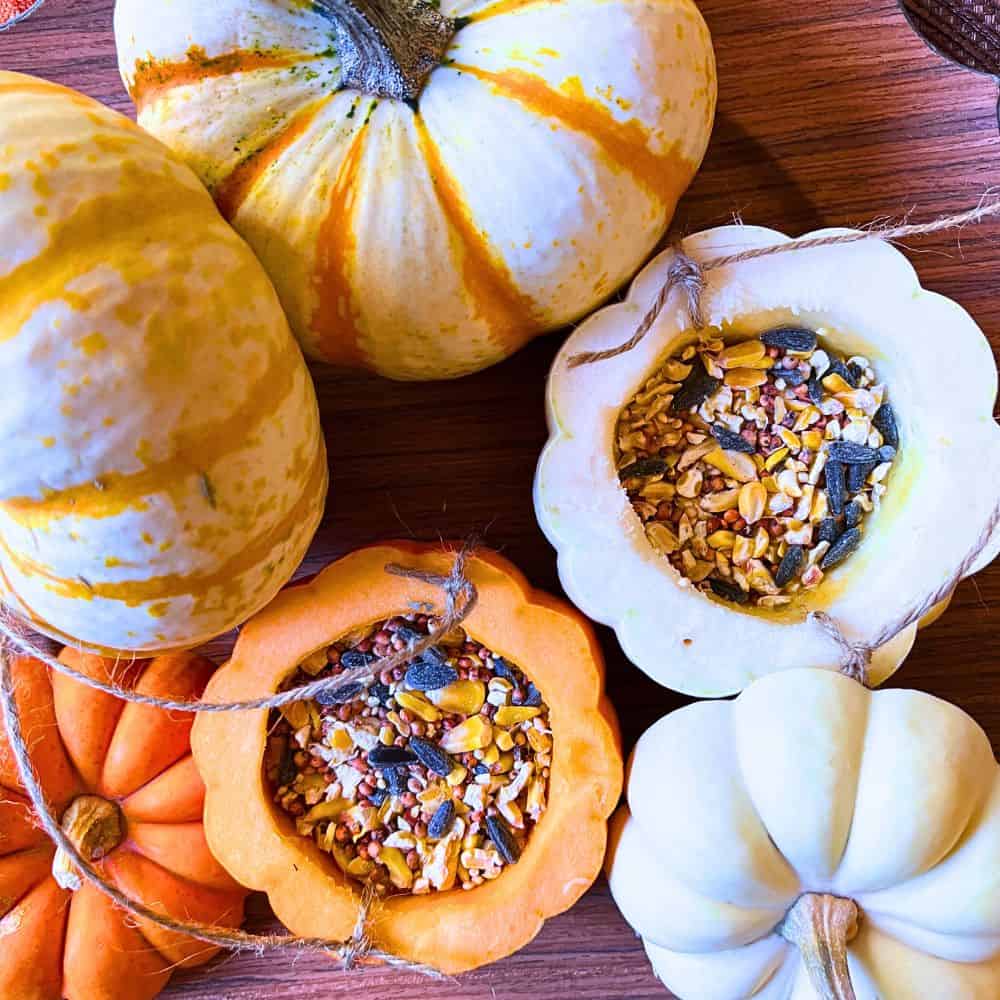 2. Prepare your bird pumpkin feeders.

Carefully cut a lid on your pumpkins (adults only!), where you slice the top of the pumpkin off. (Don't cut it into a pumpkin half, just cut the top off!)
Scoop out the pumpkin guts and seeds.
TIP: Keep any extra pumpkin or pumpkin seeds and add them into another pumpkin or throw them out for animals!
You want the pumpkin cleaned out, but you can leave the walls of pumpkin inside. Wildlife like birds and squirrels will eat the pumpkin, too!
IMPORTANT CRAFT TIP: Do not spray bleach or other items on your pumpkins to keep your pumpkins from molding (even when you're carving pumpkins for Halloween). Wildlife animals will eat pumpkin and you can just throw it out in your yard after you're finished with it!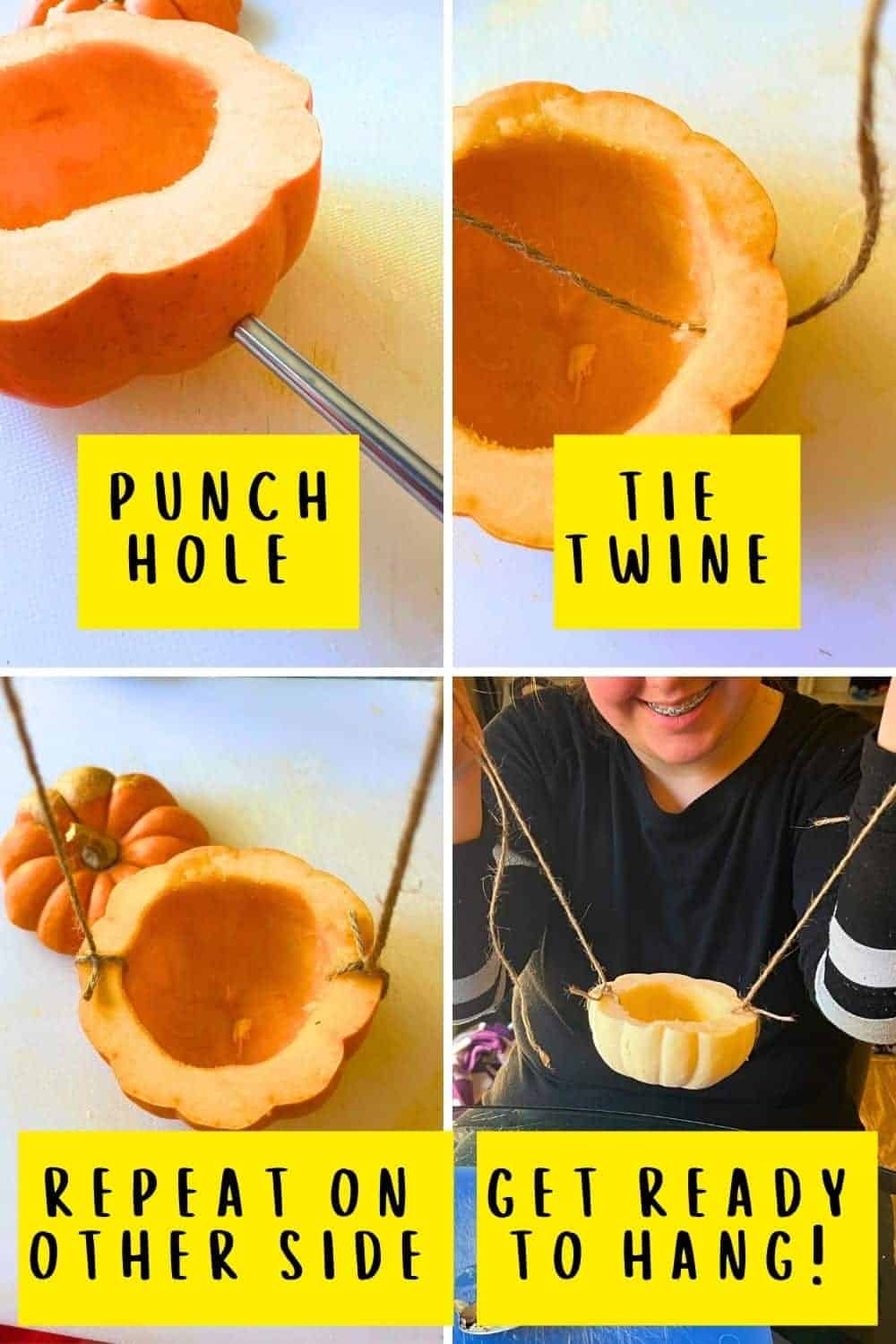 3. Add the pumpkin bird feeder hanger – the twine to the pumpkin feeders.
Carefully make small holes in two opposite sides of the clean pumpkin.
(We used a craft punch that we had, but you can use a metal straw or metal skewer or CAREFULLY use the tip of a knife.)
Cut two lengths of twine the same length. Cut it the length you will need for your tree branch or feeder hanger to hang down. (This will be different for you than us, so it's hard for me to give you length.)
Thread one end of the twine through into the pumpkin hole and tie it securely onto the pumpkin. (You will then have a twine tied to the pumpkin and the other end free.)
Repeat this process on the other side.
You will now have two twine hangers tied to each side of the pumpkin, but free (untied at the top). This will allow you to easily tie the pumpkin feeders onto a tree limb or your bird feeder.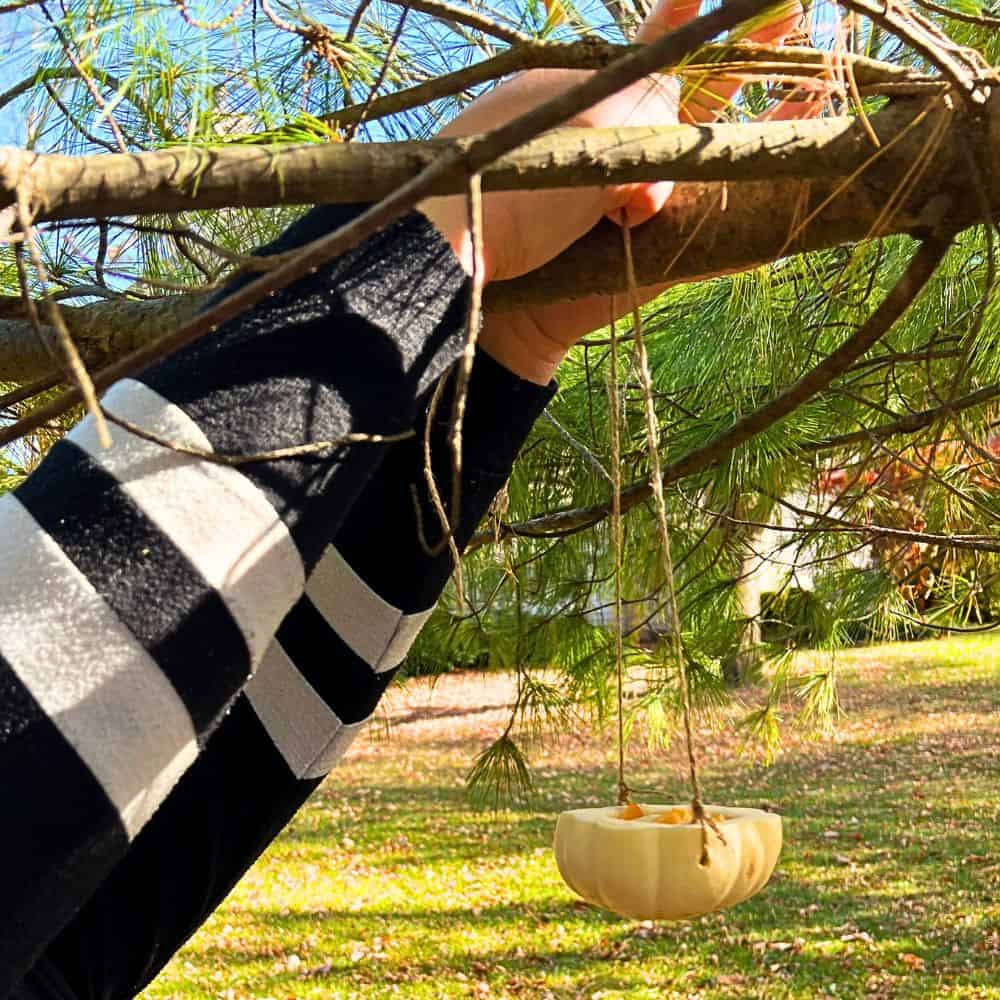 4. Fill your bird feeders and hang them!
Now time for the fun!
Fill your bird feeders with the wild bird food / bird seeds, tiny cubes of fresh pumpkin (that you cut out of your mini pumpkin), and even fresh pumpkin seeds.
Carefully tie your completed bird feeders onto a tree limb or your bird feeder stake (a planter stake like this works great, too!).
5. Observe birds!
One of the best things about pumpkin birds feeders (or any bird feeders) is observing birds and other wildlife that visit your homemade bird feeders.
We love keeping track of birds that visit the birdfeeder and learn more about each bird. We even journal them and use this bird identification sticker book (which is great for preschool bird activities!).
See our picks for best bird books for kids at the bottom of the post to go with this fun project for kids!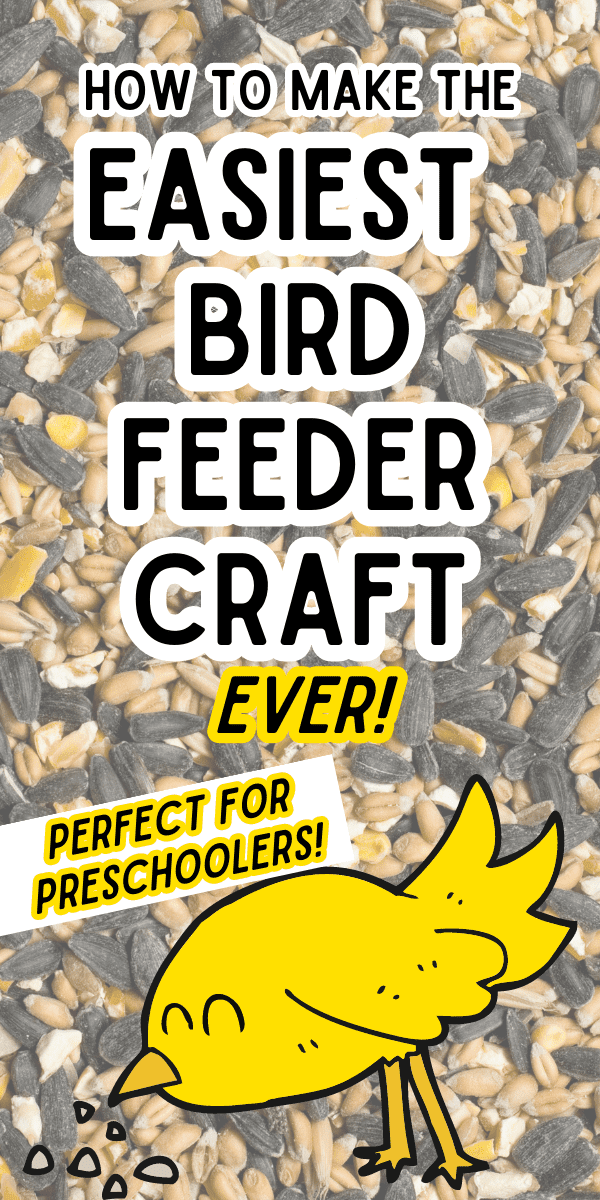 What things are harmful to birds?
There are some things that you don't want to feed birds ever! So don't include these in your bird crafts.
What foods are bad for birds?
Milk
Salt / salty items
Raw meat
Baked goods (cookies, cake, cupcakes, pies, etc.)
Bread
Honey
Xylitol
Caffeine
Apple seeds
MORE (SEE LINK)
GET THE FULL LIST OF WHAT NOT TO FEED BIRDS
Wondering how to make a bird feeder out of a pine cone without peanut butter and need more tips on what to safely feed birds? Try this Homemade Bird Feeder Recipe For Kids as an alternative!
Best Bird Books For Kids
CRAFT & READ: Children's Books About Birds
More Pumpkin Ideas For Kids
KEEP GOING WITH MORE FUN PUMPKIN CRAFTS FOR KIDS AND EASY PUMPKIN RECIPES!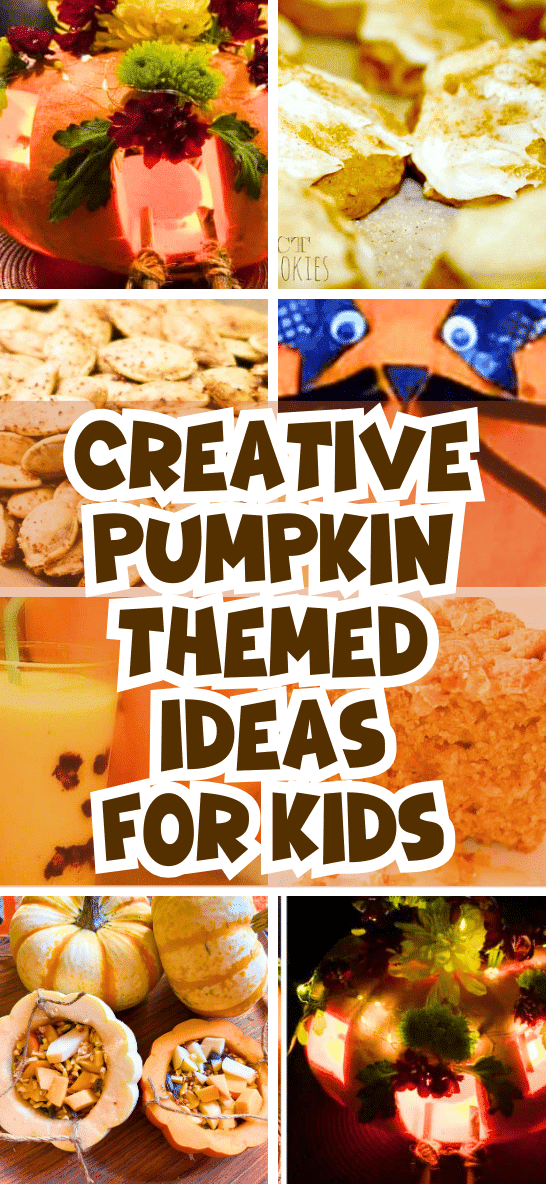 Happy Fall!
Have fun with these mini pumpkin bird feeder projects, a fun craft for kids!
LOOKING FOR FUN COOKING PRINTABLES FOR KIDS?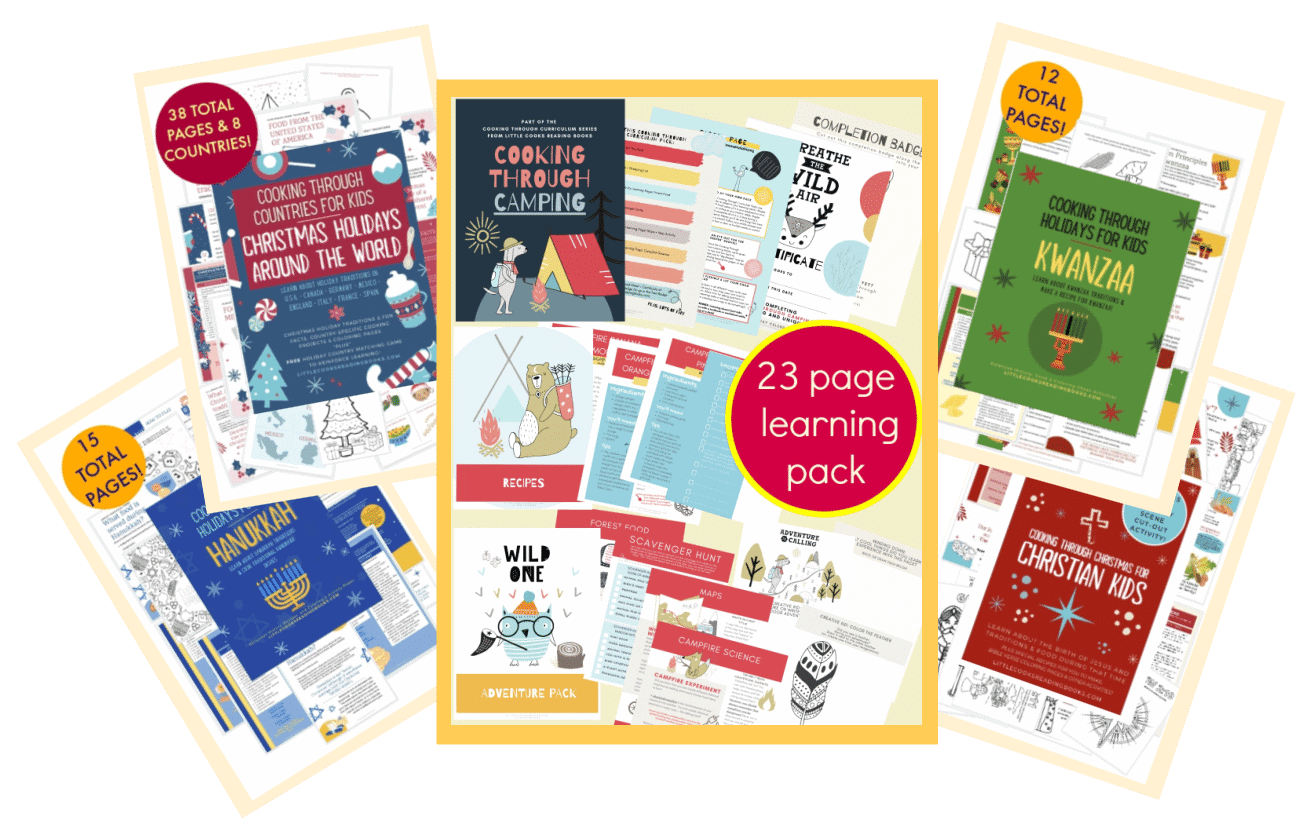 As an Amazon Associate I earn from qualifying purchases. Please refer to our
DISCLOSURE
.