Spaghetti in a hot dog bun (inspired by the book) is a fun way to recreate (and eat!) an easy pasta recipe favorite! Add Spaghetti in a Hot Dog Bun activities to go with the children's book. File under: pasta kids love!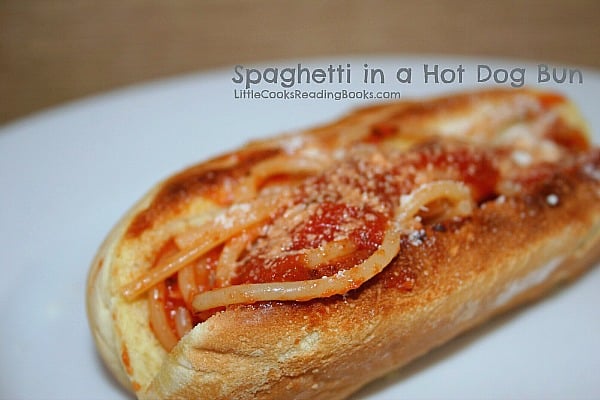 When I first heard about making spaghetti in a hot dog bun I was like, "Whoa."
A Spaghetti on a hot dog bun recipe?!?
Affiliate links are used on this site. As an Amazon Associate I earn from qualifying purchases. Read more in our DISCLOSURE.
HOW COULD I NOT THINK OF THIS???
It's such a fun, cool idea that you'll wonder why you haven't been doing it this way with your kids all along!
(At least that's what happened to me.)
This is the ultimate in kid-friendly recipes!
(And, if you're looking for a hot dog bun recipe to use your extra buns, this is it!)
What Is Spaghetti In A Hot Dog Bun?
Spaghetti in a hot dog bun is exactly what it sounds like: spaghetti that is served in a hot dog bun.
The spaghetti is made according to the package directions and then tossed in tomato sauce.
The hot dog bun is toasted, like garlic bread.
Then, the spaghetti is spooned into the toasted hot dog bun to make the perfect hot dog spaghetti recipe.
Yummy!
How to make garlic bread with hot dog buns
If you've ever made old-school hot dog bun garlic bread where you make garlic bread using (almost stale) hot dog buns, then this will totally be your jam!
Spaghetti In A Hot Dog Bun paired with Spaghetti In A Hot Dog Bun Children's Books
One of the (many) reasons that I decided to homeschool my daughter was so she could continue to grow in who she is.
I like the quirkiness and the unusual things she does and the way she creatively expresses herself.
I want her to be able to become a little more secure in who she is before she has others telling her that how she looks, feels, acts isn't "normal" (whatever that is).
So, when I first saw Spaghetti in a Hot Dog Bun: Having the Courage to Be Who You Are by Maria Dismondy (illustrated by Kim Shaw)
, I knew we had to add it to our homeschool reading!
(Or, "the spaghetti hair book" as my daughter used to call it.)
And, Spaghetti in a hot dog bun lesson plan is a perfect addition to any classroom learning!
Spaghetti In A Hot Dog Bun Summary
The book is about little Lucy, with amazing curly hair, and her school bully named Ralph.
Ralph makes fun of everything–Lucy's hair, how she colors, and even her favorite lunch, spaghetti in a hot dog bun.
The lesson comes when Lucy has a chance to help Ralph–will she help him, or give the bully a taste of his own medicine?
Will she continue to be herself, even though it's "different"?
(You'll have to read to find out!)
From the book:
How can Ralph be so mean?

Lucy is one of a kind and Ralph loves to point that out.

Lucy's defining moment comes when Ralph truly needs help.

Because she knows what she stands for, Lucy has the courage to make a good choice.

This charming story empowers children to always do the right thing and be proud of themselves, even when they are faced with someone as challenging as Ralph.
Listed Age Range: 4 – 11 years
Read Along With The Author [VIDEO]: Spaghetti in a Hotdog Bun
Once you grab the book, read along with the author on this video for a fun Spaghetti In A Hot Dog Bun read aloud!
(How fun, right?)
For our recipe pairing we made—what else?—spaghetti in a hot dog bun for a fun spaghetti recipe twist!
You can use your best spaghetti sauce recipe or even a jar sauce for a quick and easy dish.
Reading this book and then creating the recipe makes for fun spaghetti in a hot dog bun activities.
You can even add cut up hot dogs if you're looking for a spin on some hot dog recipes.
Spaghetti Recipes
Spaghetti in a Hot Dog Bun Recipe
Yield: 8
Spaghetti In A Hot Dog Bun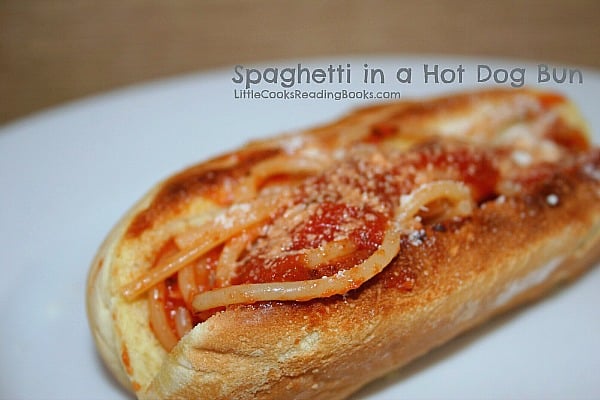 Spaghetti in a hot dog bun is an easy pasta recipe kids love!
Ingredients
8 Hot dog buns, (even stale ones are fine)
2 Tablespoons Melted butter
1 Teaspoon Garlic powder , (more to taste, if needed)
1 package Spaghetti noodles
1 jar Spaghetti sauce
Parmesan cheese, (optional as garnish)
Instructions
Cook spaghetti noodles according to package directions.
Drain noodles from water. Return noodles to pot and add sauce to warm.
Open hot dog buns and place on baking sheet, being careful not to split them all the way through.
Lightly brush melted butter onto inside of hot dog buns and then sprinkle with garlic powder.
Broil for 2-3 minutes until inside of bun is just toasted. (Be careful, they burn quickly!)
Remove buns from oven. Carefully spoon spaghetti inside. Sprinkle parmesan cheese on top. Cool slightly before serving.
Nutrition Information:
Yield:
8
Serving Size:
1
Amount Per Serving:
Calories:

209
Total Fat:

5g
Saturated Fat:

2g
Trans Fat:

0g
Unsaturated Fat:

2g
Cholesterol:

9mg
Sodium:

364mg
Carbohydrates:

33g
Fiber:

2g
Sugar:

5g
Protein:

7g
Nutrition information is estimated. Changes to the recipe and use of different brands may cause changes to the nutritional information to vary slightly from the ones provided here.
LOOKING FOR FUN COOKING PRINTABLES FOR KIDS?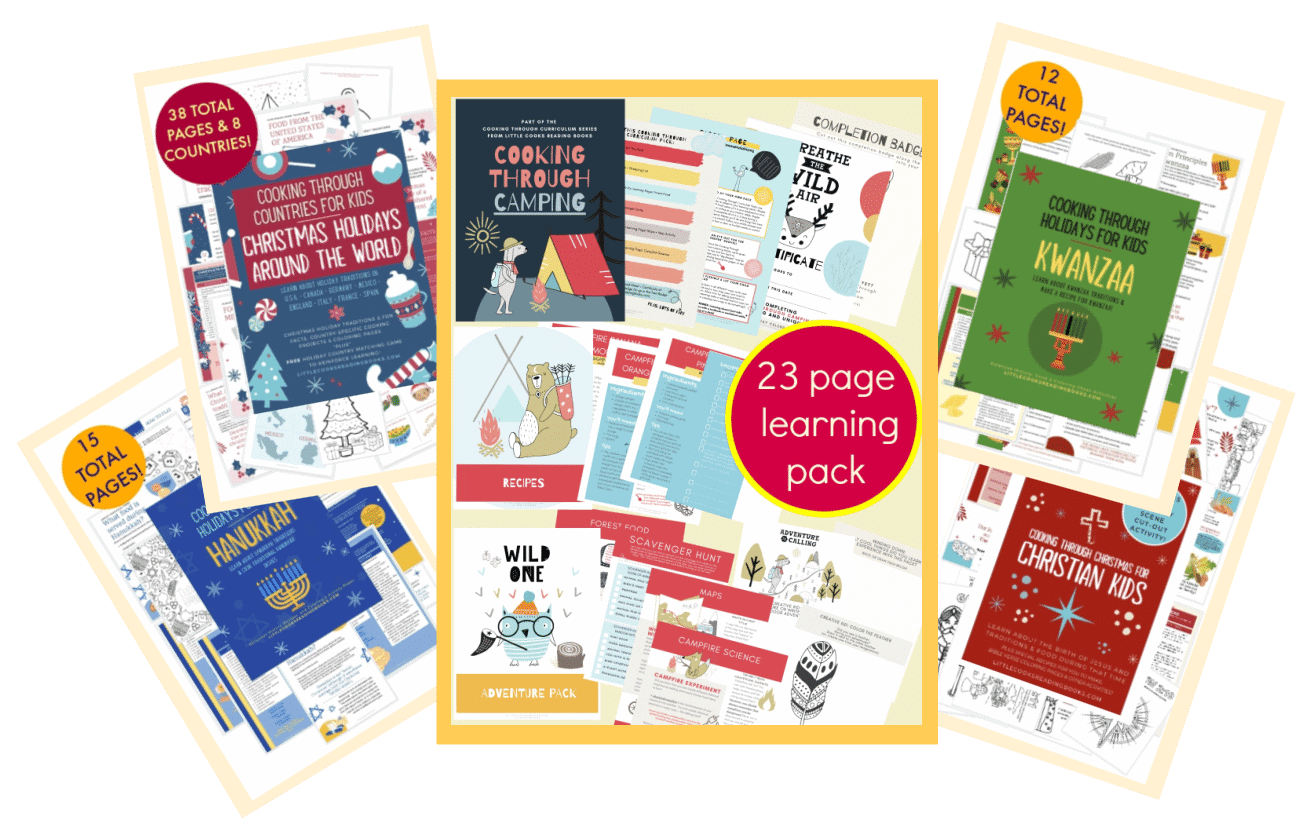 As an Amazon Associate I earn from qualifying purchases. Please refer to our
DISCLOSURE
.