Rice krispie footballs are perfect for football game recipes or football game snack ideas, football desserts for tailgating, cute super bowl desserts, a kid sports birthday party or sports them for classroom or school, or even if you just need football game recipes ideas. These easy desserts are a twist on the classic treat!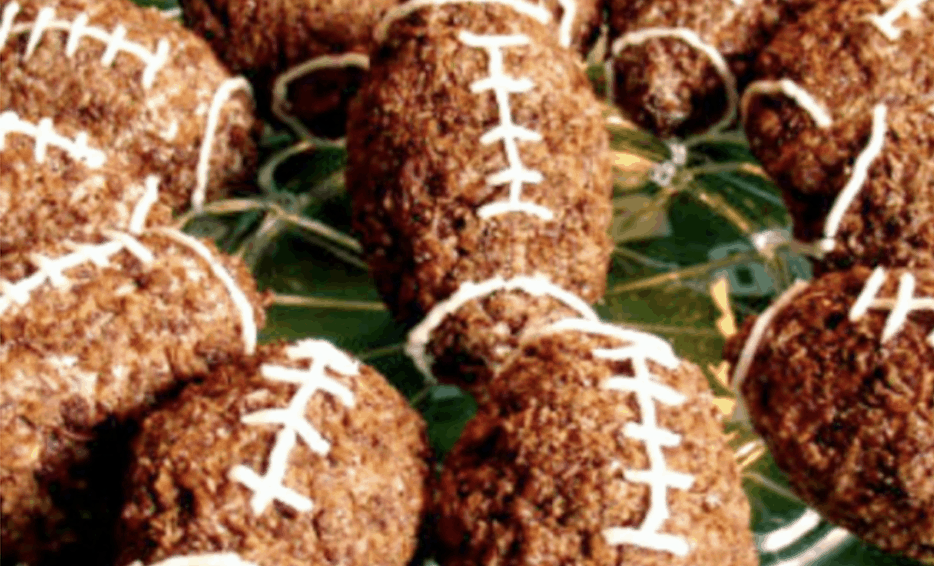 Rice Krispie Footballs Recipe
Do you make football a family event? Do you need football game treats?
Even if your kids aren't that interested in sports or football, you'll still have fun creating these football shaped rice krispie treats! Football brownies or even a full rice krispy football cake seems to be all the rage, but I think these easy football treats are more fun for a party!
How To Make Rice Crispy Treats with Marshmallows
How to make football rice krispie treats:
Affiliate links are used on this site. As an Amazon Associate I earn from qualifying purchases. Read more in our DISCLOSURE.
Butter
Marshmallows
Peanut butter (optional)
Cocoa Krispies cereal
White decorating icing pen
Traditional rice krispie treats are made with rice crispy cereal, butter, and marshmallows. Our football shaped treats recipe calls for chocolate rice krispie treats with peanut butter. If you have allergy concerns, you can easily leave out the peanut butter and they will be just as yummy. Also, I think the best rice krispie treats are chewy, so we add more marshmallow than traditional recipes.
(see full recipe below)
How do you melt marshmallows to make rice crispy treats?
To melt marshmallows for rice crispy treats, you need to use butter to prevent the marshmallows from burning. First, melt the butter in a pot and then add the marshmallows, stirring so that the
How To Make A Football Out Of Rice Krispies
The trick to making a football shape out of rice krispy treats is to make the treats pliable enough to shape them into a football. To do this, use more marshmallows than a traditional rice krispie recipe. Cool the recipe slightly and then use buttered hands to shape and mold the treats into the oblong football shape before they cool completely.
Before we get to how to make these football game desserts, let's cover some common FAQs people have when making this easy dessert.
(It might save you some time!)
Football Rice Krispie Treats Tips
Why did my Rice Krispies turn out hard?
Melting the butter and marshmallows over high heat can often make your rice krispie treats turn out hard. Melt the butter and marshmallows together over low heat before adding the rice crispy cereal. Also, if you use too few marshmallows, these desserts can sometimes turn out hard or crunchy.
For our football krispie treats, we use more marshmallows than normal to make the rice krispy cereal softer so you can form them into football shapes.
Do Rice Krispies Treats have dairy?
The traditional Rice Krispies treats recipe does have butter. There are dairy free recipes for rice krispies treats.
ALSO CHECK OUT: Easy Game Day Dips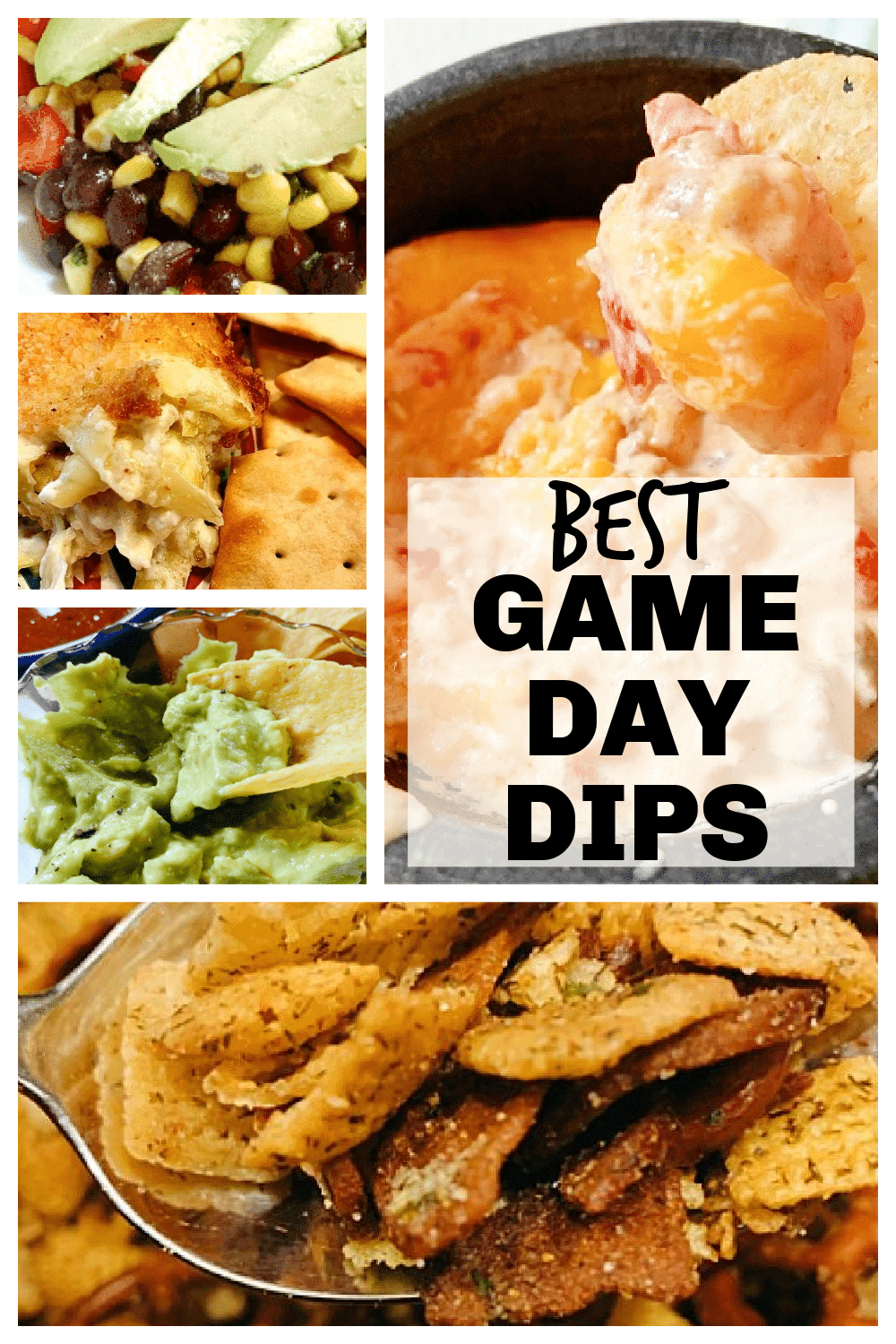 Can Rice Krispie Treats be made ahead?
Yes. Rice Krispie treats can be ahead of time and stored for 3-4 days. However, they are better (and chewier!) if made the same day that you are going to serve and eat them.
Do Rice Crispy Treats have to be refrigerated?
Rice crispy treats do not need to be refrigerated. You can store them in an airtight container at room temperature for 3-4 days.
Can you freeze Rice Krispie Treats?
You can freeze rice krispie treats for up to 6 weeks after you make them. To freeze, simply place in layers with parchment paper in between, and store in an airtight container or freezer bag. Once frozen, allow to come to room temperature before eating.
Great with this recipe for a football party theme:

OK! Onto the football cocoa krispie treats!
You could also make them as Cocoa Pebbles football treats (if you prefer that cereal instead).
HOW TO MAKE NO BAKE RICE KRISPIE FOOTBALL TREATS
This rice crispie treats recipe makes about 10.
If you need football desserts for a crowd, you can make them smaller, bite sized treats.
Yield: 10
Chocolate Football Rice Krispie Treats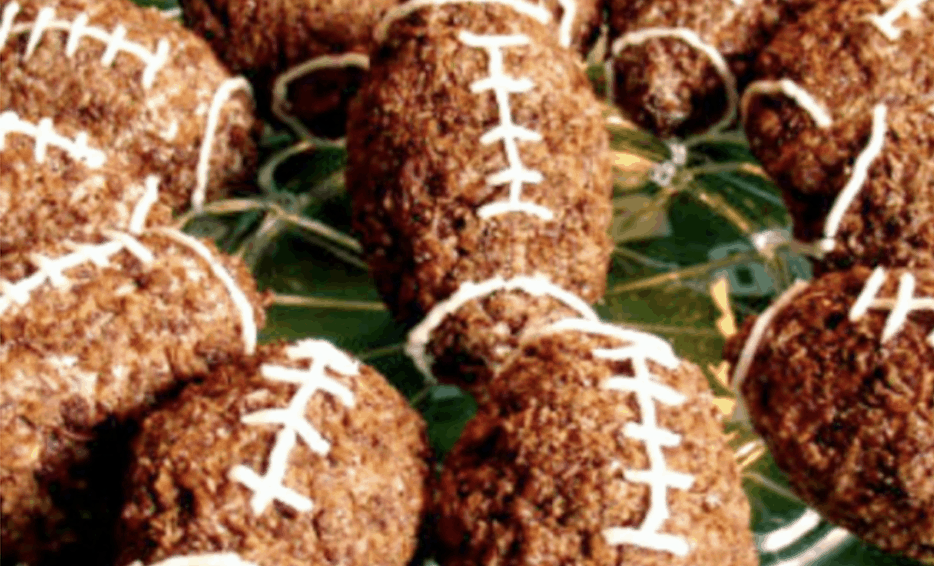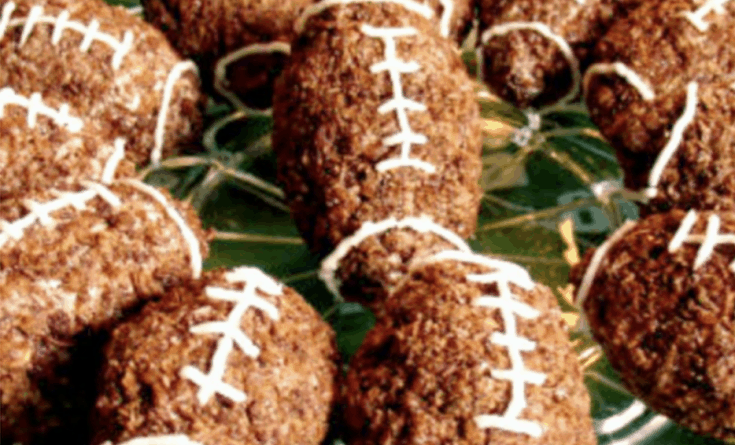 These yummy, no-bake dessert chocolate football rice krispie treats are perfect for Thanksgiving football, Super Bowl Party food, tailgating food, or even a sports or football theme party for the kids!
Ingredients
3 Tablespoons Butter
1 10-ounce Package Marshmallows + 1/2 of another package
1/2 Cup Smooth peanut butter, (optional)
6 Cups Kellogg's® Cocoa Krispies® cereal
Plain (non-flavored) non-stick cooking spray
White frosting with fine decorating tip
Instructions
In large pot, melt the butter over low heat. Add 1 complete bag of marshmallows and 1/2 of the other bag and stir until completely melted.
Remove the melted marshmallows from heat and stir in peanut butter until melted.
Add Kellogg's® Cocoa Krispies® cereal to the mixture in the pot.
Spray a spatula with non-stick cooking spray and stir with a until all of the cereal is well coated. Cool slightly.
Spray hands with non-stick cooking spray. Grab a small handful of the rice krispie mixture and roll between your hands, fashioning into a football shape about 3-4 inches in size. Place "footballs" onto wax paper to cool. Repeat making footballs until the mixture is gone. Let footballs cool completely.
Decorate the footballs by piping white lines around each end of the football. Then, make the "laces" by piping a line down the middle, from one end of the football to the other. Lastly, pipe the lace lines over the horizontal line.
Store for up to two days in an airtight container or freeze for up to 6 weeks. (Before serving from freezer, allow to come to room temperature.)
Notes
This recipes uses more marshmallows than the traditional recipe in order to make the treats more pliable and easier to shape into footballs.

If allergies are a concern, leave out peanut butter.
Nutrition Information:
Yield:
10
Serving Size:
1
Amount Per Serving:
Calories:

310
Total Fat:

11g
Saturated Fat:

4g
Trans Fat:

0g
Unsaturated Fat:

6g
Cholesterol:

9mg
Sodium:

224mg
Carbohydrates:

51g
Fiber:

1g
Sugar:

29g
Protein:

5g
Nutrition information is estimated. Changes to the recipe and use of different brands may cause changes to the nutritional information to vary slightly from the ones provided here.
Let us know how your football themed rice krispie treats turn out!
Football Field Rice Krispie Treats paired with Family Huddle Children's Book
With our football rice krispie treats recipe, we decided to pair up a great football book for kids called Family Huddle by Peyton Manning, written along with his dad and brother.
In case you didn't know, Manning is a great quarterback who played for the Indianapolis Colts then the Denver Broncos.
His brother is quarterback Eli Manning of the New York Giants.
Family Huddle is based on memories that Peyton has growing up with his father, former NFL star Archie Manning, and also his football peer and brother Eli Manning, where they play football every chance they get growing up in Louisiana.
The illustrations are great, filling the entire page with big, bold colors.
One of the cool things about the book is that it also includes simple illustrations of different football plays–so the football lover in your family will be super interested in this book!
Read the book first and then discuss it while making your cocoa rice krispie football treats!
Listed Book Age Range: 4-8 years
We hope you have fun learning how to make football shaped rice krispie treats!
Enjoy your rice krispie footballs!
LOOKING FOR FUN COOKING PRINTABLES FOR KIDS?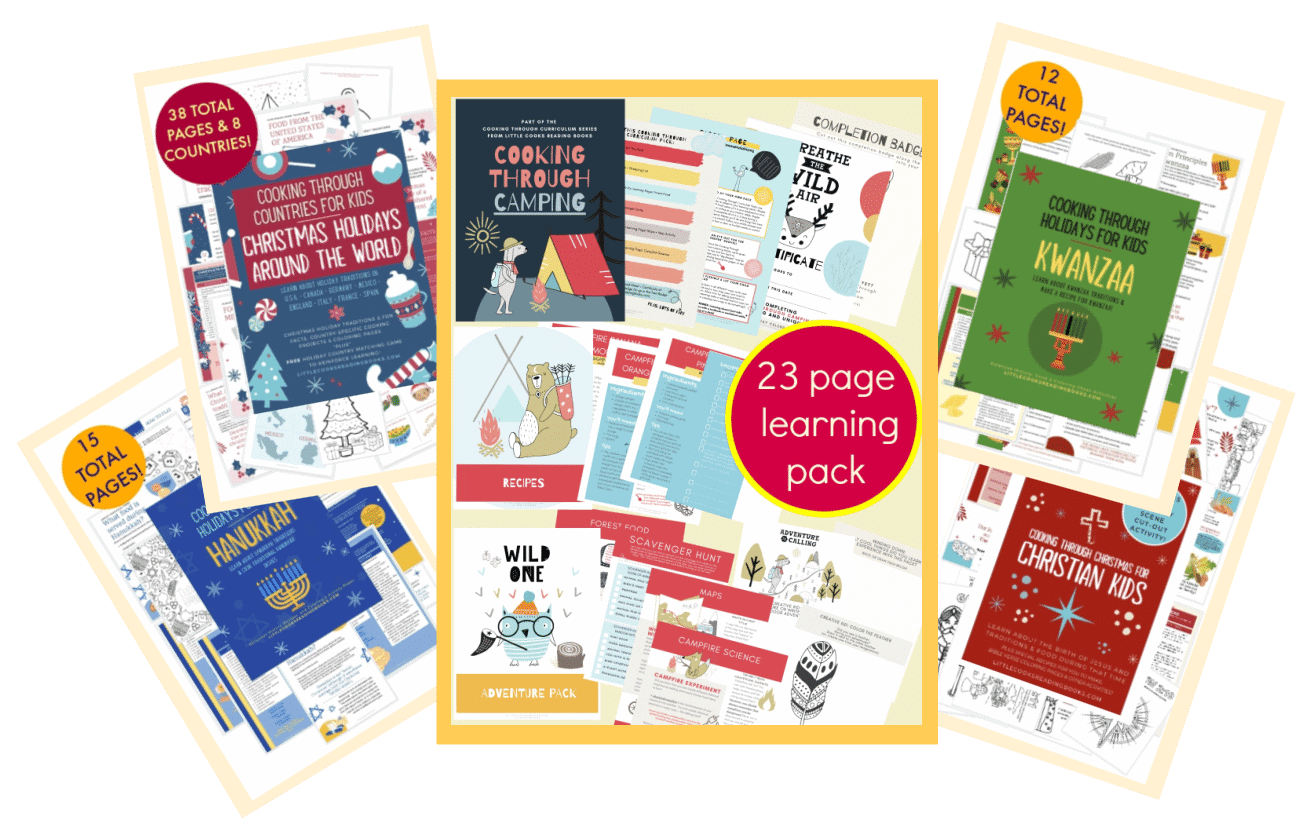 As an Amazon Associate I earn from qualifying purchases. Please refer to our
DISCLOSURE
.