This snowman face Christmas cake is so easy and made with your favorite cake mix and decorated with regular icing. (We'll teach you how to ice a snowman cake smooth and make a cake without fondant!) It's one of the best snowman cake ideas ever perfect for a winter cake / winter desserts or a fun addition to your Christmas dessert recipes.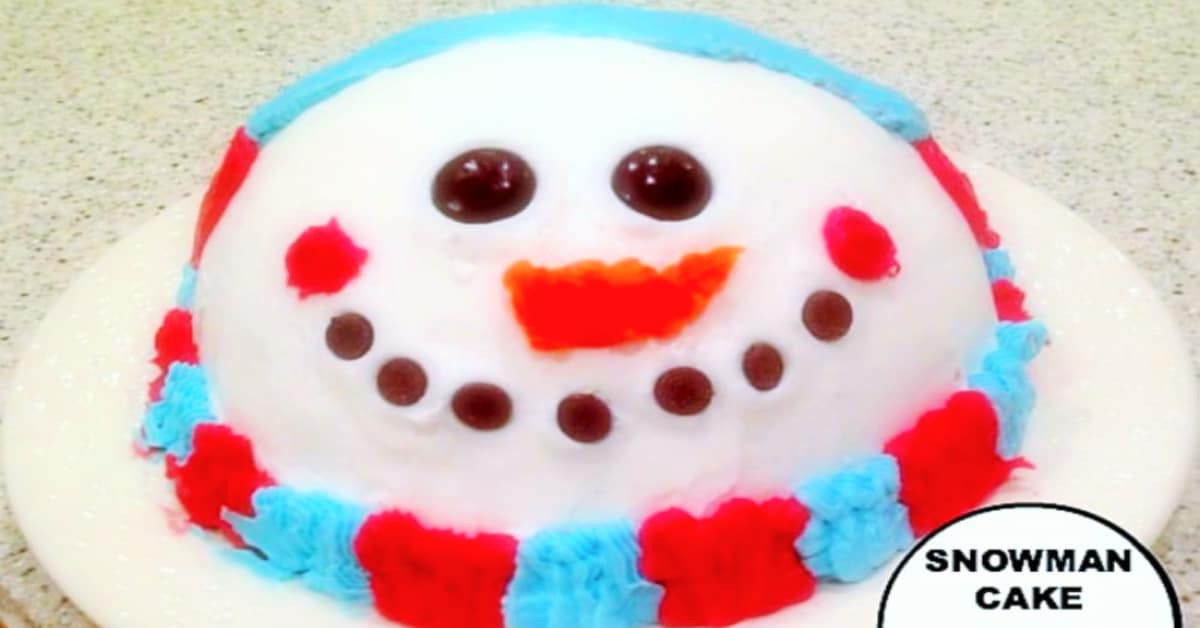 How To Make A Snowman Face Christmas Cake
We made this snowman cake for our family Christmas party one year and it was a huge hit! (The kids especially loved it.) If you're wondering how do you make an edible snowman, this is it!
How do you make a snowman cake?
To make a cake snowman, you'll need:
White cake mix (or other favorite flavor)
Ingredients to bake the cake (per box instructions)
White icing (vanilla frosting)
Red icing
Blue icing
Orange icing
Chocolate chips
Mug of hot water
Round chocolate mints (like mini Peppermint Pattys), round chocolates, or small chocolate wafers
Spatula or cake icing knife
Revolving cake stand (optional, but helpful)
(See the full directions on how to do a snowman cake below!)
TIP: Don't be intimidated by this winter snow cake because — thanks to store-bought cake mix and premade icing — this was actually one of the easiest cakes I've ever made! (It's also such a fun snowman Christmas cake to decorate with kids!)
The great thing about snowmen is that they are all winter fun, so you can make them anytime during the season and not just at Christmas or holidays.
I love this easy dessert for snowman Christmas cake ideas, but it would even be fun as an Olaf cake (or Frozen cake), an alternative to a snowman cupcake, snowman cake pops or snowman cookies, or even a winter snowman birthday cake.
But, definitely add this to your cute Christmas desserts baking recipes or anytime you're looking for snow cake ideas!
Snowman Cake Tutorial
How do you make a 3d snowman cake?
The trick to making a 3D snowman cake is in the pan. The easiest way is to get a hemisphere baking pan that allows you to bake cakes in hemispheres, or half circles. After baking, the two sides are put together to form a ball (globe) shape.
We made a 3D snowman face cake and used this hemisphere pan for our snow man cake pan. (If you use a regular snowman cake pan, it's going to be a flat 2D snow man cake.)
If you want the full snowman shaped cake (like a snowman standing up with different circles stacked on top of each other), use three different hemisphere pan sizes like this to bake entire 3D circles and place them on top of each other (holding the layers together with dowels). We've never baked a cake this way, but it's own my list of dessert recipes to try!
How do you shape a cake without it falling apart?
To shape a cake without it falling apart you should start with the size and shape of cake pan that you need. For example, if you want a round cake, use a hemisphere cake pan (and don't try to cut a round cake out of a sheet cake). You can also freeze the cake layers to make then easier to shape and sculpt.
Why does my cake crumble when I frost it?
Having a cake crumble when your frost it is actually a common problem in baking. Place a thin layer of frosting on the cake (small cake crumbles are fine at this stage) and then freeze or chill the cake until the outer layer is no longer sticky. Frost normally after with no more cake crumbles in your icing!
When making your snowmen cake, you definitely don't want to skip this step — especially if you are using a dark cake under the white icing!
What can I use instead of fondant?
People sometimes don't want to use fondant because they don't like the taste or they find it hard to work with.
Instead of regular fondant, you can use:
Marshmallow fondant (which tastes better)
Regular frosting and a cake icing spatula/knife (for smoothing)
Gum paste
I decided to make a cake without fondant because my daughter really hates fondant.
She has a bad memory of the first time we tried using fondant on a cake and we didn't roll it thin enough (because we didn't know) and it was like six inches thick. (Kidding, but it felt like it.)
She pulled that fondant off her birthday cake and has never liked it since then.
(Who can blame her?)
How To Decorate A Snowman Cake: Easy Icing Trick
I know some people love the look of fondant, but this snowman cake with icing is way better (and easier) than a fondant snowman cake (in my opinion)!
However, the big issue is how do you make icing or buttercream so smooth it looks like fondant—especially when making a snowman dessert because you want smooth icing.
You can try it with a cake icing smoother, but I have an easier (and better) trick:
A warm spatula.
(For real.)
Here's what you do:
Warm a mug of water in the microwave until it is hot and place a rubber spatula in it to warm up.
Using another spatula (or cake icing knife), ice the cake with the white icing as you normally would.
Then, remove the warm spatula from the water and smooth over the icing on the cake with the warm spatula, working in sections. (You'll definitely want to use a revolving cake stand for this. It's so much easier!)
Also, you can leave some warm water on the spatula. It will help smooth down the icing.
In between sections, wipe of the spatula and re-warm it in the mug of hot water. (You may have to warm the water up a few times.)
Continue until the icing is completely smooth, warming the spatula and smoothing the icing.
Then, you'll just need a piping bag and tips (and different colored icing) for the face and scarf.
Other Fun and Easy Snowman Cake Ideas
If you don't want to make just a snowman face cake and want a full snowman (like a snowman sheet cake), try a snow man pan like this instead.
Ok! Let's get to how to make snowman cake! If you need a winter snowman cake plate holder for your holiday dessert table, try this super cute one!
Easy Snowman Cake Recipe
At the holidays you have a million things to do, so DO NOT beat yourself up that this snowman cake recipe uses boxed cake mix.
(And, we won't tell your cake baking secret if you don't tell! It's still a homemade snowman cake!)
The only snowman cake decorations you'll need are a few candies (for eyes and mouth) and some icing piped for his scarf, ear muffs, carrot nose, and cheeks.
We used red and blue icing (with orange for the nose), but you can play around with the candies for your snowman cake face and colors for your snowman cake design or party theme (maybe even red and green for a snowman Christmas cake recipe?).
(Also, we didn't use a fancy snowman cake stand. I just used a plan white plate.)
I wish I had more snowman cake pictures, but I only took this one and none of the process while making it! Boo! I'll add more when I make snowman cake recipes again. Definitely add this to your how to make a snowman cake recipes!
Yield: 1
Easy Snowman Face Christmas Cake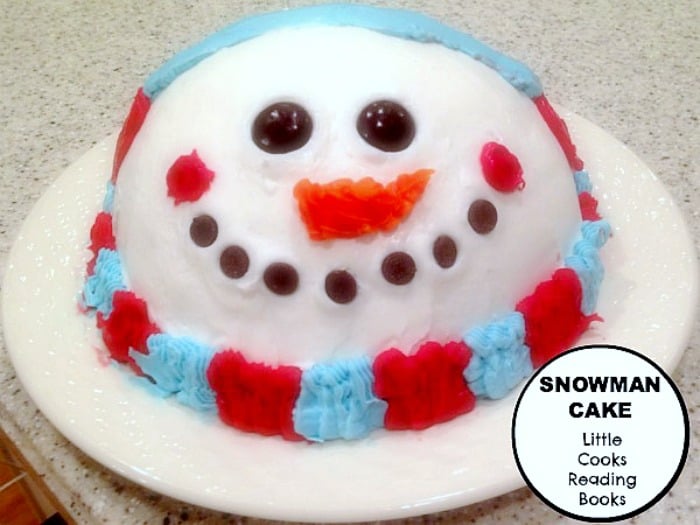 The melting snowman cake is a popular trend right now, but this sweet snow person cake with bring smiles to all the faces at your holiday party or winter birthday!
WE PUT LOTS OF TIPS IN THE POST TO MAKE THIS RECIPE A SUCCESS, SO BE SURE TO SCROLL BACK UP AND READ THEM ALL!
Additional Time
30 minutes
Total Time
1 hour
25 minutes
Ingredients
1 box of favorite cake mix (plus ingredients for making)
1 tub each of white, red, blue and orange icing (with a piping bag)
2 Junior Mints (for the eyes)
Chocolate chips (for the mouth)
Instructions
TO MAKE THE CAKE:
Lightly grease and flour a hemisphere cake pan.
Mix and bake cake according to package directions, baking 25-35 minutes, or until a toothpick inserted comes out clean.
After baking, immediately turn cake upside down on a wire cake rack.
Place a wet dish towel over the outside of the pan (to help loosen the cake). Let pan and cake sit until cool.
Gently remove pan from the cake and let cake cool completely before decorating.
TO DECORATE THE CAKE:
Ice the cake with a thin layer of white icing. Place the iced caked in the refrigerator or freezer until icing is hard and set, about 20 minutes.
Fill a coffee mug with hot water and place a rubber cake icing spatula in the water.
Put a second layer of white icing on the cake, using the hot icing knife to make the icing look smooth (like fondant). When you need more icing, wipe the knife off and place in the hot water to warm before each icing. Smooth the second layer of icing, working in sections and smooth with the hot icing knife. (You may need to "warm" the rubber spatula multiple times throughout the process.)
Once the layer of white icing is smooth, make the scarf. With a piping bag, pipe a scarf, alternating red and blue colors, all the way around. (I used an "M" shape for the scarf).
For the ear muffs, use the decorating icing in blue and pipe a smooth line across the snowman's head from one side to the other, stopping halfway down the cake. (Use the hot cake icing knife to smooth it down, if needed.) Pipe big red circles at the end of the blue line on either side (for the muffs covering ears).
On the front of the cake, place the two Junior Mints on the cake for eyes.
For the carrot nose, use the orange decorating icing and pipe, starting in the center just under the eyes, and pipe it going out to the side. Start larger and get smaller at the tip to give it perspective.
Turn chocolate chips to the flat side and use them for the smile, pushing them gently into the icing for the mouth.
Using red icing, pipe rosy cheeks on either side of the smile.
Recommended Products
Affiliate links are used on this site. As an Amazon Associate I earn from qualifying purchases.
Nutrition Information:
Yield:
12
Serving Size:
1
Amount Per Serving:
Calories:

201
Total Fat:

3g
Saturated Fat:

2g
Trans Fat:

0g
Unsaturated Fat:

1g
Cholesterol:

0mg
Sodium:

325mg
Carbohydrates:

42g
Fiber:

1g
Sugar:

24g
Protein:

2g
Nutrition information is estimated. Changes to the recipe and use of different brands may cause changes to the nutritional information to vary slightly from the ones provided here.
Snowman Cake paired with The Snowman
Children's Book
This is a fun baking project that you can use with any winter, snowman, or even Christmas book.
We paired our Christmas snowman cake project with the book The Snowman by Raymond Briggs
.
It's a "wordless book," but the beautiful illustrations encourage your child to create their own story!
(We love the books with amazing drawings that encourage us to make up are own stories!)

The story is about a little boy who finds it snowing outside and spends his day building a snowman. When he can't sleep that night, he opens the door to find his snowman has come to life. The boy invites his snowman in and shows him around his home. Then, the snowman takes the boy over the wintry world.
In the morning, the boy awakes to find the snowman has melted.
It's a sweet book to look through while your cake is baking. Then, when you're icing your cake, you can continue the story that you imagined from the book.
LEARNING CONCEPTS TO GO WITH THIS BOOK:
Teaching kids of any language (since it is wordless)
Talking about weather, snow, and melting science
Learning about snowflakes
Discovering arctic and polar regions
Imaginative play and storytelling
Death/Mortality
There's also an animated movie based on the children's book.
If you want a different pairing idea, this would also be a fun Frosty the Snowman cake after watching the Frosty movie! Just adjust the snow cake decorations / frosting colors to match Frosty!
We hope you have fun with this snowman face Christmas cake!