Snow taffy (snow toffee recipe) is a fun winter activity for kids! Maple taffy on snow is one of the childhood recipes I remember, so I wanted to try this DIY maple sugar candy, too! Add this to your maple syrup in recipes plans!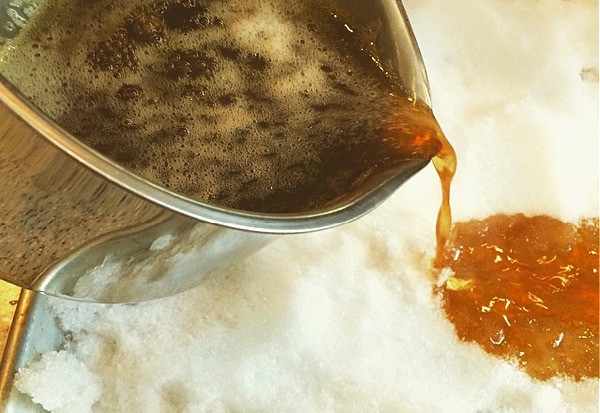 HOW TO MAKE SNOW TAFFY
Maple snow taffy is so fun! And, if you're looking for snow activities for kids, you'll love this.
What is snow taffy?
Snow taffy is a homemade maple syrup candy. Maple syrup is heated and then poured into clean snow to immediately cool down the taffy. It can also be poured on lollipop sticks in the snow to make maple syrup suckers. The longer the maple syrup is left in the snow, the harder it will become.
Affiliate links are used on this site. As an Amazon Associate I earn from qualifying purchases. Read more in our DISCLOSURE.
What is maple syrup on snow called?
You may hear snow taffy called different things:
Maple snow taffy
Sugar candy
Maple syrup snow taffy
Snow toffee recipe
Maple syrup candy
Maple taffy
Syrup lollipop
Maple syrup snow on a stick
Maple syrup lollipops or suckers
How To Make Maple Taffy Without Snow
Some people aren't comfortable using a maple taffy recipe snow. The cold from the snow is what makes the cooking process stop immediately to make it a chewy taffy. The longer it stays in the snow, the more the maple taffy will harden.
If you're wondering how to make maple taffy on ice instead of snow, it's best to use a shaved ice machine or food processor or blender where you can shave the ice to a fine, snow-like consistency.
Is maple syrup different than pancake syrup?
Pure maple syrup is solely syrup tapped from a tree, with no additives. Pancake syrup is actually corn syrup with a maple extract added, so it's not actually maple syrup at all. It's just maple flavoring.
Can I use pancake syrup instead of maple syrup?
If you're making a maple syrup recipe, it's best not to substitute pancake syrup for maple syrup as you won't get the same result. If you're making a maple syrup candy, like snow taffy, definitely don't substitute pancake syrup for maple.
How do you know when syrup is ready?
When boiling maple syrup, you should use a candy thermometer. When making snow taffy, you will need to get the maple syrup to the correct boiling temperature (235°F) in order to make the maple candy set.
ALSO TRY: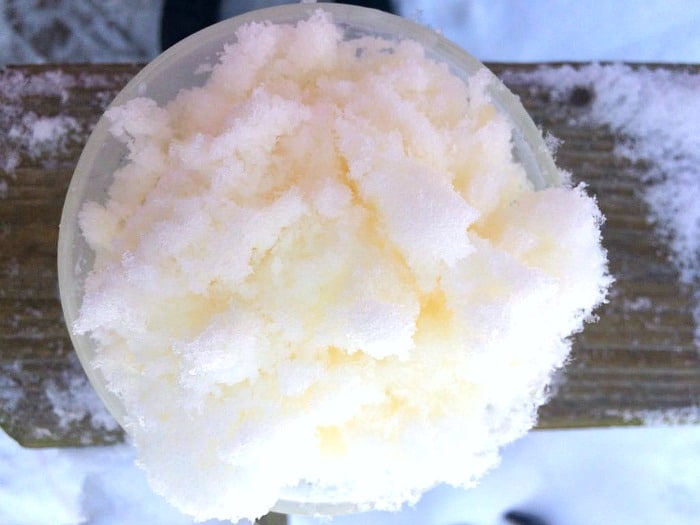 Snow Taffy Recipe
You can also make this a homemade honey snow candy by using honey and brown sugar instead of maple syrup.
Don't forget, you need to get 100% maple syrup (and not pancake syrup)!
You may also want to grab a stainless ladle with a pour spout. It's easier to pour the lines of hot maple syrup in the snow with a ladle spout than directly from the pot.
Also, we gather clean snow by putting our cookie sheet on a table outside when it's snowing heavily.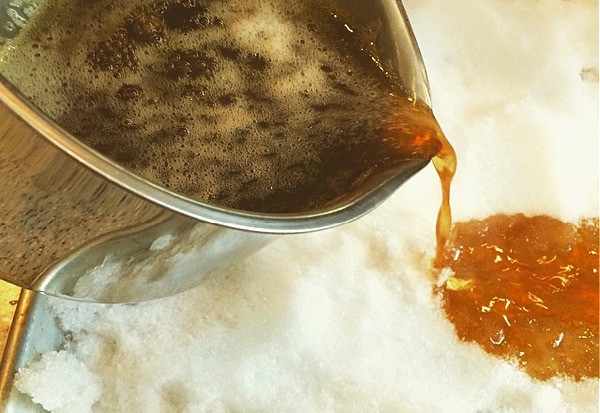 Maple syrup snow taffy is a super simple recipe. The biggest things you need to watch are using real maple syrup (and NOT pancake syrup) and the temperature of the maple syrup, which you will track with a candy thermometer.
Ingredients
1 Cup REAL 100% maple syrup (NOT pancake syrup)
Enough clean fresh snow to cover a cookie sheet
Instructions
Collect clean, fresh snow onto a cookie sheet. (Leave outside until ready to use.)
Place maple syrup into a pot. Attach candy thermometer to the side of the pot so that it's in the syrup, but not touching the sides or bottom of the pot. Bring maple syrup to a 235°F boil on the candy thermometer.
Remove pot from heat and CAREFULLY pour maple syrup into clean snow in strips. (Using a stainless ladle with a pour spout is helpful!) If making suckers, immediately (and gently) press lollipop sticks into the maple syrup strips. (You may have to roll or shape the maple syrup around the sticks.) The longer you leave the syrup in the snow, the harder (crunchier) it will become.
Notes
The number of snow taffy candy pieces will depend on how big your candy pours are and if you are making snow taffy lollipops or just taffy candy pieces.
Nutrition Information:
Yield:
6
Serving Size:
1
Amount Per Serving:
Calories:

165
Total Fat:

1g
Saturated Fat:

0g
Trans Fat:

0g
Unsaturated Fat:

1g
Cholesterol:

0mg
Sodium:

22mg
Carbohydrates:

39g
Fiber:

0g
Sugar:

34g
Protein:

0g
Nutrition information is estimated. Changes to the recipe and use of different brands may cause changes to the nutritional information to vary slightly from the ones provided here.
Maple Syrup Snow Candy Little House on the Prairie
Some people may recognize this recipe from Little House on the Prairie. This is a great recipe to pair with the Little House books or a unit study on pioneers.
TAG US ON INSTAGRAM

WITH YOUR SNOW TAFFY PICS AFTER YOU MAKE IT!
LOOKING FOR FUN COOKING PRINTABLES FOR KIDS?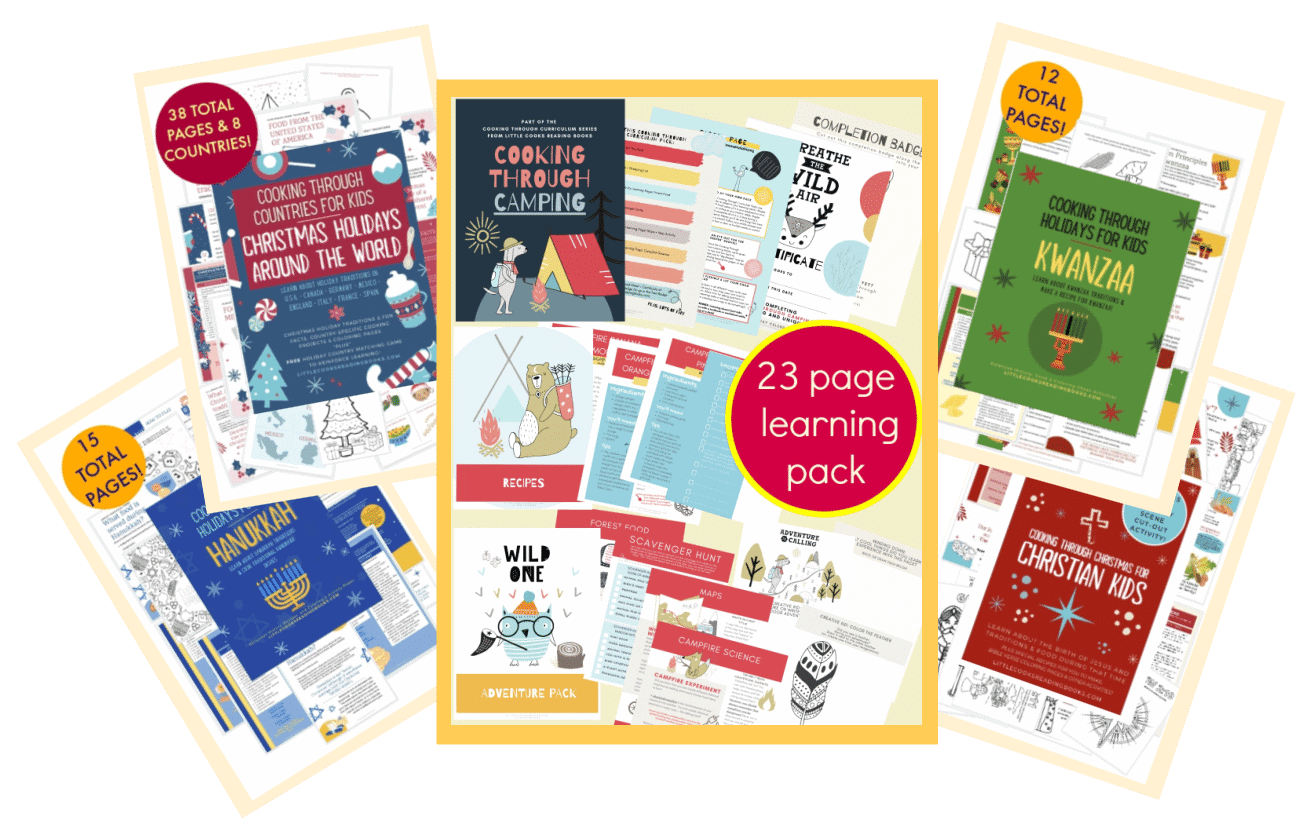 As an Amazon Associate I earn from qualifying purchases. Please refer to our
DISCLOSURE
.