Snow taffy (also called maple syrup taffy or snow toffee recipe) is a fun winter activity for kids, winter storm activity, or snow day craft ideas! Maple taffy on snow is one of the childhood recipes I remember, so I wanted to introduce this DIY maple sugar candy to my daughter, too!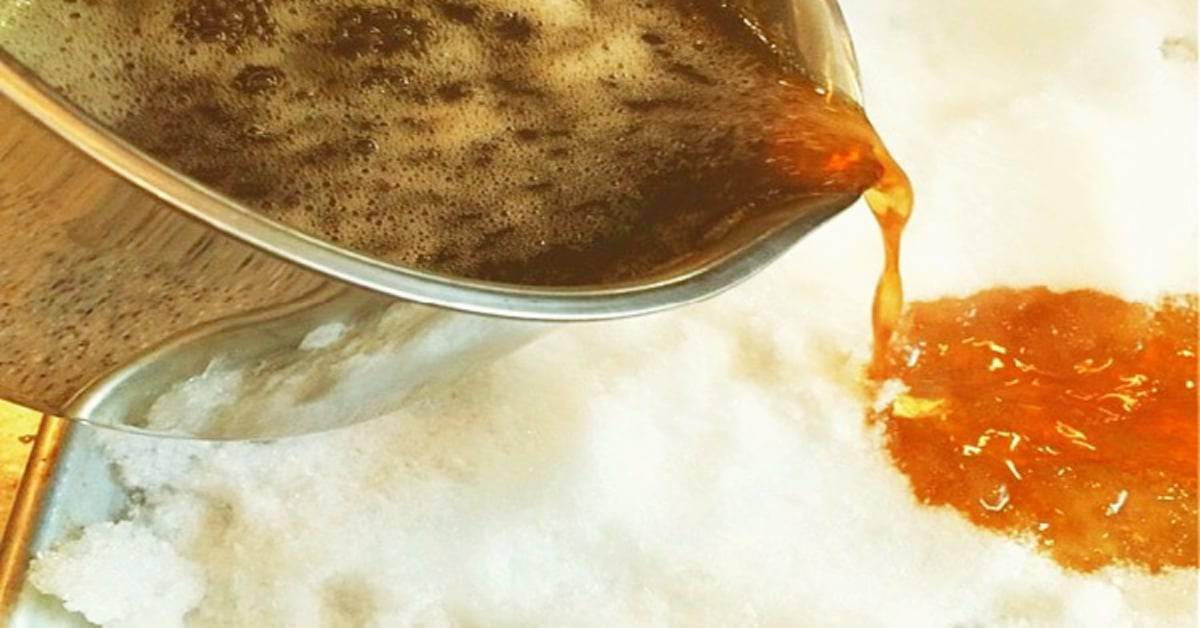 HOW TO MAKE SNOW TAFFY
Maple snow taffy is so fun! (Maple syrup in recipes for a maple taffy candy? Yes, please!) And, if you're looking for snow activities for kids or winter kids activities, you'll love this when snowflakes fall! (Fun snowy day activities for preschool and up — even fun for snow day activities for adults!)
How to Make Maple Syrup Snow Candy
Homemade maple taffy on snow is made with just two ingredients: 100% pure maple syrup and freshly fallen clean snow. The syrup is heated to the right temperature and poured onto the snow to set. You can peel it from the snow to eat or even make homemade maple syrup suckers.
How to make maple syrup taffy:
Affiliate links are used on this site. As an Amazon Associate I earn from qualifying purchases. Read more in our DISCLOSURE.
Maple Syrup
Fresh snow
Candy thermometer
(Yes, you can make taffy without cornstarch!) The syrup mixture / maple taffy ingredients are simple, but there's a trick to getting it just right! (Trust me, we had some maple taffys recipe fails when we first tried to make this snow recipe.) Check out the tips and maple taffy temperature below.
(Get the full how to make maple taffy on snow directions, including what temperature do you cook maple taffy at below. Keep scrolling to print out the how to make taffy recipe card and also all about what is taffy on the snow and also how to make maple syrup taffy no snow!)
This syrup candy recipe is the taffy like candy that I remember making as a child!
However, if you're not familiar with maple syrup candy, you may be wondering what is maple taffy on snow?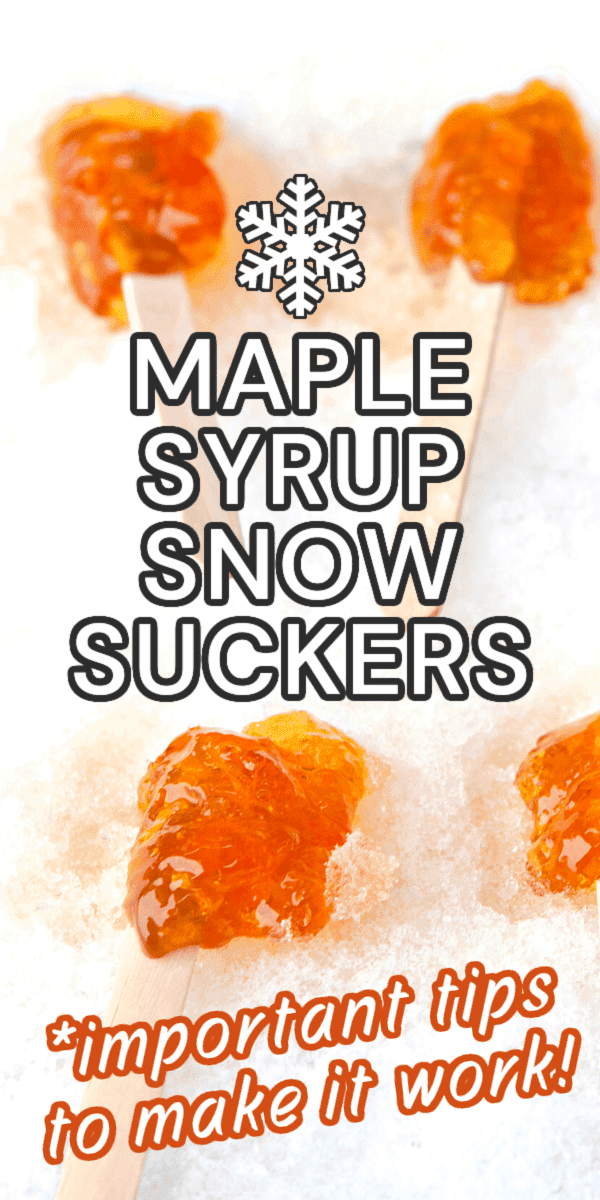 You can maple taffy pops, too!
What is snow taffy?
Snow taffy is a homemade maple syrup candy. Maple syrup is heated and then poured into clean snow to immediately cool down the taffy. It can also be poured on lollipop sticks in the snow to make maple syrup suckers. The longer the maple syrup is left in the snow, the harder it will become, so decide if you want your homemade candy softer or hard (like suckers)!
Pouring sugar on snow makes it kind of like a maple snow cone!
What is maple syrup on snow called?
You may hear snow taffy called different things:
Maple snow taffy
Sugar candy
Snow taffy candy
Maple syrup snow taffy
Snow toffee recipe
Maple syrup candy
Maple taffy
Syrup lollipop
Snow syrup taffy
Maple syrup snow on a stick
Maple syrup lollipops or suckers
Canadian snow taffy
How To Make Maple Taffy Without Snow
Some people aren't comfortable using a maple taffy recipe snow. The cold from the snow is what makes the cooking process stop immediately to make it a chewy taffy. The longer it stays in the snow, the more the maple taffy will harden.
If you're wondering how to make maple taffy on ice instead of snow, it's best to use a shaved ice machine / snow cone kit or food processor or blender for crushed ice where you can shave the ice to a fine, snow-like consistency.
Then, just make maple taffy recipe without snow using the same recipe below. (Great idea for a maple taffy party or snow day indoor activities!)
Read on for what snow taste like with maple candy…
What does maple taffy taste like?
You may be wondering what does maple syrup taste like made into taffy. Maple flavor taffy tastes like a sugary cross between a richer pancake syrup and honey. It has a harder texture than caramels, but is still chewy and pulls.
MORE FUN THINGS TO DO WITH SNOW: Learn How To Paint The Snow
Is maple syrup different than pancake syrup?
Pure maple syrup is solely syrup tapped from a tree, with no additives. Pancake syrup is actually corn syrup with a maple extract added, so it's not actually maple syrup at all. It's just maple flavoring added to corn syrup.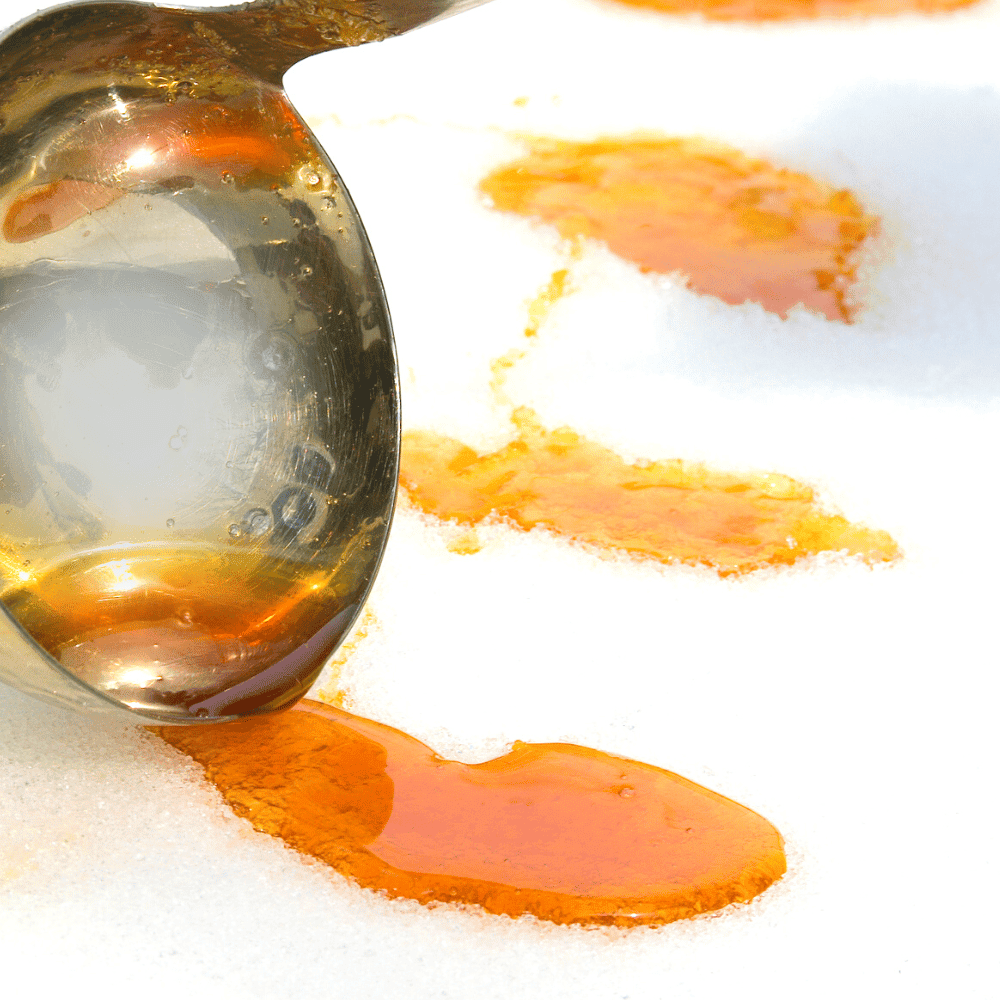 Can I use pancake syrup instead of maple syrup?
If you're making a maple syrup recipe, it's best not to substitute pancake syrup for maple syrup as you won't get the same result. If you're making a maple syrup taffy on snow, definitely use real maple syrup and do not substitute pancake syrup for maple syrup.
Bonus points if you can get a cup of maple syrup fresh from maple trees!
Making maple syrup taffy in snow is the perfect snowed in activity for kids!
Also check out these winter snow days ideas / snowy day activities:
Snow Day Activities: Indoor and Outdoor Winter Ideas for Kids
How To Make Snow Day Survival Kits for Snowed In Days
How do you know when syrup is ready?
When boiling maple syrup, you should use a candy thermometer. When making the maple taffy on snow recipe, you will need to get the maple syrup to the correct boiling temperature (235°F). If you don't get your maple taffy on snow temperature right, the snow candy won't set.
GET A CANDY THERMOMETER-important for maple taffy with snow!
Can you freeze maple taffy?
Yes! You can freeze your uneaten maple taffy and it will last a very long time! If you leave your snow taffy at room temperature for long, it will start to turn sugary. Place it in an airtight container or freezer wrap and put the maple candy in the freezer until ready to eat.
ALSO TRY THESE RECIPES WITH SNOW: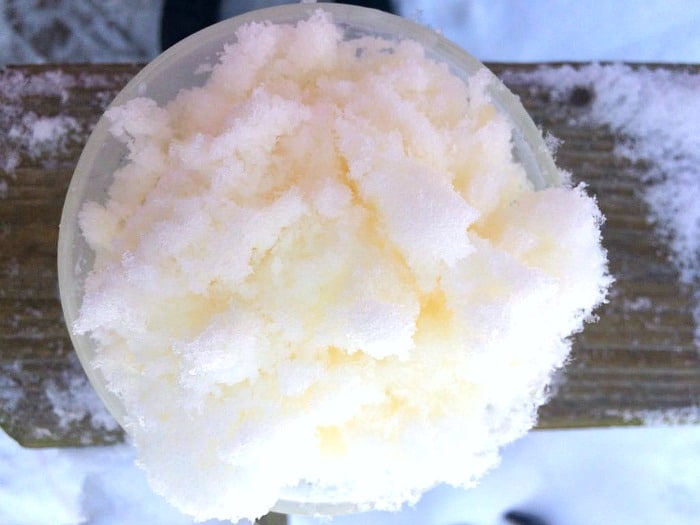 and
Homemade DIY Chocolate Frosty With Snow (Just Like a Wendys Frosty!)
These make the best snow day activities with kids or cold snow days with your kids are going stir crazy inside!
OK! Let's get to how to make maple syrup snow taffy!
How To Make Maple Snow Taffy
You can also make this a homemade honey snow candy by using honey and brown sugar instead of maple syrup.
(Some people make it as a brown sugar snow taffy recipe and call it snow taffy brown sugar. Let us know if you make it that way or if you know how to make snow taffy with brown sugar!)
Don't forget, you need to get 100% maple syrup (and not pancake syrup)!
You may also want to grab a stainless ladle with a pour spout instead of using a small saucepan. It's easier to pour the lines of hot maple syrup in the snow with a ladle spout than directly from the pot. BE CAREFUL! This liquid gold is very hot syrup!
If it's your first time, it may take some practice to pour the thin lines of syrup in snow or make them into sucker syrup. They won't look perfect, so don't worry!
Also, we gather clean snow by putting our baking sheet on a table outside when it's snowing heavily and then use that for our maple syrup taffy candy. You want a clean bed of snow and not completely hard packed snow (or the boiling syrup won't sink down into the snow).
How to make a taffy sucker: If you want to make your taffy from snow into homemade maple syrup suckers, use sucker sticks or wooden sticks to gently press into the taffy snow before it sets. You may even have to use your hands to form the taffy from maple around the stick and make your own candy pops!
You can even make your winter taffy with sprinkles (or, if you're really creative you can make maple bacon taffy!), but we like to eat ours just with pure maple syrup!
IMPORTANT RECIPE TIP: Some people have asked if they can make maple taffy without thermometer. We tried that on our first try and the recipe failed miserably, so I wouldn't make this maple snow taffy without using a candy thermometer.
This is how to make maple syrup candy at home. Be sure to get a candy thermometer so you're ready when snow falls. (It makes the best snow taffy maple syrup candy!)
If you're wondering is taffy the same as toffee, keep reading after the recipe for taffy!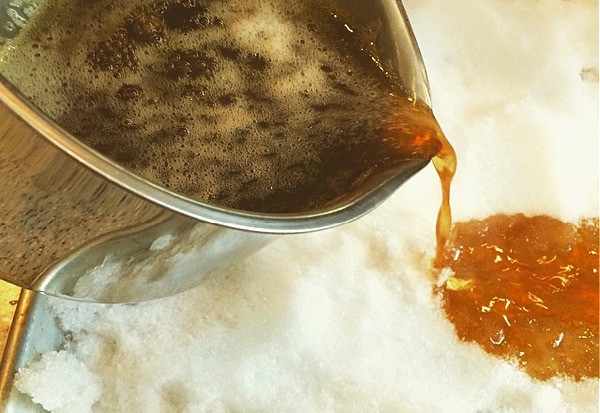 Maple syrup snow taffy is a super simple recipe. The biggest things you need to watch are using real maple syrup (and NOT pancake syrup) and the temperature of the maple syrup, which you will track with a candy thermometer.
**We put maple snow taffy DIY helpful tips in the body of the post, so be sure to scroll up and read those so you make the best snow syrup taffy!
Ingredients
1 Cup REAL 100% maple syrup (NOT pancake syrup)
Enough clean fresh snow to cover a cookie sheet
Instructions
Collect clean, fresh snow onto a cookie sheet. (Leave outside until ready to use.)
Place maple syrup into a pot. Attach candy thermometer to the side of the pot so that it's in the syrup, but not touching the sides or bottom of the pot. Bring maple syrup to a 235°F boil on the candy thermometer.
Remove pot from heat and CAREFULLY pour maple syrup into clean snow in strips. (Using a stainless ladle with a pour spout is helpful!) If making suckers, immediately (and gently) press lollipop sticks into the maple syrup strips. (You may have to roll or shape the maple syrup around the sticks.) The longer you leave the syrup in the snow, the harder (crunchier) it will become.
Notes
The number of snow taffy candy pieces will depend on how big your candy pours are and if you are making snow taffy lollipops or just taffy candy pieces.
If you're making snow syrup suckers, use the sucker sticks you find online or at craft stores or even craft sticks.
Nutrition Information:
Yield:
6
Serving Size:
1
Amount Per Serving:
Calories:

165
Total Fat:

1g
Saturated Fat:

0g
Trans Fat:

0g
Unsaturated Fat:

1g
Cholesterol:

0mg
Sodium:

22mg
Carbohydrates:

39g
Fiber:

0g
Sugar:

34g
Protein:

0g
Nutrition information is estimated. Changes to the recipe and use of different brands may cause changes to the nutritional information to vary slightly from the ones provided here.
Taffy vs Toffee
If you've ever made homemade toffee (like with our toffee popcorn) or peanut brittle like this, you may be wondering what's the different between taffy and toffees when making snow taffy with maple syrup.
What is difference between toffee and taffy?
Homemade taffy and homemade toffee have a very similar flavor. However, taffy is soft and chewy, while toffee has a hard texture and can vary from being very hard and crunchy to a softer, crispy texture that is chewy.
But what about taffy vs caramel…
Is caramel considered taffy?
Both caramel and taffy are soft and chewy candies. However, they vary in the ingredients. Caramels have a cream base and are heated to the firm stage of candy cooking, or the soft ball stage (248 °F). Taffy is made with sugar and butter and is heated to the hard crack candy cooking stage (300 °F).
MAPLE CANDIES FUN FACT FOR KIDS: Maple candy in Canada is popular, where part of the population speaks French. Maple taffy in french language is called tire d'érable or tire sur la neige, which translates to maple syrup on snow. Try out your french if you're making Canadian maple snow taffy!
Definitely
Recipe and Read for Kids: Maple Syrup Snow Candy Little House on the Prairie
Some people may recognize this as a recipe like the Little House on the Prairie. (That's how I know the sugar on snow history and I used to make it with my mom. She called it a maple taffy pull.)
I have no idea about when was maple taffy invented.
(I know I've heard a lot of history about maple syrup snow candy Canada, so maybe start there if you're interested.)
It might be fun to add learning about maple taffy history, maple taffy origin, and maple taffy facts along with your recipe!
This is a great maple sugar taffy on snow recipe to pair with the Little House books or a unit study on pioneers since maple taffy making is kind of old school!
Do you have maple syrup snow taffy recipes you make with family?
HAVE FUN WITH YOUR SNOW TAFFY!
LOOKING FOR FUN COOKING PRINTABLES FOR KIDS?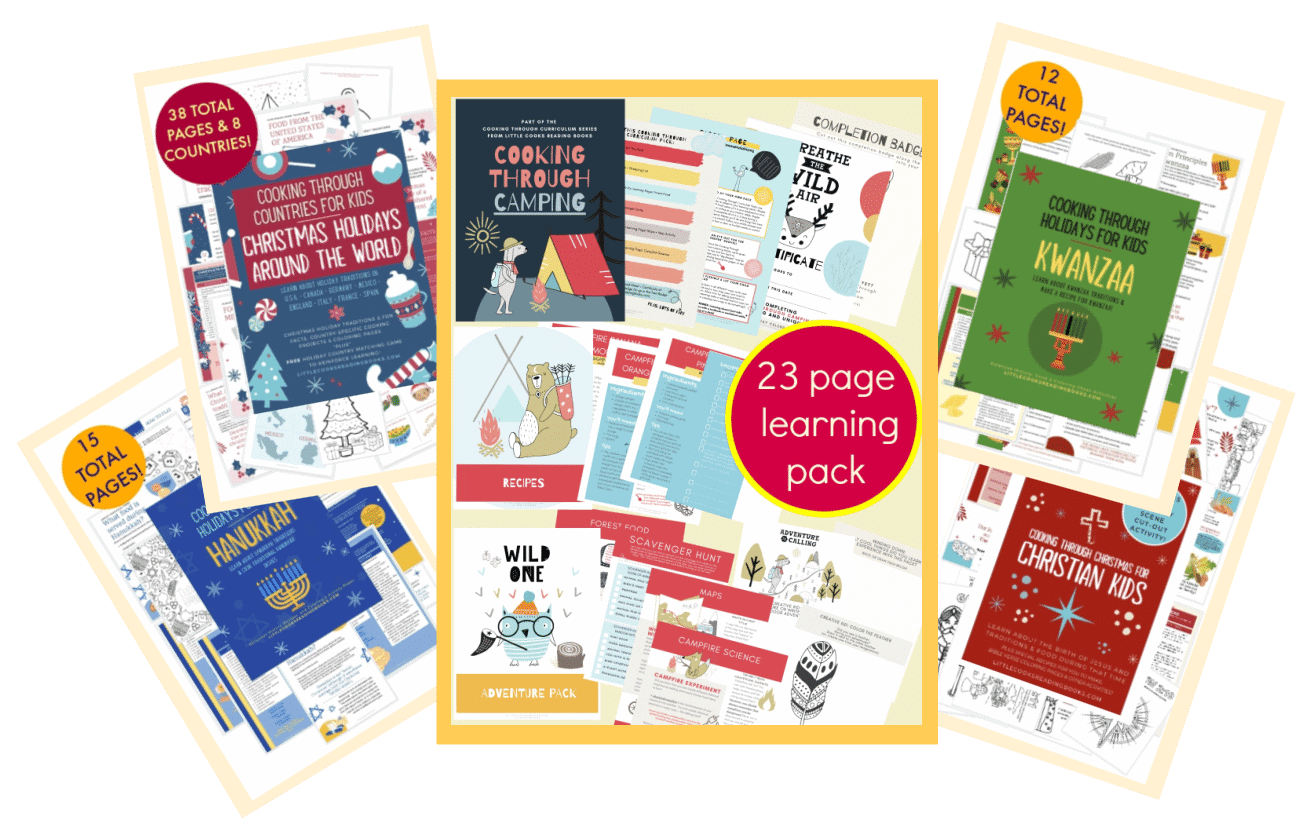 As an Amazon Associate I earn from qualifying purchases. Please refer to our
DISCLOSURE
.