Snow ice cream (also called snow cream) is one of those fun winter day activities for kids! This is the best snow ice cream recipe because it's such an quick and easy recipe for kids – about 5 minutes after you gather the snow!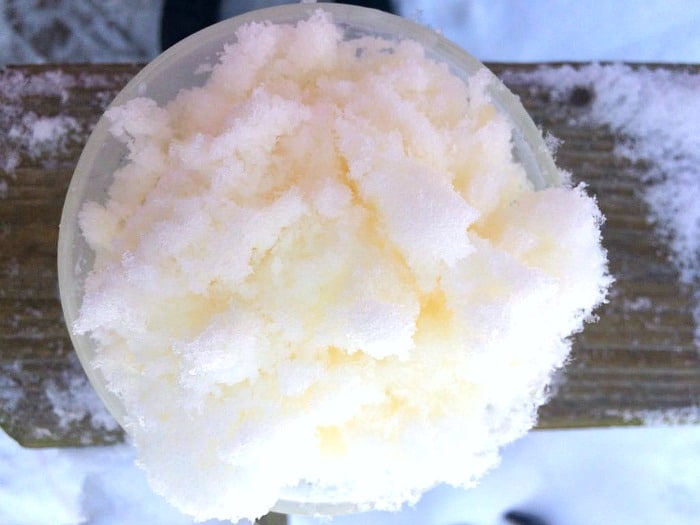 SNOW ICE CREAM RECIPE
This recipe for snow ice cream is something that I used to make with my mom and brother growing up.
I have fond memories of gathering up a big bowl of snow and then bringing it in to make this yummy treat.
And, the best part?
Affiliate links are used on this site. As an Amazon Associate I earn from qualifying purchases. Read more in our DISCLOSURE.
It's surprisingly simple and the snow cream ingredients are probably things you already have around your house!
What is snow ice cream?
Snow ice cream is simply a frozen ice cream treat made from (you guessed it!) snow! Using the ingredients to make snow cream, it becomes a frozen, creamy treat for a winter day.
What is snow cream made of?
Basic snow ice cream can be made with just three ingredients! Make snow cream from:
Snow
Milk or sweetened condensed milk
Sugar or powered sugar
Vanilla (optional)
Sprinkles (optional)
Some people also make their snow ice cream recipe with eggs or their snow ice cream with heavy cream.
What can you use instead of condensed milk in ice cream?
How To Make Snow Ice Cream Without Milk
You can also make dairy-free homemade snow ice cream by using milk alternatives like oat milk, almond milk, soy milk, coconut milk or any other milk substitutes you use.
What flavor is snow cream?
If you use vanilla in your snow cream recipe, the flavor will have a slightly vanilla flavor. However, you can omit the vanilla and snow ice cream will still taste sweet because of the sugar added.
Is snow ice cream safe to eat?
Many people wonder is snow ice cream safe? You definitely need to gather clean snow. We do this by putting a bowl outside and collecting the snow while it's falling or we gather the snow off the top of something (like a table) right after it has fallen. You'll have to decide and eat snow at your risk.
You can also make this old fashioned snow cream recipe using shaved ice instead of snow using a snow ice cream machine! Then you can make sno ice cream even if you don't live in an area with snow!
---
Try these other fun winter activities:
---
Can you make snow ice cream with the first snow?
Yes, you can make snow ice cream with the first fallen snow, as long as you collect the snow in a from a clean area. We prefer to collect the snow in a clean bowl as it's falling.
Even though Lucy van Pelt says, "It's too early. I never eat December snow. I always wait 'til January," you can still make snow ice cream with the first snow.
Let's get to it!
Here's how to make snow ice cream with milk!
How Make Snow Ice Cream
How To Make Snow Ice Cream
Yield: 4
Easy Snow Ice Cream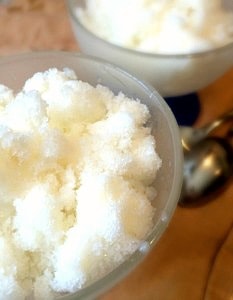 This recipe for snow cream is so simple and makes for a perfect snow day activity!
Ingredients
8-10 cups of snow
1/3 cup of sugar or powdered sugar
1 cup of milk or sweetened condensed milk
1 teaspoon vanilla
Pinch of salt
Sprinkles (optional)
Instructions
Combine sugar, milk, vanilla and salt in a large mixing bowl. Whisk until combined.
Gradually add in snow to milk mixture, gently stirring, until you have created a fluffy mixture.
Spoon into serving dish and top with sprinkles (if desired). Serve immediately (as it does not keep well in freezer).
Nutrition Information:
Yield:
4
Serving Size:
1
Amount Per Serving:
Calories:

103
Total Fat:

1g
Saturated Fat:

1g
Trans Fat:

0g
Unsaturated Fat:

1g
Cholesterol:

5mg
Sodium:

65mg
Carbohydrates:

20g
Fiber:

0g
Sugar:

17g
Protein:

2g
Nutrition information is estimated. Changes to the recipe and use of different brands may cause changes to the nutritional information to vary slightly from the ones provided here.
For our snow days ice cream, we've paired it up with (what else?) a book about winter and snow!
Snow Ice Cream paired with 'It's Winter!' Children's Book
It's Winter! (Celebrate the Seasons!) by Linda Glaser
is a winter snow book that follows a young girl who completely appreciates the offerings of winter.
Like most kids, she loves the snowflakes and sledding and even the hibernating animals.
The illustrations are so cool in this book, with a feeling of cut out images that have been pasted onto the page.
(If you know me, you know how much I love unique illustrations.)
With all the snowy talk in the book, the snow cream is a perfect pairing for a theme recipe!
Plan ahead the night before a snowstorm (or during the day while it's snowing) and put a big bowl outside to catch some clean snow.
Then, after an afternoon of playing in the snow, bring in your bowl of snow and make your snow cream!
You'll have a fun, snowy snack while you read your winter book!
Listed Age Range: Ages 5-9
Have you ever made snow ice cream?
LOOKING FOR FUN COOKING PRINTABLES FOR KIDS?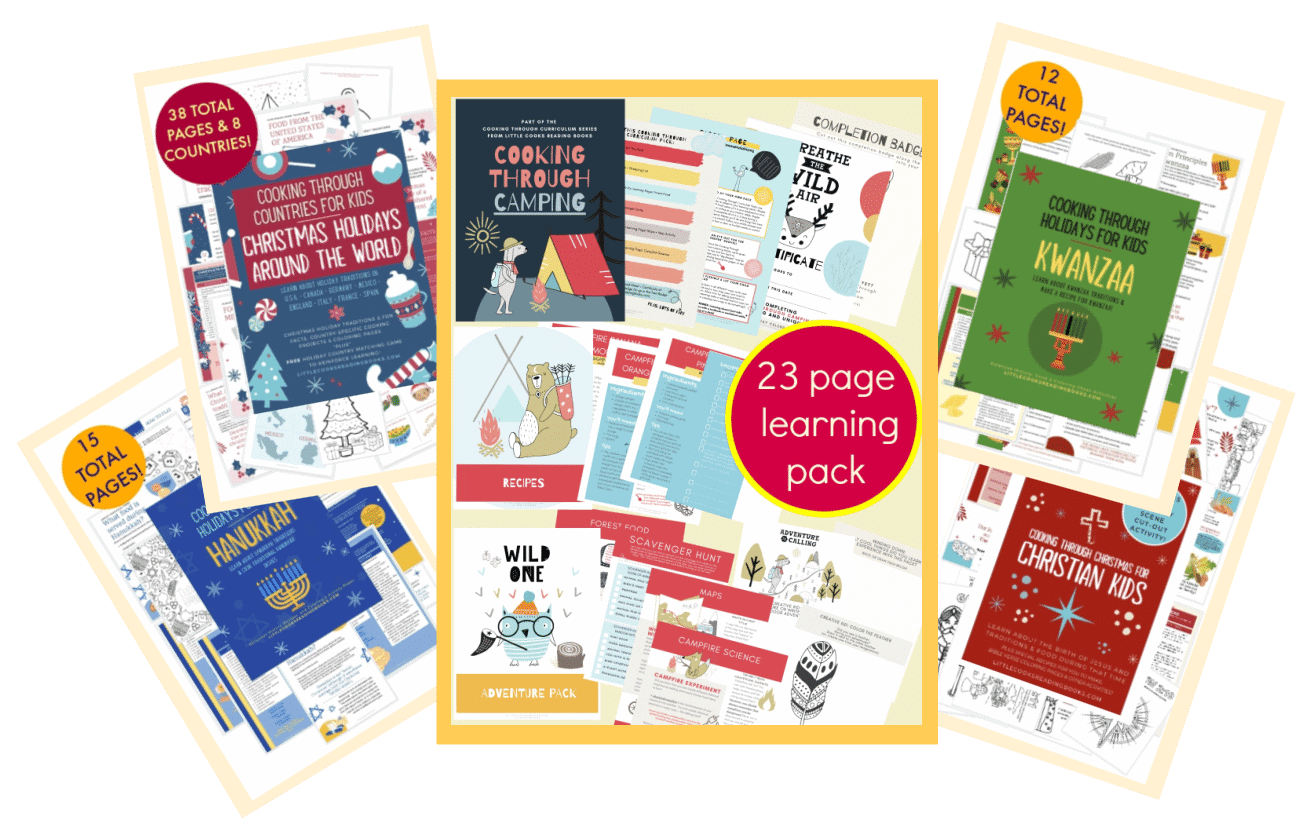 As an Amazon Associate I earn from qualifying purchases. Please refer to our
DISCLOSURE
.