The best Christmas movies list for family movie night to get you into the holiday spirit! Whether you're looking for Christmas movies on Netflix or Amazon Prime, love Hallmark movies or Disney, best Christmas movies streaming, looking for animated claymation, need family Christmas movies for kids, or a new list of Christmas films, we've got you covered—enough best of Christmas movies for 25 days!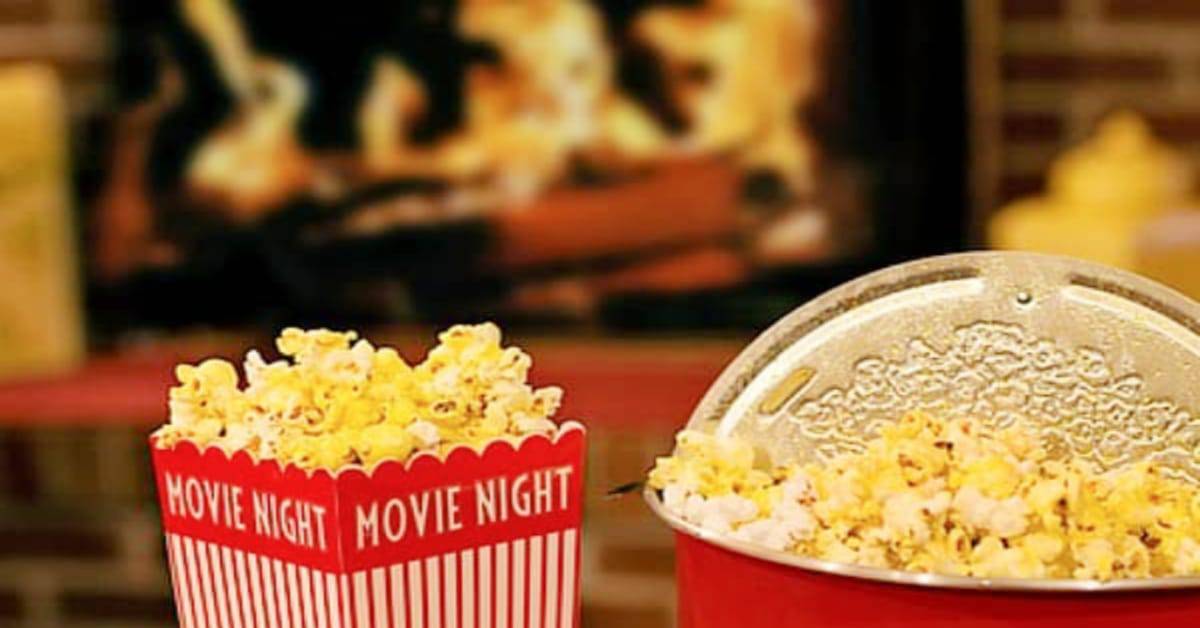 The Best Christmas Movies List for Family Holiday Movies
We have a holiday movie for everyone — from a list of best classic Christmas movies to animated holiday movies, funny holiday movies and more!
What is a good Christmas family movie?
If you want to get right to it, I'll share our Top 10 best Christmas movies for kids and family movie night — some of the best Christmas movies all time.
Top 10 Christmas Movies
A Christmas Story
Rudolph the Red-Nosed Reindeer (probably one of the most famous Christmas movies!)
A Charlie Brown Christmas
Elf
Miracle on 34th Street
Deck the Halls
Christmas with the Kranks (great for comedy family Christmas movies!)
Arthur Christmas
Dr. Seuss' How the Grinch Stole Christmas
Dolly Parton's Christmas of Many Colors (one of the most underrated Christmas movies ever!)
Get the full 25 days of Christmas movies schedule below — from some of the best Christmas movies you've never seen to classic holiday movies for kids!
KEEP SCROLLING!
What is the #1 Christmas movie of all time?
It's A Wonderful Life is traditionally considered one of the best Christmas movies of all time. However, in holiday polls, these holiday movies also rank in the top: Home Alone, National Lampoon's Christmas Vacation, Elf, and A Christmas Story.
What would you put on an all time best Christmas movies list?
YOUR FAMILY MAY HAVE FUN WITH: Christmas Vacation Movie Party Theme
What should I watch on Christmas Eve?
Family movies are great together down time because everyone has to be in one room and there are no phones or gadgets because everyone is trying to take pay attention to the movie. Whether it be Arthur Christmas or Elf or Die Hard (Is Die Hard a Christmas movie?), let everyone vote on what they want to watch on Christmas Eve!
ALSO CHECK OUT
BEST Thanksgiving Movies For Kids and Family Movies
38 Holiday Movies You Forgot About
To help your family get some together time for the holiday season, I've put together the family best Christmas movies, including a best kids' Christmas movies list!
The great thing about today is that you don't have to buy movies, you can just stream Christmas movies. You can watch them free online (like Hulu or holiday Netflix movies) or rent them online through places like Amazon Prime.
(Of course, we still buy and keep our favorites, but we're nerdy that way!)
►(Did you know that you can try Amazon Prime for FREE and watch holiday movies before even paying for Prime — sometimes even new Christmas movies!)
About our holiday family Christmas movies list…
You may not make it through 25 whole days of movies during the holidays, but I encourage to try to make time for as many family movie nights as you can during this time.
Mix it up and introduce your kids to some of your favorite classics from when you were a kid and then watch an animated movie the next night.
Or, take turns letting each person in the family pick a holiday movie for the night! That way everyone has fun with best Christmas movies to watch!
(You can also print the names of all the movies in a jar and draw a new one out every night!)
Oh, by the way…
What are the best Christmas movies?
It's too hard to say!
These are in no particular order because … that would just be way too hard for us to rank our favorites from best to worst! Instead, we have included some favorite Christmas family movies and some unconventional Christmas movies you may not have heard of before!
So, grab your favorite popcorn maker (this kind is our absolute favorite!), make some popcorn, add some movie night snacks, and have fun with these family movie night ideas!
OK! Let's get to our list of the best Christmas movies!
Affiliate links are used on this site. As an Amazon Associate I earn from qualifying purchases.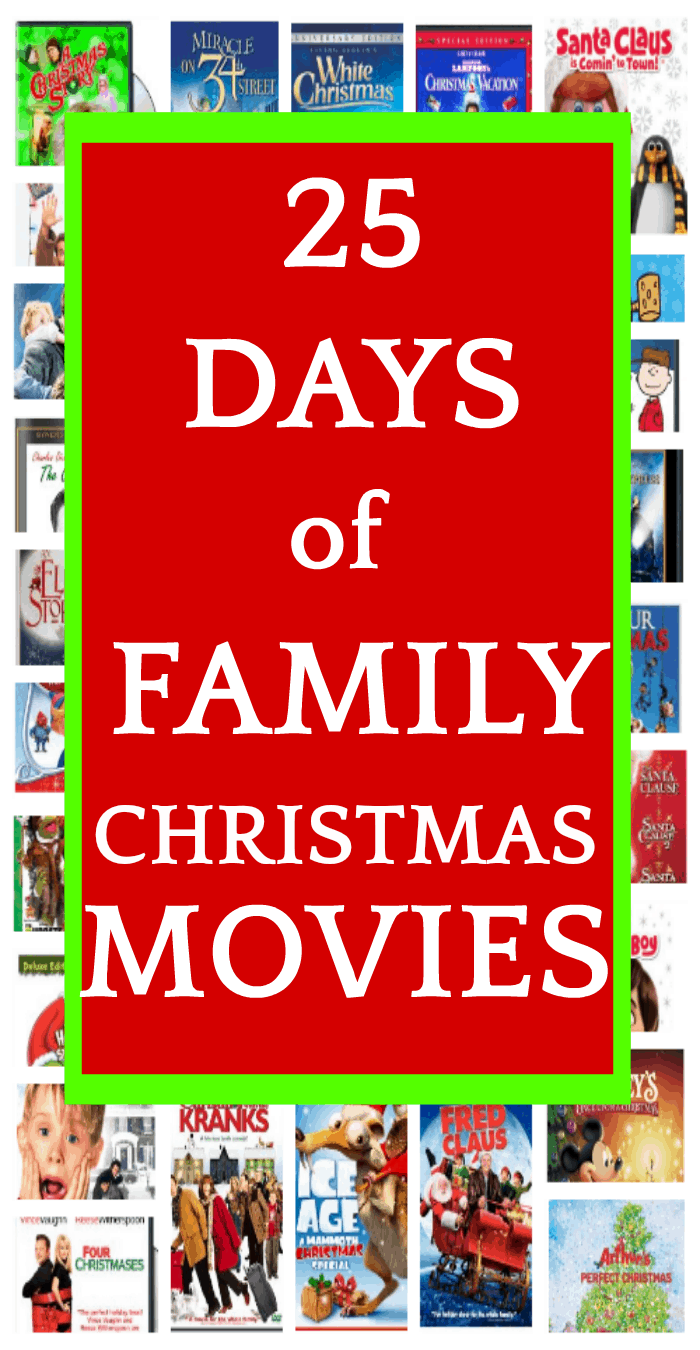 25 Days of the Best Christmas Movies for Families
The Best Christmas Movies List 1: Classic Christmas Movies
There are classic Christmas movies that everyone should see … just because it's tradition (and also because some of them are really awesome)!
There's a wide range of films under this category, so just choose based on your kids' ages and stages.

White Christmas is the class Christmas movie with Bing Crosby, Danny Kaye, and Rosemary Clooney.
"A successful song-and-dance team become romantically involved with a sister act and team up to save the failing Vermont inn of their former commanding general." [IMDB]
RATED: NR
Can I be honest? This holiday movie always made me a little sad.
Don't get me wrong, I think It's a Wonderful Life is a great movie (and one everyone needs to see at least once…to understand "Every time a bell rings an angel gets its wings!" if nothing else).
But, if you've never seen it (WHAT?!), be aware that the subject matter may be a little deep for the younger kids.
"An angel is sent from Heaven to help a desperately frustrated businessman by showing him what life would have been like if he had never existed." [IMDB]
RATED: PG
YOU WILL ALSO HAVE FUN WITH: Ideas For Christmas Party Themes That All Ages Will Love!

A Christmas Carol is a great movie to watch during the holidays, especially because it covers understanding how your actions affect other people and also helping others.
There are many versions of A Christmas Carol out there, but I happen to like this one.
There are also animated versions of this film, if you'd rather go that way. (Check out this one.)
RATED: PG

Ah yes, the ultimate on the list of Christmas movies for kids Rudolph the Red-Nosed Reindeer is a rite of passage (and probably the most popular Christmas movies claymation ever!).
If you only pick one or two Christmas movies for family night, then Rudolph must be one of them!
RATED: NR

What's better than a snowman that comes to life and dances and stuff?
(Nothing, that's what.)
Frosty the Snowman is right up there with Rudolph as an animal holiday movie must-watch.
RATED: NR

The Little Drummer Boy is another claymation movie (along the same line of Rudolph).
This is the sweetest movie that seems to have fallen off the radar over the past few years because they don't show it as a TV special any longer.
It is based on the song by the same name from 1941.
" An orphan drummer boy who hated humanity finds his life changed forever when he meets three wise men on route to Bethlehem." [IMDB]
If you're looking for a Christmas movie about Jesus and the real meaning of Christmas, add Little Drummer Boy to your list!
RATED: NR
ALSO CHECK OUT: Host a Bethlehem Dinner

A Christmas Story is still one of my all-time favorite holiday movies.
"In the 1940s, a young boy named Ralphie attempts to convince his parents, his teacher and Santa that a Red Ryder BB gun really is the perfect Christmas gift." [IMDB]
And, it's one that kids of all ages will enjoy—full of hysterical moments that will keep the family rolling! If you're looking for funny Christmas movies, A Christmas Story and Elf are both good choices!
RATED: PG
A Charlie Brown Christmas movie is another of my favorite childhood movies that came on during the holidays.
It's such a great message because it follows how Charlie Brown feels defeated by how commercialism has taken over the holidays and he seeks to restore the true meaning of Christmas.
RATED: NR

How the Grinch Stole Christmas is another Christmas classic movie.
There are many versions out now, but I still like the original animated movie cartoon version (although the movie version with Jim Carrey is pretty good, too, if you're looking for a non-animated version).
RATED: NR

Miracle on 34th Street is another on my one of the best Christmas movies list!
It's another movie that has a lot of versions (but my favorite is the one listed above).
(Here's the 1947 version if you're looking for the original.)
Also, if you're looking for romantic Christmas movies, this holiday film has a really sweet romance with it.
RATED: PG
Remember Santa Claus Is Comin' To Town from your childhood?
It was another stop motion Christmas television special about a mailman deciding to answer some common questions about Santa and Christmas.
The story takes us through Kris Kringle's life. When he grows up, he wants to deliver toys to Sombertown, but the Burgermeister won't allow it!
How will Kris Kringle become Santa and get the toys delivered?
RATED: NR
FUN PROJECT TO DO WITH FAMILY MOVIE NIGHT:
The Best Christmas Movies List 2: Comedy Christmas Movies
If you haven't introduced your kids to Home Alone yet, then it's time!
This is still a laugh out loud fun family movie for the holidays!
(There's also a Home Alone 2 with the same cast.)
RATED: PG
I love Elf—like, watch it every time I see it on TV during the holidays love it.
It's just such a funny holiday movie!
In case you didn't know, Buddy (who is a full size human) was raised at the North Pole with elves.
One day, when Buddy learns that he was adopted, he decides to go to New York to find is real father…and it's seriously hysterical.
RATED: PG

The Santa Clause is a Christmas comedy movie with Tim Allen.
A contract "clause" comes into play that makes a dad assume the Santa Clause role.
There is also a Santa Clause 2 and Santa Clause 3 for a complete The Santa Clause Trilogy.
RATED: PG

I happen to think Christmas with the Kranks is one of the funniest family Christmas movies…but it never makes any lists!
The Kranks decide they are going to participate in Christmas this year, much to the neighborhood's dismay.
They go through ups and downs of community peer pressure to participate in all the activities, until the very last minute their daughter decides to come home. The Kranks then must enlist all the neighbors they've angered over the season to help them decorate for Christmas at the last minute.
LOTS of laughs in this one!
RATED: PG
The Griswolds are just trying to finally have a perfect Christmas, until family members start to show up unannounced and holidays become hysterical.
NOTE: There is a little language and potty humor in here, but your older kids will love it.
RATED: PG-13

Fred Claus is a movie about Nicholas and his misfit brother, Fred.
When Fred gets into trouble, his brother Nicholas moves him to the North Pole to pay off his debts by helping the elves make toys.
RATED: PG

Jingle All The Way is a funny movie about a dad who, on Christmas Eve, is on the hunt for Turbo Man, the hottest action figure toy for the year.
RATED: PG
Deck the Halls is another hysterical Christmas movie that never seems to make any of the best of lists.
Steve (played by Matthew Broderick) is a rigid optometrist who must have everything perfect at Christmas.
A new neighbor Danny (played by Danny DeVito) moves in across the street and decides to put enough lights on his house to be seen from space.
A hysterical journey of tit-for-tat takes place. I seriously LOVE this movie!
RATED: PG
The Best Christmas Movies List 3: Animated Christmas Movies
Arthur Christmas is a sweet animated movie about Arthur, Santa's youngest son, and his journey to deliver a lost Christmas package to a child in order to save Christmas.
RATED: PG

A beautifully animated movie that takes a little boy on a train ride to show him that he can still believe in Christmas.
Fair warning: The story and the animation is beautiful, but I find the animated characters a little creepy. (Anyone else?)
RATED: PG
You can also read the book, which is really beautiful.
Everyone's favorite Disney mouse is back for this animated Christmas show with three stories.
RATED: NR
The Best Christmas Movies List 4: Drama Christmas Movies

Little House is another really wholesome family holiday movie option.
I love these because they're good holiday movies for kids of all ages and holiday movies adults will love, too!
Its two Christmas episodes of Little House on the Prairie won't disappoint!
RATED: NR
OK, this is really a two-for-one for family Christmas movies dramas and one of the best Christmas movies you haven't seen!
Grab the tissues for these wholesome family movies because they'll definitely tug at your heart strings.
These two movies are based on Dolly Parton's childhood.
In the Coat of Many Colors, the family overcomes a tragedy and finds comfort in an important handmade patchwork coat.
In Christmas of Many Colors, a blizzard strikes and the family is forced to rely on faith and each other when they run out of food.
Both are fantastic family movies!
These are some of my favorite holiday dramas.
RATED: NR

What would the best Christmas movies list be if we didn't include one of the Nutcracker adaptations?
We really enjoyed this version of the Nutcracker movie with Macaulay Culkin and, of course, the beautiful music!
RATED: NR
What are your favorites on The Best Christmas Movies list?