Christmas Story soap LifeBuoy was a recurring theme of the Christmas Story movie. (Remember, Ralphie gets soap poisoning from that red soap?) Our edible Ralphie bar of soap makes great party treats and fun Christmas Story recipes to go with the movie for a fun holiday theme party! Here's how to make soap from Christmas Story that you can eat (Christmas candy!) and fun food to pair with Christmas movies!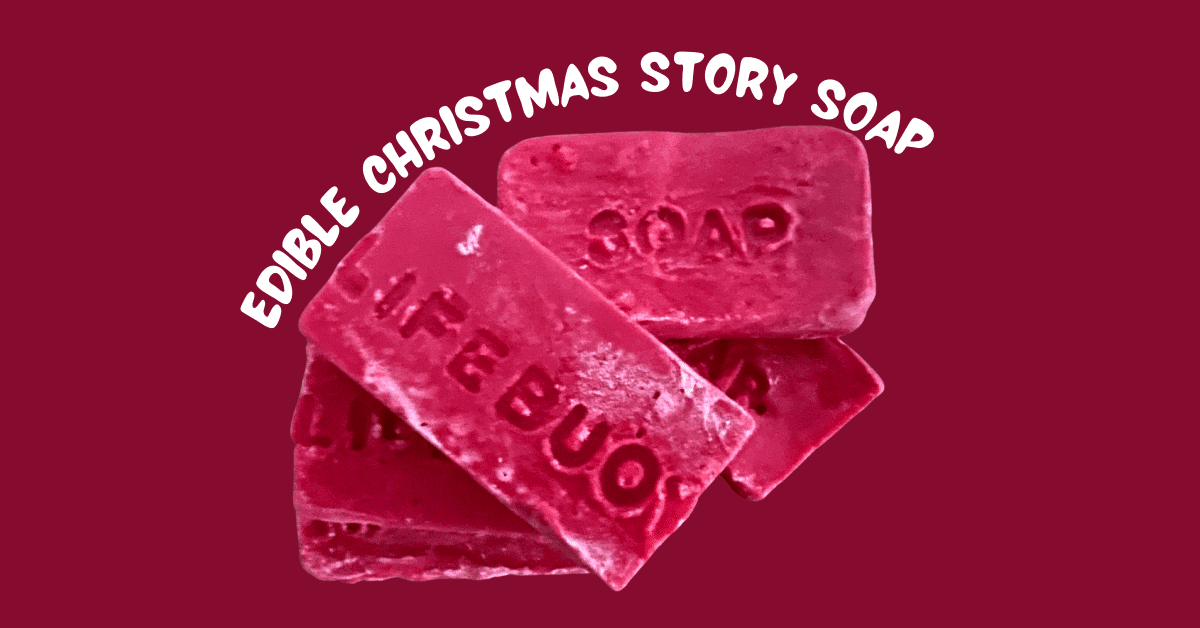 How To Make Christmas Story Soap You Can Eat!
The Christmas Story soap in mouth scene seems to be a holiday movie scene that everyone always remembers. You saw Ralphie eating soap, now you can eat the soap used in Christmas story, too! If you're looking for A Christmas Story holiday recipes and party ideas or dishes inspired by A Christmas Story, definitely add a Christmas Story red soap that you can eat. Super fun Christmas movie desserts and holiday candies!
How To Make Edible Christmas Story Lifebuoy Soap
To make red bar soap Christmas story party treats, you'll need:
Red chocolate melts
Candy flavoring (optional)
Silicone molds (rectangle, at least 2 inches)
Candy stamper
Get the full Christmas Story soap in the mouth candy recipe below. Great for A Christmas Story party theme! KEEP SCROLLING to get the Christmas Story food printable recipe card.
Affiliate links are used on this site. As an Amazon Associate I earn from qualifying purchases. Read more in our DISCLOSURE.
So what brand of soap was used in A Christmas Story?
What soap was used in a Christmas story?
In the movie scene with Ralphie soap in mouth, Ralphie mentions three brands of soap.
Soap in Christmas Story:
LUX Soap
Palmolive Soap
Lifebuoy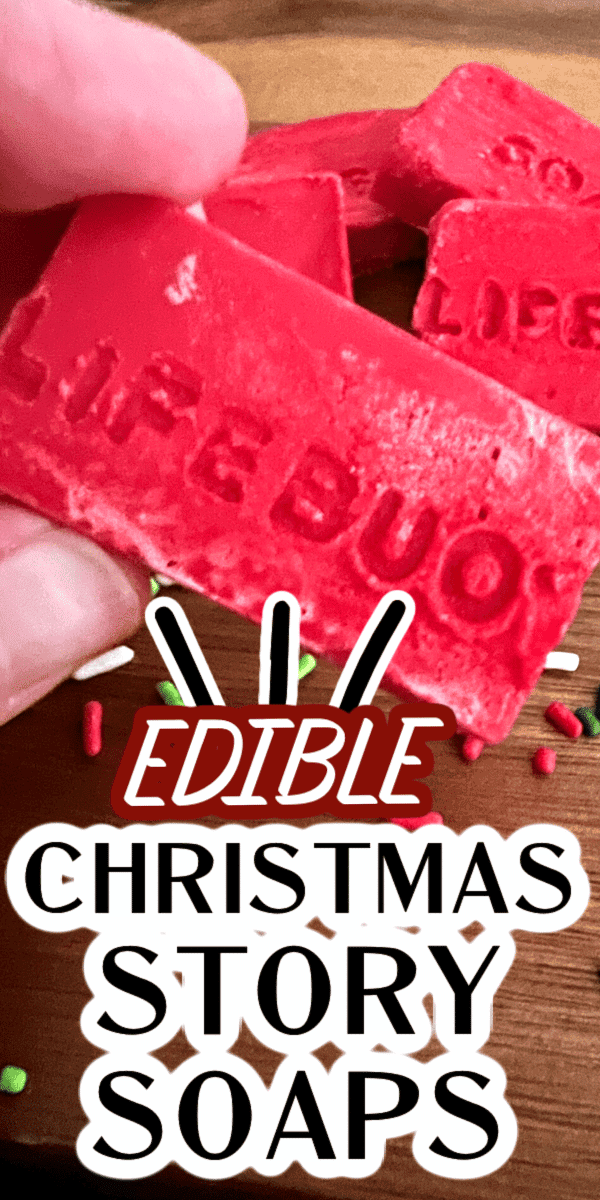 What brand of soap did Ralphie eat?
The A Christmas Story soap scene after the Ralphie Oh Fudge Only I Didn't Say Fudge scene (aka: Oh Fudge Christmas Story scene) shows Ralphie with a bar of red soap in his mouth. That Christmas Story soap brand is Lifebuoy, which was a popular soap brand during the year the movie was set (1940).
What soap made Ralphie blind?
A Christmas Story soap in mouth scene (after the Christmas Story swearing) was called LifeBuoy. However, when Ralphie later appears at his parent's door and his blind, he proclaims it was due to soap poisoning, presumably from his years of having his mouth washed out with soap of different kinds.
ALSO CHECK OUT: How To Have A Christmas Story Party
What was the soap made of in A Christmas Story?
Ralphie's red bar soap Christmas Story (Ralphie with soap in his mouth) was supposed to be a real bar of Lifebuoy soap, but it was actually made out of a wax mold and was a Lifebuoy soap Christmas Story movie prop.
Christmas Story Soap Quote
During the Christmas Story eating soap scene that shows Ralphie soap in mouth, the voiceover adult Ralphie says:
Over the years I got to be quite a connoisseur of soap. My personal preference was for Lux, but I found Palmolive had a nice, piquant after-dinner flavor – heady, but with just a touch of mellow smoothness. Lifebuoy, on the other hand … blech.
That's when his mom removes the red soap Christmas Story from Ralphie's mouth in the A Christmas Story bathroom scene.
Is there a new Christmas Story coming out?
Yes! HBO Max has announced A Christmas Story sequel, which will follow a grown-up Ralphie Parker (actor Peter Billingsley, who also played the young Ralphie in the first Christmas Story). "A Christmas Story Christmas" premieres on HBO Max on November 17, 2022.
Make the iconic soap scene for a new Christmas Story movie watching party! (We triple dog dare you!)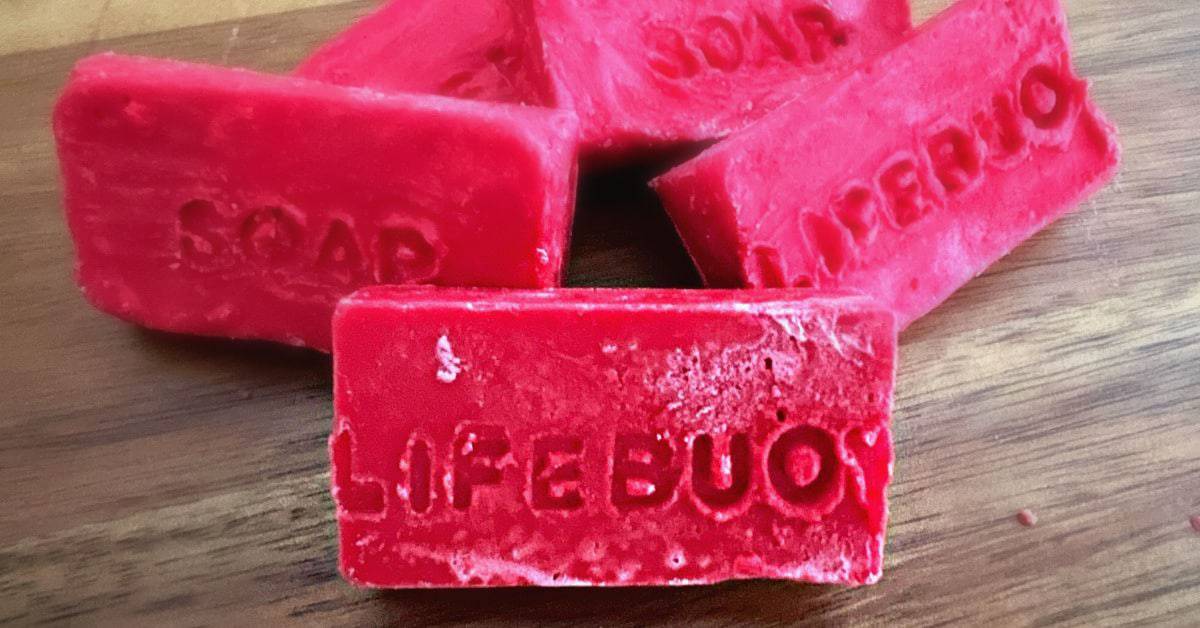 Important DIY Soap Christmas Story Recipe Tips
CANDY MOLDS: For the soap candy, you will need rectangle silicone molds like this. If you can find the 2 inch (length) ones, use those. We used the molds we had and they were just barely long enough to fit the word Lifebuoy on them. (You can see in the recipe photos.)
SOAP STAMPER: To make the names on the soap, we used these candy stampers (cookie stampers) with interchangeable letters. To get the letters to stay in place, I put tape on either side of the word (after I inserted the letters). Also, remember that it will stamp backward, so arrange the letters accordingly.
It's best to let the chocolates set almost completely before you stamp them. GENTLY press the stamper into the chocolates or you will break them! It may take you a couple for practice before getting it right.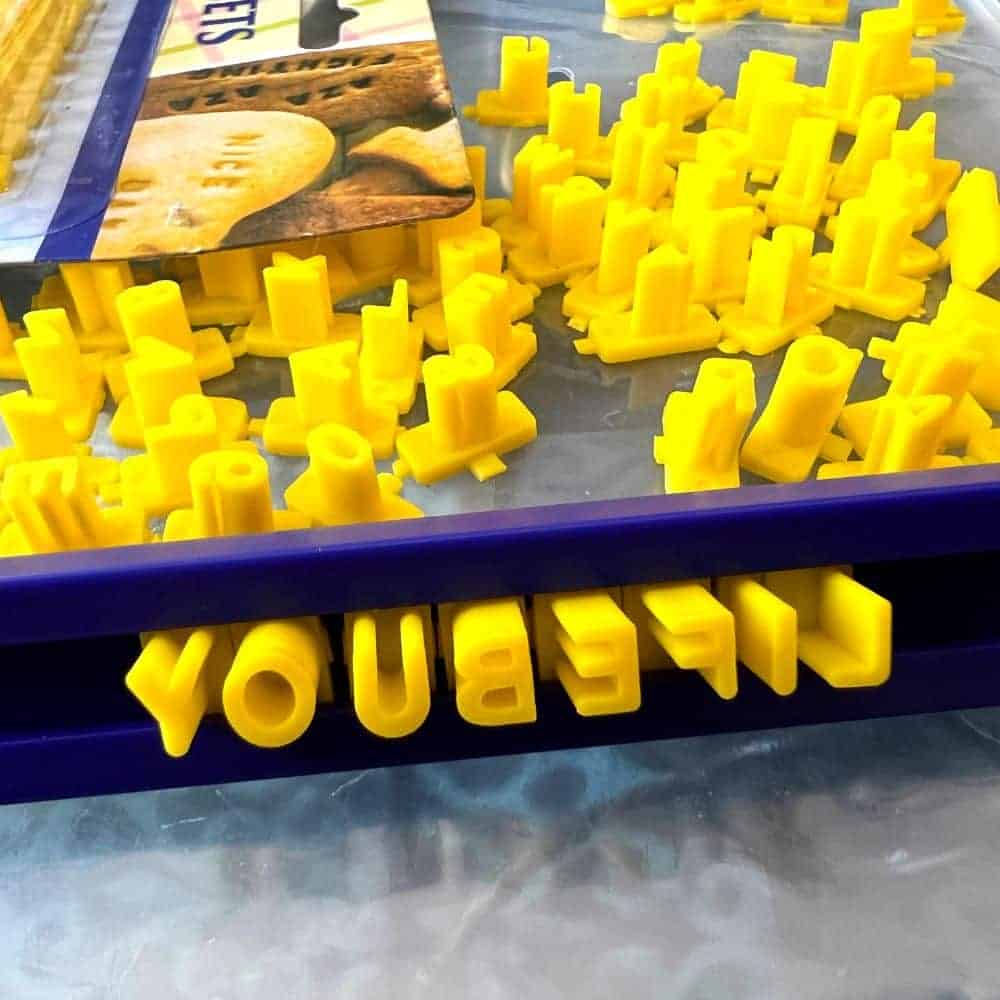 CHOCOLATE CANDY FLAVORING: The Candy Melts (like this) are vanilla flavored. However, you can add candy flavoring (cherry, cinnamon, etc.) to your LifeBuoy soap candies – but make sure the extract is oil-based like this.
IMPORTANT: DO NOT use regular food coloring if you have white chocolate melts. You need to either get the red chocolate melts or use the food coloring specifically for chocolate.
Let's get to our Christmas soap recipes (Christmas Story Ralphie soap). These red soap from the Christmas story are super easy and fun to make!
These fun iconic foods from the classic Christmas movie make great party favors for guest to take home, too. (Attach A Christmas Story Lifebuoy soap quote on the outside!)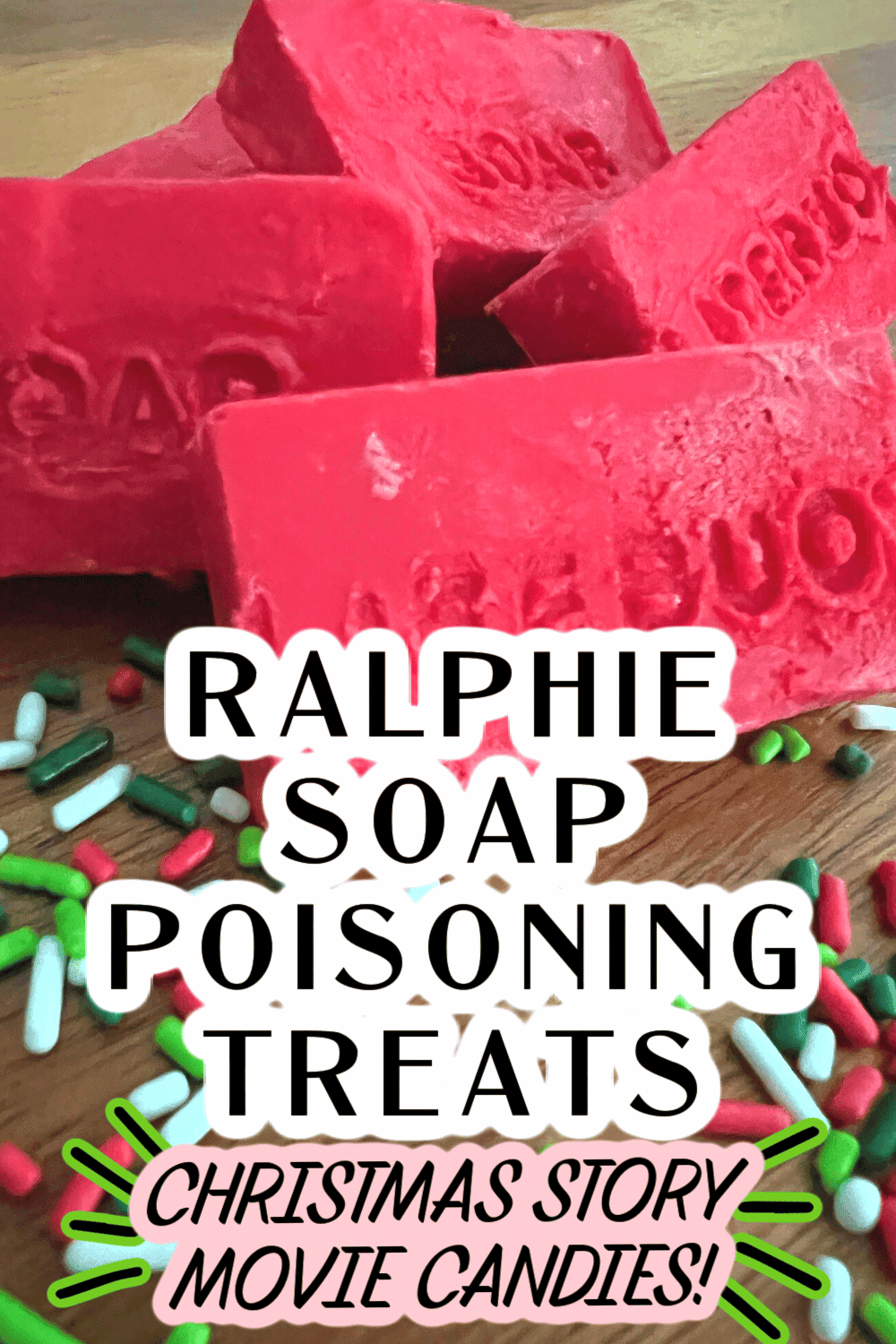 How To Make Homemade Christmas Soap You Can Eat! (Christmas Story Movie Recipes)
With our edible DIY Christmas soaps, you don't need to worry about A Christmas Story soap poisoning!
Our Christmas Story bar of soap treats are made from melted chocolate from a chocolate mold (kind of like you would use for a fudge kit) and a soap stamp to look like the Christmas Story soap brand.
You can also recreate some funny Ralphie Lifebuoy soap in mouth party pics!
Here's how to make this easy Christmas movie food Lifebuoy Christmas Story chocolates! (If you're wondering what food did they eat in a Christmas Story, it wasn't lifebuoy soap like this!)
Yield: 12
Christmas Story Soap Candy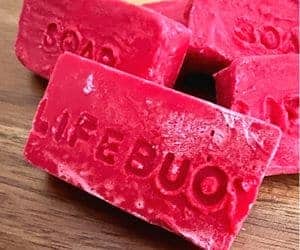 What was the red soap in a Christmas story? Lifebuoy Soap!
Our edible Lifebuoy soap is perfect for The Christmas Story party theme or funny holiday party gift bag favors.
Additional Time
20 minutes
Ingredients
12-ounce Wilton's red candy melts chocolates
Candy flavoring of choice (optional, oil-based flavoring only)
Instructions
Place Wilton's Melts red candy in a microwave-safe container.
Microwave at 50% power for up to 1 minute.
Remove from microwave and stir until melted. (If needed, microwave in 30 second increments, stirring after each, until completely melted.)
Immediately pour Melts into silicone molds. Allow to set and harden for 10-20 minutes. (The amount of time will depend on how big you make your soaps.)
Prepare the candy stampers by inserting the letters for LIFEBUOY and/or SOAP. IMPORTANT: You need to insert your word backwards so the word is the correct way when it's stamped onto the candies.
Before the melts completely set, carefully remove them from the silicone molds. GENTLY press the stamper words onto the soaps. DO NOT USE TOO MUCH FORCE OR YOU WILL BREAK THE CANDIES.
Set aside to harden completely.
Use the edible Christmas Story Lifebuoy soaps in dishes for a Christmas Story theme party or in holiday favor bags.
Notes
The number of small bite-sized soaps you get will depend on how big your silicone molds are. You may get more or less than the 12 listed here.
IMPORTANT: To make the red Lifebuoy soaps like in The Christmas Story movie, you'll also need rectangle silicone molds at least 2 inches and also the candy letter stampers. We talk about this in the main post, so be sure to scroll up for all the information.
Nutrition Information:
Yield:
12
Serving Size:
1
Amount Per Serving:
Calories:

117
Total Fat:

0g
Saturated Fat:

0g
Trans Fat:

0g
Unsaturated Fat:

0g
Cholesterol:

0mg
Sodium:

11mg
Carbohydrates:

29g
Fiber:

0g
Sugar:

18g
Protein:

0g
Nutrition information is estimated. Changes to the recipe and use of different brands may cause changes to the nutritional information to vary slightly from the ones provided here.
A Christmas Story is a great family movie and our Christmas DIY soaps make a great movie treat and Christmas kids activities!
If you want more family movie ideas, be sure to check out our list of Best Christmas Movies List for 25 Days of Holiday Family Movie Night Activities!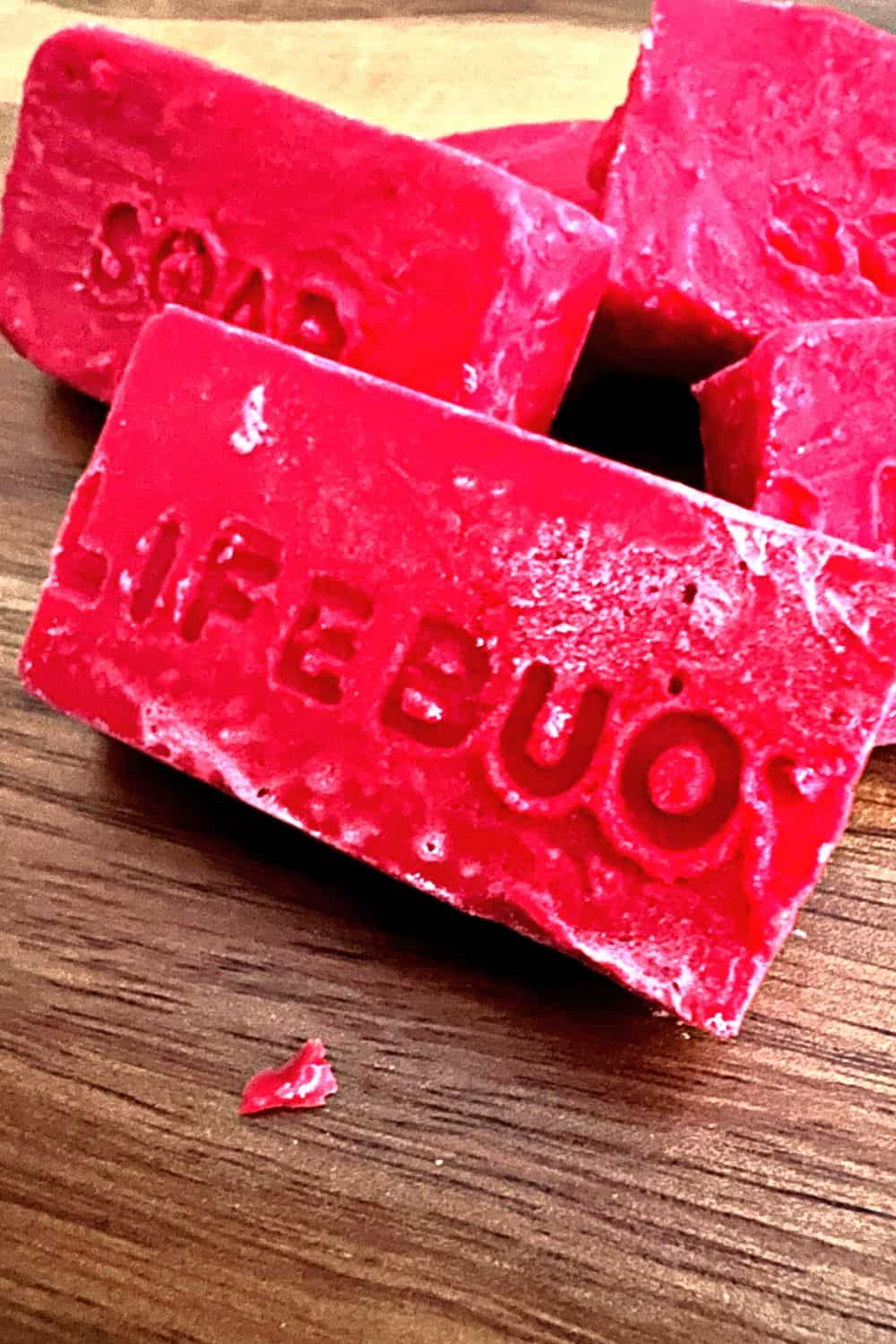 MORE HOLIDAY RECIPES: How To Make Christmas Theme Breakfast Pancakes
Have fun with this DIY Christmas Story soap candy!
LOOKING FOR FUN COOKING PRINTABLES FOR KIDS?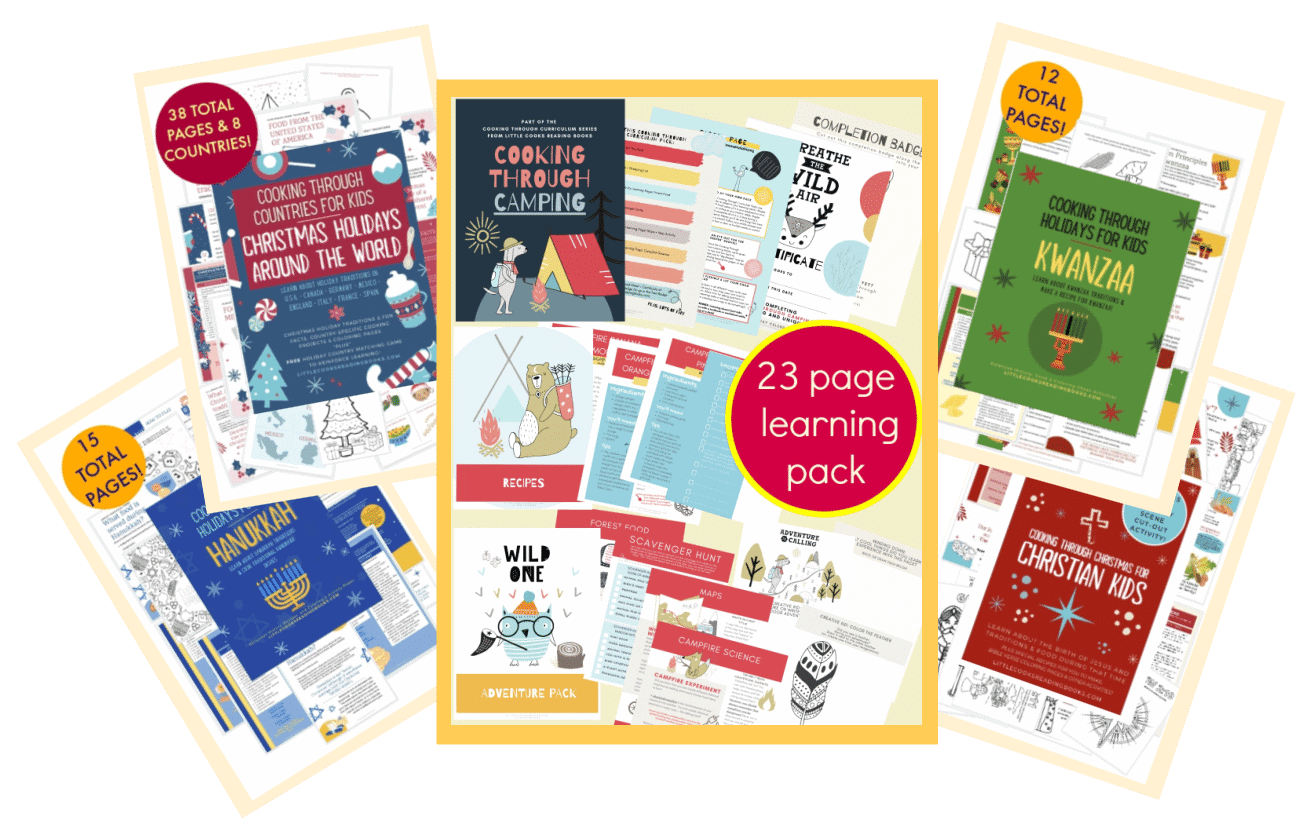 As an Amazon Associate I earn from qualifying purchases. Please refer to our
DISCLOSURE
.