Need autumn apple bar ideas / apple nacho bar ideas, wondering what to put on an apple charcuterie board, or want to make a caramel apple appetizer? This is great for a Halloween snack board, caramel apple sticks snacks, alternative to candy apple ideas, fun game day food, fall harvest party, or a fun fruit snack board to make together along with your other fall kids activities. Sweet and tart treat children and adults will love and fun way to serve apples at a kids party!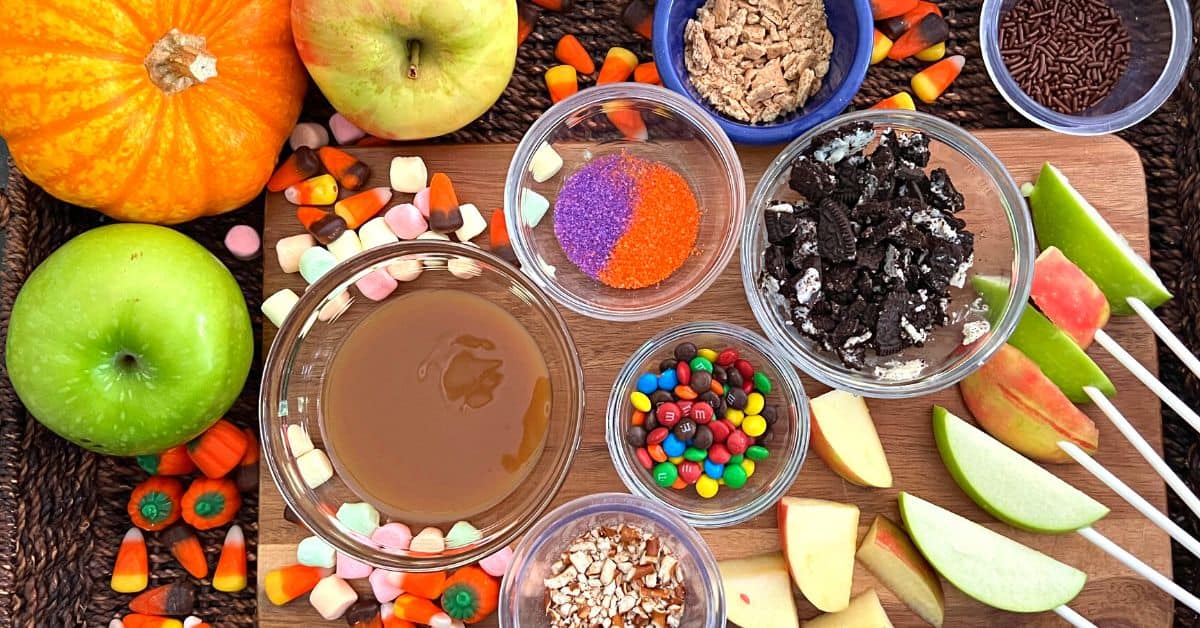 Easy Apple Bar Ideas for Fall Parties, Halloween Party Foods, or Easy Autumn Snacks for Kids
Fallcuterie is a fun charcuterie board idea where you use all fall themed foods. We decided to make a charcuterie board with caramel apples and apple toppings. It makes a fun Halloween party board or ideas for apples after a visit to the apple orchard! If you're wondering what do you eat with caramel dip, this fall snack board will give you great ideas and fall inspo!
What toppings can you put on caramel apples?
30 Fun Ideas For Apple Bar
Melted caramels* (or old-fashioned caramel)
Crushed pretzels
Mini marshmallows
Crushed graham crackers
Mini M&Ms
Shredded coconut
Reese's Pieces
Raisins
Granola
Chocolate Sprinkles
Fall colored sprinkles / jimmies
Cranberries
Mini Reese's Pieces
Crushed nuts
Mini peanut butter cups
Fruity Pebbles
Mini semi sweet chocolate chips (or milk chocolate)
White chocolate morsels
Heath bits
Crushed cookies
Slivered almonds
Trail mix
Rice Krispies
Chopped peanuts
Peanut butter
Nutella
Honey
Chocolate dip
Thick yogurt
White icing
Get creative with your toppings for apples! Just about any of your favorite toppings can be used for your board for apples and dipping sauces. Have fun with your caramel apple topping ideas and candy apple bar ideas.
Affiliate links are used on this site. As an Amazon Associate I earn from qualifying purchases. Read more in our DISCLOSURE.
*See below for an important tip about using caramel melts vs caramel topping. KEEP SCROLLING for the full apple fall snack platter printable card, ingredient notes, and expert tips for your caramel apple toppings bar.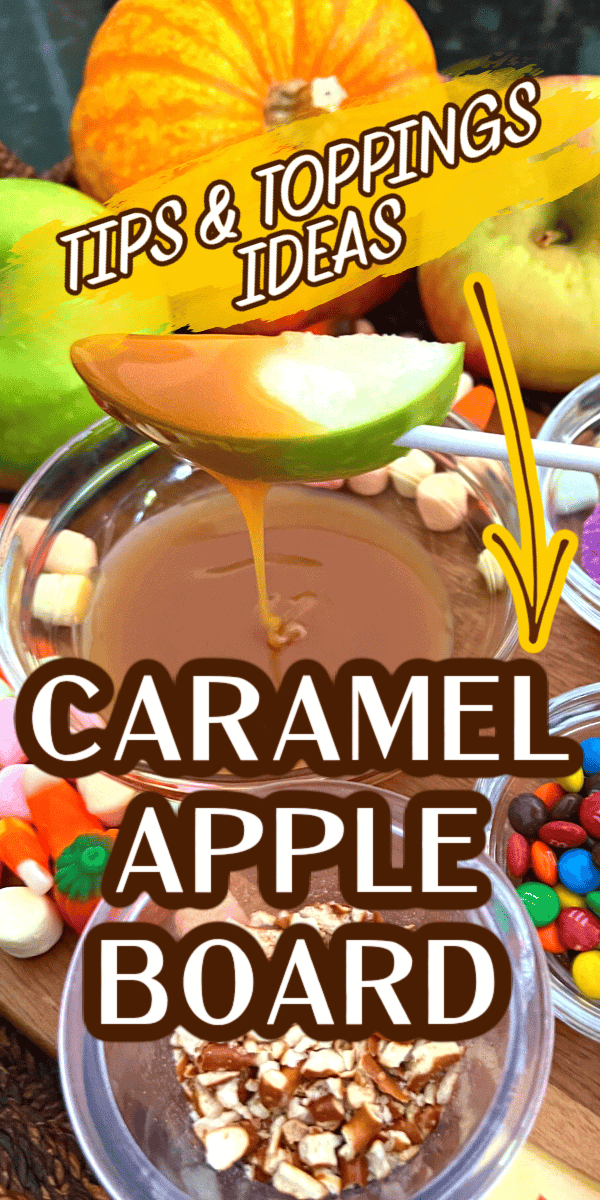 Before we get to the fall inspired charcuterie board and how to make fall caramel apple trays, here are some common questions that will help you with you apple boards (including the important how to keep apple slices from turning brown!)…
How do you cut apples for a charcuterie board?
Slicing apples for charcuterie board is easy with an apple core slicer. It will give you even slices of apples. You can also cut down the apple on two sides and then slice them into thick slices. If you are using apple slices for an apple bar or caramel apple charcuterie, you want to cut thicker slices so that it will hold the dipping sauces and toppings.
If you're wondering what do you use to slice apples, we recommend this.
What are the best apples for caramel apples?
Granny Smith apples (the green apples) are generally the most popular choice for caramel apples. The tartness of that apple variety pairs well with sweet. However, you can use any variety of apple of caramel apples or apple snack boards. We love Honeycrisp or Gala apples, which both are not overly sweet and are mild tasting!
Can apples be put in the fridge?
YES! You can store apples in the refrigerator and they will last a lot longer — up to 2-3 months! If you have cut apple slices, store them in an air-tight container before refrigerating.
Does Sprite keep apples from turning brown?
Sprite will keep apples from turning brown, as well as lemon juice. After slicing apples, toss them in Sprite or lemon juice blot them dry and then place them on the apple bar / apple board, use them for dipping in caramel apple dip, or store them in an airtight container in the refrigerator.
How do you make caramel stick to apples?
You may be wondering why does caramel not stick to apple sometimes. The wax coating on apples and then the apples being sliced will sometimes prevent caramel sticking to them. Scrub the apples before cutting. After cutting and soaking (to prevent them from turning brown), dry thoroughly before using them for your apple board charcuterie.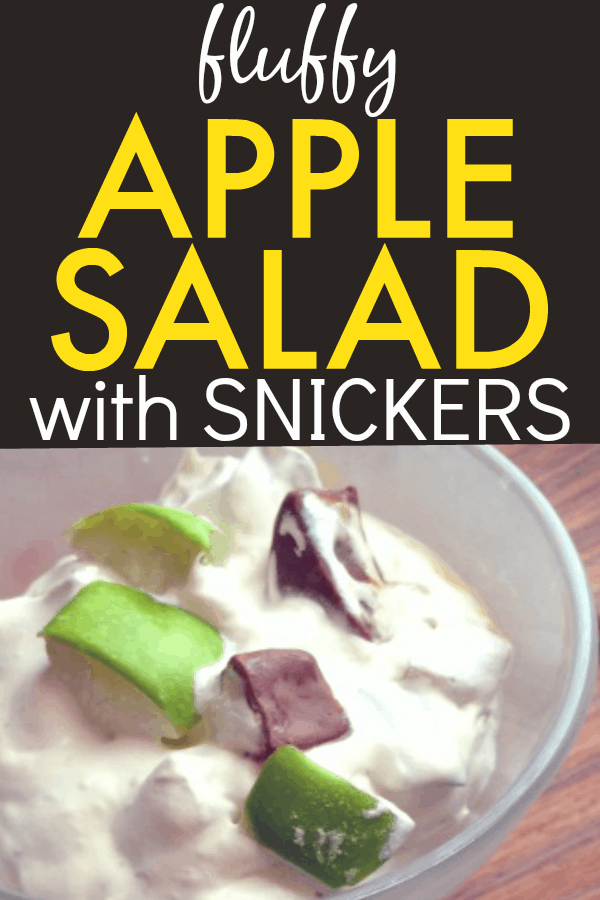 Looking for dipped apple recipes?
Try our Snickers Apple Fruit Salad!
What kind of sticks do you use for caramel apples?
The kind of sticks you use for caramel apples will depend on if you are using whole apples for caramel dipping or apple slices for caramel dipping (like you would have for a charcuterie apple bar). If you're using them for slices and toppings for caramel apples, use a thicker skewer. It makes the caramel apple wedges easier to pierce.
These sticks with a point are perfect for apple wedge slices.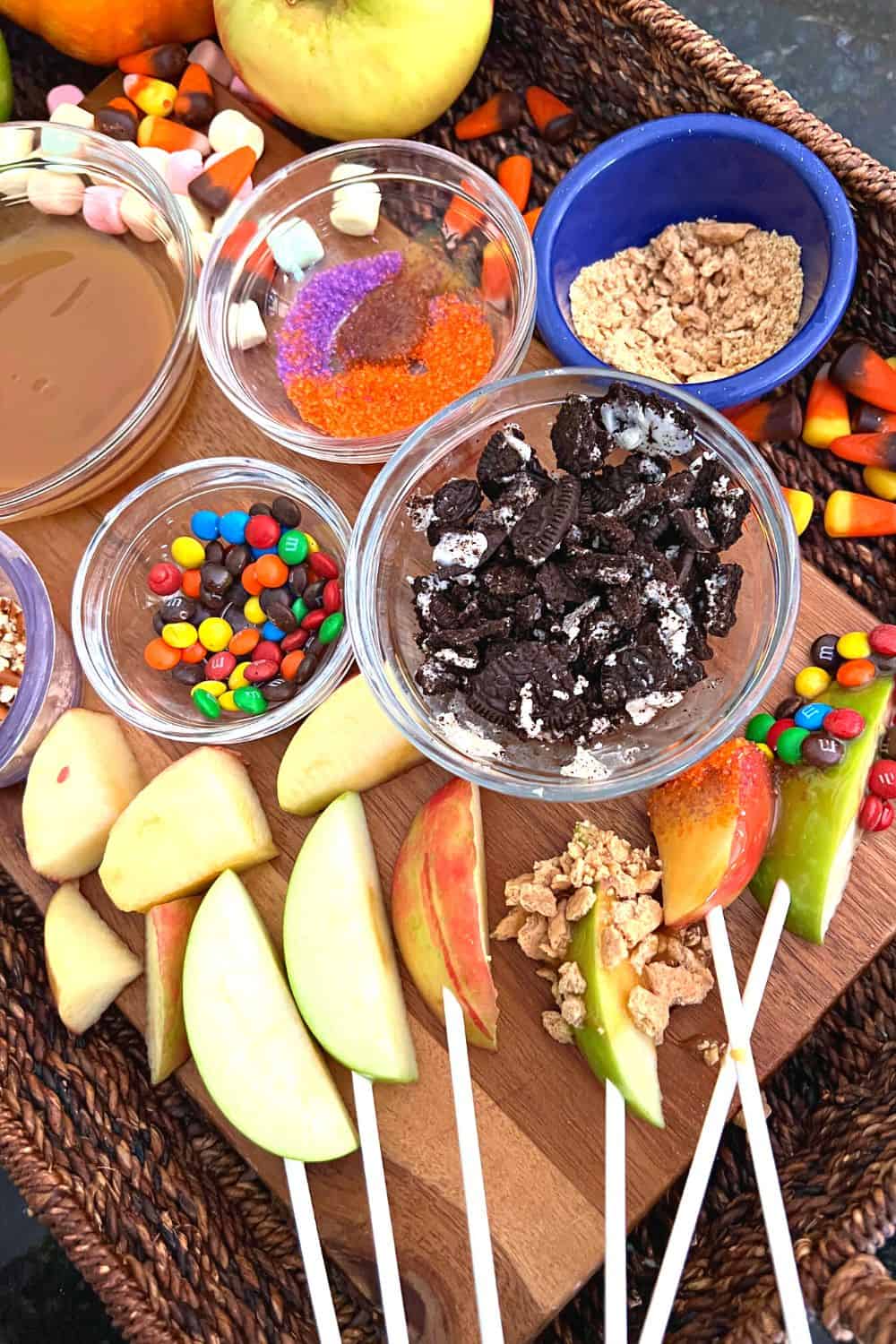 Here's what you need to have a caramel apple bar party / apple dipping bar, candy apple topping ideas, and fun fall charcuterie ideas. What says fall more than sliced apples with caramel sauce?
How To Make A Snack Board With Apples
If you were thinking of doing caramel apples for party, kids caramel apple snacks, or wanted caramel apple Halloween ideas, try a DIY apple bar instead!
(By the way, use apples on charcuterie board of any type! They're super fun on a popcorn charcuterie board or a meat platter!)
I love this for a simple fall charcuterie board. You can put together fall food boards like this in a matter of minutes and have it ready for a kids snack or party plate with dipped apple slices.
You can use anything you want for a caramel apple tray. We used a wood cutting board and placed it in a long tray basket like this.
I loved using the tray basket because it allowed us to decorate around the charcuterie board apples with mini pumpkins, whole apples, and fall candy (like candy corn and candy pumpkins).
Also, this doesn't have to be just a caramel apple board. You can add other dips (yogurt, thick chocolate dip, etc. for an apple chocolate dessert board) to go along with your caramel apple platter. (You can use any of your favorite sweet dip for charcuterie board.)
IMPORTANT RECIPE TIP: You cannot use ice cream topping caramel sauce for an apple caramel topping sauce. (You'll be tempted to grab this as a caramel apple hack because it's easy!) It is too thin and will not hold the toppings for candy apples. The best caramel for dipping apples is to either melt caramel melts like this or to buy the thick caramel apple dip.
Tricks To Making Caramel Apples: If you use melted caramel bits, you'll probably want to keep it warm. We use mini crocks like this or dip warming bowls like this.
Don't get too caught up on how to cut apples for charcuterie. We cut slices to put on apple sticks and then also cut smaller apple pieces for people to eat like that.
Also, you can use cute caramel apple bar signs like this for decoration or mini signs like this to label the apple bar toppings for everyone!
HOW TO TIP: If you want to make individual snack bags for kids, put together a little caramel apples kit with apple slices, their own caramel dip, and few toppings in baggies.
Here's how you put together this fall appetizer board with caramel apples (scroll up for the caramel apple bar toppings ideas)…
Yield: 1
DIY Caramel Apple Bar Ideas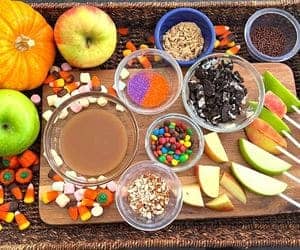 This homemade caramel apple bar is such a fun autumn party idea.
You can use whatever you want for fall charcuterie board ingredients. Just be sure that you use a THICK caramel dip and NOT ice cream topping caramel. It's too thin and won't hold the toppings for caramel apples.
WE HAVE A FULL LIST OF TOPPING IDEAS IN THE POST, SO SCROLL UP TO SEE THEM AND OTHER IMPORTANT TIPS FOR APPLE CHARCUTERIE BOARDS.
Materials
Apples
Caramel Melts (melted) or thick caramel apple dip (NOT caramel ice cream sauce)
Sprite or lemon juice (to keep apple slices from browning)
Variety of caramel apple toppings
Basket or board
Skewers, sucker sticks, or small wooden sticks
Fall candies (like caramel corn) for decorating (optional)
Mini pumpkins for decorating (optional)
Whole apples for decorating (optional)
Tools
Apple corer and cutter (optional, but makes best apple cuts evenly)
Medium bowl (to toss apples)
Mini dishes for apple bar toppings (1 dish per topping)
Bowl for caramel dip
Instructions
Place each apple topping into its own separate mini bowl. Set aside.
Pour or melt caramel dip into bowl. Set aside.
Use an apple corer or knife to create slices of apples.
Immediately toss apple slices in Sprite or lemon juice to prevent browning. Transfer slices to paper towels and gently pat dry.
Carefully thread sticks (long way) into each caramel apple slice.
To arrange your caramel apple fall charcuterie board, place apples with stick side out on the tray or apple basket (so it's easy for people to grab them). Place dip caramel bowl near apples. Arrange toppings for apples around the apple sticks and caramel.
Decorate around around the apples on charcuterie board with mini pumpkins, candies, and whole apples (optional).
Serve immediately.
Notes
**Be sure to create your board for apples and toppings right before the party. You don't want this sitting out too long before people start eating it.
RECIPE TIP: For caramel apple toppings ideas, be sure to use crushed cookies or mini pieces of candies, etc. They have to be small enough to stick on the pieces of apples.
Does caramel sauce go bad?
Caramel sauce and caramel dips will eventually go bad. Most caramel sauces and dips with caramel require refrigeration after opening, so check the package instructions. If there is a discolored or off appearance or if there is an odor, discard the caramel.
MORE APPLE IDEAS:
How To Play The Bobbing For Apples Game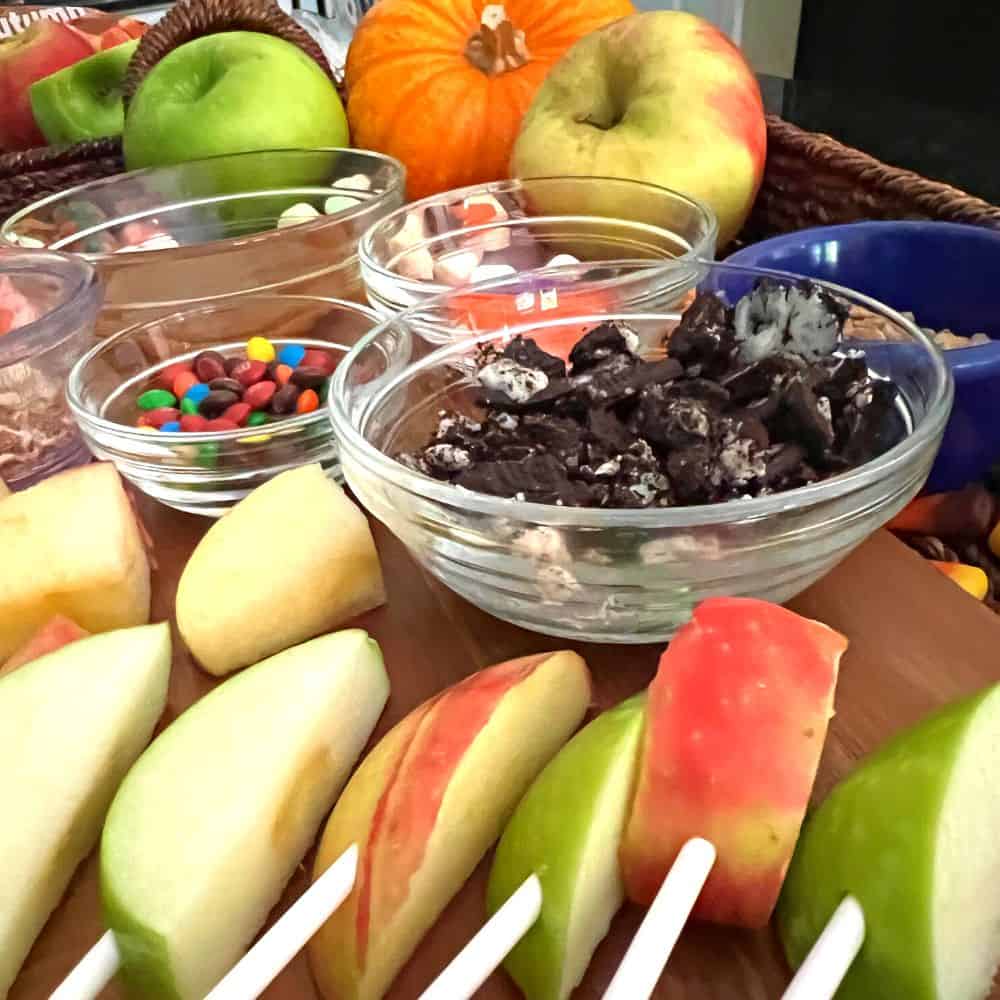 More fun charcuterie board ideas for fall are pumpkin charcuterie boards (pumpkin dip) and a fall vegetables board. Cheese and apple plates (apple cheese board) also make nice fall charcuterie board ideas! Any of these make great harvest charcuterie board ideas or fun fall appetizer board idea!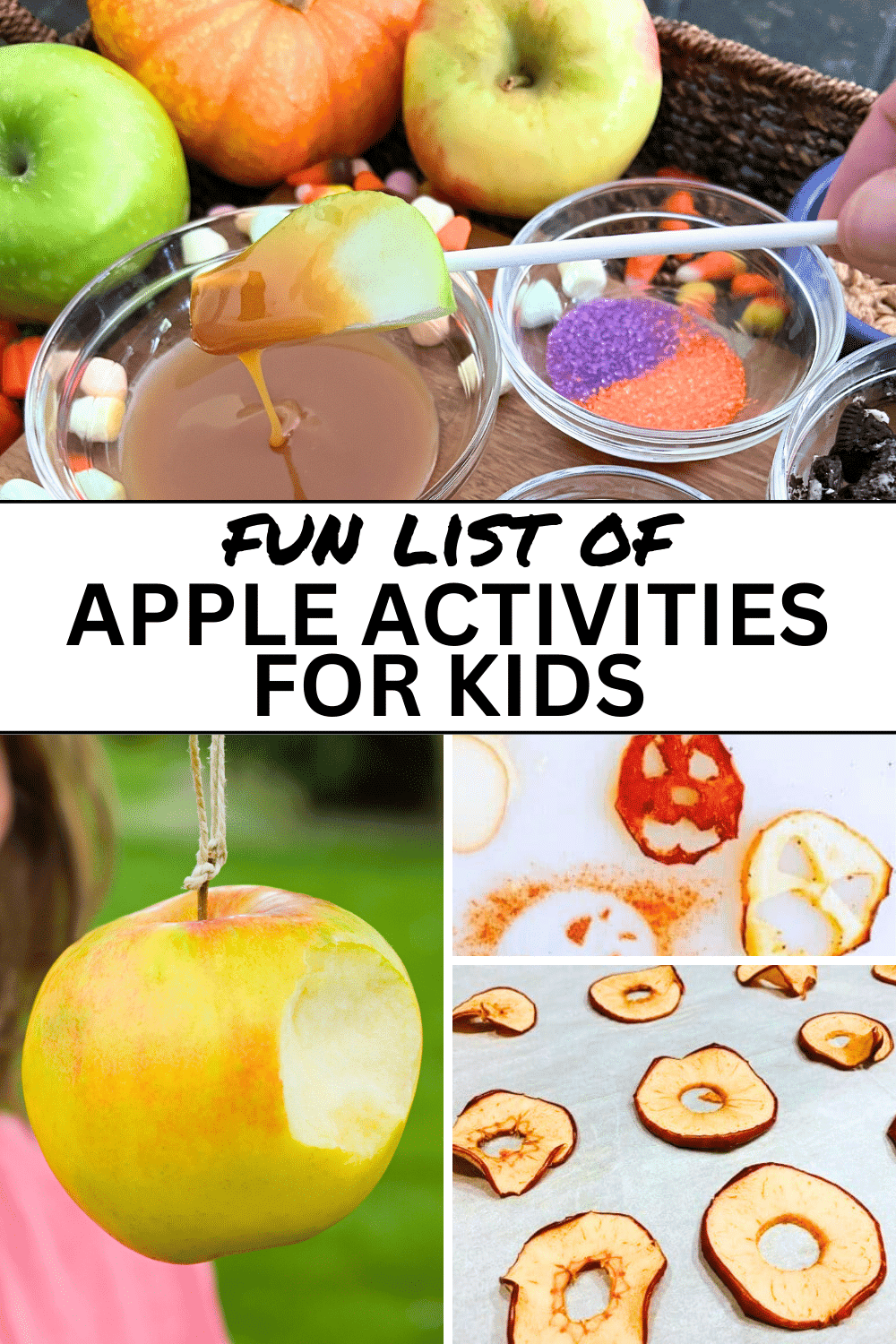 What are your favorite autumn snack board ideas or charcuterie board carmel apple toppings?
Have fun with these apple bar ideas and fall charcuterie!
LOOKING FOR FUN COOKING PRINTABLES FOR KIDS?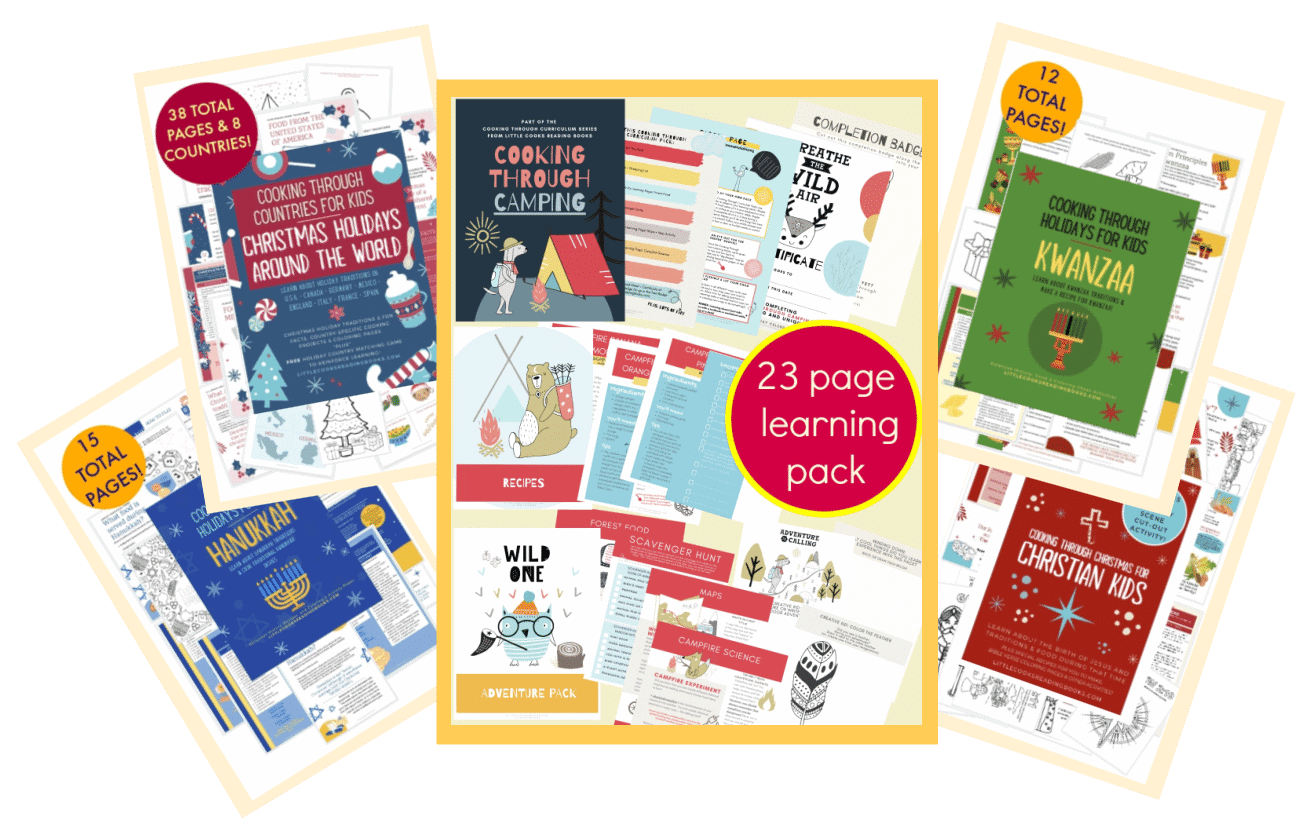 As an Amazon Associate I earn from qualifying purchases. Please refer to our
DISCLOSURE
.