The apple bob game (aka: apple water game or apple bucket game) is an old-school traditional game for Halloween, fall harvest fun, or a fun fall festival activity for kids. You don't need to worry about germs and hygienic apple bobbing any longer! We have ideas for apple bobbing with a twist and playing the game safely!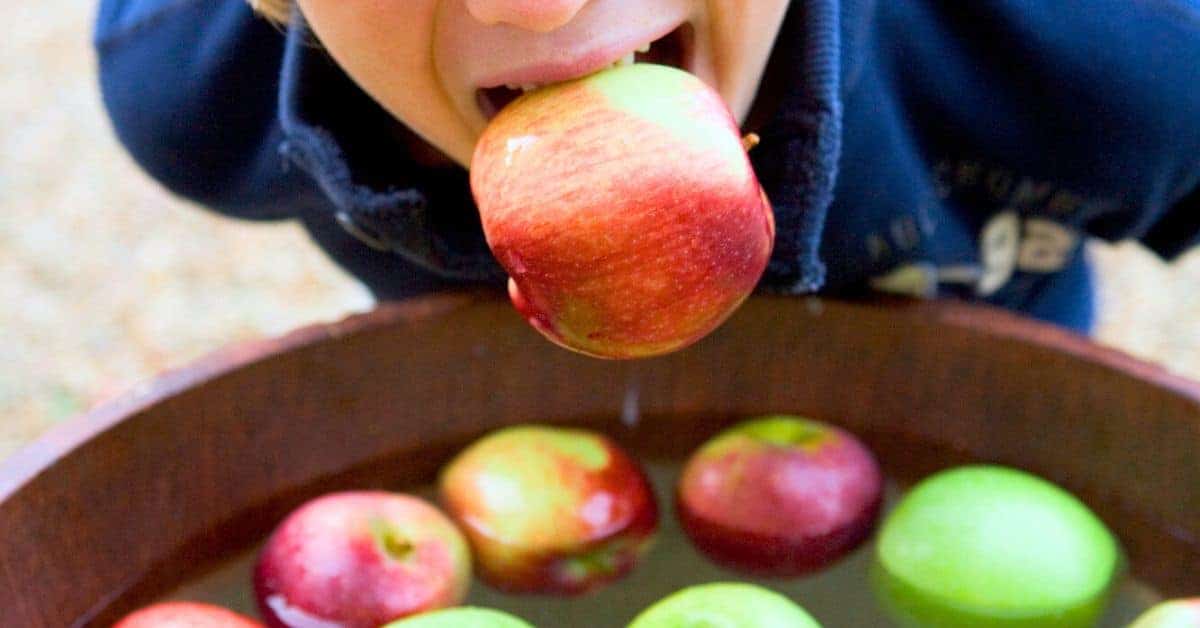 How To Play The Apple Bob Game For Fun Autumn Activities
This old-fashioned game for kids is making a comeback! In case you've never heard of how to play apple bobbing, let's start with what is bobbing for apples…
What is the goal of apple bobbing?
The goal of the apple bob game is to try to catch an apple in your teeth while it's floating in water and without using your hands. Instead, you stick your face in and try to catch and apple with your teeth by biting onto the apple stem or into the apple. The first person to get the apple from the bin wins.
KEEP SCROLLING for the full bobbing for apples rules, bobbing for apples FAQs, and apple bobbing alternative ideas! (Fun bobbing for apples games for all ages!)
Affiliate links are used on this site. As an Amazon Associate I earn from qualifying purchases. Read more in our DISCLOSURE.
Is bobbing for apples sanitary?
There are concerns for allowing all party goers to try to bob for apples from one big bin. You don't want a bunch of people to be eating apples after each other and drooling and spitting into the same water that someone else is putting their mouth into also. However, there are fun and safe ways to bob for apples now (apple bobbing game alternatives).
See Our Safe Apple Bobbing Below!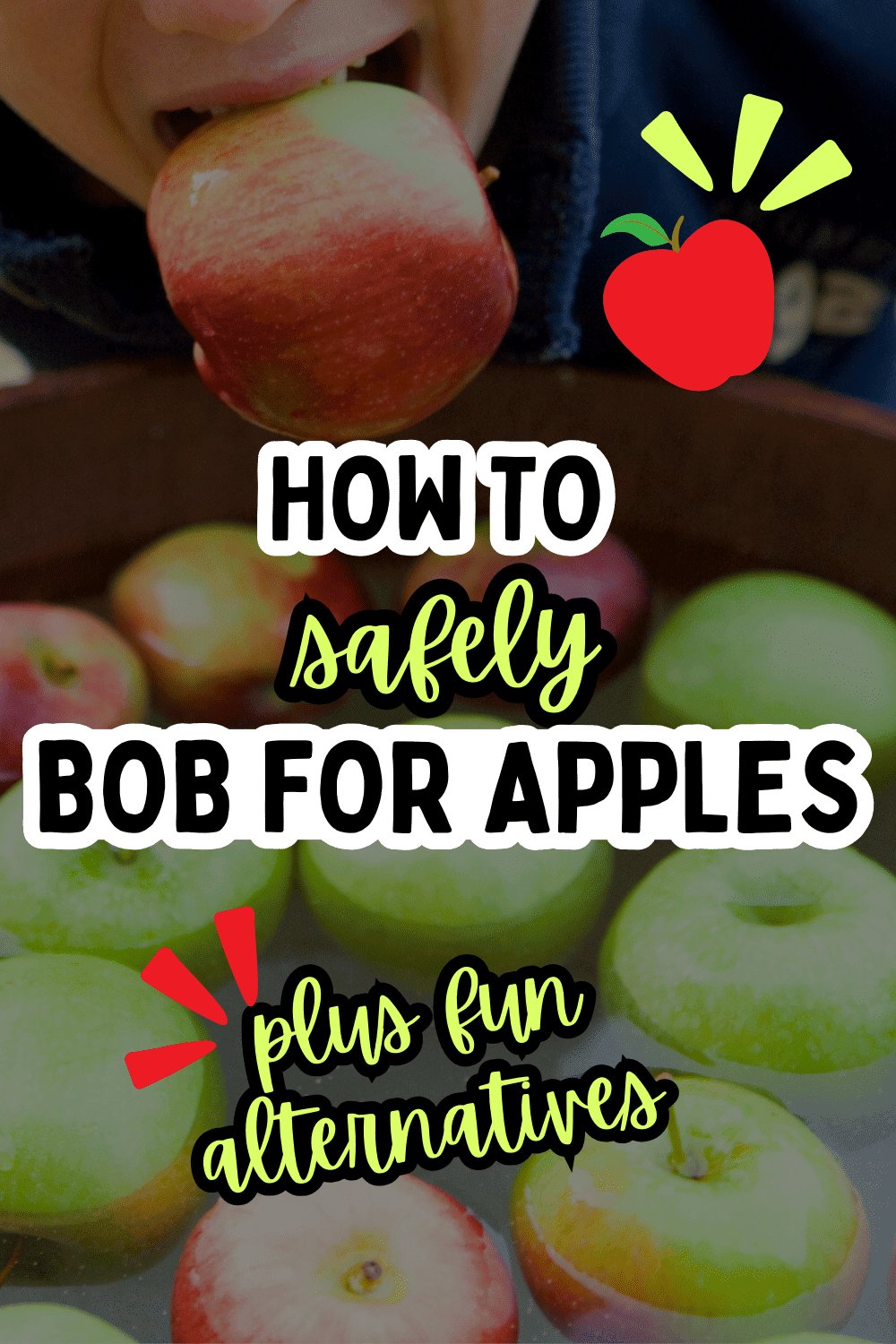 Do people still do apple bobbing?
Yes! Kids still play bobbing for apples! Bobbing for apples is an old-fashioned fall game for kids. It disappeared from kids' parties and Halloween parties for a while, probably due to concerns about the unsanitary nature of the game. However, bobbing for apples is back and becoming popular again, with new safety measures in place so kids aren't trading germs. (So, you can even play if you're a germaphobe!)
Is apple bobbing Halloween?
Many people play the game apple bobbing for a Halloween party game. However, apple bobbing is a fun autumn game for fall festivals or fall birthday parties — the time of year when apples are most plentiful and it's still nice enough to be outside. Of course, this kids' game can be played at any time of year, but most people associate bobbing for apples as a fall activity.
Ok! Let's get to how to play bob for apples!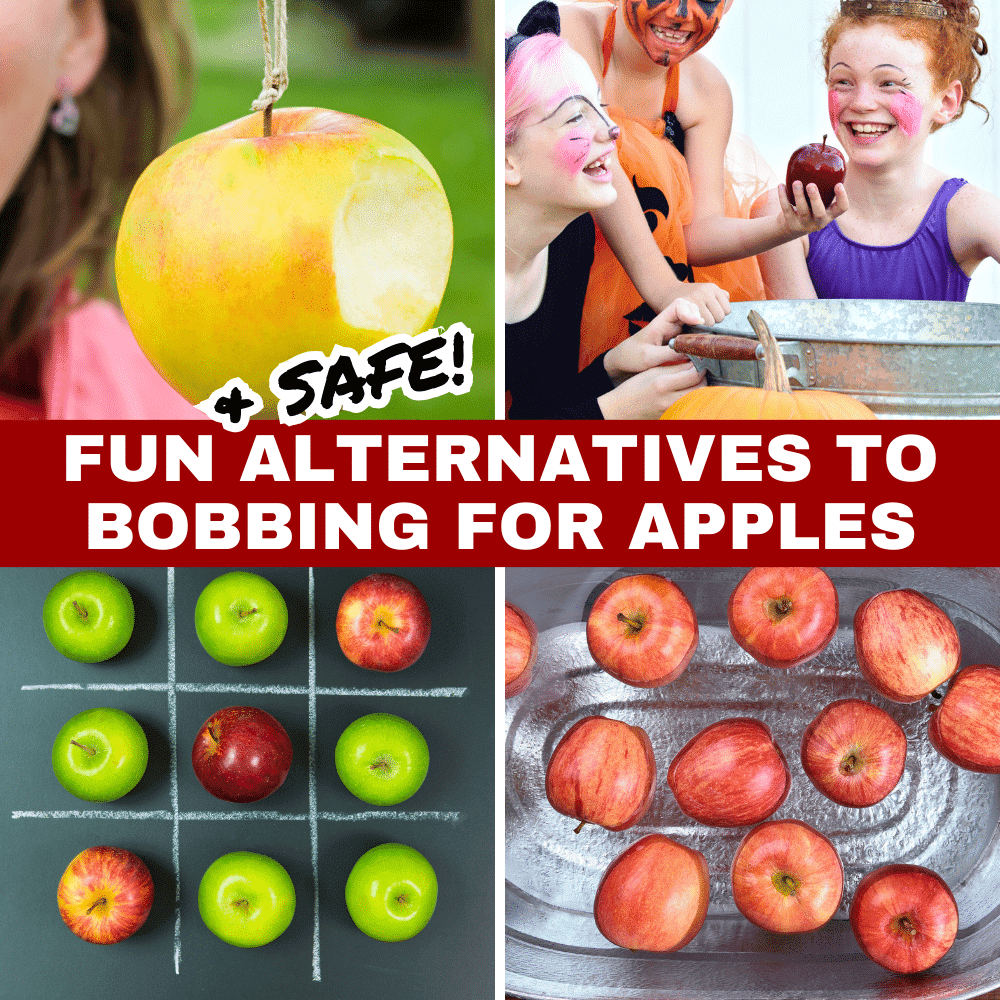 Hygienic Bobbing For Apples Game Rules, Alternative Ways to Apple Bob, and How To Play Safely!
This is a fun Halloween game or for fall kids activities, but be sure you follow the game directions for safety measures for this classic game!
How do you play the apple bobbing game?
Game Materials
To play bobbing for apples, you'll need:
Bobbing for apples container for each player (buckets, bins, basins, or large bowls)
Water
1-5+ apples for each player (depends on size of container)
Game Instructions
Fill each container with water and add the same number of apples to each bin.
Place bins on tables in front of players. Just make sure your bobbing for apples bucket is large enough for them to put their face in the bucket. (They don't have to go bobbing in the water all the way down and get their face wet!)
Holding their hands behind their backs, each player must try to get the apples out of the bin using only their mouths (biting into the apples, biting into the stem, etc.)
First person to get all the apples out, wins! (You can also play the first person to get one Halloween apple out wins.)
What apples are best for bobbing?
Believe it or not, there have been studies don't on the best apples for apple bobbing! They rank the apples based on buoyancy, flesh softness, and stem strength. You can use any apples for bob games, but some of the best apple brands are:
GAME PLAY TIP: If you have younger children (with small mouths), use small apples.
What do you do with the apples after apple bobbing?
The best thing to do is let each person eat the apple that they bobbed for. However, if you use multiple apples in each apple bobbing bucket or container, then you might not want to let other people eat apples from the water that someone else just drooled or spit water in (gross). Instead, you do the following with your bobbed apples:
Donate apples to a local farm for their horses or animals
Throw them out for wildlife in your own backyard
Cut them up and feed them to your dog (no apple seeds or core!)
Add them to your compost pile
Let kids take home their own apples from their individual apple bobbing bin
BEYOND THE BOBBING APPLES GAME: GET MORE APPLE ACTIVITIES FOR APPLE THEME PARTIES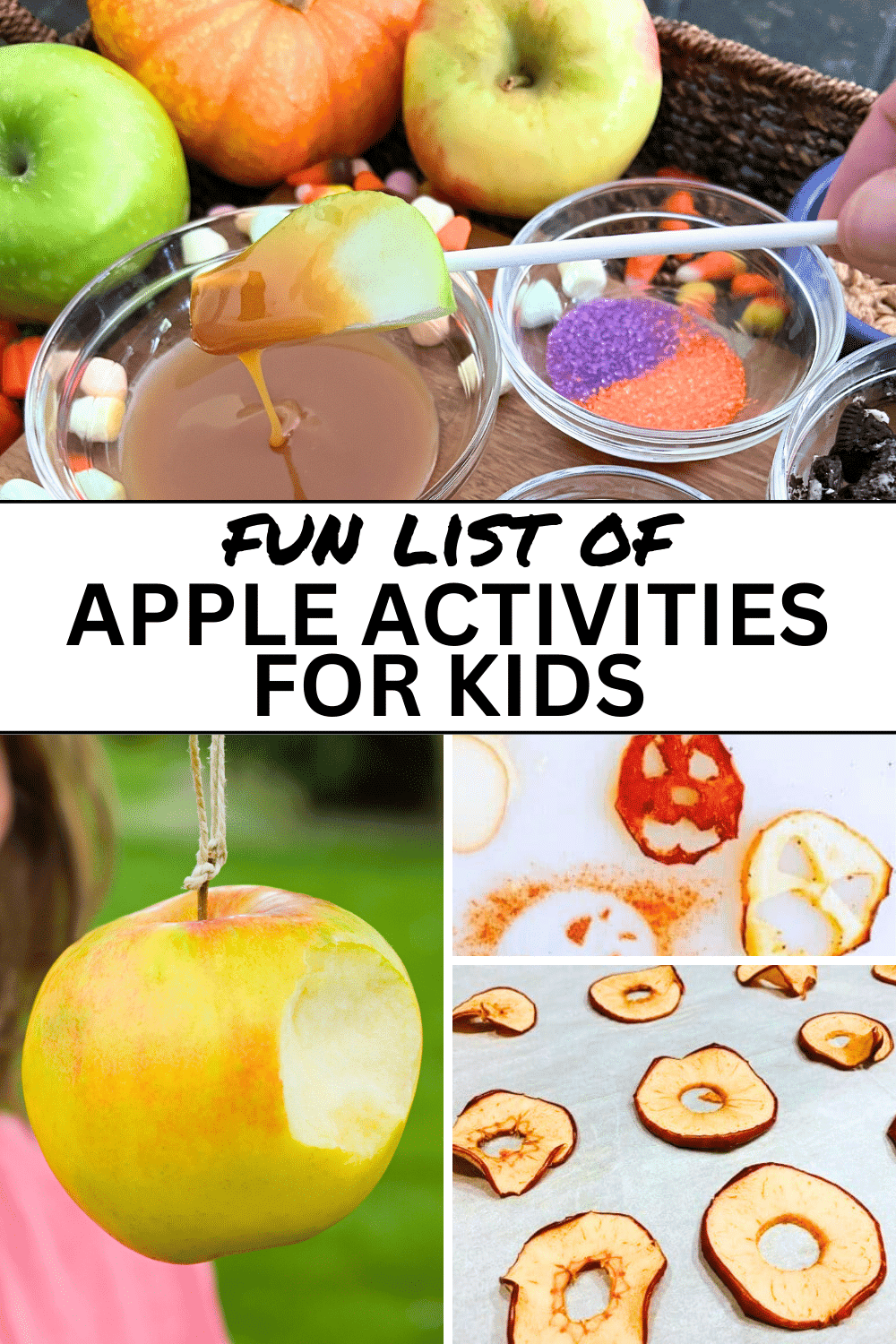 Best Alternative Apple Bobbing Games
These are fun apple bobbing alternatives and different ways to play the apple bob game if you don't want to do the traditional bobbing for apples play.
Grab An Apple Game
Try to grab floating apples with chopsticks, tongs, scoop, a spoon, or a spatula. (Or, even funny items!)
PRO PARTY TIP: If you're playing this way, grease the apples with a little oil to make them more slippery and harder to catch!
Apple Hanging Game
Play the apple on a string game where you hang apples from twine on trees.
Each person must eat their apple without using hands or without it dropping to the ground.
First person to finish wins!
Another fun alternative game play (or addition to your Halloween games) is the donut hanging game!
Blindfold Bobbing For Apples
Fill individual bins for each player (as many bins as players) with water.
Add apples, mini pumpkins, and even fun Halloween themed rubber duckies.
Then, blindfold on each player.
On GO! each player must use only their mouth (hands behind back!) and, without looking, take only the apples out of the bin. First one to do so wins.
Alternative Game Play Tip: Don't use your mouth, but use a big spoon to try and scoop only the apples out (without looking!).
Bucket Bobbing For Apples
In this version of bobbing for apples, kids try to use small buckets like this tied to strings to get the apples out of the water.
Grab some mini buckets (think small beach sand buckets) and tie twine over the handle.
Place apples in a large container (like a metal wash bin or large cooler).
Using only one hand, each player then dips their bucket into the water to remove as many apples as they can (one at a time!) before time is up.
ALTERNATIVE GAME PLAY FOR YOUNGER KIDS: Scooping apples out is great bobbing for apples for toddlers or preschoolers! Give them a small net (like you use for fish or sand play) and let them scoop apples out.
GAME PLAY TIP: You can also play this as a bobbing for apples relay where one person runs down with the bucket, bobs and apple out, runs back to the team, and the next person goes.
Try These Other Fun Halloween Games: List Of Witch Themes Halloween Games For Kids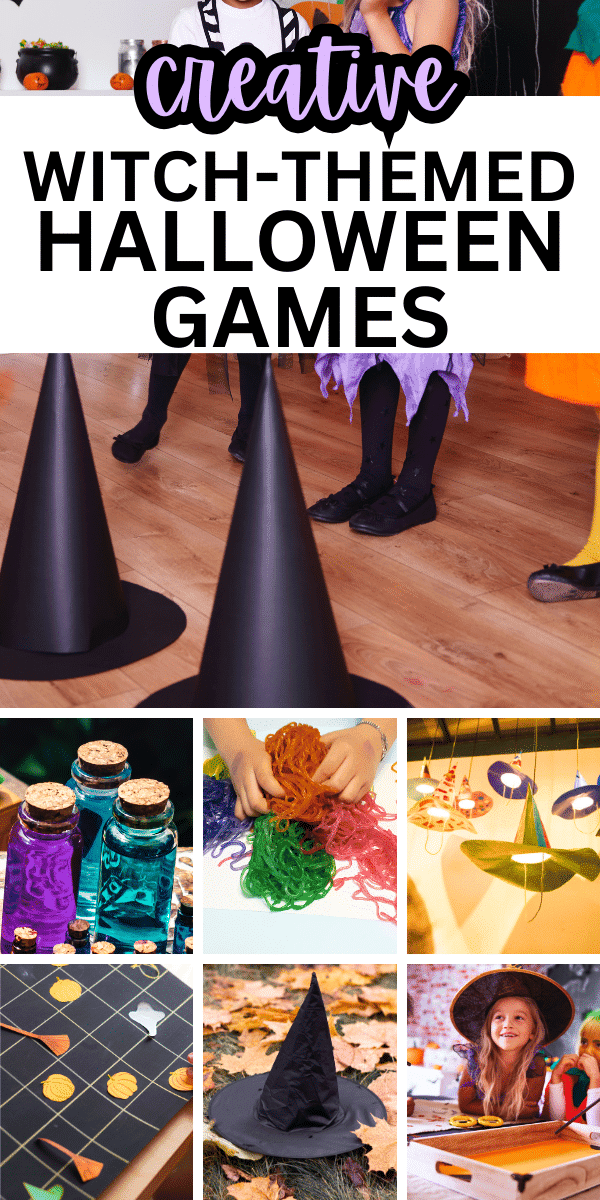 Happy Fall!
Add this to your fall traditions and let us know how your apple bob game turns out!
LOOKING FOR FUN COOKING PRINTABLES FOR KIDS?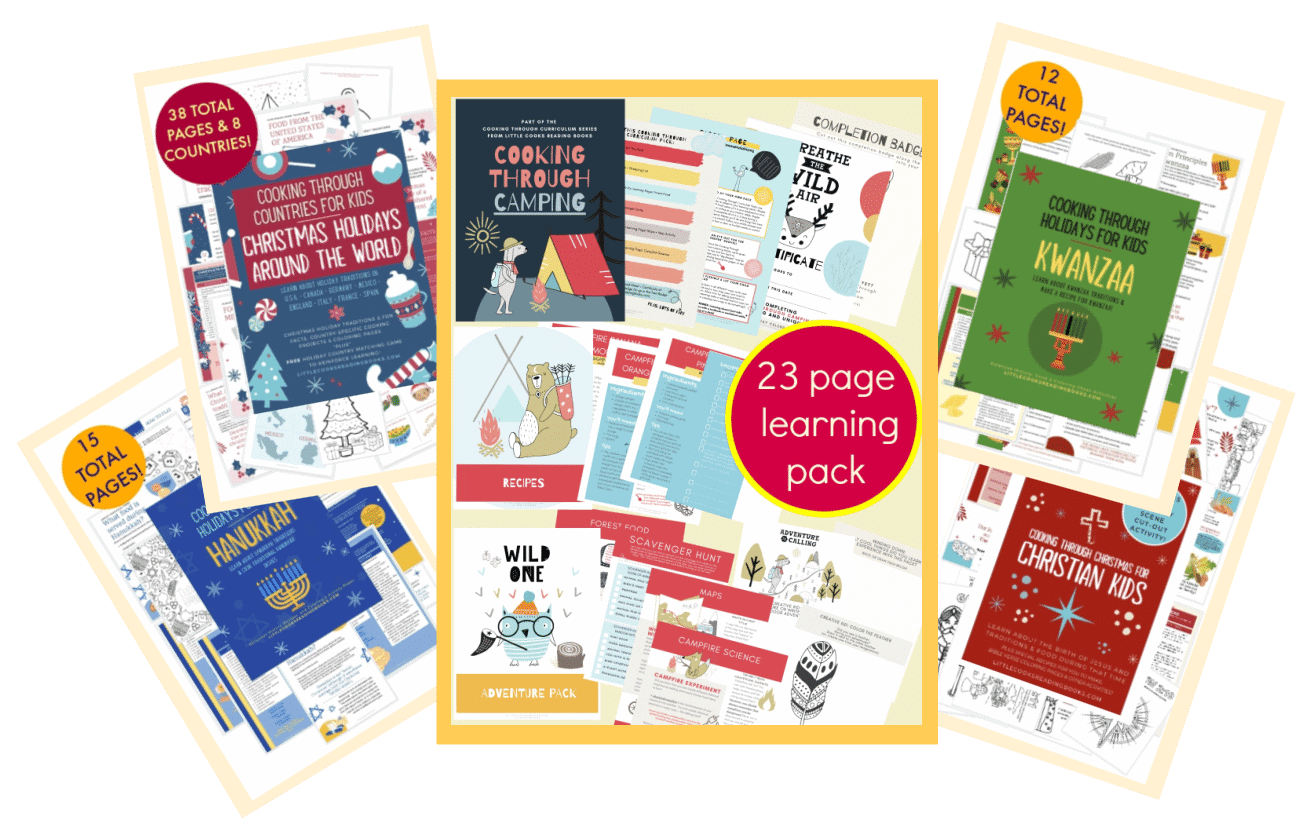 As an Amazon Associate I earn from qualifying purchases. Please refer to our
DISCLOSURE
.