This air fryer homemade s'mores ice cream will quickly become one of your favorite kids' recipes for fall or even a fun summer treat for a celebration! (Frying ice cream is one of the best air fryer recipes secrets!) If your family loves the traditional s'mores recipe campfire treat, you have to try this frozen dessert version.
How To Make Air Fried Homemade S'mores Ice Cream
This toasted s'mores ice cream tastes like campfire s'mores and will quickly become one of your favorite recipes for kids!
Smores Ice Cream Ingredients
To make smore ice cream, you'll need:
Favorite quality vanilla ice cream
Graham crackers
Flour
Egg
Marshmallow cream (marshmallow fluff)
Chocolate sauce
Mini chocolate chips
Mini toasted marshmallows
(see the full smores dessert recipe below)
Affiliate links are used on this site. As an Amazon Associate I earn from qualifying purchases. Read more in our DISCLOSURE.
If you're looking for how to make s'mores with a twist or an updated version of smores ice cream sandwiches, this is it!
Supplies for Homemade S'mores Air Fryer Ice Cream
For this s'mores ice cream dessert, along with the s'mores ice cream ingredients you'll also need:
Check the current sale prices on air fryers like this one for your ice cream smores recipe!
What does S mores ice cream taste like?
Campfire s more ice cream tastes like crunchy ice cream with a hint of that traditional s'mores that you love. You'll get the graham cracker, chocolate, and marshmallow flavor, but it will be a little different since this icecream dessert is cold (and you're used to a smore being warm). However, ice cream smores taste just like traditional s'mores because of the toasted marshmallows in the ice cream mixed with the chocolate!
TRY THESE S'MORES IDEAS NEXT:
How To Make S'mores In The Oven
How To Make S'mores In The Microwave (2 Easy Ways)
Recipe For Mexican Fried Ice Cream in the Air Fryer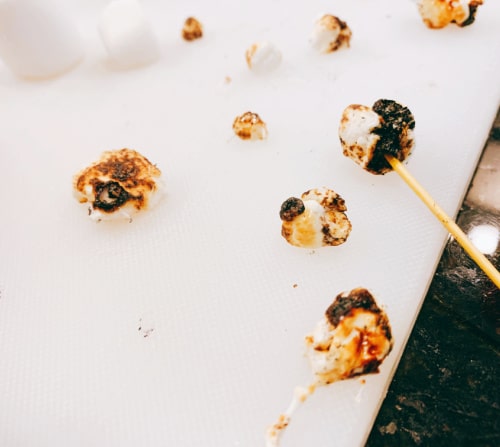 How To Toast the Indoor S'mores Marshmallows
For our toasted smore marshmallows, we used toothpicks and a small kitchen torch. (You can use matches, too.) Place the mini marshmallows on a toothpick (one at a time) and toast them with the fire, just like you would with a campfire! If you like your smore marshmallows light brown, make them that way. If you like blackened marshmallows, make them that way!
(I think it goes without saying that this is grown-ups only part of the recipe. Right?)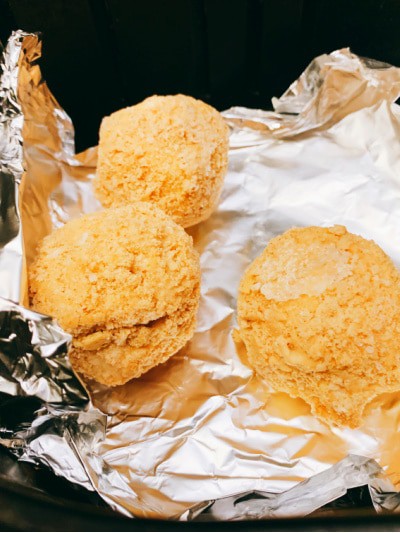 S'mores Ice Cream Recipe in the Air Fryer
This recipe makes the best smores ice cream homemade with an air fryer!
Also, this is a fun recipe for kids to make because they get to smash up the graham crackers (my kid always loves that part!).
We put our air fryer ice cream in a dish (more like a s'more ice cream sundae recipe), but you can also make this a s'more ice cream cone recipe by putting the ice cream scoops in a sugar cone and then adding the toppings or even putting the fried ice cream between two graham crackers for ice cream s'mores sandwiches.
This s mores ice cream recipe is fun to play around with with different toppings, too.
You may be tempted to use chocolate ice cream with marshmallows, but I would stick to the vanilla. This recipe gets plenty of chocolate with the chocolate syrup and the chocolate chips!
Also, we didn't worry about learning how to add marshmallow to ice cream. Instead, we used marshmallow cream and toasted marshmallows and it worked great!
Yield: 8
Homemade S'mores Ice Cream in Air Fryer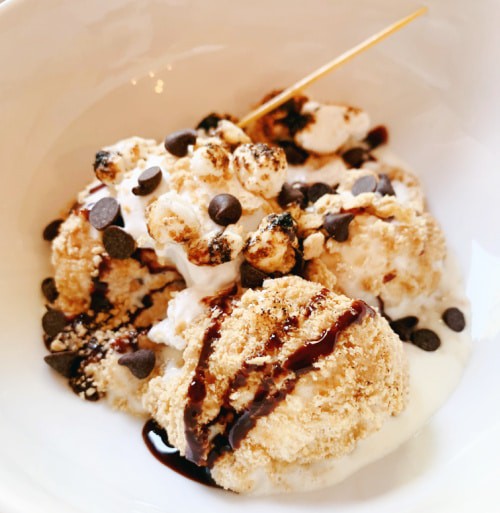 This smore ice cream recipe is done in steps. While the air fryer ice cream only takes a couple of minutes to cook, you will have to freeze the ice cream in between steps. Be sure to read the entire recipe before starting!
Ingredients
8 mini scoops vanilla ice cream
2 egg whites, whisked
1/4 cup white flour
4 sheets Honey graham crackers, crushed, reserve 1 Tablespoon for topping
1/4 cup plain corn flakes cereal, crushed
1/2 cup mini marshmallows, individually toasted, reserve 8 on individual toothpicks for garnish (for topping)
Chocolate syrup (for topping)
Marshmallow cream (fluff) (for topping)
Mini chocolate chips (for topping)
8 graham cracker squares (for serving)
Instructions
Using an ice cream scoop, scoop out 8 small size round vanilla ice cream scoops. Place each scoop into a mini muffin pan.
Immediately place into freezer and freeze until ice cream scoops are hard, around 1 hour.
Place flour in small mixing bowl. Roll ice cream in flour to get a light coating. Quickly shape into a ball (if needed) and shake off any excess. Place ice cream balls in mini muffin tin again and freeze until solid. Around 1 hour.
FOR THE COATING
Place graham cracker sheets in resealable bag and crush until the crackers are a fine consistency. Remove 1 Tablespoon of crushed graham crackers and place in another sealable bag for toppings. Add corn flake cereal and continue to crush until graham crackers and cereal are finely crushed.
Whisk egg whites in a bowl until foamy. Place crushed graham cracker/cornflakes in another bowl.
Remove frozen ice cream balls from freezer. Working quickly, dip in egg whites and then into the graham cracker/cereal mixture. Roll ice cream in mixture until completely covered. Place back into muffin tin. Repeat until all ice cream balls are coated and placed back in muffin tin. Place back in freezer and freeze until coated ice cream is frozen hard, around 3 hours to overnight.

TO TOAST MARSHMALLOWS FOR TOPPING
When ready to serve ice cream and BEFORE frying ice cream, toast mini marshmallows (ADULTS ONLY, clearly). For garnish, place 8 mini marshmallows on toothpicks and roast with a kitchen torch or match to desired doneness. (Think about how you like your marshmallows roasted over the campfire.) Set the 8 roasted marshmallows on toothpicks aside for garnish.
Continue individually roasting the mini marshmallows for topping. Set aside.

TO FRY ICE CREAM & SERVE
Fold a piece of aluminum foil to fit the bottom of your air fryer. Fold up the edges of the foil all way around to form a lip/ make a tray. Place in bottom of air fryer.
Preheat air fryer for 2 minutes at 400 degrees.
Prepare ice cream dishes by placing a square of graham cracker in the bottom of each dish.
Remove ice cream balls ONE AT A TIME (or however many will fit in your air fryer at one time) from freezer and place in air fryer. "Fry" for 2-3 minutes. (No longer!)
Remove ice cream balls with spoon or tongs and immediately place in serving dish on top of graham cracker square. Drizzle with chocolate sauce and top with marshmallow cream, crushed graham crackers, mini chocolate chips and mini toasted marshmallows.
Repeat with each ice cream ball. Add one of the toasted marshmallows on a toothpick to each dish for garnish. Serve immediately.
TIP: If you want a little extra roasted taste like when you make s'mores on the fire, also roast the tops of your fried ice balls with the kitchen torch for a few seconds. We did this with my daughter's serving and she really like it!

Notes

FOR THIS RECIPE YOU'LL ALSO NEED:
Air fryer
Mini muffin tin
Aluminum foil
Toothpicks
Matches or kitchen torch
TIPS:
We found that name brand ice cream freezes harder.
If you have a hard time removing your frozen ice cream balls from the muffin tin, just use a spoon to scoop them out and quickly reshape the ice cream back into a ball.
You can also make these ahead of time and keep them in the freezer in a freezer bag before air frying. Then, just air fry what you need whenever you want smores icecream!
Nutrition Information:
Yield:
8
Serving Size:
1
Amount Per Serving:
Calories:

226
Total Fat:

8g
Saturated Fat:

5g
Trans Fat:

0g
Unsaturated Fat:

2g
Cholesterol:

30mg
Sodium:

154mg
Carbohydrates:

34g
Fiber:

1g
Sugar:

18g
Protein:

5g
Nutrition information is estimated. Changes to the recipe and use of different brands may cause changes to the nutritional information to vary slightly from the ones provided here.
Children's Books and Printable Activities for the S'more Ice Cream Recipe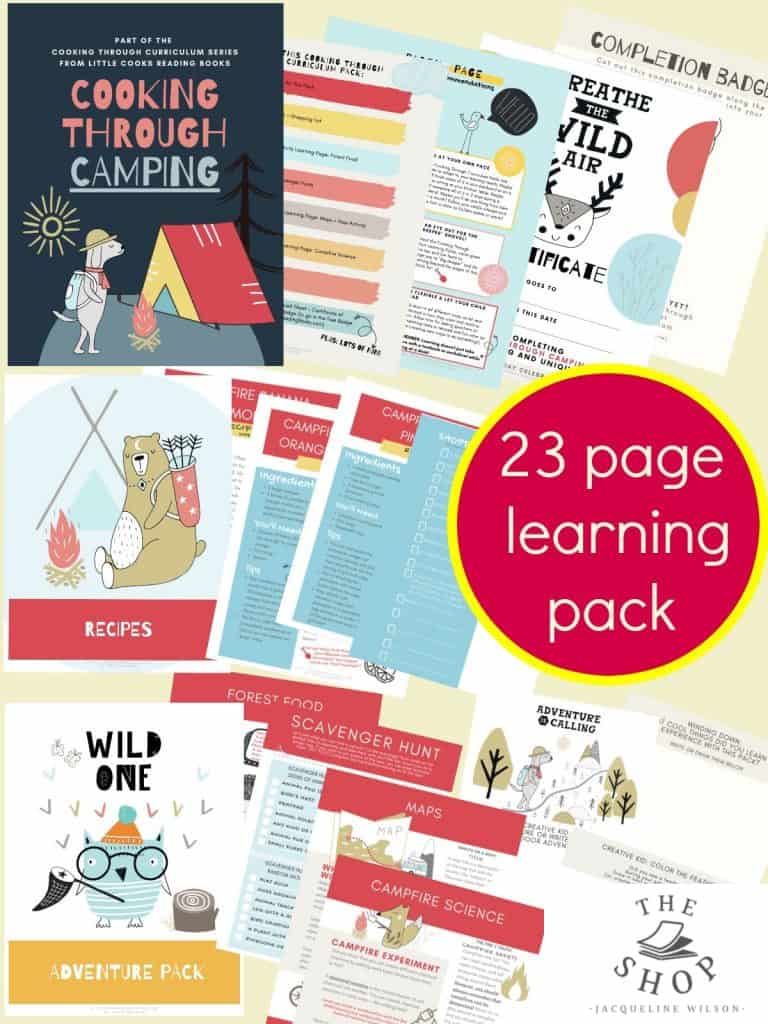 This toasted s mores ice cream dessert is fun to pair up with camping children's books, children's books about s'mores, or even our cooking through camping fun pack (that you can even do at home)!
What's more fun than pairing up some reading and kids' activities with the best s'mores ice cream ever?!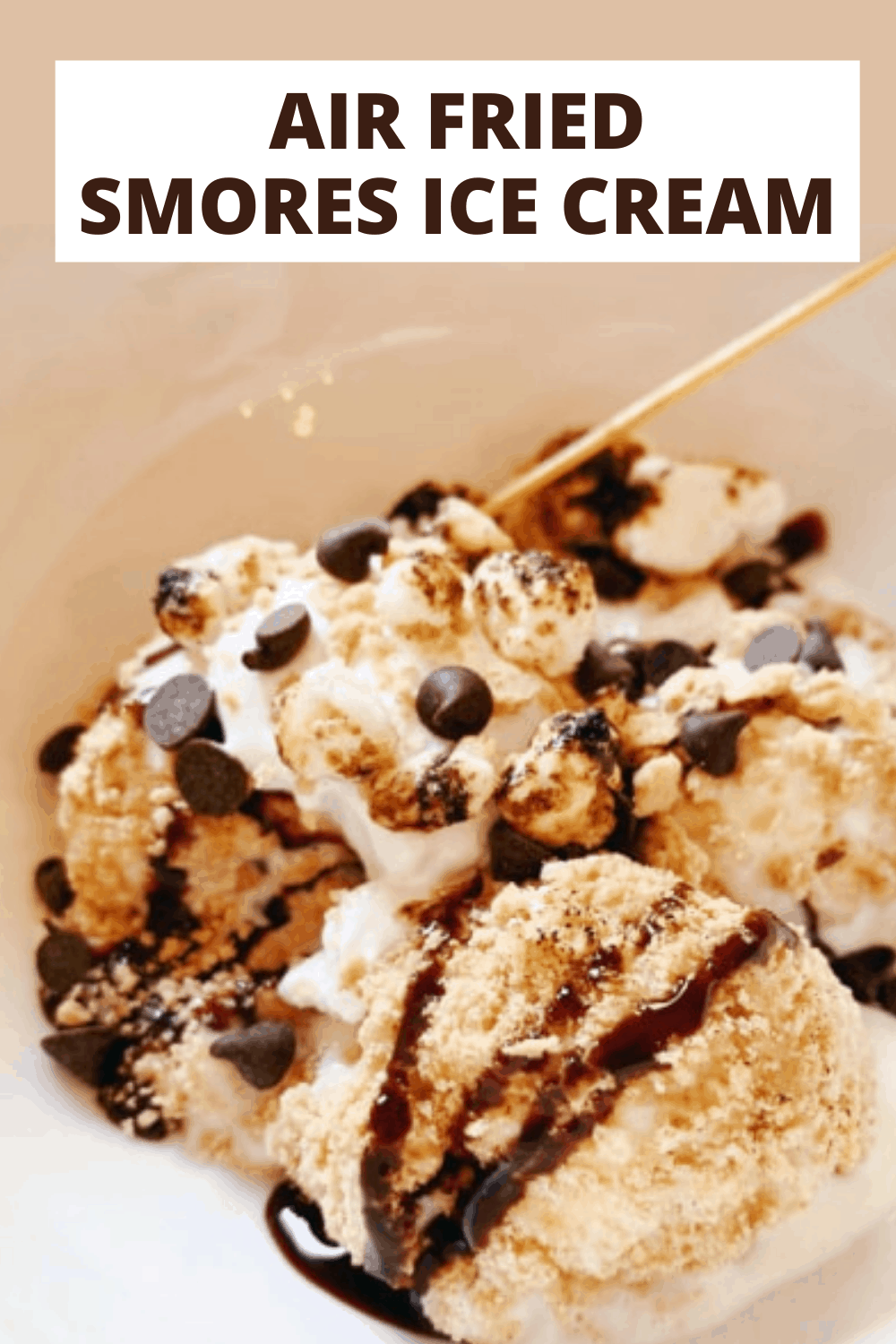 We hope you enjoy this homemade s'mores ice cream in the air fryer!
LOOKING FOR FUN COOKING PRINTABLES FOR KIDS?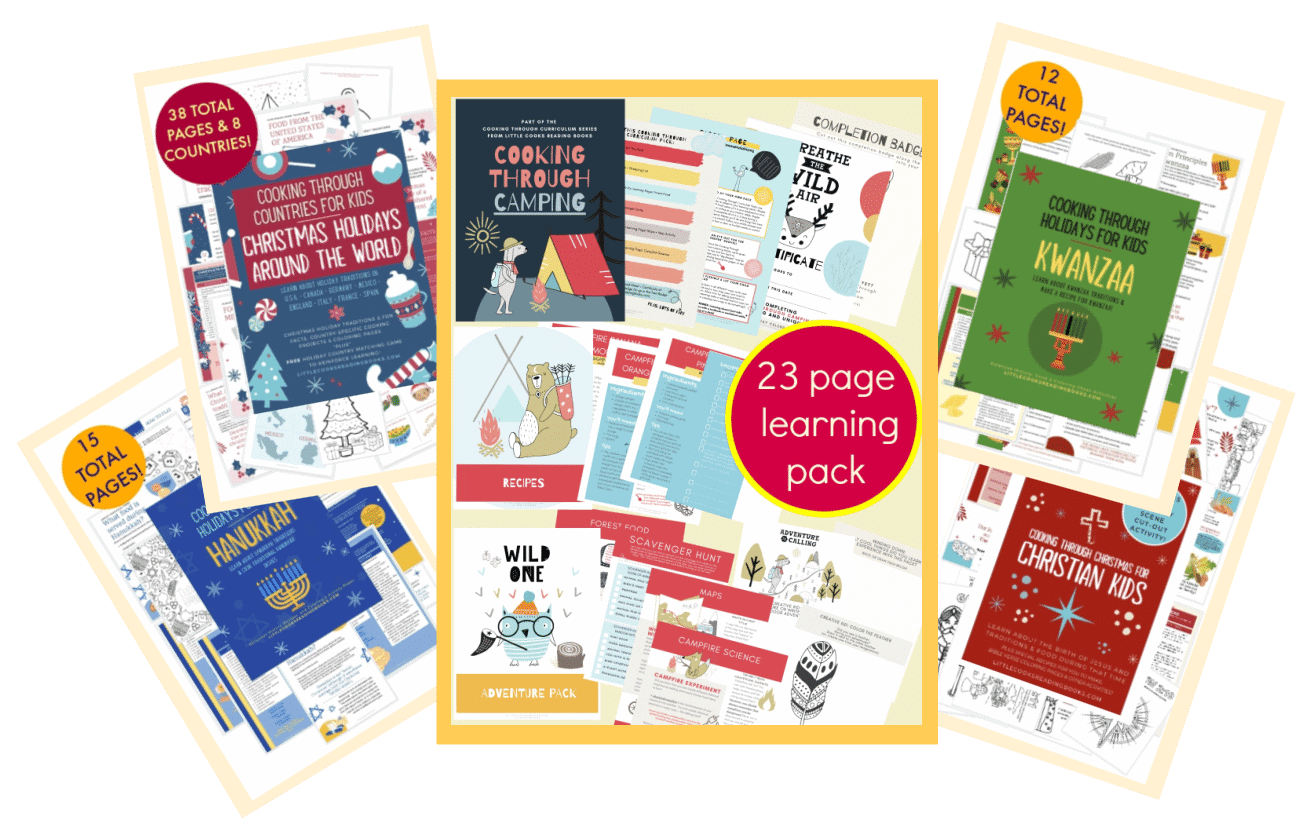 As an Amazon Associate I earn from qualifying purchases. Please refer to our
DISCLOSURE
.