Need a recipe for fried ice cream? We have the best dessert recipe because we made this ice cream in the air fryer — fried ice cream recipe without frying! (Maybe we should've called this cheater unfried ice cream?) It tastes just like the deep fried ice cream you get in restaurants! (We also included the deep fryer directions as well as the air fryer directions.)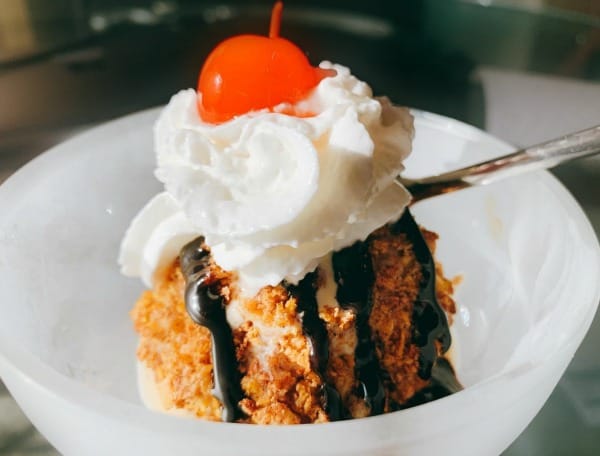 How To Make Fried Ice Cream In Air Fryer
I first started hunting down the recipe for fried ice cream after I told my daughter about it and she was like, "WHAT??? You can FRY ICE CREAM???"
But, I don't have a deep fryer to make deep fried ice cream. Then, I saw some discussion online about how people were making fried ice cream air fryer style and I was like, "YESSSS! Let's try it!"
So, we set out to answer the question: Can you air fry ice cream?
Affiliate links are used on this site. As an Amazon Associate I earn from qualifying purchases. Read more in our DISCLOSURE.
Can you fry ice cream in an air fryer?
YES! You can air fry ice cream! (For real.) Freeze, coate, and refreeze the ice cream like making traditional fried ice cream. Then, "fry" in the air fryer for a couple of minutes. Top with toppings and serve immediately.
But, we may be getting ahead of ourselves, especially if you've never had (or heard of) fried ice cream.
So let's start with this before we get to the how to fry ice cream in air fryer recipe…
About Fried Ice Cream Dessert
What is fried ice cream?
Fried ice cream is exactly what you think. Frozen ice cream that is quickly fried to give the ice cream dessert a crunchy and hard outer coating. It is served with different syrups and toppings and whipped cream.
What does fried ice cream taste like?
Fried ice cream tastes like ice cream that has been given a cinnamon crunchy coating. It usually has a lot of cinnamon and can be topped with different things (like chocolate syrup and whipped cream).
If you've ever had Chi Chis fried ice cream, this air fryer fried ice cream recipe tastes just like it!
Does fried ice cream melt?
Fried ice cream does melt, that's why you have to make sure that it is frozen hard before you fry it. Then, you have to quickly fry it in very hot oil (or the air fryer) to form the outer coating before the ice cream melts. It needs to be served immediately after frying.
Why does fried ice cream not melt?
There are two tricks to making sure that the fried ice cream doesn't melt before it finishes frying: making sure your ice cream balls are frozen solid and, if you are using a deep fryer, making sure your oil is very hot. Quickly frying super hard ice cream (for just a few minutes) prevents it from melting.
If you're using an air fryer, be sure to heat the air fryer prior to using it "fry" your ice cream.
---
TIP: Buy the name brand ice cream that feels hard when you press on the carton at the grocery store. We had generic vanilla ice cream and it didn't freeze as hard as the brand name ice cream. Even after being in the freezer, when we pushed on the generic brand container, it was still very soft.
---
What is fried ice cream called?
Fried ice cream is really called fried ice cream. Some people also like to call it churro fried ice cream (because of the cinnamon sugar), fried ice cream rolls or tempura ice cream.
How To Make Fried Ice Cream Without Corn Flakes
Crushed corn flakes are the traditional coating for fried ice cream. However, you can make fried ice cream with cinnamon toast crunch, flour tortillas, bread, tempura batter, fried ice cream with rice krispies or any other topping that you would like to be creative with and try!
If you're air frying ice cream, you'll want to let go of the coatings that are runny (like batter) and instead use the ones that stick to the ice cream better (cereals, etc.).
WAIT… there's a fried ice cream machine?!
So, I also came across a bunch of questions online about a fried ice cream machine.
What is a fried ice cream machine?
There are fried ice cream machines that allow you to make and roll ice cream without having to wait for the ice cream rolls (balls) to freeze. The plate freezes the ice cream almost immediately. There are cheaper fried ice cream machines all the way up to more costly countertop versions.
The machines don't really fry the ice cream, but instead freezes the ice cream so you can roll it (and then fry it, if you want).
I've never used one (they may be amazing), but honestly, if you plan ahead a couple of days you don't really need one.
We froze our ice cream rolls (balls) for a couple of days (in different steps) before we "fried" them in the air fryer.
---
FUN CHILDREN'S BOOK PAIRINGS WITH THIS RECIPE
---
OK!
On to the air fryer ice cream recipe!
Here's how we made our fried ice cream without frying…
This is an easy dessert recipe in that it's not hard to make, but it is time-consuming.
Be sure to plan ahead!
You can make them ahead and keep them in the freezer until you're ready to fry them.
**Your ice cream may take more time to freeze hard than the times listed here. So be sure to check your ice cream and not just go by the times!
RECIPE FOR FRIED ICE CREAM
Yield: 8
Fried Ice Cream Recipe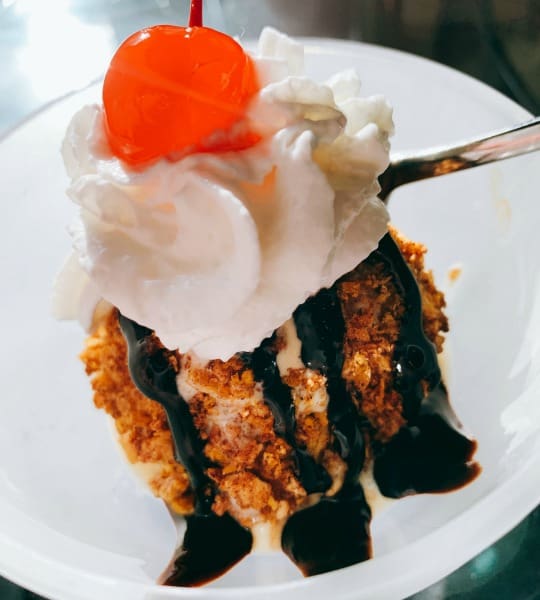 This air fryer ice cream is so good you won't believe that it wasn't fried in oil! (But, just in case, we also included the oil fried ice cream dessert steps under NOTES.)
Total Time
5 hours
17 minutes
Ingredients
1 quart vanilla ice cream
1/2 cup all purpose flour
3 cups corn flakes cereal, crushed
1 teaspoon ground cinnamon
3 egg whites
Spray whipped cream (optional, for topping)
Chocolate syrup (optional, for topping)
Maraschino cherries (optional, for topping)
Instructions
Using an ice cream scoop, scoop out 8 medium size round vanilla ice cream scoops into a muffin pan.
Immediately place in freezer and freeze for at least 1 hour or until ice cream is frozen hard into balls.
Place flour in small mixing bowl.
After 1 hour, remove ice cream balls from freezer. Working quickly, one at a time, roll the balls in flour and quickly shape them into ball shapes. (Don't hold the ice cream too long or they will melt.) Place back into muffin pan.
Repeat until ice cream balls are covered with flour and shaped.
Place back into freezer for at least 1 hour or until frozen hard.
ONCE ICE CREAM BALLS ARE FROZEN
Place cornflakes in a resealable bag and crush. (We use a wooden mallet we have for crab legs.)

Pour crushed corn flake into medium size bowl. Add cinnamon and stir. Set aside.
In a small mixing bowl, whisk egg whites until foamy. Set aside.
Remove frozen ice cream balls from freezer. Working quickly, dip in egg whites and then into the cornflake-cinnamon mixture. Roll ice cream in mixture until completely covered. Place back into muffin tin.

Repeat until all the ice cream is covered in cornflake cereal.
Place back in the freezer and freeze for at least 3 hours (or overnight) until ice cream balls are frozen hard.
When you remove the ice cream, if they need more coating, repeat steps 4-6 above and then freeze for 1 more hour.
ONCE ICE CREAM BALLS ARE FROZEN AGAIN
Fold a piece of aluminum foil to fit the bottom of your air fryer. Fold up the edges of the foil all way around to form a lip/ make a tray. Place in bottom of air fryer.

Preheat air fryer for 2 minutes at 400 degrees.
Remove ice cream ONE AT A TIME from freezer and place in air fryer and "fry" for 2-3 minutes. (No longer!)
Remove with spoon or tongs and immediately place in serving dish. Drizzle with chocolate sauce. Spray with whipped cream and top with cherry. (optional)
Repeat with each ice cream ball and serve immediately.
Notes
TIPS:
We found that name brand ice cream freezes harder.
You can use other coatings. We've also used 1/2 cornflakes and 1/2 cinnamon toast crunch cereal.
You can also make these ahead of time and keep them in the freezer in a freezer bag before frying.
FOR DEEP FRYING INSTEAD OF AIR FRYER:
Heat a pot or deep fryer with oil to 375 degrees F.
Carefully, drop coated ice cream balls into hot oil and fry for 8-10 seconds. Carefully remove with slotted spoon, drain, add toppings (optional) and serve immediately. (Repeat until all ice cream balls are fried.)
Nutrition Information:
Yield:
8
Serving Size:
1
Amount Per Serving:
Calories:

226
Total Fat:

8g
Saturated Fat:

5g
Trans Fat:

0g
Unsaturated Fat:

2g
Cholesterol:

30mg
Sodium:

154mg
Carbohydrates:

34g
Fiber:

1g
Sugar:

18g
Protein:

5g
Nutrition information is estimated. Changes to the recipe and use of different brands may cause changes to the nutritional information to vary slightly from the ones provided here.
WE HOPE YOU ENJOY YOUR RECIPE FOR FRIED ICE CREAM IN THE AIR FRYER!
As an Amazon Associate I earn from qualifying purchases. Please refer to our
DISCLOSURE
.