Does homemade guacamole seem intimidating? Are you looking for an authentic guacamole recipe? This 10 minute recipe is a super simple appetizer or dip and you'll never buy store-bought guacamole again! (It's also one of those easy kids' recipes they can make themselves!)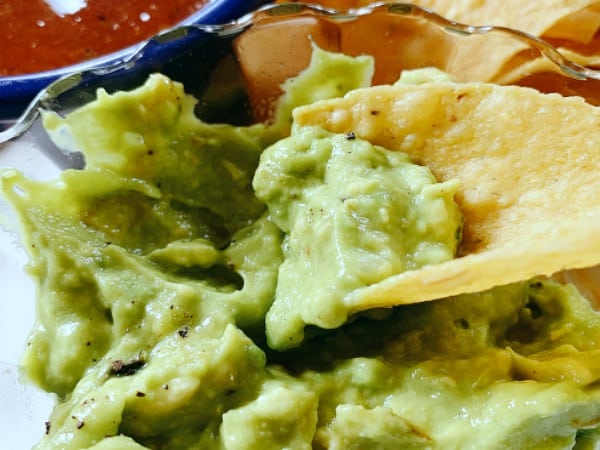 HOW TO MAKE HOMEMADE GUACAMOLE
If you've only ever had pre-made guacamole or guacamole mix, you're in for a treat with this recipe for homemade guacamole!
It's a super simple guacamole, so you can whip it up last minute for any impromptu gathering or right before your party or barbecue.
Another thing I love is that you can adapt this recipe to your own tastes and likes. You can even make it a spicy guacamole recipe by adding jalapenos or kids can add their own ingredients to make their own!
Affiliate links are used on this site. As an Amazon Associate I earn from qualifying purchases. Read more in our DISCLOSURE.
Before we get to the guacamole easy recipe, let's cover some common questions that people have about avocados and guac.
How do you make guacamole from scratch?
Making guacamole is so simple!
To make guacamole from scratch:
Scoop out the insides of avocados into a mixing bowl.
Add chopped onion, chopped tomatoes, and chopped garlic.
Add chopped cilantro (optional).
Add diced jalapeño (optional for spicy guacamole).
Squeeze lime juice and mix.
Add salt and pepper to taste.
What can I add to guacamole?
Guacamole is one of those appetizers, dips, or snacks that you can play around with and add ingredients to your liking.
What to add to guacamole:
Jalapeño
Chipotle peppers
Parsley
Roasted corn
Peas
Green onions/scallions
Black beans
Olives
Sour cream
Papaya
Mango
Bacon
Sun dried tomatoes
Salsa
Red onion
Cayenne pepper
Pepitas (for crunchy guacamole)
Pistachios
Orange juice (instead of lime)
What goes with guacamole?
Tortilla chips
Flour tortillas
Corn tortillas
Crackers
Carrots
Apples
Bell peppers
Fresh broccoli or cauliflower
Grape tomatoes
Celery
On Toast
On Deviled eggs
In Salad
On Sandwiches
On a baked potato
---
WANT THE KIDS TO HELP?
If you have little ones just learning to chop and cut, we love this safe kitchen knife set for kids that also come with cut resistant gloves!
---
How long does homemade guacamole last?
Homemade guacamole, properly stored, will last up to two days in the refrigerator. After that, it starts to oxidize and will quickly turn brown.
Why does guacamole turn brown in the fridge?
An enzyme in avocados reacts with oxygen. Once an avocado is cut, the reaction starts and the avocado oxidizes. This is what causes and avocado and guacamole to turn brown.
How do you keep guacamole from getting brown?
Does lemon juice keep guacamole from turning brown? Yes! To slow down the browning process, spread your guacamole into an airtight container. Squeeze a layer of lemon or lime juice over the entire top of the guacamole. Using plastic wrap, press down on top of the guacamole, so the plastic wrap is stuck into the dip. Place lid on container in store in refrigerator.
Is it bad to eat guacamole that is brown?
Generally, if you have guacamole store in the refrigerator, the top layer will turn brown. If you scrape the top layer off and the guacamole dip is green underneath, you can eat it. If the guacamole is has brown liquid, has a strong, unpleasant or sour smell, or tastes "fizzy" (fermenting) then it's bad and you should throw it out.
Is guacamole good for you?
Is homemade guacamole healthy? Avocados are considered a "good fat" and are healthy for your family in limited amounts. It's what we eat with guacamole and avocados that generally make it less healthy. Stay away from tortilla chips and toast and instead eat your avocados and guacamole with veggies and fruit!
Children's Books to Pair with This Recipe
Did you know that an avocado is actually a fruit?
There's a really good explanation and diagram here that you can review the the kiddos! It would make a really good dissection science project!
You can also learn more about avocados here.
OK!
Let's get to it!
Here's how to how to make good homemade guacamole in 10 minutes…
(FYI: we make our guacamole recipe without cilantro just because my husband isn't a fan of cilantro, but you can easily chop up fresh cilantro and add it to this recipe.)
---
YOU MAY ALSO LIKE: Homemade Authentic Churros Recipe
---

HOW TO MAKE GUACAMOLE STEP BY STEP
The trick to tasty guacamole is to use ripe avocados, which can be tricky.
How do I know when avocados are ripe?
Ripe avocados will be darker in color and will also feel a little soft when you lightly press on them. You don't want them to be mushy, but just soft to the touch. Firm avocados are not ripe yet.
How do you ripen avocado?
Unripened avocados are greener in color and firm to the touch. To ripen avocados faster, place them in a brown paper bag with a banana or apple. They will usually ripen within 1-3 days.
Can I make guacamole with unripe avocados?
You could make guacamole with unripe avocados, but it won't be as flavorful as when they are ripe. If you have time, we recommend waiting to make your guacamole recipe until after they avocados have ripened.
---
CHOPPING TIP
CAN I LET YOU IN ON A LITTLE SECRET? I hate chopping onions by hand. I use a chopper like this and it's such a time saver (especially when you're cooking or baking other things and you don't want your hands to smell like onion the whole time)! It's also great (and SAFE and FUN!) for kids to use so you can get them cookin' in the kitchen, too!
---
Yield: 4
Homemade Guacamole Dip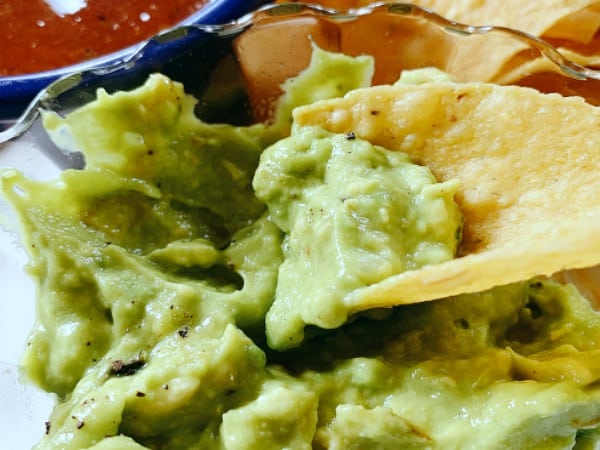 We call this guacamole dip, but some people also call it guacamole salad. We eat it with tortilla chips, but you can also use it for toppings on your favorite Mexican food dishes, salads or sandwiches!
Ingredients
3 ripe avocados
1/2 cup onions, diced
2 Roma tomatoes, diced
1 teaspoon minced garlic
1 lime, juiced
Salt and pepper to taste
Instructions
Cut avocados in half and remove pit. Scoop insides of the avocados into a medium mixing bowl.
Mash avocados with a fork or a potato potato masher. (We like our guacamole chunky. If you like it smooth, just keep mashing until you get the consistency you like.)
Add in onions, tomatoes, and garlic and stir.
Add in lime juice and stir until completely mixed.
Add salt and pepper and stir again.
Serve immediately or store in refrigerator for up to 2 days.
Notes
Traditional guacamole adds cilantro. If you like cilantro, mix in 2-3 Tablespoons chopped, fresh cilantro.
If you like a spicy guacamole recipe, add fresh diced jalapeno (without the seeds!).
To store in refrigerator and help prevent browning: spread guacamole into a container with lid. Squeeze a layer of lime juice over the top. Press a piece of plastic wrap over the top of the guacamole, pressing down into it. Place lid on container.
Nutrition Information:
Yield:
4
Serving Size:
1
Amount Per Serving:
Calories:

262
Total Fat:

22g
Saturated Fat:

3g
Trans Fat:

0g
Unsaturated Fat:

18g
Cholesterol:

0mg
Sodium:

87mg
Carbohydrates:

18g
Fiber:

11g
Sugar:

3g
Protein:

4g
Nutrition information is estimated. Changes to the recipe and use of different brands may cause changes to the nutritional information to vary slightly from the ones provided here.
LET US KNOW WHEN YOU MAKE THE HOMEMADE GUACAMOLE!
LOOKING FOR FUN COOKING PRINTABLES FOR KIDS?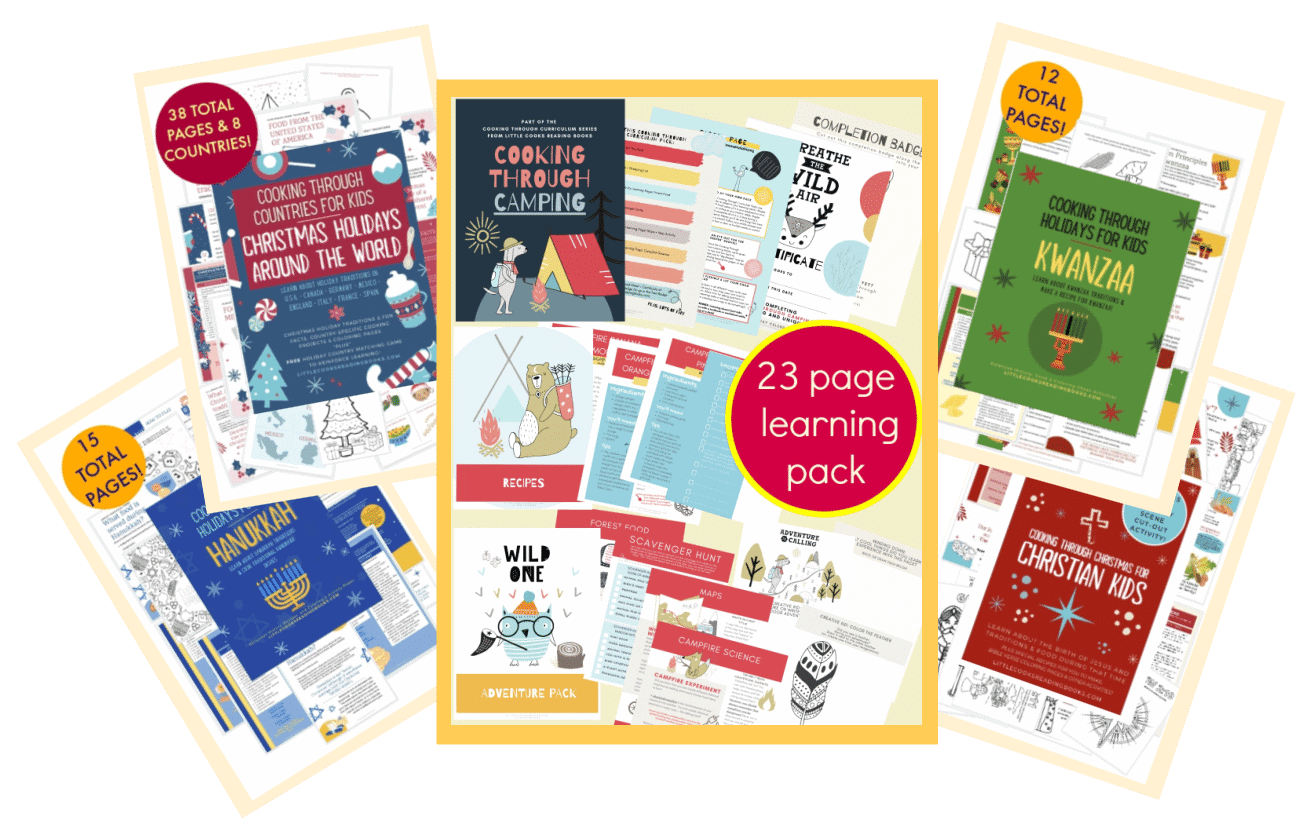 As an Amazon Associate I earn from qualifying purchases. Please refer to our
DISCLOSURE
.