Learning how to make authentic churros recipe may seem like a daunting task with kids. However, you might be surprised that homemade churros desserts aren't as difficult as you thought! Read on to find out more about cooking churros homemade, the churros origin, how to make your churros crispy, and even what to eat with churros!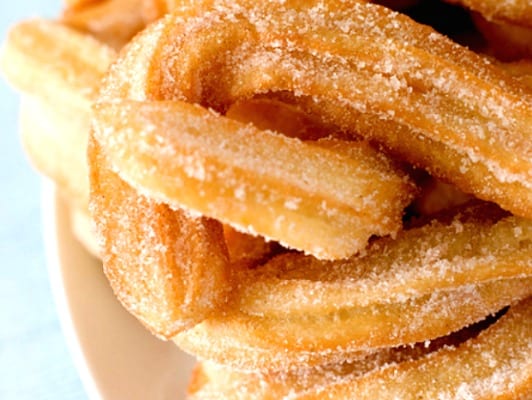 Churros Origin and History: What are churros?
Churros are a Spanish fried pastry dough dusted with cinnamon and sugar found in different Latin American cultures. However, they are also popular in Mexico and Cuba, where you can often find them filled with different fillings like dulce de leche, caramel, chocolate, and even guava!
The churros recipe from Spain is very similar to the authentic Mexican churros recipe.
Affiliate links are used on this site. As an Amazon Associate I earn from qualifying purchases. Read more in our DISCLOSURE.
You can read more about the history of churros here.
Churros are sometimes called a Spanish doughnut.
They are a fried dough pastry that is long (like a stick) instead of round (like a doughnut).
I think churros are much lighter than doughnuts and they are kind of a cross between a doughnut and a crispy funnel cake or elephant ear for me.
And?
This churros recipe is much easier to make than I thought it was going to be!
What is a Churro made of?
The recipe for homemade churros are made from a basic dough recipe of flour, butter, water, salt and eggs. This churros dough recipe is a light pastry dough that is used in many different kinds of pastries (including eclairs).
What does a churro taste like?
A churro tastes like a light, crispy doughnut. If you've ever been to a fair or festival and had an elephant ear with sugar and cinnamon, they taste like a crispier, lighter version of that.
Are churros hollow?
Churros are sometimes hollow or have air pockets inside of them. That's because they puff up a little when they are fried.
The outside of churros traditionally have ridges because they are made with a churrera, which is a piping press tool with a star-shaped nozzle.


You can also use a piping bag with a star tip.
How long do churros last?
Although churros are best eaten fresh and hot, you can store homemade churros in an airtight container for up to 2 days and they'll still remain fresh. If you want to keep them longer, you can freeze them for up to 4 weeks, but they will not have that same crunchiness once you freeze and then later reheat.
Do churros need to be refrigerated?
You should really enjoy churros when they are fresh (right after you've made them). If you can't, you shouldn't refrigerate them because it will make them soggy. Instead, just store them in an airtight container for a couple of days. Anything beyond that and they might start to feel and taste stale.
How do you reheat churros in the oven?
If you want to reheat your churros after they've been stored or frozen, simply place them in a shallow baking dish, brush with melted butter, and sprinkle with a little more cinnamon and sugar. Heat in the oven 20 minutes at 350 degrees or until crispy.
ALSO TRY:
---

---
What can you eat with churros?
There are so many fun dipping sauces for churros, so let your imagination go crazy!
Eat churros with these churros dipping sauces:
Whipped cream
Nutella
Peanut butter
Chocolate
Ice cream
Milkshakes
Icing (of any flavor!)
Pudding
Caramel
Strawberry sauce
Raspberry sauce
Hot chocolate
Coffee
Churros Recipe paired with Book of Life
We decided to pair our churro recipe with A Hero's Journey (The Book of Life) by Daphne Pendergrass
.
This is a book marketed as a "storybook retelling of the movie The Book of Life!"
In the book, Manolo Sanchez is a bullfighter–one from a long line of champion fighters, as a matter of fact.
However, Manolo doesn't want to be a bullfighter.
Instead, he wants to play music and win the love of the beautiful Maria, who is the general's daughter.
That seems like enough to deal with, but Manalo tries to save his town when dealing with magical forces who invade.
The book boils down to the importance of family, friendship and following your dreams.
Our recipe pairing for this one is actually based more on the movie than the book.
In the commercials, one of the characters says, "It's all you can eat Churros!" and my kid cackles every single time.
So, that seemed like the natural pairing with the book.
Listed Book Age Range: 3-8 years
Also, this looks like super cool book to add to this study–especially after I read this NPR piece about the movie director and animator, Jorge Gutiérrez.
The Art of the Book of Life
is the behind the scenes peek of the making of the film and the animation.
My daughter is always interested in artists, so I think this would be a good addition to our homeschool artist studies.
From the book:
A tale packed with adventure, The Book of Life celebrates the power of friendship and family, and the courage to follow your dreams.

To determine whether the heart of humankind is pure and good, two godlike beings engage in an otherworldly wager during Mexico's annual Day of the Dead celebration.

They tether two friends, Manolo and Joaquin, into vying for the heart of the beautiful and fiercely independent Maria, with comical and sometimes dangerous consequences.

This volume is an inspirational behind-the-scenes look at the making of the animated feature film The Book of Life, from visionary producer Guillermo del Toro (Pan's Labyrinth) and director Jorge R. Gutierrez (El Tigre: The Adventures of Manny Rivera).
HOW TO MAKE CHURROS
How do you make churros step by step?
Making your own churros recipe is easy and your kids will have a lot of fun with this recipe. (Just be sure you take care of the piping into the hot oil part!)
We've included step by step instructions on how to make churros, so just follow along!
Yield: 12
Cinnamon Sugar Churros Recipe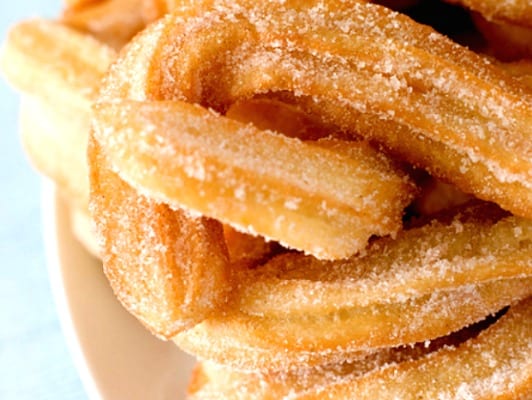 This churros recipe is best served warm for the yummiest churros!
Ingredients
1 Cup Water
1/4 Cup Unsalted butter, cubed
1 Tablespoon Granulated sugar
1/4 Teaspoon Salt
1 Cup All-Purpose flour
1 Egg
1/2 Teaspoon Vanilla
Vegetable oil or Sunflower Oil (for frying)
For Topping
1/2 Cup Granulated sugar
3/4 Teaspoon Ground cinnamon
Instructions
In a saucepan over medium heat, combine water, butter, sugar, salt. Bring to a boil and then reduce heat.
Stir in flour a little at a time, stirring constantly, until the mixture is smooth. Transfer to a mixing bowl and let cool for 5 minutes.
Add vanilla and egg to flour mixture. Blend with an electric mixer until smooth. Transfer to a piping bag or churrera.
Heat oil in a deep skillet to 360 degrees F.
Using the filled pastry bag, carefully pipe strips of dough into hot oil, about 6 inches long. Fry until just golden, about 2 minutes on each side--do not overcook! Then, drain briefly on paper towels.
Combine 1/2 cup sugar and cinnamon. Roll warm churros in cinnamon and sugar mixture.
Repeat process of piping, frying, and rolling in sugar mixture until all dough is used.
Serve warm alone or with a dipping sauce like chocolate, strawberry, or raspberry dipping sauce.
Nutrition Information:
Yield:
12
Serving Size:
1 Churros (depending on how long you pipe the dough)
Amount Per Serving:
Calories:

135
Total Fat:

7g
Saturated Fat:

3g
Trans Fat:

0g
Unsaturated Fat:

4g
Cholesterol:

26mg
Sodium:

52mg
Carbohydrates:

18g
Fiber:

0g
Sugar:

9g
Protein:

2g
Nutrition information is estimated. Changes to the recipe and use of different brands may cause changes to the nutritional information to vary slightly from the ones provided here.
Why are my churros raw inside?
Uh oh. So your churros came out raw inside? That's actually a common thing that happens when frying pastry and usually means that you had your oil too hot.
Raw churros inside means the outside of the churros are cooking faster than the inside.
If you lower the temperature of your frying oil a little, it should take care of the churros being raw inside because the outside and inside will cook more evenly.
To make sure you get your oil to the right temperature (which is an important part of a churros recipe), use an oil or candy thermometer.
Let us know when you make this churros recipe!
As an Amazon Associate I earn from qualifying purchases. Please refer to our
DISCLOSURE
.