This homemade whipped cream recipe is so easy you'll wonder why you haven't been making it all along! And, there's a super secret ingredient to take your homemade whipped cream or whipped cream frosting to the next level, especially if you're using it on strawberries or fruit pies!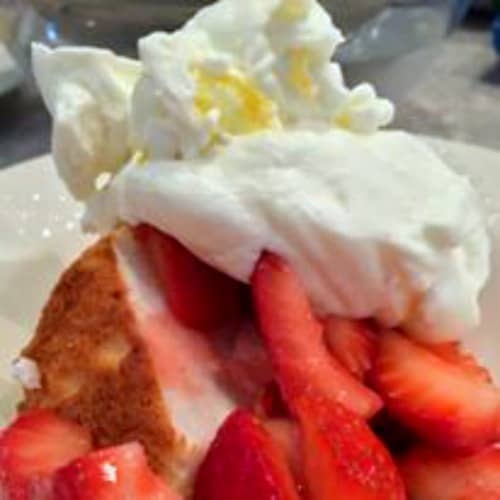 How To Make Homemade Whipped Cream Recipe
What if I taught you how to make whipped cream that is super fast AND tastes 100 times better than anything that you buy in a container at the grocery store?
Hard to believe?
Well, it's TRUE!
A few years ago I decided to try making homemade whipped cream recipe from scratch for a barbecue we were having at our house.
Affiliate links are used on this site. As an Amazon Associate I earn from qualifying purchases. Read more in our DISCLOSURE.
It turned out so good that it is now one of the most requested items whenever we have a party.
One of my friends says that she can just have a bowl of the whipped cream as dessert and that's it!
This is also a really fun, fast, and easy recipe to make with the kids!

How To Make Whipped Cream From Scratch
A homemade whipped cream recipe is really only two main ingredients:
Heavy whipping cream
Powdered sugar (or regular granulated sugar)
I like to use powdered sugar instead of regular white sugar because sometimes it can take time for the regular sugar granules to dissolve, which makes for a crunchy (yucky) whipped cream if you can't get them to dissolve before peak stiffness is reached.
Sometimes, I also add vanilla (if we're pairing it up with something that I want a little richer taste).
But, you can definitely get an amazing, light whipped cream just by using those two ingredients.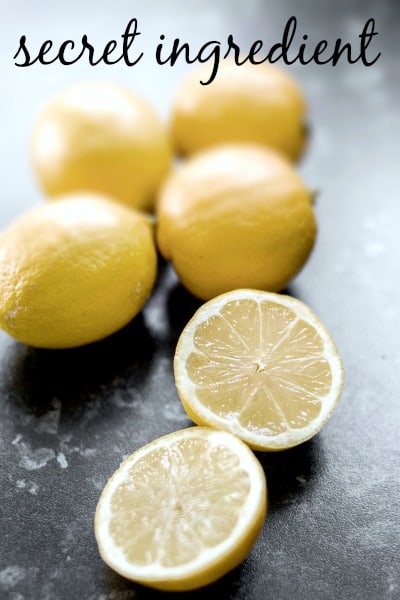 Whipped Cream From Scratch with a Secret Ingredient
OK.
I'm going to share with you a secret ingredient that I add to our homemade whipped cream to take it from "Oh wow! This is amazing!" to "OMGosh! THIS IS THE BEST DESSERT THING EVER!"
Are you ready?
The secret ingredient is. . .
::whispervoice::Lemon Zest::whispervoice::
Yes.
I add a little lemon juice and lemon zest to our whipped cream!
If you're making whipped cream to use with fruit or fruit pies, DEFINITELY add the lemon! It makes a huge difference in the flavor!
(I even zest some of the lemon right on top of the whipped cream before I serve it.)
WARNING: The acid in the lemon can break down the cream, so I only squeeze a little fresh lemon in the cream at the beginning of the mixing process.
Then, I also add fresh lemon zest while it's mixing and also right before serving.
PS?
Zesting can be so much fun for a kid!
My kid is addicted and a couple of years ago even asked for her own zester for Christmas!
(You can get a cut-resistant glove to protect little hands, if you want!)
---
---
Whipping Cream vs Heavy Cream: What's The Difference?
You may be wondering what's the difference between whipping cream and heavy cream when making whipped cream? They are both creams found in the refrigerated section near the milk, but these creams have different fat content. Heavy cream has a little more fat and will hold its shape longer. Whipping cream has less fat and is lighter.
(It is even sometimes labeled "Light" Whipping Cream.)
You may also see heavy cream and heavy whipping cream, which are basically the same thing.
For our homemade whipped cream recipe, we use heavy whipping cream.
How long does homemade whipped cream last?
If you have leftover homemade whipped cream (I can't imagine, but OK . . .), it will store in the refrigerator for 2-3 days. However, it will start to lose some of its height and "stiffness" as the days go on, but it will still taste the same. Just use a hand whisk and whisk the whipped cream after it's been in the refrigerator.
Sometimes, you can bring the refrigerated whipped cream back to life by just giving it a quick whisk.
(We love these stainless steel bowls with lids!)
You can also store homemade whipped cream in an airtight, freezer-proof container for up 3 months, but honestly, that fresh, fluffy texture is one of the reasons to make homemade whipped cream!
How To Make Whipped Cream
3 IMPORTANT TIPS FOR MAKING HOMEMADE WHIPPED CREAM
IMPORTANT WHIPPED CREAM TIP #1: Just . . . Chill
An important thing about making homemade whipped cream is: THE CHILL.
A successful homemade whipped cream relies a lot on chilling your metal mixing bowl and also the mixer beaters/whisks.
I just pop mine in the freezer for 15 minutes or so before I make the whipped cream.
Also, be sure to keep your heavy whipping cream in the refrigerator and chilled until right before you use it.
Keeping everything chilled helps keep the fat in the cream from melting. The fat helps trap air bubbles, which makes the whipped cream lighter and fluffier.
If the fat in the cream warms up quickly, you will have a hard time creating a light, fluffy whipped cream.
IMPORTANT WHIPPED CREAM TIP #2: Don't Over-Whip
You do not want to over-whip the cream.
There is a point where your whipped cream will go from beautiful peaks into deflated cream where the fat has broken down.
(It will still taste fine, but it just won't look as pretty.)
So, as soon as you start to see stiff peaks form, you should stop mixing.
Remove one of the beaters from the mixer and if the whipped cream stays stiff on the beater, then it's good.
IMPORTANT WHIPPED CREAM TIP #3: Start Slow
Start the mixer on low so that the cream doesn't splatter everywhere.
Once it starts to get a little stiff, move the speed up to medium and start to slowly add the powdered sugar.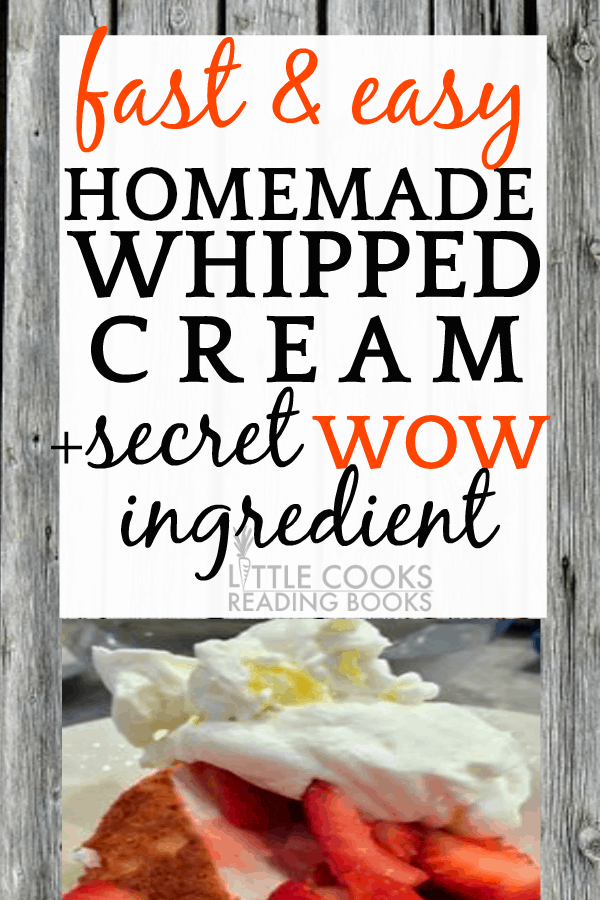 Homemade Whipped Cream Recipe
Yield: 4
Easy Homemade Whipped Cream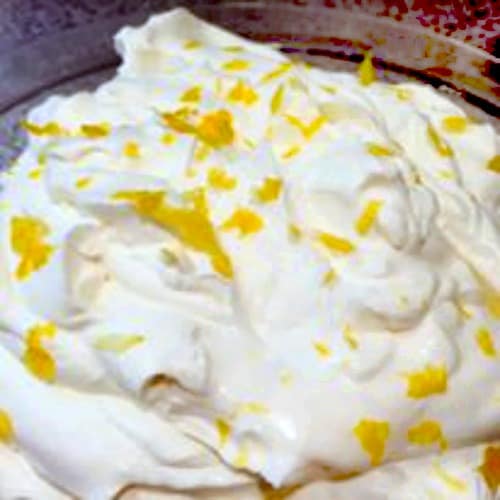 This homemade whipped cream recipe is so easy AND delicious that you will never want to buy the stuff from the store again!
Ingredients
2 Cups Heavy whipping cream
1/4-1/2 Cup Confectioners (Powdered) sugar
1 Teaspoon Vanilla, (optional)
1 Lemon, (optional)
Instructions
Pour heavy cream into a chilled metal mixing bowl.
Add vanilla (optional) and a couple of squeezes of juice from a lemon (optional).
Begin mixing on slow until bubbles and a few peaks start to form. Then, turn mixer speed to medium.
While mixing on medium, add in confectioner's sugar a little at a time until stiff peaks begin to form—about 6-8 minutes. (You may not use all of the sugar OR feel free to use a little more, if needed.) DO NOT OVER MIX! If you can take the beaters out of the mixer and the whipped cream stays on the beater in a stiff peak, it's ready!
To add a little zing, zest some lemon onto the top of the whipped cream before serving. (It's especially good that way with fresh strawberries!)
Nutrition Information:
Yield:
4
Serving Size:
1 cup
Amount Per Serving:
Calories:

414
Total Fat:

43g
Saturated Fat:

27g
Trans Fat:

1g
Unsaturated Fat:

13g
Cholesterol:

134mg
Sodium:

33mg
Carbohydrates:

5g
Fiber:

1g
Sugar:

4g
Protein:

4g
Nutrition information is estimated. Changes to the recipe and use of different brands may cause changes to the nutritional information to vary slightly from the ones provided here.
Let us know what you think of the homemade whipped cream recipe!
LOOKING FOR FUN COOKING PRINTABLES FOR KIDS?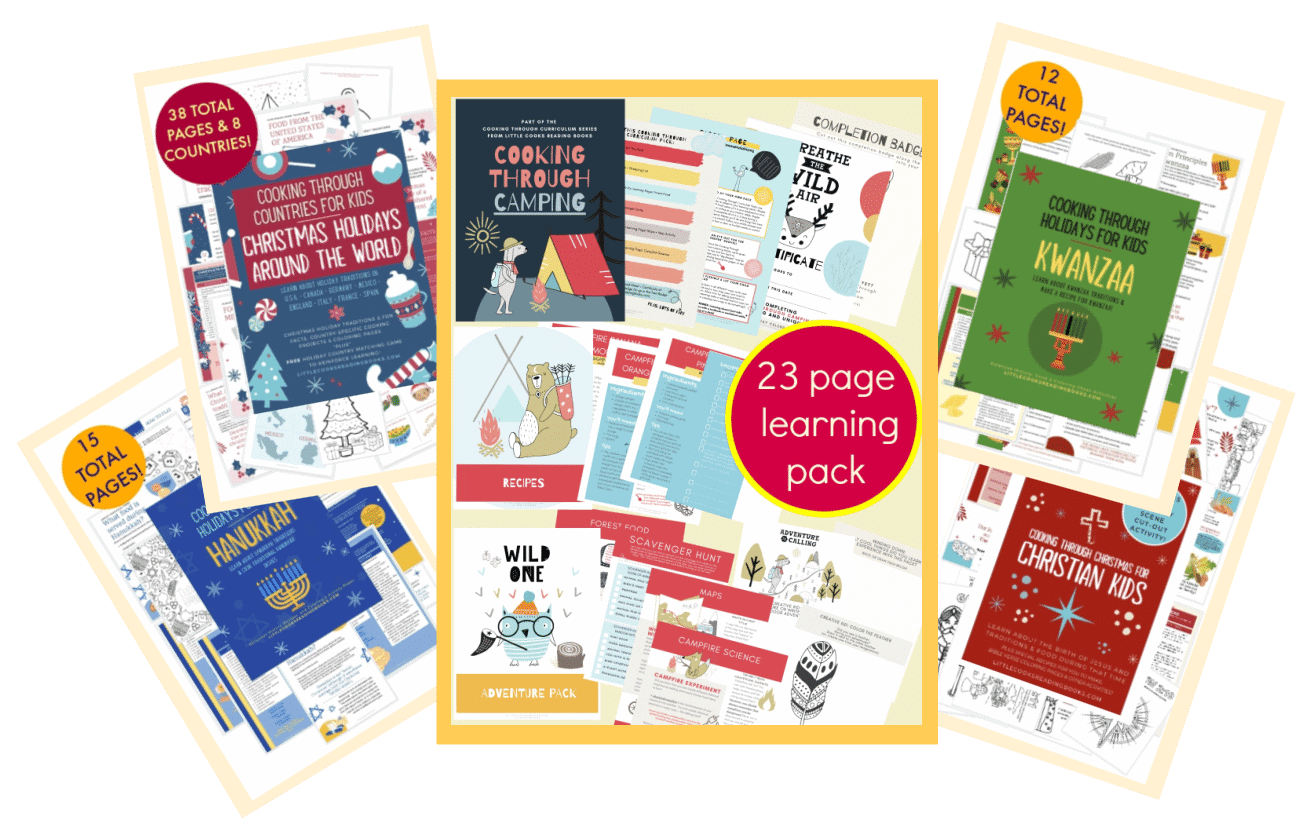 As an Amazon Associate I earn from qualifying purchases. Please refer to our
DISCLOSURE
.