Need a simple cherry crumble recipe (also called cherry crisp or cherry crumble pie) or an alternative to a cherry pie recipe? This recipe with cherry pie filling and crumbly topping is an easy dessert and great fruit dish for all year — from holiday dinners and Christmas dessert recipes to summer cookout recipes, anytime you want a fruit crumble with seasonal fruits, or want easy baking with kids recipes.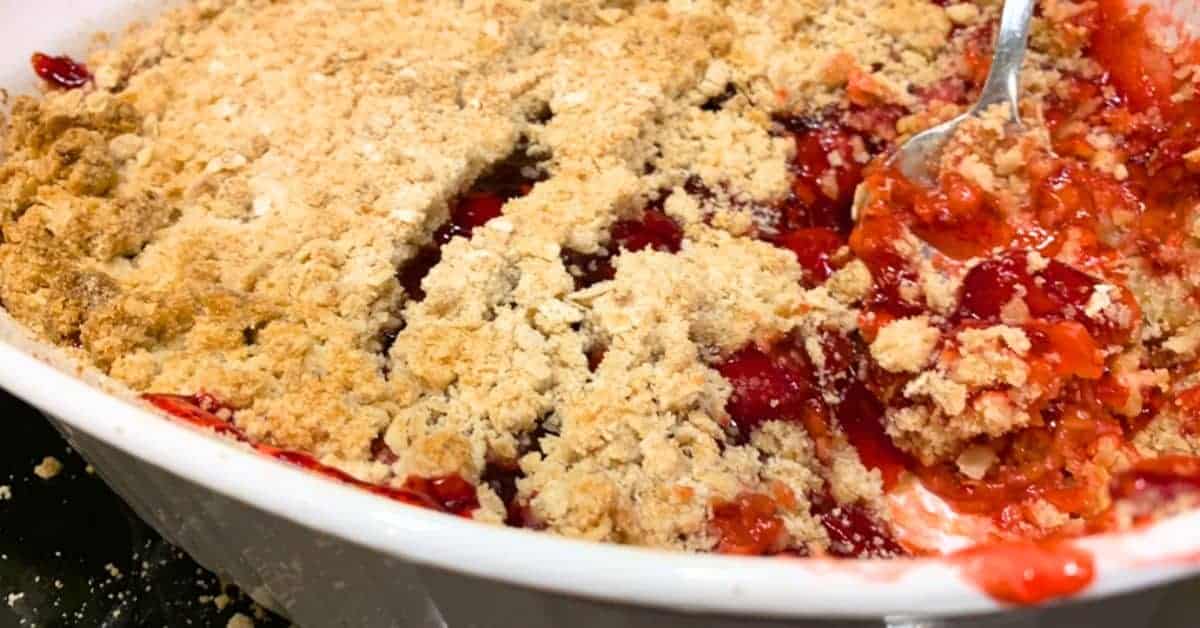 Best Cherry Crumble – Delicious And Simple Fruit Desserts
You can make this dessert with fresh fruit, but what makes it a quick and easy dessert is making it a cherry crumble recipe with canned filling. This is the old-fashioned dessert recipe that my mom always made as a cherry pie filling crumble and a tried and true go-to recipe when I need a last minute dessert. We love it served warm with a scoop of vanilla ice cream (it's good with whipped cream or alone, too!).
Easy Cherry Crumble Recipe With Oats
Can cherry pie filling (sweet cherries for cherry desserts)
Butter
All-purpose flour
Rolled oats
Brown sugar
Salt
RECIPE TIP: We make this cherry crumble using canned cherries. My favorite canned cherries are the ones that are "country cherry" on the label. Making your cherry crumble with canned cherries is what makes this dessert recipe quick and easy!
KEEP SCROLLING to get the full cherry crumb pie recipe with canned cherries printable recipe card below. Also, don't miss our recipe and read pairing for kids at the bottom!
Affiliate links are used on this site. As an Amazon Associate I earn from qualifying purchases. Read more in our DISCLOSURE.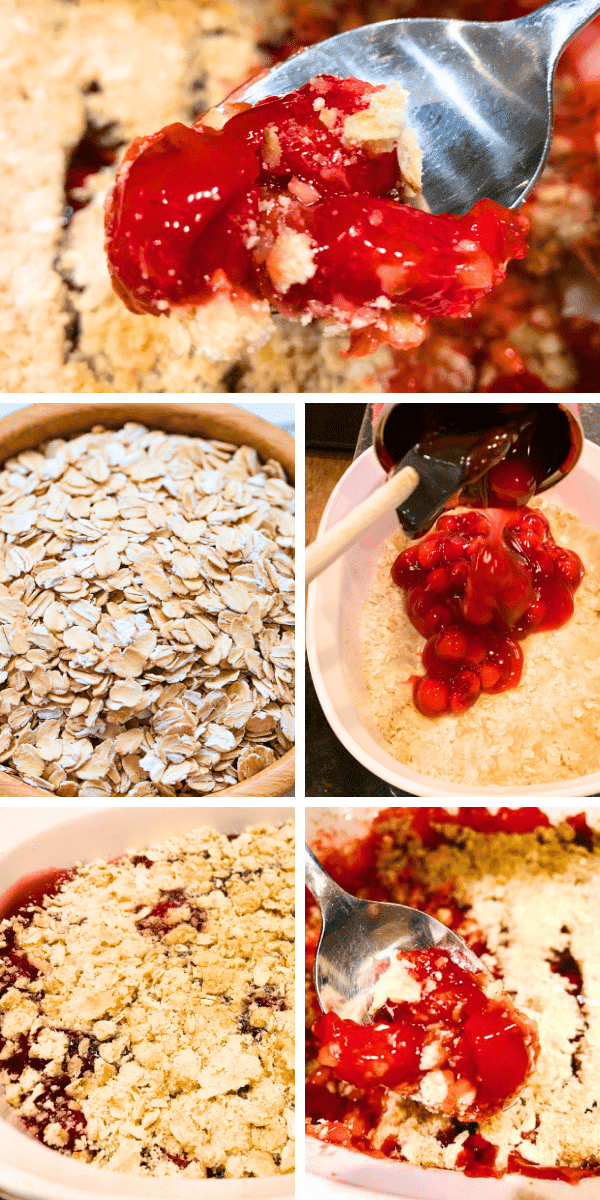 What is the fruit crumble topping?
The topping for fruit crumble is super simple. To make the crumbly oat topping use these simple ingredients.
What is the top of crumble made from?
Butter
Flour
Oats
Brown Sugar
Salt
(Full recipe for fruit crumble topping and how to mix the dry ingredients below.)
Many people leave out the oats and make this as a cherry crumble no oats topping. I like the taste and texture with oats, so we make our fruit crumble recipe with oats and flour mixture.
I also use the top crumble recipe to make a bottom pie crust, too. Just press part of the crumble into the bottom of the baking dish before pouring the cherry mixture.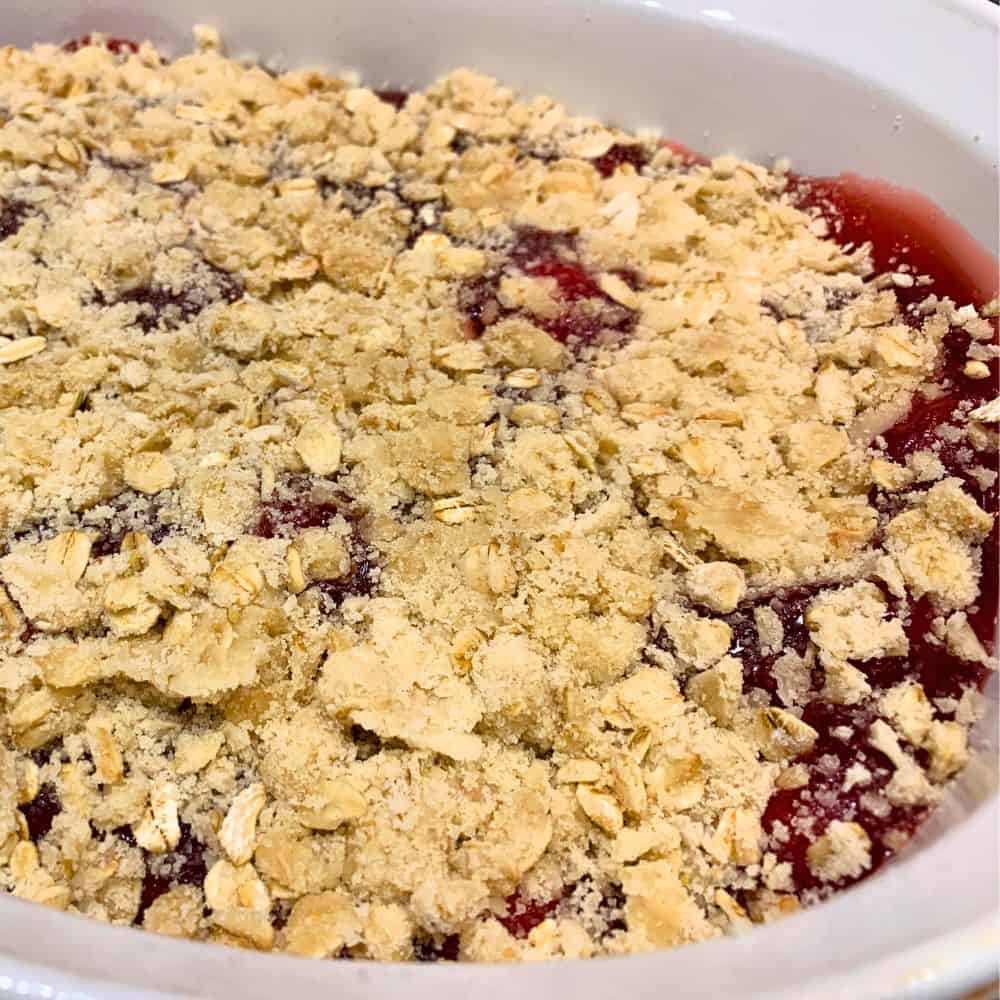 Helpful Recipe Tips and Dessert Making FAQs
What is the secret to good crumble?
A good crumble has a textured crumble topping. We like to add oats and sometimes nuts to achieve the perfect chewiness to the crumble topping that also crisps a little when baked for an extra crunchy texture.
How do you brown the top of a crumble?
We bake our crumble until the top is brown and bubbly. However, one of the quickest and most effective ways to brown the top of a crumble is to use your oven's broiler function on high. Place the crumble under the broiler, but keep it close to the broiler element (usually about 4-6 inches away or the top, closest rack of your oven) to ensure even browning. Keep a close eye on it! Browning happens quickly, around 1-2 minutes!

What is the difference between a crumble and a crisp and a cobbler?
There are slight differences in a crumble vs crisp vs cobbler. The primary distinctions between these desserts are in their toppings and textures. Crumbles have a crumbly streusel-like topping, crisps have a crunchy oat-based topping, and cobblers feature a biscuit-like or cake-like topping. Many people, including me, often call a crumble and crisp the same and use them interchangeably.
Kids Also Love This Fun Recipe:
3-Ingredient Sugar Cranberries
Old-Fashioned Cherry Crumble Recipe
How To Make Canned Cherry Crumble Step-By-Step
This recipe works for any fruit crumble, so if you don't like cherries then substitute canned apple pie filling, blueberry filling, or even blackberry filling. Or, mix it up and make a cherry apple crisp!
I like a sweet and tart (sour) fruit recipe, but this one falls more on the sweet dessert side. (If you use fresh cherries or frozen cherries, you can get a tart flavor.)
This is a fun baking with kids recipe because they can really get into the topping and squish around, mixing it up with their hands! (Plus, they can have a scoop of ice cream on top!)
I also love that this is the perfect summer dessert or a quick holiday dish! It's always a huge hit at any gathering!
Yield: 1
Easy Cherry Crumble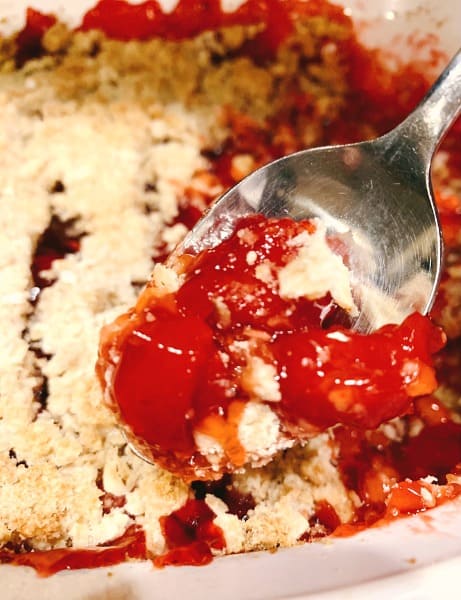 This is a perfect go-to last minute dessert idea, easy holiday dessert or desserts for cookouts!
Ingredients
6 Tablespoons butter
1 1/4 cups all-purpose flour
1/2 cups rolled oats
6 Tablespoons packed brown sugar
1/8 teaspoon salt
1 21-ounce can cherry pie filling
Instructions
Preheat oven to 375°F.
Melt butter in a large glass measuring cup or bowl.
Into the melted butter, stir in oats, flour, brown sugar, and salt until a dry, crumbly dough forms.
Press about 2/3 of the crumbly dough into the bottom of 9-inch baking dish, making a firm even layer.
Spread cherry pie filling on top of the crust. Sprinkle with remaining crumb mixture.
Bake for 45 minutes, or until the top crumble is lightly browned and bubbling around the side.
Serve warm with ice cream or plain at room temperature or with whipped cream. (See our homemade whipped cream recipe below the recipe card.)
Notes
NOTE: If you don't like cherry, you can use any canned fruit pie filling or even a mixture (like cherries and apples!).
Nutrition Information:
Yield:
12
Serving Size:
1
Amount Per Serving:
Calories:

189
Total Fat:

6g
Saturated Fat:

4g
Trans Fat:

0g
Unsaturated Fat:

2g
Cholesterol:

15mg
Sodium:

78mg
Carbohydrates:

32g
Fiber:

1g
Sugar:

5g
Protein:

2g
Nutrition information is estimated. Changes to the recipe and use of different brands may cause changes to the nutritional information to vary slightly from the ones provided here.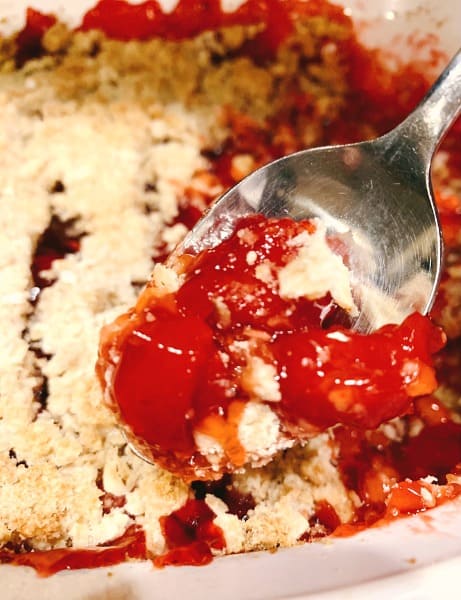 RECIPE AND READ: Children's Book and Recipe Pairing
Here are fun children's books on cherries and pies that you can pair up with this recipe when cooking with your kids!
Children's Books About Cherries: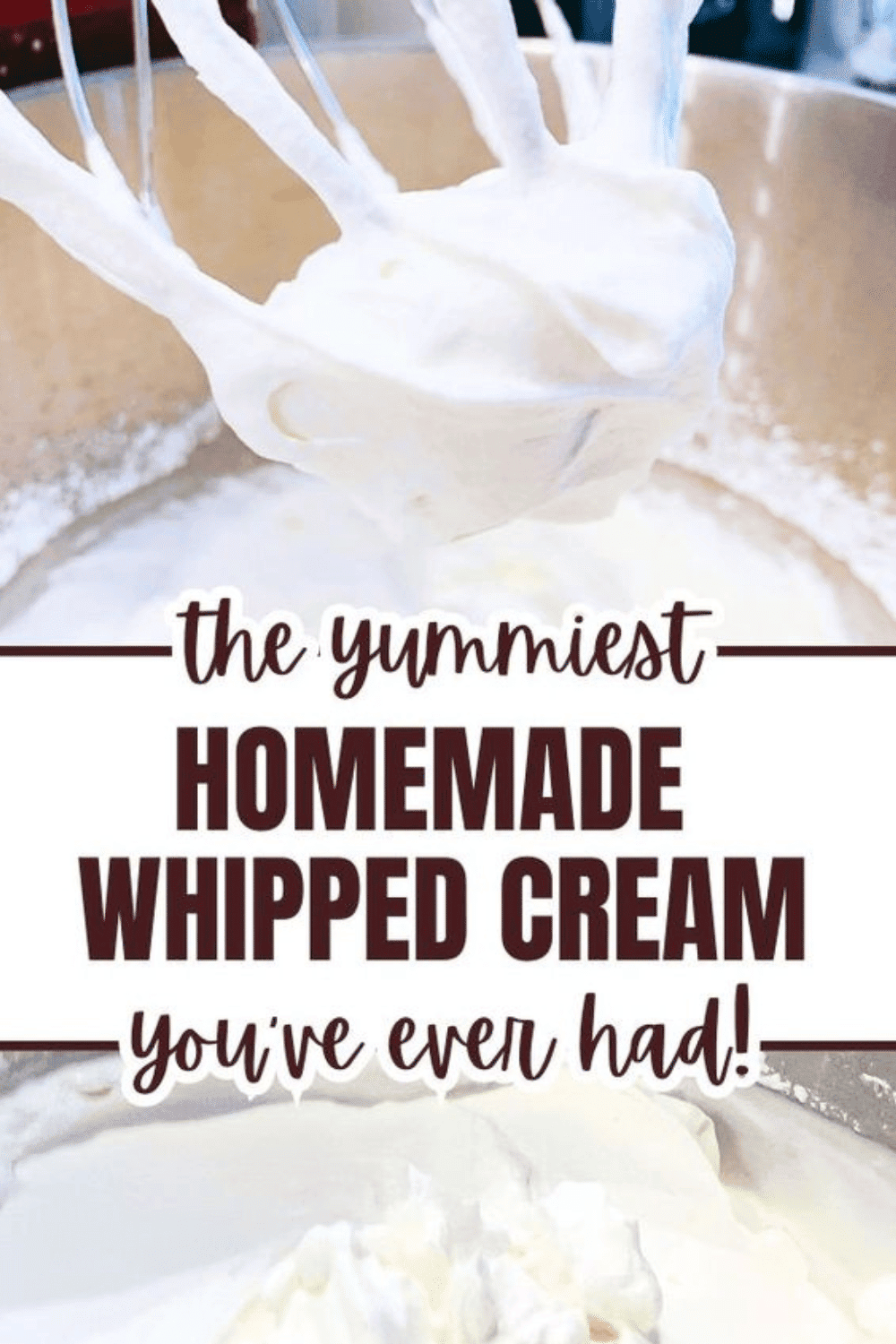 Great With This Easy Dessert: How To Make Homemade Whipped Cream
This easy whipped cream makes a great topping for cherry crumble desserts!
DIY Whipped Cream Recipe:
2 Cups Heavy whipping cream
1/4-1/2 Cup Confectioners (Powdered) sugar
1 Teaspoon Vanilla, (optional)
1 Lemon / lemon juice, (optional)
GET THE FULL WHIPPED CREAM RECIPE
We hope you enjoy this cherry crumble recipe!
LOOKING FOR FUN COOKING PRINTABLES FOR KIDS?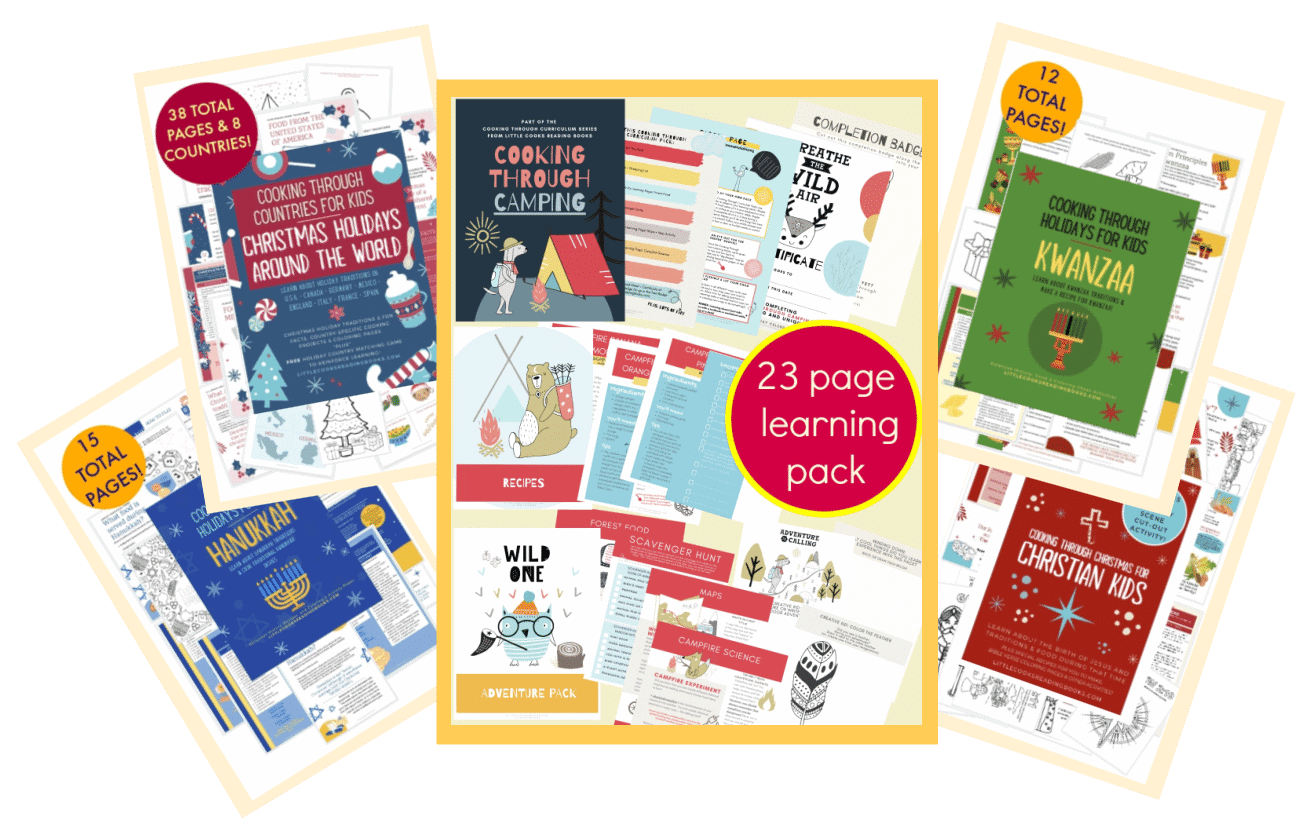 As an Amazon Associate I earn from qualifying purchases. Please refer to our
DISCLOSURE
.