This Borax snowflake experiment makes a great science project, stuck at home winter activities for kids or homemade Christmas tree ornament! It's also a fun addition to your crystal structure formation science lessons or STEM studies for kids. These are fun snowflake crafts for adults and kids (even for preschool and kindergarten!).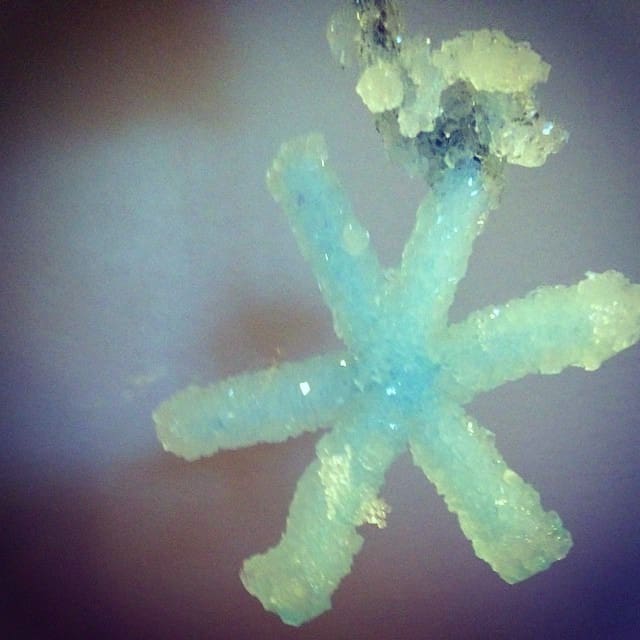 Borax Snowflake Experiment Craft
Before we get to the grow a snowflake experiment, let's cover some common questions that go with this children's activity.
What is Borax?
Borax is a chemical compound that is often used for laundry or household cleaning. It is also called sodium borate, sodium tetraborate, or disodium tetraborate.
Where can buy Borax?
You can buy Borax in many big box stores (like Walmart), tractor or farm supply, or drug stores. A well-known Borax brand is 20 Mule Team, which is often found in the detergent or cleaning aisles in stores.
Affiliate links are used on this site. As an Amazon Associate I earn from qualifying purchases. Read more in our DISCLOSURE.
You can also buy Borax online.
How does the Borax Snowflake work?
Make a snowflake out of pipe cleaners. Suspend the snowflake in boiling water with Borax overnight. The Borax will form crystals, which cling to the pipe cleaner. As the crystals form on top of each other, they will cover the pipe cleaners completely and form a beautiful crystal snow flake.
How long do Borax crystals take to grow?
You should leave the Borax crystals in an undisturbed location at least overnight. This will allow the Borax time to form crystals and cling to the pipe cleaner to form the Borax crystal snowflake.
---
More Winter Craft Ideas: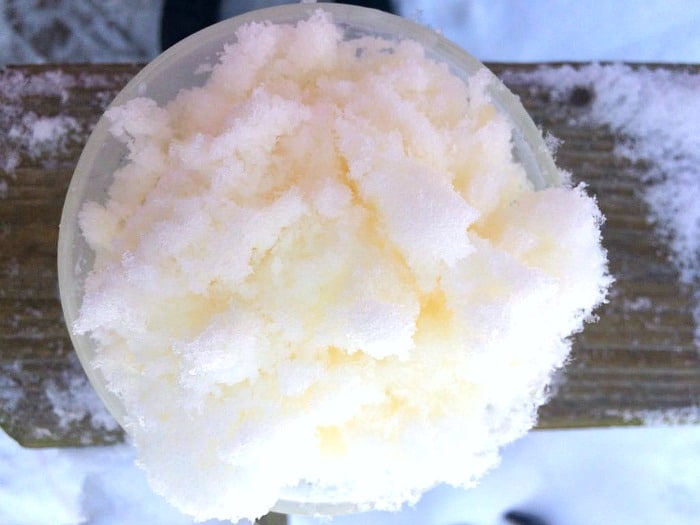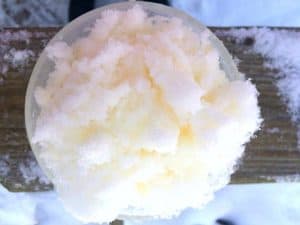 ---
Do Borax crystals melt?
Borax crystals can melt in hot water, so be careful with your snowflake crystals when handling or storing. If you want to get rid of the Borax crystals that formed in the jar, simply place hot or boiling water into the jar and scrub out.
How To Grow A Snowflake
These are great science project ideas because you can easily make the recipe for multiple kids and it's interesting for a wide variety of age ranges for STEM lessons!
Once you grow snowflake crystals, use a magnifying glass to look them on the side of the jar!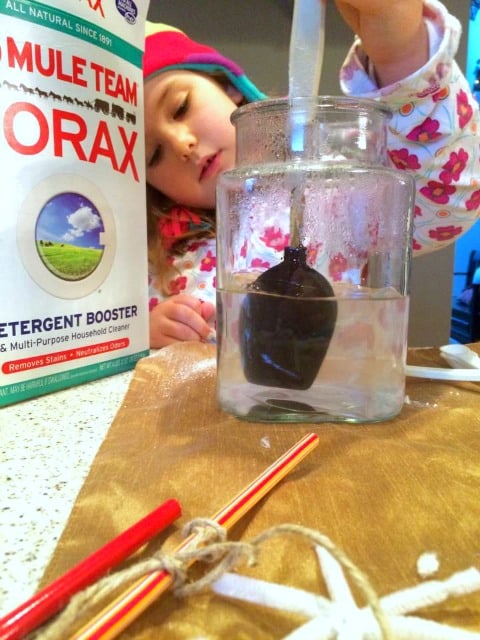 IMPORTANT TIP FOR YOUR BORAX SNOWFLAKES: Be sure to use a large glass jar wide enough and deep enough so that your snowflake doesn't touch the bottom or sides. If you don't, the crystals can grow and completely overtake the jar and you'll just have a (beautiful) dense jar of crystals that swallowed up your snowflake!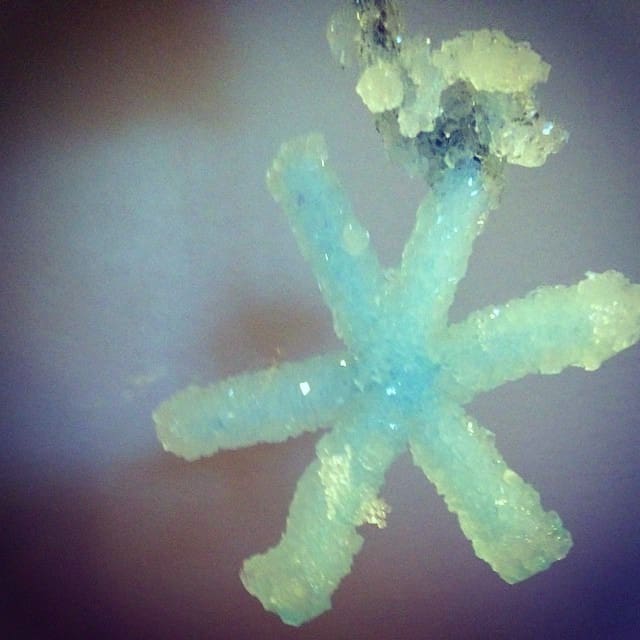 We made our Borax snow flake into a Christmas tree ornament by looping a ribbon around it. Carefully pack it away each year so it doesn't get broken!
Total Time
12 hours
25 minutes
Materials
White pipe cleaners
Twine
Straw or Pencil
Large Wide Mouth Glass Jar
6 Tablespoons Borax
2 Cups Boiling water
Blue food coloring
Instructions
Find a straw or pencil that you can lay across the mouth of the jar without it falling in.
Cut the pipe cleaner into three equal lengths. Cross two of the pipe cleaner sections at the middle to form an + sign. Twist the pipe cleaners together at the middle. Twist the third pipe cleaner onto the connected ones to form a "star" (or asterisk) shape. Test that your snowflake fits inside of the jar. Set aside.
Tie a long piece of twine to the middle of a straw or pencil.
Tie the loose end of the twine to one "arm" of your pipe cleaner snowflake.
Place the straw/pencil across the mouth of the jar and let the snowflake hang into the jar. The snowflake should hang into the jar without it touching the sides or bottom. If the string is too long, wind it around the straw/pencil until you get the right length.
Carefully fill the jar with boiling water.
One tablespoon at a time, add the Borax to the boiling water. Stir after each tablespoon to help dissolved, until all Borax has been added and dissolved. (There may be some unsolved Borax at the bottom. That's OK.)
Drop 2-3 drops of blue food coloring into the water. Stir.
Place pipe cleaner snowflake into the water. Lay straw/pencil across the mouth of the jar so that the snowflake is completely submerged in the water, but not touching the bottom or the sides.
Allow jar to sit overnight (undisturbed) while crystals form. (Or a little longer if you want more crystals to form.)
Carefully lift straw/pencil and remove crystal snowflake. Cut twine at desired length. Loop a ribbon for a Christmas tree ornament or hang in window as a sun catcher.
Best Winter Books For Kids To Go With This STEM Craft
These books are great children's reading companions for your how to grow a Borax crystal snowflake project. You can make a complete winter lesson plan from this!
LOOKING FOR FUN COOKING PRINTABLES FOR KIDS?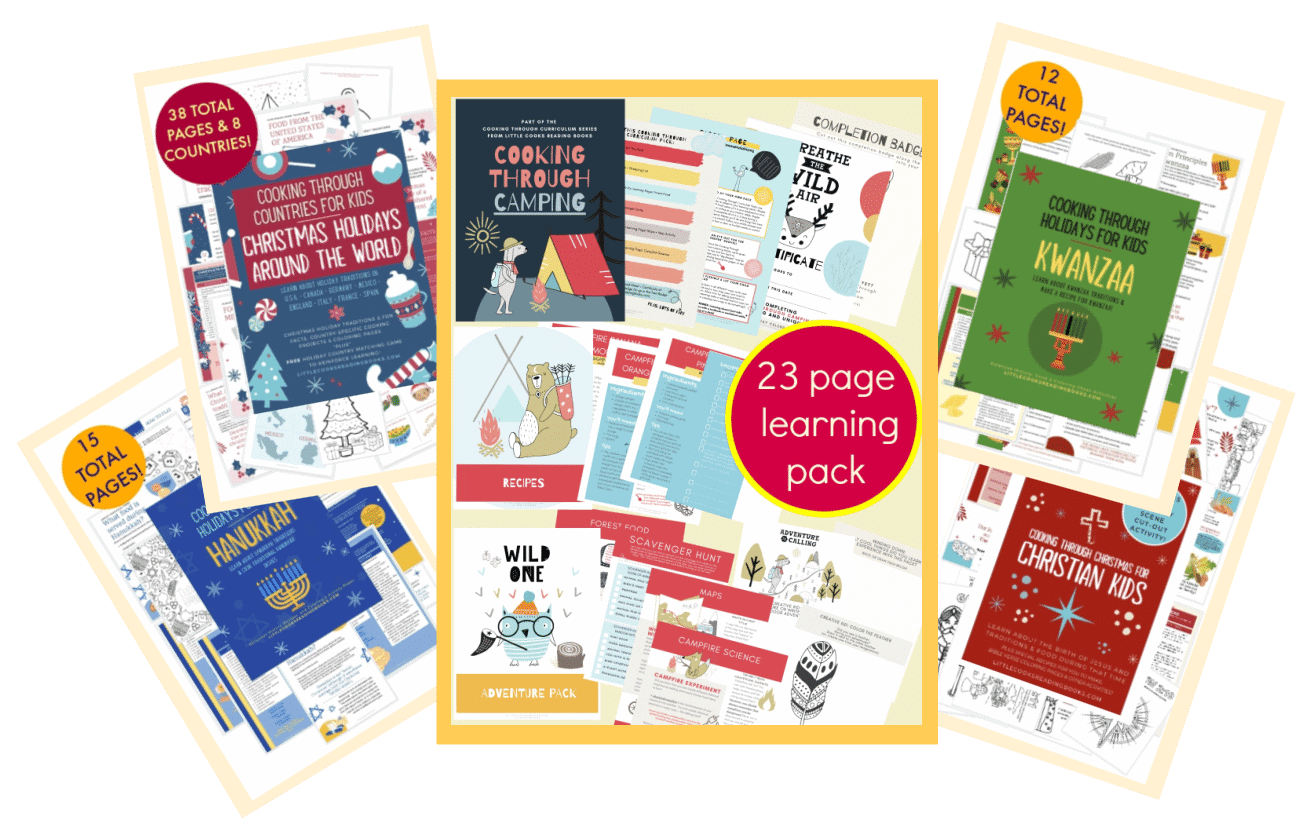 As an Amazon Associate I earn from qualifying purchases. Please refer to our
DISCLOSURE
.