This cute pet snowman craft for kids is fun whether you're looking for Christmas snowmen crafts, a mason jar snowman craft, or even a snowman art craft for toddlers! You'll love these snow activities for kids! Definitely add these to your holiday projects, snowman lesson plans, or winter snow day ideas!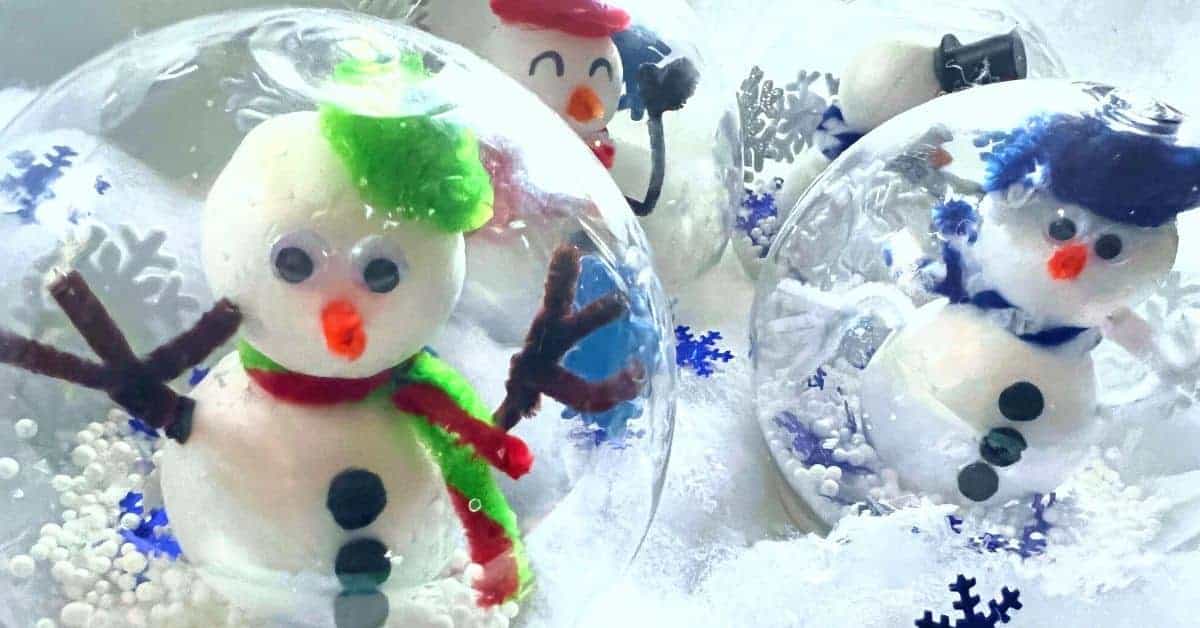 Unique Snowman Craft for Kids To Make
If you're looking for an easy craft alternative to the tired snowman toilet roll craft or snowman with craft sticks, try making a pet snowman! It's a fun snowman craft activities for preschoolers and a fun holiday craft for seniors or other adults. (I enjoyed this project as much as my teen daughter! So it works well for snow craft ideas for older kids, too!)
Ideas For Snowman Craft
How to build a snowman craft:
Styrofoam balls or craft puff balls*
Pipe cleaners
Jar (mason jar) or ornament globe or globe jar
Googly eyes
White glitter
Miniature white styrofoam balls (for snow, like the kind you would use for slime crafts)
Fake snow
Snowflake stickers
Glue
Snowmen printable labels (free printable included)
*This can be a snowman with cotton craft, but it's easier to work with the styrofoam balls to make your snowman pet.
Affiliate links are used on this site. As an Amazon Associate I earn from qualifying purchases. Read more in our DISCLOSURE.
Get the full snowman DIY kit craft instructions (printable craft card for jar snowmen pet) below! Also KEEP SCROLLING to the end of the craft post to get the free snowman printable labels and printable snowman story!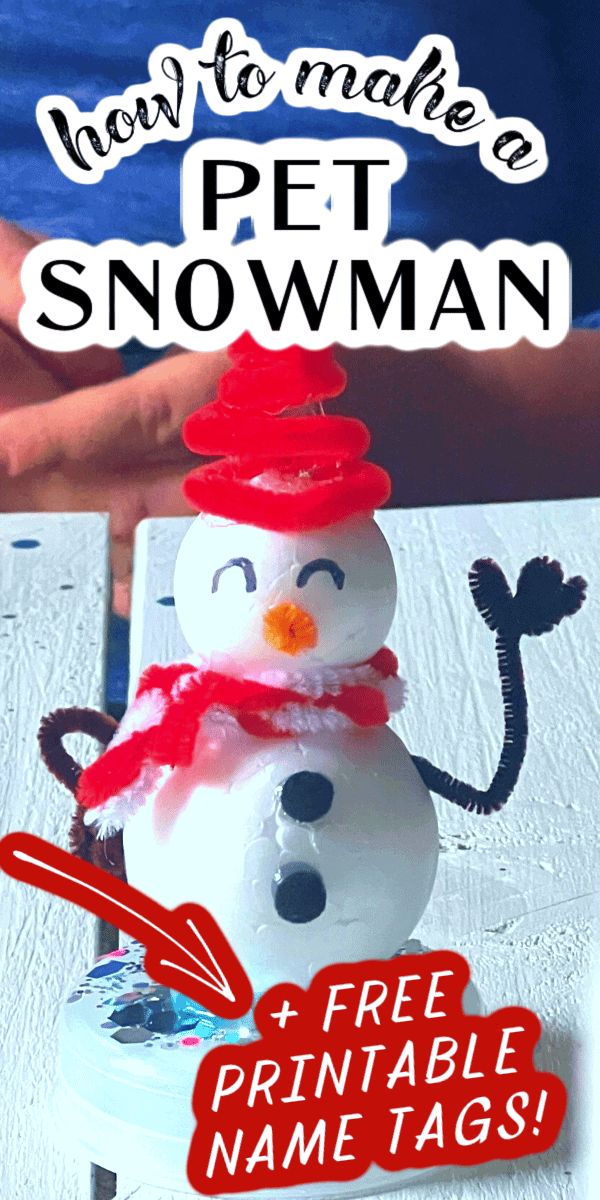 Snowman Craft Tips
You can use any snowman craft jar, but we found these cute snow globe jars (plastic jar crafts) that worked perfectly!
(You can unscrew the bottom and glue the snow man onto it. SO EASY for a snowman jar craft idea, but you can use any clear snowman jar!)
Also, we kept this craft simple, but you can add any snowman craft accessories (snowflakes, trees, etc.) that will fit into your jar.
To make the arms for snowman crafts, twist one small brown pipe cleaner at the top of the other small brown pipecleaner to make the hands. Your craft snowman arms don't have to be perfect. Remember, they're like tree branches!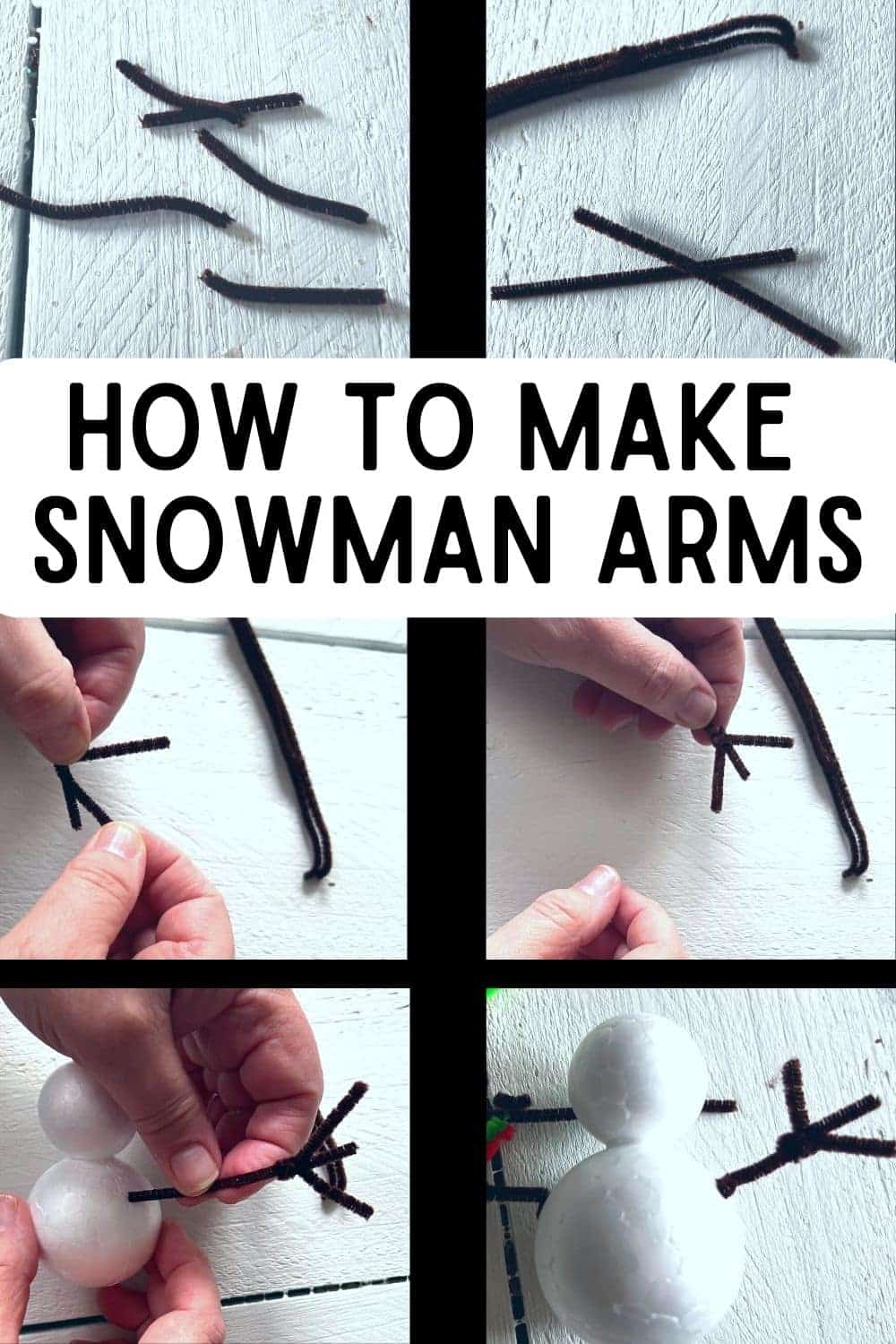 We used these styrofoam snowman shapes, which worked really well. But you can make this snowman craft with styrofoam balls using two different size styrofoam balls (and attach them with glue) or even fuzzy craft ball shapes like this or as a snowman craft with cotton balls.
Also, we used googly eyes, but you can just draw your craft snowman eyes and face.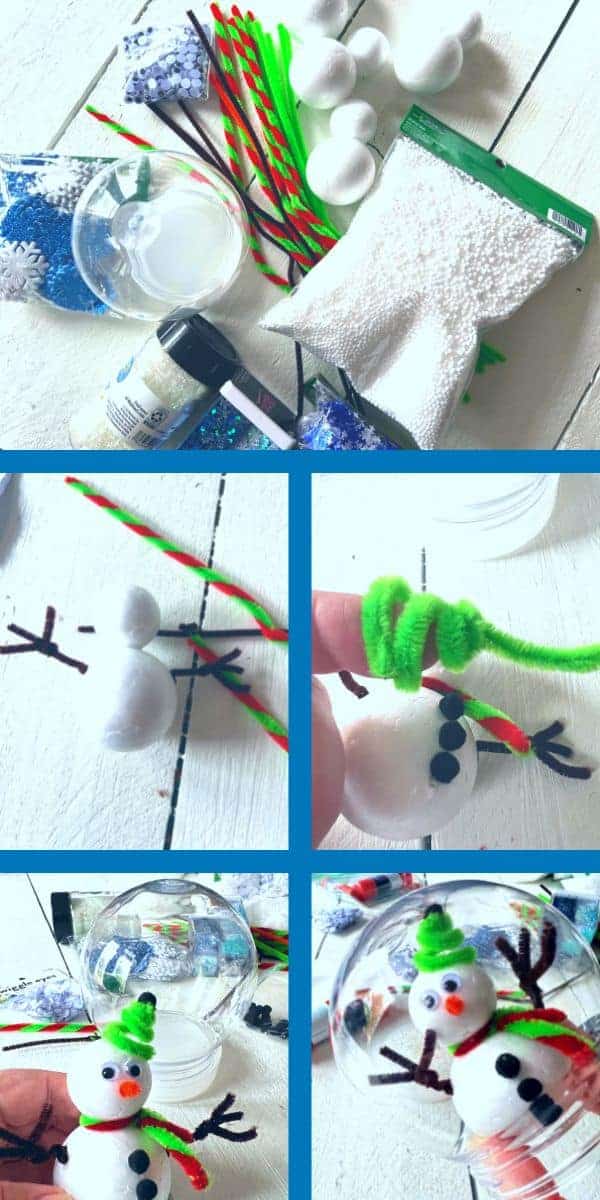 Want more snowman crafting?
MORE SNOWMAN ACTIVITIES WITH KIDS:
Snowman Paper Plate Game (Free Printable Game Instructions)
How To Make An Easy Snowman Cheese Ball
(easy snowman craft marshmallow ideas / snowman edible craft!)
Make Melting Snowman Ice Cream!
If you're looking for 3d snowman craft ideas or even something to do on a snow day, you'll have fun with this one!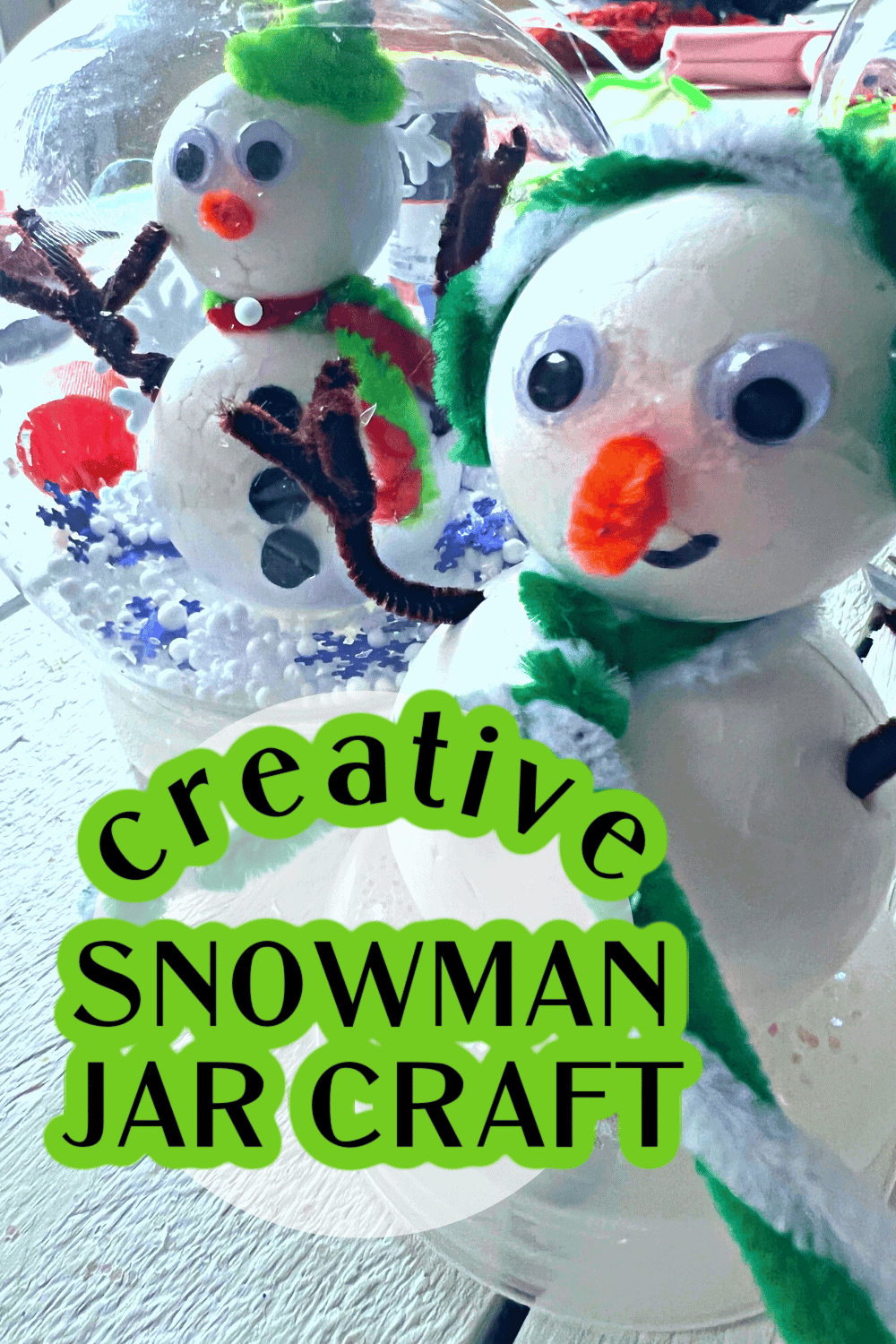 HOW TO MAKE PET SNOWMEN CRAFTS
I love this winter activity because it's a fun snowmen craft for toddlers / snowman craft for preschoolers to make / snowman craft for kindergarten, a great snowman craft 2nd grade / snowman craft for elementary students, fun snowman craft middle school, and an easy winter craft for groups!
It really does work for as a craft for mixed ages!
This is also an easy project to make snowman craft bulk kits.
If you're making a craft with a classroom or group of kids, put the craft supplies together in a baggie for a snowman making kit. Just make as many snowmen craft kits as you need.
This is a super versatile for crafts for holidays or a snowy winter craft activity! You'll have your own little snowman animal pet in a jar! (If you're making other jar pets, definitely add this one!)
IMPORTANT: If you're using styrofoam, we don't recommend using hot glue. It melts the styrofoam!
Don't forget to grab your free printable snowman templates for crafts at the bottom of the post.
Yield: 1
Pet Snowman Craft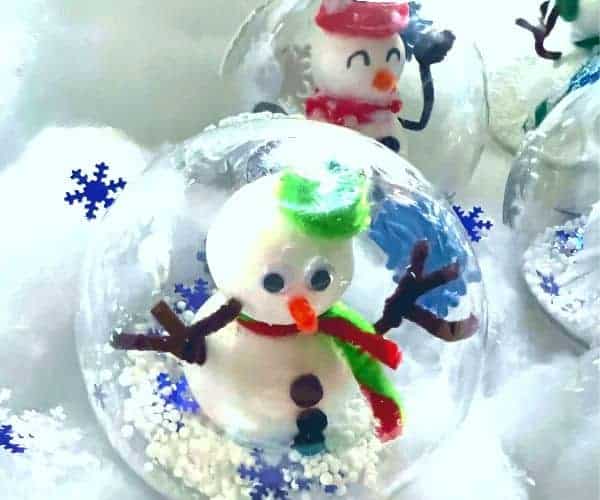 This easy pet snowman craft for kids is so much fun and a unique winter kids activity (good for Christmas crafts / holiday craft ideas or a snowy day craft)!
We have listed craft supplies for one craft, so just multiply them by the number of snowmen crafts (snow people crafts) you are making.
Materials
Styrofoam snowman shape ball (or 2 different size styrofoam balls)
Jar or plastic craft globe (see post for info)
1 orange pipe cleaner
1 brown pipe cleaner
2-3 additional pipe cleaners (colors of choice)
Googly eyes
Miniature styrofoam balls (for snow), optional
Fake snow
White glitter
Foam snow stickers, optional
Glue stick or glue
Twine or ribbon
Pet snowman name label (get free printable in post)
Instructions
Spread glue on the inside bottom of the globe jar lid (or mason jar lid/whatever jar you're using). Sprinkle white glitter over the glue and set aside. (This is so when you shake the fake snow in your pet snowman jar the bottom looks like snow still.)
On your snowman styrofoam, glue eyes in the center of the face.
Cut a small piece of the orange pipe cleaner. Bend it in half and push it into the snowman face right below the eyes for the nose.
TO MAKE THE SNOW MAN HAT: Cut a piece of pipe cleaner in half or quarter (depending on how tall your jar is). Wrap the pipe cleaner around your finger or end of pencil to make a hat. Glue it on top of the snowman's head.
Cut a colorful pipe cleaner in half. Twist one half around the snowman neck for a scarf. (You may have to trim the pipe cleaner smaller.)
TO MAKE THE SNOWMAN ARMS: Cut the brown pipe cleaner in 1/4 sections. To make one arm, take 2 of the small sections. Place the one section toward the top and twist around the other pipe cleaner 1-2 times. Straighten to make a hand. Repeat to make a second arm. Push arms into the styrofoam snowman. Twist them around in fun arm expressions. (You may have to squish them a little to get them into the jar.)
Once you have the snowman decorated the way you want, glue the snowman in the inside of the jar lid (on top of the white glitter). Set aside and allow to dry.
Turn the globe or jar upside down. Add a small amount of the fake snow and mini styrofoam balls. **You only need a very small amount because you don't want it to cover the snowman too much!
Carefully place the lid with the snowman onto the globe/jar. You may ned to carefully maneuver the snowman into the globe/jar because of the hat and arms. Tighten the lid.
OPTIONAL: If you're making this with younger kids and don't want them to be able to open the jar, place some glue around the inside rim of the lid before putting it on.
Place the foam snowflake stickers on the back of the jar (behind the snowman). (optional)
READ THE SNOWMAN POEM. (printable in post) Cut out the snowman label and name your pet snowman! Attach the name label to the bottom of the snowman jar with twine or a pipe cleaner.
Enjoy your pet snowman!
Notes
If you're using the plastic globe jar, make sure that when you screw the lid with the snowman into the jar that it doesn't face the seam in the jar. If it does, just unscrew the lid and turn the snowman so that it doesn't face the seam. **DO THIS BEFORE GLUING THE LID ON**
Snowman Children's Books Ideas
Make these crafts snowman learning activities by pairing them up with a craft and read using these winter kids books!
Fun Books About Snowmen
SNOWMAN CRAFT TEMPLATE PRINTABLE
Snowman Poem and Snowman Labels for Names
CLICK HERE (or the image) FOR THE FREE SNOWMAN PRINTABLE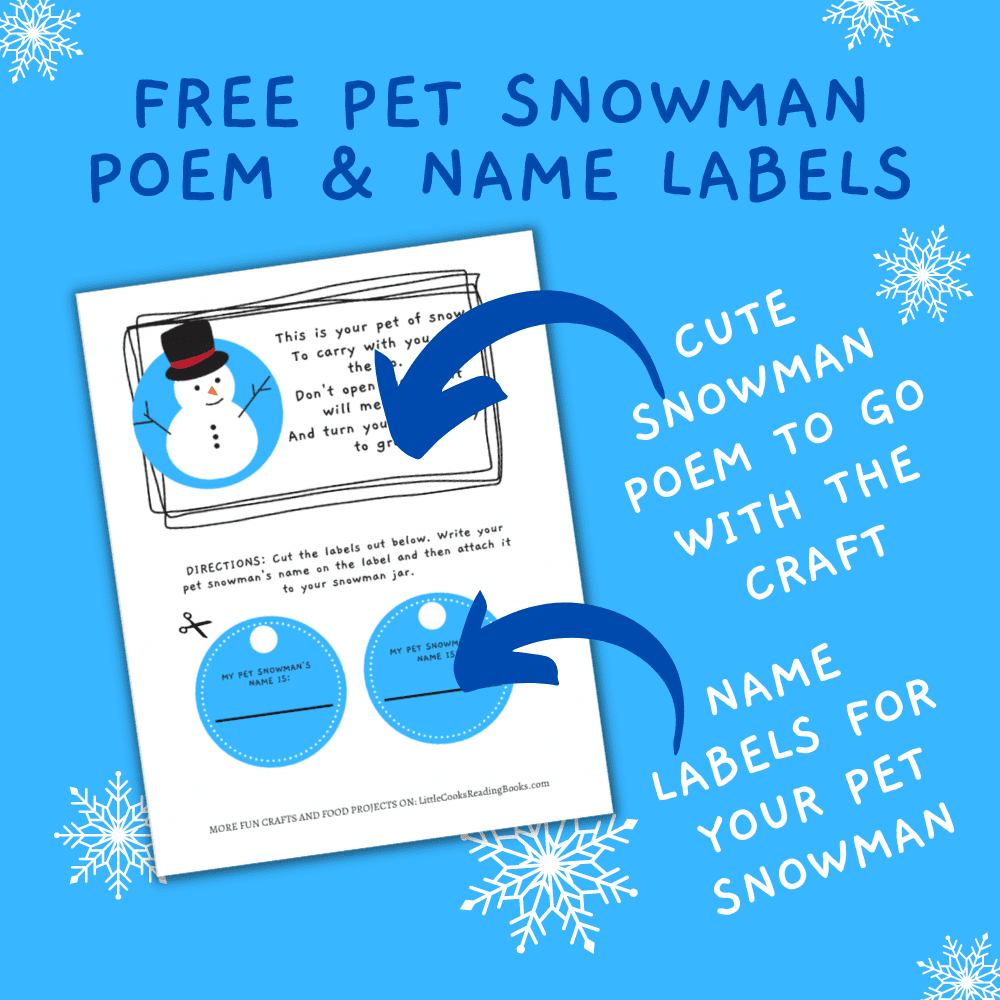 AFTER YOUR SNOWMAN CRAFT ACTIVITY, CHECK THESE KIDS ACTIVITIES OUT NEXT: Snow Activity Ideas for Winter Fun or Snow Days
Have fun with this pet snowman craft for kids!
LOOKING FOR FUN COOKING PRINTABLES FOR KIDS?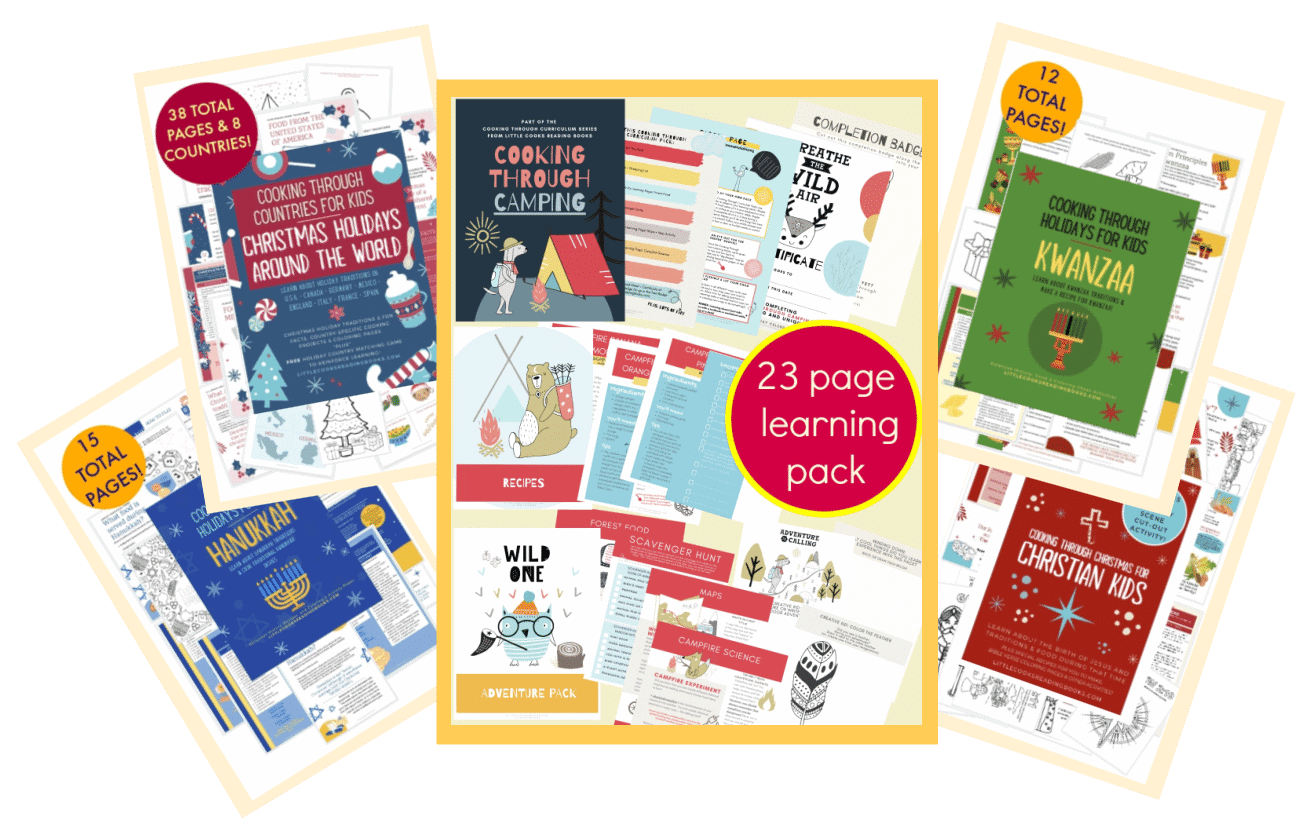 As an Amazon Associate I earn from qualifying purchases. Please refer to our
DISCLOSURE
.