This easy snowman cheese ball (around 10 minutes!) makes a fantastic last minute addition to any Christmas appetizers or holiday gathering. With our quick and easy cheeseball cheat, you can have this together in no time and serving to your guests! Add this to your holiday cheeseballs list!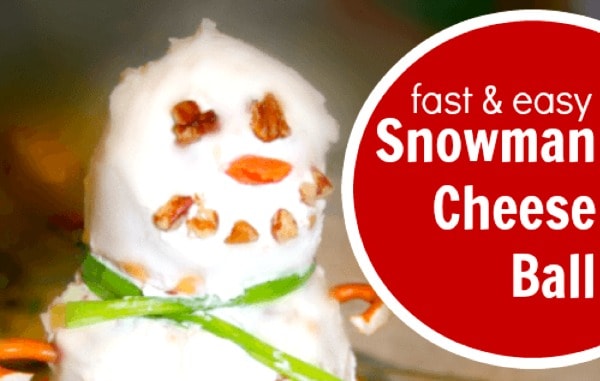 This Snowman Cheese Ball is always such a hit at our Christmas parties and it's a festive dish that is fun to put together with the kids!
Plus?
A cheese ball is the perfect appetizer for holidays and parties—it's cute, easy, and tasty!
Affiliate links are used on this site. As an Amazon Associate I earn from qualifying purchases. Read more in our DISCLOSURE.
And, our Christmas appetizers cheat?
Buy pre-made cheeseballs from the store (flavor of choice) and then create the snowman from those!
(Shhh! We won't tell if you don't tell!)
Read on to find out how!
How do you make this Christmas cheese ball?
This make ahead snowman cheese ball uses a cheat: buy the cheese balls from the grocery store ahead of time instead of making them from scratch!
This just leaves you and the kids with the fun part—turning cheeseballs into an awesome Frosty the Snowman!
In this cheese ball snowman recipe, I have listed what I used for the face, arms and scarf.
However, you can easily substitute other items like in your recipe for snowman cheese ball:
A portion of a carrot or red pepper for the nose
Black gummy snacks fashioned into a hat (like these and these)
Black olives for the face
Or, anything else that you have available. Just use your imagination!
How do you serve a cheese ball?
So, what do you eat with a cheese ball?
Place a cheese ball on a decorative plate and serve with treats like:
Carrots
Celery
Cucumber slices
Bell pepper slices
Apple slices
Pear slices
Pretzels
Bagel chips
Rye chips
Mini bagels
Pita chips
Assorted crackers
Assorted breads
Tortillas or tortilla chips
Salami slices
How many days ahead can I make a cheese ball?
You can make a cheese ball at last 5 days ahead of time before you decorate it (or coat it in nuts, etc.). A couple of hours before serving, remove from refrigerator and decorate and then refrigerate again until ready to use.
How long do cheese balls last?
Once you've made and assembled your cheese ball, it can last (properly stored) in the refrigerator for up to a week. However, if you are using fresh fruit and vegetables in your cheeseball, the cheese balls may only last for a couple of days.
Can cheese balls be frozen?
Cheese balls can be frozen for up to one month. Carefully wrap the cheeseball in plastic wrap and then store in a freezer safe container before placing in the freezer. It is best to freeze the cheeseball before decorating (or coating with nuts, fruits, or vegetables).
Snowman Cheese Ball paired with Frosty the Snowman

Like we mentioned, this is a great "cooking" project to make with the kids because it's so much fun to decorate!
We paired ours up with Frosty the Snowman.
(I mean, everyone loves Frosty!)
You can not only read the book, you can also watch the Frosty the Snowman movie!
OK!
Now onto the snowman cheese ball appetizer!
Christmas Snowman Cheese Ball Recipe
Easy Snowman Cheese Ball
Your family will love this snowman cream cheese ball—and it's a super easy recipe to add last minute to your Christmas party!
Ingredients
2 store-bought, pre-made cheese balls (flavors of choice, not coated with nuts or other items)
1 container WHIPPED plain cream cheese
Nut pieces or black olives
Carrot
Green onion
Pretzel sticks
Instructions
Separate one cheese ball into two sections–one larger than the other.
Roll sections into ball shapes. (One will be the middle of the snowman, the smallest one will be the head.)
Place the second, full cheese ball on decorative platter or plate. Place the second largest cheese ball on top (connect with a toothpick, if needed). Connect the "head" (smallest cheese ball part) with a toothpick on the top of the other cheese balls.
Spread the whipped cream cheese over the outside of the cheese ball so that it looks like snow. Smooth with knife.
Use the nuts or black olives for the eyes and mouth. Use a carrot piece for the nose. Make a "scarf" out of a portion of the green onion. Use pretzel sticks for arms.
Refrigerate until ready to use.
Serve with vegetables, fruits, and crackers.
Notes
Be sure to use the whipped cream cheese in containers. It goes on smoother and has the appearance of snow.
Enjoy your snowman cheese ball!
As an Amazon Associate I earn from qualifying purchases. Please refer to our
DISCLOSURE
.