Easy recipe for snowman cheese ball for last minute holiday party recipes or cute cheeseball Christmas ideas! This snowman shaped cheese ball is such a simple recipe that you can make it in just a few minutes and fun if you're looking for snowman shaped appetizers, Christmas appetizers with cream cheese, or winter party foods / snow themed party food!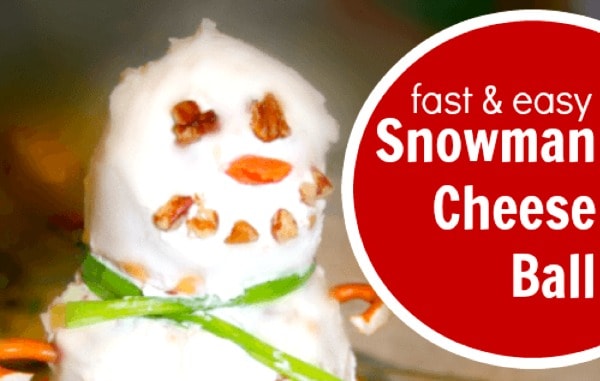 Easy Recipe for Snowman Cheese Ball
How to make a snowman cheese ball is easier than you think because we make our holiday appetizer the cheater way. This snowman cheeseball dip is perfect for a winter food theme or Christmas party food and a super easy recipe kids can make on their own, too. This is such a simple white cheese ball!
How To Make A Snowman Cheese Ball in Minutes!
Ingredients for a cheese ball shaped like a snowman:
Cheese balls
Cream cheese*
Carrot
Black olives
Nuts (like ground pecans)
Green onion
Pretzel sticks
Assorted crackers
Assorted vegetables
Get the full make ahead snowman cheese ball instructions below, including and important tip about the cream cheese you use! KEEP SCROLLING for the printable recipe card for this easy appetizer for Christmas party!
Affiliate links are used on this site. As an Amazon Associate I earn from qualifying purchases. Read more in our DISCLOSURE.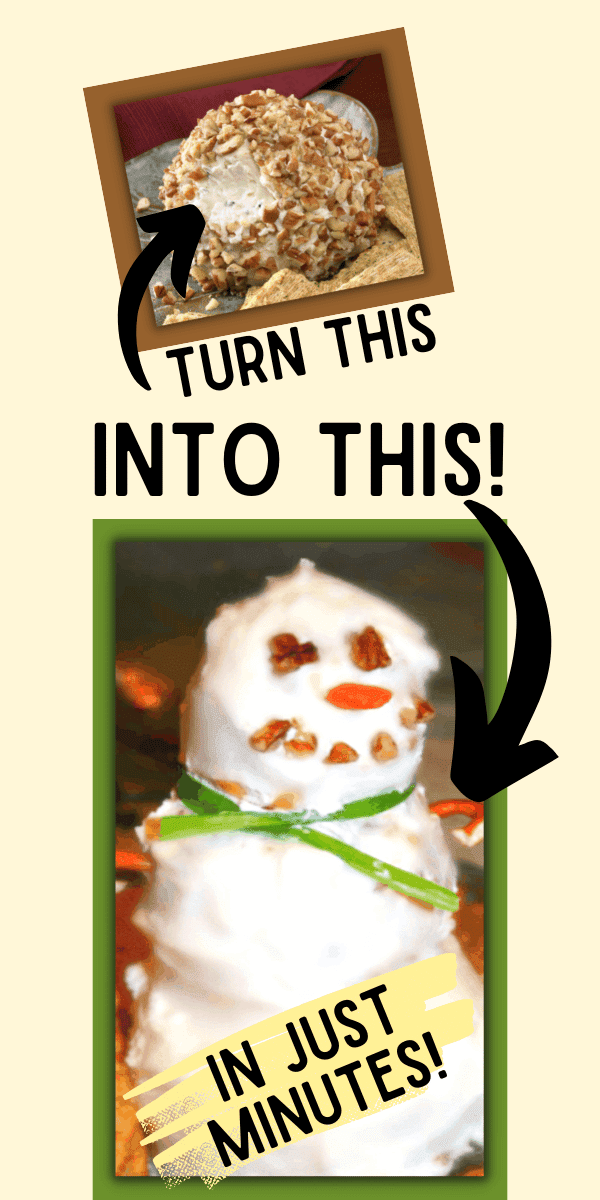 How do you make this Christmas cheese ball?
The best part of this holiday recipe is that it is made in minutes!
(It took this recipe less than 10 minutes — no food processor, no packet of dry ranch mix, no large bowl of shredded cheese / Kraft grated parmesan cheese and without tons of recipe ingredients in a large mixing bowl! Just a frost snowman in a few minutes!)
The hardest part of this delicious creation is trying to decide how to decorate the snowman's head and what kind of festive serving plate to use!
This make ahead snowman cheese ball uses a cheat:
Buy the cheese balls from the grocery store (pre-made cheeseballs from the store in flavor of choice) ahead of time instead of making them from scratch!
Then, divide cheese mixture to make the snowman body.
You'll use one cheese ball as the largest ball (snowman's base placed on the bottom of plate) and then divide another medium ball and smaller ball for the body and head (smaller cheese ball as the head).
You don't need to be perfect! Just make different different-size balls (equal parts!) as you make the snowman body / snowman shape.
Add whipped cream cheese, and smooth top before putting the snowman face on and carrot nose.
It's one of the easiest cheese ball recipes for Christmas, especially if you need last-minute party recipes.
Perfect appetizer for kids Christmas party, too!
This just leaves you and the kids with the fun part—turning separate cheeseballs into an awesome Frosty the Snowman cheese ball (or a Snowman Christmas cheese ball recipe for a party!).
In this cheese ball snowman recipe, I have listed what I used for the face (the smallest ball on top), arms and scarf.
However, you can easily substitute other items like in your recipe for this holiday cheese ball:
A portion of a carrot (tiny tip of a baby carrot or part of a carrot stick) or red pepper for the nose
Pretzel squares for snowmen's hat (stuck in the head of snowman)
Fresh Rosemary or fresh parsley as hair
Small cracker with round pretzels stacked on top for a hat
Black olives for the face (olive pieces)
Red peppers or whole cloves as buttons or eyes / snowman's face
Snowman nose ideas no carrot: use a small piece of pretzel or a piece of cheese cut into a triangle
Or, anything else that you have available! Just use your imagination when building your snowman. This really does make the best Christmas cheese ball recipe or snowman themed party food!
Before we get to how to make snowman cheese ball, her are some recipe tips that will help!
How do you serve a cheese ball?
What do you eat with cheese ball recipe snowman?
Place a cheese ball on a decorative plate and serve with treats! Almost any cracker or bread is good with snowmen appetizers like this!
What do you eat with cheese balls?
Carrots
Celery sticks
Cucumber slices
Bell pepper slices (red bell pepper and green bell pepper is fun for Christmas!)
Yellow peppers
Apple slices
Pear slices
Asparagus spears
Mini bagels
Pretzels
Pretzel chips
Assorted crackers
Assorted breads
Tortillas or tortilla chips
Salami slices
Crusty bread
AFTER THE FUN CHRISTMAS CHEESE BALL, TRY THESE FUN SNOWMAN ACTIVITIES:
What crackers go with a cheese ball?
Because a cheeseball is firmer, you will want to use a thicker cracker (and avoid the thin water crackers, which will break easily).
Good crackers for cheese balls include:
Triscuits
Saltines
Ritz Crackers
Wheat Thins
Bagel chips
Rye chips
Pita chips
We make our snowman cheese ball plate with the snow man in the center and then crackers and veggie dippers spread around it.
You can also include it in a snowman charcuterie, with the festive cheeseball snowman in the middle with different meats, different cheeses, crackers, and savory snowman dip (and other easy Christmas finger foods).
You may be wondering can this be a make-ahead snowman cheese ball recipe?
How many days ahead can I make a cheese ball?
Can you make ahead snowman cheese ball? You can make a cheese ball at least 5 days ahead of time before you decorate it (or coat it in nuts, etc.). A couple of hours before serving, remove from refrigerator and decorate and then refrigerate again until ready to use.
For this snowman cheeseball, you can put the outer cream cheese layer on for the snowball cheese balls and refrigerate. Right before serving, remove from refrigerator and decorate with eyes, nose, arms, and scarf.
(If you decorate too early, the pretzel arms will get soggy in the refrigerator.)
This is definitely an easy Christmas appetizers make ahead recipe!
How long do cheese balls last?
Once you've made and assembled your cheese ball, it can last (properly stored in airtight container or plastic wrap) in the refrigerator for up to a week. However, if you are using fresh fruit and vegetables in your cheeseball, the cheese balls may only last for a couple of days.
Can cheese balls be frozen?
Cheese balls can be frozen for up to one month. Carefully wrap the cheeseball in plastic wrap and then store in a freezer safe container before placing in the freezer. It is best to freeze the cheeseball before decorating (or coating with nuts, fruits, or vegetables).
What kind of cheese is in a cheese ball?
Cheese balls are mainly made up of cream cheese. They also generally have other cheeses added in (grated sharp cheddar cheese, Colby cheese, Monterey jack cheese, mozzarella cheese, or any other cheese used for cheese balls). Then, spices and other items are added in (onions, nuts, garlic powder, etc.).
OK!
Now onto the snowman cheese ball appetizer! This is a savory cheese ball recipe and not a snowman cheese ball sweet recipe. It's one of our favorite ideas for an appetizer for Christmas!
Christmas Snowman Cheese Ball Recipe
Fun Holiday Season Recipe Ideas
If you're looking for the perfect party appetizer, this is it!
This Christmas cheese ball snowman is a cute and yummy snowman cheese ball perfect for Christmas appetizers or any snowman theme party!
It makes a cute little guy for a small platter. (Or, as my daughter likes to say: "A lil lad.")
And I especially love it because it's no bake cream cheese appetizers!
This Snowman Cheese Ball is always such a hit at our Christmas parties and it's a festive snowman appetizer that is fun for holiday kids activities. So, it's a great idea if you want an alternative to the traditional cheese balls Christmas recipe (or unique Christmas cheese ball ideas).
Some people make a snowman cheese ball ranch dressing recipe, but our recipe tip is to use the whipped cream cheese to get a smooth looking snowman.
You can easily make multiple snowman cheese balls for parties in just minutes using our recipe trick and have different Christmas themed cheese balls for multiple holiday parties!
How long does a cheese ball need to chill?
For best results, chill the cheese ball for at least one hour to firm (especially if you are traveling with the cheeseball). However, you can serve it immediately at room temperature for a holiday party or for a crowd!
How much cream cheese for cheese ball?
We used one 8-ounce cream cheese container for our snowman cheeseball recipe. However, if you are making a taller cheeseball snowman, you may want to get the 12-ounce whipped cream cheese.
Yield: 1
Easy Snowman Cheese Ball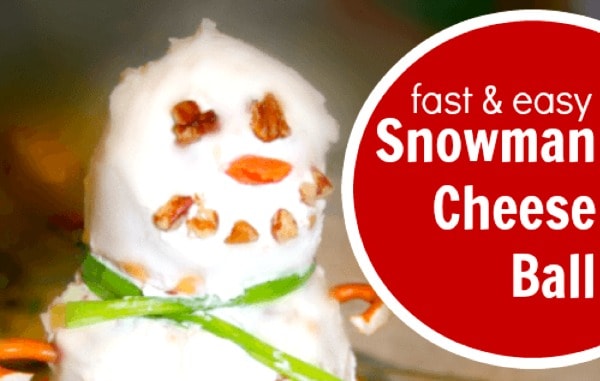 This easy snowman shaped cheese ball is a fast and easy holiday appetizer because it uses premade cheeseballs — and it's a super easy recipe to add last minute to your Christmas party!
If you're looking for easy Christmas cheese balls that are also different from traditional cheese balls, this is it!
Definitely add this recipe for snowman cheese ball to your holiday party or snowman themed foods!
Ingredients
2 store-bought, pre-made cheese balls (flavors of choice, not coated with nuts or other items)
1 container WHIPPED plain cream cheese
Nut pieces or black olives
Carrot
Green onion
Pretzel sticks
Instructions
Separate one cheese ball into two sections–one larger than the other. These will be the middle of the snowman and the head.
Roll sections into ball shapes. (One will be the middle of the snowman, the smallest one will be the head.)
Place the second (full) cheese ball on decorative platter or plate. Place the second largest cheese ball on top (connect with a toothpick, if needed). Connect the "head" (smallest cheese ball part) with a toothpick on the top of the other cheese balls.
Spread the whipped cream cheese over the outside of the cheese ball so that it looks like snow. Smooth with knife.
Use the nuts or black olives for the eyes and mouth. Use a carrot piece for the nose. Make a "scarf" out of a portion of the green onion. Use pretzel sticks for arms.
Refrigerate until ready to use.
Serve with vegetables, fruits, and crackers.
Notes
Be sure to use the whipped cream cheese in containers. It goes on smoother and has the appearance of snow.
Nutrition Information:
Yield:
12
Serving Size:
1
Amount Per Serving:
Calories:

47
Total Fat:

3g
Saturated Fat:

1g
Trans Fat:

0g
Unsaturated Fat:

2g
Cholesterol:

3mg
Sodium:

68mg
Carbohydrates:

4g
Fiber:

0g
Sugar:

0g
Protein:

1g
Nutrition information is estimated. Changes to the recipe and use of different brands may cause changes to the nutritional information to vary slightly from the ones provided here.
TRY THIS NEXT: Easy Snowman Face Christmas Cake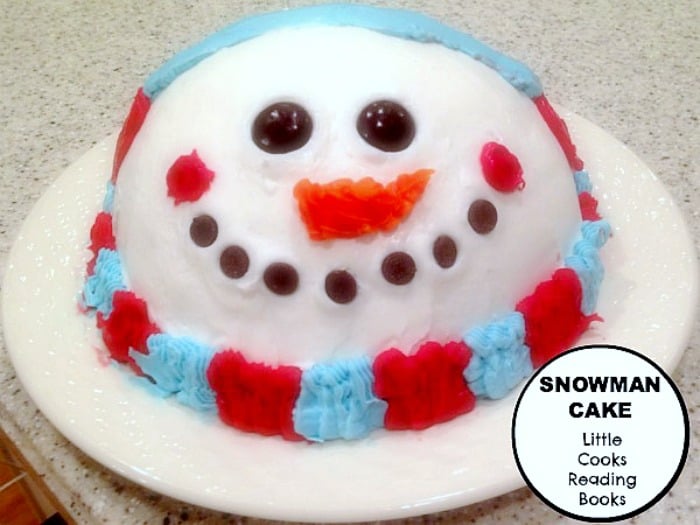 Frosty the Snowman Cheese Ball paired with Frosty the Snowman Book
This is a fun cooking with kids project or recipes for kids to make on their own because it's so much fun to decorate!
We paired our recipe and read with Frosty the Snowman.
(I mean, everyone loves Frosty, right?!)
You can not only read the book, you can also watch the Frosty the Snowman movie (while enjoying your snowman cream cheese ball!).
CHECK THIS OUT NEXT: More Delicious Holiday Appetizer Recipes
Play around with your snowman cheese ball recipes and try different cheeseball flavors (and let us know your other favorite snowman appetizers!).
Have fun making this recipe for snowman cheese ball!
LOOKING FOR FUN COOKING PRINTABLES FOR KIDS?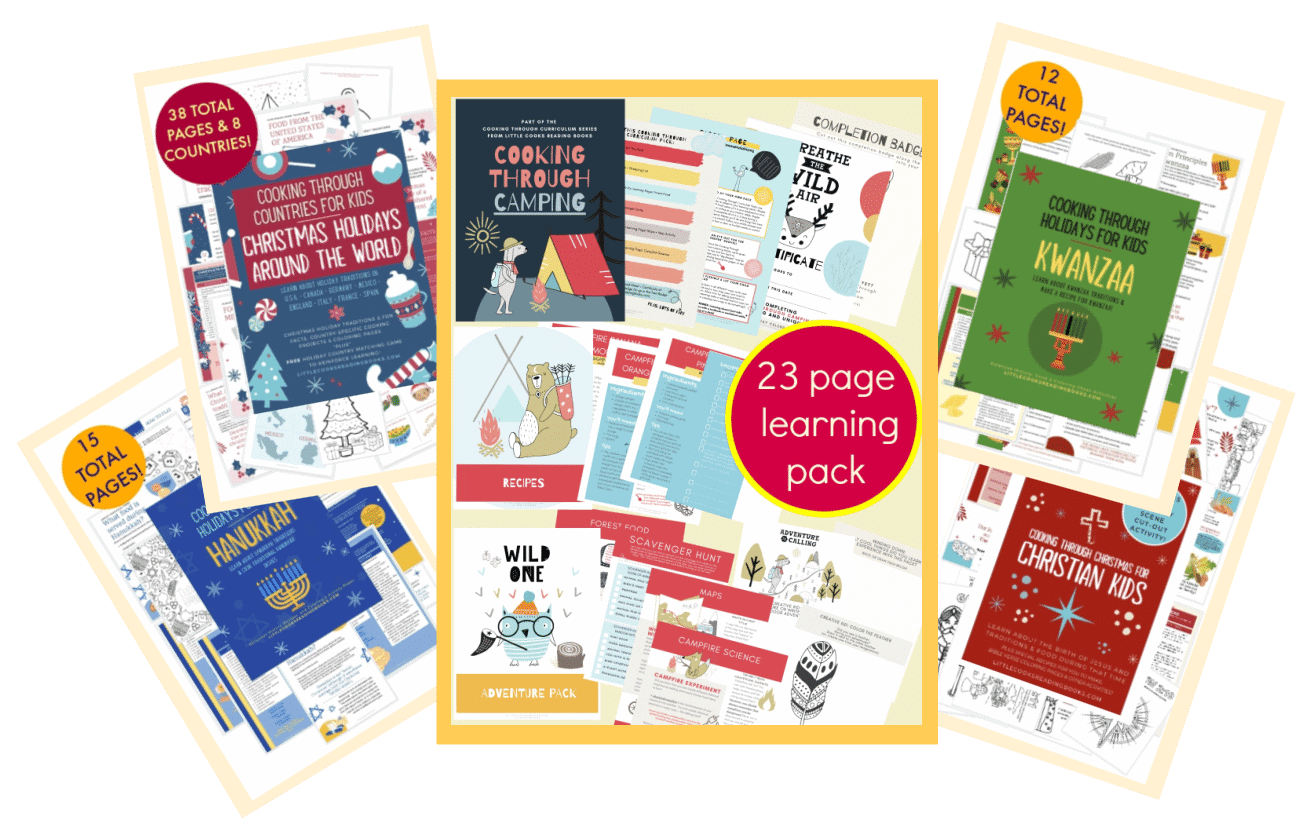 As an Amazon Associate I earn from qualifying purchases. Please refer to our
DISCLOSURE
.