This peanut brittle recipe is a buttery sweet confection candy! So, how do you make peanut brittle? I know you can make easy peanut brittle in the microwave, but we decided to cook it the old fashioned way and it was awesome!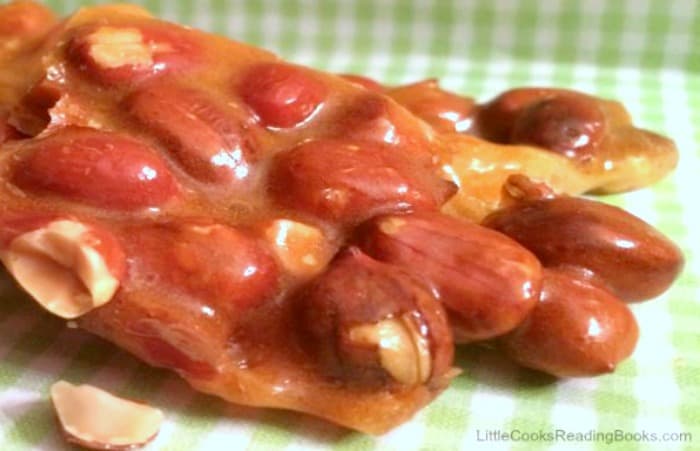 Ingredients For Peanut Brittle
So, what is peanut brittle made of?
Granulated sugar
Light corn syrup
Water
Roasted or Raw Peanuts (shelled)
Salt
Butter
Baking soda
To make proper peanut brittle (or any kind of candy), you definitely need a candy thermometer. (I like the ones that clip right to the side of your pot like this one.)
Affiliate links are used on this site. As an Amazon Associate I earn from qualifying purchases. Read more in our DISCLOSURE.
Before we get to the full peanut brittle recipe, let's answer some common questions. (It's good to read through these FAQs because it might help you prevent issues some people have when making peanut brittle.)
Peanut Brittle Recipe FAQs
What is the best way to store peanut brittle?
Store peanut brittle in an airtight container, away from humidity and moisture.
Does humidity affect making peanut brittle?
Yes, the moisture in the air can affect how your peanut brittle turns out. Also, it can make it sticky when stored. Be sure to store it in an airtight container.
Does peanut brittle go bad?
So, how long will peanut brittle last? Peanut brittle stored properly (in an airtight container, away from moisture) will generally keep 2-3 months.
Can I freeze peanut brittle?
It's not recommended to freeze peanut brittle. Because moisture makes it sticky and soft, when frozen peanut brittle is defrosted it may lose its crunch.

How do you break peanut brittle?
Breaking apart peanut brittle is one of the best parts of the process. Once cooled, you can turn the peanut brittle over and break it apart with your hands. However, if you have kids helping, using a wooden mallet (we like these mallets like you use for crabs or lobster) is a lot of fun! Just be sure that you show the kids how to break the peanut brittle into bite-size pieces (and not smash it to dust!).
Why is my peanut brittle too hard?
The most likely reason your peanut brittle didn't get hard is because the cooking temperature was too high. It's important to use a candy thermometer when making peanut brittle to get the right temperature for the correct consistency.
Why did my peanut brittle not get hard?
Peanut brittle can get sticky and stay a softer texter if you do not cook it long enough at the right temperature. Peanut brittle must reach a "hard crack stage" during the cooking.
How do you keep peanut brittle from getting sticky?
Peanut brittle must be stored properly or it will become sticky. Do not store peanut brittle in the refrigerator. Store peanut brittle in airtight containers away from moisture.
What does baking soda do in peanut brittle?
Baking soda is a leavening agent that creates a chemical reaction with the peanut brittle ingredients and foams. It's what helps the peanut brittle become more light, porous, and softens the brittle to make it a little chewy. This is a fun science project part of cooking for kids!
---
FUN FACT: Other countries use items like pistachios and sesame seeds in their brittle!
---
The Life and Times of the Peanut

Children's Book paired with Peanut Brittle Recipe

If you're new here, you may not know that we always pair our cooking recipes up with a related book or two!
For the peanut brittle recipe, we decided to learn more about peanuts! (Of course!)
The Life and Times of the Peanut is a great book to read with this cooking project because it talks all about peanuts—the life cycle, how they grow, what category they belong to, who invented peanut butter, and even the historical influences of peanuts! (Who knew?!)
There are also a ton of great illustrations in the book!
Listed Age Range: 4-7 years
REMINDER: Before you start this cooking project, it is a must that you have a candy thermometer
.
(Trust me, we tried another candy recipe without the thermometer a few weeks ago and it did not work out. At all.)
How to Make Peanut Brittle
This is the recipe for old fashioned peanut brittle! It was honestly the best peanut brittle I've ever had—not too hard, but crispy enough!
Old Fashioned Peanut Brittle Recipe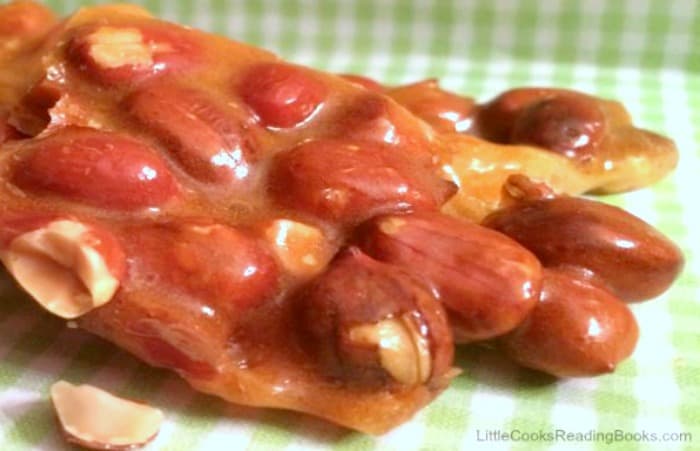 This old fashioned peanut brittle recipe is way easier than you think!
Total Time
1 hour
10 minutes
Ingredients
2 cups granulated sugar
1 cup light corn syrup
1/3 cup water
16 ounces of roasted or raw peanuts (shelled)
1 teaspoon salt
2 teaspoons butter
2 teaspoons baking soda
Instructions
Line a baking sheet with parchment paper or a non-slip baking liner.
In a pot, combine sugar, corn syrup and water. Cook over medium-high heat until it boils.
Reduce heat to medium and carefully attach candy thermometer to the pot, taking care that the thermometer is in the liquid and not touching the bottom or side of the pot.
Continue boiling, stirring occasionally, until candy thermometer reaches 250 degrees F (around 20-30 minutes).
Stir in peanuts and salt.
Cook until the mixture reaches 295 degrees F (can take anywhere from 15-30 minutes).
Remove from the heat and immediately stir in the butter and baking soda. It's at this point that the mixture will change colors. (You will also see it foam. This is completely normal!)
Immediately pour the mixture onto the prepared baking sheet and spread with a spatula.
Cool completely and then break into bite-sized pieces. Store leftovers in an airtight container away from moisture.
Notes
Cooking time will vary based on altitude and other factors, so watch the candy thermometer instead of time!
We have also used raw peanuts in our peanut brittle, but just know that you have to cook raw peanuts before you eat them. (You can't eat them from the jar like roasted peanuts.)
Nutrition Information:
Yield:
24
Serving Size:
1
Amount Per Serving:
Calories:

114
Total Fat:

1g
Saturated Fat:

0g
Trans Fat:

0g
Unsaturated Fat:

1g
Cholesterol:

1mg
Sodium:

205mg
Carbohydrates:

28g
Fiber:

0g
Sugar:

28g
Protein:

0g
Nutrition information is estimated and serving size will vary based on how you break your brittle. Changes to the recipe and use of different brands may cause changes to the nutritional information to vary slightly from the ones provided here.
This old fashioned peanut brittle recipe makes a great Christmas or holiday gift, too!
As an Amazon Associate I earn from qualifying purchases. Please refer to our
DISCLOSURE
.