Peppermint bark chocolate recipe is a popular holiday recipe and best peppermint recipes for Christmas party favor bags. This layered easy chocolate treat makes a festive peppermint bark homemade gift or addition to your desserts for Thanksgiving or any holiday party, too. It's one of our favorite recipes for holiday candy, peppermint bark cookies, and Christmas bark recipes.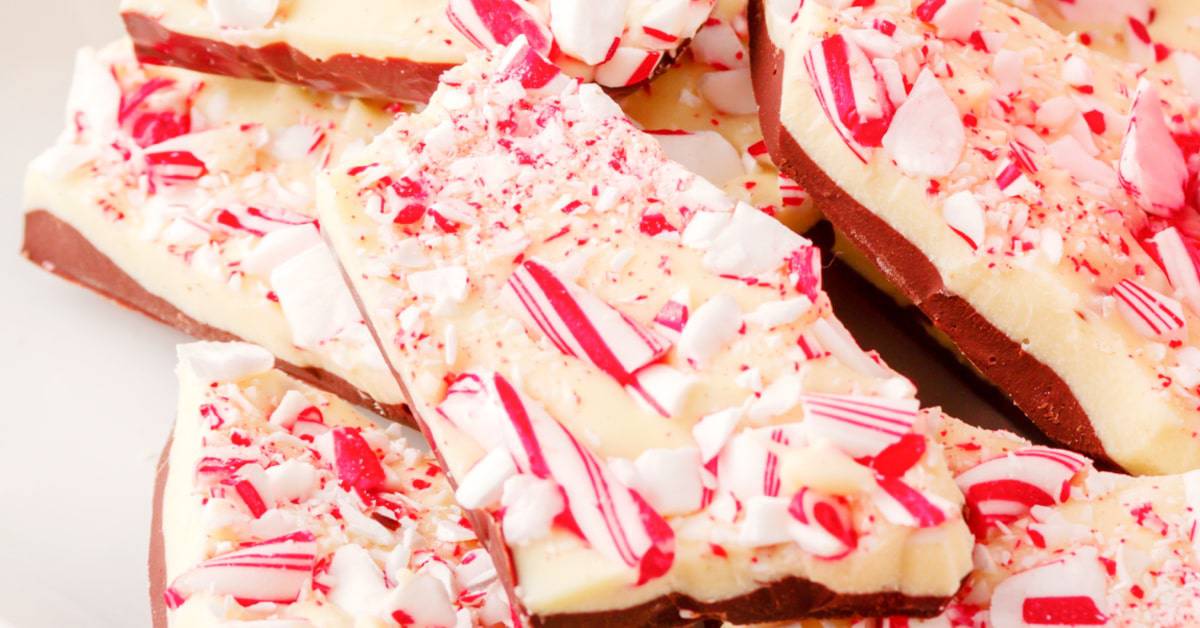 How To Make a Peppermint Bark Recipe
Thinking of a homemade peppermint bark recipe for homemade holiday gifts or Christmas candy recipes? Definitely include this best peppermint bark recipe ever! This is pretty close to the classic peppermint bark recipe that I grew up eating that was a family holiday favorite. It's an easy treat that also makes great homemade gifts from the kitchen. There are creative ways you can package this favorite holiday treat into presents.
Peppermint Bark Recipe with White Chocolate
This is a white and dark chocolate peppermint bark recipe, but you can also make it with only melted white chocolate or just with regular melted chocolate.
What is peppermint bark made of?
Affiliate links are used on this site. As an Amazon Associate I earn from qualifying purchases. Read more in our DISCLOSURE.
Old fashioned peppermint bark recipe ingredients:
Dark chocolate – good quality (or regular chocolate like milk chocolate / semisweet chocolate *)
White chocolate chips or almond bark
Peppermint extract or peppermint oil
Crushed candy canes / crushed peppermint candies
Semi-sweet chocolate chips (optional)
Pretzels (optional)
See the full chocolate peppermint bark recipe printable card below. KEEP SCROLLING for the holiday chocolate peppermint bark tips, including how to crush candy canes for peppermint bark!
*You can use milk chocolate or semi sweet chocolate for bark, but this easy dessert recipe is really better as peppermint bark recipe dark chocolate! Just use a high quality chocolate for the chocolate bark layer for your peppermint barks.
What does peppermint bark taste like?
You may be wondering what flavor is peppermint bark? Peppermint chocolate bark is a mix of white chocolate, semi-sweet chocolate or dark chocolate, and a hint of peppermint. The peppermint candy on top (like crumbled candy canes) does not make it too minty! It actually adds a little crunch, with a nice peppermint finish.
How long does peppermint bark keep?
How long is peppermint bark good for? Peppermint bark is good for up to two weeks stored in an airtight container. Be sure to store the bark in a cool, dry place, away from the sun.
Peppermint bark is not only yummy and beautiful for Christmas, but it is also an easy dessert recipe and a lot of fun to make as holiday kids activities (because what's more fun than breaking up the bark, right?!).
It's also a great recipe if you're wondering what to do with leftover candy canes after the holidays.
YOU WILL ALSO LOVE THIS OTHER CHRISTMAS CANDY RECIPE:
White Chocolate Dipped Ritz Peanut Butter Crackers
Before we get to how to make peppermint bark easy recipe, let's cover some common questions. Be sure to read through the FAQs here because it will help you when making this holiday dessert. So read on before getting to the peppermint bark DIY.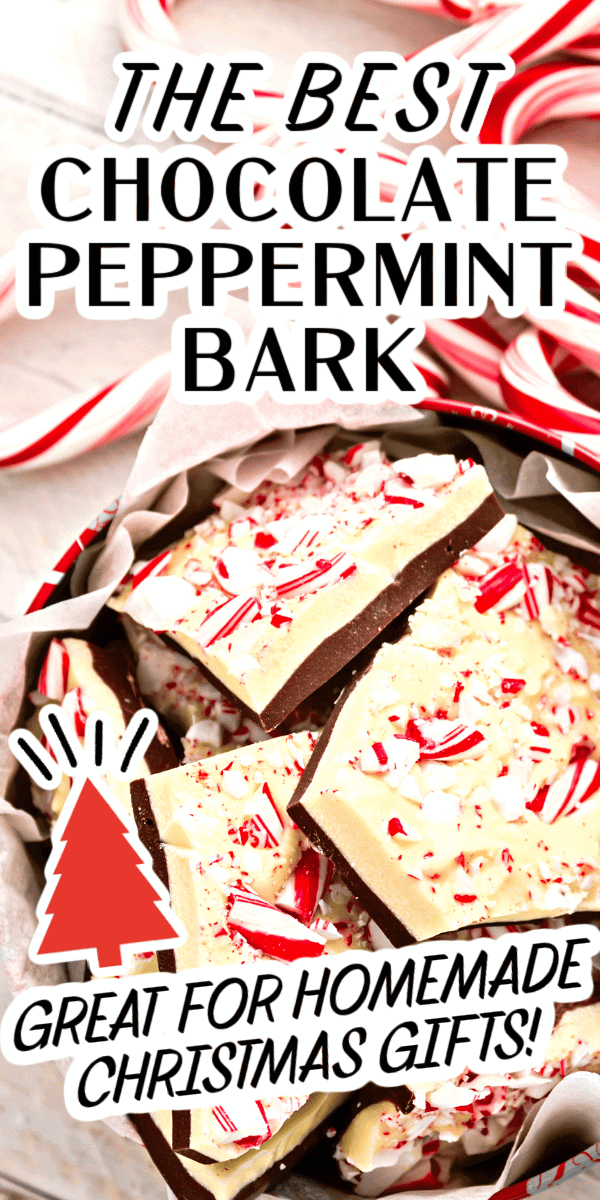 Peppermint Bark Recipe White Chocolate Dark Chocolate FAQs
How do you get peppermint bark to stick together?
How do you keep peppermint bark layers from separating?
Why is my peppermint bark separating? If the white chocolate layer is separating from the dark chocolate layer, it is probably because you did not allow the bark to set long enough in an even layer before trying to break it. Once you assemble the peppermint bark in a thin layer in the prepared pan, let it cool for at least an hour and allow the chocolates to bond to each other.
You can also refrigerate it and then break it up on parchment paper or aluminum foil right before it's ready to use.
If it's your first time making this bark recipe, it may take a little practice.
How do you cut peppermint bark?
How do you break up bark? The trick to peppermint bark recipes with white and dark chocolate is to keep everything intact in the pieces (and not breaking apart in layers). To break the peppermint bark, allow the bark to cool and then place a piece of foil or wax paper on top of the bark (once it has set). Gently tap on the bark with a wooden mallet or wooden spoon. The bark will break in uneven pieces. That's OK! You don't want the peppermint bark cut into uniform pieces.
You can also use a sharp knife to cut peppermint bark into large pieces, small pieces, or uniform pieces on a cutting board for peppermint bark bars.
Does peppermint bark need refrigerated?
To extend the life of the peppermint bark, you can refrigerate the peppermint bark dark chocolate recipe in an airtight container once it has cooled (but it's not necessary). Be sure to put wax paper in between the layers so the bark doesn't stick together. Store in the refrigerator for several weeks. Sometimes, you may notice a discoloration in chocolate that has been refrigerated or frozen. It's still fine to eat!
Can peppermint bark be frozen?
Yes, you can freeze peppermint bark for up to 3 months (or longer). Place bark in a freezer safe container, with wax paper in between each layer. When ready to eat, remove from freezer and allow to warm to room temperature. The chocolate may be a little discolored (lighter) after freezing. This is completely normal for chocolate that has been frozen and it is safe to eat and does not affect the taste.
Can I add peppermint extract to melted chocolate?
Yes! Just add the peppermint extract to the chocolate once it's melted and stir in completely. Then, make the peppermint bark recipe as listed in the instructions for easy holiday candy recipes!
What is the best way to crush peppermint candy?
You can use a food processor to break up your peppermint candies or candy canes. However, if you're making the peppermint bark recipe with kids, it's fun to unwrap the candies, put them inside of a sealable bag and let the kids crush them using a meat tenderizer or wooden mallet. You can also use a pizza cutter and cut into pieces (but that way is a little harder).
(I've even been known to use a coffee bean grinder to grind candy canes. Shhhh!)
Ok, let's get to the recipe for peppermint bark candy! If you're looking for simple holiday candy to make during the holiday season, this is it! The biggest trick is in breaking apart the peppermint bark!
How To Make White Chocolate Peppermint Bark With Dark Chocolate Layers
I used to love the Williams Sonoma peppermint bark recipe that you buy in the tin, until I made this!
(You can buy peppermint bark already made / store-bought version at the grocery store, but what fun is that?!)
I think this candy recipe is just as good as the store bought peppermint bark (if not better!).
If you want to make red and green peppermint bark recipe for a festive holiday dessert, just use colored white chocolate instead of white (or any color of peppermint bark recipe candy melts). The types of chocolate you use (semi-sweet layers, etc.) is up to you.
These make beautiful Christmas party favors in holiday plastic bags and a delicious holiday bake dessert on the Christmas desserts table.
We make our peppermint bark recipe with peppermint extract, but you can leave that out if you want. It won't have as strong of a peppermint flavor (minty flavor), but it's still a good peppermint chocolate! (I think peppermint dark chocolate bark is great with crushed peppermint.)
Here's the easiest recipe for white chocolate peppermint bark at home…
Peppermint Bark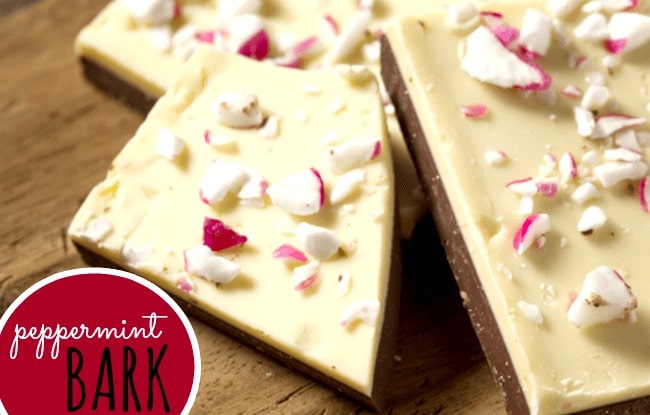 This peppermint bark recipe is fun and yummy, plus it makes beautiful Christmas homemade food gifts for the holidays!
Total Time
1 hour
40 minutes
Ingredients
12-ounce dark chocolate (chopped into 1/2 inch pieces if using a block)
1-2 teaspoons peppermint extract
1 pound white chocolate (chopped into 1/2 inch pieces if using a block)
20-30 crushed round peppermints (or 6-8 crushed candy canes) for topping
Instructions
Line a 9x13 baking pan with aluminum foil.
Crush candy canes or round peppermints.
In a double boiler, heat water in the bottom portion on low to medium.
In the top of the double boiler, add a small portion of the dark chocolate. Stir constantly to melt. Gradually keep adding dark chocolate until all is melted. (Do not rush this part!)
Remove the top of the double boiler from heat and stir in the peppermint extract into the melted chocolate.
Immediately spread the melted chocolate into the prepared pan. Let it set for 10 minutes.
While semi-sweet chocolate is setting, repeat the melting process with the white chocolate.
Once melted, remove from heat and pour over semi-sweet chocolate.Spreading into a smooth layer.
Immediately press crushed peppermints into top of the white chocolate.
Let bark set for around 1 hour. Peel from aluminum foil and break apart or carefully cut into squares with a sharp knife or pizza cutter.
Store in an airtight container (for up to 2 weeks!).
Notes
The key to a successful peppermint bark is to use only quality chocolate (we like Ghirardelli, but use whatever your favorite it!). Don't use the cheap/generic stuff for this recipe! If you don't like dark chocolate, you can use semi-sweet chocolate instead.
I like a milder peppermint flavor, so I only add 1 teaspoon of peppermint extract to just the semi-sweet chocolate portion. If you like a stronger flavor, up the peppermint extract to 2 teaspoons--adding 1 teaspoon to the dark/semi-sweet chocolate and 1 teaspoon to the white chocolate.
Nutrition Information:
Yield:
24
Serving Size:
1
Amount Per Serving:
Calories:

173
Total Fat:

10g
Saturated Fat:

6g
Trans Fat:

0g
Unsaturated Fat:

3g
Cholesterol:

4mg
Sodium:

19mg
Carbohydrates:

21g
Fiber:

1g
Sugar:

19g
Protein:

2g
Nutrition information is estimated. Changes to the recipe and use of different brands may cause changes to the nutritional information to vary slightly from the ones provided here.
What if you're making the best holiday bark recipes with your kid as fun holiday kids activities?
Recipe and Read: Candy Cane Lane Children's Book paired with Peppermint Bark Recipe
We decided to pair up our dessert recipe with the Candy Cane Lane children's book by Scott Santoro.
From the book:
The houses on Candy Cane Lane have some of the most spectacular holiday decorations around, so when a winter storm hits and damages some of the festive lawn ornaments, the residents simply can't allow the broken figures to ruin their prized displays.

Many end up in the trash, including a scuffed choirboy who is sure he'll never have a chance to bring holiday cheer to the lane again.

That is, until a little girl in the only undecorated house on the block saves him and gives him a special spot on her lawn.

But when a misunderstanding the next morning sends the choirboy off to the dump, he'll have to team up with a plucky group of other discarded lawn ornaments to find his way back to the little girl and the one place everyone wants to be during the holiday season—home.
Listed Age Range: 4 – 8 years
Merry Christmas and Happy Holidays!
Let us know how the peppermint bark chocolate recipe turns out!
LOOKING FOR FUN COOKING PRINTABLES FOR KIDS?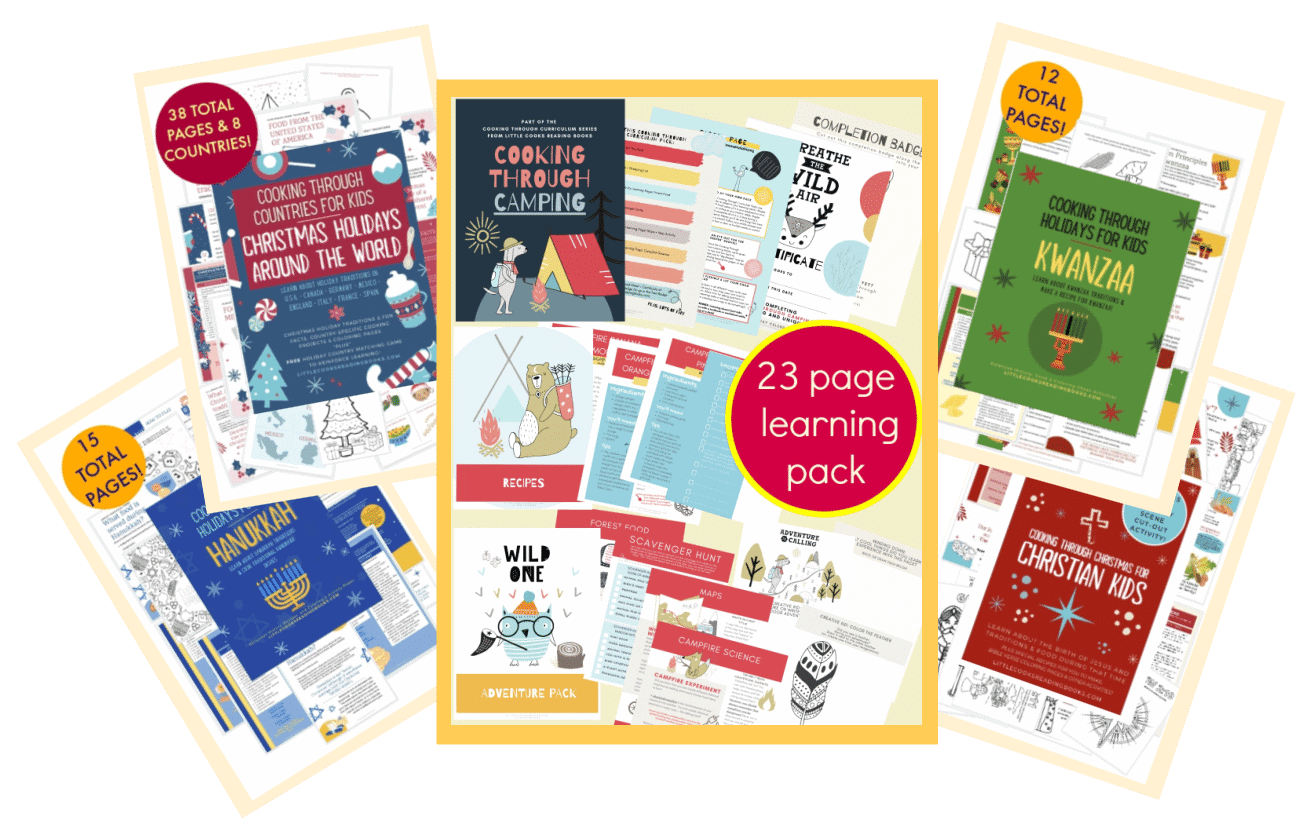 As an Amazon Associate I earn from qualifying purchases. Please refer to our
DISCLOSURE
.