A safe reindeer food recipe alternative for magic oats for Christmas! This is an easy recipe for reindeer mix plus reindeer food labels printable free to put on gift bags. It's a great holiday craft for preschool and up! How to make magic reindeer food and FREE Poem Printable bag toppers is also a fun Christmas tradition for kids on the night before Christmas!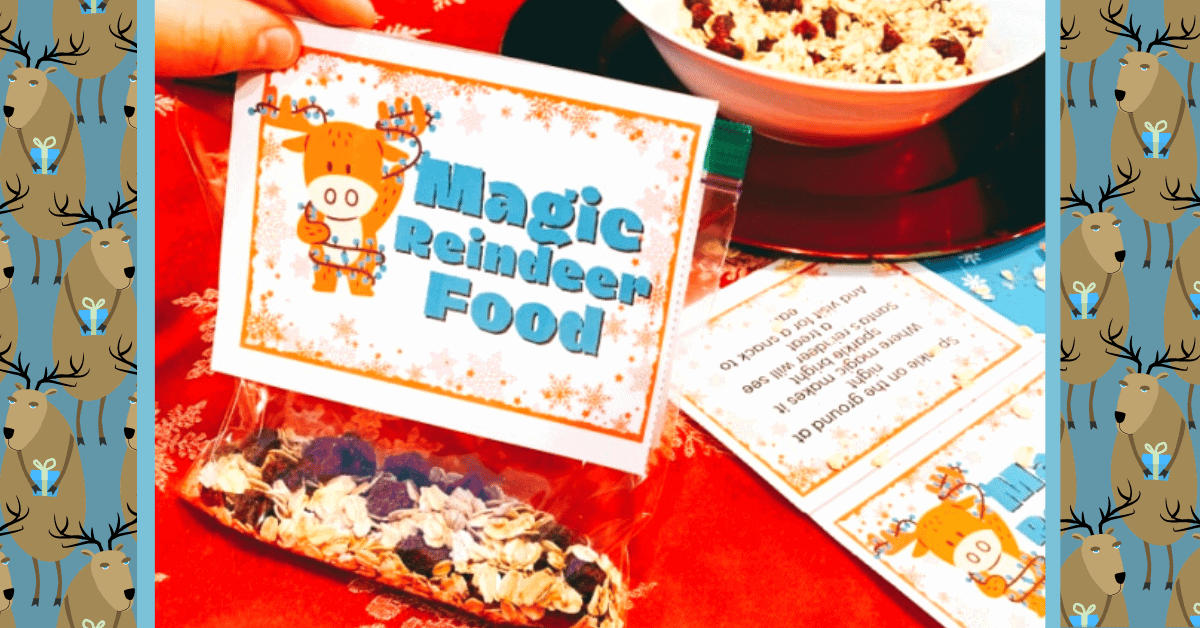 Safe Reindeer Food Recipe with Free Reindeer Food Recipe Printable
We make this magic reindeer food recipe (also called magic reindeer dust) every year. It's so simple, but one of those kids holiday activities / holiday crafts that they'll look forward to doing to bring a little extra magic to the holiday season! Definitely add these reindeer food craft ideas to your fun ideas for holiday events! This easy reindeer food recipe is so much fun for all ages and a fun tradition for families.
Easy Recipe for Reindeer Mix
What do Santa's reindeer like to eat? Magic edible reindeer food, of course (what else for food of reindeer)! It's really easy to make magic reindeer dust!
What can you put in reindeer food?
Affiliate links are used on this site. As an Amazon Associate I earn from qualifying purchases. Read more in our DISCLOSURE.
Simple recipe to make a batch of reindeer food includes:
Oats
Seeds
Colored sprinkle sugar (magic Santa sprinkles, not regular glitter)
Dried cranberries or raisins
Fresh berries
Poem for reindeer food
Free printable magic reindeer food printable
You can sprinkle this Christmas reindeer food on your front porch, in your yard, on your balcony, or leave it for Santa (along with Santa's cookies and a tall glass of milk) to give to his reindeer (if you're concerned about wildlife eating the food for reindeer).
Get free printable tags for the magical reindeer food recipe below for your holiday traditions. Great for the magic of Christmas ideas and such an easy holiday craft for kids activities!
Don't miss the safe reindeer food recipe instructions card, discussion about environmentally friendly reindeer food, poem for reindeer food, and reindeer food labels printable free later in the post!
Before we get to the printable Christmas craft directions and how to make reindeer dust, let's start with:
What does Santa's reindeers eat?
What is reindeer food?
Reindeer food is treat that kids leave out for Santa's reindeer on Christmas Eve so that reindeer have a special treat while helping Santa deliver packages and pulling Santa's sleigh! It also helps Santa's reindeer fly! There are different variations on the magical reindeer dust recipe, but the basics usually include uncooked oatmeal (oats), glitter or sprinkles, and sometimes birdseed and dried fruit. It's a fun activity for the holidays!
(If you're wondering how do you make reindeer food safe, keep reading and get the printable reindeer food recipe!)
What To Do With Reindeer Food
Once you've made a big bowl of reindeer food, what do you do with it?
Sprinkle reindeer food on the front lawn, stoop, or balcony
Make magic reindeer food bags for your friends
Print out the reindeer food story and attach them to baggies for party favors for your Christmas party
Make DIY reindeer treats recipe kits for kids to put together at their house
Put together a reindeer food kit basket for senior adult crafts
Use it for a creative Christmas classroom craft / preschool food craft
What do you leave for reindeer?
On Christmas Eve, little kids can also leave out other things for Santa's reindeer and the reindeer feeding or sprinkle it on the lawn Christmas eve night! Then, they can run out and check on Christmas morning (and, if you're extra crafty and need a fun idea, they may even find reindeer tracks!).
What do you put out for reindeer?
Carrots (Wondering what do reindeer like to eat? They love carrots!)
Dried fruit
Water
A handful of grass or hay
Apples
Barley
Lettuce leaves
Magic Reindeer Food recipe below
So what do reindeers eat at Christmas? Any healthy item you want out of these magic food ideas! These items make the reindeer food edible for a variety of animals!
(If you want to make the reindeer food recipe edible for wildlife, be sure to leave out any glitter! If you're sprinkling it outside, leave out the glitter for reindeer food.)
This is such a fun family tradition that we that we look forward to during this time of year no matter how old the kids get!
Don't forget, there's a free printable reindeer food poem at the end of the post!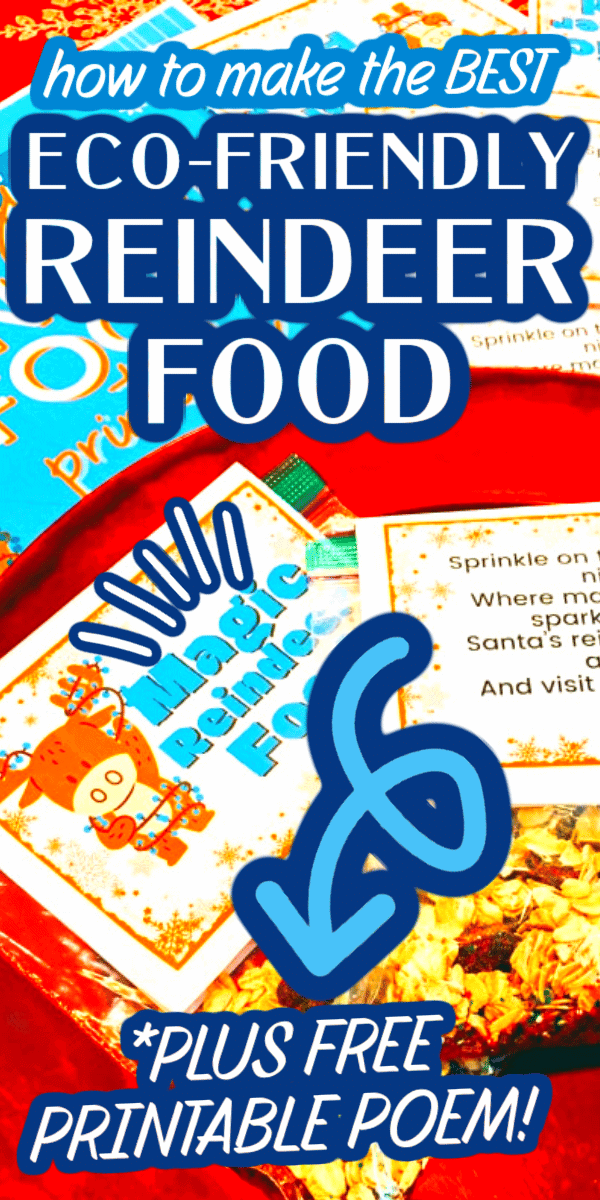 How do you make animal safe reindeer food?
How do you make reindeer dust eco friendly?
What do you put in reindeer dust and make eco friendly reindeer food?
Besides oats, you can add other items for a more animal safe reindeer food recipe. This is a safer reindeer food activity and reindeer food mix for birds and animals!
What do Santa's reindeers eat?
Birdseed
Nuts
Dried corn
Sugar-free Dried cranberries
Fresh cranberry (uncooked)
Fresh blueberries
Sugar-free Raisins
Sugar-free Dried Apricots
Is glitter harmful to animals?
Yes, glitter is made from microplastics and are not good for animals or consumption for anyone. (And, is just all around bad for the environment.) That's why you shouldn't put glitter in reindeer food.
I'm sad to say that when we first started making this recipe for reindeer food, we used glitter in it. (Cringe.)
One year, it hit me that we needed a more animal safe reindeer food recipe and a reindeer food recipe safe for birds.
So, now we make our reindeer food recipe no glitter!
(You can tell kids you are using magic invisible glitter dust for your reindeer glitter food. Just use empty shaker jars like this or clean baby food jar and tell them to shake some onto their food! You can even label them MAGIC REINDEER GLITTER or even magic elf dust, reindeer sprinkles, or reindeer glitter for your special believers.)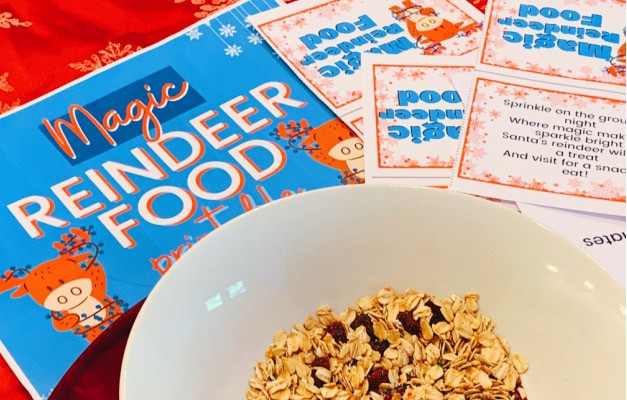 How do you make reindeer food without glitter?
You can easily make reindeer food without glitter by replacing the festive Christmas glitter with red, green, and white edible sanding sugar, but this is optional (especially if you're going to feed it to animals). If you're making the reindeer food DIY recipe with cranberries, the sugar sprinkles will also cover the dried fruit and make them very glittery!
Is edible glitter safe for birds?
There's a lot of discussion on the safety of "edible" glitter, so do some further research on it. Just because it is safe for humans to eat does not mean it is safe for birds. I wouldn't use it in the reindeer food or to make wildlife friendly reindeer food.
Is the reindeer food recipe safe for birds?
There's conflicting information on whether or not uncooked oats are good for birds and animals, so please do research if you're concerned. If you want to play it safe, you can leave the bowl of reindeer food inside with Santa's cookies and a note to Santa asking him to please feed the magic dust to the reindeer!
Do your research for animal friendly reindeer food or eco reindeer food!
(For example, the best bird friendly reindeer food is to use only bird feed!)
ALONG WITH THE REINDEER FOOD BAGS DIY, YOU'LL ALSO HAVE FUN WITH THESE HOLIDAY ACTIVITIES:
How To Make Popcorn Garland With Cranberries
This would be a fun group or homeschool co-op project: If you don't want to use plastic bags / Ziploc bag for reindeers food, let each kid decorate their own brown bag and then write the magic reindeer dust poem on the back or tape or staple the printable label to the top of the lunch bag.
It makes fun activities for your 12 Days advent calendar or your Christmas eve boxes like these, too!
It's a DIY reindeer feed sack with simple ingredients that's easy and fun for kids to make reindeer food kits — even toddler crafts and projects for small children!
Reindeer Food Poem (Magic Reindeer Food Printable Free)
What is the oatmeal glitter reindeer food poem and the story of reindeer food?
There are a lot of different reindeer food poems out there for this Christmas craft, but we wrote this little poem specifically for our free printable reindeer food tag.
You can come up with your own tag for reindeer food if you don't want to use this one.
Custom Magical Reindeer Food Poem
Sprinkle on the ground at night

Where magic makes it sparkle bright

Santa's reindeer will see a treat

And visit for a snack to eat!
You can even make up your own magic reindeer food poem with your kids and make your own reindeer food template (but it's easier just to print out our reindeer food printable free!).
Let's get to the recipe for magic reindeer food and reindeer food directions!
(The template for what do Santa's reindeer eat and reindeer food printable is after the how to directions!)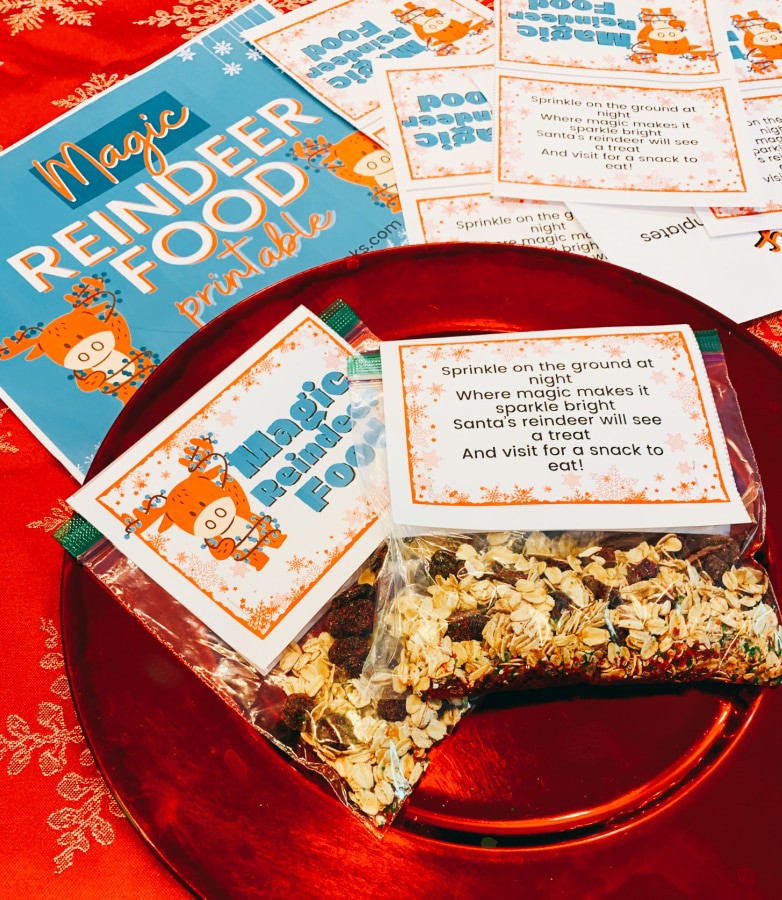 How do you make magic reindeer dust? (Fun Food Craft For Christmas)
This is a fun preschooler craft idea / pre k Christmas party food ideas projects or even for older kids or crafts for adults to make at a Christmas party / for a holiday craft table.
This holiday craft makes really great Christmas party favors or great gifts to take-home , too! If you're having a party, you can create bags of reindeer food for an easy craft to take home (and even provide them with the free reindeer food printables).
There are some other optional ingredients we'll include in the recipe below.
Place the reindeer dust into a sealable baggie or reusable mini glass jars like this (great if you're doing this as a classroom Christmas craft or as a group holiday craft) and tie on the reindeer food poem or attach it to the bags.
Or, you can place it in decorated, recycle brown paper bag like my daughter did one year for our Christmas party and make your own DIY bags for reindeer food!
(Better yet, let all the kids at the party decorate their own reindeer food bag!)
Don't forget about the reindeer food poem printable for free below after the rein deer food recipe! (You'll have to print the reindeer food recipe and printable poem separately.)
Yield: 6
Recipe for Reindeer Food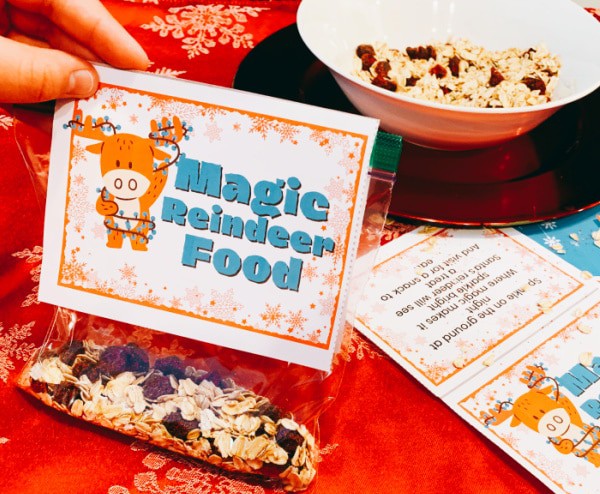 This Santa's reindeer food recipe is more environmentally friendly and animal friendly and a safe reindeer food recipe alternative than the one using glitter! Be sure to print off our free reindeer food label printable for your reindeer mix favor bags!
Materials
2 cups uncooked oats
Edible decorating sugar: white, red, and/or green (optional)
1/4 cup birdseed mix (optional)
1/4 cup dried, sugar-free cranberries or fresh uncooked cranberries (optional)
6-8 resealable sandwich bags
Free reindeer food printable poem (bag topper) --see the post
Instructions
Pour uncooked oats into a bowl.
Add edible sugar to the oats and mix. Add more sugar until you get the desired effect. (OPTIONAL)
(OPTIONAL) Add birdseed and cranberries. Mix.
Pour 1/4-1/2 cup of reindeer mix food into 6-8 bags. Seal.
Cut and fold free printable reindeer food bag topper. (SEE POST FOR PRINTABLE) Staple bag topper over the top of each bag.
On Christmas Eve, sprinkle reindeer food mix outside or place by Santa's cookies for Santa to feed to his own reindeer!
Don't forget to grab your reindeer food tag free printable below (after the Christmas children's book recommendations there's a section for the magic Christmas reindeer food recipe printable).
Reindeer Books for Kids To Go With How To Make A Reindeer Feed Bag (Magic Reindeer Food Recipe and Printable)
It's cute how you thought you would get away without us making a children's book recommendation!
We recommend these books to go with reindeer Christmas crafts for kids and your project for what do reindeers like to eat:
The Little Reindeer Children's Book
The Littlest Reindeer Children's Book
The Wild Christmas Reindeer Children's Book
The Christmas Wish Children's Book
The Reindeer Wish Children's Book
Now on to the free reindeer food printable!
Santa Reindeer Food Poem Free Printable
Use the free printable reindeer food printable with free printable poem to attach to the top of sealable bags and give away to students, friends, or kids at your holiday party.
CLICK HERE (or on the reindeer food free printable image) to get the free printable magic reindeer food labels / reindeer feed sign with the cute poem!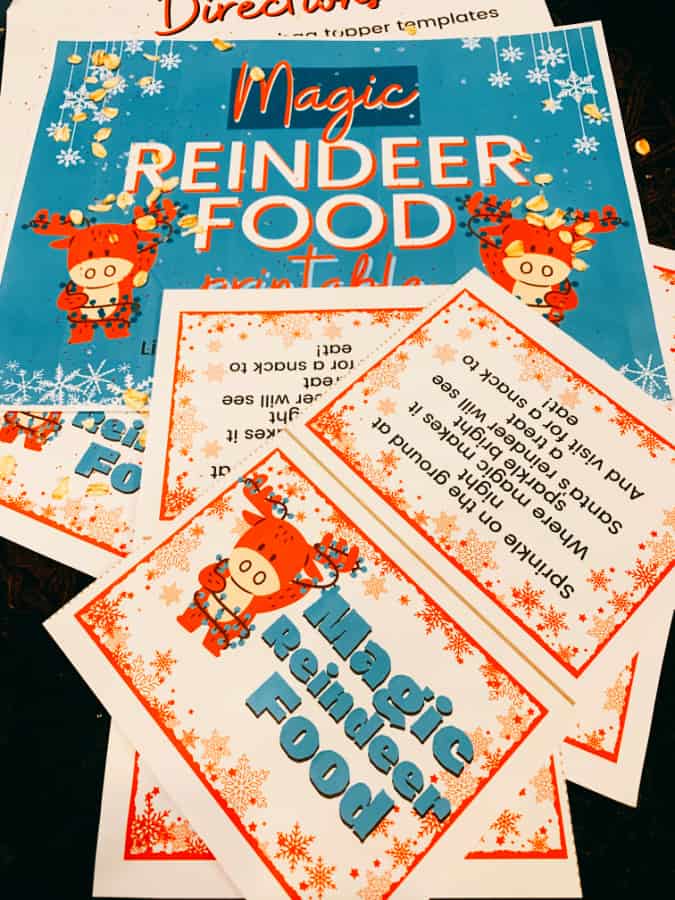 Have fun this Christmas season and add this new fun Christmas eve tradition! (This special food is one of our favorite Christmas traditions!)
Have fun with this safe reindeer food recipe and the reindeer food labels free printables!
LOOKING FOR FUN COOKING PRINTABLES FOR KIDS?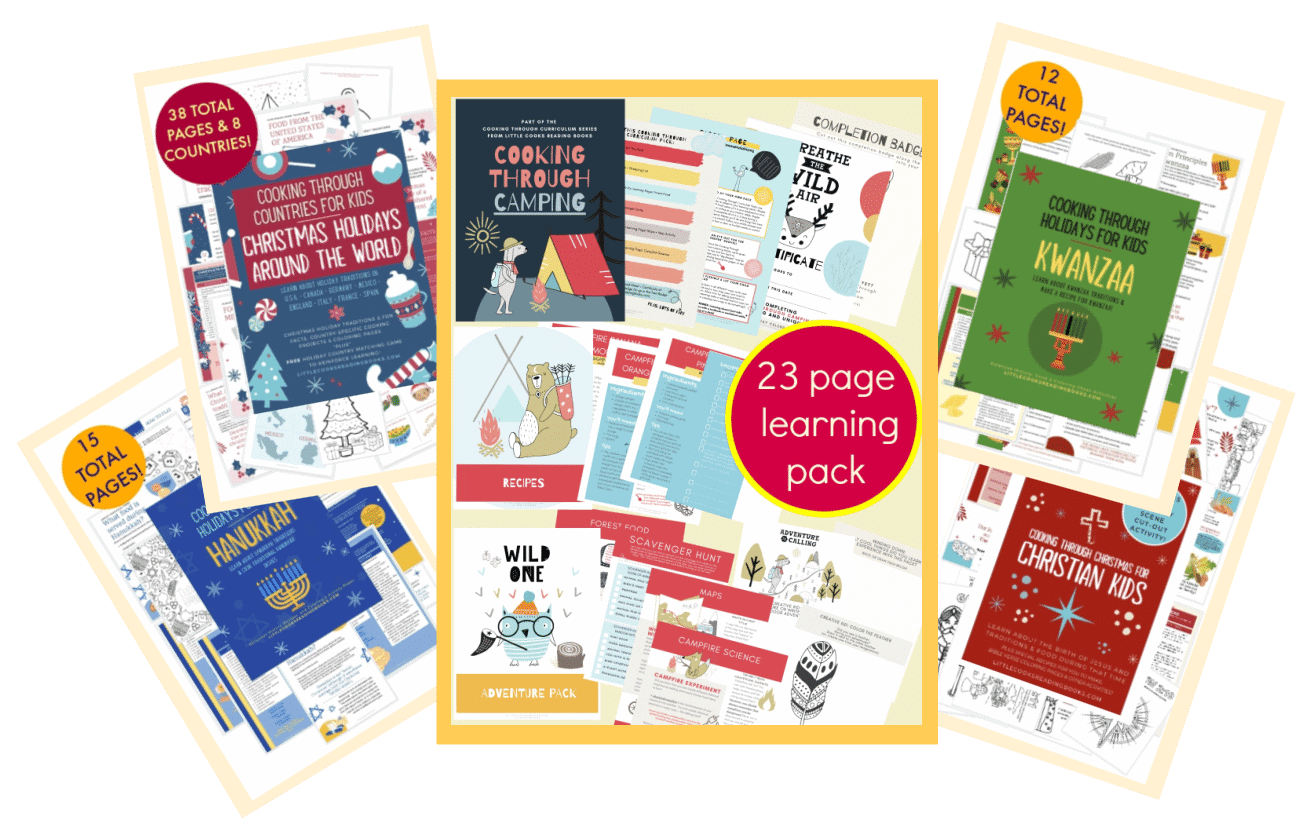 As an Amazon Associate I earn from qualifying purchases. Please refer to our
DISCLOSURE
.