Wondering how to make a popcorn garland (without popcorn breaking off!) or nature-inspired decorations or earth-friendly natural Christmas decorating ideas for kids? This easy, old-fashioned cranberry popcorn garland is not only beautiful and charming for stringing on the tree, but is perfect for DIY natural Christmas decorations or DIY minimalist Christmas decorations. Make homemade Christmas decor ideas easy and quickly with kids this year!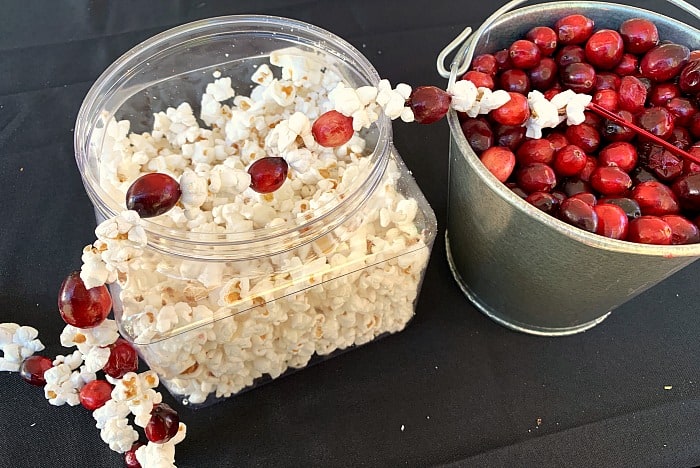 How To Make A Popcorn Garland On Christmas Tree
I love t DIY old-fashioned cranberry popcorn craft because it forces us to slow the holiday down, enjoy some family time, and create organic Christmas decorations! It's a fun preschool Christmas craft all the way up to teens (and even adults)!
How To Do Popcorn Garland
To make DIY popcorn garland, you'll need:
Popcorn
Fresh Cranberries
Dried Oranges (optional if you're making popcorn, cranberry & orange garland)
Large Needle
Thread
(IMPORTANT TIP: If you're wondering how do you make Christmas garland popcorn if the popcorn breaks, don't miss the best way to make popcorn garland so it doesn't break below!)
Do you dry cranberries for garland?
There is no need to dry cranberries for holiday garland. However, you can use dried cranberries on your popcorn garland. Both fresh cranberries and cranberries that are dried look great on a popcorn string, but using fresh cranberries will decrease the amount of time your DIY garland will remain good.
How do you make a cranberry and popcorn garland last?
There are several ways to make your fresh popcorn garland last:
Use only popcorn
Use dried cranberries instead of fresh cranberries
Make the cranberry popcorn garland closer to Christmas (around 10 days before) and add it to your tree or mantle decorations
Spray the garland with clear shellac craft spray
IMPORTANT: If you are making this as a cranberry-popcorn garland bird feeder craft or if you have pets or little ones who like to pull things off the trees (and put them in their mouths), DO NOT spray your holiday garlands with any type of spray for preserving the garland!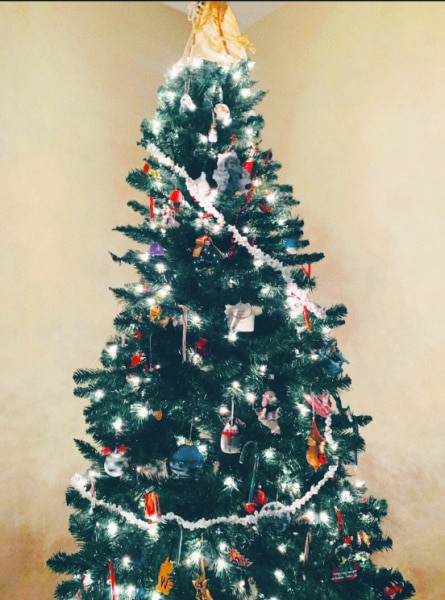 How do you hang garland on a Christmas tree?
The easiest way to hang garland on a Christmas tree is to string the garland in shorter strands (and not one long string). That way you can easy move the garland around. Gently lay the popcorn across the limbs in varying places going down the tree. I find it easier to put this kind of garland on last since sometimes the popcorn can be fragile.
But, before we get to how to make popcorn and cranberry garland step by step directions, let's answer some common questions…
What is a popcorn garland?
Popcorn garland is a Christmas tree decoration and part of old-fashioned holiday decorating ideas. The homemade decoration is made out of popcorn threaded on a string to create a long garland that can be hung on a tree, from a fireplace mantel, or used in other Christmas decorations.
This will become one of your favorite homemade Christmas decorations (perfect for rustic Christmas decorations!).
(So, skip that artificial popcorn garland /fake popcorn garland stuff and use this festive and traditional holiday craft instead!)
---
DON'T MISS OUR CHRISTMAS PRINTABLE: HOLIDAY TRADITIONS AROUND THE WORLD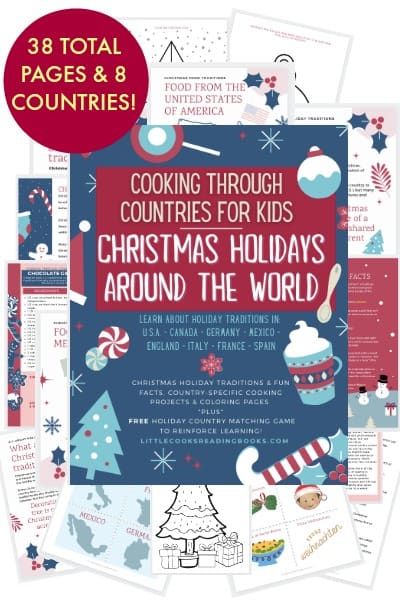 ---
Why do you put popcorn on the Christmas tree?
Popcorn and Cranberry Garland History
The origin of the practice of putting popcorn on the Christmas tree and exact popcorn garland history is not really known. However, many think that it's carried over from the practice of German's decorating their trees with fruit. Because the Christmas tree tradition was foreign to the United States, many people did not have things to decorate the trees. So, they used what was affordable and in their house—which included things like popcorn and cranberries, as well as fruit and even candles.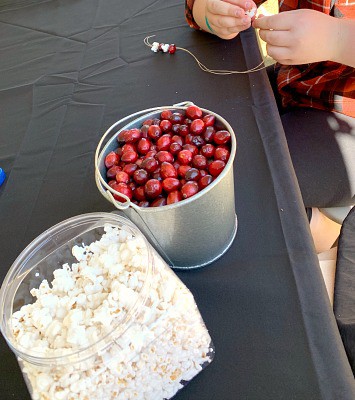 Nature-Inspired Christmas Decorations: Popcorn and Cranberry Garland
Before we get to popcorn garland DIY and how to string popcorn on a Christmas tree, let's answer some common questions (FAQs) that will REALLY help with these homemade Christmas craft ideas.
Be sure to read through them BEFORE you get started.
We recently tried to make popcorn and cranberry garland at an event and the popcorn kept breaking and it was so frustrating!
We're going to tell you how to string popcorn garland and a secret tip on how to get popcorn to stay on the string without falling off (so keep scrolling for the DIY cranberry & popcorn garland secret!)
YOU'LL ALSO HAVE FUN WITH: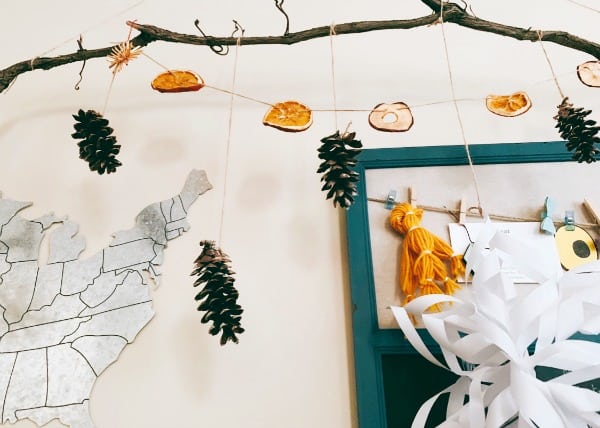 How do you string popcorn without breaking it?
Our secret tip for stringing popcorn: Popped corn breaks more easily when it's fresh. If you're trying to string garland with popcorn that keeps breaking and falling off, it's probably because the popcorn is too fresh. It's best to pop your popcorn 24-48 hours ahead of time and let it sit.
We've used this brand of popcorn maker that we absolutely love. It still has that yummy (oil) taste that microwave popcorn misses and it's fast, easy, and fun to watch! (So if you need to quickly pop more popcorn for your garland, it's no problem!)
What kind of popped corn do you use for popcorn garland?
What is the best popcorn for garland? White popcorn has smaller kernels than yellow popcorn. If you're going to use the popped corn for Christmas tree garland, go with the yellow popcorn kernels. The larger size makes stringing the garland easier. You should plan on popping a lot of popcorn if you are going to string your entire tree. (It takes a lot to make one long string.)
What kind of string do you use for popcorn garland?
Any thicker, strong threading string (like waxed cotton thread or nylon or even think florist wire) will work for your popcorn garland. Many people also use dental floss string that is coated or thick thread that is rubbed with beeswax. The coated floss or beeswax on the thread will make the popcorn, cranberries, dried fruit (or whatever you put on your garland) slide down the "string" better.
YOU'LL ALSO LIKE:

How To Preserve Popcorn Garland
Can you save popcorn garland?
You can save your popcorn garland (and even preserve it for next year) by spraying it with a craft sealer. If you don't glaze your popcorn garland with anything, then you can use the popcorn cranberry garland for birds! Before the cranberries go bad, take the garland out and hang it on the limbs of a tree. The birds will enjoy the extra munchies for the winter!
IMPORTANT: IF YOU SPRAY YOUR GARLAND, YOU WILL NEED TO KEEP IT AWAY FROM KIDS AND PETS (INCLUDING BIRDS OUTSIDE) SO THEY DON'T THINK IT IS EDIBLE.
How long does popcorn garland last?
Classic popcorn garland alone (with nothing else on it) will last the entire time you have your tree up. However, once you start adding things like fresh cranberries, you significantly reduce the amount of time garland will last to around 10 days.
How long will cranberries last as a garland?
Cranberries will last on garland between 7-10 days. So, if you are going put cranberries on your popcorn garland (or use them in other holiday decorations), be sure that you make them close to your event or closer to Christmas. You can always make long strings of popcorn garland and then, closer to Christmas, make a few shorter strings with cranberries that you string on the tree later.
ALSO CHECK OUT : HOW TO MAKE COLORED POPCORN
OK, on to how to make popcorn berry garland and how do you string popcorn and cranberries for Christmas!
HOW TO MAKE A POPCORN GARLAND FOR CHRISTMAS TREE AND DECORATING
This would be fun to do as a kids' holiday group activity for how to make a popcorn garland kit and then let them give the kit to their friends or family as an early Christmas gift!
Learning how to make popcorn garland for Christmas tree is super easy and a fun craft for kids, but success depends on two things:
The popcorn needle you use, and
Whether or not you're using fresh popped popcorn.
(We'll talk more about these in the printable directions below.)
How To Make Popcorn Garland With Cranberry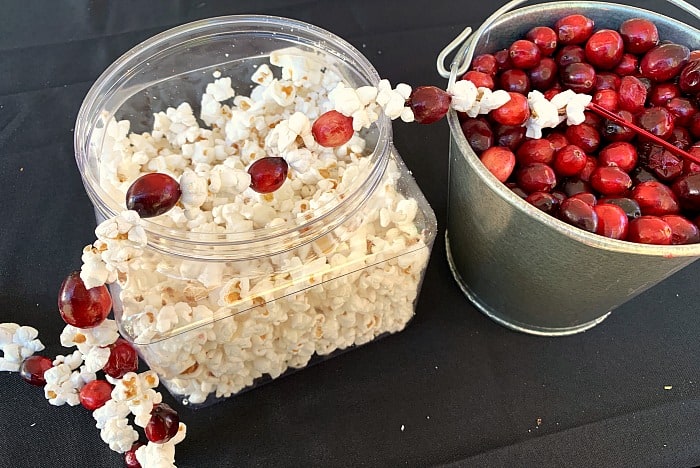 Have fun making this DIY Christmas craft with your kids!
Materials
Popcorn (24-48 hours old)--1 popped cup for every 2-3 feet of string
Fresh Cranberries
Large Needle (with large eye)
Thread (waxed cotton, nylon, or wax coated dental floss)
Instructions
Pop corn and allow to sit for 24-48 hours so that it doesn't break easily.
Cut 12-24 inches of thread/string.
Thread string through needle, knotting the end.
Take a piece of popcorn and stick needle into the kernel portion of the popcorn. Gently push the popcorn all the way down knot on the end.
Gently thread a cranberry onto the string and push all the way down, to the piece of popcorn near the knot.
Repeat process, making any kind of pattern that you like. For example, three pieces of popcorn, then one cranberry, then three more pieces of popcorn, etc.
Fill the string with popcorn/cranberry until about 1-inch from the needle. (You need to leave room to knot the end with the needle.)
Cut the string right at the base of the needle and knot it.
Repeat the process until you get the number of popcorn garland strings that you want.
Carefully lay/drape strings onto Christmas tree.
Recommended Products
Affiliate links are used on this site. As an Amazon Associate I earn from qualifying purchases.
Be sure to add learning how to make popcorn cranberry garland to your family holiday activities!
How To Make A Popcorn Garland is a fun and easy Christmas project for kids!