This easy homemade cranberry sauce recipe from scratch (also called cranberry jam) is a hit! It's a cranberry sauce with orange, which makes it more of a gourmet cranberry sauce recipe—tart and still sweet. Add this to your cranberry fruit sauce recipes for Thanksgiving side dishes, topping for Thanksgiving turkey, appetizer for Christmas, or a relish dip.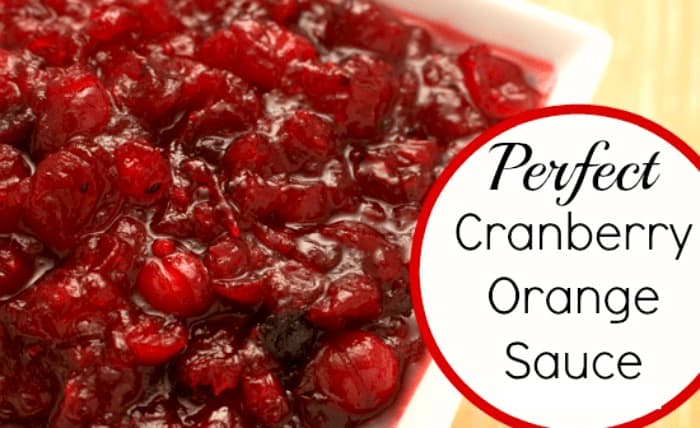 Once you've made this easy cranberry sauce recipe, you'll never go back to that cranberry sauce in a can (no matter how much your kids love to suction that stuff out).
DON'T MISS OUR HOLIDAY CHILDREN'S BOOK PAIRING RECOMMENDATIONS AFTER THE RECIPE! (KEEP SCROLLING!)
Affiliate links are used on this site. As an Amazon Associate I earn from qualifying purchases. Read more in our DISCLOSURE.
Try these children's books for a Recipes and Reading Pairing:




Before we get to how to make cranberry sauce, here are some common questions (FAQs) you may have when making homemade cranberry sauce (also sometimes called fresh cranberry relish or cranberry chutney):
What do you use cranberry sauce for?
Cranberry sauce can be eaten as a Thanksgiving side dish (or Christmas or other holidays). It can also be spread on turkey or ham sandwiches. Leftover cranberry sauce can be made into an appetizer or a dip.
Should cranberry sauce be cold when served?
Cranberry sauce is best when it is served at room temperature or cold.
---
Your kids will love these Simple 3-Ingredient Sugared Cranberries

---
Is cranberry sauce supposed to be sweet?
Cranberries are naturally tart, so you want to preserve some of that flavor when making homemade cranberry sauce and not make it too sweet.
With that said, you do want to add some sweetness (because the cranberries are too tart just to eat alone when cooked).
You can sweeten cranberry sauce with sugar, but if you want cranberry sauce recipe healthy, use raw honey or maple syrup.
How do you make cranberry sauce less tart?
How do you get the bitterness out of cranberry sauce?
Cranberry sauce has sugar to take the tartness (or bitterness) out of it.
If your cranberry sauce is too tart, add a little more sugar or raw honey until you get to the desired sweetness.
We make our cranberry sauce with orange juice or orange and it balances out some of the tartness of the cranberries.
How do you fix cranberry sauce that is too sweet?
If your cranberry sauce is too sweet, then you will want to add a little more acid.
Try adding a little apple cider vinegar or even lemon or lime juice to balance it out.
How do you thicken homemade cranberry sauce?
First, remember that cranberry sauce will thicken as it cools.
If it's still too runny, reduce the sauce and allow some of the liquid to cook off to thicken homemade cranberry sauce.
You can also whisk cornstarch into some water and stir that into the cranberries to make it thicker.
Did you know Cranberry vines can grow up to six feet in length and can live over 100 years? (ref: MSU)
Does cranberry sauce need to be refrigerated?
To be safe, you should refrigerate cranberry sauce in a covered container within a couple of hours of cooking. Keep refrigerated until you are ready to use.
---
Also try this easy apple salad with pear and cranberry!


---
How long does cranberry sauce keep?
Cranberry sauce will keep in a covered container in the refrigerator for up to two weeks.
Can cranberry sauce be frozen?
You can freeze cranberry sauce that has been stored in an airtight, freezer container. Try placing the sauce into a sealable freezer bag and smoothing it out (to flat) to store flat in the freezer.
And, this is an interesting fun fact to share with the kids when you make this recipe:
Why do we eat cranberry sauce in Thanksgiving?
Michigan State University reports:
American Indians used cranberries as a food source, to dye fabric and as medicine…Due to the importance of cranberries in the 1500s and their abundance, it is believed that the pilgrims and the American Indians would have eaten them at the first Thanksgiving.
Ok, now that we've covered some common cranberry questions, let's get to the recipe!
How To Make Homemade Cranberry Sauce
This is such an easy cranberry sauce, but people will swear that it's a gourmet cranberry sauce recipe from some high-end market!
(We won't tell if you won't tell!)
Yield: 8
Best Ever Easy Cranberry Sauce Recipe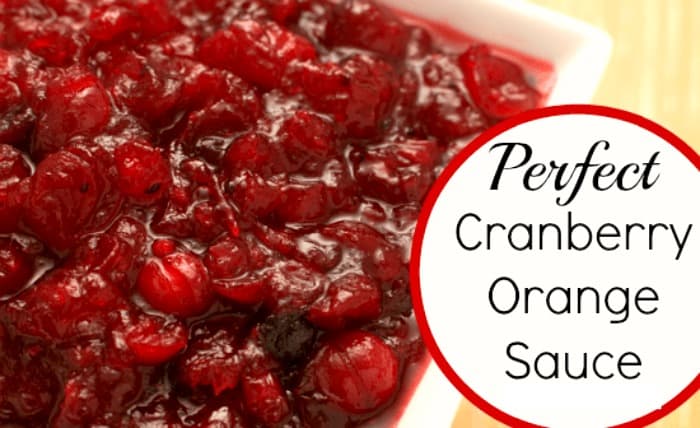 Homemade cranberry sauce from scratch is made with orange juice and orange zest to elevate it to a gourmet cranberry sauce!
Ingredients
1 orange
2 cups water
3 cups fresh cranberries
2 cups sugar
1/2 tsp. ground cinnamon
1/4 tsp. ground cloves
Instructions
Roll and squeeze the orange between your hands to make it juicy. Cut the orange in half and squeeze the juice from each half into a bowl. Remove the seeds and set aside.
Peel the orange halves. Remove the membrane and peel from orange pulp and cut into pieces. Set aside.
Chop the orange rind into very small pieces.
In a saucepan over high heat, combine the orange rind and the 2 cups of water and bring to a boil. Cook for 10 minutes. Drain the water, separating from the rind, and place the water back into the saucepan. Discard the rinds.
Rinse and sort the cranberries, discarding any soft ones. Add to the saucepan.
To the saucepan, add the orange juice, orange pulp, sugar, cinnamon and cloves. Bring to a boil over high heat, then reduce the heat to low and cover the pan partially.
Simmer, stirring occasionally, until the sauce thickens. When the cranberries burst, after about 10 to 15 minutes, the sauce is done.
Let cool before serving.
Notes
If you like a more tart sauce, reduce the sugar by 1/2 cup.
Nutrition Information:
Yield:
8
Serving Size:
1
Amount Per Serving:
Calories:

221
Total Fat:

0g
Saturated Fat:

0g
Trans Fat:

0g
Unsaturated Fat:

0g
Cholesterol:

0mg
Sodium:

4mg
Carbohydrates:

57g
Net Carbohydrates:

0g
Fiber:

2g
Sugar:

53g
Sugar Alcohols:

0g
Protein:

0g
Nutrition information is estimated. Changes to the recipe and use of different brands may cause changes to the nutritional information to vary slightly from the ones provided here.
Holiday Books for Kids
This cranberry sauce is such a festive side dish that you'll definitely want to pair it up with a holiday book!
Try one of these:
Last Updated on
As an Amazon Associate I earn from qualifying purchases. Please refer to our
DISCLOSURE
.