Cranberry dip with cream cheese is a super simple holiday recipe or holiday party dip and can even be a last minute Christmas recipe or the perfect Thanksgiving appetizer. Add to your cranberry recipes for easy holiday appetizers! If you're looking for recipes with cranberry sauce and cream cheese (or holiday dips with cream cheese), this is it!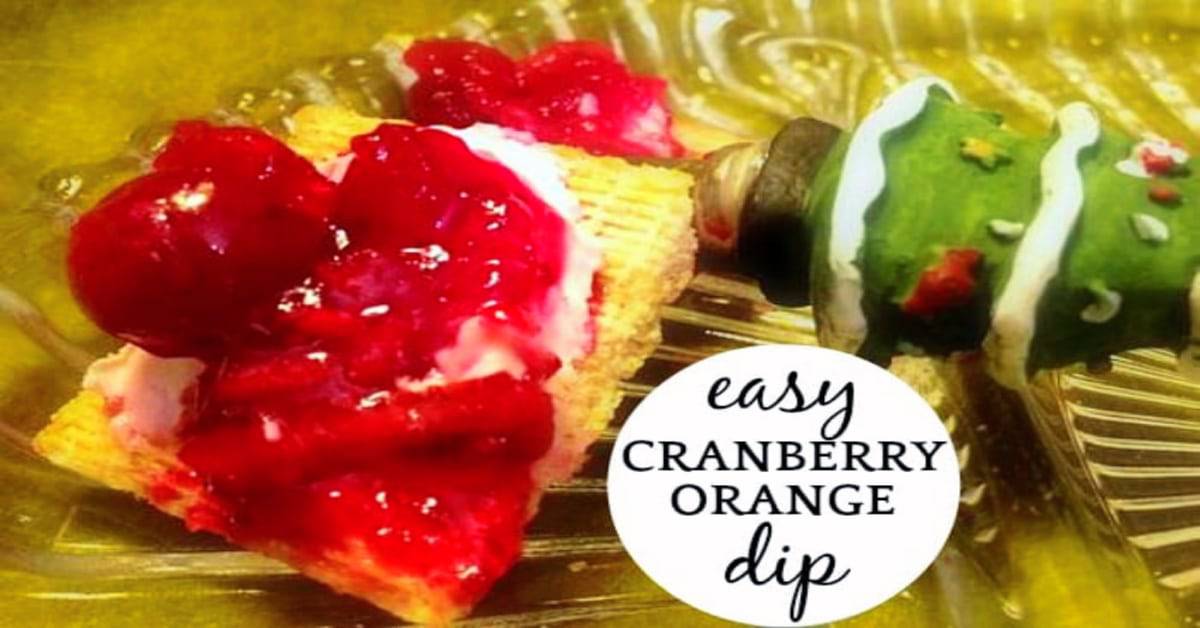 HOMEMADE CRANBERRY DIP WITH CREAM CHEESE RECIPE
Looking for Thanksgiving dips holiday recipes or Christmas cranberries recipes? This recipe for cranberry cream cheese dip is perfect if you need holiday party appetizers (or cheap holiday appetizers for a crowd)! You can whip up this easy recipe in no time with a layer of cream cheese and then the cranberry spread for crackers, tortilla chips, bread, or even make cranberry rollups and use this as a cranberry cream cheese sauce! Easy recipe for kids to make if you need holiday dip ideas for them, too!
How To Make Recipes With Cranberry Sauce and Cream Cheese with Orange
Cranberry cream cheese recipe ingredients:
Fresh cranberries
Sugar
Orange marmalade
Softened cream cheese
See the full cream cheese cranberry dip recipe below with printable recipe card. It's one of our favorite cranberry sauce dips recipes! If you're never had cranberry over cream cheese, you're in for a treat with cranberry sauce appetizers! **See tip below for cranberry-jalapeno cream cheese dip or side dishes!
Affiliate links are used on this site. As an Amazon Associate I earn from qualifying purchases. Read more in our DISCLOSURE.
Cranberry Sauce Cream Cheese Recipes Tips
Some people like to make these appetizers with cranberry sauce as a dried cranberry cream cheese dip, but we really prefer to use fresh, whole cranberries.
(It's easy to cook with cranberries, so don't let that deter you!)
You can also add chopped jalapenos for a cranberry jalapeno dip (a spiced cranberry dip more like a cranberry salsa) or green onion for a little spicy flavor.
(We made this as a holiday cranberry jalapeno dip one year and it was a big hit, too, because it makes a spicy cranberry and cream cheese spread.)
This also makes a great cranberry cream cheese spread for sandwiches, roll-ups with cranberries, and a creamy cranberry dip to make with leftover cranberry sauce!
If you have leftover cranberry sauce from Thanksgiving, use it to make this cranberry sauce dip recipe!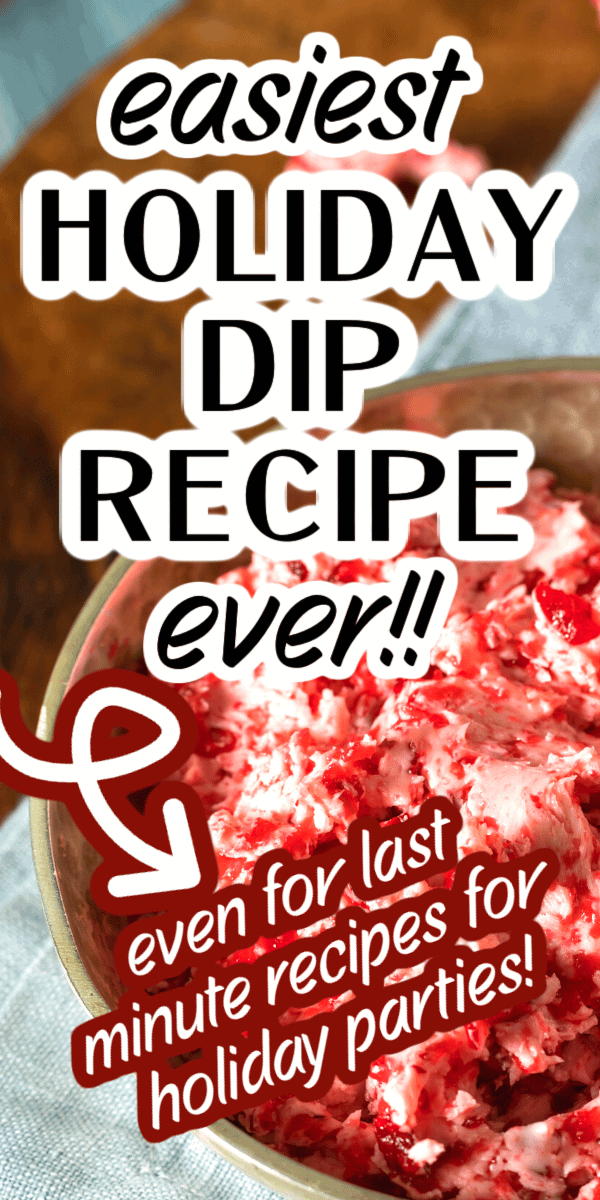 How To Eat Cream Cheese and Cranberry Dip
We say this is a cranberry appetizers cream cheese recipe, but it can really be eaten many ways!
Eat your cranberry sauce appetizer on:
Crackers
Crusty bread
Brie
Apple slices
Turkey and cranberry rollup
Cranberry cream cheese bites
Roasted turkey
Sausage balls (as a cranberry sauce cream cheese)
Toast
Ham sandwiches
Rye bread
Cranberry orange scones
Turkey sandwiches
Pita chips
Pretzels
Melba rounds
Bagel chips
Bagels
This cranberry spread with cream cheese is even great on hot biscuits or dinner rolls! Anything that you use as a jam or jelly, this cranberry cream cheese spread recipe will work for that, too!
This is even good for holiday dips for vegetables and fruits!
What crackers go best with cranberry jalapeno dip?
Whether you are making this holiday recipe as a cranberries dip with jalapenos or orange marmalade cranberry dip recipes, any plain crackers (unseasoned or lightly seasoned) work well — Ritz crackers, butter crackers or club crackers, rye crackers, Saltines, pretzel crackers, water crackers, pepper crackers, and more! This is a cream cheese cranberry spread, so any crackers that hold a spread works well.
If you're wondering what to dip crackers in for the holidays, try this quick dip!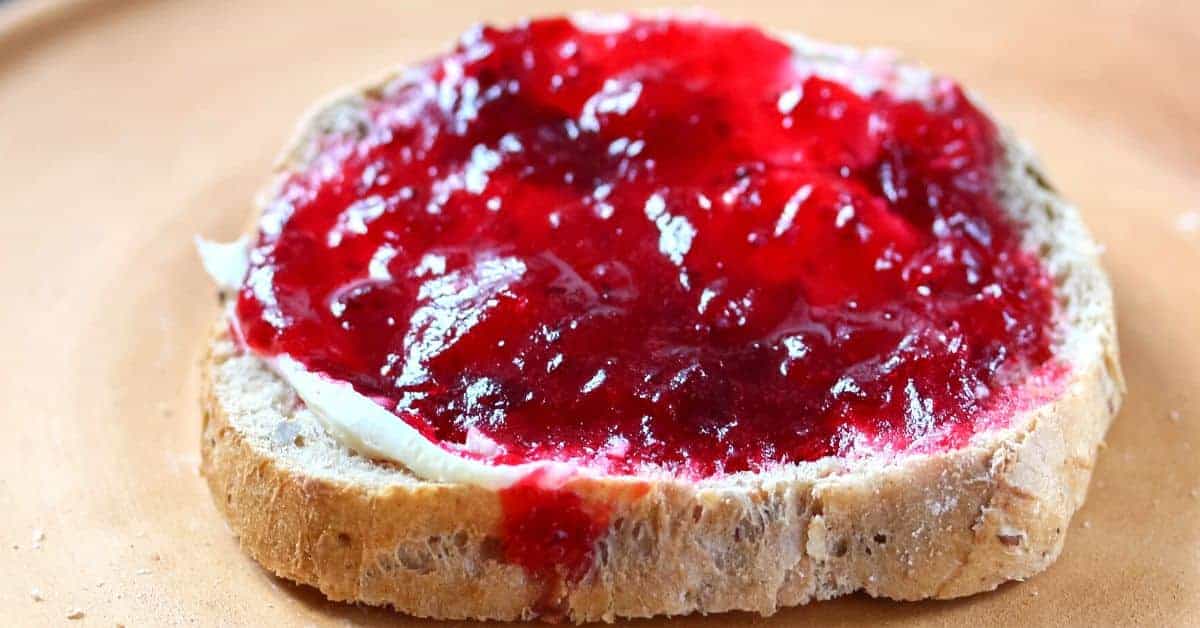 Need some other ideas for cranberries (other than cranberry dip cream cheese)?
What can I do with raw cranberries?
If you've never cooked with raw cranberries, they can be a little intimidating. But, don't worry! They're easy to work with and you can do so many different cranberry recipes fresh!
Here are some ideas for raw cranberries:
Bake cranberry-orange cookies. (Yes! You can bake with fresh cranberries!)
Use them in a juice or smoothie.
Make a cranberry compote or jelly.
Use them in muffins, scones, cakes, and breads.
Cranberry sauce cheese ball.
Make cream cheese cranberry bites.
Bake cranberry orange bread.
Make cranberry orange muffins.
Fresh cranberries can be frozen (for up to 9 months) to use for later.
Make cranberry sauce (yummy orange cranberry recipes)
Make sugared cranberries to use as a snack, decoration, or with other dishes. (If you're wondering how to eat fresh cranberries, this is a great way!)
Dry them in a dehydrator and use dried cranberries in salads, in dried cranberry cheese recipes, and other dishes.
Make an easy cranberry cream cheese dip recipe (like this one!).
Raw cranberries, especially if you have them for the holidays or Christmas, are great to bake and cook with (and you can even use them for decorating!).
FUN FACT FOR KIDS WHILE MAKING CRANBERRY CHEESE DIP:
Did you know that cranberries are related to blueberries and huckleberries?
If you're wondering What flavors go well with cranberry? or What can you do with cream cheese? this is the perfect cranberry dip over cream cheese recipe or holiday cream cheese dip, especially for holidays because it's so beautiful and a festive recipe!
This makes a great cranberry dipping sauce for sausage balls, too! (I love this orange cranberry cream cheese spread with holiday sausage balls!)
Let's get to the cranberry sauce dip with cream cheese!
Fresh Cranberry Cream Cheese Dip with Orange
Once you make this cream cheese holiday dip (aka: cranberry orange dip), it will be on your holiday menu (Christmas recipes and Thanksgiving recipe!) from then on! Definitely add it to your best holiday dips and spreads!
(They're will be no need to buy that Cranberry cream cheese dip Costco anymore!)
We always make this as a cranberry Philadelphia Cream Cheese recipe for our Thanksgiving cream cheese dip, but you can use any of your favorite cream cheese or even mild cheese spread.
Although I love this with orange cranberries, you can also make this a cranberry cream cheese dip jalapeno if you like spicy. Leave out the orange and add 1 fresh jalapeno, seeded and diced, along with 4 chopped green onions.
It makes great spicy appetizers with fresh cranberries this way!
(And, it makes more savory cream cheese dip recipes — our recipe is more of a sweet cranberry cream cheese dip.)
Also, I would stick to fresh cranberries and not make this a canned cranberry cream cheese dip. The flavor will be better.
If you're looking for recipes for cranberry relish, this makes a great recipe for that, too (especially if you like cranberry sauce recipes with orange).
If you have leftover cranberries or cranberry orange relish, pour the cranberry sauce over cream cheese for a quick dip or easy snack as cranberry cheese spread and crackers.
(Works as cranberry relish over cream cheese, too, for a chunkier cranberry relish dip!)
We make this as a Christmas cranberry dip because it's beautiful added to a holiday table, but it's perfect for a Thanksgiving cranberry cream cheese dip, too!
For our cranberry orange cream cheese dip, we often spread the cream cheese and pour the cranberry orange sauce over it, but you can mix the cream cheese and cranberries together, too.
(A creamy cranberry sauce makes a pretty red Christmas dip that way!)
Yield: 10
Cranberry Orange Marmalade Cream Cheese Dip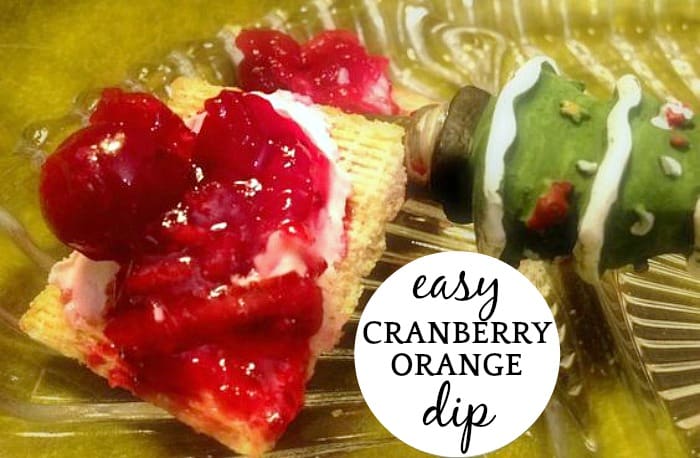 This cranberry dip with cream cheese (cranberry orange cream cheese spread) is a fast and easy recipe that can even be added last minute to your holiday festivities. It can also be eaten alone as a cranberry sauce or used for a sauce for turkey or chicken (or even cranberry cream cheese sandwich spread!).
This really is the best cranberry cream cheese appetizer or holiday dip!
WE HAVE LOTS OF RECIPE TIPS IN THE POST, SO BE SURE TO SCROLL UP TO READ THEM ALL!
Ingredients
12 ounce bag of fresh cranberries
1/4 cup water
1 cup white sugar
1 cup orange marmalade
12 ounces cream cheese, softened
Instructions
Wash cranberries and place in a pot. Add 1/4 cup water.
Add sugar and marmalade to pot. Stir.
Cover pot and heat on low until cranberries just start to pop, around 10 minutes. Stir.
Spread softened cream cheese on the bottom of a baking dish or a festive holiday dish.
Add cranberry mixture on top of the cream cheese and gently spread.
Serve this cranberry cream cheese spread with crackers, crusty bread, or apples.
Notes
If your cranberry mixture seems too thin, let it cook down a little longer and remove from burner. Sit for 10 minutes to thicken.

You can serve this at room temperature or warm. If you want to serve it warm later, heat in the microwave or cover and heat in oven for 8-10 minutes at 350 until just heated through.

VARIATIONS of Cranberry Orange Cream Cheese Dip

You don't have to make this as just a cranberry orange marmalade cream cheese dip!

This very merry cranberry cream cheese dip is easy to play around with! You can make this cold dip as:

cranberry jalapeno cream cheese dip
cranberry apricot cream cheese dip
cranberry pepper jelly cream cheese dip
cranberry salsa cream cheese dip
cranberry pomegranate cream cheese dip
cranberry pecan cream cheese dip

Just play around with the ingredients to get recipe flavors you love!
Nutrition Information:
Yield:
10
Serving Size:
1
Amount Per Serving:
Calories:

291
Total Fat:

12g
Saturated Fat:

7g
Trans Fat:

0g
Unsaturated Fat:

4g
Cholesterol:

34mg
Sodium:

126mg
Carbohydrates:

47g
Fiber:

1g
Sugar:

42g
Protein:

2g
Nutrition information is estimated. Changes to the recipe and use of different brands may cause changes to the nutritional information to vary slightly from the ones provided here.
Some people have told me that they make this as a white cheddar cranberry dip, but I've never tried it that way. We always just make it as a cranberry sauce dip cream cheese recipe.
Let me know if you have tried this recipe with other cheese!
What about a cook and read project to go with the cranberry cheese recipe?
Festive Holiday Children's Books for Recipes and Read
This is a super easy festive holiday dip that kids will love (and love making), so be sure to pair it up with some holiday books that are just as festive!
We recommend these to read while you enjoy your cranberry sauce cream cheese dip:
In A Christmas Tree for Pyn, Pyn wants to decorate her very first Christmas tree, but her grumpy father says, "No!"
This sweet story is about how Pyn is determined to make their home festive and cheery by finding the perfect Christmas tree!
Check it out to see if Pyn gets her wish or her dad continues to say Bah-Humbug!
If you're looking for a book that gives a glimpse into different Christmas celebrations, check out Walk This World at Christmastime.
From the book:
Let's take a stroll around the world,
to all four corners of the globe.
Peek through windows, open doors,
watch as Christmastime unfolds . . .
This lift-the-flap book is perfect to use like an advent calendar, too!
Over the River and Through the Wood: The New England Boy's Song About Thanksgiving Day is a book illustrated to the song you probably grew up singing at the holidays!
Definitely add this cranberries and oranges dip to your recipes for holiday dips! (Don't forget: learning how to make holiday dips is fun for kids!)
LET US KNOW WHEN YOU TRY THE CRANBERRY DIP WITH CREAM CHEESE RECIPE!
LOOKING FOR FUN COOKING PRINTABLES FOR KIDS?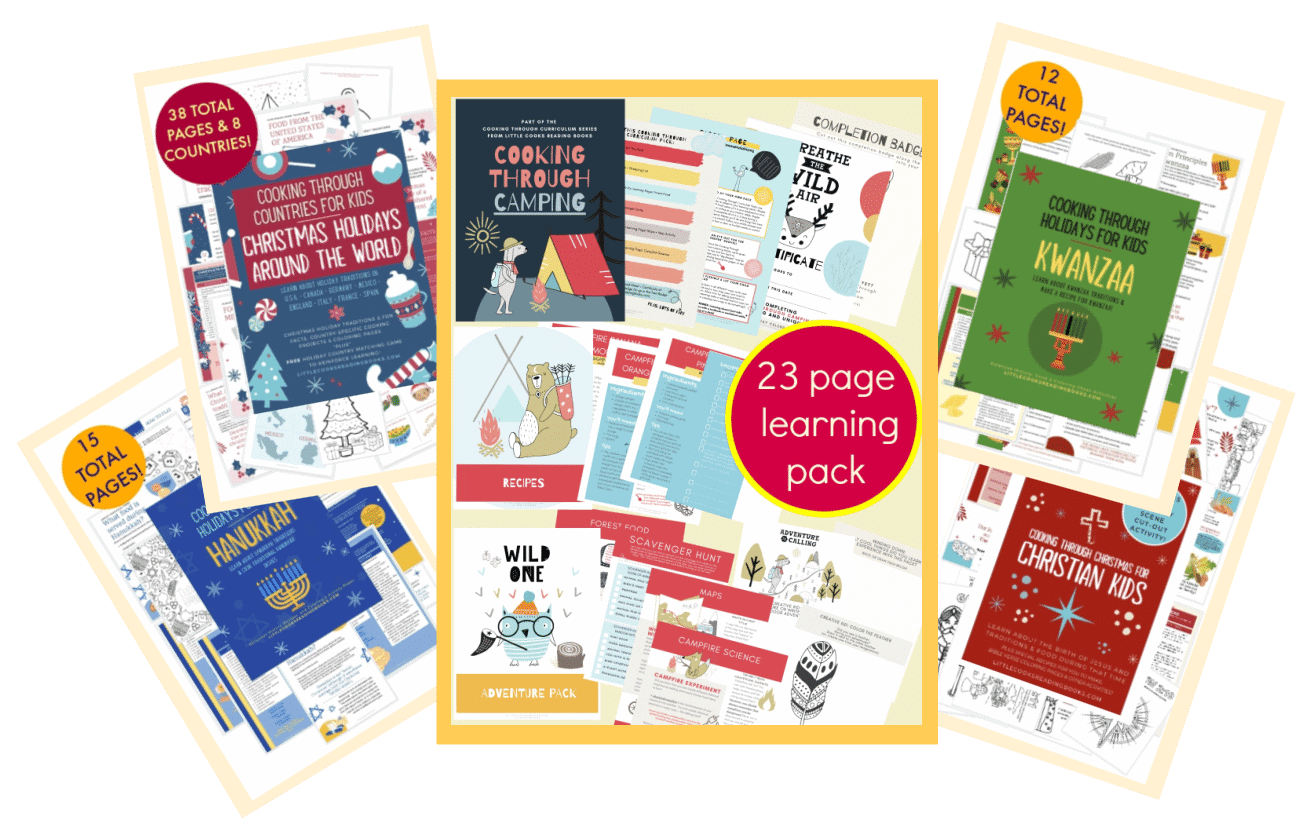 As an Amazon Associate I earn from qualifying purchases. Please refer to our
DISCLOSURE
.