Need DIY christmas gift ideas that friends and family will actually love? For a unique holiday gift, personalize an ornament by using items found during your vacations, travel, or hikes. Perfect DIY christmas gift ideas for kids to make, nature crafts, and good Christmas crafts for preschool and up!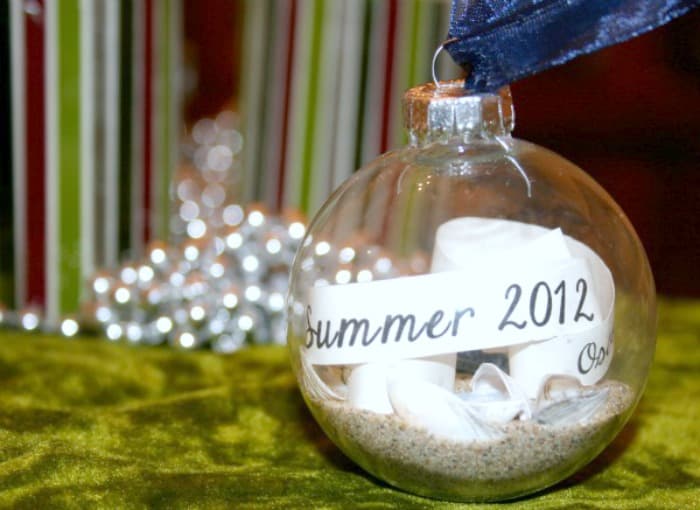 What are the best homemade gifts?
The best do it yourself Christmas gift ideas are those that mean something to the person receiving it! And, this DIY Christmas gift ornament is one of the most thoughtful and creative diy christmas gifts I've ever made. It's one of those simple homemade gifts craft that you can tailor to each person receiving it!
The great thing about this craft is that it's a custom ornament gift that will give back every year when they put it on the Christmas tree or set it out at the holidays! (You can even make your own keepsake ornament club by giving a new one each year.)
DIY Ornament Balls
Here's how our DIY Christmas gift ideas started . . .
Affiliate links are used on this site. As an Amazon Associate I earn from qualifying purchases. Read more in our DISCLOSURE.
Wherever we go — vacations, nature walks, shopping, breakfast, the bathroom (OK, maybe not the bathroom. Whatever.) — my daughter has to gather some mementos from the trip.
She calls them her "collections."
And, her collections quickly start to take over … everywhere.
So, when she gathered collections during our summer beach vacation one year, I decided I was finally going to do something with them.
(We bring back sand, shells, driftwood and more every year!)
So, I bought some clear glass ornaments and made homemade keepsake ornaments with the sand, shells, pebbles and driftwood (all things we found on our vacation) — and they turned out really cool!
They were so amazing that we even made some as gifts for our friends who were on the trip with us.
The great thing about this craft is that you don't have to do it just at the holidays.
Buy the clear glass ornaments when you see them clearanced after the holidays and make them throughout the year from different collections from your vacations, travel, and even your nature hikes.
Then, when you're ready to decorate your tree, you have a whole new set of ornaments (or DIY Christmas gift) that really mean something to the family and you will have fun reminiscing.
Don't Do a Christmas Tree? Do a DIY Ornament Display
Try a fun ornament tree display stand that you can use to display all your keepsake ornaments (even year-round!).


DIY Christmas Gift Ideas: Homemade Keepsake Ornaments
How to Make Christmas Ornaments From Vacation and Travel Keepsakes
If you're wondering "What can you make for Christmas gifts?" or "What are good gift ideas for Christmas?" or need DIY ornament ideas with clear balls this holiday craft is definitely something you should put on your list!
They're the perfect DIY christmas gifts for mom, dad, co-workers, friends, teachers and more!
Yield: 1
DIY Christmas Gift Ornament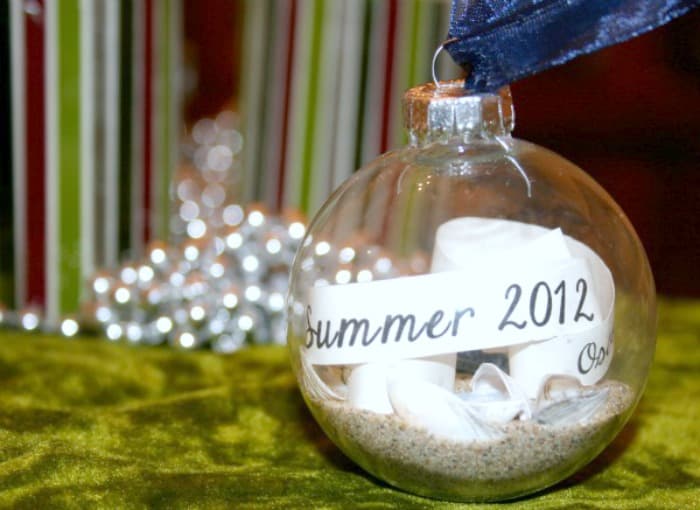 This DIY Christmas gift ornament is perfect for holding travel souvenirs and vacation keepsakes. It's one of my favorite DIY Christmas Gift Ideas ever!
Materials
Clear Ornaments with Removable Tops
Paper (Color of Choice)–cut into 1/2-inch wide slips (if using your computer and printer, cut them into 1/2-inch slips after printing)
Ribbon (assorted colors of choice)
Pencil with Eraser
Scissors
Hot Glue or Super Glue
Instructions
Print (from your computer printer) or write the name of the event and year on a slip of paper. On a separate slip, write the location or any other information you want to include. For example, we printed SUMMER 2012 on one slip of paper and the location (city and state) on the other.
Curl only the ends of the paper, curling away from the wording. (I used the scissor edge to gently curl it the same way that you curl ribbon.)
Gently remove the top of the ornament. Place (or pour) sand, crushed leaves, pieces of wood, rocks or whatever you want into the ornament.
Loosely roll the slips of paper and then place them, one at a time, into the ornament. Use the pencil (eraser side) to help unroll the paper and position the slip of paper inside the ornament.
Add the other slip of paper and repeat Step #4 until they are all in and in place.
Glue top of ornament on using hot glue or super glue. If you have sand in your ornament, you may want to glue a small, round piece of paper on the opening before you glue the top of the ornament back on. This will prevent the sand from accidentally pouring out. (Yes, I'm telling you this from personal experience.)
Tie with ribbon and hang on tree or wrap as a gift!
Recommended Products
Affiliate links are used on this site. As an Amazon Associate I earn from qualifying purchases.
Read These Children's Books with Your DIY Christmas Craft
Let us know about your favorite DIY Christmas gift ideas!
LOOKING FOR FUN COOKING PRINTABLES FOR KIDS?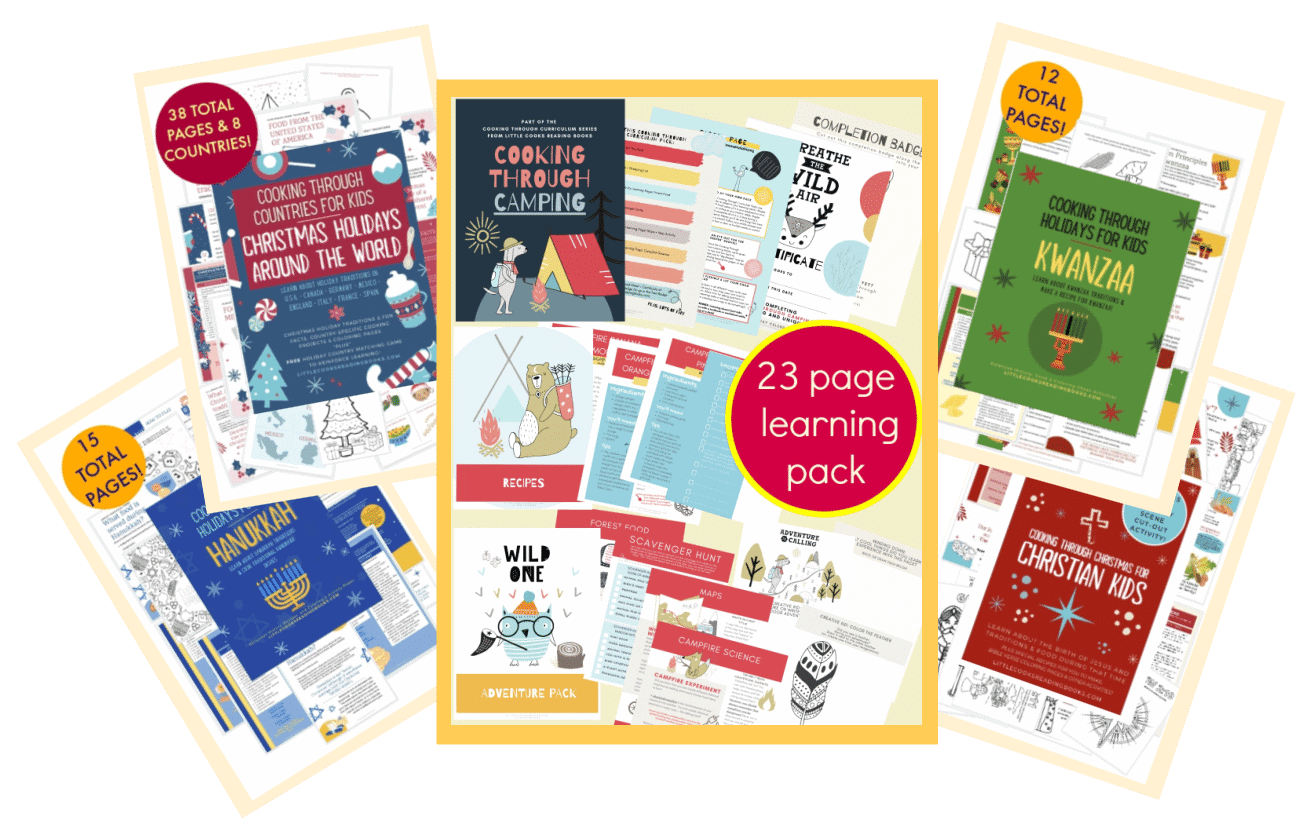 As an Amazon Associate I earn from qualifying purchases. Please refer to our
DISCLOSURE
.