Need a DIY kid ornament craft, handmade Christmas ornament, Christmas tree decorations for kids to make, Christmas tree ornament craft ideas, or cute DIY Christmas gift ideas that friends and family will actually love? This is a favorite holiday project homemade Christmas ornaments for kids to make that everyone still talks about! Great for easy classroom ornaments to make, preschool Christmas ornaments crafts, or family activities for kid-made ornaments to gift or keep for your own tree!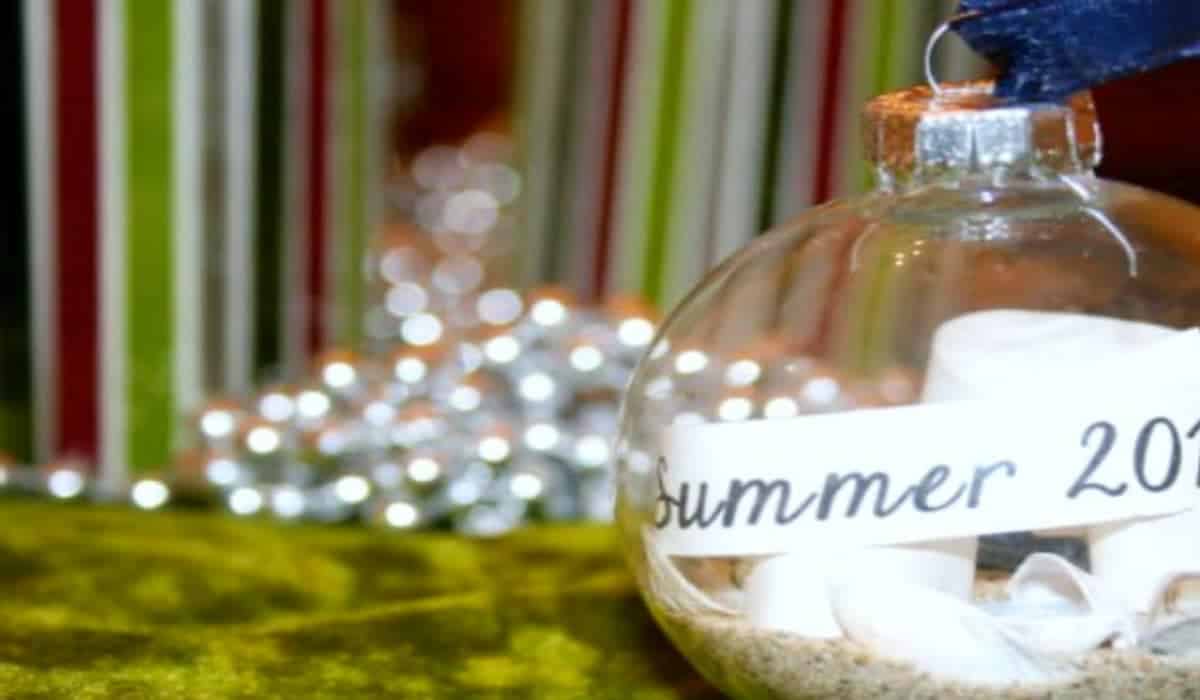 DIY kid ornament craft Project Fun Christmas Tree Decorations For Kids To Make
Need ornaments ideas Christmas projects for kids, youth group Christmas projects, or DIY ornament ideas for students, or even a 12 Days of Christmas family activity? These DIY ornament for kids are actually fun for all ages to make (and a great keepsake memory ornament for gifts or hanging on your own tree!).
How do you make Christmas tree ornaments?
For these easy Christmas tree decorations to make at home, you'll need:
Plastic ball ornaments (or glass ball ornaments) with removable tops
Paper strips printed with year or event (like Summer Beach Vacation 2023, a destination and year, a name for a collection of items, DIY ornament with picture inside, etc.)
Ribbon or twine (different colors)
Items to put inside the Christmas ball ornament (like sand and shells from vacation, etc.)
Scissors
Pencil with eraser
Glue / hot glue gun
See the full printable craft directions (full tutorial) and DIY ornament instructions tips for these DIY personalized Christmas ornaments below. KEEP SCROLLING for the kid friendly ornaments ideas and fun holiday crafts ideas!
Affiliate links are used on this site. As an Amazon Associate I earn from qualifying purchases. Read more in our DISCLOSURE.
You'll have so much fun with these homemade Christmas ornaments kids can make each Christmas season… even for busy toddlers or preschoolers (and a great way to work on fine motor skills for little kids)!
They're a great idea for older kids, too!
(This was a fabulous older children / teen Christmas fun craft with just a few simple supplies and got everyone in the holiday spirit!)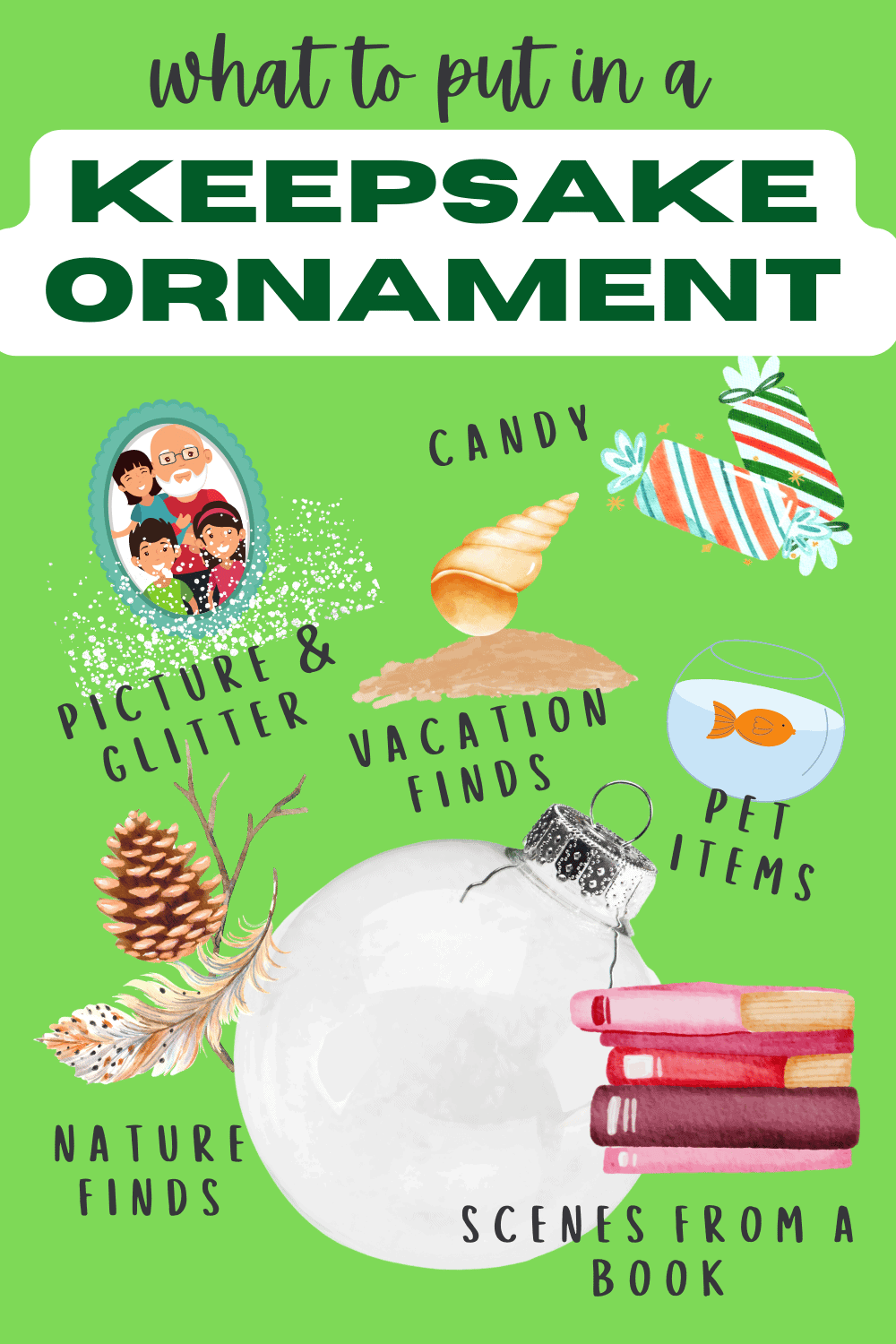 What do you fill an ornament with?
There are so many different ways to make these unique ornaments for kids of all ages! These make a fun Christmas ornament art project!
Christmas ornament kid craft ideas:
Make a DIY ornament shadow box of a kid's favorite book
Make it a DIY ornament with picture inside of a favorite place (and then add items that remind you of the place)
Add pictures and small items to make it a DIY ornament for lost loved one or pet
Make a DIY ornament with glitter and a winter scene to make an ornament snow globe (dry, no liquid)
Use nature hike finds for natural DIY ornaments or make DIY ornaments using pinecones
Make a DIY ornament for baby for their first year or a milestone (or homemade keepsake ornaments for baby's first Christmas)
Create a Christmas Gratitude Ornament and write things that you're grateful for from the year (on separate slips of paper and curl them)
Do a Share The Good News Of Jesus ornament and put different items like crosses, baby Jesus manger, star of Bethlehem, etc.
Add googly eyes and funny monster parts (teeth, horns, etc) to make funny monster face ornaments you can shake (funny kid craft ornaments for any time of year!)
Make DIY ornament favors with candy and hand them out at a Christmas party or holiday event
Seasonal Christmas theme with red and green pom poms, little fun ornaments and trinkets, mini jingle bell, pipe cleaners and more!
I love these crafts with DIY ornament as an alternative to the DIY ornament handprint craft or salt dough everyone does, as a DIY ornament ideas for teachers, for a homemade ornament exchange /DIY ornament exchange ideas, if you're hosting a DIY ornament party, or for DIY ornament for family vacation or trips to hold all those finds (like shells, sands, pebbles, sticks, etc.).
If you do an ornament drawing (where you draw names for ornaments), it's fun to create a custom DIY ornament geared toward the person by including personalized DIY ornament accessories.
If you're looking for easy DIY Christmas ornaments for kids ideas (including DIY ornament for toddlers) or even for a DIY ornament party, these are it!
They're such a simple holiday craft for kids and these kid-friendly ornaments will be treasured for years to come. (Make it a family tradition or fun Christmas crafts / ideas for simple fun for holiday time of year!)
With supervision, this can be an ornament project preschoolers and up (at home, classroom crafts, or group crafts), so definitely file it under one of the best Christmas crafts for kids to make.
Such simple Christmas ornaments for groups or a variety of ages!
It's one of those simple Christmas crafts that also makes a great gift and will become favorite things for those who receive the gift!
Tips for homemade Christmas ornaments for preschoolers and up:
Need ideas for old Christmas ornaments or wondering what to do with ornaments that are broken? Repurpose old Christmas ornaments that are falling apart into these homemade keepsake Christmas ornaments!
What are the best homemade gifts?
The best do it yourself Christmas gift ideas are those that mean something to the person receiving it! This DIY Christmas gift ornament is one of the most thoughtful and creative DIY Christmas gifts I've ever made. It's a simple homemade gifts craft that you can tailor to each person receiving it!
Definitely add homemade ornaments to your homemade gifts to make for others.
It's one of the best ideas we've had for keeping things throughout the year and made such beautiful ornaments!
(And, the best part? You get to put them away for most of the year, so it doesn't add clutter!)
YOU WILL ALSO ENJOY THESE CHRISTMAS KIDS ACTIVITIES AFTER YOUR ORNAMENT MADE BY KIDS
How To Dry Oranges Slices For DIY Christmas Decorations Ideas and Dried Orange Slices Garland
Paper Star Christmas Ornaments To Make With Kids
These are all great crafts to pair with your easy DIY Christmas ornament to make a fun Christmas craft night (or even a DIY children's ornaments party)!
The great thing about this craft is that it's a custom ornament gift that will give back every year when they put it on the Christmas tree or set it out at the holidays!
You can even make your own keepsake ornament club by giving a new one each year or even making it a family Christmas ornament Christmas DIY ornament project each year for a new family Christmas tradition. Then, you have a collection of DIY Christmas ornaments after a few years!
There's so much you can do with these DIY ornament craft ideas!
You can do new ornament keepsake crafts with a different theme each year and it would never get old! So definitely put this on your list of easy kids Christmas ornaments to make at home!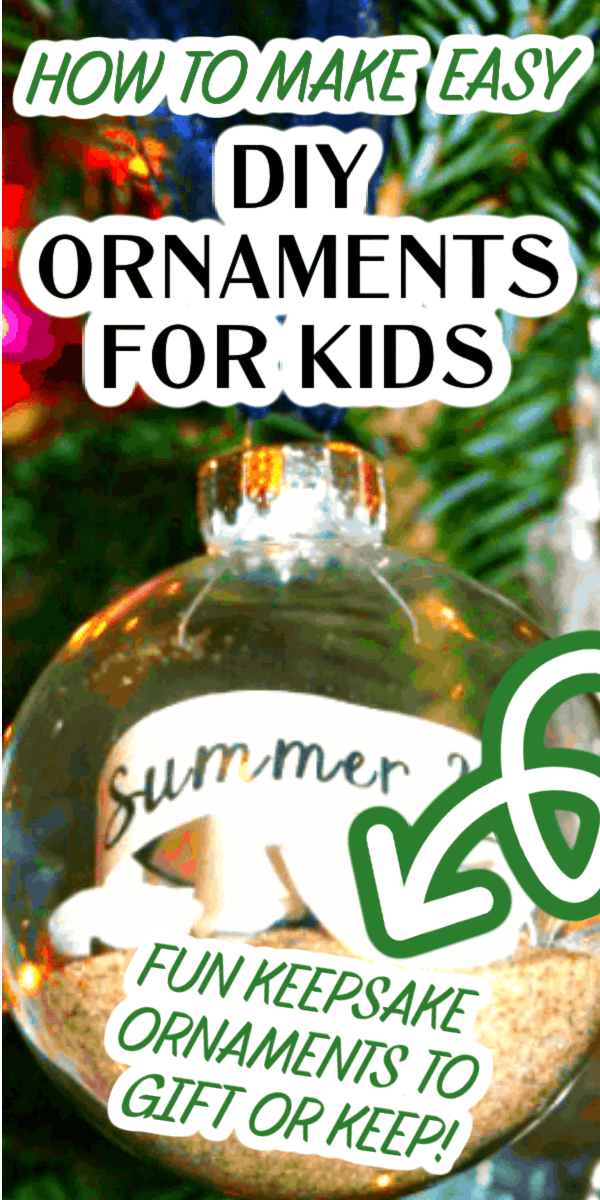 Homemade Christmas Ornaments: DIY Ornament Balls
Here's how our DIY Christmas gift ideas started…
Wherever we go — vacations, nature walks, shopping, breakfast, the bathroom (OK, maybe not the bathroom. Whatever.) — my daughter has to gather some mementos from the trip.
She calls them her "collections."
And, her collections quickly start to take over… everywhere.
So, when she gathered collections during our summer beach vacation one year, I decided I was finally going to do something with them.
(We bring back sand, shells, driftwood and more every year!)
So, I bought some clear glass ornaments and made homemade keepsake ornaments with the sand, shells, pebbles and driftwood (all things we found on our vacation) — and they turned out really cool!
They were so amazing that we even made some as gifts for our friends who were on the trip with us.
The great thing about this craft is that you don't have to do it just at the holidays.
Buy the clear glass ornaments when you see them clearanced after the holidays and make them throughout the year from different collections from your vacations, travel, and even your nature hikes.
Then, when you're ready to decorate your tree, you have a whole new set of ornaments (or DIY Christmas gift) that really mean something to the family and you will have fun reminiscing.
These homemade ornament balls bring me joy each holiday season when I put them on the tree! They will quickly become your favorite DIY Christmas ornaments, too!
Want more DIY with decorations and DIY kid ornaments?
Learn How To Make Homemade Popcorn Tree Garland
(Another for super fun DIY kid Christmas ornaments projects!)
Don't Do a Christmas Tree? Do a DIY Ornament Display
Try a fun ornament tree display stand that you can use to display all your keepsake ornaments (even year-round!) or special DIY ornament centerpieces for holiday parties to display your handmade ornaments.
OK!
Let's get to our easy Christmas ornaments kids can make craft!
I love this idea because it's such a unique Christmas tree ornament DIY project.
Here's how to make ornament keepsake for holiday kids activities…
DIY Christmas Gift Ideas and Christmas Tree Decorations For Kids To Make
How to Make Christmas Ornaments From Vacation and Travel Keepsakes
If you're wondering "What can you make for Christmas gifts?" or "What are good gift ideas for Christmas?" or need DIY ornament ideas with clear balls then this holiday craft is definitely something you should put on your list!
They're the perfect DIY Christmas gifts for mom, dad, co-workers, grandparents, friends, teachers and more and simple Christmas crafts to make to celebrate the holiday season.
If you're making this an ornament project for preschoolers or kindergarten, I would have them fill the ornament and then you / adults do the glue part.
These are super easy ornaments. The hardest part is if you're using a round glass ornament with the hole in the top (instead of one of the plastic ornaments that open up completely). But, I tell you how to use a pencil to move the ornament items around in the printable make your own DIY Christmas ornaments below.
IMPORTANT: If you're doing this easy DIY ornament craft with toddlers or preschoolers, you will want to get the ornaments that open like this so that it's easier for kids to fill the ornament and makes the DIY ornament kid friendly for younger kids. It's a fun Christmas activity for adults, too!
If you have a group (like you're having an ornament decorating party or you're doing this with as DIY ornament for students in a class or a youth group craft), I recommend making Christmas tree decoration making kit and adding all the items and craft supplies needed to a baggie.
(That will make it a much more easy homemade Christmas ornaments project for groups!)
That way you can just hand out the bag to each crafter and make it easier on yourself.
You could also easily make this a Christmas tree decorations school project or homeschool co-op by having them add things from the school year to the ornament and then putting them on a classroom tree!
These are also perfect Christmas decorations easy to make at home with the whole family (and have each person add their favorite finds from vacation or nature walk, etc.).
These make some of the cutest Christmas ornaments for kids to make because they get to create what they want inside!
Here's how to make DIY ornament step by step…
Yield: 1
DIY Kid Ornament Craft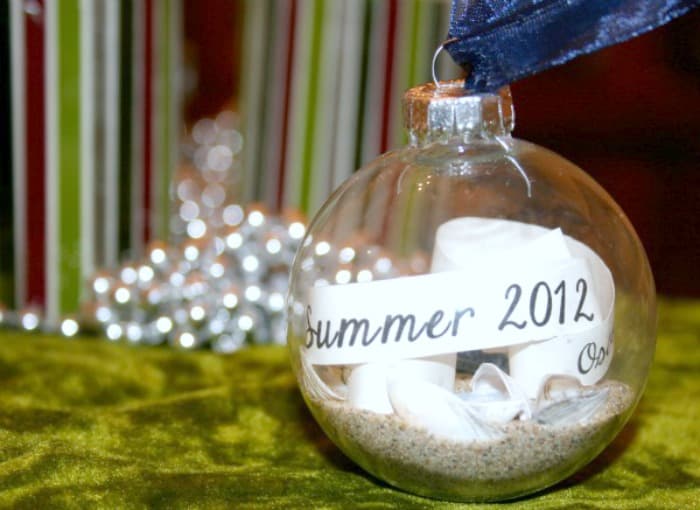 These Homemade Keepsake Ornaments for kids to make (DIY Christmas Gift Ornament) are perfect for holding travel souvenirs and vacation keepsakes and kids collections. It's one of my favorite DIY Christmas Gift Ideas ever and make perfect homemade holiday gifts for kids to make for grandparents, parents, teachers, friends, and more!
Materials
Clear Ornaments with Removable Tops
Paper (Color of Choice)–cut into 1/2-inch wide slips (if using your computer and printer, cut them into 1/2-inch slips after printing)
Ribbon (assorted colors of choice)
Souvenir items to put in ornaments
Tools
Pencil with Eraser
Scissors
Hot Glue or Super Glue
Instructions
Print (from your computer printer) or write the name of the event and year on a slip of paper. On a separate slip, write the location or any other information you want to include. For example, we printed SUMMER [year] on one slip of paper and the location (city and state) on the other.
Curl only the ends of the paper, curling away from the wording. (I used the scissor edge to gently curl it the same way that you curl ribbon.)
Gently remove the top of the ornament. Place (or pour) sand, crushed leaves, pieces of wood, rocks or whatever you want into the ornament.
Loosely roll the slips of paper and then place them, one at a time, into the ornament. Use the pencil (eraser side) to help unroll the paper and position the slip of paper inside the ornament.
Add the other slip of paper and repeat Step #4 until they are all in and in place.
Glue top of ornament on using hot glue or super glue. If you have sand in your ornament, you may want to glue a small, round piece of paper on the opening before you glue the top of the ornament back on. This will prevent the sand from accidentally pouring out. (Yes, I'm telling you this from personal experience.)
Tie with ribbon and hang on tree or wrap as a gift!
Notes
What do you put in the ornaments? You can put anything you want in the Christmas ornaments: items from vacation, sand, nature finds, shells, small trinkets, or anything that reminds you of the person you are gifting the holiday tree ornament! It's fun to get creative with them!
FILE UNDER: Best Homemade Christmas Ornaments
Let us know what you end up putting in your Christmas ornament crafts for kids and how your DIY Christmas ornament crafts turn out!
Don't forget about Christmas book reading to go with your adorable Christmas ornaments! It's a fun way to create an entire evening of theme Christmas projects!
Children's Holiday Books To Go With Christmas Crafts For Kids
Read These Holiday Children's Books with Your Christmas Tree Decorations for Kids to Make
These books are great holiday pairings with our DIY decoration ideas and DIY ornament for kid project…

The Broken Ornament
Pick A Pine Tree
Let us know how your DIY ornament ball Christmas tree craft goes!
Have fun with these DIY kid ornament craft and Christmas decorations for kids to make!
LOOKING FOR FUN COOKING PRINTABLES FOR KIDS?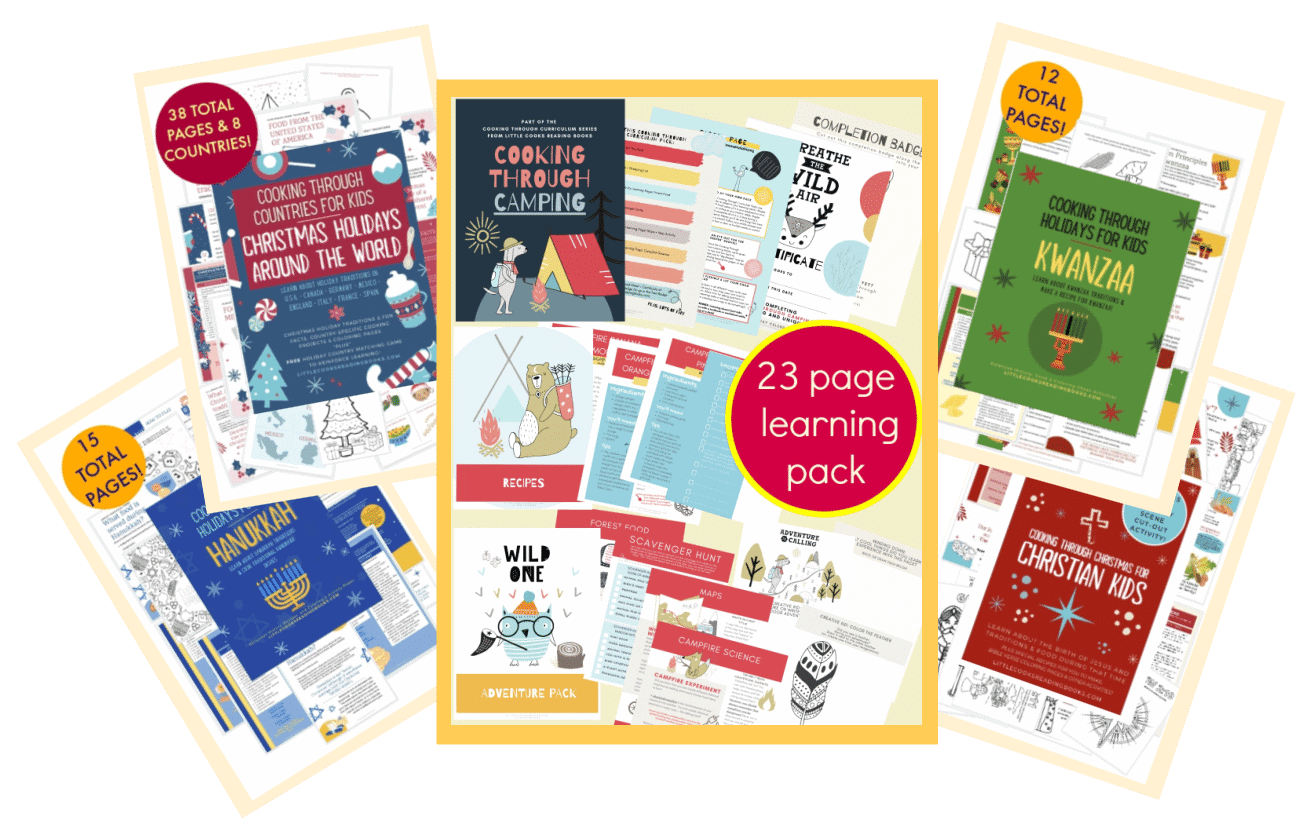 As an Amazon Associate I earn from qualifying purchases. Please refer to our
DISCLOSURE
.