The Christmas bow game with spatula, or the Christmas ribbon game, is a fun group holiday game with cheap present bows. This is a great Christmas activity for all ages! Fun party games for the holiday season!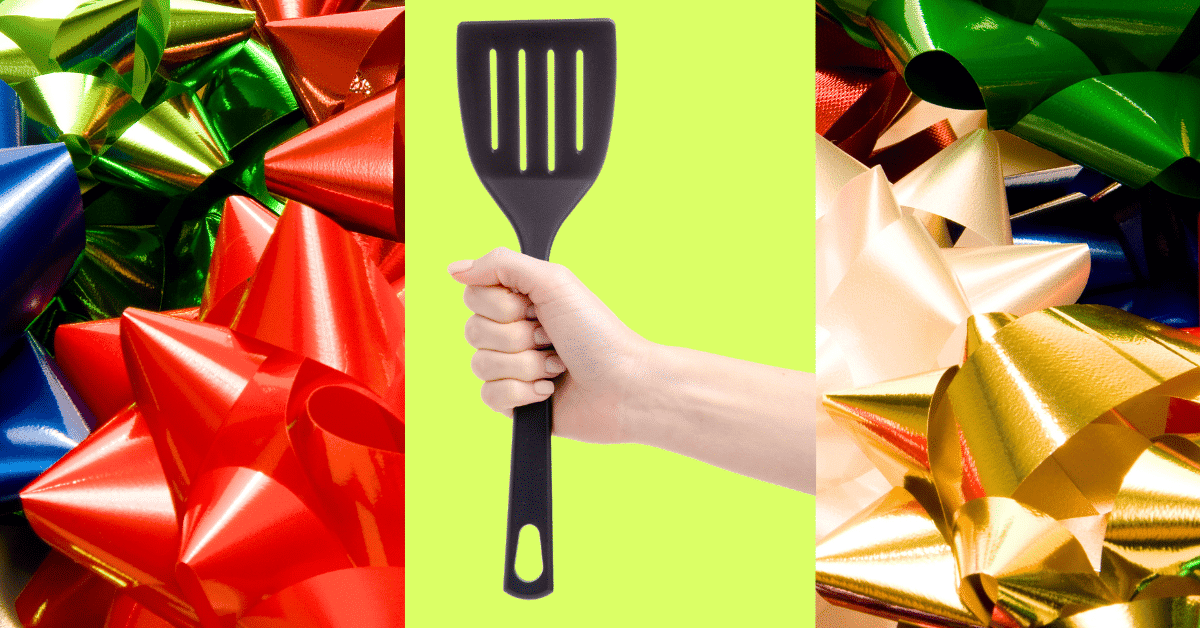 How To Play The Christmas Bow Game With Spatula
The hilarious holiday bow game is a holiday party activity where game players use a kitchen spatula (or a large kitchen spoon) to transfer Christmas bows (like ones you stick on presents) from one location to another. It's challenging because you can't use your hands to touch the bow at any time (and the bows are light, so it's hard to keep them on the spatular or spoon).
Christmas Bow Party Game Rules and Game Play
Objective Of The Bow Game: The main objective of the Christmas Bow Game is to transfer Christmas bows (like the ones you get in a bag from the dollar store) from a starting point to a designated endpoint, using only a spatula, without dropping or touching the bows with your hands. Once the bow is on the spatula, players can't touch it with their hands! If you've ever played the cotton ball game, this is like that.
GAME TIP: Hit up dollar stores during Christmas time to get bags of cheap bows for Christmas games with gift bows.
Affiliate links are used on this site. As an Amazon Associate I earn from qualifying purchases. Read more in our DISCLOSURE.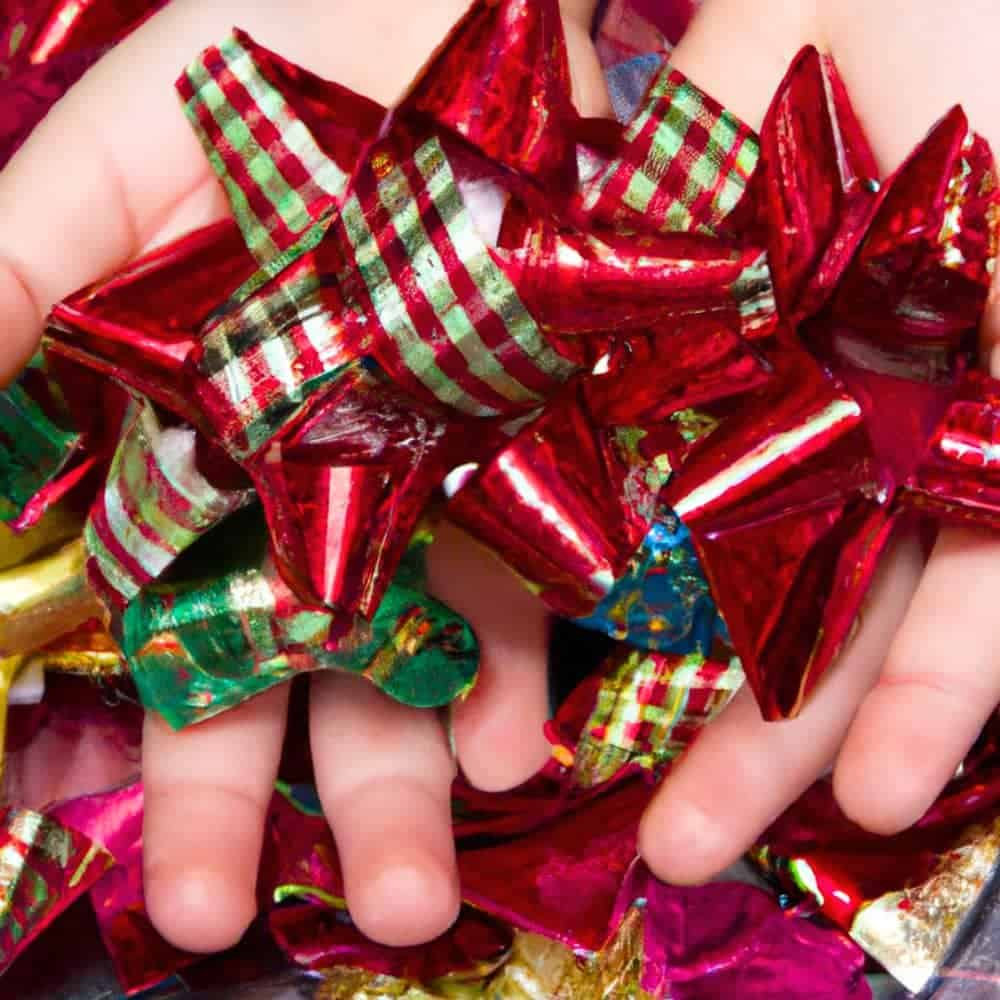 Christmas Party Game Materials Needed:
Christmas bows or bows of various sizes and colors.
A griddle spatula or large kitchen spoon (like big wooden spoons). (You'll need spatulas or spoons for each team.)
A timer or stopwatch (optional, if running it as a Christmas relay race).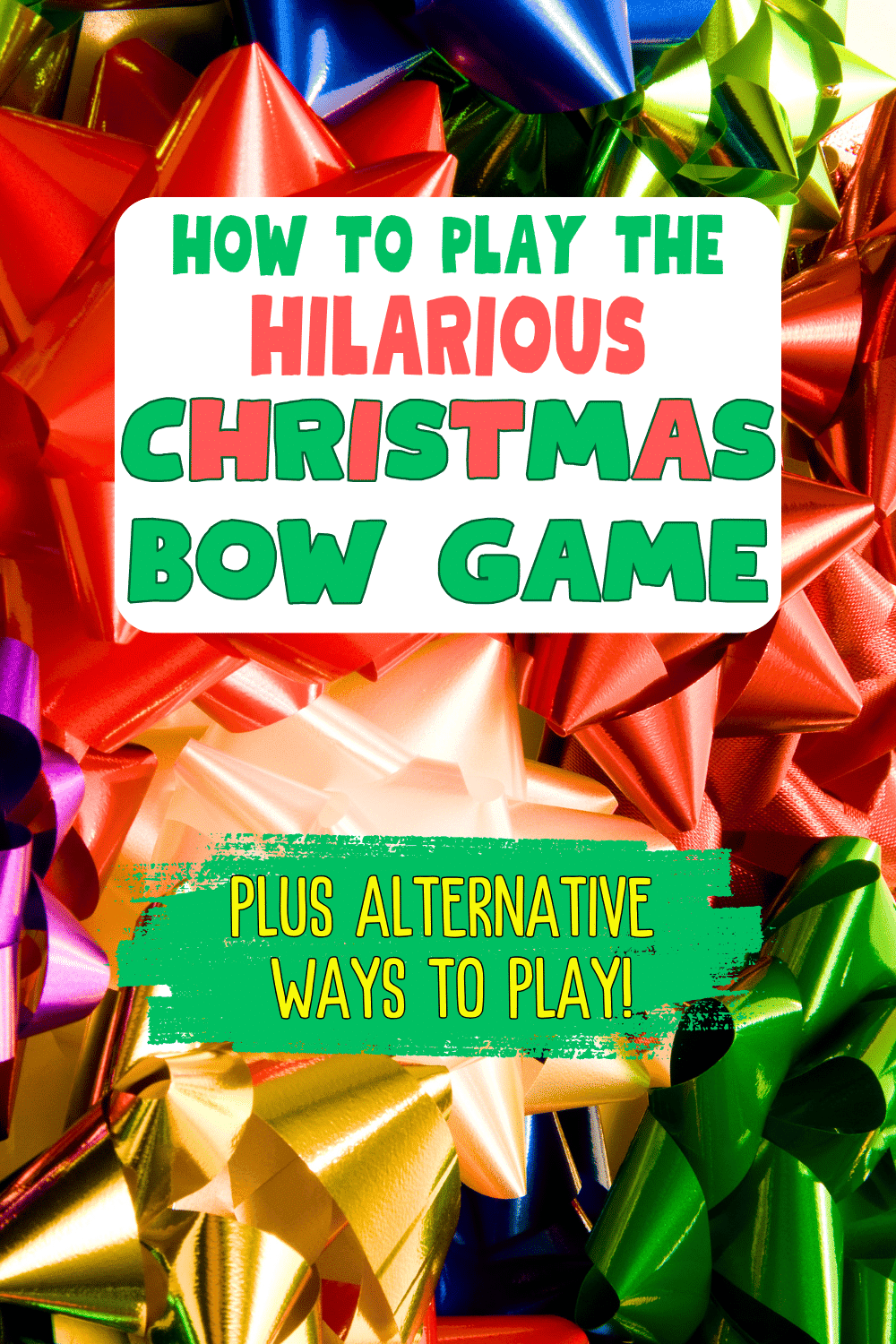 How do you play the Christmas bow game? (Game Instructions and Game Play)
Here's how to play the game with Christmas bows:
Set up the Game Area: Choose a designated area for the game, such as a table or a flat surface. Place the Christmas bows on one end of the table. The number of bows you use can vary depending on the number of players and the level of difficulty you want.
Position the Spatula: Each player takes a turn using the spatula to pick up a Christmas bow. The spatula handle is used to grip the bow, while the flat part is used to lift and transfer it.
Transfer the Bows: The objective is to transfer the bows from one end of the table to the other using only the spatula. The player must carry the bow without dropping it or using their hands to touch the bow.
Rules and Scoring: You can make the game more competitive by setting rules and scoring. For example, you can time each player's turn, and the player who transfers the most bows in the shortest amount of time wins. Alternatively, you can award points for successfully transferring bows, with different point values for different sizes or colors of bows. If at any time a player drops the bow, they have to pick up the bow and start over.
Pass the Spatula: If you're playing as a group relay game: After each player takes a turn, they pass the spatula to the next player. The game continues until everyone has had a chance to play, or you can set a specific number of rounds or a time limit.
Prizes and Awards: Give holiday prizes to the group or person who finishes first or transfers the most bows. (You can make your own game rules!)
I love this game because it's fun for a Christmas party group game for all ages — from younger kids to hilarious teen Christmas games and fun games families can play together on Christmas Eve!
Also, it's a cheap and easy holiday game to add to your festivities for a last minute game idea.
This is one of those hilarious Christmas games to play with your family this year — fun Christmas games for kids and adults (family members of all ages)!
Let us know if you play the Christmas bows game or if you have other games with bows you love and we'll add it to our holiday game list to play on Christmas.
ALSO PLAY THE CHRISTMAS GIFT GAME (GIFT EXCHANGE)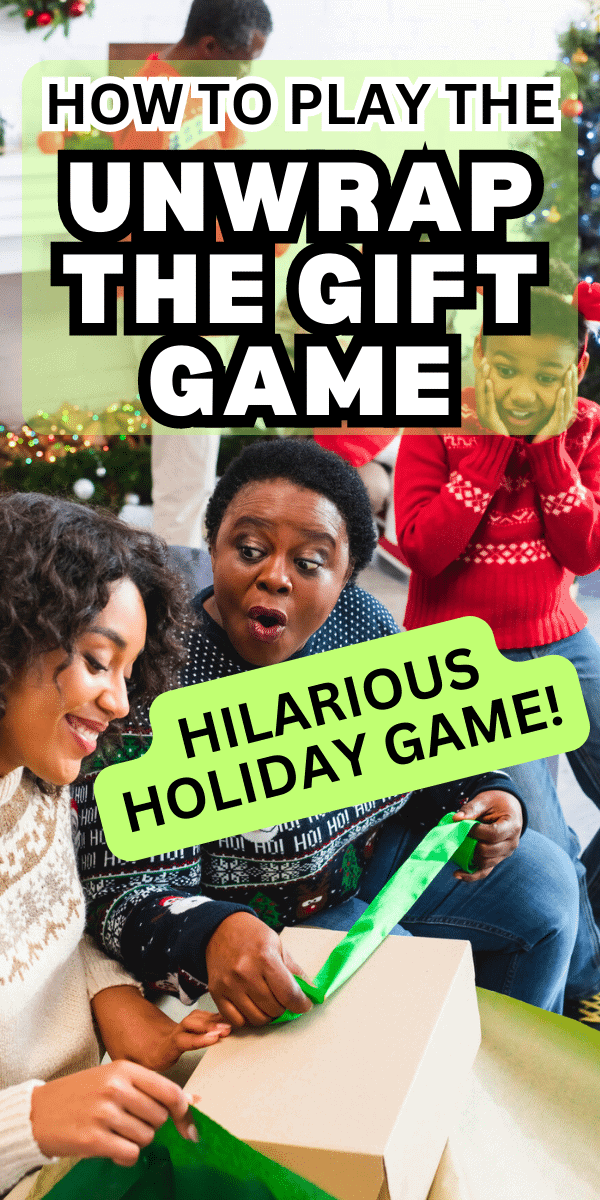 DIY Christmas Ribbon Game Variations (Christmas Bows Ideas)
There are so many variations on the game of bows (and you can even make up your own game!).
Different Ways How To Play A Game With Christmas Bows
Here are more ways to play the holiday bow game to make the game more challenging:
Play it as the Christmas bow game with money spatula TikTok trend (aka: scoop the money challenge). Place bows on a table along with money. Players are blindfolded and then try to pick up bows and money with a spatula and put it into a bowl in 30 seconds or 60 seconds. The money that ends up in the bowl they get to keep! (This is fun to play as a Minute To Win It Christmas game!)
You can make the game more challenging by using requiring players to transport the bows over obstacles or through a festive obstacle course (like walk through the Santa hats, etc.).
Instead of moving the bows from one end of the room to another, make it a blindfold Christmas bow game where blindfolded players have to get the bows in the buckets or gift bags in front of them.
Transfer specific colors into the same bucket color on the other end of the room.
Make it a "Pin On Christmas Game" where you have to stick the bows on a specific place (like pin the bow on the Christmas package or Christmas tree).
Add in Christmas music and players can go when the Christmas music plays, but they have to stop when the music stops. (It's like musical bows instead of musical chairs!)
Bow Toss – Use double sided tape on foam boards (or poster boards) and throw the bows at the tape. If you toss the bows onto the tape and they stick, you score a point! (No points if they fall or drop.)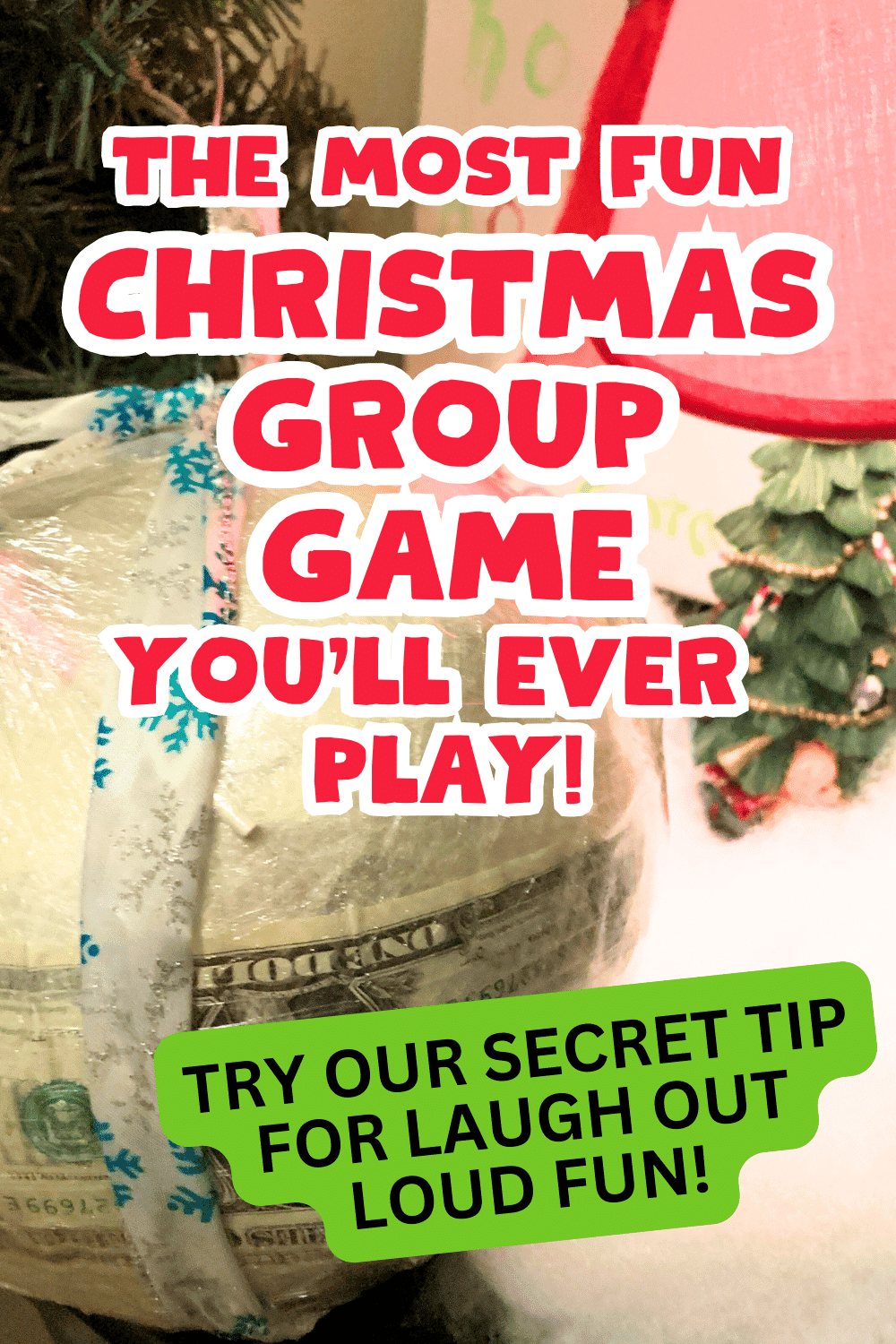 More Holiday Games For Kids and Adults To Play Together
Great Kids Activities For Christmas:
Definitely add this as one of your fun games for Christmas parties this year!
Merry Christmas and Happy Holidays!
Have fun with the Christmas bow game with spatula!
LOOKING FOR FUN COOKING PRINTABLES FOR KIDS?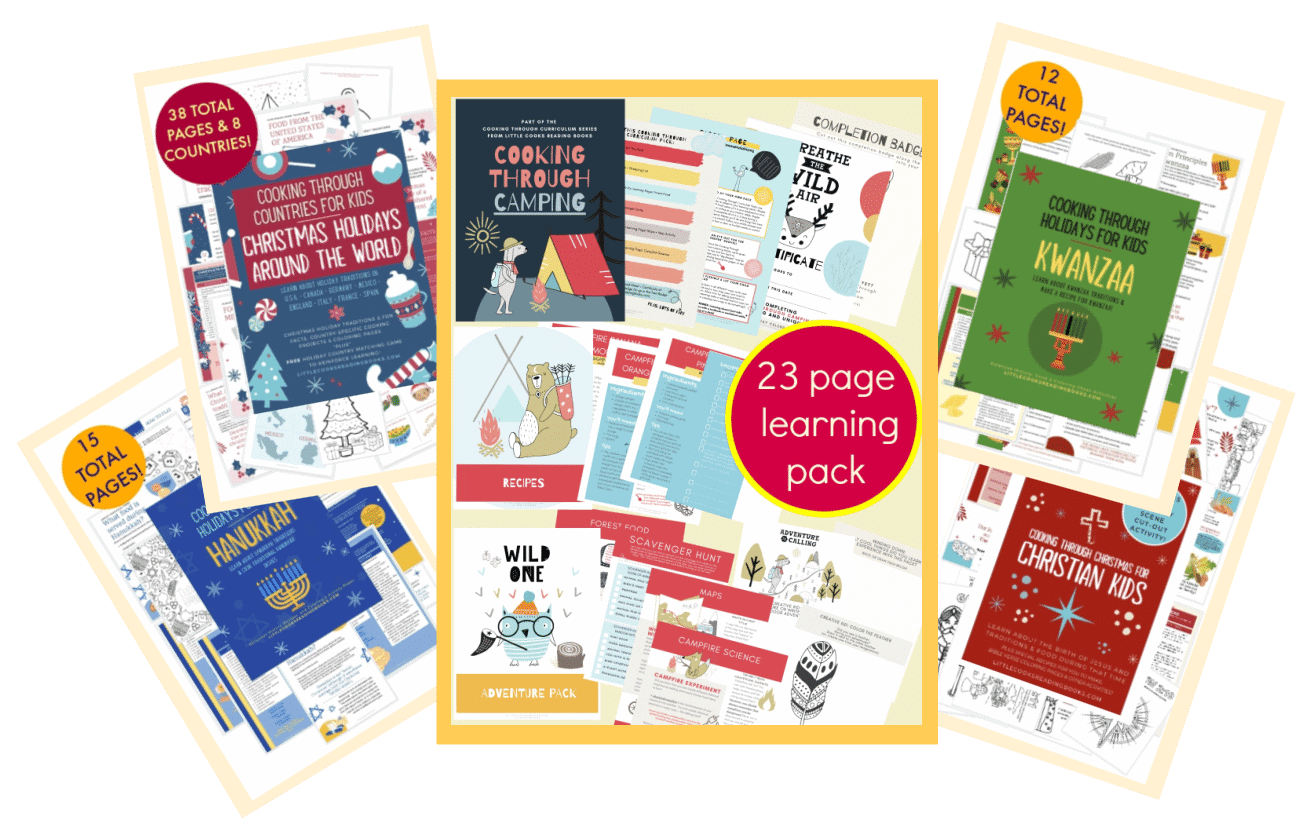 As an Amazon Associate I earn from qualifying purchases. Please refer to our
DISCLOSURE
.