This Christmas Unwrap the Gift Game, or holiday hot potato Christmas game / Christmas mystery box game, is a fun alternative to the White Elephant game, Bad Santa, or if you need group games for holiday parties! This is a hilarious holiday activity for all ages and even fun for a family Christmas Eve idea for a new tradition.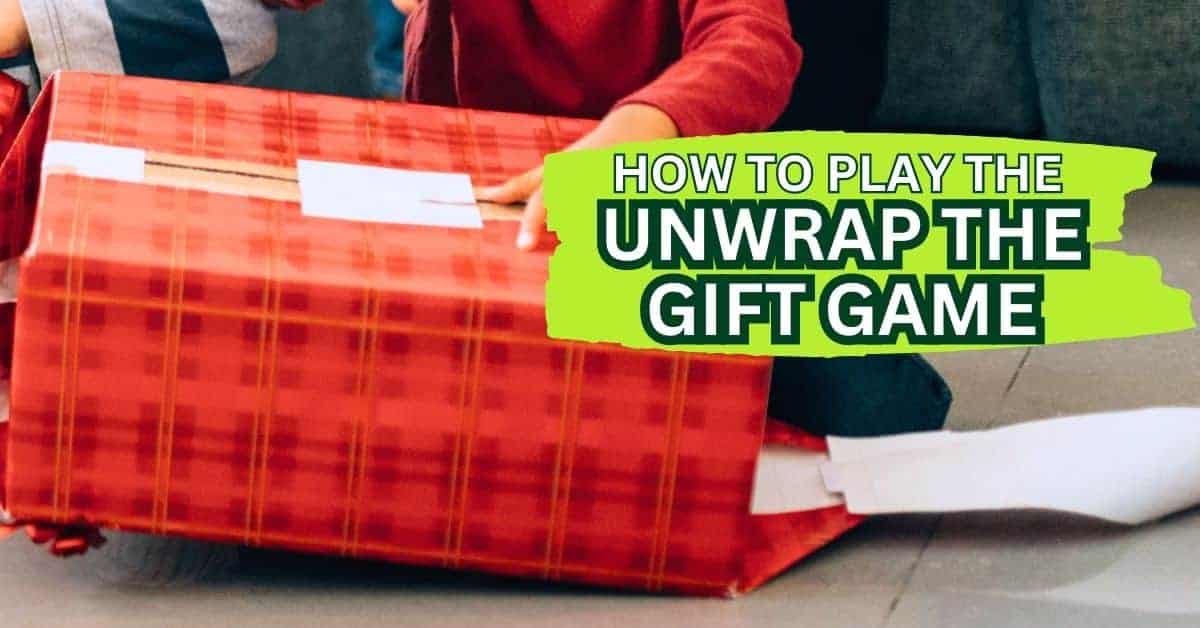 Playing The Christmas Unwrap the Gift Game (Holiday Wrapping Paper Games)
If you are looking for a Christmas wrapping game that is layers of fun, try the Christmas Unwrap Present Wrapping War Game (aka: Pass the Parcel)! This pass the present game is also a more ecofriendly alternative to plastic wrap ball game (aka: Christmas unwrap ball game)!
What is the Christmas game with wrapping paper?
To play the Christmas Wrapped Gift Game, you'll need:
Boxes of varying sizes, large to small (they should fit inside each other to make on big box for the unwrapping Christmas game)
Different Christmas wrapping paper (plain wrapping paper that you can recycle)
Christmas ribbons
Tape
Various Christmas candy and candy canes
Gifts to go in the boxes
Dice (and something to roll the dice in, like a paper plate or pie pan)
Notes (optional) *see alternate game play rules
KEEP SCROLLING for the Christmas unwrap game rules, and pass the gift game Christmas game play tips, and also a fun list of prizes for the gift wrapping game!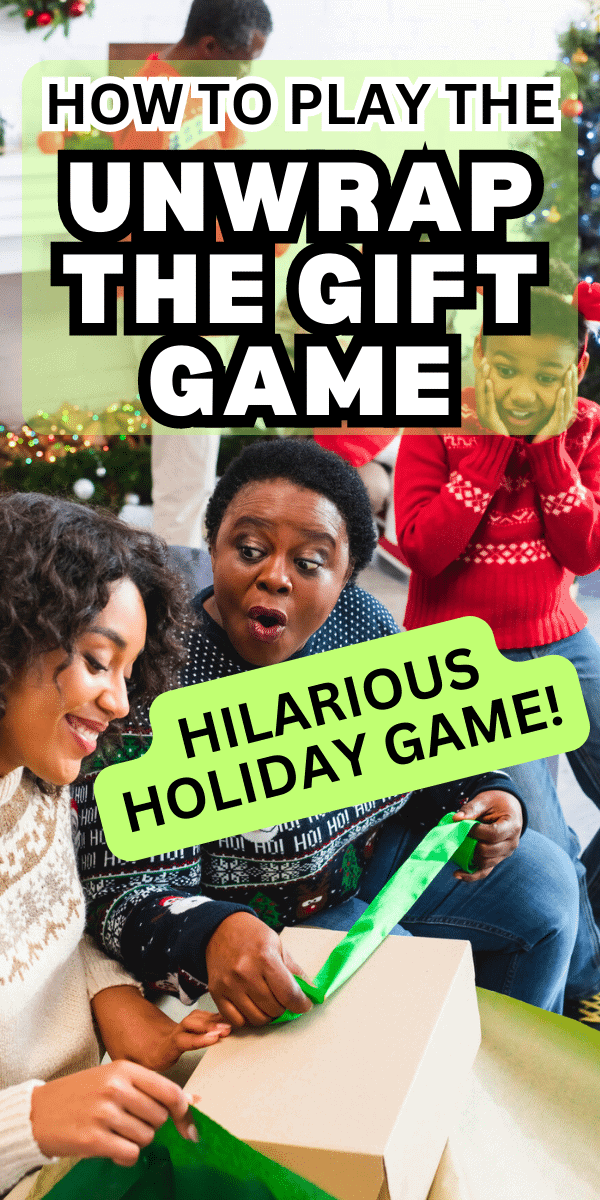 We know many people are looking for Christmas unwrapping games where you can recycle the paper or make it a more eco-friendly Christmas wrap game, so we thought we'd cover that here before we get to the unwrapped Christmas presents game rules.
Is Christmas gift wrap recyclable?
Whether Christmas gift wrap is recyclable or not depends on the specific type of gift wrap material. While some types of gift wrap can be recycled, others cannot. Take that into consideration when making your unwrap gift game, especially if you're looking for eco-friendly holiday games.
Recyclable Gift Wrap:
Plain Paper Gift Wrap: Plain paper gift wrap, such as brown kraft paper or newspaper, is usually recyclable. Remove any tape, ribbons, or bows before recycling.
Wrapping Paper without Metallic or Plastic Coating: If the wrapping paper does not have any metallic or plastic coating, it is often recyclable. However, some glossy or laminated papers may not be accepted by recycling facilities.
Tissue Paper: Clean, unsoiled tissue paper is generally recyclable.
Non-Recyclable Gift Wrap:
Foil Wrapping Paper: Metallic or foil gift wrap is typically not recyclable due to the non-paper materials used in its production.
Plastic-Coated Wrapping Paper: Wrapping paper with a plastic coating, glossy finish, or laminated surface is usually not recyclable.
Glittery or Embellished Wrapping Paper: Gift wrap with glitter, sequins, or other decorative elements is not recyclable because it is difficult to separate these components from the paper during the recycling process.
Ribbons, Bows, and Tape: These items are not recyclable and should be removed from gift wrap before recycling.
YOU MAY WANT TO STICK TO KRAFT WRAPPING PAPER PACKS LIKE THIS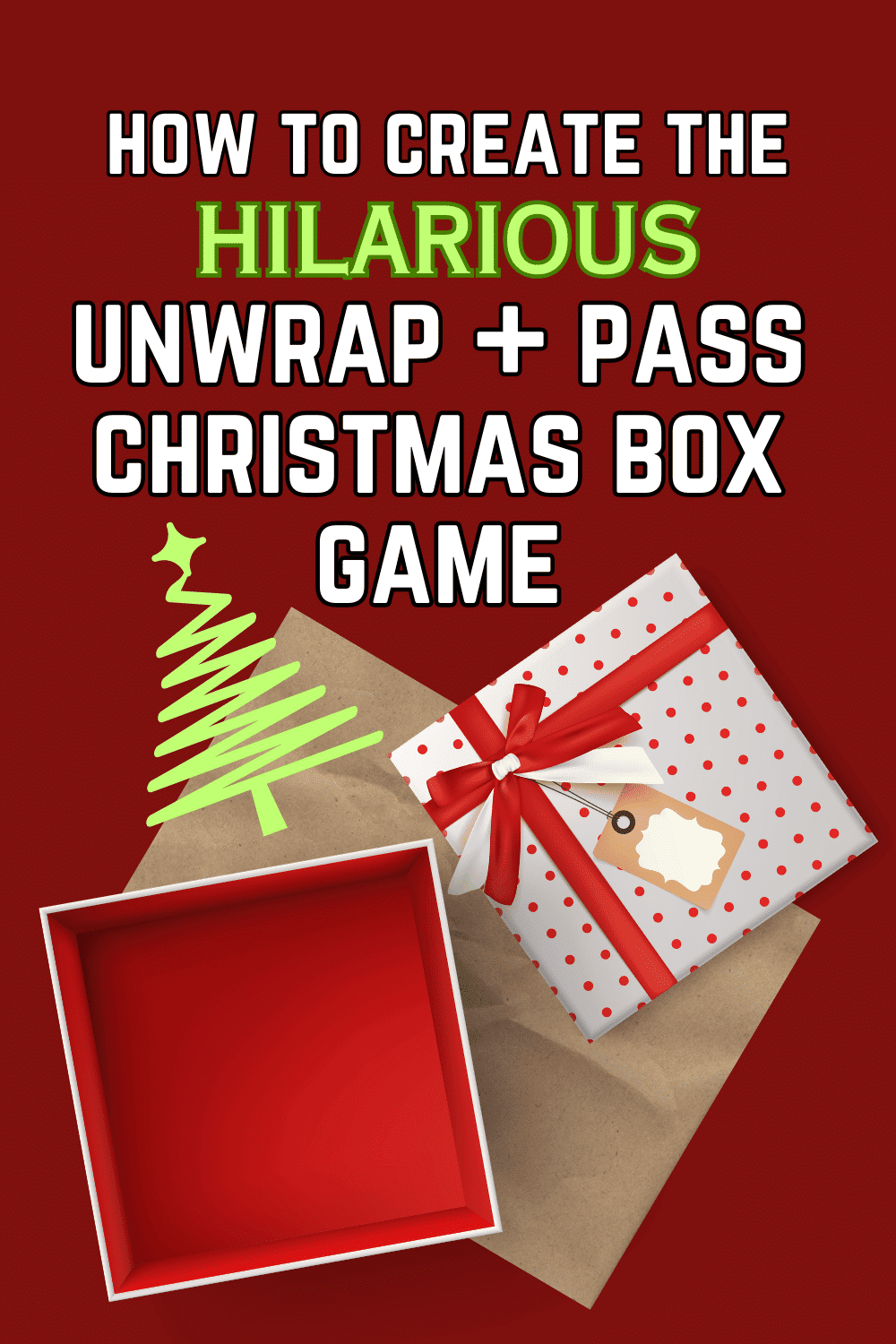 Creating The Unwrap Present Game Boxes (Pass The Present Game Christmas Box)
How To Make The Unwrapping Present Game
Putting together the unwrapping gift game is simple and involves placing gifts in boxes, wrapping them, and then placing the wrapped gift in a bigger box (with some loose trinket prizes). The boxes should fit inside of each other. IMPORTANT: Test that your boxes fit inside each other before you start wrapping game gifts.
1. Plan your prizes and boxes.
The smallest box will hold the best prize. (Think: money, gift card, tickets to an event, etc.) Match your prizes with boxes and then test that the boxes all fit inside each other. The last box you wrap will be the biggest box (and will actually be the first box party players unwrap).
2. Start with the smallest box. (BOX 1)
We always use a box the size of a gift card. This is the last box to be opened and will be the best prizes. We usually do a gift card and cash and/or lottery ticket. (That seems to get everyone excited.)
Place the best gifts in this small box and wrap it. Remember, you want to make it challenging to open the gift (or hard to unwrap), so be sure to use lots of tape and a good quality (thicker) recyclable gift paper. MAKE ALL OF YOUR WRAPPED BOXES HARD TO UNWRAP BUT NOT IMPOSSIBLE (or people will just get frustrated and lose interest in the game).
3. Then, wrap the second to the smallest box. (BOX 2)
Place the wrapped smallest box (the best prize) into this box (BOX 2). You can also place some other loose items (unwrapped prizes) in BOX 2. I like to throw random Christmas candy, coins, or even dollar bills randomly into boxes as I'm wrapping.
That way, if someone doesn't get the gift opened, they can still keep the trinket prizes. You can also put another prize in here or just leave it empty with the smaller box in it.
Remember, though, you want people to get excited and keep them motivated to keep going, so more prizes are good!
4. Next, wrap the third smallest box. (BOX 3, the boxes are getting bigger) Place the wrapped BOX 2 along with an unwrapped gift (like Christmas socks or a fidget toy, etc.) into BOX 3. Then, wrap BOX 3. When you place BOX 3 into BOX 4, also throw some trinket prizes in there or another unwrapped gift. You will continue this process for all the boxes in the Christmas gift passing game.
So, it looks like this: BOX 1 > WRAPPED BOX 1 INTO BOX 2 WITH TRINKET PRIZES > WRAPPED BOX 2 INTO BOX 3 WITH AN UNWRAPPED GIFT OR TRINKET PRIZES > WRAPPED BOX 3 INTO BOX 4 WITH SOME TRINKET PRIZES TOO (continued – what you're doing is putting a box inside another box inside another box, etc.)
YOU CAN GET A SET OF TIERED CHRISTMAS BOXES LIKE THIS
Repeat this process until the last box is the biggest box. This will be the first layer opened, so make sure that it's difficult to unwrap by using lots of tape and thick wrapping paper and ribbons tied tight. You can use as many boxes and prize gifts as you want!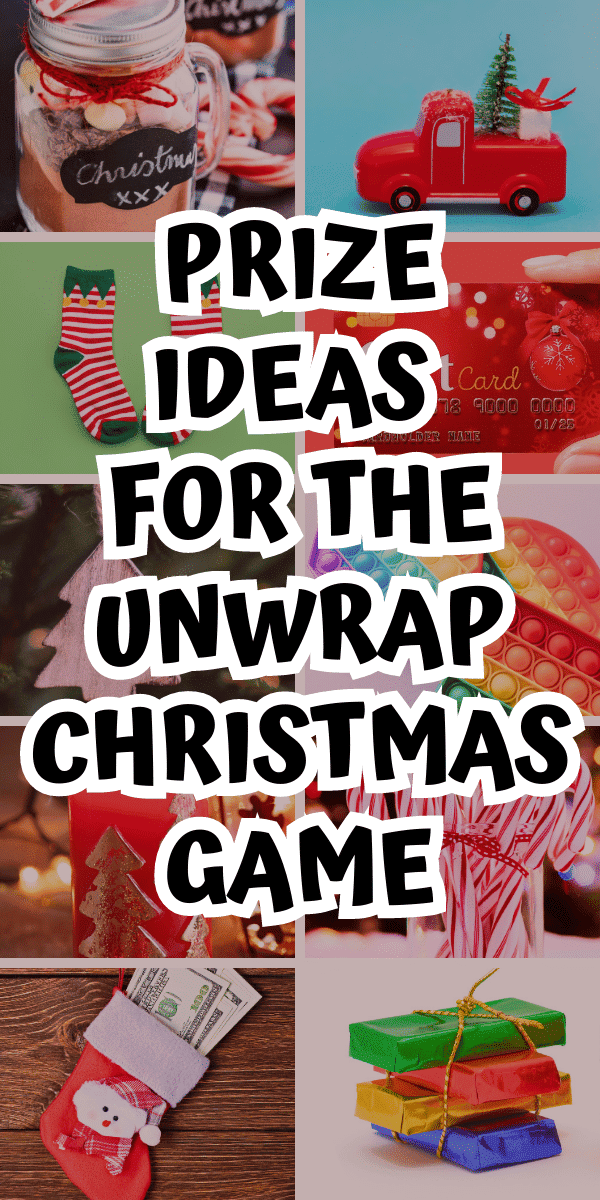 30 Prizes For The Christmas Unwrapping Game
Unwrap The Gift Game Ideas:
Small Gift Cards (e.g., coffee shop, bookstore, online retailer)
Cash
Lottery Tickets / Scratch-Off Lottery Ticket
Chocolates
Assorted Christmas Candy
Candy Canes
Miniature Toys or Figurines
Festive Socks or Slippers
Bath and Body Products (e.g., bath bombs, shower gels)
Cozy Blanket or Throw
Personalized Keychains or Accessories
Miniature Board Games or Card Games
Specialty Teas or Coffees
Decorative Christmas Ornaments
Puzzle Books or Brain Teasers
Movie Night Essentials (e.g., popcorn, snacks, movie gift card)
Desk Accessories (e.g., cute stationery, desk organizer)
Inspirational Books or Journals
Miniature Succulent or Plant
Puzzle Cubes or Fidget Toys
Cooking Utensils or Kitchen Gadgets
Pocket-Sized Travel Games or Activities
Art Supplies (e.g., colored pencils, sketchbooks)
Smartphone Accessories (e.g., phone stand, charging cables)
DIY Craft Kits (e.g., knitting, embroidery, painting)
Handmade Soaps
Candles
Sports or Fitness Accessories (e.g., mini basketball hoop, resistance bands)
Funny or Whimsical Mugs Filled with Christmas Candy
Gift Certificates for Local Experiences (e.g., spa treatments, cooking classes)
If you have fun prizes you've used for gift wrapping games or other pass the parcel ideas, let me know so I can add them to the gift list!
GET MORE FUN CHRISTMAS ACTIVITY IDEAS AND ALSO CHRISTMAS FROM AROUND THE WORLD LESSON PLANS
Christmas Gift Wrap Game Rules and Game Play Ideas
If you're looking for Christmas games unwrapping presents, definitely add this hysterical group party game to your list!
There are many ways to play this Christmas gift exchange game, but we play it as an unwrap gift exchange dice game.
Also, this is an ecofriendly wrap game because you can recycle the boxes and holiday wrapping paper, so don't throw it away after the game! You may or may not be able to recycle ribbons and bows based on the kind you use when making your Christmas gift unwrapping game.
Goal Of The Gift Game
The goal of the unwrap Christmas present game is to unwrap as many gifts as you can (while following the rules!) before the person next to you rolls doubles on the dice. Everything you unwrap (or gifts that fall out) during that time, the unwrapper gets to keep!
Rules Of the Unwrap The Present Game
Before you start the game, make sure that everyone understands the rules!
No excessive ripping or tearing. While there will be some rips and tears in the gift wrap, people cannot go crazy just ripping apart packages. The goal of the game is to UNWRAP the package to get to the next layer.
Keeping gifts: Players get to keep any gifts, candy, money, etc. that fall out or that they unwrap during the time the other player is trying to roll doubles. If you almost open the next gift layer but doubles are called, you must pass the gift game to the next player.
Gifts must stay on/near the table. All gifts that you get must stay on the table or not be consumed until the end of the game, especially if you're using extra game rules like Grinch Grabber Cards (see below).
If you follow these rules, this really is one of the best Christmas party games!
How Do You Play The Gift Wrap Game?
Again, there are different ways to play the Christmas unwrap present game, but this is how we've had the most fun with Christmas wrapping games!
How to play unwrap the gift games:
For the wrapping paper game, have everyone sit around a table. (It's way easier to play the game this way!)
Start the unwrap a gift game by giving one person the wrapped gift and the person to their left dice and a paper plate or pie plate to roll the dice in.
On GO! the person with the gift starts UNWRAPPING (no intentional tearing or ripping) the gift while the person to their left starts rolling the dice over and over again, trying to get doubles.
This is called the passing the gift game because once someone rolls doubles, they yell out DOUBLES! and then the gift box is passed to them, while they pass the dice to the person next to them on the left. And the whole process starts again. (The person to the left immediately starts rolling the die while the newest person continues trying to unwrap the packages.)
Anything that is opened and/or found in the boxes on their unwrapping turn, they get to keep (unless you're using pass the present cards — see below).
The game ends when the last person has opened the very last (smallest in the middle) gift.
This open present game is one of those hilarious pass the gift games or holiday dice games that family members will beg you to make each year! (Plus, I think it's a fresh take on the left right Christmas game pass the gift idea that everyone does!)
MORE HOLIDAY GAMES FOR KIDS AND ADULTS
Alternative Game Ideas For The Christmas Box Game (Pass The Gift Christmas Game)
Oven Mitt Unwrap Game: This game variation is to unwrap a Christmas present while wearing a pair of oven mitts. But, I'm going to be completely honest. I'm not a fan of any Christmas game unwrapping gift with oven mitts. I know some people love those oven mitt games, but I find them so frustrating that it takes the fun out of the game. One Christmas party when we played this with oven mitts, it slowed the game down so much that people lost interest. One of the best things about this pass the gift game for Christmas is that it's fast paced and everyone stays excited and involved. For that reason, we don't play this as an open gift with oven mitts game anymore.
Gift Grinch Cards (Grinch Gift Grabber Cards): For a twist on the game, add in pass the gift game question cards. (I like to call them gift grinch cards!) These are direction cards that players get in gifts when unwrapping gifts. They can say things like, "STOP! Pass to the next person!" or "Steal a gift and then keep unwrapping!" (Or any other fun directions for the game where players can steal or switch before they unwrap or after gifts are unwrapped.) It just adds another level of difficulty for the pass the present Christmas game and makes the game last longer.
The cards make a really fun Christmas party game because it keeps everyone guessing!
If you have other ways you play this unwrap Christmas game (aka: Christmas hot potato game) let us know and we'll add the game ideas to our list!
CHECK OUT MORE FUN HOLIDAY GAMES THAT ARE LIKE THE CHRISTMAS PASS THE PARCEL GAME: How do you play the Saran Wrap game at Christmas? (plus free coal cards printable for the plastic wrap ball game)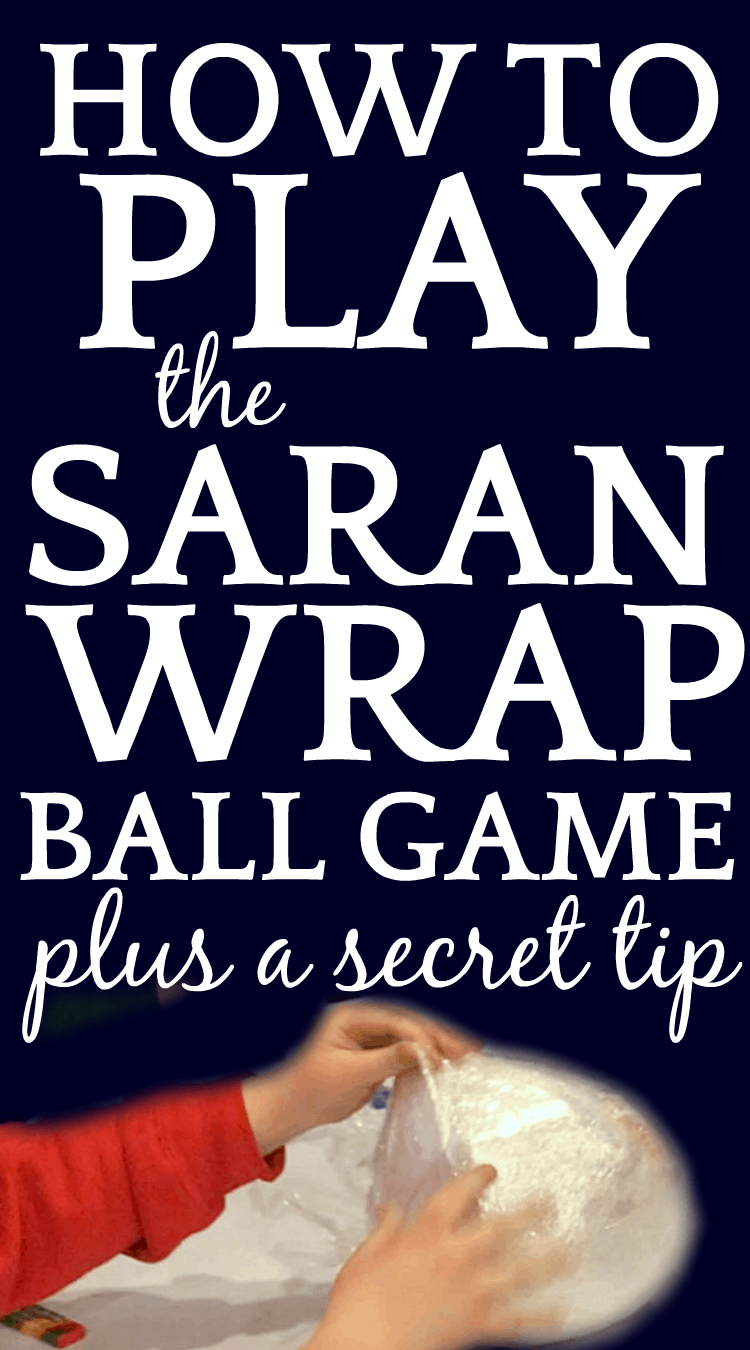 Definitely add pass the parcel Christmas activity for hilarious Christmas games to play with family and friends!
Have fun playing the Christmas unwrap the gift game!