Christmas gift exchange bingo is a holiday present opening game. It's a great alternative to the White Elephant gift exchange or the pass the gift game poem and also works for online gift exchange games or group games at home or work! If you're looking for Christmas gift exchange game ideas for families, add this to your list! We even have a bingo game free printable for you to use!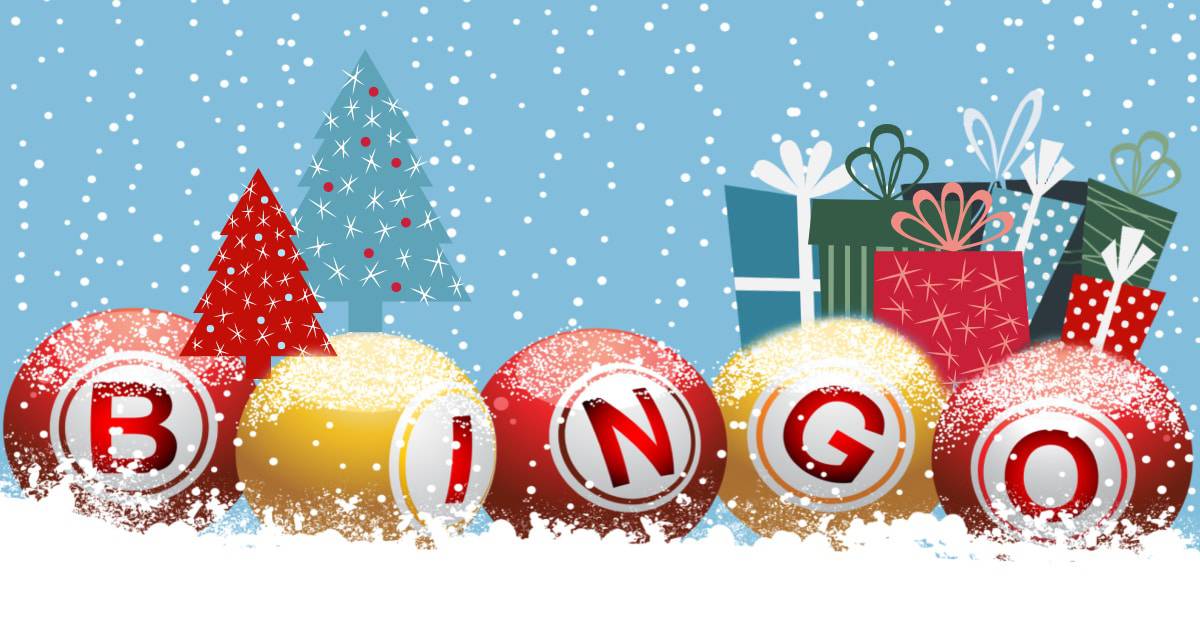 ABOUT CHRISTMAS GIFT EXCHANGE BINGO: RULES, IDEAS, AND STEP-BY-STEP HOW TO PLAY
I love this holiday game because all ages enjoy it and it works equally as well for gift exchange games for large groups or gift exchange games for small groups! (No need to do the gift exchange draw names at Christmas or a grab bag Christmas game anymore! Just play games that exchange presents instead!)
How do you play bingo with gifts?
Holiday bingo is like most other white elephant or swap it out gift exchange game. It's one of the most fun gift exchange game ideas or Christmas gift games!
How do you play White Elephant bingo:
Affiliate links are used on this site. As an Amazon Associate I earn from qualifying purchases. Read more in our DISCLOSURE.
Each guest brings a wrapped small gift to exchange (within the spending limits set before the holiday party). All gifts are placed together on a table in one area.
Print out the free holiday bingo cards and call number cards.
The bingo caller calls out the bingo numbers or bingo Christmas items.
When the first person gets a bingo, they get to choose a gift from the gift table and unwrap it.
The next person who gets bingo, has two choices: choose an unwrapped gift or steal a gift from one of the unwrapped gifts. (Stealing someone else's opened gift in exchange for an unopened gift.)
Continue with this gift pass game bingo until all gifts have been claimed and all the swapping gift exchange gifts is over.
(See the full bingo instructions and the free printable Christmas gift exchange games bingo below!)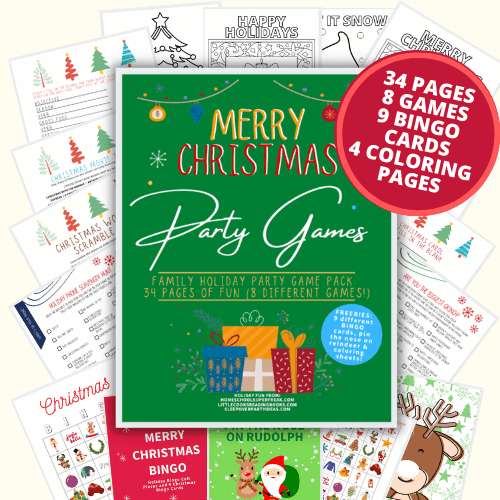 CLICK HERE TO GET THE PARTY GAMES PRINTABLES!
Holiday Bingo Gift Exchange Ideas
The best thing to do for a holiday gift exchange game is to have each attendee bring a white elephant gift to exchange. Also, set a price limit (like $10 and under or $20 and under). Remember, this is a gift exchange stealing game so you want all the gifts to be around the same price range for a pass the present game.
21 Good Gifts for Gift Exchange Game:
Gift cards
Gag gifts
Gourmet chocolates
Funny socks
Cash
Board games
Funny mug with homemade hot cocoa mix
Ear buds
Phone charger
Gift certificate to a local restaurant
One month to a cookie club
Coffee/tea basket with different teas or coffees and a mug
Selfie stick

Ramen cooker

with different Ramen packs
Tickets to a local event or tourist spot
Card games
You'll also love these other Christmas group games for preschoolers and up!
How To Play The Christmas Candy Bar Game
How To Play the Snowman Paper Plate Game
How To Play the Plastic Wrap Candy Ball Game
How To Play the Christmas Sock Exchange Game
You can also play this as a gift card exchange Christmas game where everyone brings a gift card to a fun place. (People always "fight" over the gift cards when we're swapping presents and they are popular gifts for the exchange!)
We've found that the best exchange gifts are a mix of really good gifts and gag gifts!
OK! Let's get to how to play the gift exchange game with cards and bingo. (We had so much fun with this! It's one of the best gift exchange game ideas we've had!) It's great as a Christmas bingo game for preschoolers, teens, adults, and everyone!
How To Play the Bingo Gift Exchange Game
If you've played and enjoyed other gifting games (like the White Elephant Gift Exchange), you'll love this as one of those funny exchange gift ideas, too!
Here are the rules for gift exchange game bingo, in case you want to print them out.
(Don't forget the free bingo cards separately after the game instructions!)
Yield: 1
Christmas Gift Exchange Bingo Directions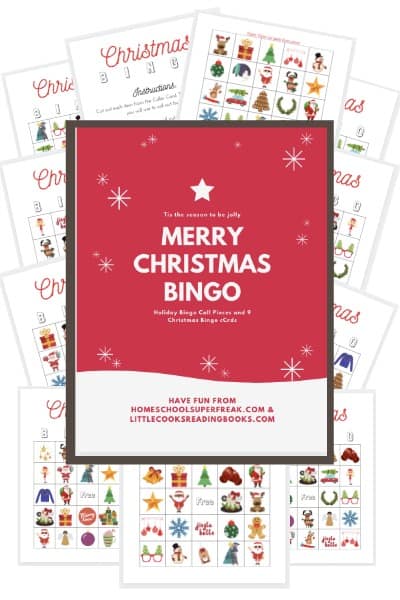 With this Christmas gift opening game, you add another layer: holiday bingo! It's a fun holiday game for all ages!
WE HAVE LOTS OF GREAT HOLIDAY IDEAS IN THE POST, SO BE SURE TO SCROLL UP TO READ THEM ALL!
Total Time
1 hour
5 minutes
Materials
Bingo Cards (*free bingo printable in post) -OR- a Bingo game with cards
Bingo calling tickets (included in the free holiday printable)
One wrapped gift for each person attending and playing the game
Tools
Festive table for the wrapped gifts
Instructions
On the party invitation, be sure to let everyone know that you will be having a gift exchange. Each person participating in the exchange should bring one NEW, WRAPPED gift (with no names or identifying information). Be sure to set a maximum gift cost (like no more than $10 or $20). You don't want to add extra strain to a stretched holiday budget for some people!
TO PLAY HOLIDAY GIFT SWAP BINGO:
IF USING THE FREE BINGO PRINTABLE: Cut apart the bingo calling pieces. This is what will be used for the Caller to call out the Bingo items. (For Christmas bingo, instead of numbers you will be calling out "green Christmas tree" or "red present" or "blue snowflake" etc. It also helps to show everyone the calling piece when playing picture bingo.
Pass bingo cards and bingo cover pieces (you can just cut out square pieces of construction paper, but you'll need more than you think for a large group!).
Explain the directions to everyone. (Are you doing traditional down and across Bingo, or are you doing four corners, too?)
Call Bingo pictures until someone yells BINGO! Each time, the person who wins either gets to pick an unwrapped prize or steal one from another person.
Play continues until all prizes are gone!

HOW THE GIFT SWAP PORTION OF THE GAME WORKS:
The first person to get a BINGO selects a wrapped gift from the gift table. They (PERSON A) unwraps the gift and keeps it in front of them.
Another Bingo Game is started. The second person to get a BINGO (PERSON B) can either select an unwrapped gift from the gift table -OR- steal the gift from PERSON A. **If a gift is stolen from anyone at any time, that person who has the gift stolen gets to select another unwrapped gift from the gift table, unwrap it and keep it in front of them. For example: PERSON C gets a BINGO. PERSON C has 3 choices: choose an unwrapped gift from the table, steal PERSON A's gift, or steal PERSON B's gift. PERSON C decides to steal PERSON B's gift. PERSON C unwraps the gift and keeps it on the table next to them. PERSON B then selects an unwrapped gift from the table, unwraps it, and places it on the table next to them.
The game ends when there is one unwrapped gift that is selected and the last person has called BINGO. The last person can either choose to unwrap the one remaining gift or "steal" from any of the unwrapped gifts from the entire game. **IF the last person (PERSON D) who called BINGO decides to steal from PERSON A, then PERSON D gets the stolen gift and PERSON A gets the unwrapped gift. The game ends.
Notes
ADDITIONAL GAME PLAY INSTRUCTIONS AND NOTES
IMPORTANT: YOU MUST HAVE THE SAME NUMBER OF UNWRAPPED GIFTS AS PLAYERS TO START THE GAME. EACH PERSON PLAYING MUST BRING A GIFT. (For example, a family of 4 cannot bring one gift and then have all 4 people play the game.)
It's OK for the caller to also play BINGO so that they have a chance to win, too.
If you have a large group, present swap bingo can take a long time sometimes. If that starts to happen, make easier rules. Instead of a full Bing, they only need to cover a tree and a present (for example) before they can call BINGO!
You can also take a break in the middle and let people eat and mingle before starting Round 2, but you may lose some people if you do this.
*Sometimes I like to through in a really good gift that might be a little over budget just so people will fight for that gift. It makes for a really funny gift exchange game!
Since you're exchanging gifts based on who gets a BINGO, some people may not have a gift at the end (and others may have multiples). So, let them know that life isn't fair at the beginning! 🙂
PLAY VARIATION: You can also play with where the person who gets a BINGO can pick an unwrapped gift or steal a gift. The person who has a gift stolen now has NO GIFT and has to hope to get a BINGO. (This way to play takes longer!)
Free Bingo Gift Exchange Game Cards
Use these free printable cards for your holiday bingo gift swap or if you just want to play Christmas bingo!
NOTE: If you use this printable Christmas bingo game for large groups, large group bingo can take a long time, so you may have to get creative with Bingo ideas (like first person to get a green Christmas tree on their Bingo wins this round!).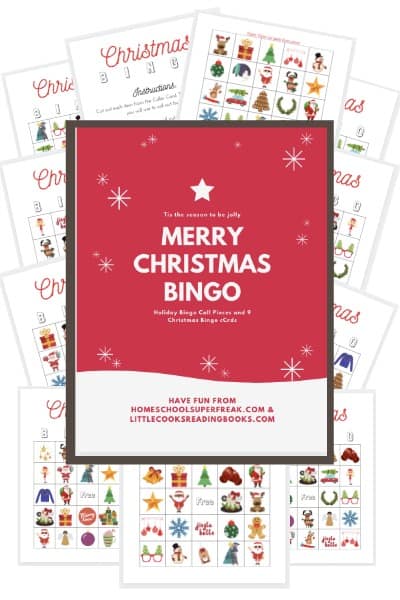 CLICK TO GET THE CARDS and have fun with these Christmas Bingo game ideas
File Under: Xmas gift exchange ideas
Have you ever played Christmas gift exchange bingo?
LOOKING FOR FUN COOKING PRINTABLES FOR KIDS?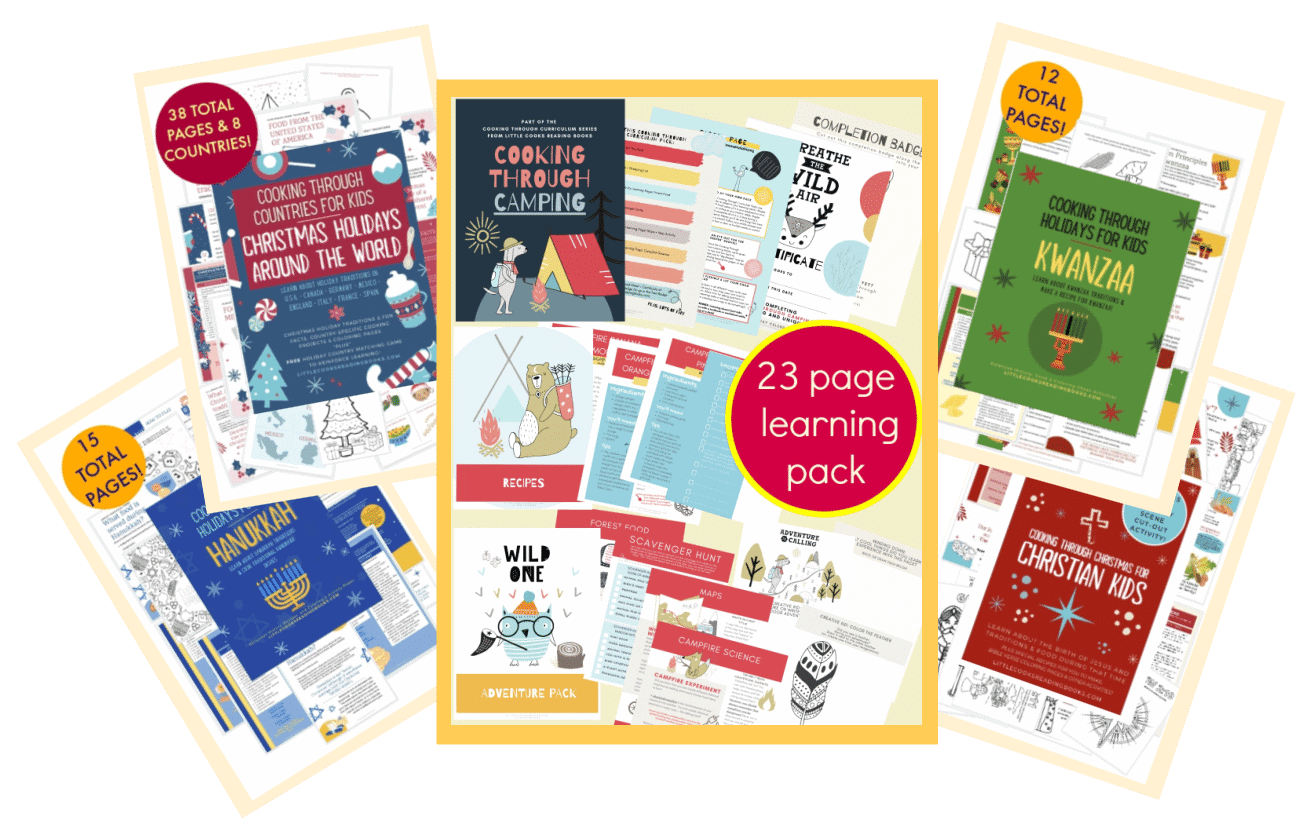 As an Amazon Associate I earn from qualifying purchases. Please refer to our
DISCLOSURE
.