This recipe for refried bean dip (also called refried bean taco dip) is a shockingly easy dip recipe or Mexican food side dish. It's one of those appetizers or side dishes that works for every holiday or family gathering—a favorite recipe for summer cookouts and BBQs, holiday recipes, Cinco de Mayo party recipes, Super Bowl party recipes / big game day recipes and more!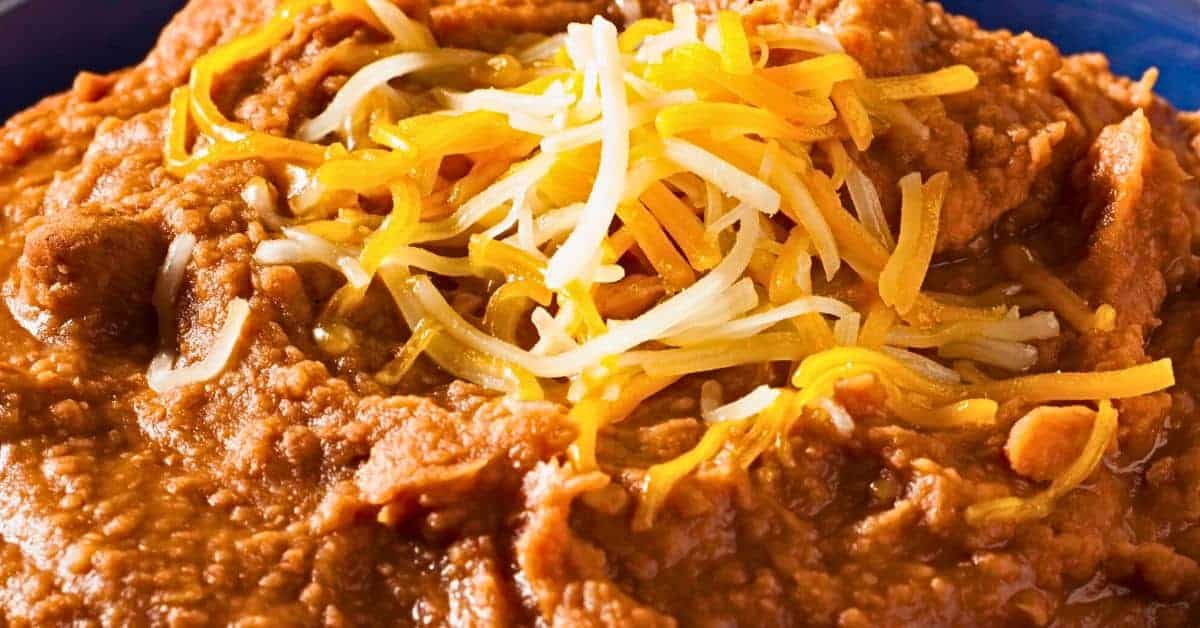 Best Recipe for Refried Bean Dip
This dip with refried beans is a quick and easy recipe that is ready in just minutes if you use canned refried beans! Great for a side dish with tacos or burritos, in your favorite Mexican recipe bowl, or alone as a dip with tortilla chips (which is how we eat it most often as a party favorite dish!). Here's how to make bean dip from canned refried beans and a handful of simple ingredients…
Easy Bean Dip Recipe
What to add to canned refried beans for dips:
Can of refried beans
Salsa (mild salsa, medium salsa, or hot salsa)
Shredded cheddar cheese
Shredded Monterey Jack cheese
Green onions
Chili powder or taco seasoning (optional, if you want more of a refried beans taco dip)
KEEP SCROLLING for the printable recipe card. I'll also answer common mixed bean dip recipe questions like can you eat this as a cold refried bean dip and other bean and cheese dip recipe FAQs!
Affiliate links are used on this site. As an Amazon Associate I earn from qualifying purchases. Read more in our DISCLOSURE.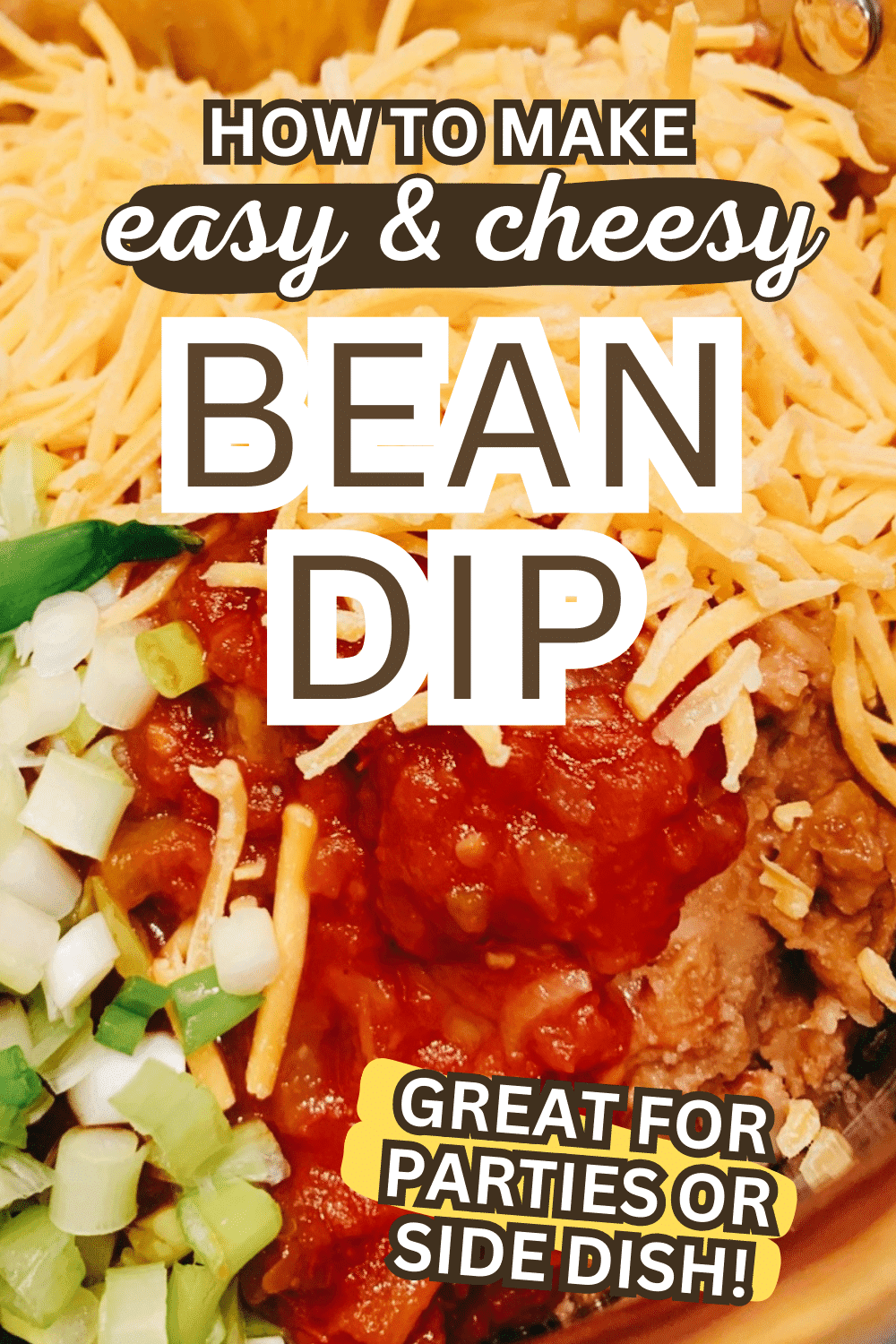 Tips For Making A Recipe For Bean Dip Using Refried Beans
Before we get to this Mexican refried bean dip recipe, let's answer some common recipe questions that will help with making this dip. (But, whatever you do, definitely add this recipes for refried bean dip to your party foods!)
How do you make refried bean dip from scratch?
You can make homemade refried bean dips by boiling pinto beans in water and then mashing them and using them the same way that you would use canned refried beans. Add salsa, onions, cheese and warm until combined. The recipe can be tailored to your taste with jalapeno, taco seasoning, cream cheese and more.
How do you eat refried beans from a can?
Refried beans from a can are great warmed up and eaten alone. However, because refried beans can be mild, many people like to add items to the canned beans to make them more flavorful or spicy. Adding picante sauce, peppers, onions, cheese, chili sauce, and more can all enhance the flavor of canned refried beans.
What can you add to refried beans?
If you want to spice up refried beans or make a more spicy recipe, try these for your Mexican refried beans dip recipe. Start with the basic ingredients and add in other ingredients to create your own cheesy bean dip or Mexican dip for taco night!
Chopped green onion
Taco seasoning
Pico de gallo
Favorite salsa
Hot sauce
Cheddar cheese
Monterey Jack cheese
Ground beef
Jalapeño peppers
Pepper Jack cheese
Fresh cilantro
Sour cream
Cream cheese
Picante sauce
Chili powder
Green chiles
Ground cumin
Ground turkey
Green chilis
Tomatoes
Black olives
Garlic powder
Onion powder
Queso fresco
Lime juice
Cherry tomatoes
You can really add any of these to your bean dip refried beans and it's still tasty!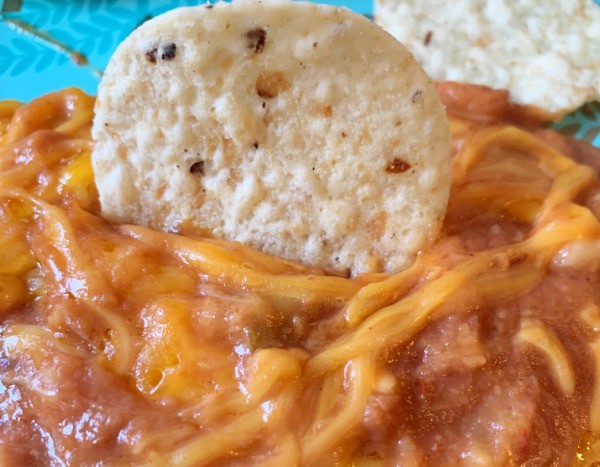 Is bean dip healthy?
Beans are a very healthy source of dietary fiber and protein. Bean dip is healthy depending on the ingredients. You can make a healthy bean dip with salsas, onions, and seasonings. Once you start making refried bean dip with sour cream, cheese, queso, cream cheese, etc., the bean dip recipe isn't as healthy.
Do you warm up bean dip?
Some people like refried bean dip cold. Bean dip can be eaten cold or at room temperature. However, refried bean dip hot is best, with a little cheese melted on top. How to make refried bean dip, either cold or warm, is a personal preference and good both ways.
I prefer a hot bean dip / warm bean dip to a cold bean dip recipe.
If you like 7 layer bean dip (this is a layer dip which is a bean dip served cold), you may like this recipe cold, too!
Making easy refried bean dip for Cinco de Mayo? Try these other easy 5 de May recipes!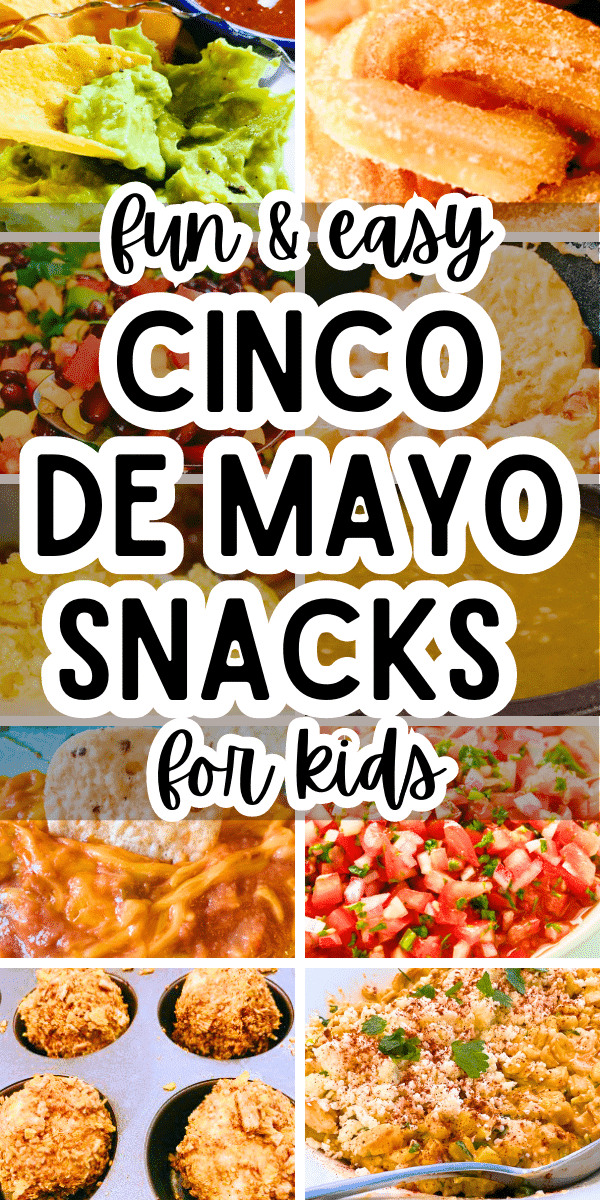 What kind of beans are refried beans made of?
Refried beans are often made from dried pinto beans. However, Mexican refried beans can be made from any beans, including red kidney beans or black beans. (A refried black bean dip is yummy, too!) But this recipe is for refried pinto bean dip.
Here's how to make bean dip from canned beans (super easy recipe for kids to make, too!). You can even make this as a refried bean sauce over burritos or enchiladas or spread it over tortilla chips for bean dip nachos as an easy appetizer! This really is one of the best bean dips I've ever had and one that guests ask for as a party cheesy refried bean dip! It's definitely one of those crowd pleaser recipes!
RECIPE TIP: Leftover refried bean dip makes great bean and cheese burritos! It's good for other things besides bean dipping sauce!
HOW TO MAKE A REFRIED BEAN DIP WITHOUT CREAM CHEESE
How To Make Bean Dip With Refried Beans In A Can
Honestly, I'm not sure if this is an authentic Mexican refried bean dip, but this is very close to the refried beans you get in Mexican restaurants in the United States (aka: side dish refried beans from TexMex favorite restaurant or favorite Mexican recipes). It's definitely different from authentic Mexican bean dip.
You can make your own refried beans (homemade refried beans from scratch), but it's a quick and easy recipe using canned beans!
Also, I know some people use it, but this is a refried bean dip without cream cheese. If you're lactose intolerant or have dairy allergies in your family, you can leave out the cheese and and it's just as yummy.
(We make our refried bean dip no cream cheese or sour cream and it's yummy! Try refried beans dip with salsa and taco seasoning / spices if you want to leave out the cheese.)
If you're wondering how to make canned refried beans creamy, then add sour cream or cream cheese.
Some people like to make this a refried bean nacho dip (or refried bean queso dip) by using Velveeta cheese.
This is much easier than a layered refried bean dip, but if you like that flavor, add tomatoes, lettuce, onions, and cheese on top of this dip.
You can also make this crockpot refried bean dip by adding all the ingredients into the crockpot and setting on low or warm for 30 minutes to 1 hour, stirring a couple of times.
Serve this beans dip with crunchy tortilla chips or use it as a side dish for Mexican food night or taco Tuesday!
RECIPE TIPS: If you want to make a vegan refried bean dip, get the vegan refried beans or vegan beans at the grocery store! You can also make this as recipe for refried black bean dip by substituting it with black beans.
Yield: 16
Homemade Refried Bean Dip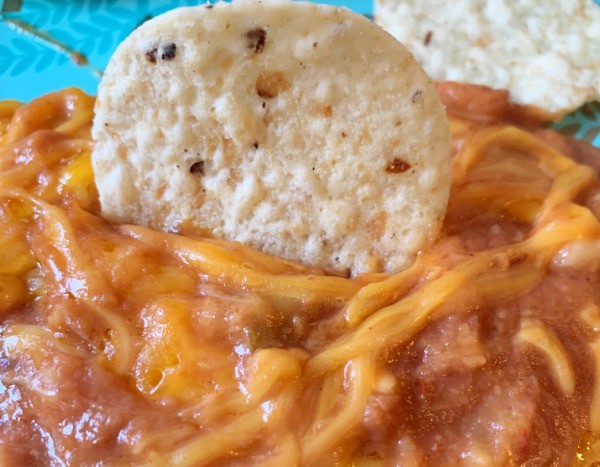 We double this bean dip recipe whenever we make it because it heats up well (if there's any left!).
Ingredients
1 16-ounce can refried beans
1 16-ounce jar salsa of choice *
1 cup shredded cheddar cheese
1 cup shredded Monterey Jack cheese
4 green onions, thinly sliced
1 Tablespoon chili powder or taco seasoning, optional**
Instructions
In a medium pot, add refried beans, salsa, cheeses, and onions. (Reserve some of the cheese and onions for topping / garnish.) Mix to combine.
Cover pot and heat on low, stirring occasionally, for around 15 minutes, or until cheese has melted.
Remove from heat and transfer to serving dish. Top with extra cheese and onions. Serve immediately with tortilla chips or tortillas.
Notes
*You may not need this much salsa. I like refried beans dips on the thinner / creamy dip side, so add a little salsa at at time until you get the consistency you like. It will get thinner as the beans heat up and the cheese melts, too.
**We often make this dip without the chili powder or taco seasoning if we are using spicy salsa (that seems to add enough seasoning).
Nutrition Information:
Yield:
16
Serving Size:
1
Amount Per Serving:
Calories:

92
Total Fat:

5g
Saturated Fat:

3g
Trans Fat:

0g
Unsaturated Fat:

2g
Cholesterol:

13mg
Sodium:

436mg
Carbohydrates:

7g
Fiber:

2g
Sugar:

2g
Protein:

5g
Nutrition information is estimated. Changes to the recipe and use of different brands may cause changes to the nutritional information to vary slightly from the ones provided here.
AFTER THE BEAN DIP FROM REFRIED BEANS, ALSO TRY MEXICAN CORN IN A CUP DIP!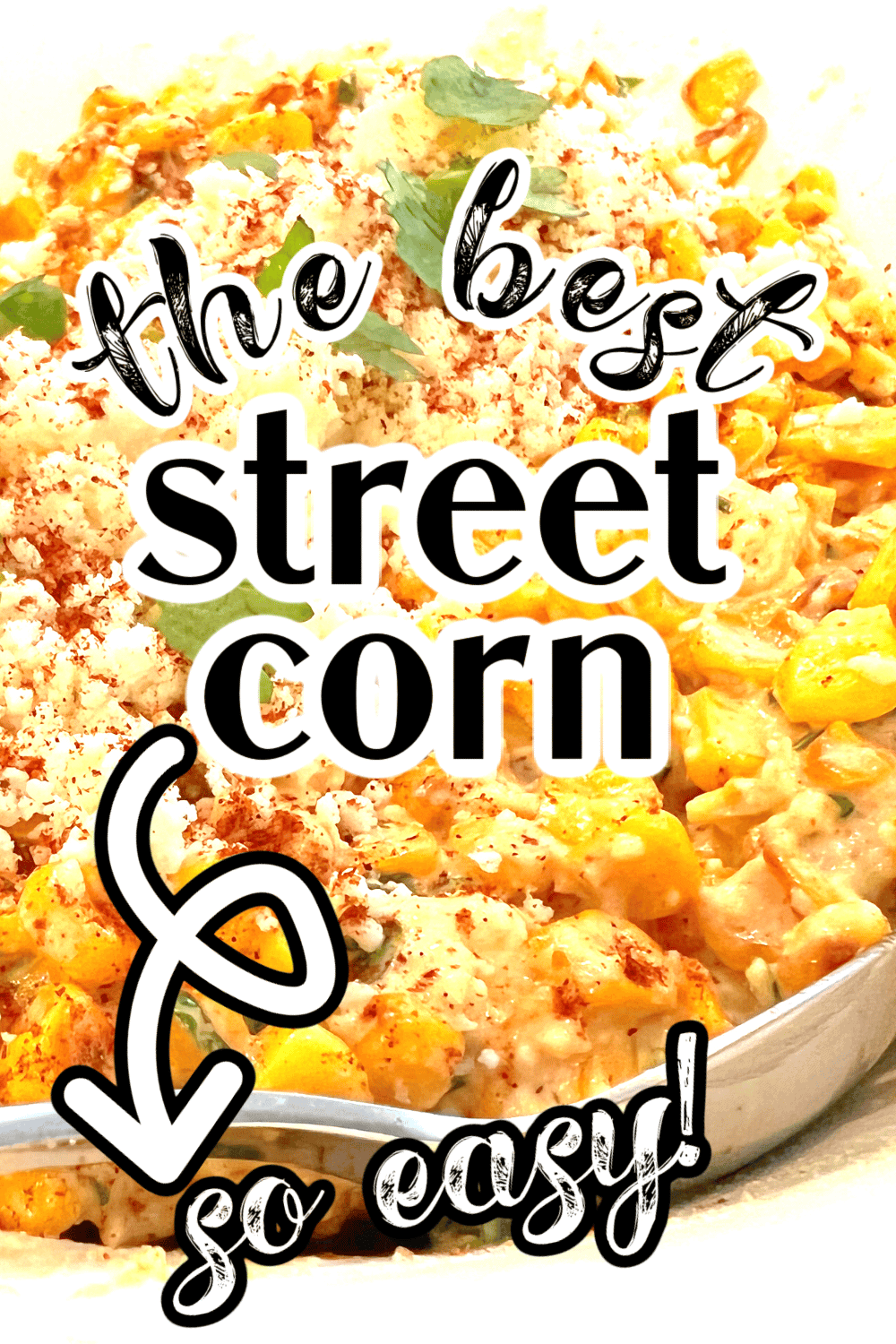 Let us know how you like your dip recipes with refried beans!
WE HOPE YOU ENJOY OUR RECIPE REFRIED BEAN DIP!
LOOKING FOR FUN COOKING PRINTABLES FOR KIDS?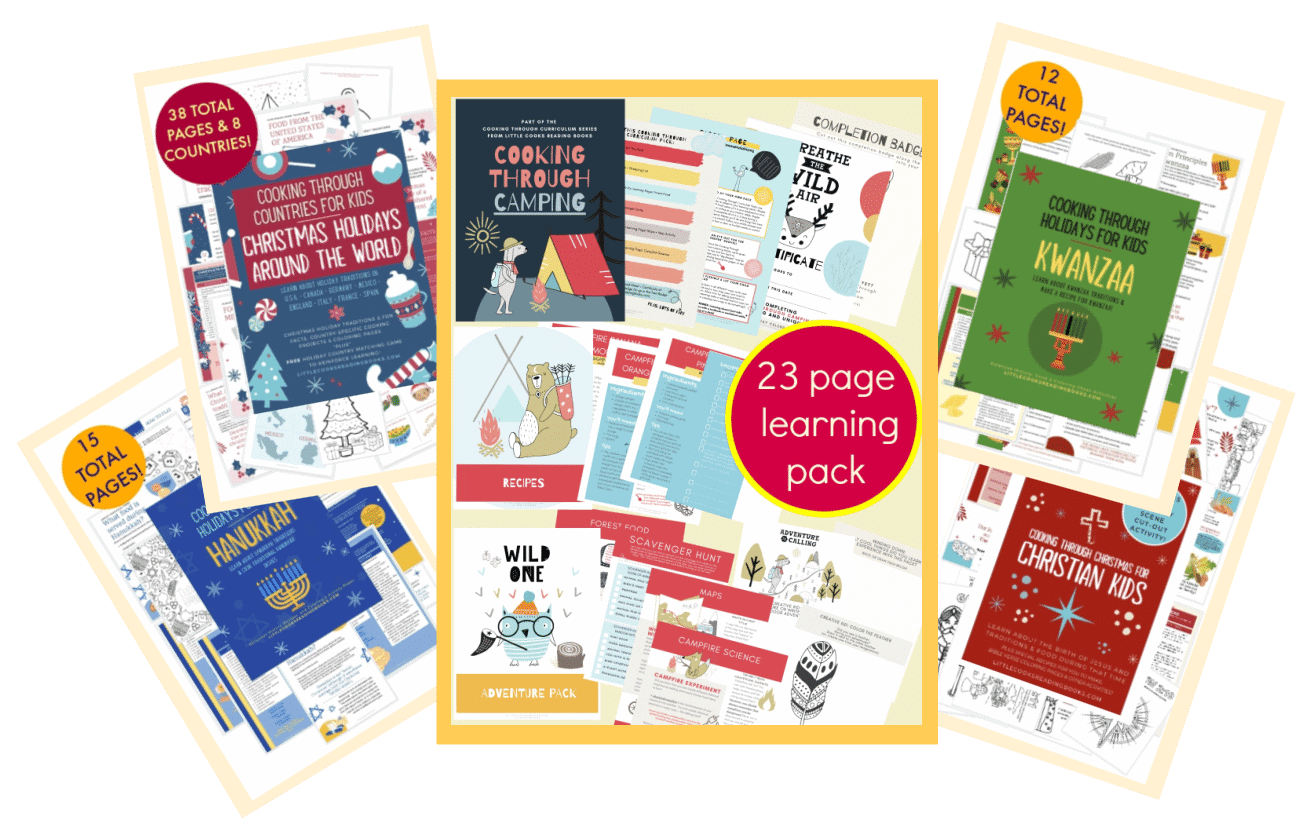 As an Amazon Associate I earn from qualifying purchases. Please refer to our
DISCLOSURE
.