Mexican street corn off the cob, also called Mexican corn salad, Mexican street corn in a cup, or elotes off the cob recipe / esquites, and is a great cookout recipe, food for Cinco do Mayo, summer recipes idea, or any time you're looking for corn recipes. Super fun recipe for kids to make!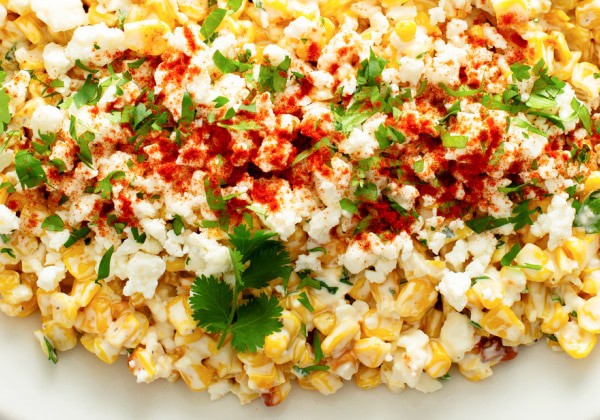 MEXICAN STREET CORN OFF THE COB
You can make easy Mexican street corn recipe off the cob with frozen corn or with fresh corn. An authentic Mexican street corn recipe can be on the cob or off the cob, like this corn salad recipe!
When it is made as a smoked Mexican street corn salad the elote off the cob name is called esquites instead of elotes.
What is Mexican Elote?
Mexican elote is a roasted street corn dish, served with a mayonnaise and lime mix and topped with cotija cheese, cilantro, and paprika or chili powder. This street corn recipe is served on the cob (elotes) or cut off the cob (esquites, aka elote off cob).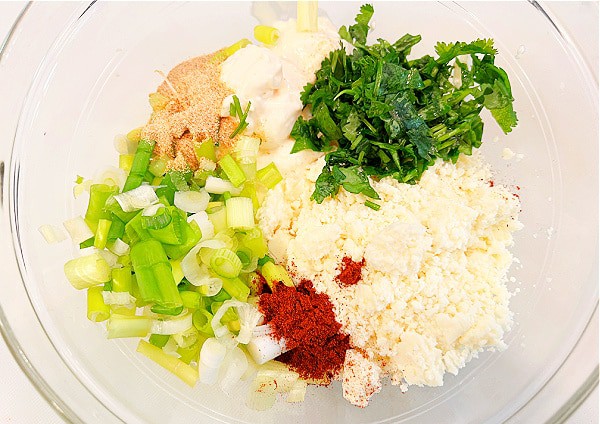 What is Mexican street corn made of?
That yummy roasted corn and elote seasoning (Mexican corn seasoning) is made up of different spices.
What's in Mexican corn?
Roasted corn
Butter
Cotija cheese
Mayonnaise
Lime juice
Smoked paprika or chili powder
Green onion
Garlic
Cilantro
Salt
Pepper
Let's talk about how to make elote off the cob…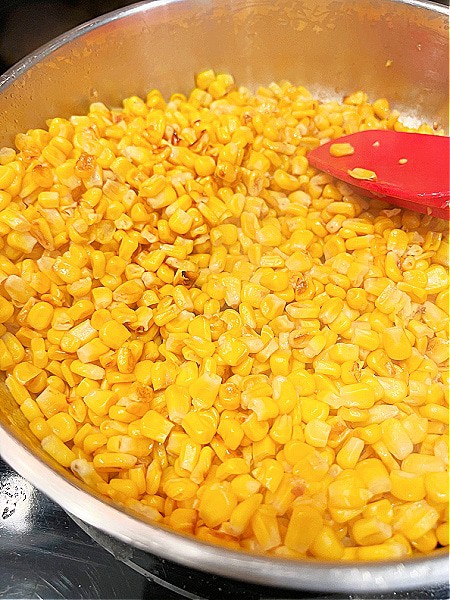 What's the difference between Elotes and Esquites?
What's the difference between esquites vs elotes? Both are a Mexican roasted street corn. Elotes, pronounced eh-loh-tay, is roasted corn on the cob (Mexican street corn on the cob) with a special mayonnaise and cheese toppings. Esquites, pronounce es-KEE-tehs, (Mexican corn off the cob) is the same recipe, but corn is cut off the cob and it is served in a cup and eaten with a spoon.
How do you eat Esquites?
Esquites are served warm in a cup. The roasted street corn is topped with cheese, chili powder or smoked paprika, or hot sauce, cilantro, and lime juice. It is eaten with a spoon right out of the cup.
Is Esquites served hot or cold?
Esquites is mainly served warm in a cup and eaten with a spoon. However, some people eat this roasted street corn off the cob at room temperature or even cold.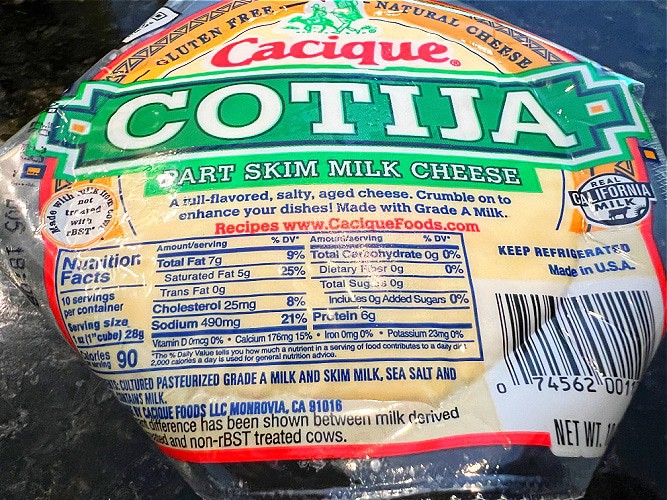 Queso Fresco vs Cotija Cheese
Is Cotija cheese the same as queso fresco?
What is Cotija cheese similar to? Cotija cheese, named after the town in Mexico where it came from, is actually a bolder, saltier flavor than the more mild queso fresco. Keep that in mind when making this recipe (or any recipe with Cotija cheese) and adjust salt accordingly.
What can be used instead of Cotija cheese?
If you can't find Cotija cheese, you can substitute the following for your elote recipe off the cob:
Queso fresco
Feta
Fresh parmesan
Romano
Parmigiano Reggiano
YOU MAY ALSO WANT TO CHECK THIS OUT FOR YOUR KIDS:
OK!
On to the esquites recipe (how to make elotes in a cup)!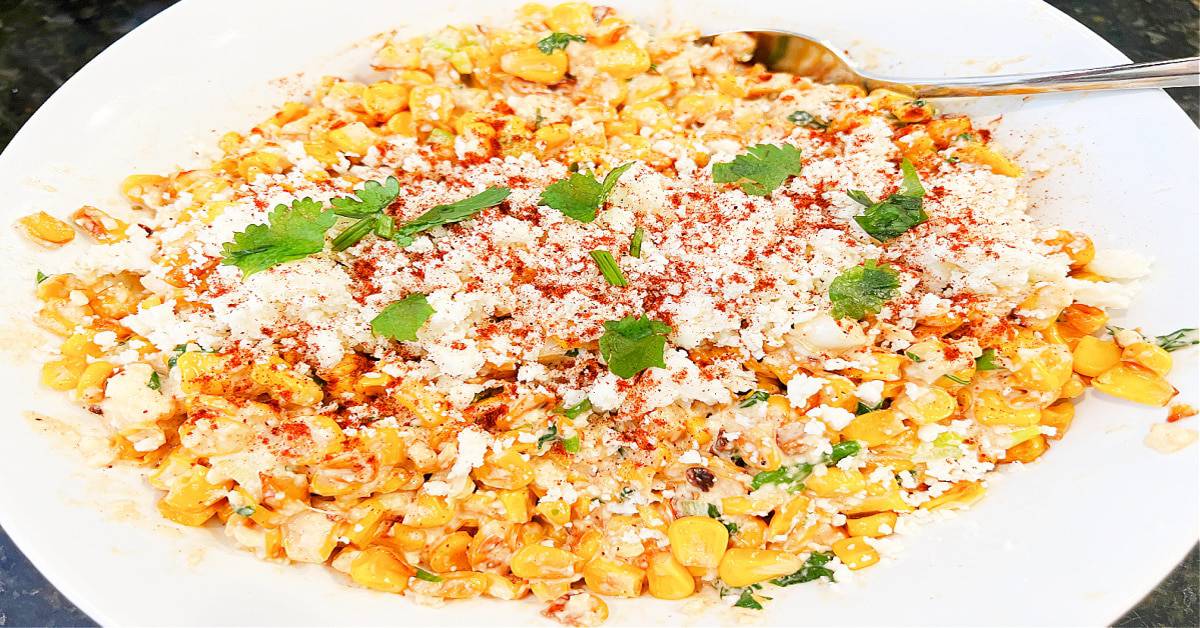 HOW TO MAKE MEXICAN STREET CORN OFF THE COB
Can you make Mexican street corn off the cob frozen corn?
You can make this corn recipe with fresh corn cut from the cob or frozen corn (as Mexican street corn frozen corn). However, I really like it better with fresh corn (and it's easy to cut it right off the corn cob!) and canned corn is a close second for this Mexican sweetcorn recipe. This is pretty close to the authentic Mexican street corn recipe we've had at restaurants!
This skillet Mexican street corn off the cob (elotes recipe off the cob) is great eaten as is (as a salad) like a traditional Mexican street corn cup, but some people eat it as a Mexican street corn dip with tortilla chips or a Mexican corn side dish with a main dish. (It's yummy that way, too!)
NOTE: Some people have asked if you can make Mexican street corn off the cob without mayo, but we've never tried it that way. I'm not sure what else you would use to make it a creamy Mexican street corn recipe off the cob (besides crema or sour cream added to the street corn off the cob).
Yield: 6
Mexican Street Corn (Esquites)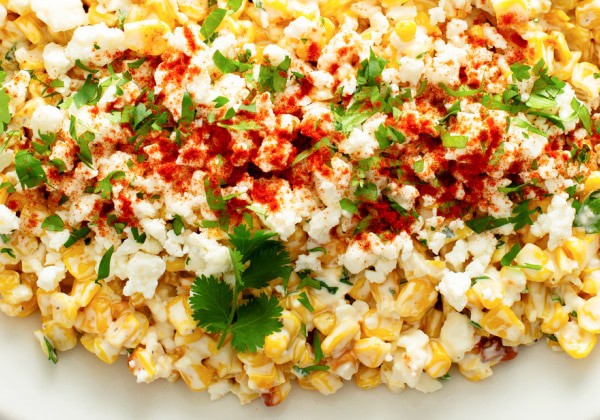 Ingredients
1 Tablespoon unsalted butter
3-4 cups fresh corn (cut from cob) or frozen corn (about 4-5 fresh corn cobs)*
2 tablespoons Hellmann's mayonnaise
1/2 cup Cotija cheese or queso fresco, grated or crumbled
2 green onions, finely chopped
1/4 cup fresh cilantro, chopped
1 lime, juiced
1/2 teaspoon smoked paprika or chili powder
1/2 teaspoon garlic powder
Salt and pepper, to taste**
Extra crumbled Cotija/queso, cilantro, paprika/chili powder for serving
Instructions
Melt butter in a heavy pan (cast iron is best). Spread corn kernels in a single layer in the pan. Roast for 10-15 minutes, stirring frequently, until the outsides of the kernels have browned. (Some will have a charred look, but don't let them burn!)
Spoon corn into large bowl. Set aside.
In a mixing bowl, add mayonnaise, crumbled cheese, green onions, cilantro, lime juice, smoked paprika (or chili powder), and garlic powder. Add salt and pepper, to taste. Stir until combined.
Pour mayo mixture over roasted corn. Stir to combine completely.
Sprinkle with extra crumbled cheese, paprika (or chili powder), and cilantro. Serve warm immediately.
Notes
*You can substitute canned corn for fresh or frozen corn. Use 2 15-ounce cans (no salt added) sweet golden corn. Be sure to drain the corn before roasting.
**This off the cob elote can be super salty because Cotija cheese is salty. Be sure to taste the dish before you add additional salt.
You can also broil the corn in the oven broiler. Combine corn with butter and spread in a single layer on a baking sheet. Broil for 3-5 minutes, until some of the kernels begin to char. WATCH CLOSELY as they can burn quickly!
LEARN HOW TO AIR FRY CORN FOR THIS RECIPE
Some people substitute parsley instead of cilantro (or just leave it out all together).
Nutrition Information:
Yield:
6
Serving Size:
1
Amount Per Serving:
Calories:

488
Total Fat:

17g
Saturated Fat:

7g
Trans Fat:

0g
Unsaturated Fat:

8g
Cholesterol:

34mg
Sodium:

469mg
Carbohydrates:

81g
Fiber:

10g
Sugar:

14g
Protein:

18g
Nutrition information is estimated. Changes to the recipe and use of different brands may cause changes to the nutritional information to vary slightly from the ones provided here.
Best Children's Books About Mexico
This elote off the cob recipe is great to pair up with learning about Mexico, Mexican culture, a Cinco de Mayo or Dia De Los Muertos study unit, or a Mexico study unit for kids.
Try reading this before making elote corn off the cob:
Let us know how you enjoy your Mexican street corn off the cob recipe!