Best hard boiled eggs recipe (easy peel hard boiled eggs) ever! Whether you're looking for a hard boiled egg recipe for Easter (hard-boiled eggs for dying), best breakfast foods or healthy kid snack ideas, this is a fast and easy recipe. Plus, trick on how to make egg shells peel easy!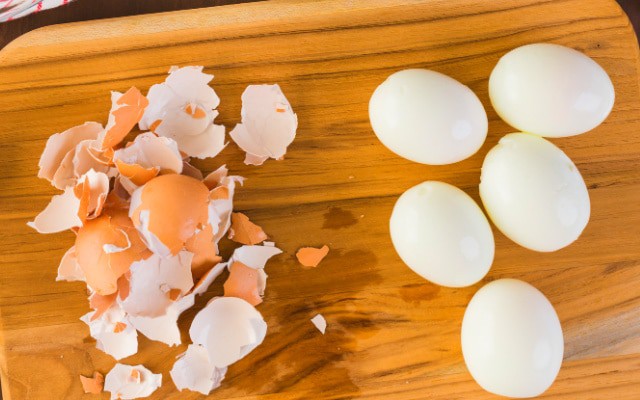 Best Hard Boiled Eggs Recipe
If you're looking for the best boiled eggs, these are it!
They are perfect hard boiled eggs easy peel (which is the difficult part of boiling eggs, as you may know!)
Before we get to the recipe, let's answer common questions for boiled eggs…
Affiliate links are used on this site. As an Amazon Associate I earn from qualifying purchases. Read more in our DISCLOSURE.
How do you boil the perfect egg?
Perfect hard boiled eggs are different to everyone, because some people like a creamy hard boiled yolk, which happens after boiling an egg for 7 minutes, and other people like a firm hard boiled egg yolk, which happens around 9 minutes of boiling eggs. So, test out different times (boiling eggs between 7-9 minutes for hard boiled eggs yolks) to understand your preference.
How long should I boil an egg for?
The time for boiling eggs will depend upon what kind of egg yolks you prefer:
4-5 minutes for soft boiled egg yolks
6 minutes for a custard-like, but a little firmer, egg yolk
7-8 minutes for creamy hard-boiled egg centers
9 minutes for firm egg yolks that are almost flakey
How do you boil eggs that peel easily?
Boil hard boiled eggs for 6-9 minutes (depending on how hard you like the yolk to get). Then, immediately place eggs in an ice bath for 5 minutes. Crack and peel the egg while submerged under the water so that the water can penetrate the membrane of the egg for easier separation of the shell.
How long do hard boiled eggs last?
Hard boiled eggs last for up to one week if they are refrigerated. The USFDA recommends that you consume the hard boiled eggs within the week that they are made. Refrigerate the eggs unpeeled, in the shell for best results and only peel when ready to eat.
How long do hard boiled eggs last unrefrigerated?
Safety guidelines recommend that boiled eggs be refrigerated after two hours of sitting out. They can be be unrefrigerated for 2 hours, but need refrigeration after that.
How can you tell if a hard-boiled egg is bad?
Don't panic and think your hard boiled egg is bad if the yolk of the egg is green or gray. That discoloring does not mean the egg is bad, it is simply showing a chemical reaction between sulfur and iron in the egg. The best way to tell if a hard-boiled egg is rotten is that it will smell bad.
FROM OUR SISTER SITE:
Ideas for Easter Eggs for Kids and Free Easter Printable Coloring Pages
What is the best way to eat hard boiled eggs?
What To Put On Best Hard Boiled Eggs
Salt and Pepper
Paprika
Olive oil
Cherry tomatoes
Chopped herbs
Shallots
Diced olives
Bacon pieces
Chives
Hot sauce
Cilantro
Ginger
Jalapeno
Healthy Things To Eat With Hard-Boiled Eggs
Avocado toast
Salad
Tuna salad
Chicken salad
Fruit
Lean proteins
Cucumbers
Baked crackers
Pita and hummus
OK! Let's get to the egg recipe!
Recipe for How to Properly Boil Eggs and How To Peel Hard Boiled Eggs
Yield: 12
Easy Peel Hard Boiled Eggs Recipe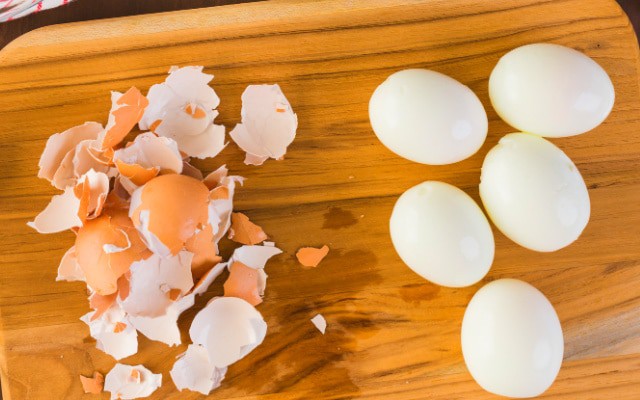 These are hard boiled eggs easy peel! We've been boiling eggs this way for deviled eggs for a few years now and it's rare that we having trouble peeling the eggs.
Additional Time
5 minutes
Instructions
Place eggs in a single layer in a pot.
Add water until it just covers the eggs by about 1-2 inches.
Heat water on high to a full rolling boil.
Turn off heat. Cover eggs with lid and let sit for 9-10 minutes for hard boiled eggs. For a firm, but creamier hard boiled yolk center, let the eggs sit for 7-8 minutes.
Transfer eggs to an ice bath using a slotted spoon. The cold water/ice bath will help the eggs peel easier, so don't skip this step! Let sit for 5 minutes.
While eggs are still submerged in water, crack and peel eggs.
Serve immediately, use in your favorite egg recipe, or store in airtight container (unpeeled) for up to 5 days.
Notes
"Hard boiled" to some people means a completely firm yolk, while for others it may mean a creamy yolk. You'll have to play around with cooking eggs to your family's specific taste, but here's a general guide for the hard boiled eggs perfect center.
Boiled Eggs Time:
Hard boiled eggs with a creamy yolk center: Cook 7-8 minutes
Hard boiled eggs with a firm and creamy yolk center: Cook 8-9 minutes
Hard boiled eggs with a very firm yolk center: Cook 9-12 minutes
Nutrition Information:
Yield:
12
Serving Size:
1
Amount Per Serving:
Calories:

72
Total Fat:

5g
Saturated Fat:

2g
Trans Fat:

0g
Unsaturated Fat:

3g
Cholesterol:

186mg
Sodium:

72mg
Carbohydrates:

0g
Fiber:

0g
Sugar:

0g
Protein:

6g
Nutrition information is estimated. Changes to the recipe and use of different brands may cause changes to the nutritional information to vary slightly from the ones provided here.
LET US KNOW HOW YOUR BEST HARD BOILED EGGS TURN OUT!
LOOKING FOR FUN COOKING PRINTABLES FOR KIDS?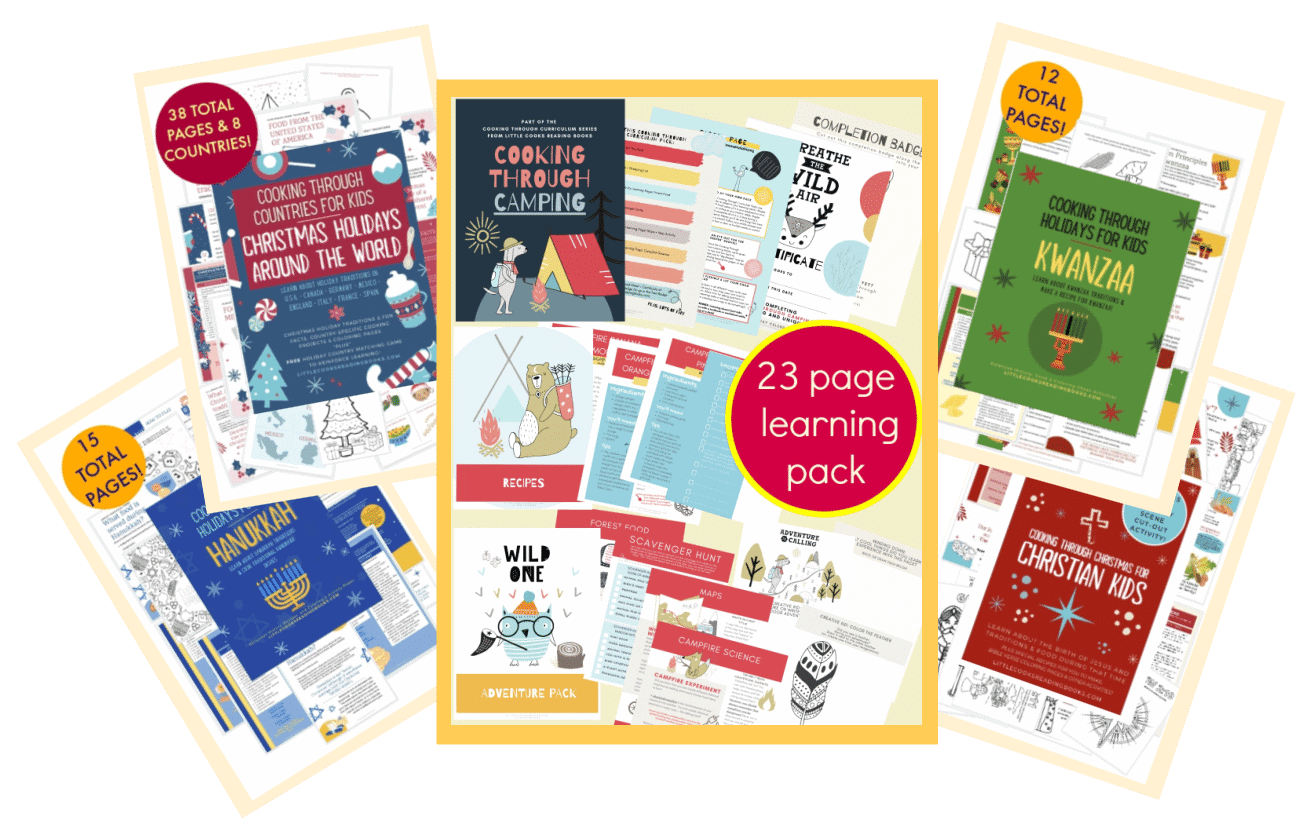 As an Amazon Associate I earn from qualifying purchases. Please refer to our
DISCLOSURE
.