One of best egg salad recipes! If you need an easy egg salad recipe or looking for egg recipes, boiled egg recipes, egg salad sandwich recipe, recipes with leftover Easter egg, or even as a summer salad topping, you'll love this. This classic egg salad recipe is also one of those easy recipes for kids to make.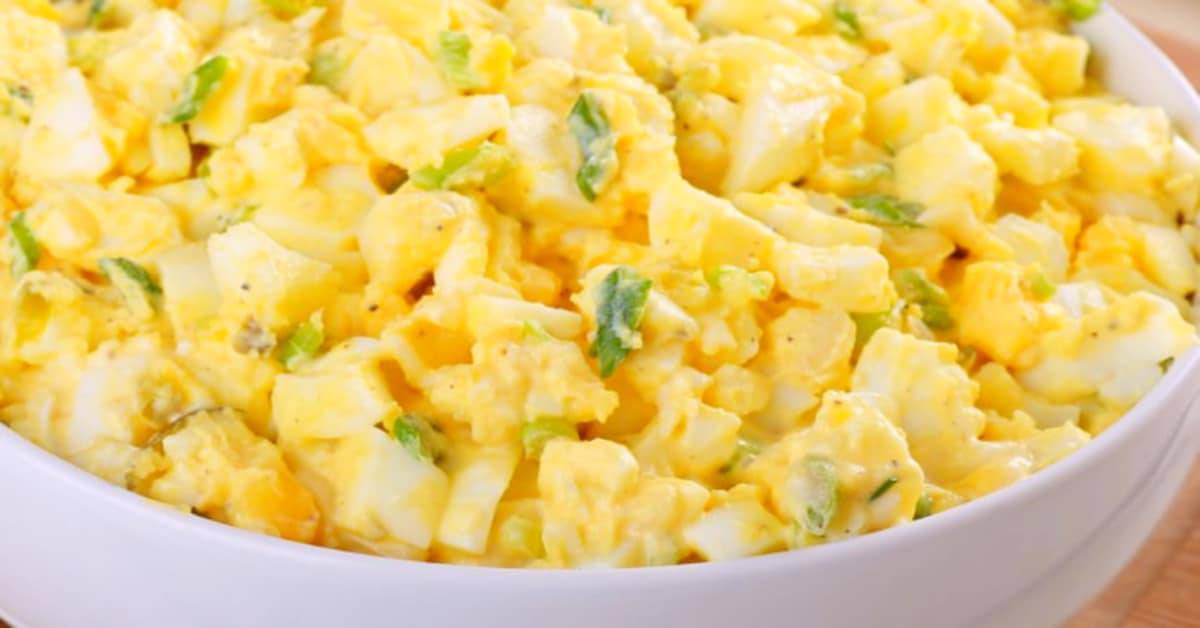 BEST EGG SALAD RECIPES FOR EGG SALAD SANDWICHES, SUMMER SALADS, OR EASY SNACK FOR KIDS!
Egg salad is easy to make from scratch! If you want to make these as egg salad recipes healthy options, substitute the mayo with plain Greek yogurt.
If you're drooling for an old fashioned egg salad sandwich recipe, this is the best egg salad recipe to use!
How do you make easy egg salad from scratch?
Egg salad how to make from scratch:
Affiliate links are used on this site. As an Amazon Associate I earn from qualifying purchases. Read more in our DISCLOSURE.
Hard boiled eggs
Mayonnaise
Mustard
Onion
Dill (optional)
Celery
Salt
Pepper
Don't miss the full boiled egg salad recipe basic directions below. Keep scrolling!
What can I use instead of mayo in egg salad?
Looking for a unique egg salad recipe? Try substituting or adding ingredients!
What you can substitute for mayonnaise in egg salad:
Olive oil
Sour cream
Plain Greek yogurt
Hummus
Coconut milk
Yogurt
Mashed avocado
Ricotta cheese
Cottage cheese
Apple cider vinegar
What can I add to egg salad?
Chopped Pickles
Relish
Olives
Grilled chicken (for chicken egg salad)
Capers
Green olives
Lettuce
Avocado
Tomatoes
YOU MAY ALSO LIKE:
Coloring Easter Eggs with Food Dye
What does egg salad go with?
Easy egg salad ideas:
Salads
Croissants
Panini
Halved avocados
Baked potatoes
Lettuce leaves for wraps or egg salad lettuce cups
Tortillas
Flat bread or Naan
Celery sticks
Pita or pita chips
Bread or toast (for basic egg salad sandwiches, aka: boiled eggs sandwich)
Crackers
Chips
Alone! (It's yummy, especially if you use this best easy egg salad recipe!)
How long does egg salad keep?
Covered and refrigerated, fresh egg salad can be store in the refrigerator for up to 5 days. However, if it is out at room temperature for more than 2 hours, it is recommended that you discard the egg salad because bacteria can grow after that.
TIP: Give kids the job of peeling the eggs after boiling! Check out:
How do you keep egg salad from getting soggy?
You may be wondering how do you make egg salad not watery? Sometimes egg salad will get watery or appear soggy, especially if it's sitting out for a while. Stir the egg salad. If it is still runny, add more chopped egg whites and yolks to the egg salad. To keep your egg salad sandwich from getting soggy, store separately from the bread in your lunch or make the sandwiches and refrigerate right close to the serving time.
Can I freeze leftover egg salad?
You can freeze egg salad, but it will not be the same as fresh egg salad. After thawing, the eggs will become rubbery and the texture of the egg salad will be grainy. So, while you can safely freeze and eat egg salad that has been frozen, you probably won't be happy with the results.
OK! Let's get to how make egg salad. This is a simple egg salad recipe and here's how make egg salad step by step…
Egg Salad How To Make
I happen to think that this recipe makes the best egg salad sandwich recipe ever, but it's just as yummy on salad or in lettuce cups or even alone!
I love that you can make this quick easy egg salad with leftover boiled eggs. This is the easy homemade egg salad I remember my mom making with leftover Easter eggs! (We used it as a simple egg salad sandwich filling.)
You can also make this an easy egg salad recipe with pickles (or an easy egg salad recipe with relish). Just chop up pickles (or use relish) and add them with the rest of the ingredients for an easy deviled egg salad! (Making this easy egg salad with mayo and mustard and pickles tastes a little more like a deviled egg recipe, I think!)
Some people like to make egg salad without mustard. If you're not a mustard person, leave it out!
Here's how to make easy egg salad and the easy egg salad ingredients:
Yield: 4
Easy Egg Salad Recipe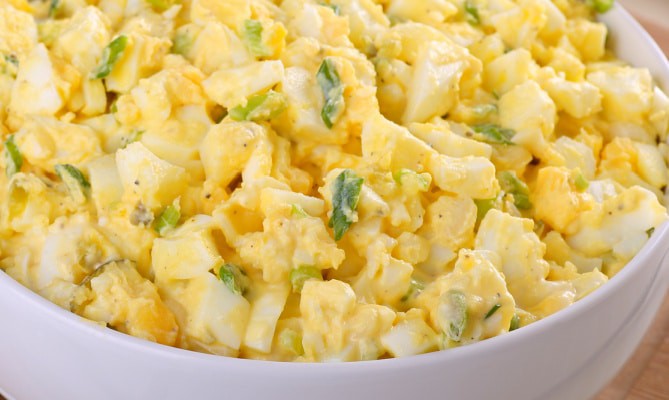 This is a classic egg salad recipe that you may remember from childhood recipes and one of the best egg salad recipes that I've made!
Ingredients
8 hard boiled eggs, cooled and peeled
1/2 cup mayonnaise
1 1/2 teaspoons yellow mustard or Dijon mustard
1 green onion, thinly sliced
1 celery rib, finely diced
2 teaspoons fresh chopped dill (or 1/2 teaspoon dried dill) (optional)
Salt and pepper to taste
Instructions
Cut eggs in half. Remove yolks and place in a medium mixing bowl. Set aside. Coarsely chop egg whites. Set aside.
Mash eggs yolks with a fork. Add in mayonnaise and mustard. Stir until combined and smooth.
To the egg yolk mixture, add in chopped egg whites, green onions, celery, and dill (optional). Stir until combined.
Salt and pepper to taste. If serving in a bowl, sprinkle with dill and green onions before serving (optional).
Serve immediately or refrigerate for up to 3-5 days.
Nutrition Information:
Yield:
4
Serving Size:
1
Amount Per Serving:
Calories:

347
Total Fat:

31g
Saturated Fat:

6g
Trans Fat:

0g
Unsaturated Fat:

23g
Cholesterol:

385mg
Sodium:

437mg
Carbohydrates:

2g
Fiber:

0g
Sugar:

2g
Protein:

13g
Nutrition information is estimated. Changes to the recipe and use of different brands may cause changes to the nutritional information to vary slightly from the ones provided here.
Want to also make dessert eggs with kids to go with your easy delicious egg salad recipe?
CHECK OUT THIS EGG TREAT RECIPE
Egg Books for Kids
To make this a cook with books and for reading and cooking activities for kids, try:
We hope you enjoy one of the best egg salad recipes!
LOOKING FOR FUN COOKING PRINTABLES FOR KIDS?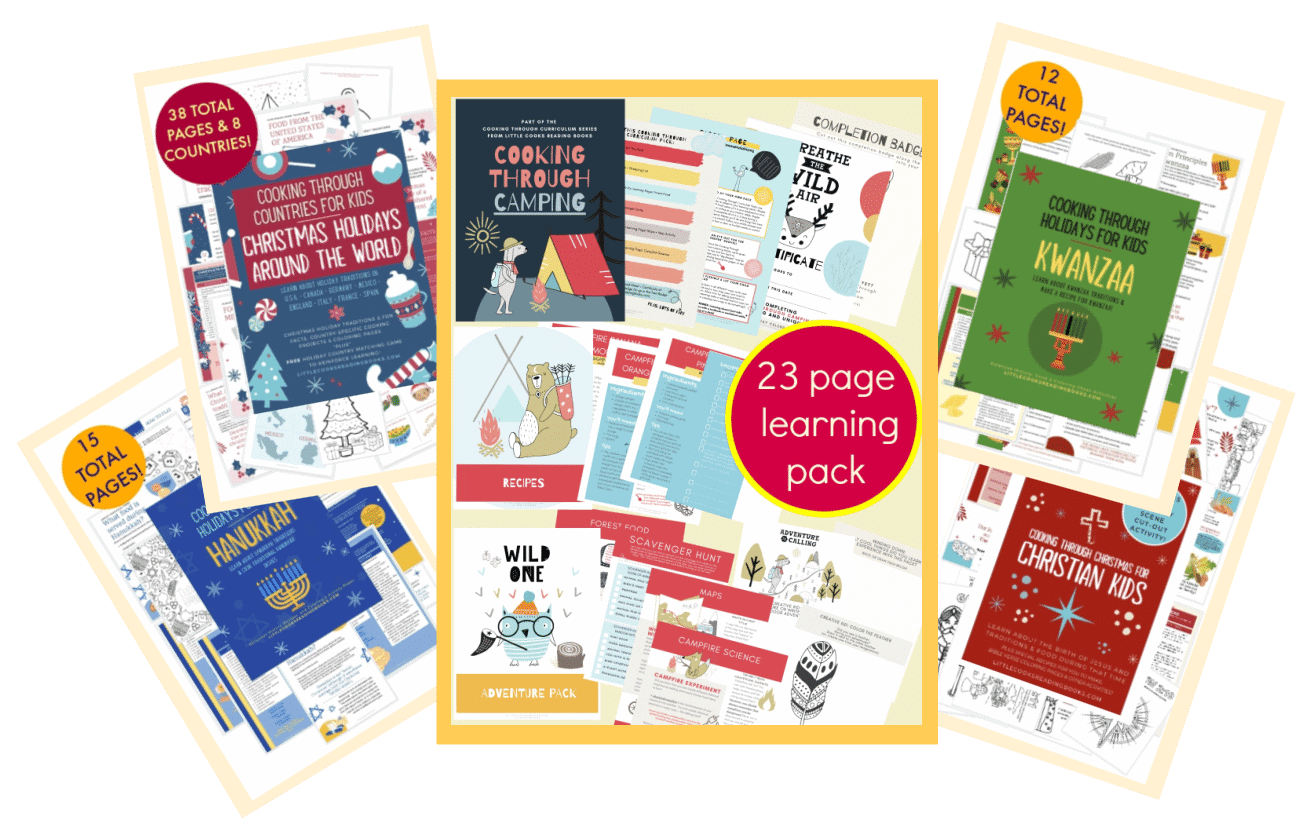 As an Amazon Associate I earn from qualifying purchases. Please refer to our
DISCLOSURE
.