This green eggs and ham recipe is a fun twist for a tasty dessert treat or party favors perfect for Dr. Seuss Day, Read Across America, Dr. Seuss birthday party theme, Dr Seuss snacks for school, or easy recipes and fun activities for kids!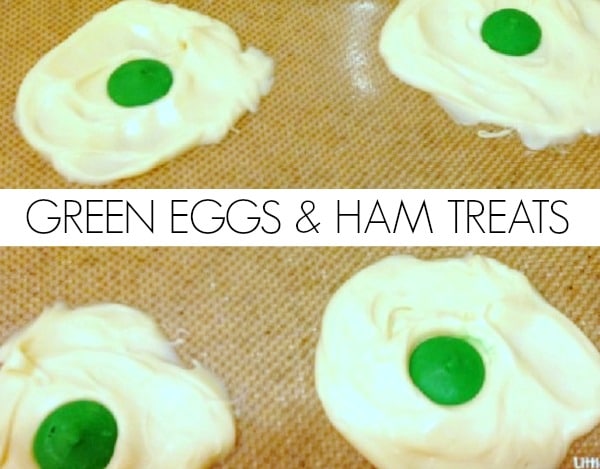 GREEN EGGS AND HAM RECIPE
This green eggs and ham snack is based on the Green Eggs And Ham book by Dr. Seuss.
Is Green Eggs and Ham a real dish?
The recipe for green eggs and ham is not a real dish. It was actually made up by Dr. Seuss for the book. However, people have taken the fun idea and made it into a real recipe. In fact, it is said that Dr. Seuss's alma mater, Dartmouth College, serves green eggs and ham periodically to freshman.
How do you make real green eggs and ham?
You can make green eggs and ham by dyeing your eggs (hard boiled) with green food coloring and serving regular ham on the side.
Affiliate links are used on this site. As an Amazon Associate I earn from qualifying purchases. Read more in our DISCLOSURE.
MORE SEUSS BOOKS: Complete List Of Dr Seuss Books For Kids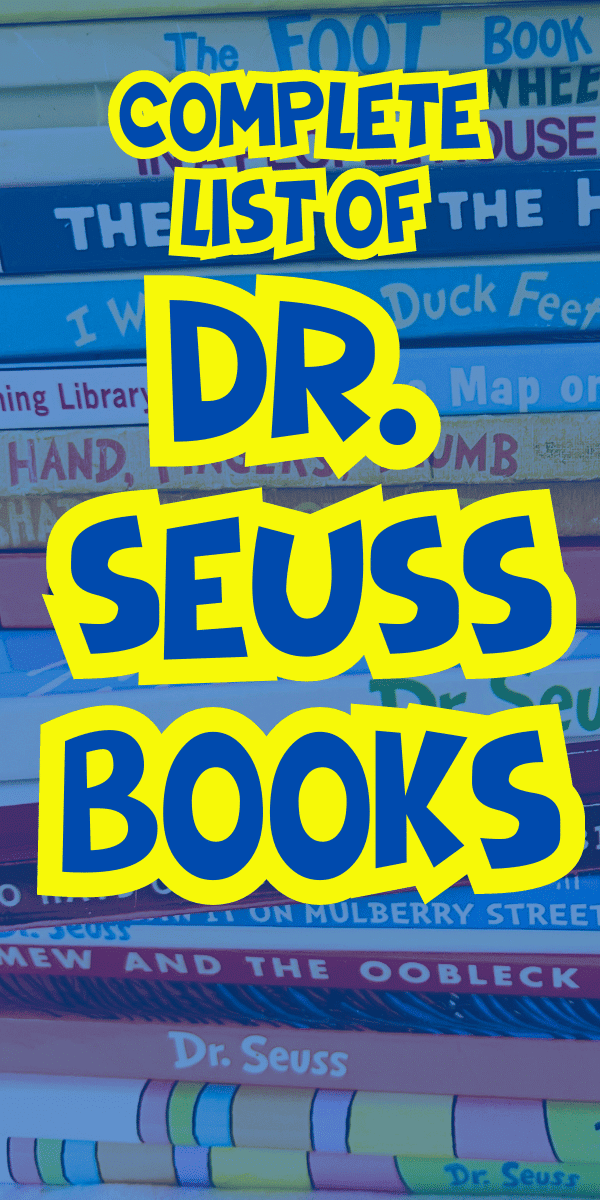 Let's get to our Dr. Seuss activities / Dr Seuss edible treats!
Green Eggs and Ham Recipe paired with the Book by Dr. Seuss
We paired our recipe up with what else? The Green Eggs and Ham Dr. Seuss book!
Green Eggs and Ham Summary
In case you are unfamiliar, the book takes us through the story of Sam-I-Am, who is trying to convince his friend to try the weird green eggs and ham.
(Because he does not like them, Sam I Am.)
It is, of course, written in that typical fun and wacky Dr. Seuss rhyming style.
(You can also watch the green eggs and ham movie!)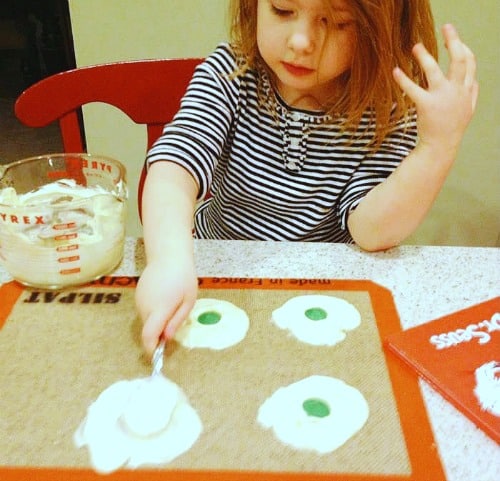 YOU MAY ALSO HAVE FUN WITH:
What are the 50 words in green eggs and ham?
The Dr Seuss Green Eggs And Ham poem was written on a bet on a bet: write a book with only 50 words for $50. The 50 words are: a, am, and, anywhere, are, be, boat, box, car, could, dark, do, eat, eggs, fox, goat, good, green, ham, here, house, I, if, in, let, like, may, me, mouse, not, on, or, rain, Sam, say, see, so, thank, that, the, them, there, they, train, tree, try, will, with, would, you.
ALSO CHECK OUT:
How To Make Green Eggs and Ham
(aka: Green Eggs and Ham Chocolates Treats)
We had so much fun with our Dr. Seuss green eggs and ham treats!
We came up with "green eggs" using chocolate melts in green and white.
(They are vanilla, or white chocolate flavored).
Sure, we could've added some green food coloring to scrambled eggs and have been done with it.
However, I wanted to created something that you could easily make as a quick treat after reading the book, or something that was simple even if you were making 50 of them for a Seuss-themed birthday party or Dr. Seuss Day celebrations.
And, this is what I came up with!
You'll be shocked how easy they are … and they are super cute!
(Plus, they're yummy! You'll never tell Sam I Am that you "do not like green eggs and ham!" after this!)
This is a green eggs and ham recipe for preschool or toddlers and up! All ages will enjoy!
RECIPE TIPS:
We used our non-stick baking mat for this and the chocolate pulled up really easy once it cooled!
Also, we often use our mini crockpot for projects like this. It's relatively safe and the chocolate stays melted while you work it (no matter how slowly you go, which can be super S L O W sometimes with kids).
Yield: Around 10
Green Eggs and Ham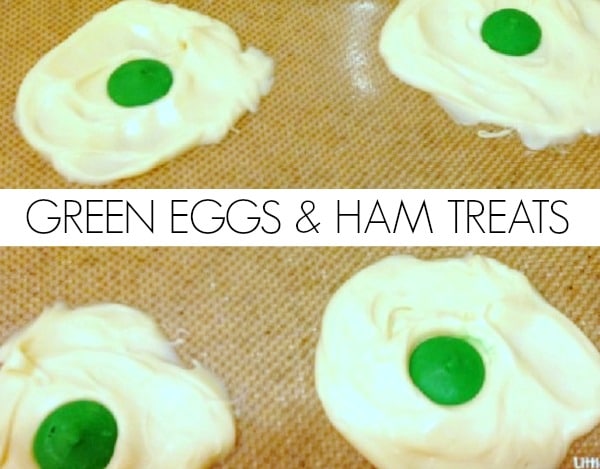 Fun and easy chocolate dessert treat recipe perfect for Dr. Seuss Day, theme parties and more!
Additional Time
10 minutes
Ingredients
12-Ounce Wilton White Candy Melts
12-Ounce Wilton Green Candy Melts
Instructions
Place the package of white candy melts into a microwave safe dish. Microwave for 1 minute.
Remove chocolate from microwave and stir. Heat for 30 seconds more, if needed, and stir until completely melted and creamy.
Spoon melted white chocolate onto wax paper or non-stick baking mat. Spread around in fun pattern to make it look like over-easy cooked egg white.
Place green candy melt into "egg white" chocolate. (Dont press down too much!) Also, don't just put them in the middles. Egg yolks are sometimes off to the side, so get creative with it.
Let chocolate sit for 10-15 minutes until hard.
Nutrition Information:
Yield:
10
Serving Size:
1
Amount Per Serving:
Calories:

268
Total Fat:

0g
Saturated Fat:

0g
Trans Fat:

0g
Unsaturated Fat:

0g
Cholesterol:

0mg
Sodium:

26mg
Carbohydrates:

67g
Fiber:

0g
Sugar:

43g
Protein:

0g
Nutrition information is estimated. Changes to the recipe and use of different brands may cause changes to the nutritional information to vary slightly from the ones provided here.
CHECK OUT THIS FUN LEARNING WITH BOOKS IDEA NEXT: Lyle Crocodile Lessons Ideas For
Let us know how your green eggs and ham recipe turns out!
LOOKING FOR FUN COOKING PRINTABLES FOR KIDS?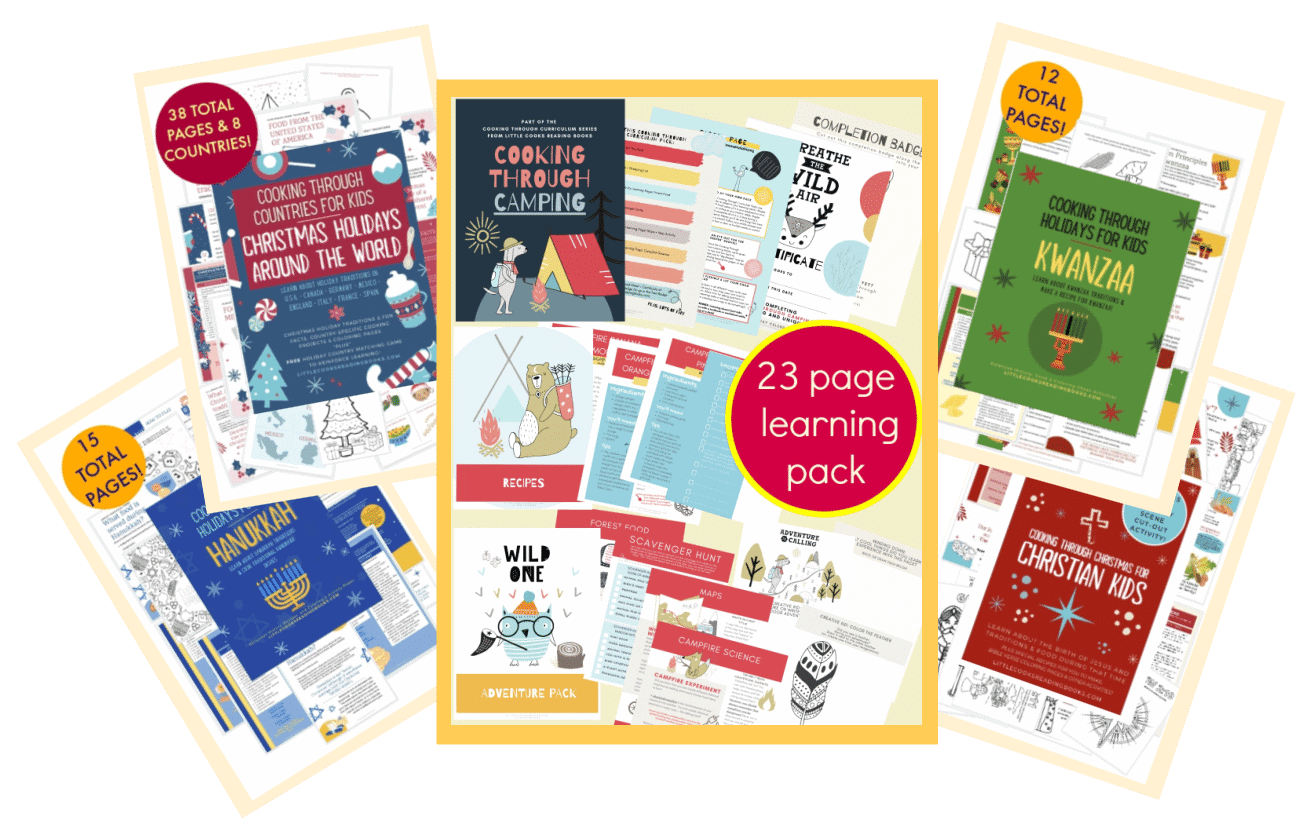 As an Amazon Associate I earn from qualifying purchases. Please refer to our
DISCLOSURE
.