This Grinch poop recipe is a fun recipe for kids to make for Christmas, funny holiday party treat, or great dessert to go with a Grinch watch party! Fun movie-themed foods!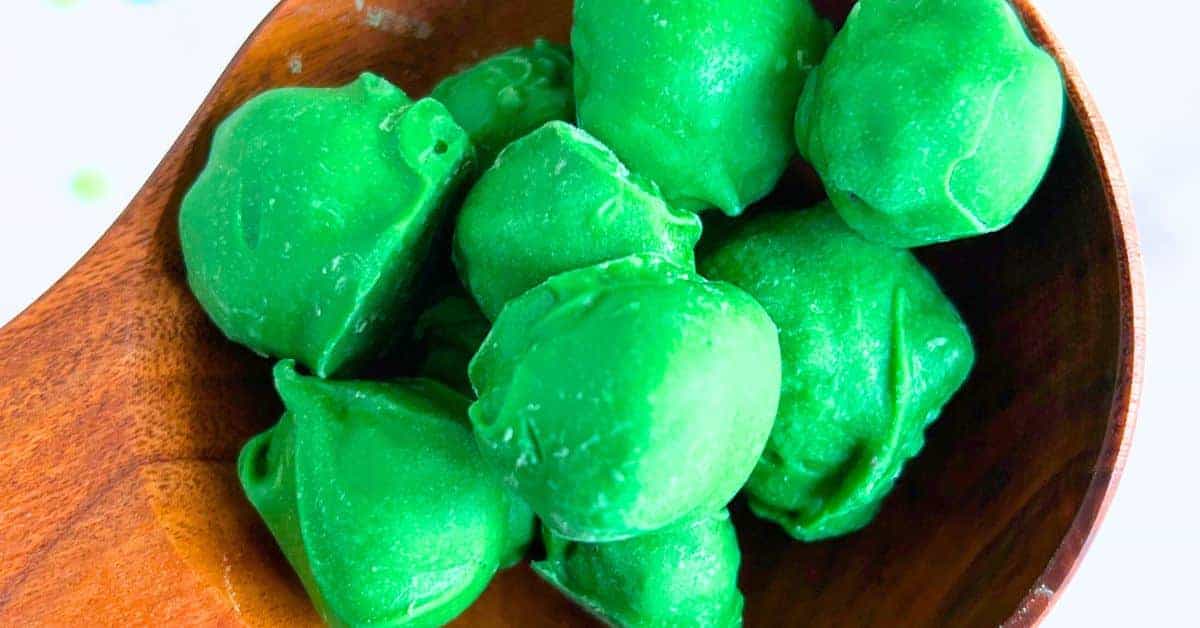 Easy Grinch Poop Recipe (Fun Holiday Treats)
Green Grinch Poo is made from a cookie-icing mixture and then dipped into melted chocolates. Some people make this is a grinch popcorn recipe, but we made our green poo as a Christmas candy instead. If you're looking for fun alternatives to Christmas cookie recipes, this is it.
To Make Homemade Grinch Poop Recipe
Grinch Poo Recipe Ingredients:
Sandwich cookies (like Oreo cookies)
Vanilla icing (tub icing)
Green chocolate melts
YIELDS: 20 Grinch Poo Candy Oreo Truffles
Affiliate links are used on this site. As an Amazon Associate I earn from qualifying purchases. Read more in our DISCLOSURE.
Get the full printable recipe card below and tips on making these holiday Grinch treats. KEEP SCROLLING!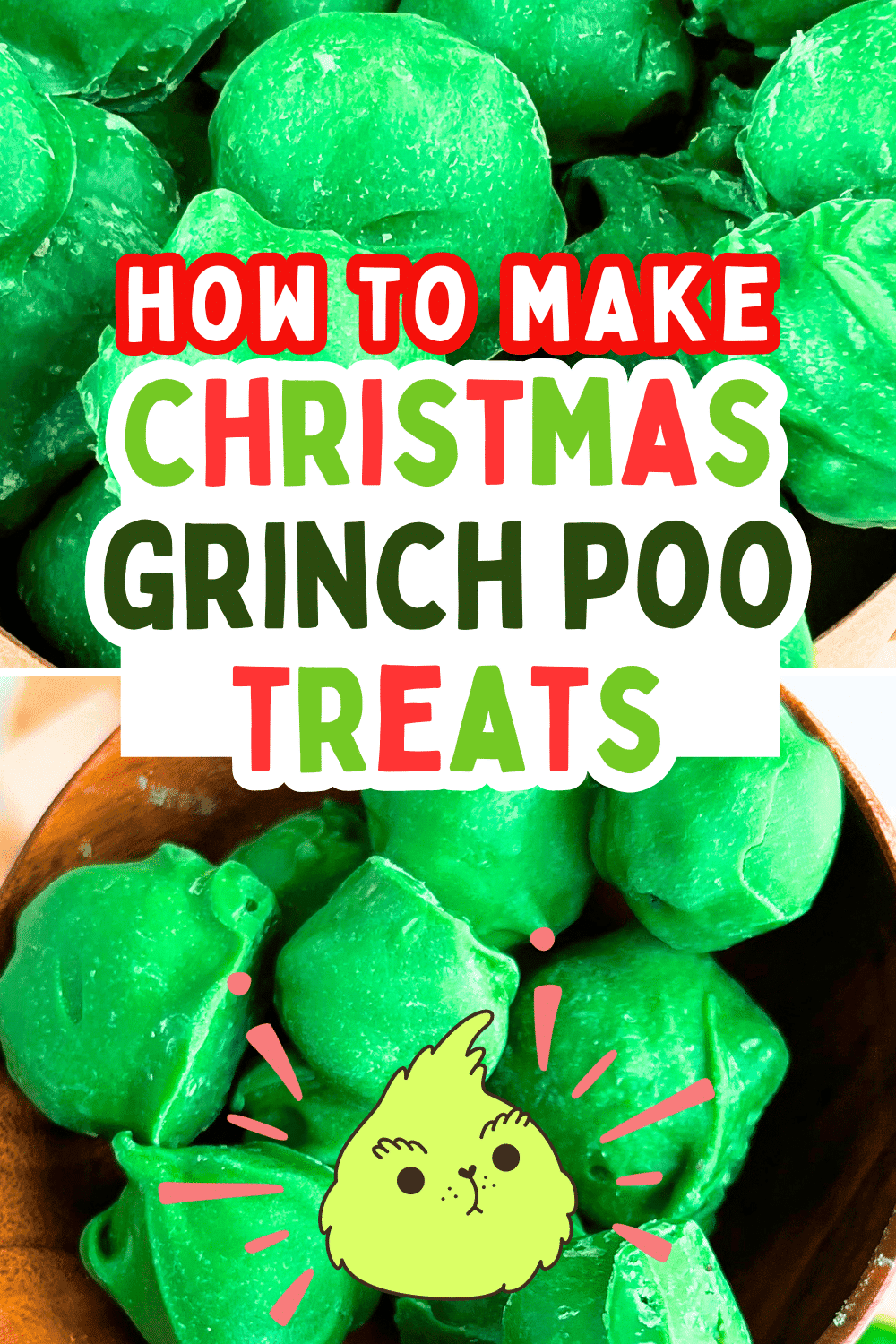 Christmas Grinch Poop Recipe Step-By-Step With Pictures
Grinch poo, (aka: Grinch Oreo truffles) are fun holiday recipes to make with kids or for Grinch-themed Christmas party treat bags!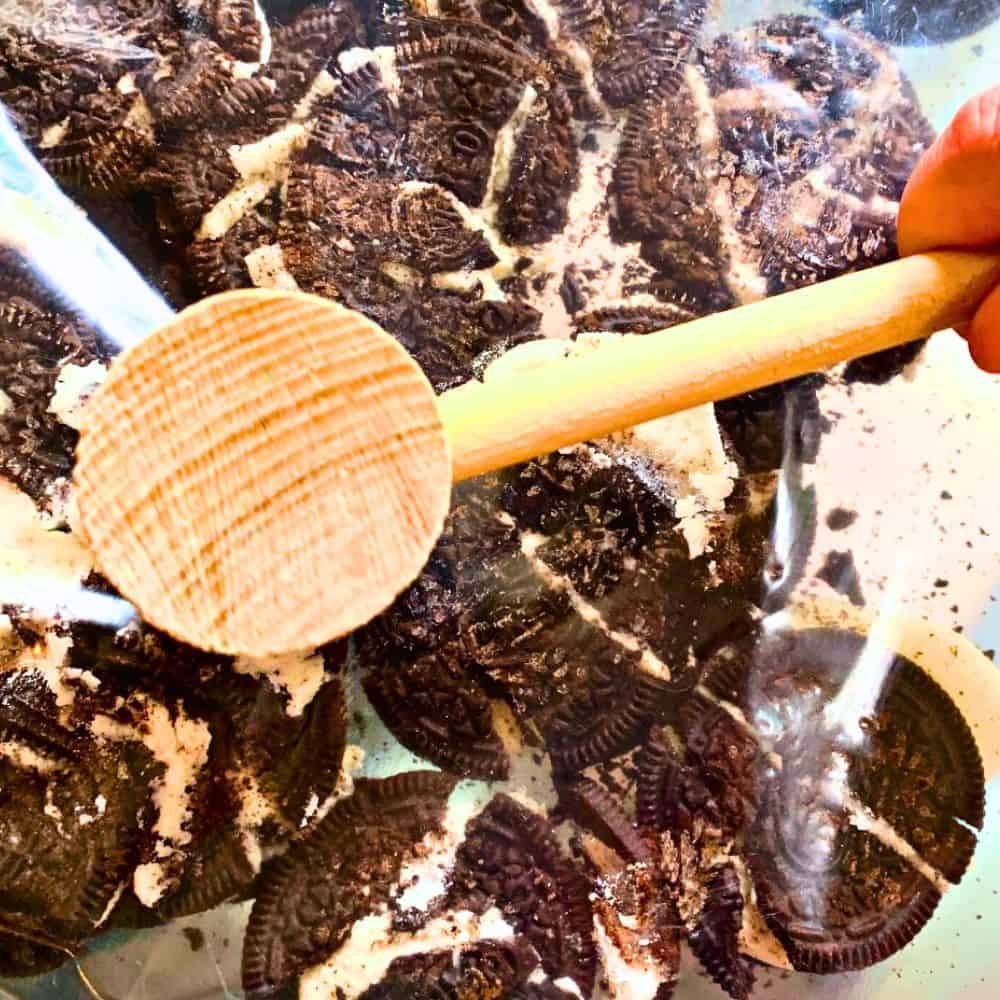 Step 1: Crush the Oreo cookies.
This is my daughter's favorite step! Anytime she gets to hammer some food with a wood mallet, she's in! (This is even an easy food craft to make with a group of kids.)
To easily crush cookies, place them inside a sealable bag. Then roll them with a rolling pin or smash them with wood mallets. (We use our crab mallets like this.)
This really is a fun step for kids, so get them involved!

Step 2: Make the cookie balls.
Using your hands, roll the cookie and icing mixture into small balls.
If you're cookie balls are falling apart easily, add a little more icing to get them to stick together.
Place them on a cooking sheets lined with wax paper and put them in the freezer to harden.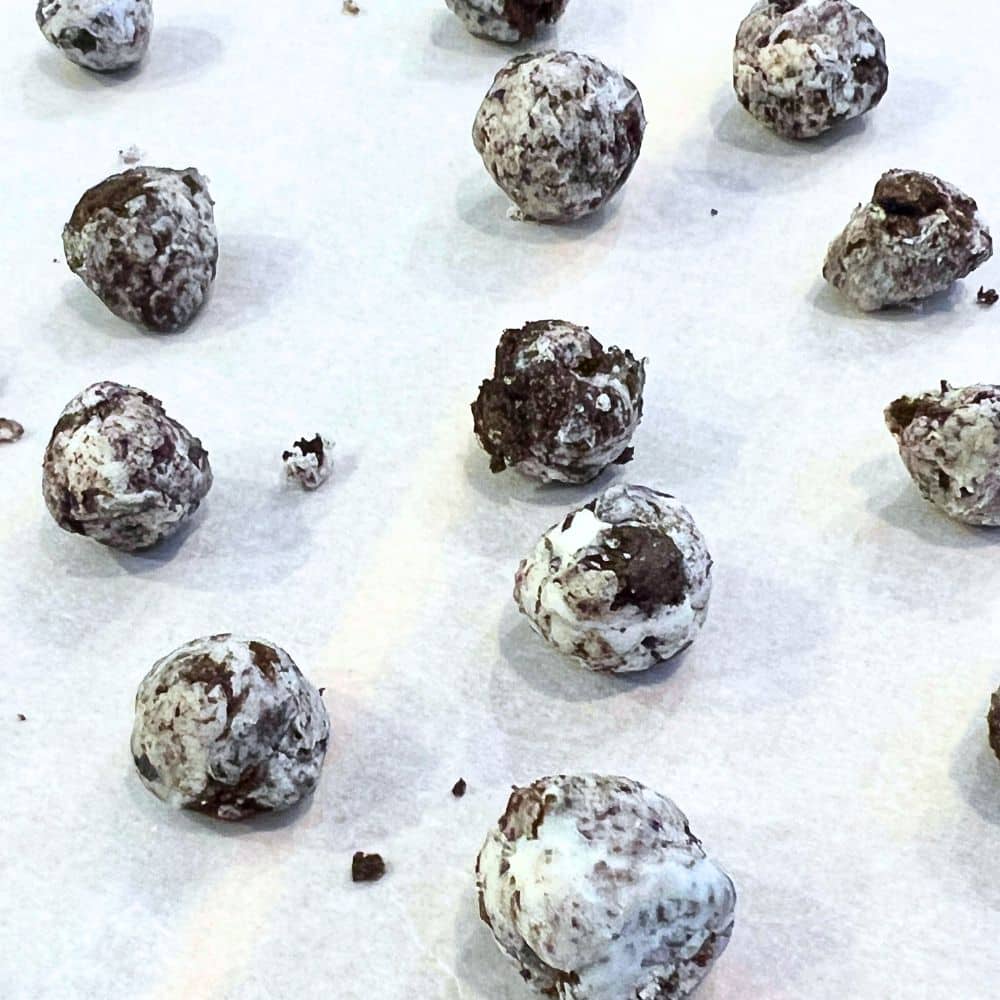 RECIPE TIP: Freeze the cookie balls so that they hold together when you dip them in the chocolate! You'll need to work quickly so your cookie balls don't fall apart in the melted chocolate!
Step 3: Melt your Grinch green chocolate.
Melt your green chocolate melts. We use these chocolate melts and find that they work well and set fast / harden fast).
RECIPE TIP: When working with melted chocolate we use mini crockpots like this. It keeps the chocolate melted the entire time and it's great for recipes with kids!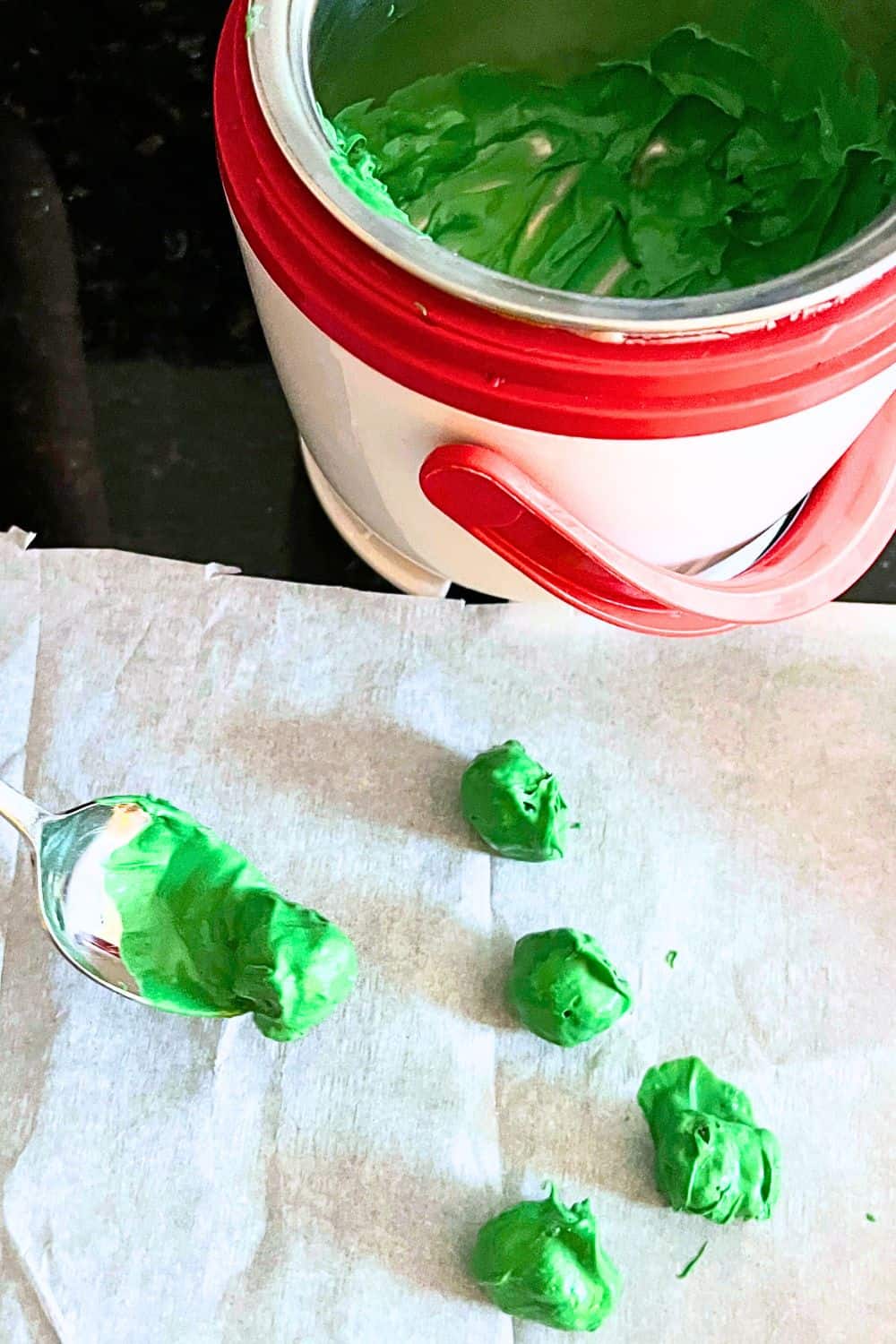 Step 4: Make the Grinch poo.
Dip your frozen cookie bites into the melted chocolate. Coat completely.
RECIPE TIP: Remove only a few of the frozen cookie balls from the freezer at a time. This will help the cookie balls stay together when you dip them into the green melted chocolate.
FUN HOLIDAY GAME: ALSO TRY THE HYSTERICAL REINDEER POO GAME!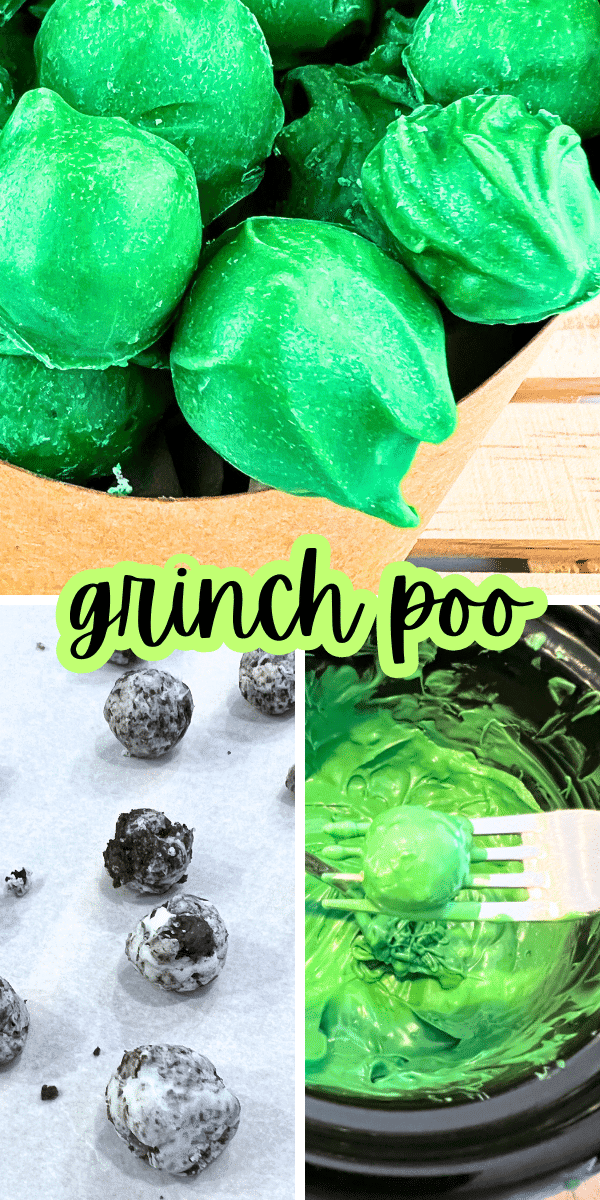 How To Make Grinch Poop
RECIPE TIP: You can also make this as reindeer poop or snowman poop. Just change the chocolate melts to red instead of green for reindeer poo or white chocolate for snowman poo. You can also call them Elf Poop if you have an elf theme, using them for the Elf movie party, or you want to use them as an Elf On The Shelf activity!
Here's the printable Grinch poop cookies bites recipe (holiday recipes we love to make!)…
Yield: 20
Grinch Poop Recipe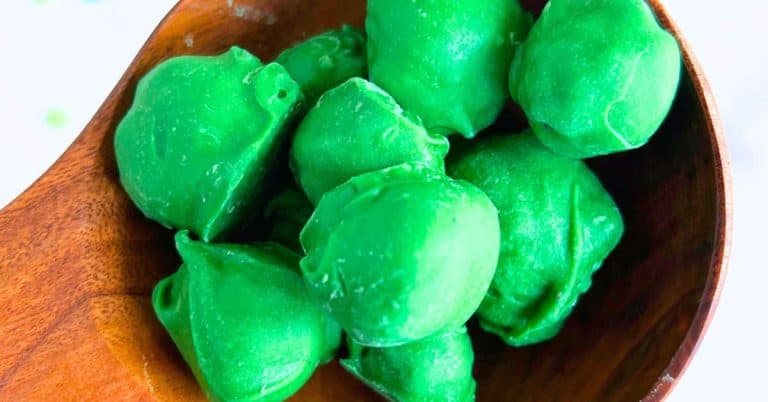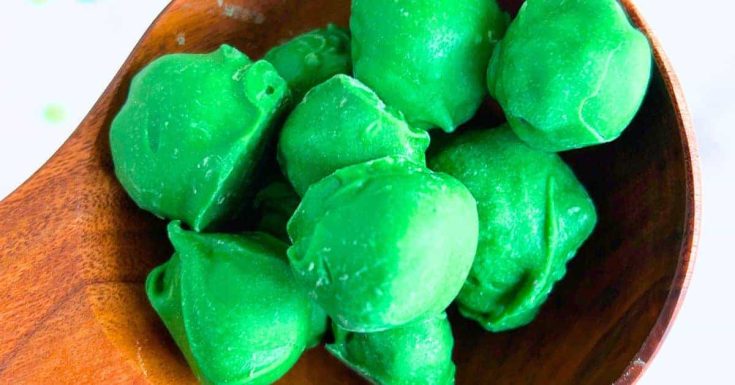 These Grinch poo Christmas candy bites are a really fun food craft to go with the Grinch cartoon or for fun holiday treat bags for a kids' Christmas party.
Ingredients
10 regular Oreo cookies, crushed into small pieces (not Double Stuff)
1/2 cup Green Wilton's Melts
1/4 cup white vanilla icing (icing in the tub)
Instructions
Line a baking sheet with wax paper. Set aside.
In a large mixing bowl, place crushed Oreos and white vanilla icing. Mix by hand. Your Oreo/icing mixture should hold together when you make it into a ball, so you may need to add a little more icing.
Form the mixture into small balls. (Kids love this part!) Place them on the lined baking sheet.
When all the cookie mixture is formed into small balls, place the cookie balls in the freezer for at least an hour. (You can even leave them overnight.)
When ready to make the poo: Melt the green Wilton's melts according to the package directions. (Microwave for 30 seconds at a time until melted.)*
Remove cookie balls from the freezer. One at a time, place the cookie Oreo balls into the melted green chocolate. Use a fork to roll the cookie ball in the green chocolate. Tap the fork on the side of the dish to remove the excess melted chocolate from the balls before placing it on the wax paper to set.
Use your fork to make a swirl at the top for a "poo" look.
Continue until all cookie balls have been dipped into the green chocolate and placed on the lined cookie sheet to set completely.
Once set, store in an airtight container for up to 3 days or freeze for 3 months.
Notes
If you find that the cookie balls are falling apart easily in the melted chocolate, place them back in the freezer and only take out a few at a time. Work as quickly as you can! Once the cookie balls start to get warm they will easily melt in the hot chocolate and your cookie balls will crumble.
*SEE THE RECIPE TIP IN THE POST FOR WHAT WE USE FOR MELTED CHOCOLATE RECIPES! SCROLL UP!
We made our Grinch Poo balls pretty small and we got about 20 out of this recipe. The amount you get may vary based on how fine you crush your Oreo cookies and how big or small you make the cookie balls.
Nutrition Information:
Yield:
20
Serving Size:
1
Amount Per Serving:
Calories:

44
Total Fat:

2g
Saturated Fat:

1g
Trans Fat:

0g
Unsaturated Fat:

1g
Cholesterol:

0mg
Sodium:

31mg
Carbohydrates:

7g
Fiber:

0g
Sugar:

5g
Protein:

0g
Nutrition information is estimated. Changes to the recipe and use of different brands may cause changes to the nutritional information to vary slightly from the ones provided here.
Recipe and Read: Grinch Children's Book Recommendations
Here are some fun kids' Grinch books to go with this recipe.
Grinch Christmas Books For Kids
More Ideas For Food From Christmas Movies: Make Christmas Story Ralphie Edible Soap Candies!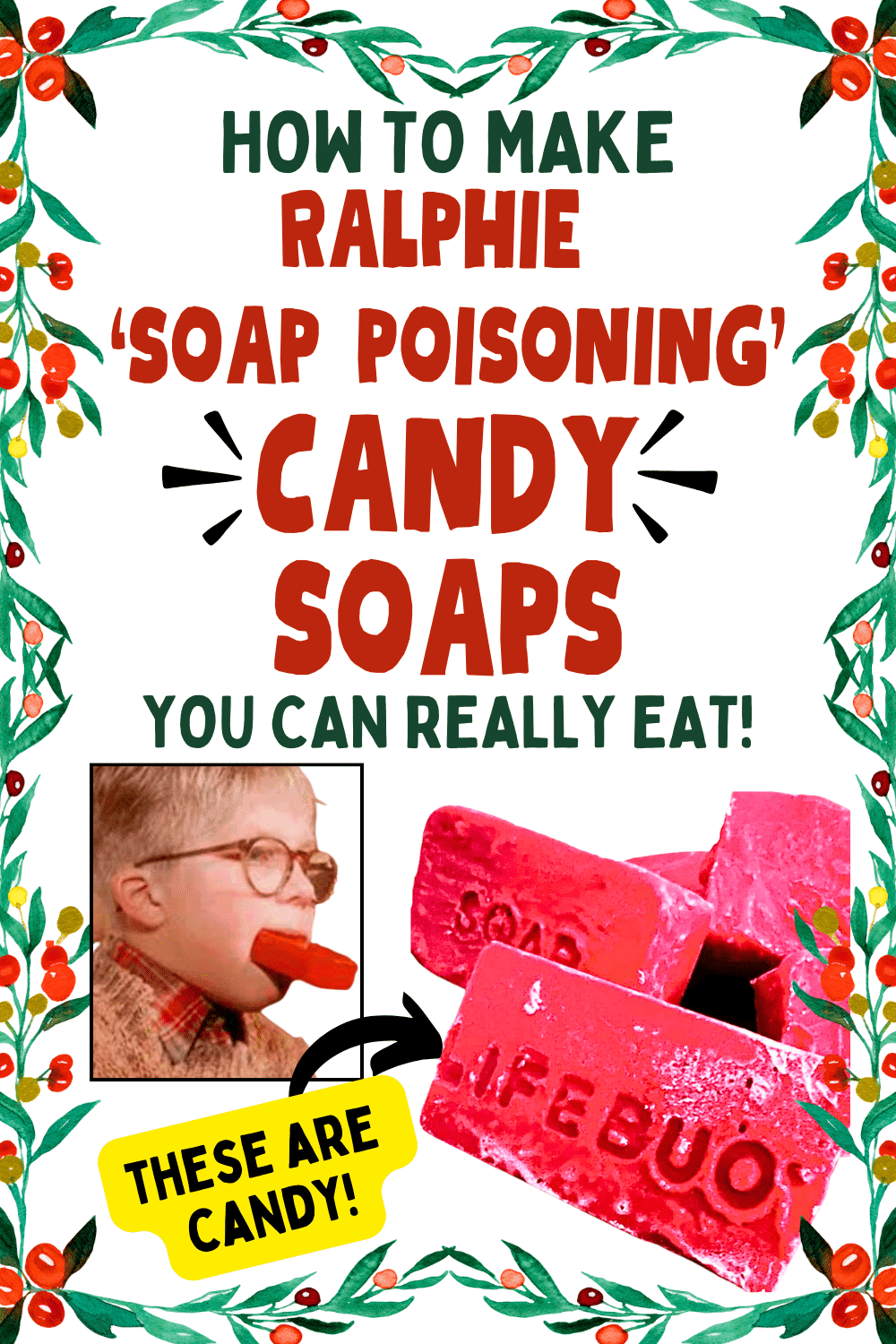 Merry Christmas and Happy Holidays!
We hope you have fun making this Grinch poop recipe!
LOOKING FOR FUN COOKING PRINTABLES FOR KIDS?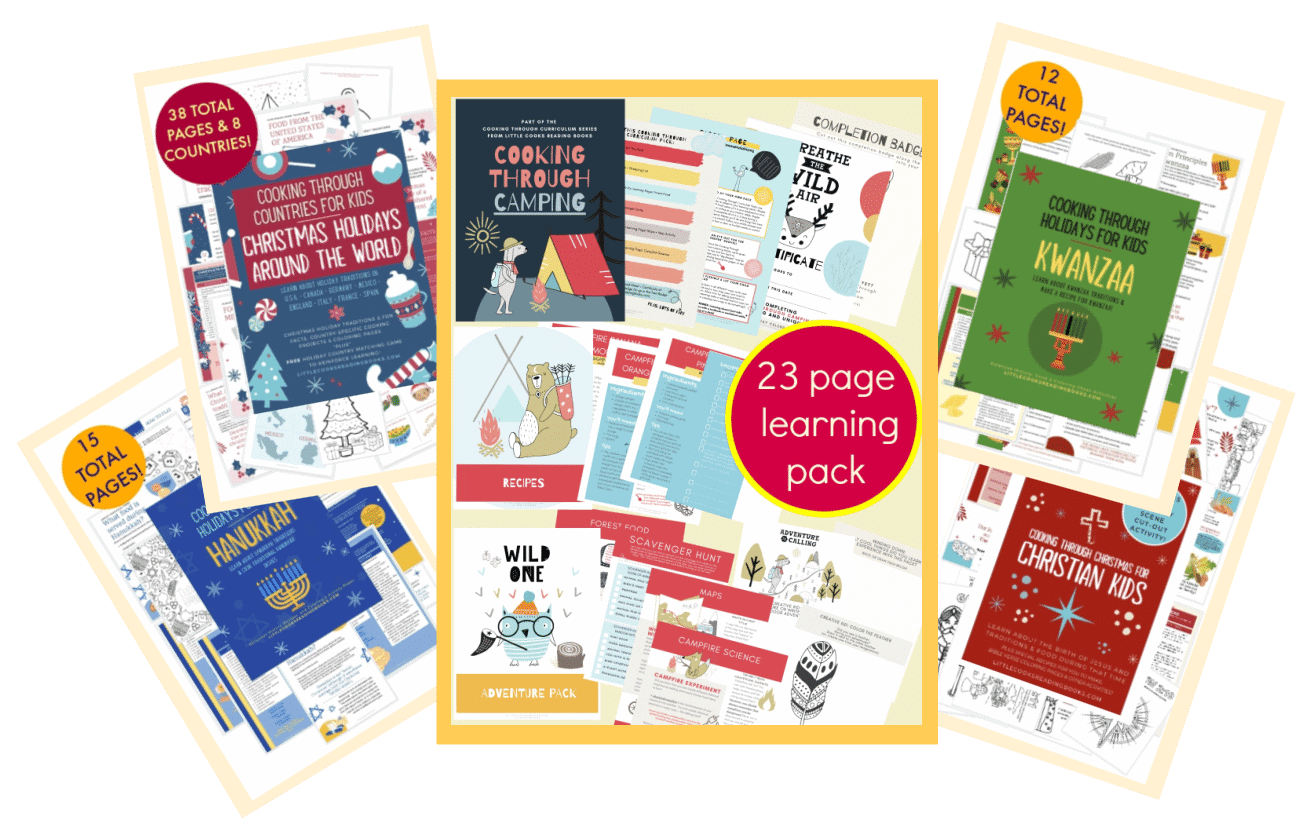 As an Amazon Associate I earn from qualifying purchases. Please refer to our
DISCLOSURE
.