DIY cloth wrapping, or wrapping with furoshiki (aka: traditional Japanese cloth wrapping), is an eco-friendly gift wrapping technique and a fun holiday activity for kids to learn! Try this cloth present wrap for any occasion or even as a cloth carrying bag or market bag for daily use (like for kids to carry bento boxes or books!).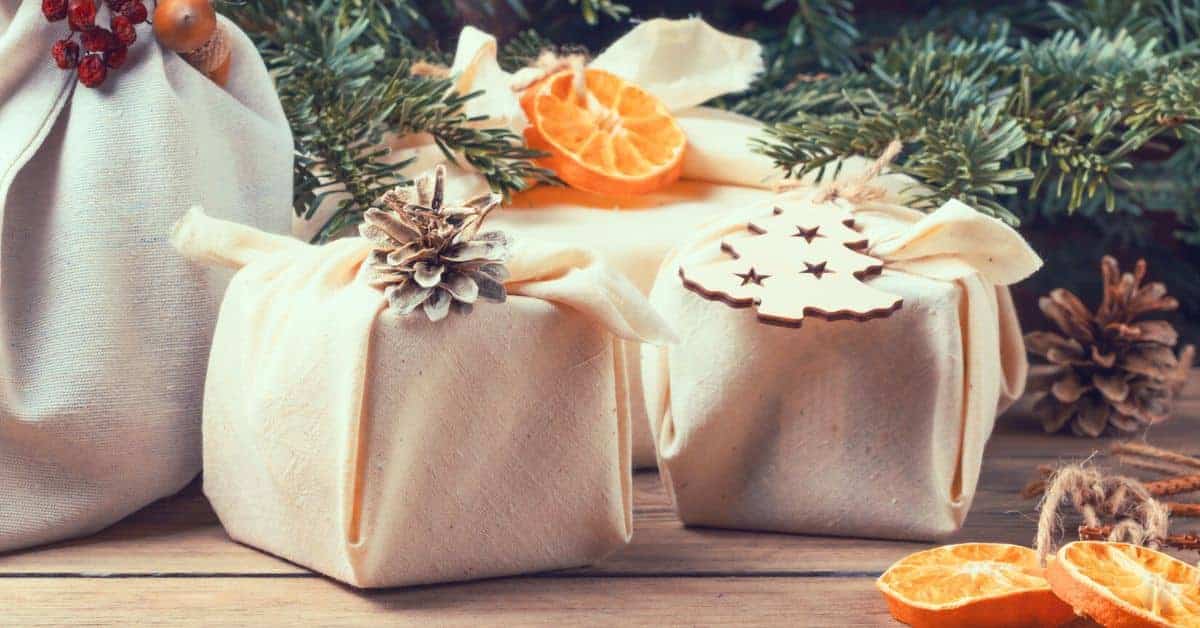 Zero Waste Cloth Wrapping Paper (DIY Fabric Wrap)
If you're looking for ideas on how to wrap gifts as a green alternative to paper, this cloth wrapping furoshiki technique is it! It's a great sustainable alternative for paper wrapping paper or those plastic-coated gift bags (aka: single-use item).
How do you wrap with cloth wrapping paper?
Measure your cloth against the gift. (You want it a lot larger, like three times the size of your gift!)
Place the item in the center of the furoshiki cloth.
Wrap the corners. Take opposite corners of the cloth and bring them together over the item.
Make a knot with the corners.
Tuck in other corners under the knot / bow.
Add fun extras and decorations like flowers, dried citrus, pinecones, berries, acorns, wood ornaments, and more!
SEE THE FULL INSTRUCTIONS ON HOW TO WRAP FUROSHIKI STEP-BY-STEP BELOW. KEEP SCROLLING for the furoshiki wrapping tutorial step by step DIY cloth wrapping!
Affiliate links are used on this site. As an Amazon Associate I earn from qualifying purchases. Read more in our DISCLOSURE.
Before we get to the reusable gift wrapping tutorial with pictures, let's answer some common questions like what is wrapping with cloth called and more about the history of wrapping gifts this way.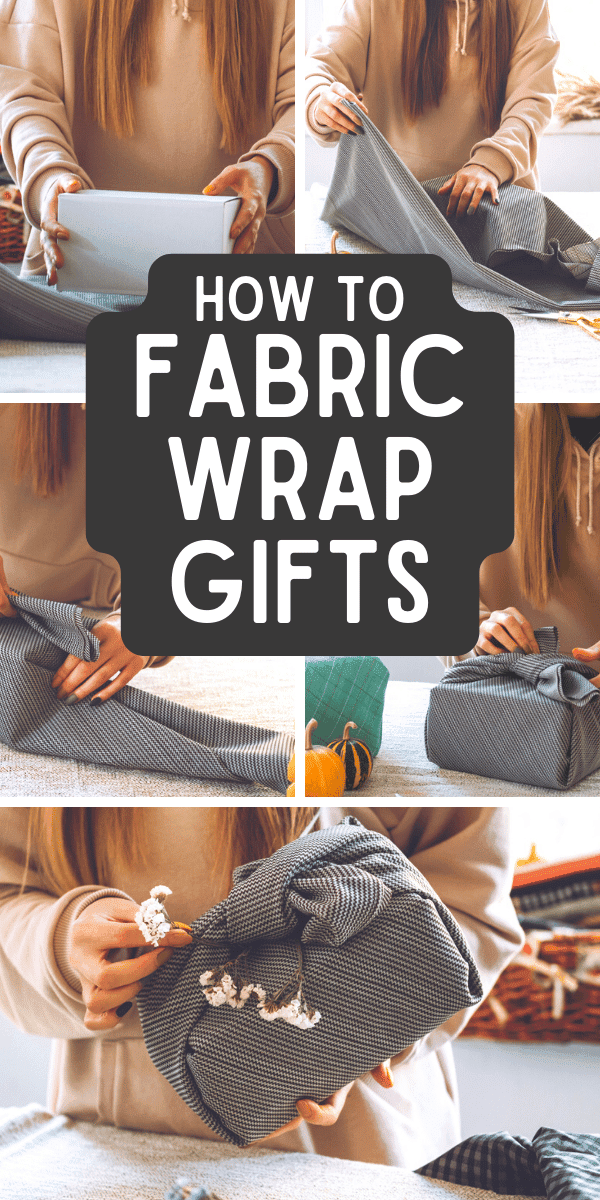 All About Wrapping With Furoshiki (Fabric Wrapping Technique)
If you're not familiar with this process, you may be wondering what is furoshiki wrapping, the traditional Japanese wrapping cloth…
What is the Japanese wrapping cloth called?
The art of Japanese fabric wrapping is called fuoshiki. It is traditionally a square-shaped layer of cloth (organic cotton or Japanese silks) that is folded and tied around a gift. The cloth is used instead of paper wrapping paper or gift bags for holidays or special occasions. Furoshiki wrapped gifts are perfect for zero waste wrapping and the perfect example of how to reuse gift wrapping.
A furokshiki fabric wrapping paper is distinct because it can be folded into almost any shape to contain any box size or shape (and even bottles!).
Traditional furoshiki clothes that are used for presents are often adorned with symbols of good fortune and helps keep the gift "pure." Wrapping gifts in furoshiki are signs of respect and to wish others good luck.
Another benefit of furoshiki wrapping is that it often creates a handle for carrying!
They aren't just used for furoshiki Christmas wrapping or gift giving. In Japan, furoshiki are used to transport and carry items and also many make a furoshiki bento wrap (and not just for sustainable gift wrapping!).
FUN FACT FUROSHIKI HISTORY: Furo means "bath" and shiki means "something spread on the floor." It came from the 14th century when people took communal baths. They would carry their change of clothes for the bath in a wrapped cloth. Then, they would use the cloth as a bath mat to stand on while they got dressed. Later, the use of the furoshiki became popular for carrying items of all kinds and present giving.
Watch this interesting quick video about furoshiki with your kids!
Do you ask for furoshiki back?
Traditionally, furoshiki wraps are given back to the gift giver. However, today some people prefer that the gift recipient keep the gift wrap and use it for other gifts. If you're unsure, just ask the person giving you the furoshiki wrapped present!
Where To Buy Furoshiki Wrapping Cloth
You can buy beautiful furoshiki fabric like this (silk is often used for high-end gifts) or even use plain white dish towels like this or tea towels and embellish them with dried fruit, evergreen stems, rosemary, winter berries (if using it for Christmas presents), wood Christmas tree ornaments and more!
Any piece of fabric that you can use to fold around a gift can be used for furoshiki Japanese wrapping fabric.
I like using the dishcloth for fabric wrap for adults because then the person has a dishtowel they can get everyday use out of for dishes, other daily life uses, or to rewrap for someone else!
You can even use a silk scarf or reversible Sari, which acts as its own gift.
For kids, try to find fun printed furoshiki Japanese wrapping cloth like this (they have a lot of fun fabric prints for kids furoshiki).
CRAFT TIP: Keep an eye on different fabric sales throughout the year (especially vibrant colors for kids) and grab them anytime you see fabric at an affordable price.
ALSO TRY THIS FOR YOUR CHRISTMAS FABRIC WRAPPING IDEAS:
Drying oranges for decorations for your furoshiki gift wrapping cloth gift!
If you need labels for your wrapped presents, try writing names on these simple wood ornaments and tying them onto the gift package for more DIY eco-friendly gift wrapping fun for kids!
How big of a furoshiki do I need?
A good rule of thumb for wrapping with furoshiki is to use a square fabric piece around three times the size of your gift. This will allow you to fold and tie appropriately around the gift and still create a bow handle on top.
Your furoshiki wrapping cloth size can be any size, but make sure it's a square piece of cloth.
OK!
Let's get to how to use furoshiki cloth gift wrapping and reusable childrens fabric gift wrap.
This is a really fun holiday project kids activity, especially if you're studying holidays around the world.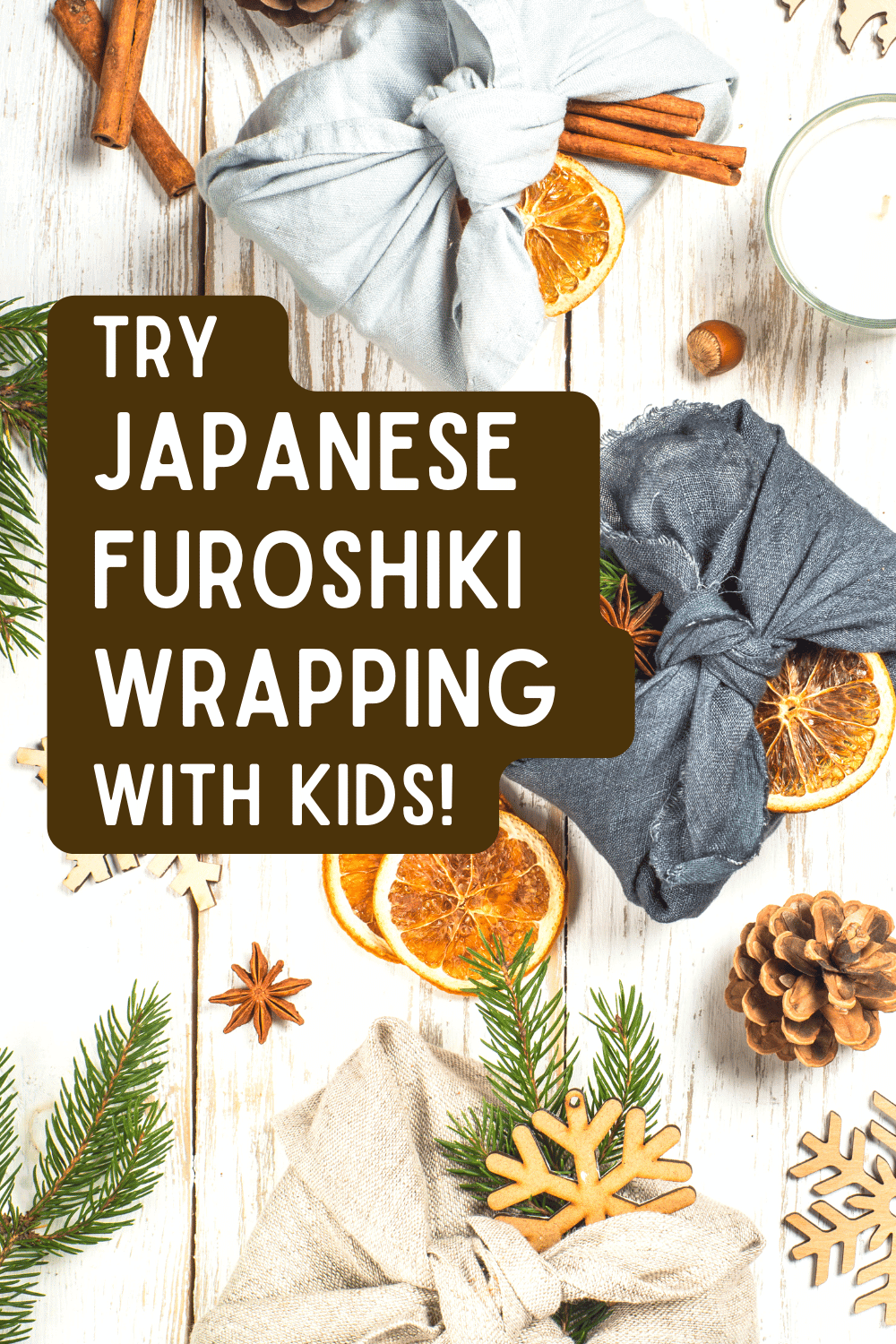 How To Wrap Furoshiki Step-by-Step With Pictures
How To Do The Cloth Wrapping Technique With Reusable Fabric Gift Wrap
This sustainable gift wrapping is easy once you get the hang of it and a great environmentally friendly idea for kids to learn all about for holidays or an eco-friendly way to wrap presents any time during the year!
(And, this cloth wrap activity is a super easy and a fun craft for kids — a no sew kids craft!)
There are many furoshiki wrapping techniques (including a furoshiki bag!) and different ways to wrap a gift, but I've shown you the most traditional one here for a square or long box. (But you can even use it to wrap wine bottles!)
CRAFT TIP: It may take a couple of practice runs to get the folding technique right. (At least it did for us!)
Here are the furoshiki wrapping instructions. It really is a beautiful wrap style!
Steps For Wrapping With Furoshiki (Fabric Wrap Presents)
This furoshiki wrapping how to guide teaches one of the furoshiki gift wrapping techniques. Check after the instructions for books about other furoshiki wrapping method ideas to do with kids!
Materials
Gift
Square furoshiki wrapping cloth 3 times the size of the gift box
Embellishments like evergreen sprigs, flowers, etc. (optional)
Instructions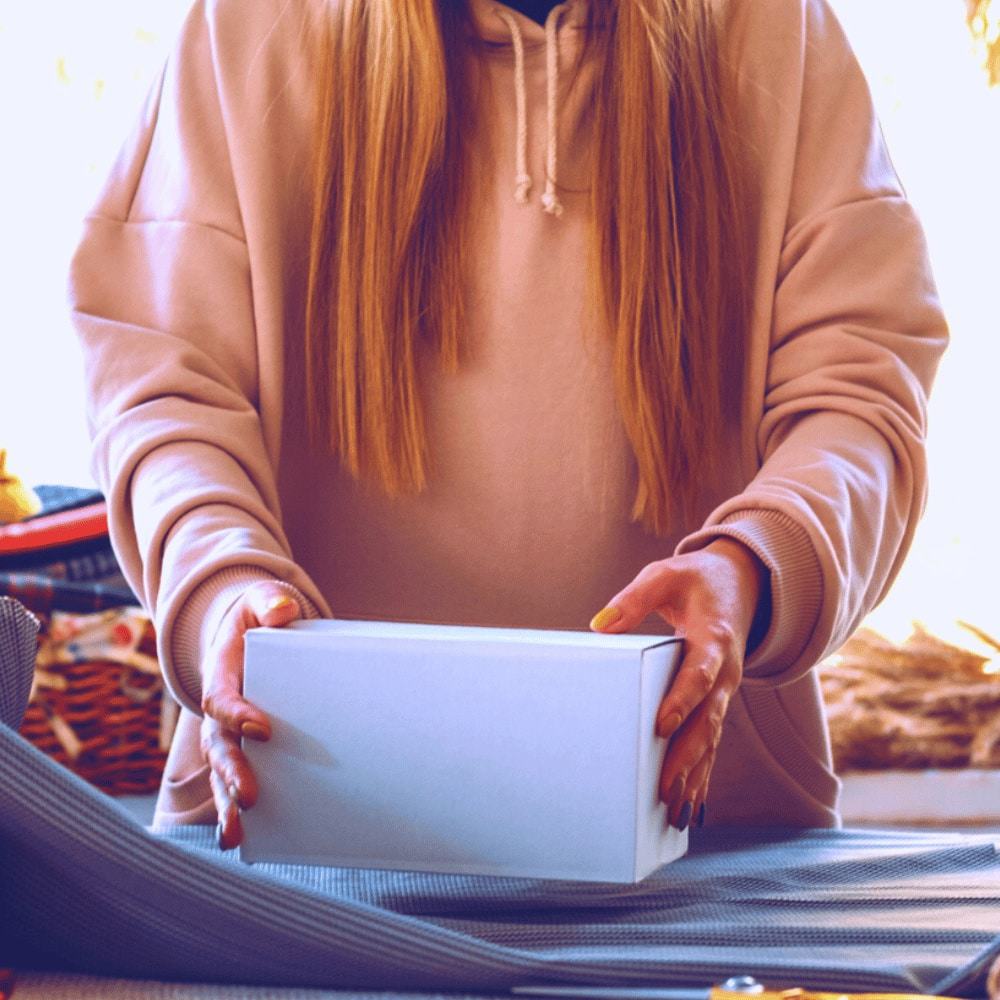 STEP 1: MEASURE THE CLOTH.
Start with a furoshiki square piece of cloth or fabric 3 times the size of your gift. When in doubt, use extra fabric.
NOTE: A thicker square piece of fabric is more difficult to work with, so keep that in mind. Play around with thicker fabric and a different type of fabric to see what is easier for you and the kids to work with.
Lay your fabric in a diamond shape on a flat surface in front of you.
Place gift in the middle.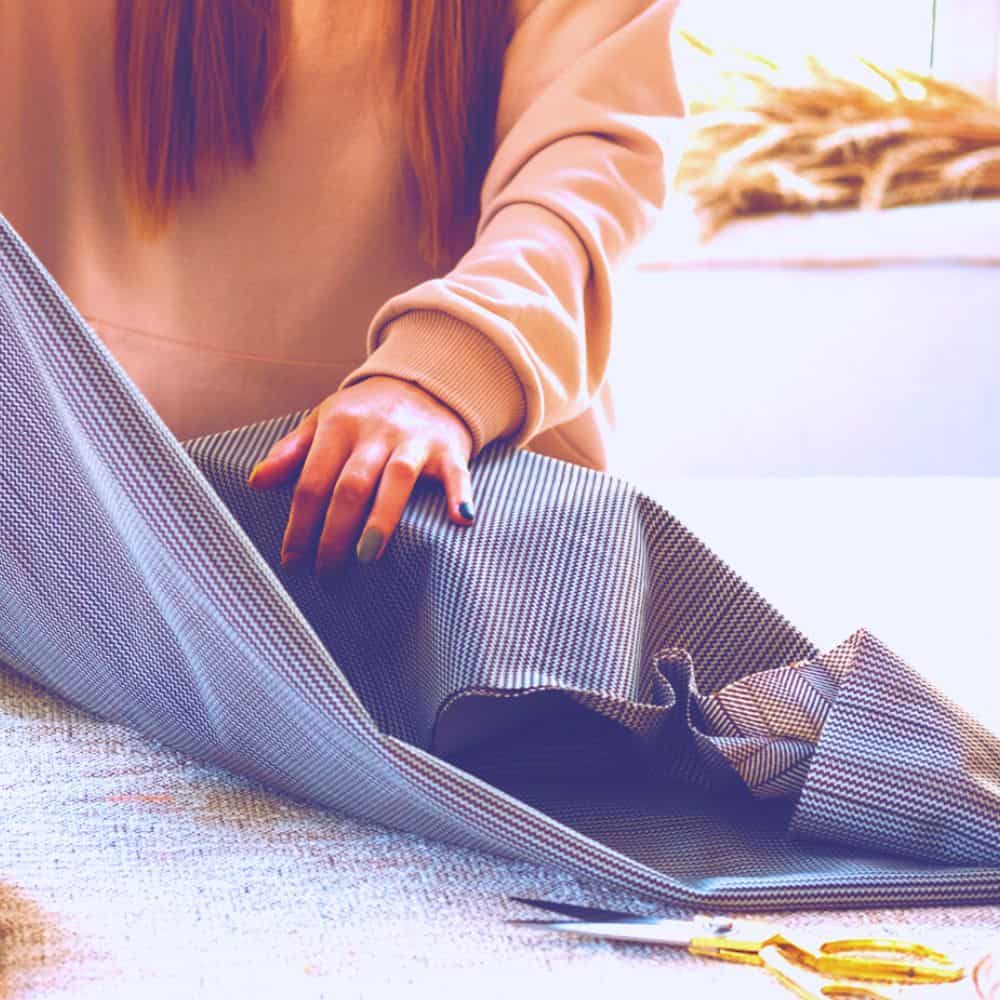 STEP 2: START WITH THE BOTTOM CORNER.
Fold the bottom corner up over the gift.
Do the same with the top corner so that it is snug over your gift.
(If there is a corner overhang, tuck it under the gift on the inside.)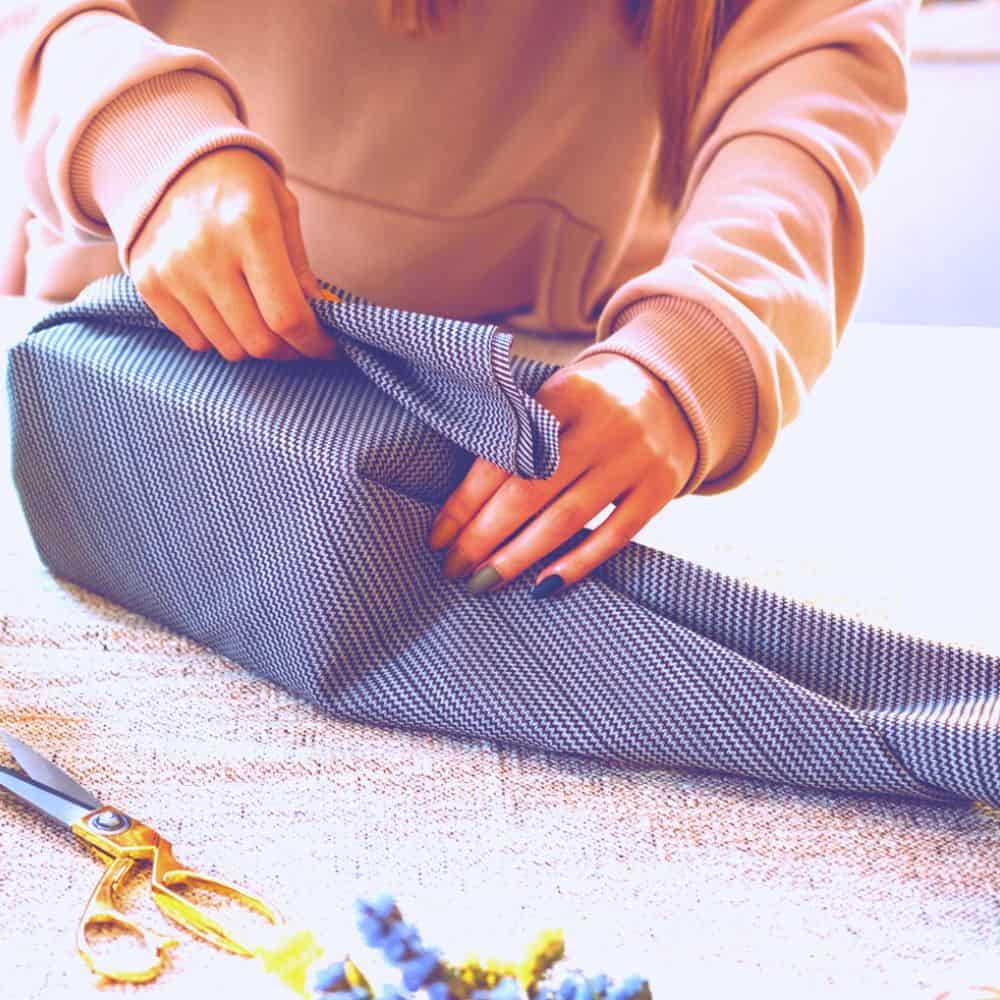 STEP 3: CREASE AND FOLD.
With the two long ends (left and right) crease (fold) the fabric against the box (like if you're using paper wrapping).
Repeat with the other end.
Pull both ends over the top of the gift.
(It may help to twist the ends once.)
Tie a single knot on top of the gift.
Fluff and flatten each end of the knot tie to make it look nice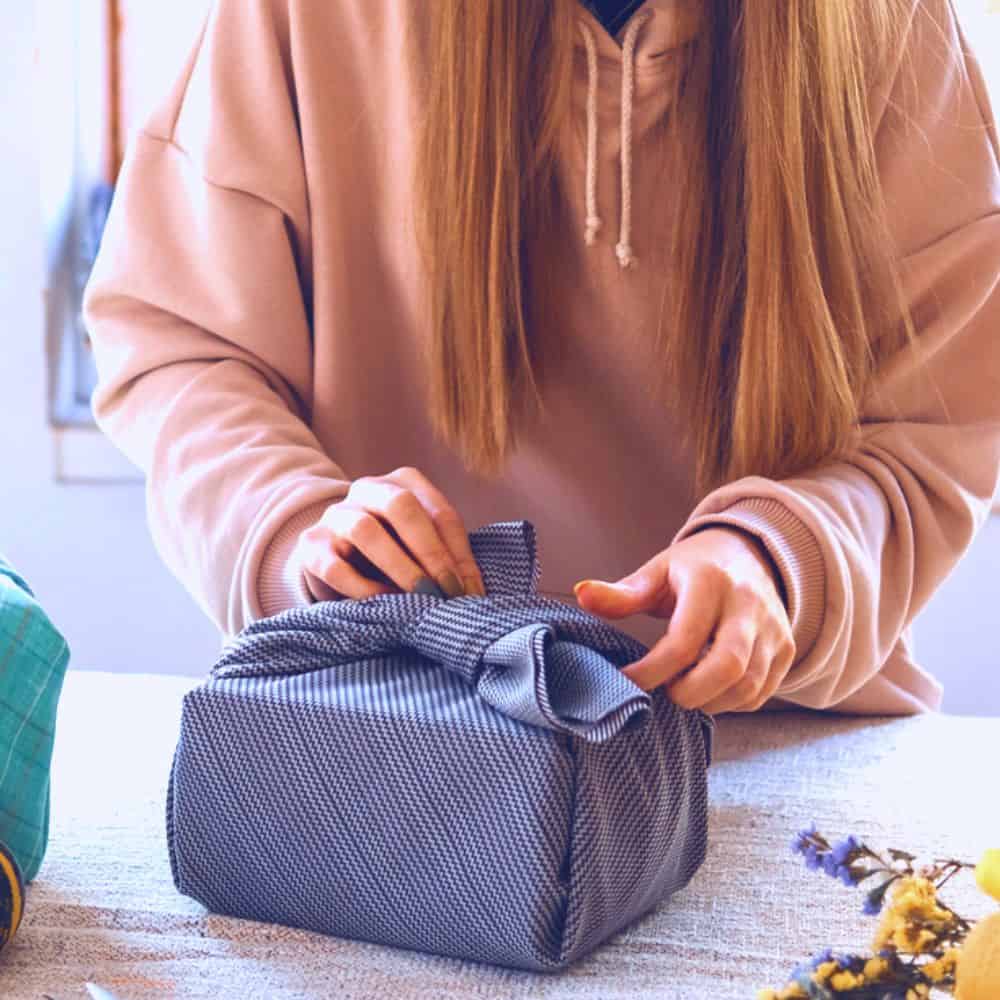 STEP 3: DECORATE YOUR FABRIC WRAPPED GIFT!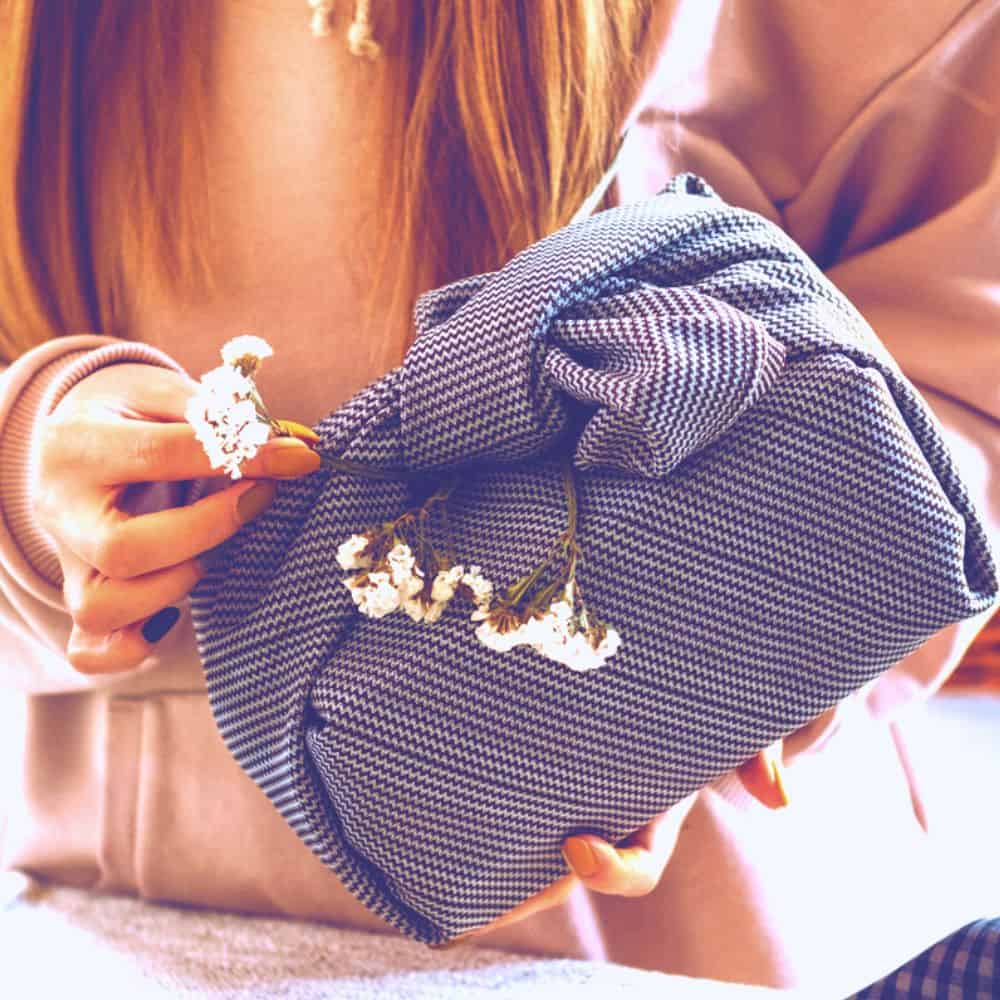 If you're using embellishments or decorations (like twigs, flower stems, dried apples or oranges, handmade bees wax ornaments like this for the holiday season, etc.), you can either place them on top of the knot and then tie another knot on top or go ahead and double knot and stick your embellishments in after
Or, you can leave it without embellishments!
This is an optional step, but can be a lot of fun for the kids.
To go along with learning how to furoshiki wrap for kids (reusable gift wrap), also add in learning about the Japanese culture!
Craft And Read: Children's Books About Japanese Culture
Learn how to do furoshiki wrapping and then read some of these books!
(We've also included some furoshiki Japanese wrapping techniques books / furoshiki wrapping book options if you want to learn more ways to do furoshiki wrapping Christmas gifts or use furoshiki for everyday life!)
Best Children's Books To Go With Furoshiki Cloth Wrapping Craft
We hope you have fun learning how to wrap furoshiki cloth with your kids!
Tag us with your wrapping with furoshiki projects! We'd love to see your Japanese furoshiki wrapping technique!
We hope you have fun learning how to do cloth wrapping!
LOOKING FOR FUN COOKING PRINTABLES FOR KIDS?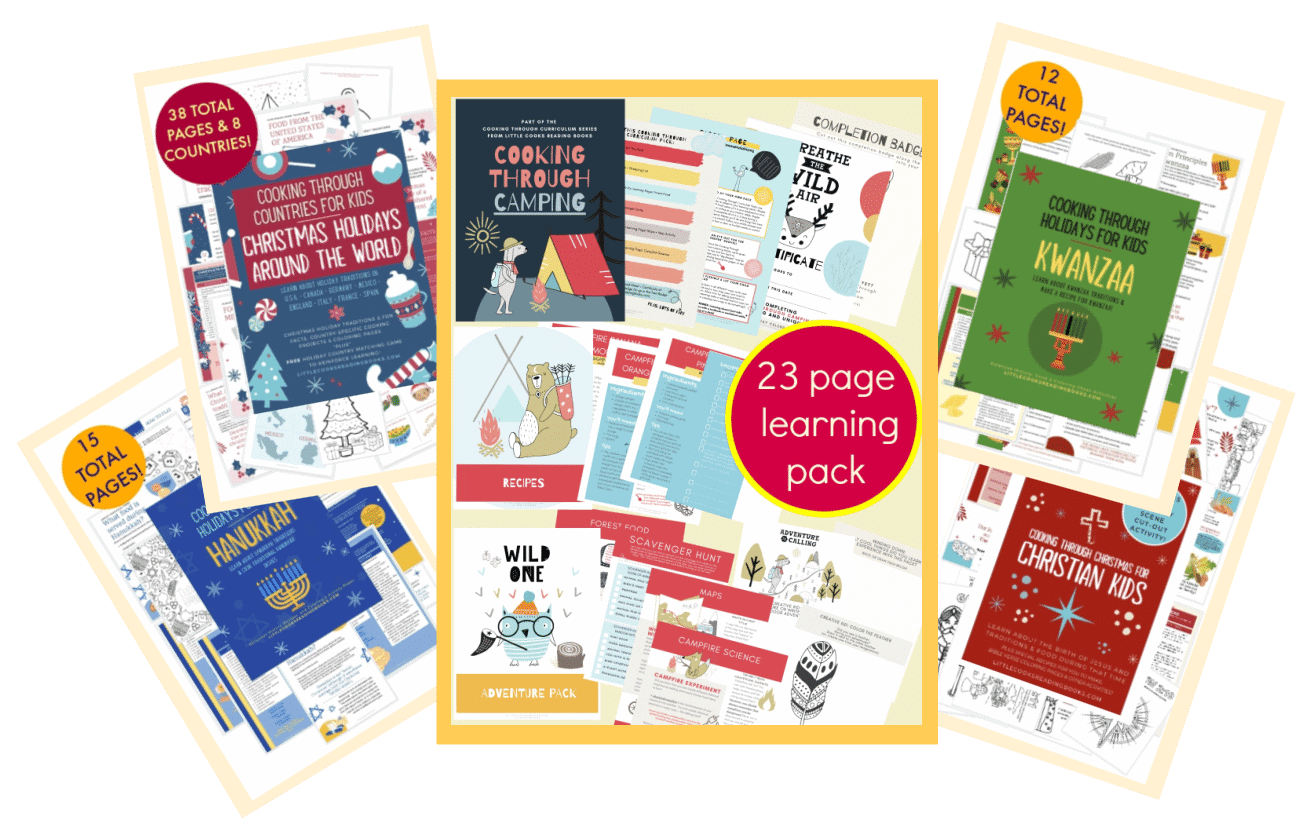 As an Amazon Associate I earn from qualifying purchases. Please refer to our
DISCLOSURE
.