Old-fashioned dried oranges Christmas ornaments are fun holiday crafts for kids to make, handmade gifts, or family activities for Christmas Eve. These orange ornaments are also great for handmade Christmas garland or for beautiful homemade winter solstice decoration ideas!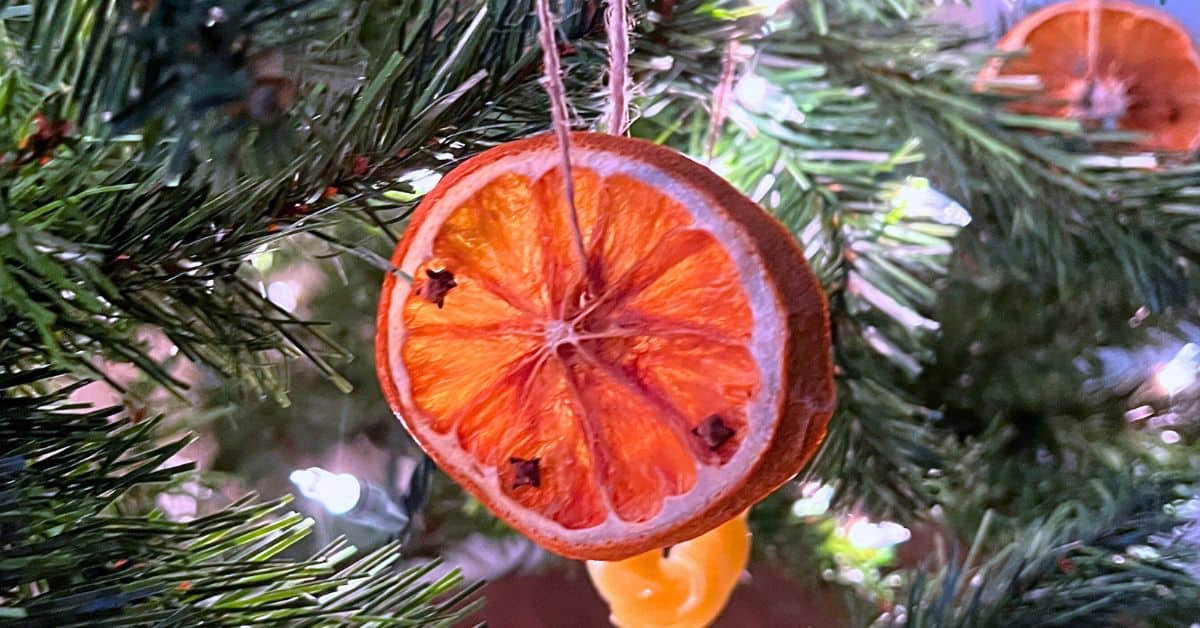 Dried Oranges Christmas Ornaments
Dried citrus ornaments are simple Christmas crafts and a great holiday tradition to start this year with your family. They also make beautiful vintage Christmas gifts for friends and family.
How do you make dry orange ornaments?
Materials
Fresh Oranges (or any citrus fruits — blood oranges, grapefruit slices or fresh lemons)
Star anise, cinnamon sticks, or dried whole cloves (optional)
Tools
Affiliate links are used on this site. As an Amazon Associate I earn from qualifying purchases. Read more in our DISCLOSURE.
Sharp knife
Skewer (to make holes in dried oranges for hanging as ornaments)
Parchment paper
Baking sheet
YIELD: 1 orange yields about 6 slices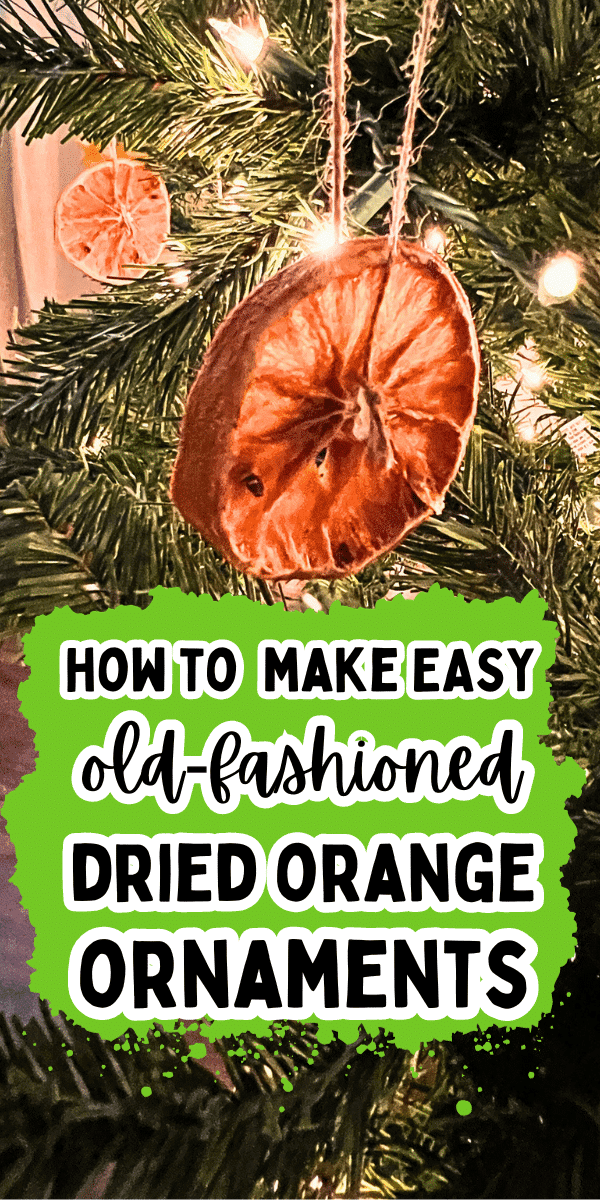 How long do dried orange ornaments last?
Dried oranges can last from 1-2 years if stored in an airtight container. If you want your dried fruit ornaments to last longer, you can always use a craft sealer so that you can decorate with them year after year.
We use this craft spray for decorations like this. (Just be sure to hang them on your Christmas trees or for holiday decorations away from dogs and younger kids so they don't accidentally eat them!)
Why do people decorate with dried oranges?
DIY dried orange ornaments and decorating with oranges is an old-fashioned Christmas tradition that probably came out of the fact that people had to use what they had on-hand and within a budget. Using real oranges was also a way to bring fragrant decorations into the home. Some say that hanging orange slice rounds is a reminder of the return of the sun on dark winter nights and for a pop of color during the winter season.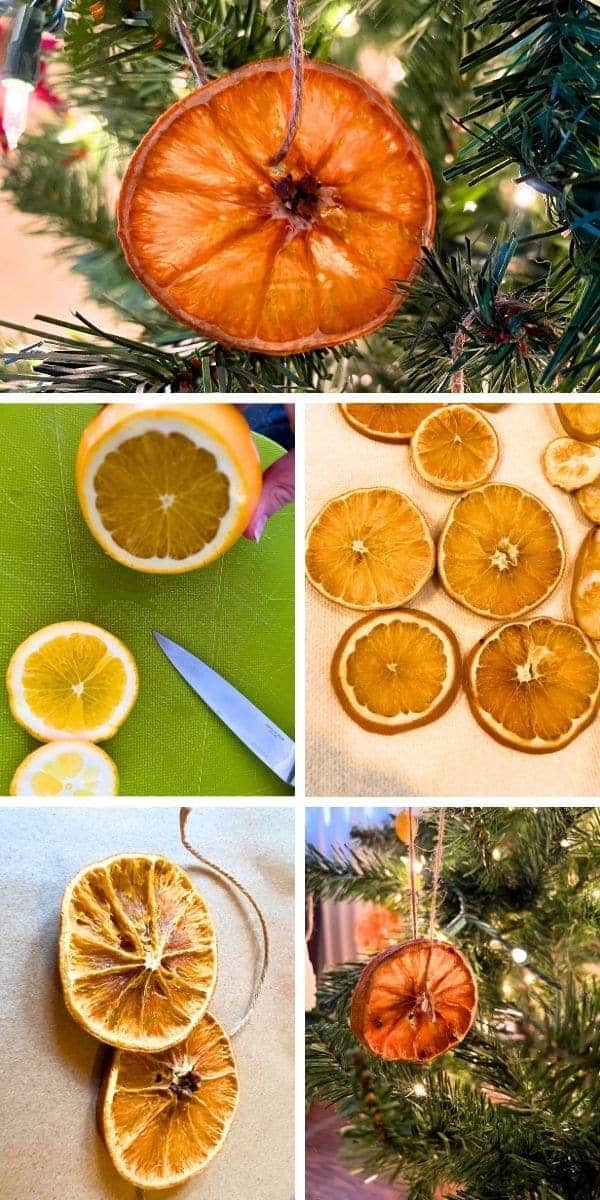 How To Make Dried Orange Ornaments Step By Step With Pictures
Drying oranges is such an easy Christmas craft using things you have at home already! These DIY ornaments are beautiful with any citrus — oranges, grapefruit, and even lemons! You can make them as dehydrated orange slices or oven dried oranges for the drying process.
How To Make Citrus Ornaments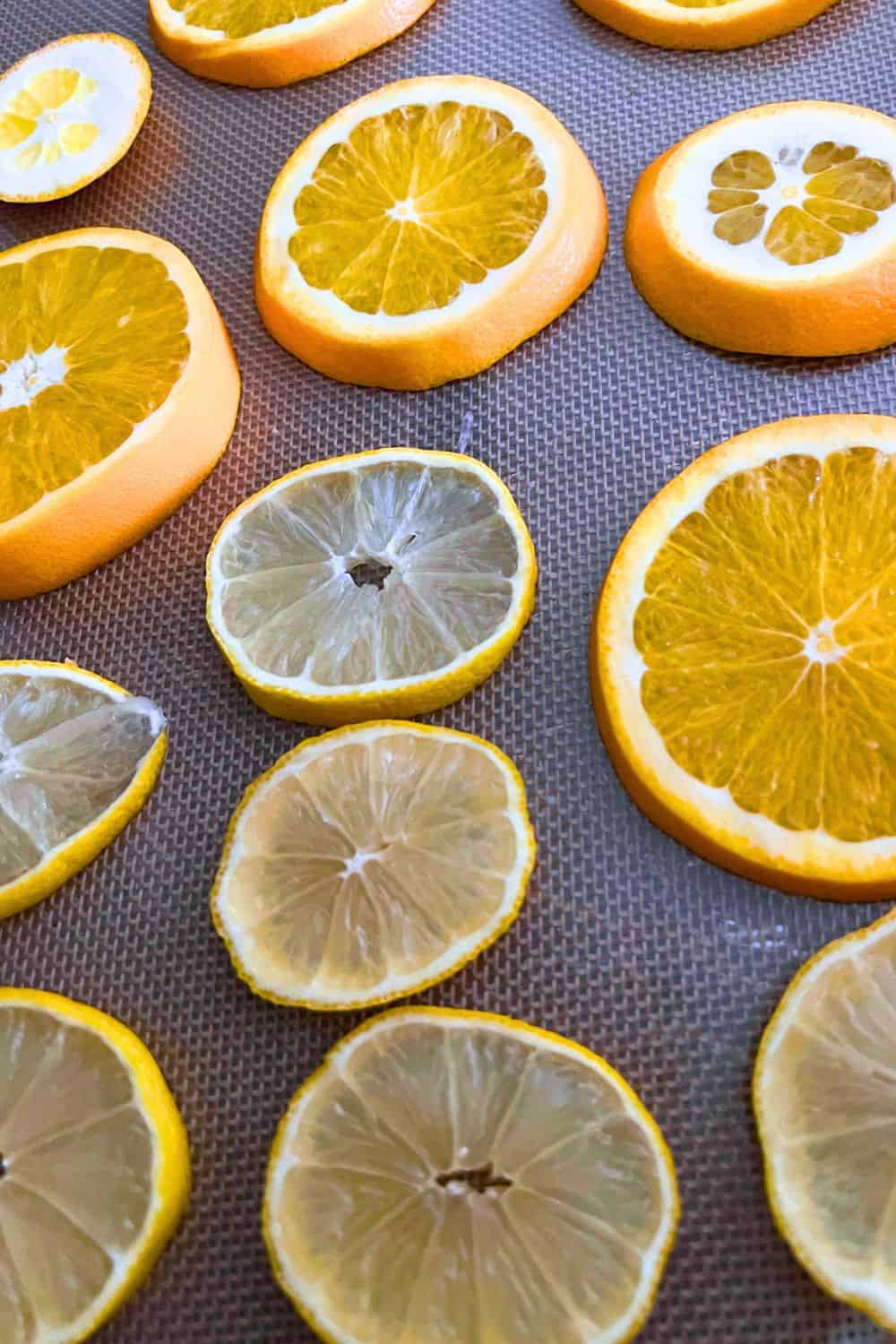 STEP 1: Prepare Your Oranges For Drying
How you slice your oranges will have an impact on your drying oranges.
Slice oranges in circle slices about 1/4 inch thick. (Make thin orange slices for best results! The thickness of the slices really does matter.)
Be sure to remove seeds from the oranges slice.
CRAFT TIP: Place orange rounds on plate lined with paper towels and blot orange slices with paper towels to remove excess juice. Removing extra juice will help your citrus slices dry easier.
STEP 2: Dry Orange Slices
You can dry oranges in the oven or in a dehydrator.
Place them on a cookie sheet in a single layer at 200 degrees to make orange slice ornaments in the oven.
We dried our orange slices in the oven at a very low temperature at a very slow pace. You will need to keep an eye on your orange slices so they don't burn or get too crisp.
PRINTABLE CRAFT DIRECTIONS: Print Out How to Make Dried Orange Slices in the Oven for Decor or Ornaments
It can take anywhere from 2-3 hours to 4-6 hours.
When dry, the flesh will be translucent and peel dry (maybe a little dark). DO NOT DRY UNTIL CRISPY.
Allow dried orange slices to cool completely before moving on with making the craft or using oranges in decorations like nature garland (orange garland and other natural elements).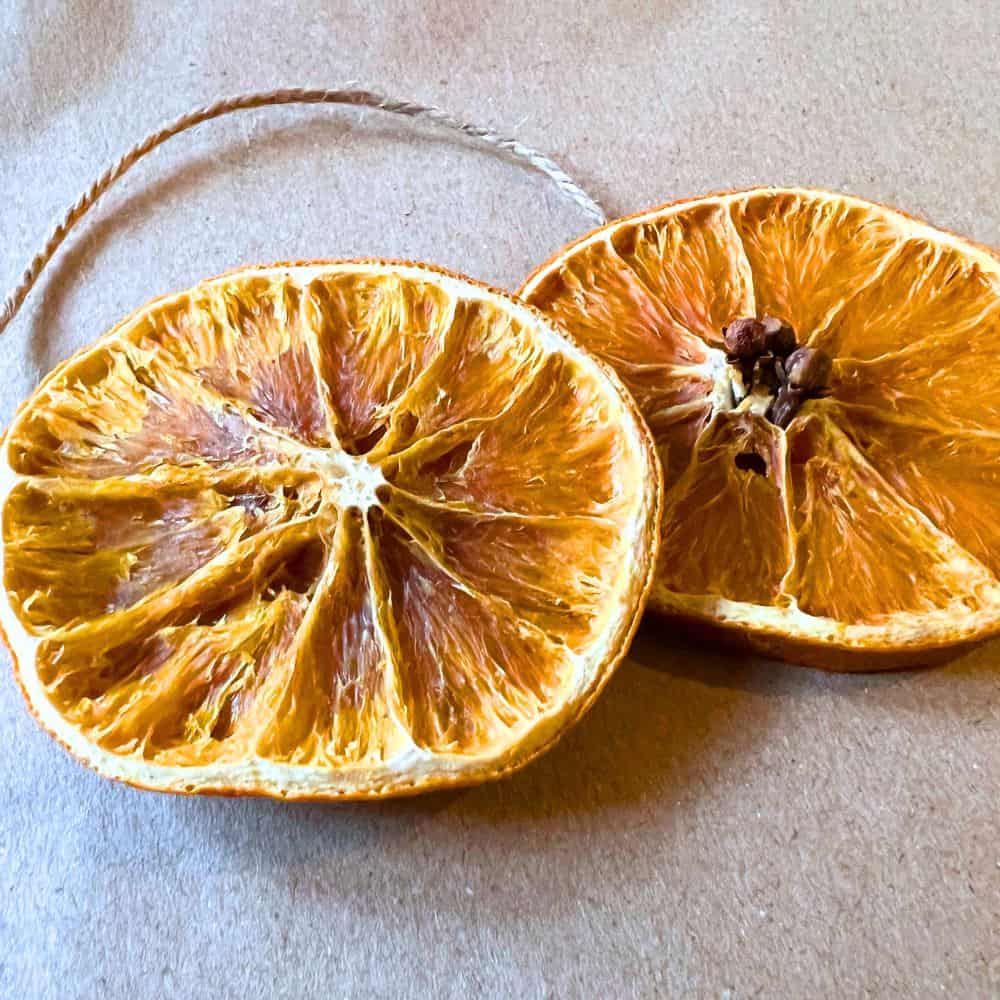 STEP 3: Make Dried Orange Ornaments!
Dried oranges are easy to make into ornaments.
You can make a small hole in the dried orange circles using a skewer, tip of a knife, or even a nail, or you can loop them right through the center of the dried orange. (You may naturally have a small hole in the middle of the orange slices that happened with the citrus slices dried.)
You can also place a star anise in the middle of the orange slice or stick the orange slices with dried cloves (which is what we used).
This will make your ornaments even more fragrant!
Loop a piece of string, twine, or yarn through the hole (or middle) and tie into loop to hang on your tree.
(You can also use these for orange slice garlands or for handmade Christmas presents!)
You can store your ornaments in an airtight container for a couple of years (or more, if you use craft spray). They last a long time.
We prefer to leave our ornaments of oranges and apples without any craft spray. At the end of the Christmas season, we remove the star anise and cloves and then throw the dried apples and oranges out in the yard for a winter treat for wildlife. (DO NOT do this if you used any kind of paint or craft spray on them!)
ALSO FUN WITH THIS CRAFT ORNAMENT: LEARN HOW TO MAKE ORANGE POMANDERS OR SIMPLE ORNAMENTS FROM PINE CONES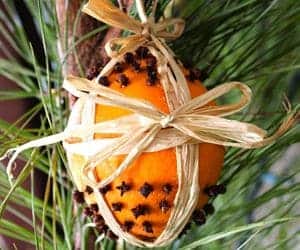 Craft And Read: Christmas Children's Books To Go With This Craft
Drying orange slices is an easy craft, but there is some downtime. We like to read books, watch a Christmas movie, or make more holiday ornaments DIY crafts.
Kids Holiday Books Great With This Craft
Family Christmas Activity: This isn't a book, but if you're looking for a sweet old movie for holiday movie night, add Christmas Oranges movie to your 12 Days of Christmas movies and then make this craft!
MORE HOLIDAY CRAFTS TO MAKE: DRIED APPLE ORNAMENTS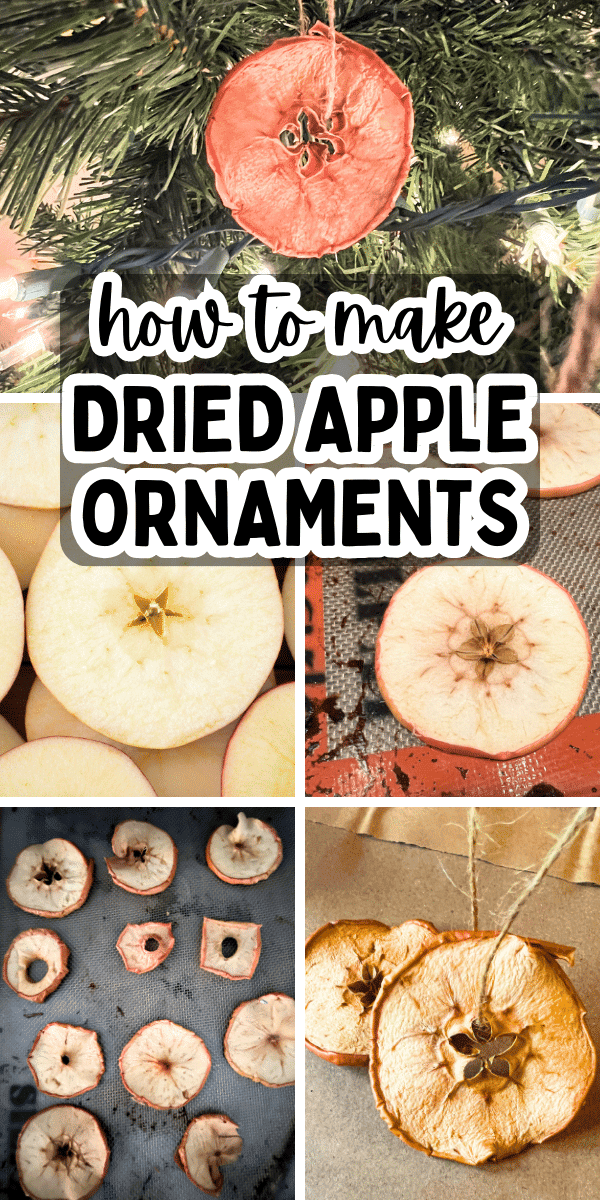 ALSO CHECK OUT: LIST OF BEST HANDMADE CHRISTMAS ORNAMENTS WE'VE EVER MADE!
Merry Christmas and Happy Holidays!
We hope you enjoy making your dried oranges Christmas ornaments as much as we did!
LOOKING FOR FUN COOKING PRINTABLES FOR KIDS?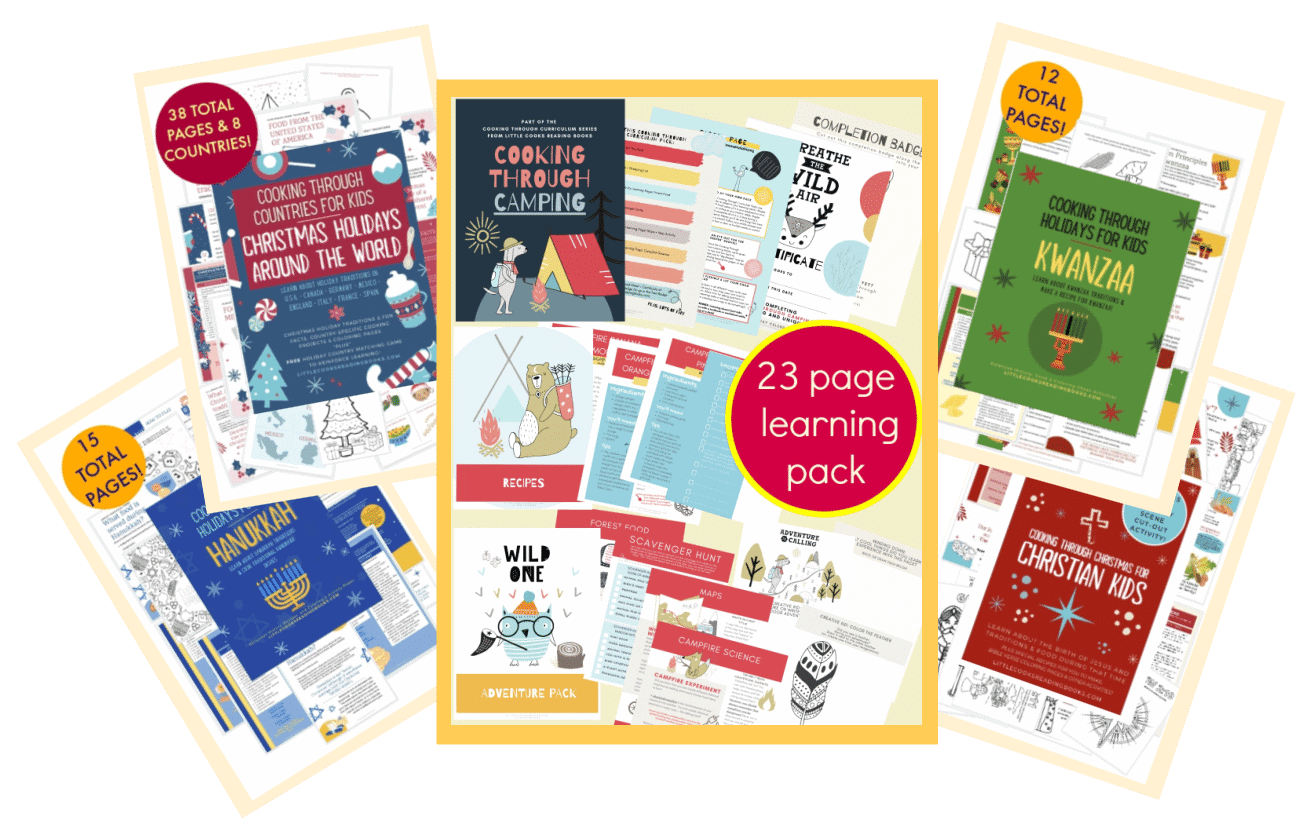 As an Amazon Associate I earn from qualifying purchases. Please refer to our
DISCLOSURE
.