Wondering how to make an orange clove pomander (aka:orange spice balls)? This easy Christmas decoration is a fun holiday craft for kids of all age (and we'll even cover some orange clove pomander history to share with the children!). Making an orange cloves Christmas pomander may even become a family holiday tradition!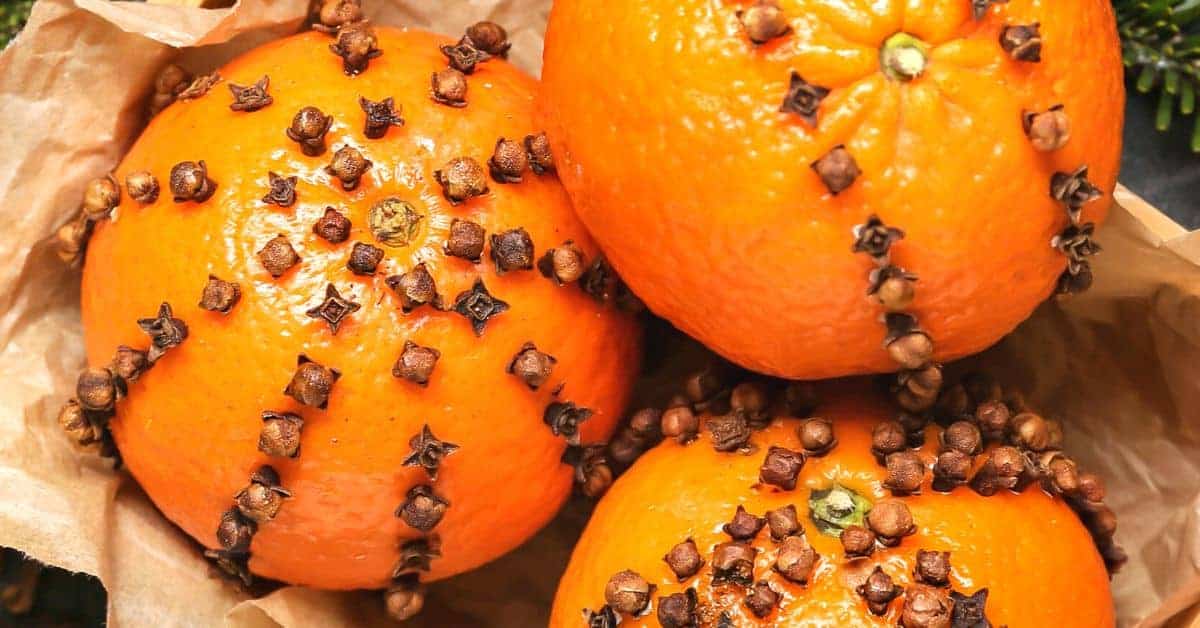 Learn How To Make An Orange Clove Pomander For Christmas Decorations!
The orange with cloves tradition is a fun family activity to add to your holidays! (You can eve make a lemon pomander!) Once you've made these orange and clove Christmas decorations, you'll want to do it every year! There are just a few simple ingredients for making an orange clove ball…
How to Make Orange and Clove Pomander Balls For Holidays
How to make an orange pomander:
Firm oranges
Whole Cloves
Skewers or toothpicks (for orange piercing for the clove orange designs)
Ribbons or jute twine (optional)
Get the full printable pomander orange clove instruction card below. KEEP SCROLLING for important information like how long do pomander balls last and pomander balls DIY tips! Be sure to read through those (including what is a pomander ball if you're new to it) before getting to the how to make pomanders directions! Plus a very interesting history of pomanders!
Affiliate links are used on this site. As an Amazon Associate I earn from qualifying purchases. Read more in our DISCLOSURE.
If you're not familiar with this holiday tradition, you may be wondering what is the orange with cloves in it called and what's it all about?
What is an orange pomander?
An orange pomander (or pomander ball) is a fresh citrus fruit that has been studded with cloves. The result is a fragrant, decorative ball that can be hung as Christmas decorations or placed around the house to make your home smell amazing for the holidays.
Why cloves in oranges?
Why do we stick this spice in oranges at Christmas time? Both cloves are oranges are both very fragrant and reminiscent of holiday smells. Together they make great holiday decorations. Some people even call them orange potpourri balls or scented pomanders because they smell so good! Christmas oranges cloves are a great addition to your holiday decor!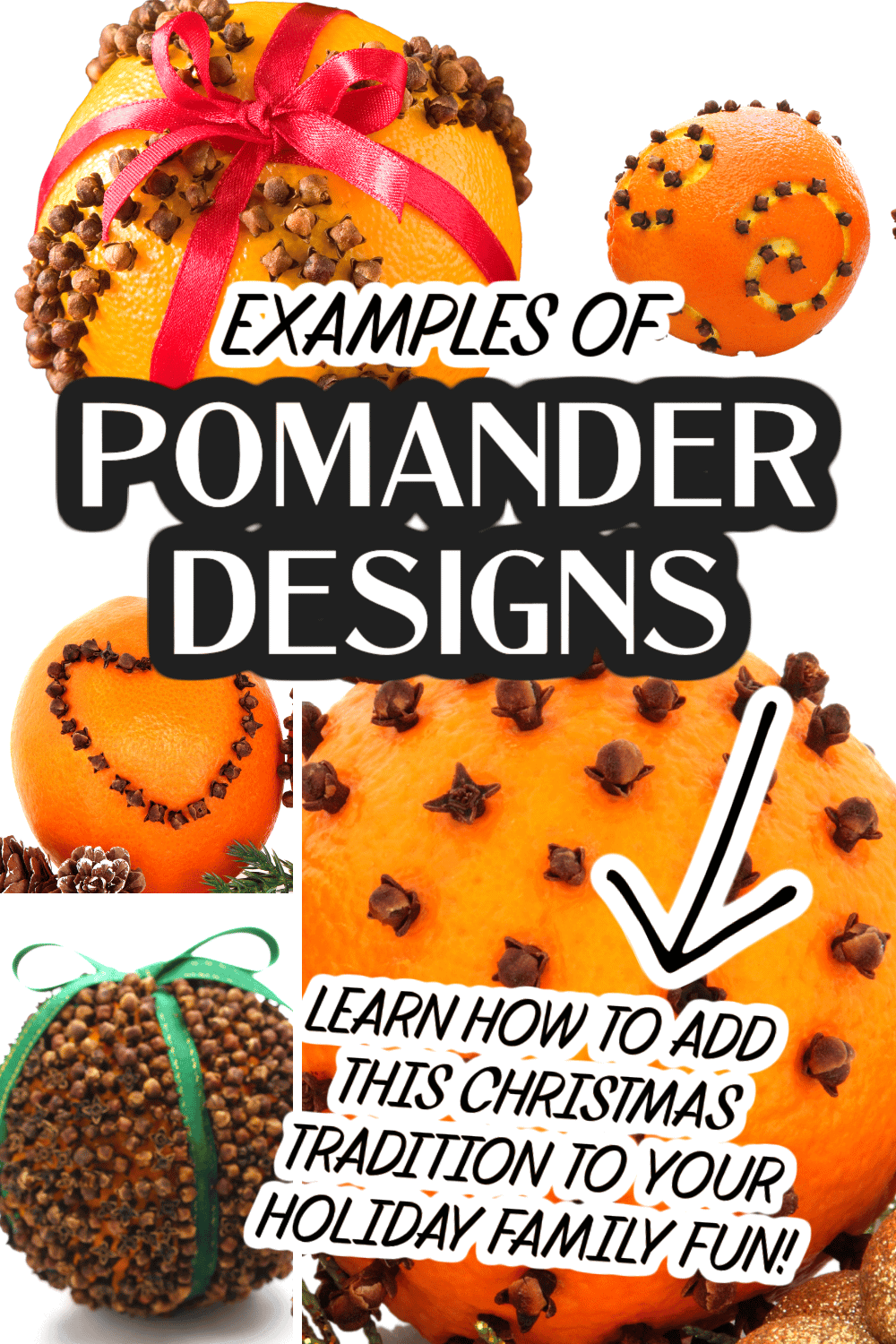 What are pomander balls used for?
Orange pomander balls covered in cloves are used mainly for Christmas decorations, winter solstice crafts, or Yule decor. They are also used as a holiday spice potpourri in a bowl.
How do you stud an orange with cloves?
The easiest way to stud orange pomanders with cloves is to pierce the orange peel with a toothpick or small skewer. Make a design with the toothpick holes. Then, you can easily push the cloves into small holes.
What can you do with dried orange clove pomanders?
If you have a dried orange and clove pomander, there are many different things that you can do with it!
Hang it on the Christmas tree or with other Christmas ornaments
Place it on the fireplace mantel
Put them in a basket on your holiday table
Use it in gift baskets
Give one to a friend as a gift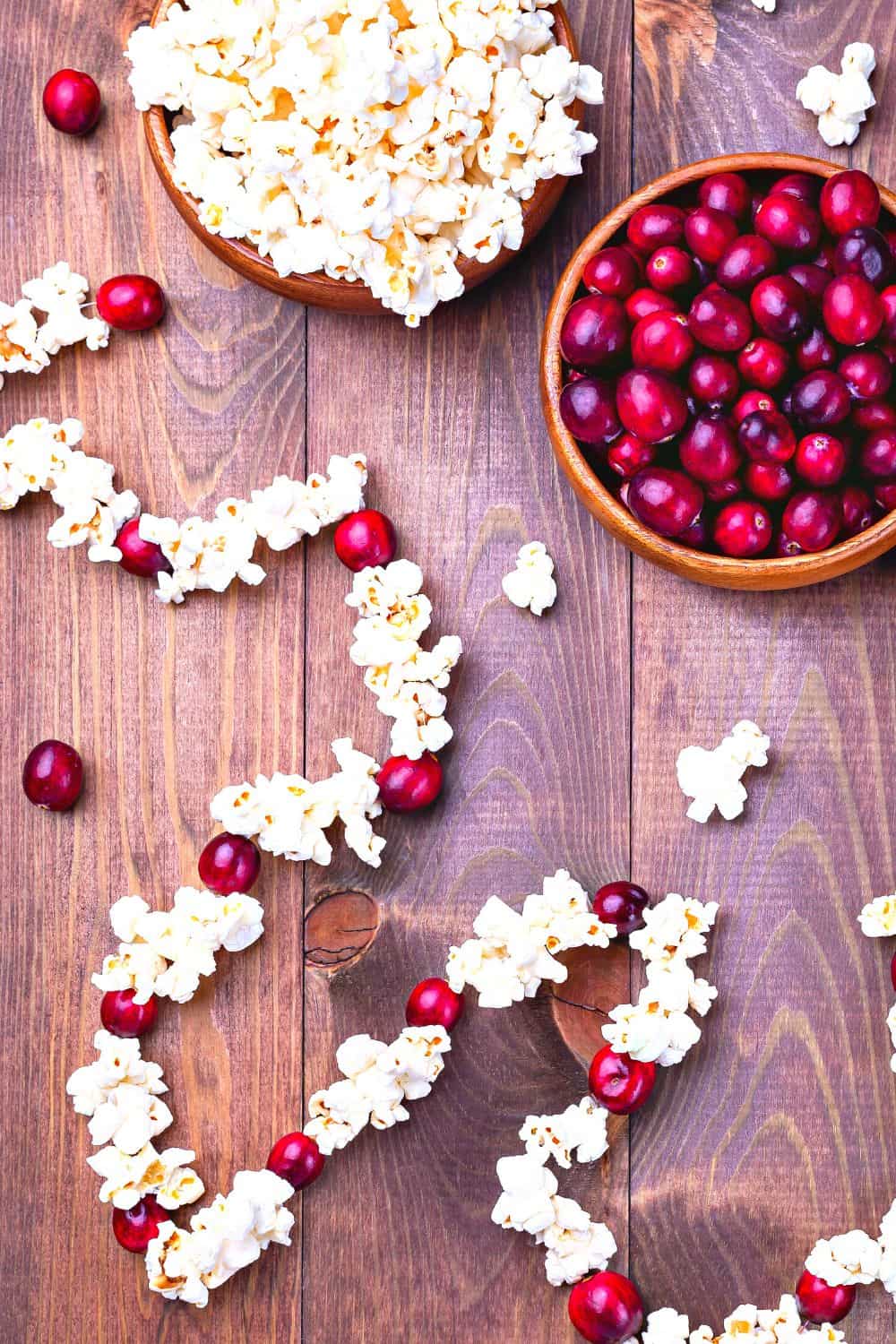 YOU'LL ALSO HAVE FUN WITH THESE HOLIDAY ACTIVITIES:
How to Have an Old Fashioned Holiday Pioneer Party
How To Dry Apples for Christmas Garland
How To String Old Fashioned Popcorn and Cranberry Garland for Christmas Trees
How To Make Beeswax Christmas Ornaments
OLD TIMEY CHRISTMAS CRAFTS AND ACTIVITIES
But, how long will clove studded oranges last?
How long do orange and clove pomanders last?
Most clove orange pomanders last a few weeks for the holidays. How long orange and clove pomanders last will depend on the freshness of your fruit (the firmness of the orange), as well as how many cloves you use. If you want to make them last longer, consider using fewer cloves in each one.
There are people who make orange clove pomanders that last for months (or years!), but we've never made them that way.
Drying orange pomanders: You can you dry pomander balls in the oven until your orange clove pomander dried and shriveled a little to preserve it longer! (A dried orange pomander lasts a lot longer!)
To dry an orange and clove pomander ball, hang it up so that that air can completely circulate around it. You may want to rotate it every few days so that all parts of the fruit can dry easier.
How do you keep pomander balls from molding?
After a few weeks, your pomander oranges may start to mold (especially if you've used a lot of cloves or shaved some of the orange peel to make it more decorative). To keep it from molding (or make it last longer), use less cloves and don't shave the peel. Make sure that air can circulate freely around the oranges (or that you rotate them regularly in the basket). Also, you can dry your pomander balls in the oven to preserve them longer.
How do you preserve a pomander ball?
To preserve an orange clove pomander ball, you will need to dry out the pomander. Many people do this an oven (like drying other fruit). You can also store it in an airtight container with extra cloves and cinnamon power, which act as preserving agents.
LEARN HOW TO DRY ORANGES FOR GARLAND OR OLD-FASHIONED CHRISTMAS DECORATIONS
(Awesome related craft to go with your orange clover ball project!)
How do you tie a ribbon around a pomander?
If you want to make an orange clove ornament, then tie a ribbon, raffia, or jute twine around it.
Once you have your orange decorated with cloves, cut a piece of ribbon or twine about 6-8 inches long.
Place the ribbon flat on the table and then sit the pomander in the middle of it.
Pull the ribbon up on each side and over the orange pomander. Tie at the top into a ribbon, not, or a loop for a hanging holiday decoration. (You can also loop the ribbon around twice or tie in any decorative way you like!)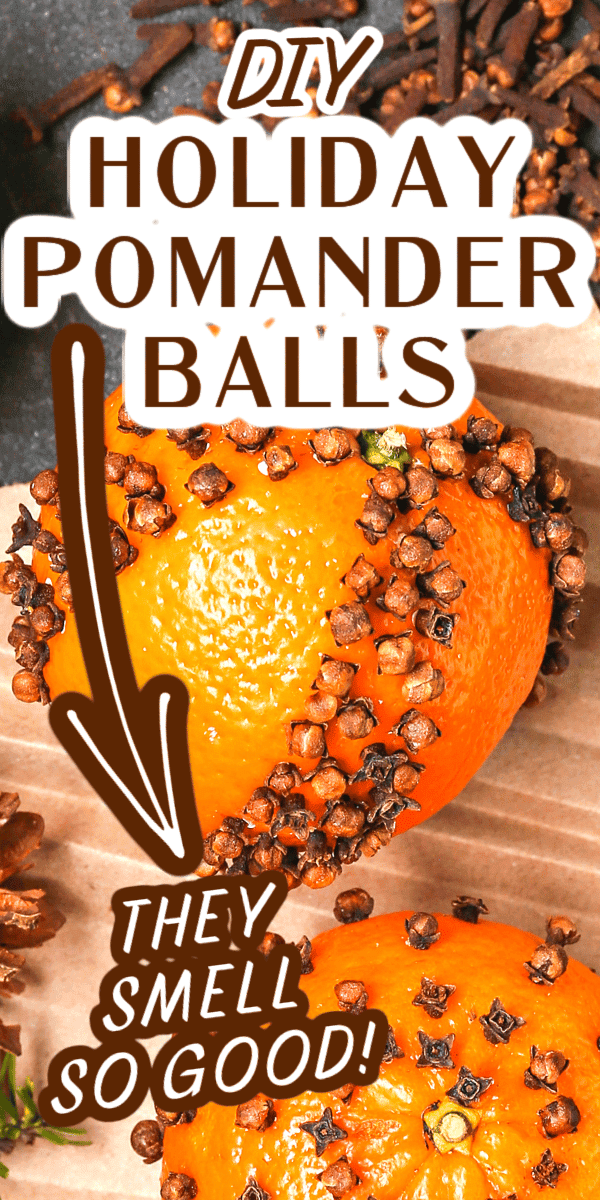 Orange And Clove Pomander History
The clove orange history is an interesting one and maybe not at all what you thought…
Where did pomander balls originate?
The first documentation of pomanders was in Europe during the Middle Ages.
The name "pomander" comes from the French word for apple, "pomme."
Early pomanders were usually made in the shape of an apple, and sometimes also used a whole real orange or lime as the outer shell for their clove-filled ball.
Usually, people would hang these pomanders on their walls, and they would often be decorated with ribbons and jewels.
Pomanders orange clove balls may have also been used in witchcraft.
These DIY pomander balls were also popular in England during the 1500s.
At that time, there was a widespread fear of the plague, which caused many people to carry pomanders around with them.
Pomander balls were said to help cover the bad smells and diseases associated with terrible illnesses during this time. (Lovely, I know. You didn't see that secret uses of cloves and oranges coming, did you?!)
Today, pomander balls continue to be used for their scents and decorations and Christmas pomander balls are given to friends as gifts.
They are often given as gifts during the holiday season, especially at Christmas time or for winter solstice or Yule.
Pomanders are often used as decorations for the home during the holidays.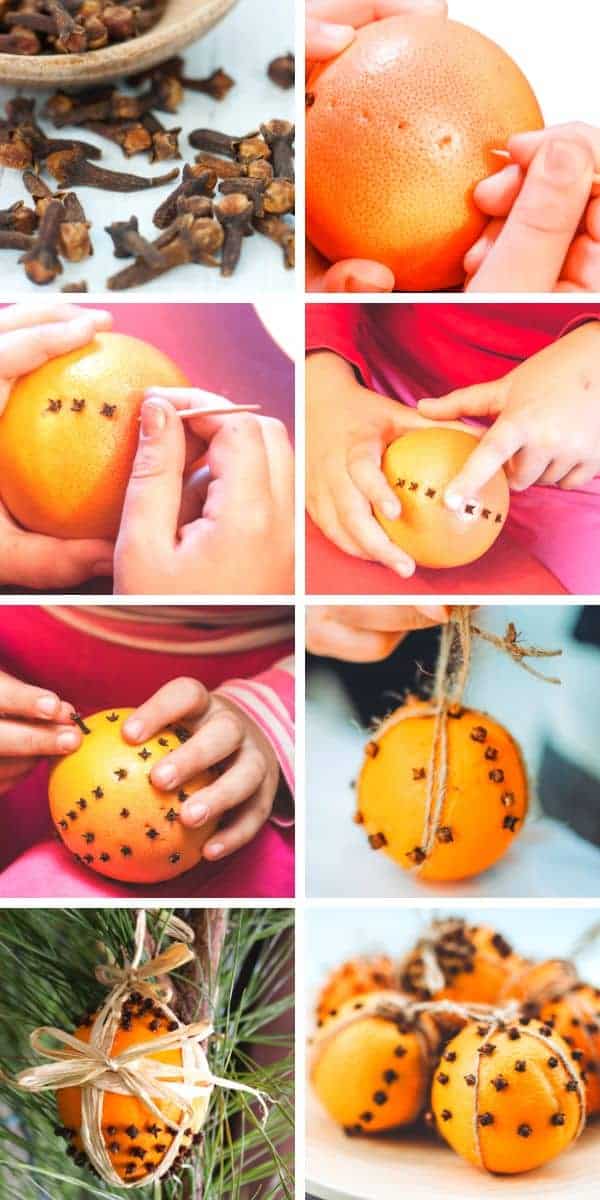 Let's get to the pomander how-to directions!
How To Make Orange Clove Pomanders
Making a pomander is a fun and easy craft for kids!
How to make pomander designs is up to you! Some people make spirals or vertical or horizontal lines. Some people make pictures (like Christmas trees).
Get creative and let your kids decorate oranges any way they want for their Christmas orange cloves pomanders! (They'll have fun creating oranges designs for oranges with cloves stuck in them!)
Before we get to the how to make pomander balls directions…
ACTIVITY TIP: If you're making these with young children (like as a holiday toddler activity or a preschool Christmas craft), make the holes in the orange ahead of time. Then, they just have to make the cloves orange by putting the cloves in the holes to make their orange with cloves pomander! They can still make a pomander with the rest of the family.
Here's how to make oranges studded with cloves…
Yield: 1
How To Make An Orange Clove Pomander Decoration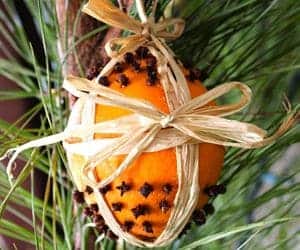 This Christmas decoration is such a fun and easy holiday kids activity or even family Christmas Eve activity! You make any pomander design that you want. Many people make spirals with whole cloves or just lines down the orange. Some people cover the entire orange in cloves and use them as fragrant clove decorated oranges in bowls.
Materials
Fresh orange, medium to large and firm
Whole cloves (amount will vary based on the design you make)
Ribbon or twine (optional)
Tools
Toothpicks or small skewer
Marker (optional)
Instructions
Start by making a design on your orange. Use a toothpick to poke holes in the peel of the whole orange. (You can also use a marker to make a dot design before poking the holes.) Don't make the holes too big or the cloves will fall out!
One the holes have been made, gently push the long (pointy) end of the cloves into the holes. (One clover per hole.)
Continue until all the holes have been filled with cloves.
Tie a ribbon or twine around your orange (optional). Create a ribbon, loop, or knot on top. Hang it as a holiday decoration or place it in a basket on a table!
Holiday Books About Oranges for Kids
These are fun children's holiday books about holiday oranges, books about solstice, or Christmas decorations books to go along with your oranges with cloves craft!
Also, this isn't a book, but if you're looking for a wholesome family Christmas movie, definitely add Christmas Oranges to your list! This orange-clove craft goes great with that movie for a holiday family movie night and kids activities.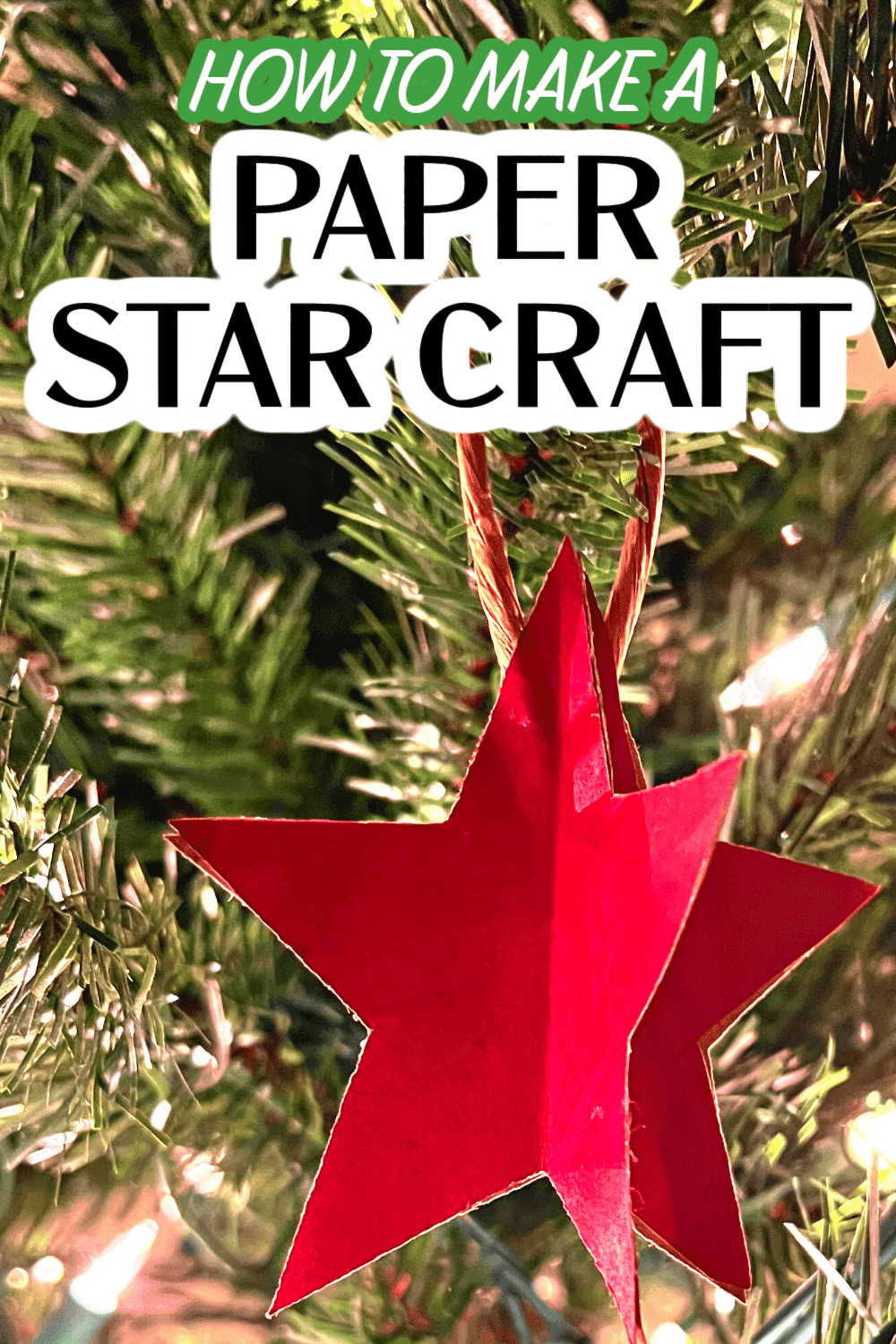 ALSO TRY THIS CHRISTMAS ACTIVITY WITH KIDS NEXT: After your Christmas oranges with cloves craft, make an old-fashioned paper star craft like this! They'll go great with your clove orange decoration!
Let us know how your orange clove Christmas balls turn out!
Have fun learning how to make an orange clove pomander with children!
LOOKING FOR FUN COOKING PRINTABLES FOR KIDS?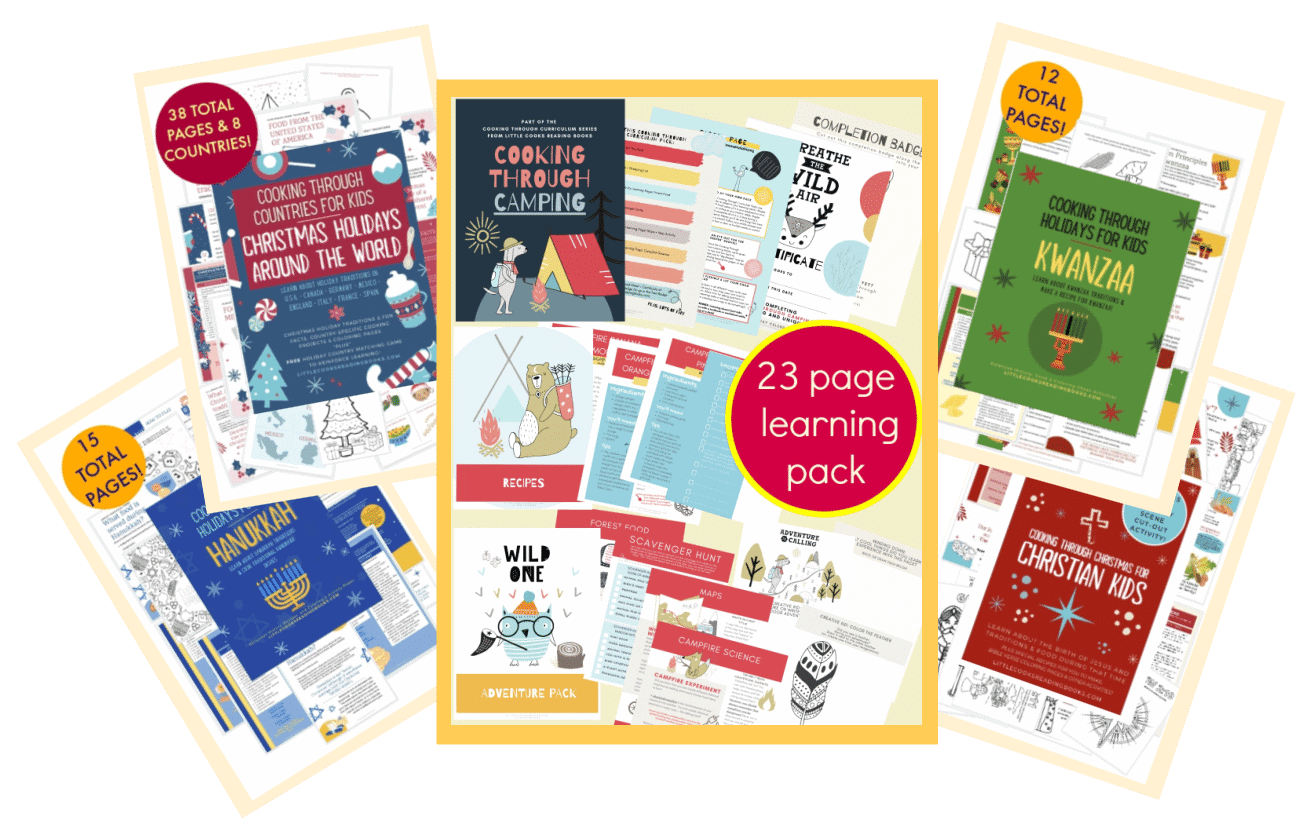 As an Amazon Associate I earn from qualifying purchases. Please refer to our
DISCLOSURE
.