Learning how to dry apple slices is a fun kids' activity, especially during fall apple picking time! Our dry apple recipe is perfect for healthy snacks or even for making fruit garland, Christmas decorations, or nature crafts for kids. These homemade oven baked apple chips can be used for a variety of things!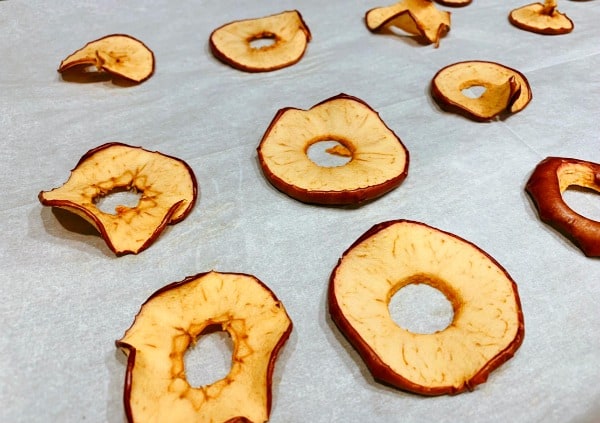 HOW TO DRY APPLE SLICES
Every wondered about making dried apples? I think you're in for a surprise because drying apples is so much easier than you think!
We made oven-dried apples, but you can also do these in a dehydrator.
Before we get to how to cook dried apples, let's answer some questions you may have about a drying apples recipe…
Affiliate links are used on this site. As an Amazon Associate I earn from qualifying purchases. Read more in our DISCLOSURE.
What can you do with dried apples?
Eat dried apples as a healthy snack
Make fruit garland out of dry apples
Chop them up for use in breads, muffins and cookies
Use dried apples in homemade potpourri
Add dried apples to homemade trail mix
Make dried apple oatmeal
Garnish drinks with dried apples
Use them for your tea
Make dried apples dipped in chocolate and hand them out as holiday gifts
Freeze dried apples to bake with later
Decorate with dry apples
Make dried apple Christmas ornaments
Use them for dried apple crafts
Are dried apples good for you?
Plain dried apples are good for you because they are just apples with the liquid (water) removed. If you dry them plain without adding sugar, they are a healthy snack for kids.
How do you dehydrate apple slices?
How do you dry apple slices in the oven for decorations?
How to make dried apple chips for eating is the same process as drying apple slices in the oven for decorations. So, how do you dry apples for crafts? Place apple slices in a single layer on a parchment lined baking sheet. Bake at 225°F for up to 2 hours.
What temperature do you dry apple slices at?
Drying apples should be done low and slow, meaning at a low temperature over a couple of hours. Dry apple slices at 200-225°F for 2 hours.
How long does it take to dry apple slices?
It takes around 2 hours to dry apple slices in the oven. Add less time if you want chewy apples and more if you want crispy apple chips.
---
Children's Books To Pair With This Recipe
---
How long do dried apples last?
Dried apples last up to 6 months if stored in a cool, dry area in an airtight container. You can also freeze dry apple for up to 1 year and use them in baked goods, teas, and more.
---
ALSO CHECK OUT: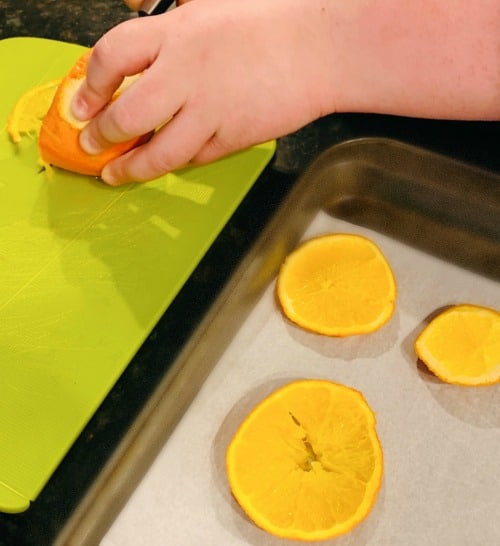 ---
Here's how to dry apples…
Dried Apple Recipe
How To Make Dried Apple Slices
This is a basic recipe for drying apples. If you want dried apples recipes for snacking and like things a little sweeter, sprinkle the apple slices with a little cinnamon and sugar before drying in the oven.
(Or, if you want healthy baked apple slices, leave off the sugar and just use cinnamon.)
You can make these crispy dried apple chips or chewy dried apples. (We like ours chewy.) Be aware that the fruit will crisp more the more they are cooked. If you want chewy apples, check them before the 2 hour mark. They will also harden a little after they sit.
Here's how to make crispy dried apples or chewy dried apple slices in oven…
Yield: 6
How To Dry Apple Slices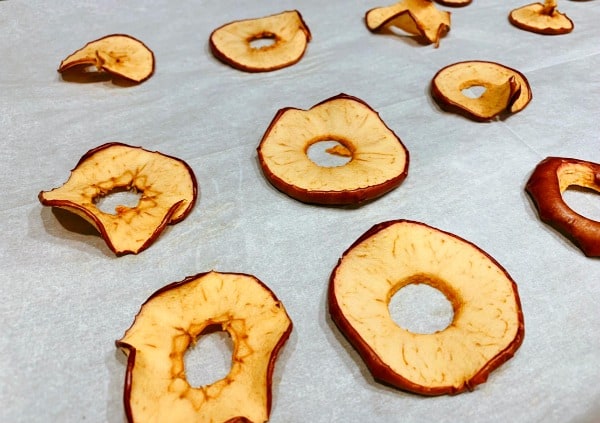 This drying apples recipe is so simple. These dried apple slices can be used for snacks, for crafts like fruit garland, or even nature crafts.
Total Time
2 hours
10 minutes
Ingredients
1 apple (any flavor/variety)
Cinnamon (optional)
Sugar (optional)
Instructions
Preheat oven to 225°F.
Line a baking sheet with parchment paper. Set aside.
Wash and dry apples. Leave skin on. If you have an apple corer, you can core the apples, but this is optional.
Slice apples in round slices, about 1/8-inch thick. (You can also use a mandoline for slicing.)
Place apple slices on baking sheet parchment paper, taking care not overlap them.
Sprinkle with cinnamon and sugar (optional).
Place in oven and bake for 1 hour. After 1 hour, turn each apple slice over. Bake for remaining hour.
If you want crispy apple chips, leave in a little longer. They will get crispier as they sit after baking. If you want chewier apple slices, remove from oven before the 2 hour mark.
After cooling, store in an airtight container or use for crafts or fruit garland.
Notes
One apple can make 6-8 slices, so use as many apples as you want dried apple chips or apple slices.
Nutrition Information:
Yield:
6
Serving Size:
1
Amount Per Serving:
Calories:

20
Total Fat:

0g
Saturated Fat:

0g
Trans Fat:

0g
Unsaturated Fat:

0g
Cholesterol:

0mg
Sodium:

0mg
Carbohydrates:

5g
Fiber:

1g
Sugar:

4g
Protein:

0g
Nutrition information is estimated. Changes to the recipe and use of different brands may cause changes to the nutritional information to vary slightly from the ones provided here.
How To Dry Apples Fast
Can you dry apples in the microwave?
How to dry apples in microwave is a simple process. Place a single layer of apple slices on parchment paper or paper towels. Microwave at 50% for 5 minutes. Flip and continue microwaving at 30 second intervals until edges of apples start to slightly curl.
HAVE FUN LEARNING HOW TO DRY APPLE SLICES!
LOOKING FOR FUN COOKING PRINTABLES FOR KIDS?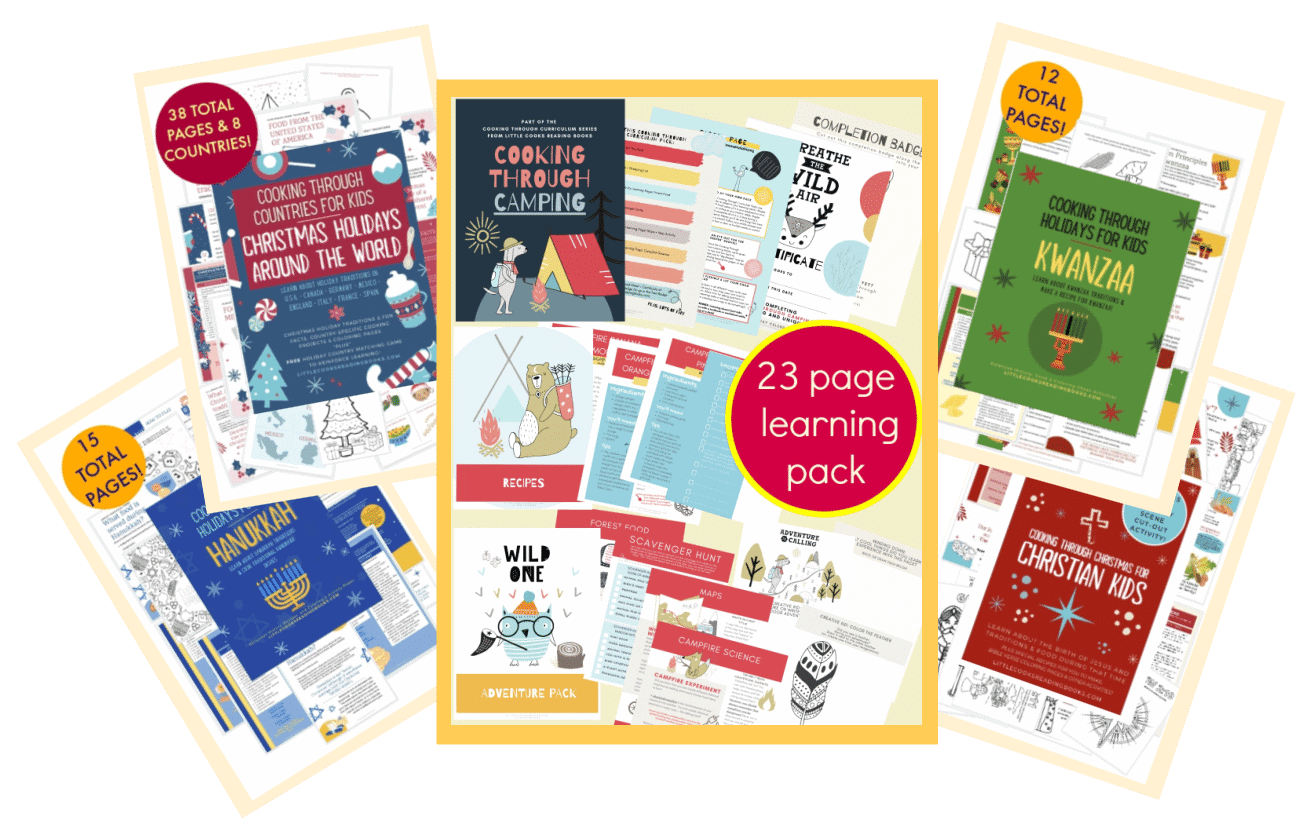 As an Amazon Associate I earn from qualifying purchases. Please refer to our
DISCLOSURE
.