Need healthy food activities for toddlers? These health and nutrition activities for toddlers make cooking fun for kids, help them understand healthy eating and develop healthy eating habits activities. Great for healthy food cooking activities for preschoolers, teaching toddlers good food habits, and learning healthy eating theme for toddlers, too!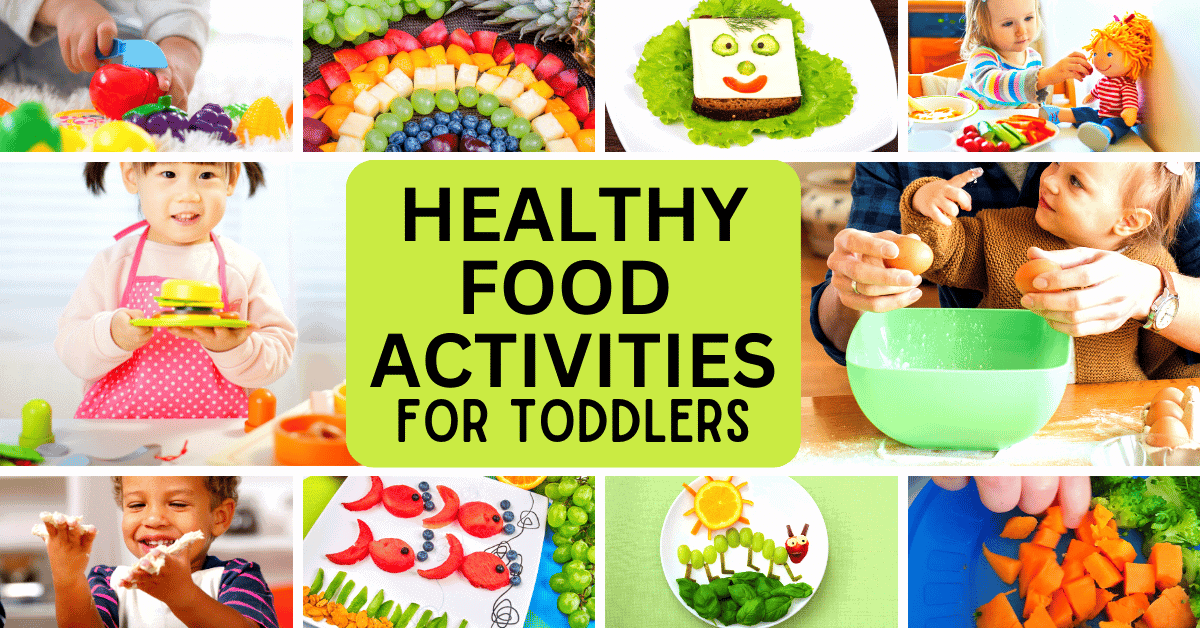 Fun And Healthy Food Activities For Toddlers
Fun healthy eating activities for 1 year olds, healthy eating activities for 2 year olds / food activities for 2 year olds, and fun healthy food for 3 year olds or any time you're wondering how can I make healthy food fun for kids! Try these simple food activities for toddlers to help instill healthy eating habits toddlers…
How do you promote healthy eating for toddlers?
Healthy And Unhealthy Food Activities For Toddlers:
Make healthy food art activities for toddlers.
Include food play activities for toddlers to help them understand healthy food choices versus unhealthy food choices (healthy and junk food activities).
Visit a local farmers' market or a farm to learn about growing food.
Grow a windowsill garden or balcony to encourage healthy fresh foods.
Help toddlers sort play food by food group.
Have your toddler "share" a healthy snack with a favorite doll or stuffed animal.
Do healthy eating art activities for toddlers.
Play healthy food games for toddlers. (See our list!)
Create sort bins where toddlers sort healthy and unhealthy felt and wood foods. (Great for Montessori fruit and vegetable activities!)
Use toy food to have toddlers "cook" you a healthy meal as a create a healthy meal activity.
Make a healthy food sensory bin.
Do healthy eating craft activities for toddlers like fruit stamping or food collages.
Let your kids play with food and make food faces out of healthy foods!
Do some food activities for preschoolers about nutrition.
Play I Spy fruits and vegetables at the grocery store and let your toddler pick the ones they find.
KEEP SCROLLING for food activities preschoolers about nutrition, healthy eating activity ideas for toddlers, and toddler food activity ideas / more activities on healthy food!
Affiliate links are used on this site. As an Amazon Associate I earn from qualifying purchases. Read more in our DISCLOSURE.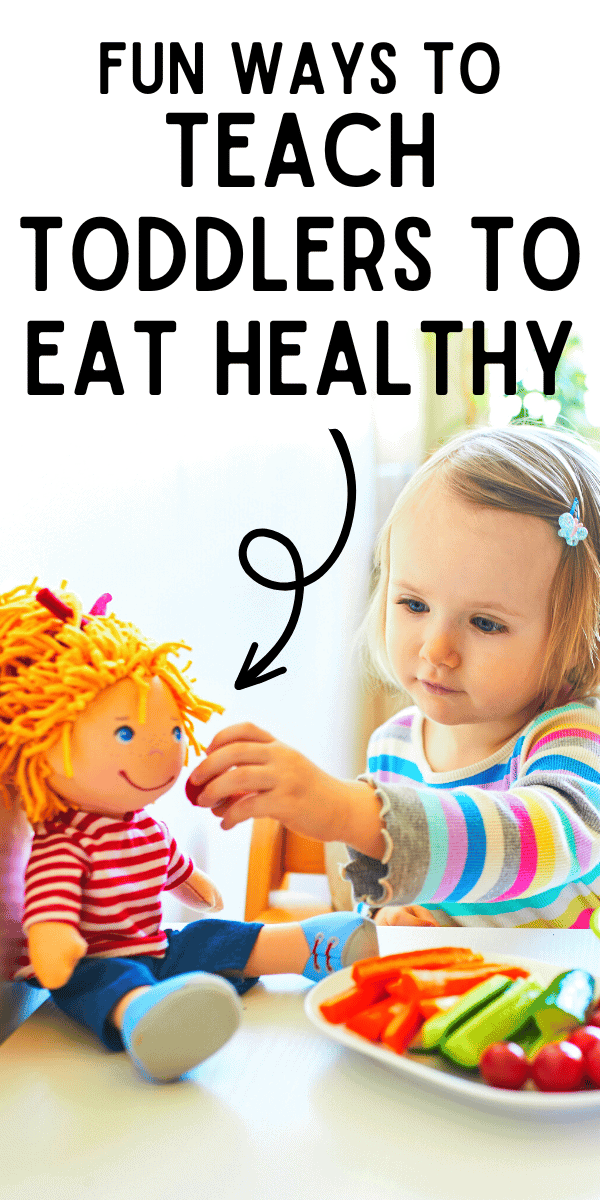 List Of Healthy Food For Toddlers To Eat
Healthy Food Ideas For A Toddler That Are Easy To Make:
1. Fruit kabobs: cut up pieces of fruit, skewer them on a stick and let your toddler try to eat the whole thing at once.
2. Yogurt dipping sauce: let your child dip whole-grain crackers or dry cereal into yogurt as a "dip." This healthy snack will have him feeling really special because he came up with it.
3. Veggie pizza: Make a healthy homemade pizza using whole-wheat dough or a tortilla and shredded cheese, then add some thin slices of colorful veggies on top in a face to make the pizza extra fun for your little one.
4. Apple wedges: Cut an apple into bite-size wedges, then dunk them in a bowl of yogurt and freeze them for a healthy snack that's fun to eat.
You can also make your own dried apples, which are fun food activities for toddlers and make a great snack!
5. Fruit smoothies: Mix some frozen fruit, yogurt and juice in a blender for a great healthy treat that your toddler is sure to love. Encourage them to help you by adding the ingredients and pushing the buttons on the machine.
Get a fun fruit smoothie recipe to make with your kids here.
6. Hard-boiled eggs: Make a healthy snack by hard-boiling some eggs. You can even color the eggs them before eating.
7. Edamame: Show your toddler how to cook up some edamame beans. Eat them plain or with a sprinkling of salt. This is a fun way to get your toddler interested in eating veggies because edamame are fun to eat.
8. Peanut butter and banana toast: Show your child how to make her own healthy toast by spreading some peanut butter (or nut butter substitute) and bananas on a slice of whole-grain bread.
(Let us know your favorite fun healthy food ideas for toddlers and we'll add them to our list!) Keep scrolling for more tips and creative nutrition activities for little hands!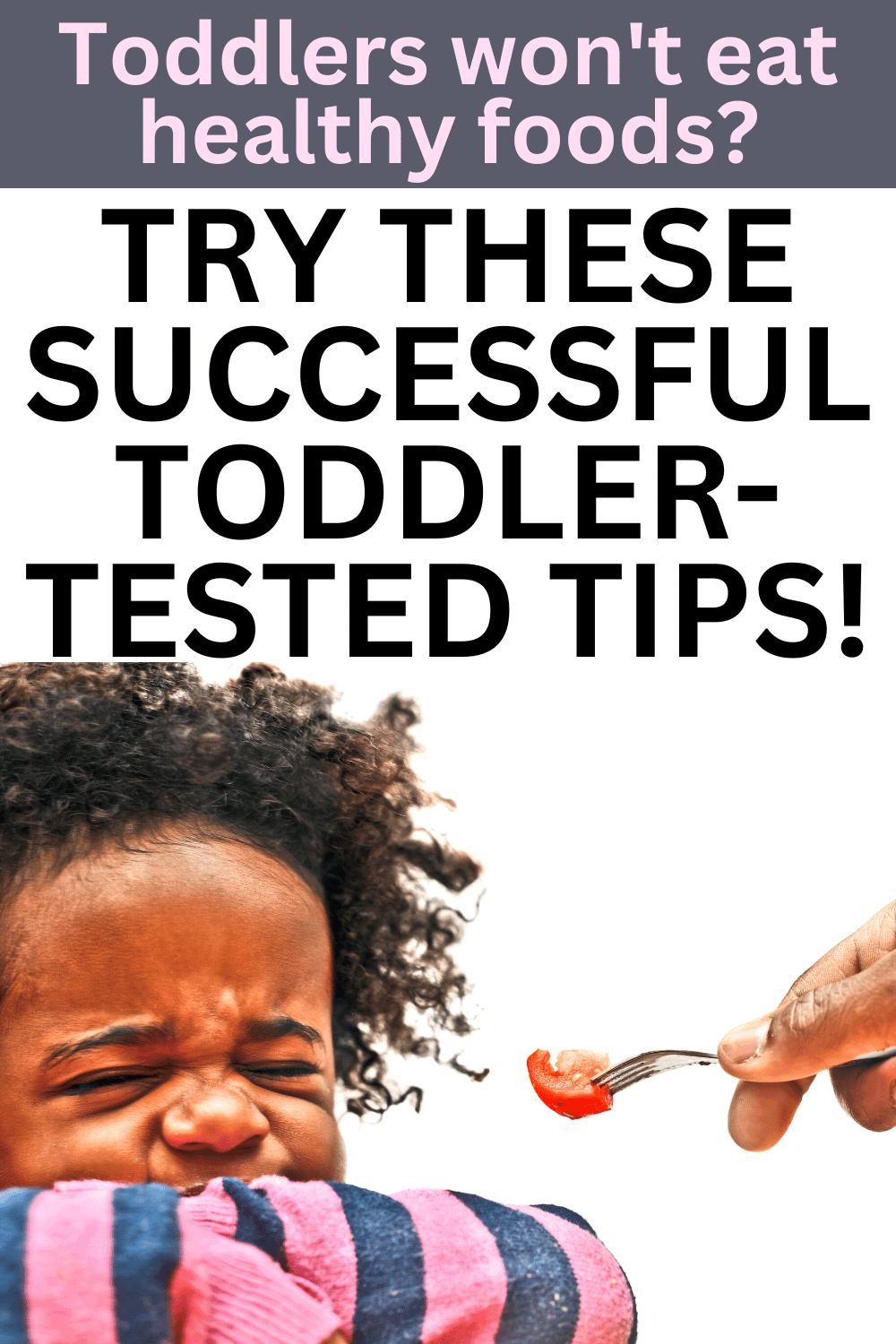 Here's how to make healthy food fun for toddlers and tips for healthy foods activities for toddlers…
Healthy Eating Activities For Toddlers and Healthy Eating Activities for Preschool
Fun nutrition activities for preschoolers and toddlers and a great way to get your kids to eat healthier! Whether you're looking for healthy food ideas for 18 month old or even
Healthy Eating For Toddlers Tip 1: Let toddlers help at the grocery store.
Play at the grocery store together, where your toddler can pretend to be a customer and you can be the shopkeeper or cashier.
With your toddler, stock up on healthy foods like fruits and vegetables, choosing items that match up with your family's food preferences and dietary needs.
Let your toddler pick healthy items and use prompts like, "I spy a healthy green apple, can you find one?"
This is one of those simple food activities for toddlers that is fun for kids and also helps them learn more about healthy food choices.
Healthy Eating For Toddlers Tip 2: Let your toddler help make healthy snacks.
Spend time making healthy snacks together, such as sandwiches or pizzas, which allow your toddler to help pick out ingredients and put the snacks together.
In addition, if you choose to make healthy snack alternatives like homemade smoothies for your little one, let them take part in the process by selecting fruits and vegetables, measuring out ingredients with a cup or spoon, and letting them push the button to blend.
CHECK OUT: HEALTHY VEGETABLE SMOOTHIE RECIPES FOR TODDLERS
Healthy Eating For Toddlers Tip 3: Visit the farmers market or a local farm with your toddler for farm fresh foods.
Take a trip to your local farm or farmers' market together, where you can take part in activities like picking out fresh produce at a stand, feeding animals, and learning about different types of fruits and vegetables.
This is also a great way for your toddler to interact with other people in the community who are interested in eating healthy foods as well.
Healthy Eating For Toddlers Tip 4: Cook with your toddler.
People think that toddlers are too young to cook, but they aren't!
I let my daughter cook with me at 18 months old as a fun toddler food activity and she still loves to cook!
Involve your little one in the preparation and cooking of food whenever possible.
This will help them develop a greater appreciation for the foods that they eat, as well as give them opportunities for learning about the safe use of knives and other kitchen utensils.
THIS IS A GREAT FOOD PREPARATION KIT FOR TODDLERS OR KIT FOR PRESCHOOLERS
Cook a healthy meal together by planning out your menu items ahead of time and giving your little one specific tasks to do during the process, such as setting the table or using a step stool to help reach the counter top (THIS IS A GREAT ONE FOR TODDLERS!).
This can also be a great opportunity to involve your little one in choosing recipes, preparing food that they like, and tasting new foods for the first time.
If you have older children as well, encourage them to take part in the process and cook as a family!
Healthy Eating For Toddlers Tip 5: Don't force your toddler to eat foods.
Keep your toddler's food environment as healthy and positive as possible by not forcing them to eat vegetables or fruits (or any other foods) if they do not want to.
Instead, allow them to explore new foods at their own pace, giving them plenty of time and space to make connections between eating more nutritious food and feeling better overall.
Also, don't force your little one to eat when they're not hungry.
Let them have the choice about whether or not they want to eat, and keep that option open for them for as long as possible.
This will help give them control over the food choices in their lives, which is critical to developing a healthy relationship with food.
Healthy Eating For Toddlers Tip 6: Create a healthy relationship with food for your toddler, including treats!
Help your little one to understand that while they can't eat unhealthy food all the time, junk food is OK in moderation.
Healthy Eating For Toddlers Tip 7: Model healthy eating for your toddler.
Be sure to model healthy eating habits for your child.
This can be as simple as a conscious choice to pack a healthy lunch for work, or cooking healthy dinners at home.
The important part is that you are leading by example!
Healthy Eating For Toddlers Tip 8: Give your toddler a say in what they eat.
Encourage your toddler to make healthy decisions by offering them choices about their meals whenever possible.
Instead of asking, "What do you want for breakfast?" ask them "Would you like yogurt and granola or cereal and fruit today?"
Healthy Eating For Toddlers Tip 9: Keep healthy foods your toddler can choose.
Keep the number of healthy food choices in your home kitchen as high as possible by having a variety on hand at all times.
This will make it easy for you to prepare a nutritious meal or snack when ever the need arises, and will also help your child to develop a healthy relationship with food since they're more likely to be able to choose a favorite healthy snack if it's always available.
Precut fruits and vegetables and making a healthy eating drawer where toddlers can pick their snacks out of.
Healthy Eating For Toddlers Tip 10: Ditch sugary juices and make flavored waters instead.
When possible, try to avoid sugary drinks like soda or fruit juice, and instead serve them either water or milk with their meals.
Introduce your toddler to flavored fruit waters like this and let them get involved in picking the ingredients for the water flavors.
Healthy Eating For Toddlers Tip 11: Make fruits and vegetables fun for toddlers.
Encourage good habits early on by starting regular meals with fruits or vegetables.
Not only is this a great way to encourage your child to eat healthy, but it also helps them develop a lifelong love of fruits and vegetables that will serve them well in the long run!
Cut veggies and fruits in bite-size pieces and let your toddlers eat vegetables and fruits as finger foods (which makes it more fun).
Healthy Eating For Toddlers Tip 12: Encourage your toddler to try new foods.
Encourage your child to try new things by offering them nutritious food items and safe cooking activities that are designed to help them explore new foods and recipes.
When they see that food can be fun as well as healthy, they will be more likely to try new things on their own!
(If they don't want to try something new, that's OK too!)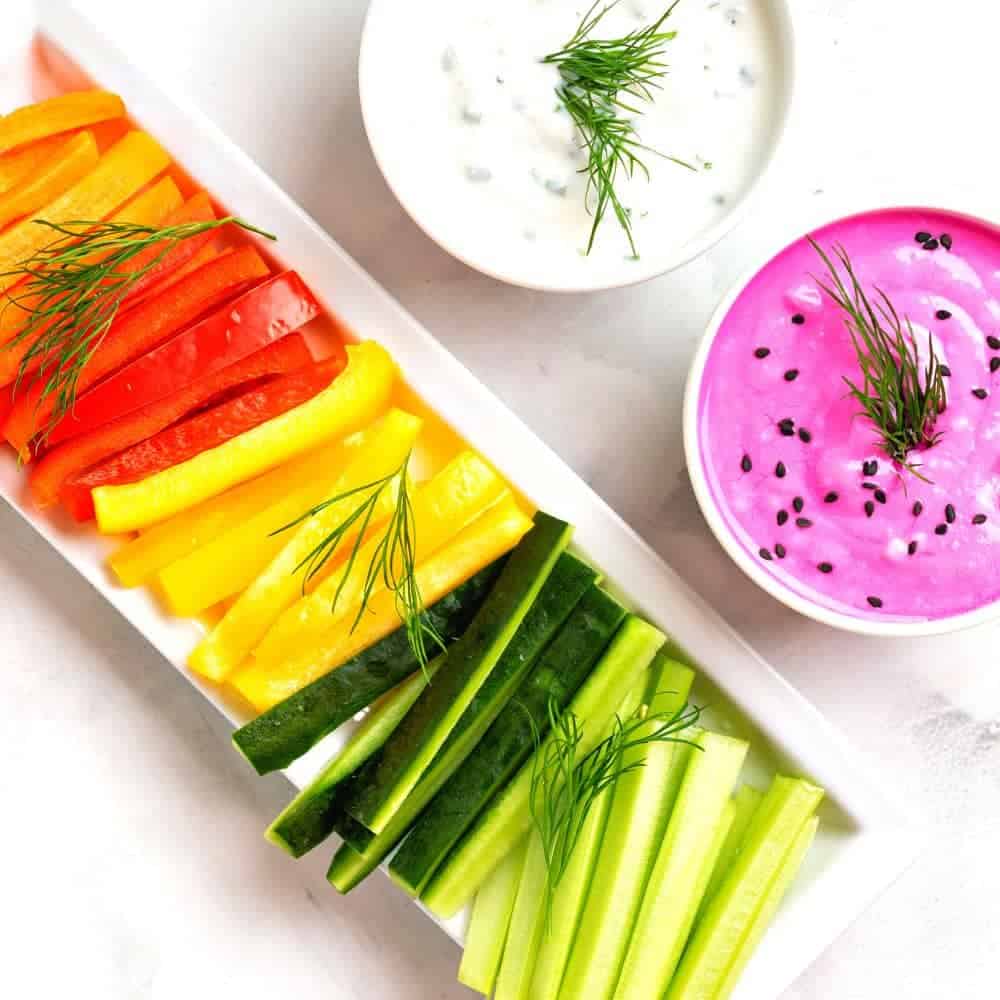 Healthy Eating For Toddlers Tip 13: Make colorful toddler plates.
Make sure to include plenty of color on your child's plate when you serve them a meal – both in terms of the different fruits and vegetables that are included, as well as the various shades and colors of foods themselves.
This will help ensure that your child is getting a diverse range of nutrients, as well as encouraging them to develop a taste for different flavors.
And, colorful foods are fun for toddlers!
Use vibrant vegetables and fruits.
Add food coloring to yogurt dips for fun colors!
Healthy Eating For Toddlers Tip 14: Play food sensory games with toddlers.
Encourage your little one to explore their senses when it comes to food – this will give them opportunities to enjoy the flavors and textures of different meals, as well as developing a greater appreciation for the sights, smells and sounds involved in cooking and eating.
Talk to them about the different senses for different foods. (What's squishy? Which one smells good? Which food is the brightest? etc.)
Healthy Eating For Toddlers Tip 15: Get creative with fussy toddlers.
If your child is a particularly fussy eater, try giving them different fruit and vegetables through different forms – this could be in the form of smoothies or juices that are prepared from these fruits and vegetables, or even blended into different dishes like soups and stews.
Also try turning them into dips for chips and other snacks.
If your child is particularly picky about their food, encourage them to help prepare meals when they can.
Giving them a choice and getting them involved often gives kids of all ages more interest in eating what they've made.
Healthy Eating For Toddlers Tip 16: Play healthy food games with your kids.
Ideas for healthy food activities with toddlers and healthy food games for toddlers:
Let us know your favorite healthy food activities for preschoolers and toddlers and we'll add them to our list!
There are many different ways that you can help your toddler get involved with healthy eating habits and physical activity in their everyday life.
By incorporating some of these tips into your daily routine, you can help encourage a healthier lifestyle in your child while also having fun and spending quality time together!
Most importantly, have fun with these healthy food activities for toddlers!
LOOKING FOR FUN COOKING PRINTABLES FOR KIDS?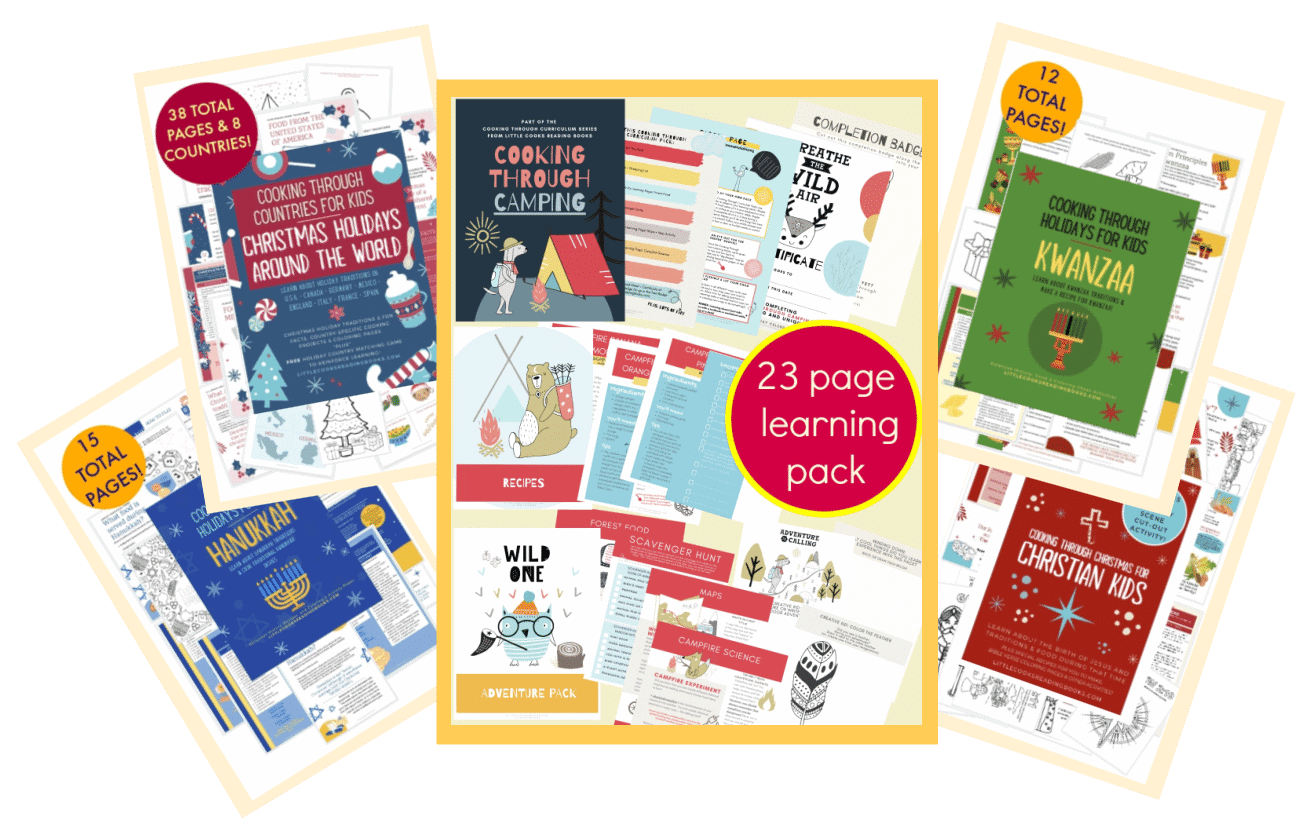 As an Amazon Associate I earn from qualifying purchases. Please refer to our
DISCLOSURE
.