Leftover mashed potato cakes, aka: potato pancakes, fried mashed potato, or potato patties, are a great way to use up those leftover potatoes from Thanksgiving, holiday dinner leftovers, or cookout potatoes. (So don't throw out those leftovers!) This is a great recipe for kids snacks, too!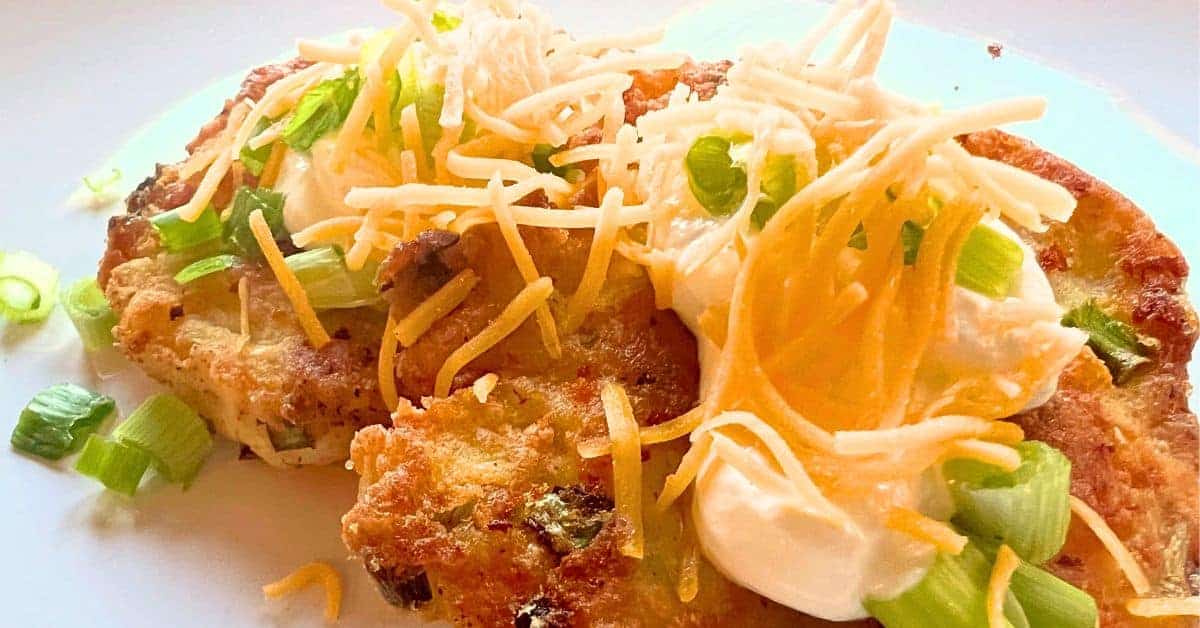 The Best Leftover Mashed Potato Cakes You'll Ever Have!
If you've never considered frying leftover mashed potatoes, you're in for a treat! This is one of those vintage recipes passed down from my grandma who had to be savvy with how to use leftovers (especially how to use holiday leftovers) for a houseful of kids with little money. With a few simple ingredients, we make these potato pancakes for breakfast recipes and dinner sides.
How To Make Potato Cakes From Leftover Mashed Potatoes
Recipe Ingredients:
Leftover mashed potatoes
Shredded cheddar cheese
Egg
Milk
All Purpose Flour
Green onion
Salt
Pepper
Vegetable oil, olive oil, or shortening for frying
Sour cream (optional, for topping)
Full printable recipe card below.
Affiliate links are used on this site. As an Amazon Associate I earn from qualifying purchases. Read more in our DISCLOSURE.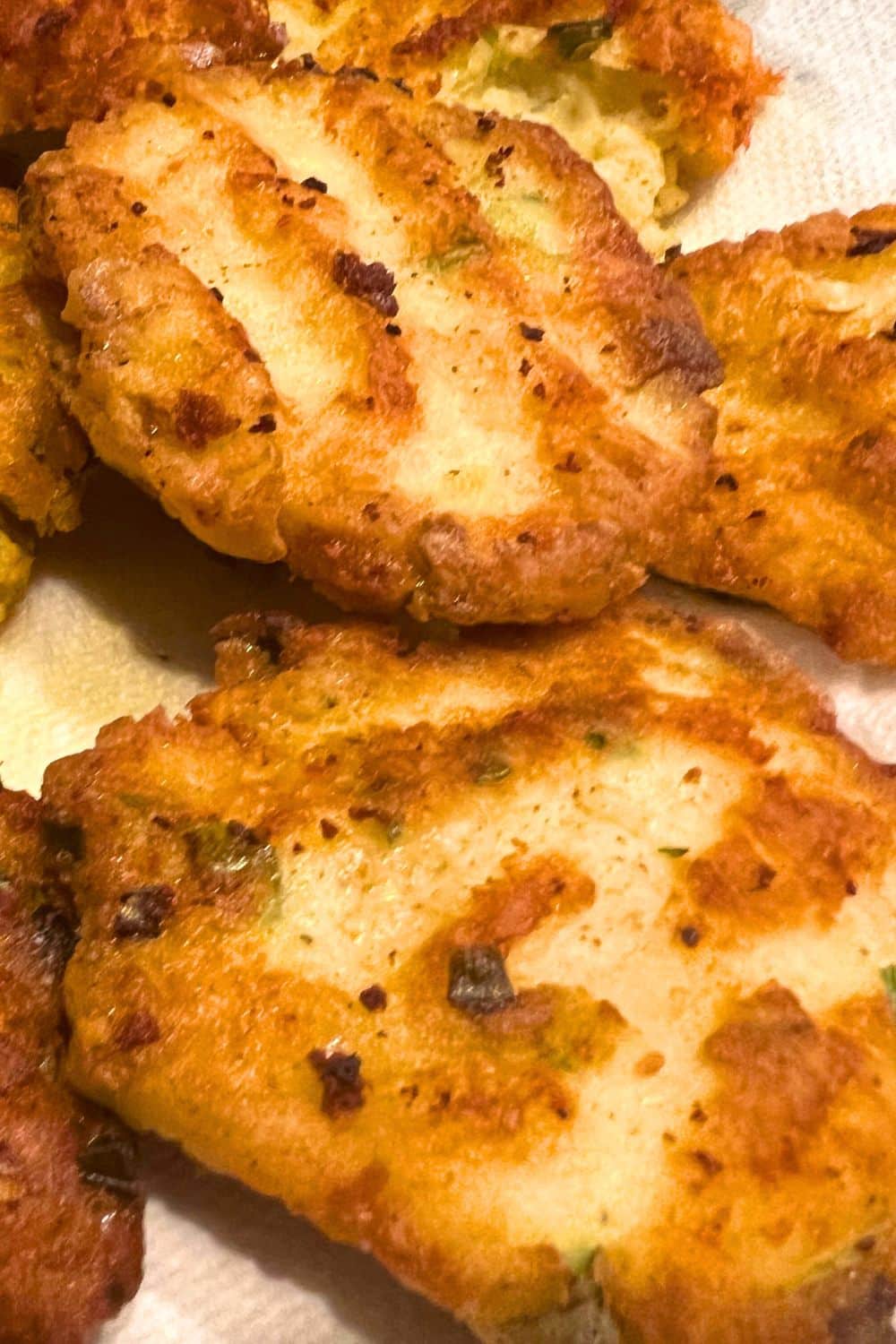 How To Make Easy Potato Cakes With Leftover Mashed Potatoes Step-by-Step
If you're wondering what to do with leftover mashed potatoes (or looking for leftover mashed potato recipes), definitely add these fried mashed potato cakes to your list!
What I love best about this simple potato cake recipe is that they have a nice crisp outside, but they are still creamy on the inside!
We usually make our leftover mashed potato cakes with cheese and onions (and sometimes bacon or bacon bits because mashed potato cakes with cheese & bacon are really good for loaded mashed potato cakes!), but you can play around with this easy recipe and added other ingredients too (like parmesan cheese, garlic, fresh herbs and more to your mashed potato mixture!).
You can also leave out the cheese and onions for the classic potato pancakes recipe (which is how my grandma mostly made her potatoes cakes), but you may find them bland without them.
Here are tips on how to turn mashed potatoes into potato cakes…
1. Make sure to use chilled mashed potatoes.
Starting with refrigerated mashed potatoes will help you shape the potato pancakes and also help them hold their shaped during frying.
You can make fresh mashed potatoes (using your favorite mashed potato recipe) for this recipe and not use leftovers, but just be sure to refrigerate them first before making the recipe.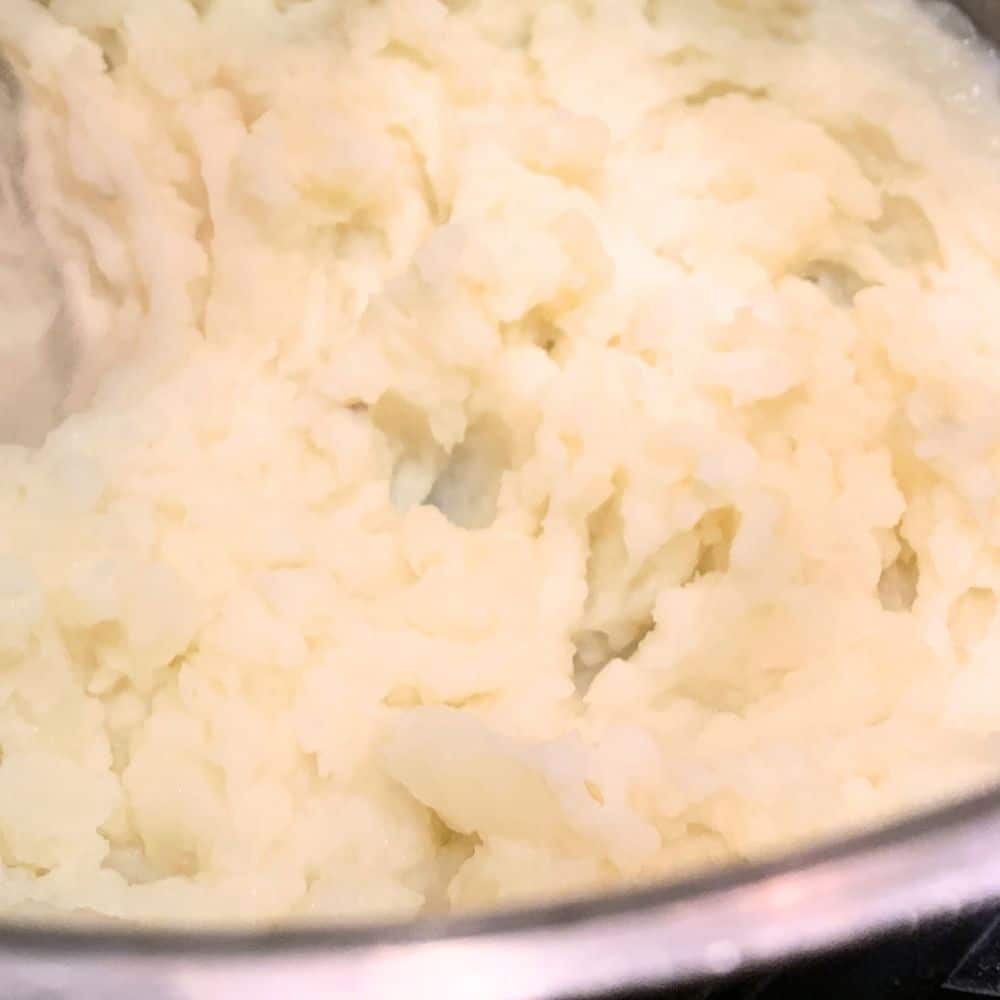 2. Don't skip the flour for your potato cake recipes.
Flour helps hold the leftover mashed potatoes together and also helps prevent the potato cake from being too runny.
RECIPE TIP: If you can't get your potato cakes to stick together, add a little more flour.
3. Make your potato cakes small.
I think one of the reasons people don't like potato pancakes like this is because you have to get the right ratio of everything, including the size.
Making smaller potato cakes that aren't too thick allows you to get the nice crunchy crisp outside layer with a creamy center layer in each bite.
We make our potato cakes about 3 inches across. However, you can make your leftover mashed potato patties any size you want!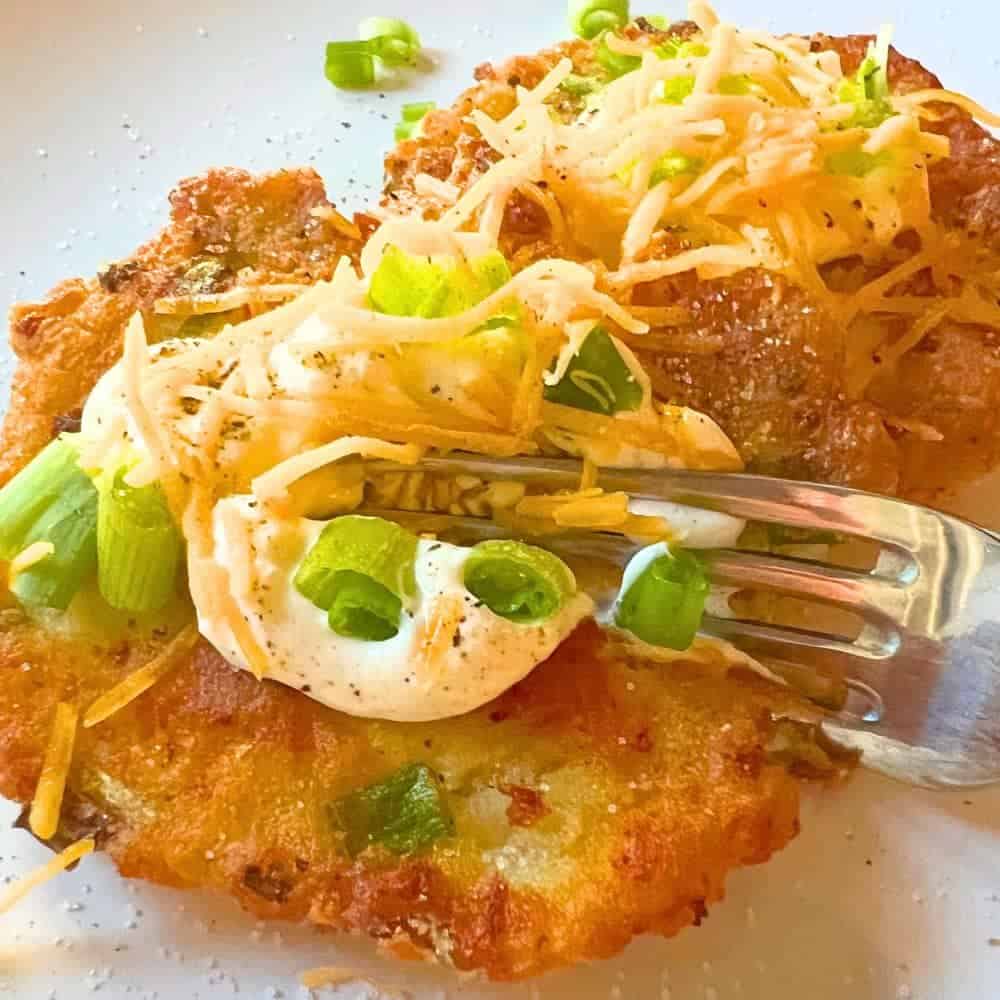 4. Fry potato cakes until they're crispy.
I think another mistake people make when cooking potato cakes is that they don't let them fry long enough.
We fry potato cakes over medium heat until they are golden brown and crispy on one side and then flip and cook the other side the same.
RECIPE TIP: For best results for crispy potato pancakes, drain your fried potato pancakes on a paper towel before serving so that won't be greasy.
KEEP SCROLLING FOR THE FULL PRINTABLE RECIPE CARD.
5. Why are my potato cakes bland?
I think another reason people don't like potato cake recipes is that they find them too bland.
I like them plain (without any additional ingredients), but many people find them bland and tasteless that way. If you don't want to make loaded potato cakes (like the recipe below) but want them more flavorful, add in chopped garlic, hot sauce, garlic powder, or onion powder.
6. Add the potato cake toppings!
Potato cakes topped with sour cream, cheese, and green onions are my favorite ways to eat potato pancakes. (We like cheesy leftover mashed potato pancakes.) However, there are many toppings you can use!
Potato Cake Toppings Ideas:
Sour Cream
Applesauce
Chives or Green Onions
Gravy
Cheese (of any kind)
Bacon Bits or Crumbled Fresh Bacon
Sautéed Mushrooms
Fried Egg
Cranberry sauce
Salsa
Pesto
Crispy Fried Onions
Hot Sauce
Sriracha
Pickles
Pickled Onions
These are good served at room temperature or warm after frying.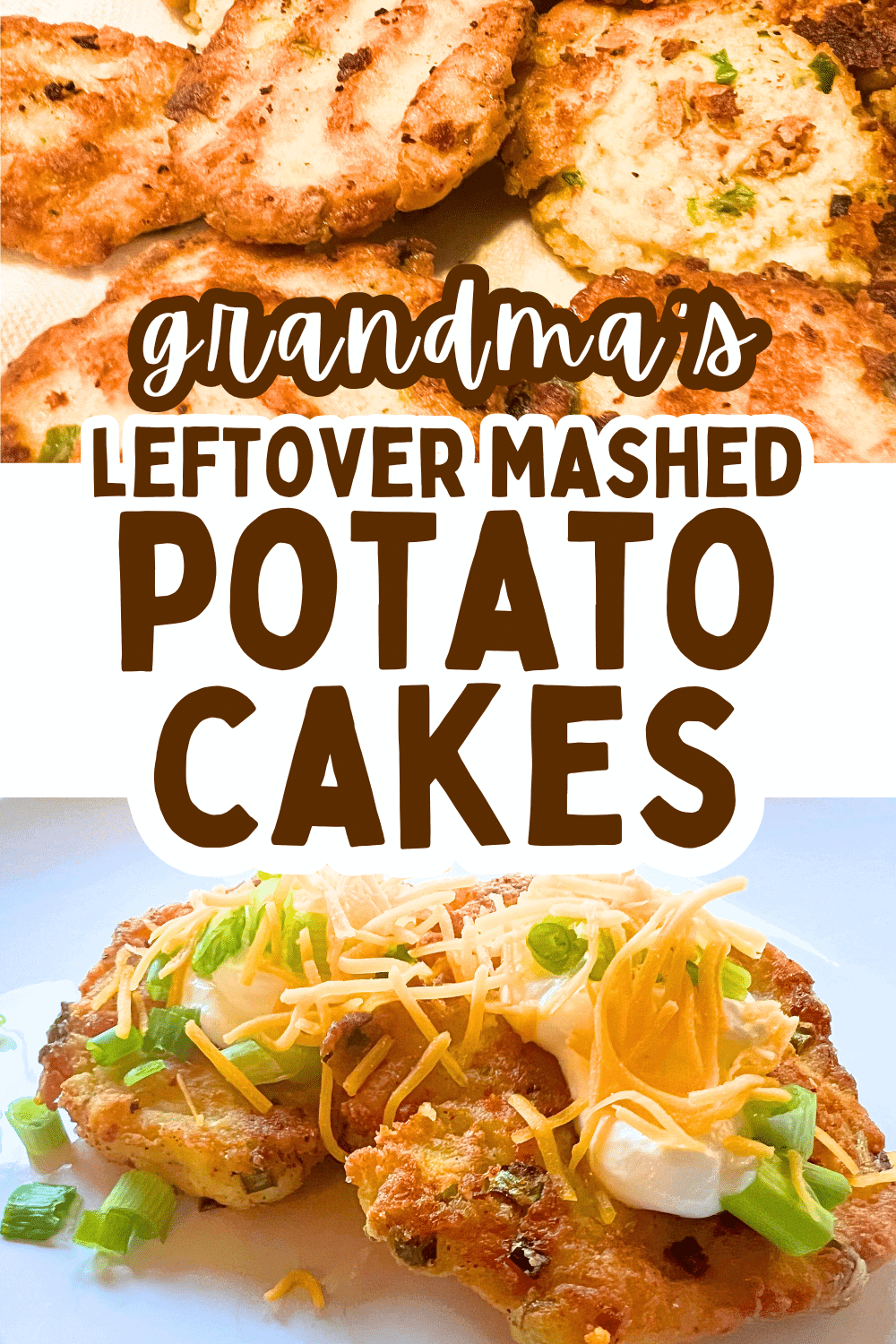 Printable Recipe For Potato Cakes From Mashed Potatoes
Old-Fashioned Potato Cakes Recipe (Cheesy Mashed Potato Cakes)
This is one of the best leftover mashed potato cakes recipes I've ever had and one of my go-to leftover recipes! (Can't mess with vintage recipes from grandma!)
And, since we always have Thanksgiving dinner leftovers, I especially make these during the winter holidays. They're just such a great way to re-purpose leftovers!
We like to add a dollop of sour cream with extra toppings to our potatocakes before eating.
RECIPE TIP: You can also make air fried leftover potato cakes in air fryer. See the air fried potato cakes instructions below the printable card.
Yield: 8
Best Leftover Mashed Potato Cakes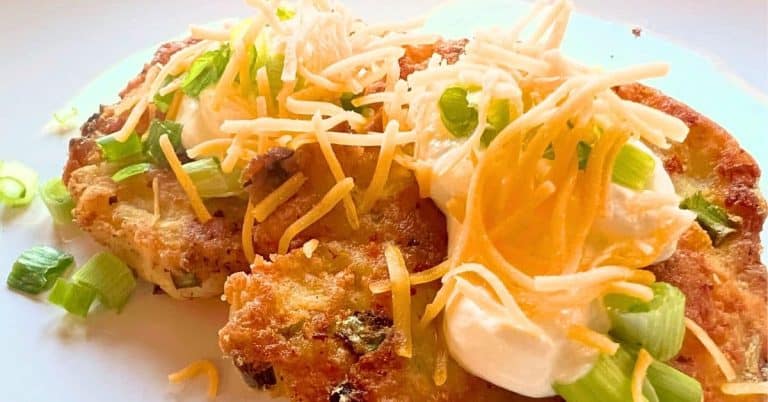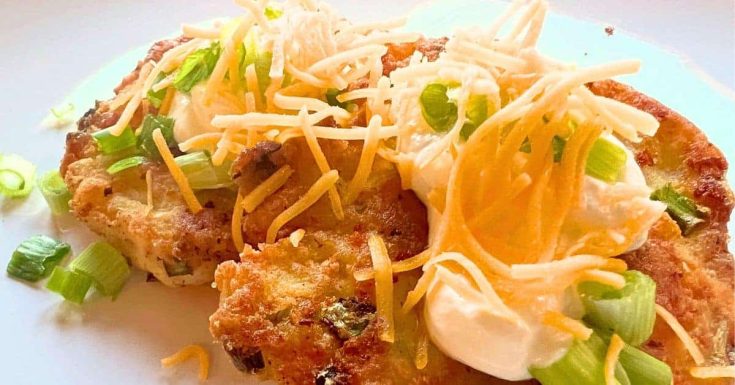 You can make potato pancakes plain (without cheese or onions) or as loaded potato cakes like we've listed in this recipe. They're good both ways!
Ingredients
2 cups leftover mashed potatoes (cold/chilled)
1/2 cup shredded cheddar cheese (plus extra for toppings)
3 green onions, chopped (reserve some for toppings)
2 Tablespoons all-purpose flour*
1 egg, beaten
1-2 Tablespoons milk*
Salt and pepper, to taste
Sour cream (optional, for topping)
Vegetable oil or shortening for frying
Instructions
In a large mixing bowl, stir together cold leftover mashed potatoes, shredded cheese, green onions, and flour. Be sure to reserve some of the green onions for topping.
Add in egg and stir until combined.
Add 1 tablespoon of milk and stir. Your potato mixture should be thick so that you can scoop them out and shape them into potato patties with your hands. (If needed, add the additional tablespoon of milk.)
Salt and pepper, to taste.
Lightly flour hands. Shape mashed potato mixture into small round pancake shapes. (How many you have will depend on how large you make your potato cakes. We usually make ours smaller, about 3-4 inches across, and can get around 8 or more from this recipe.)
In a large frying pan, heat 2-3 Tablespoons of vegetable oil or shortening over medium-high heat. Carefully place potato cakes in a single layer into hot oil. Fry for around 5 minutes or until lightly brown and crispy. Flip and fry on the other side.
Transfer fried potato cakes to a paper plate lined with paper towels and allow oil to drain.
Serve warm or at room temperature. For loaded potato cakes, top with sour cream, shredded cheese, and chopped green onions.
Store leftover cooked potato cakes in an airtight container in the refrigerator for up to 3 days.
Notes
*You may use less or more of milk and flour listed here. It depends on the thickness of your mashed potatoes to start. If your potato patties seem to runny, leave out the milk and add more flour.
Try bacon bits or crumbled, cooked bacon to your potato mixture and/or as a topping.
You can also serve them plain or with ketchup (which is how my daughter likes to eat them).
Nutrition Information:
Yield:
8
Serving Size:
1
Amount Per Serving:
Calories:

140
Total Fat:

9g
Saturated Fat:

3g
Trans Fat:

0g
Unsaturated Fat:

5g
Cholesterol:

33mg
Sodium:

270mg
Carbohydrates:

11g
Fiber:

1g
Sugar:

1g
Protein:

4g
Nutrition information is estimated. Changes to the recipe and use of different brands may cause changes to the nutritional information to vary slightly from the ones provided here.
How To Make Leftover Potato Cakes in Air Fryer
To make air fryer potato cakes:
Follow the regular potato cake recipe, eliminating the milk. (If potato cakes are too runny or don't hold together well, place mixture in freezer until it becomes slightly hard and then make the potato pan cakes.)
Preheat air fryer to 400 degrees F (200 degrees C).
Spray air fryer basket or tray with cooking oil.
Place formed potato cakes in single layer and cook for 10 minutes or until slightly brown and crispy. (You may need to cook longer depending on your air fryer.)
Serve immediately with toppings or plain.
Helpful Recipes Tips & Recipe FAQs
How Long Are Leftover Mashed Potatoes Good For?
You may be wondering how long are leftover mashed potatoes good in the fridge? Properly stored in an airtight container, leftover mashed potatoes can be stored in the refrigerator for about 3 to 5 days. Be sure that you make your potato pancakes before you have to throw out the mashed potatoes!
Why do my mashed potato cakes fall apart?
The biggest reason mashed potato cakes fall and don't stick together is because they're too loose (or wet). In this case, add a little more flour to your leftover mashed potatoes in order to make them thicker. Also, flour your hands when making the patties so they don't stick!
Are potato cakes the same as latkes?
Potato cakes and latkes are similar but not exactly the same. They both involve frying potatoes, but latkes uses finely grated potatoes while Southern potato cakes use leftover mashed potatoes. Also, they can have different ingredients and toppings.
More Vintage Recipes From Grandma
Southern Green Beans and Potatoes in Crockpot
If you're looking for the southern potatoes and green beans recipe that you remember from a large gathering and family holidays, this is it!
This is the traditional green beans and potatoes recipe that I remember my grandma and mom making growing.
Pair it up with a homemade cornbread for true southern recipe!
GET THE FULL SLOW COOKER GREEN BEANS WITH POTATOES RECIPE
Let us know how your leftover mashed potato caked turn out!
LOOKING FOR FUN COOKING PRINTABLES FOR KIDS?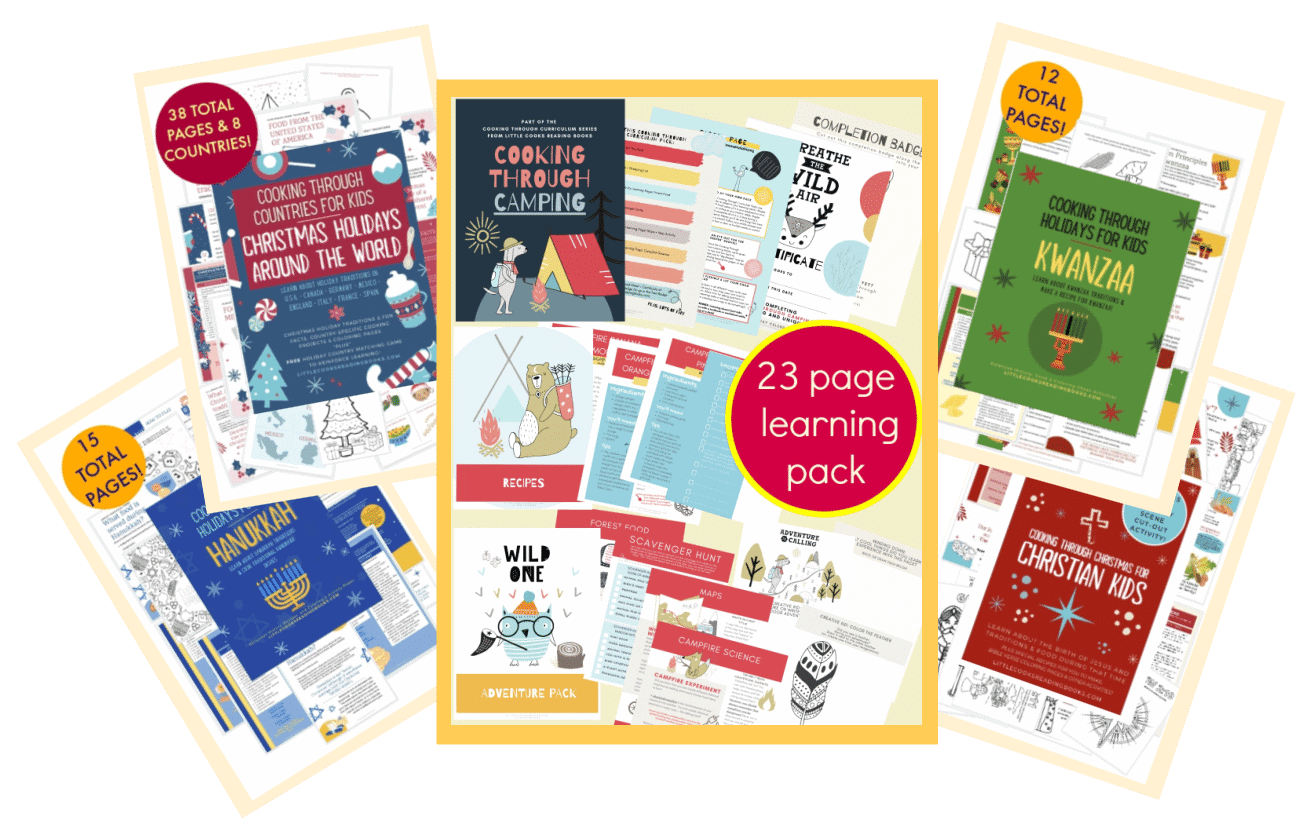 As an Amazon Associate I earn from qualifying purchases. Please refer to our
DISCLOSURE
.