This egg shaped slime is great for Easter basket fillers, a slime egg stress toy favor, Spring theme activity, or for egg-cellent slime kids activities any time of year or if you're looking for food shaped slime ideas!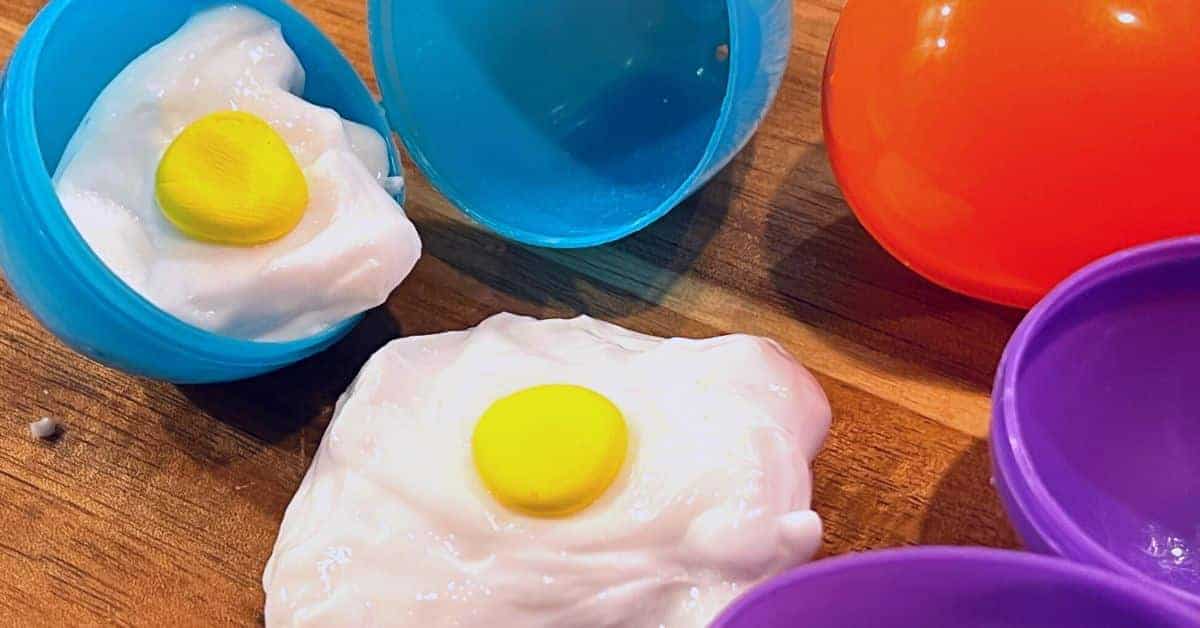 Fun Egg Shaped Slime
This egg slime toy was so fun we played with it for DAYS! (It's a great slime egg for boys or girls … and apparently parents!) It's a white slime with egg shaped yolk inside and a super easy activity for kids! Why look for slime for sale when you can make easy homemade slimes!
How To Make DIY Egg Yolk Slime
To make slime that looks like egg, you'll need:
White Glue
Borax laundry flakes
Water
Special DIY egg yolk (see craft instructions)
Plastic Easter eggs
Bowls
Craft sticks or spoons
Plastic gloves (optional, but strongly recommended)
If you're also looking for how to make a slime stress ball, this is a great alternative to make!
Affiliate links are used on this site. As an Amazon Associate I earn from qualifying purchases. Read more in our DISCLOSURE.
KEEP SCROLLING for the full slime ingredients and how to make slime with Borax to look like an egg! Free printable slime recipe card below! Also, don't miss our Borax laundry detergent slime safe tips!
NOTE: You can make slime with eggs. This is not that slime recipe! These are DIY slime eggs made with regular slime to look like eggs!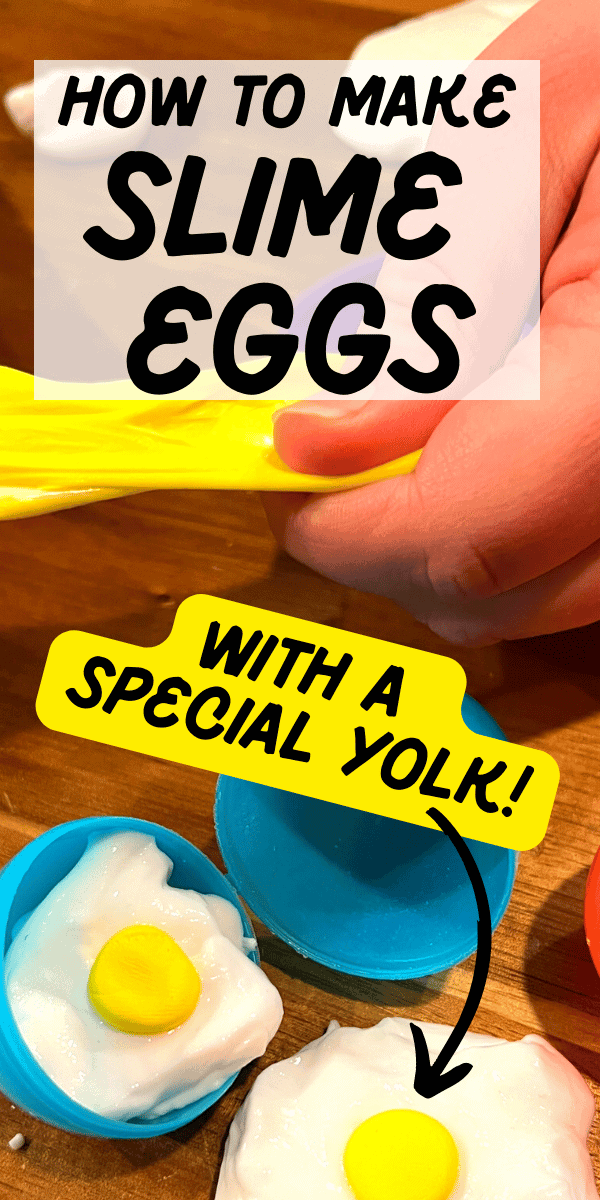 How much Elmer's Glue to make slime?
Some recipes make slime with no glue. We used white Elmer's glue (not clear glue) for our egg slime. We used about 1/2 cup (or 4 ounces) for our recipe.
If you're wondering what detergent make slime that everyone talks about, it's Borax detergent!
What is Borax and where can I find it?
Borax, which is used in a slime recipe, is an old-fashioned powdery white laundry detergent flakes (not liquid detergent). You can still buy Borax at major big box stores, some grocery stores, and sometimes even farm stores or hardware stores.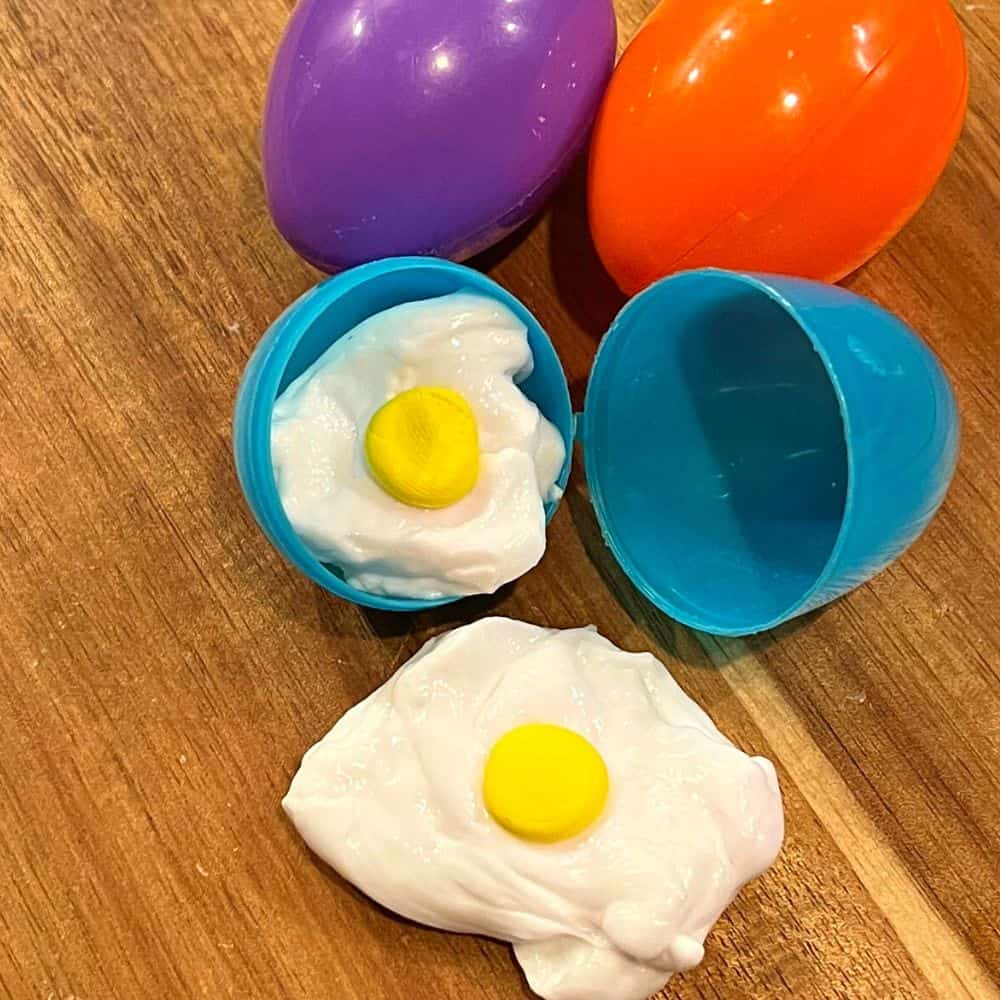 ALSO CHECK OUT THESE OTHER FUN KIDS ACTIVITIES
Fun Games To Play With Easter Eggs
Fun Easter Activities For The Family
Fun Green Eggs and Ham Activities
Before we get to the craft directions, let's talk about a Borax in slime warning.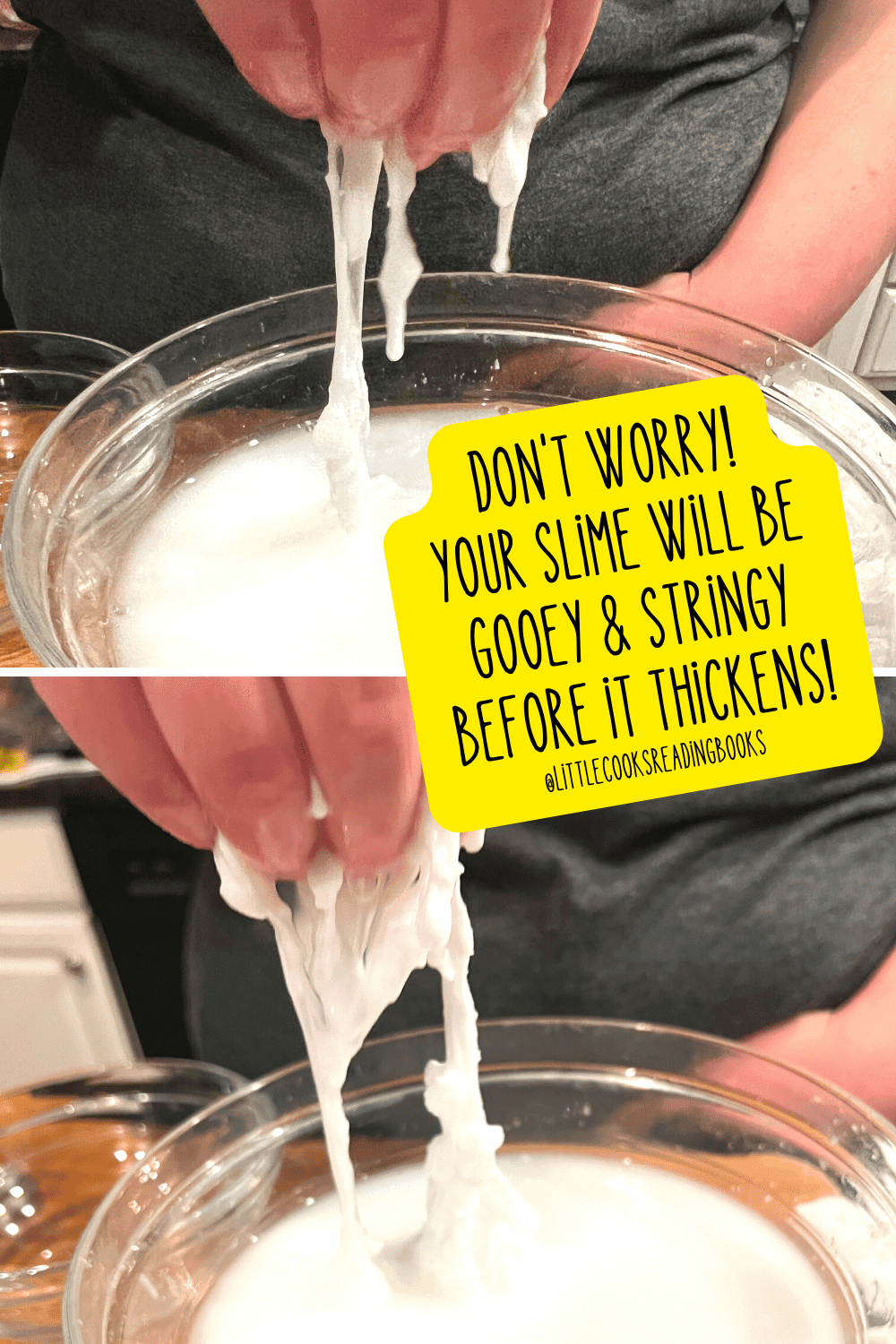 Is slime harmful to skin?
How do you make slime with Borax?
If you've ever made slime, you probably heard discussions about the safety of using Borax in slime recipes and you may be wondering is Borax safe to touch in slime. Borax can be potentially toxic and may cause issues to kids with skin sensitivities. For example, there may be issues if your dog ate slime made with Borax (or if younger kids ate the slime!) or if your kids have sensitive skin! So take care when using it and make Borax slime recipes at your own risk!
ADULT SUPERVISION DEFINITELY REQUIRED.
Borax Slime Safety Tips:
Have adults scoop the Borax and do so that it creates the least amount of dust particles so they don't irritate eyes / nose.
Wash hands and arms immediately after making the slime and/or playing with slime.
Wear kids' plastic gloves for crafts like this when making or playing with homemade slime.
Keep out of reach of small children (playing with it alone) or animals.
OUR EXPERIENCE: The amount of Borax soap you use is small, so most people will not experience any issues. But, there can be dangers of playing with slime made like this. My daughter has very sensitive skin and did not experience any issues making or playing with the slime. However, that does not mean your family will not. Take the appropriate precautions.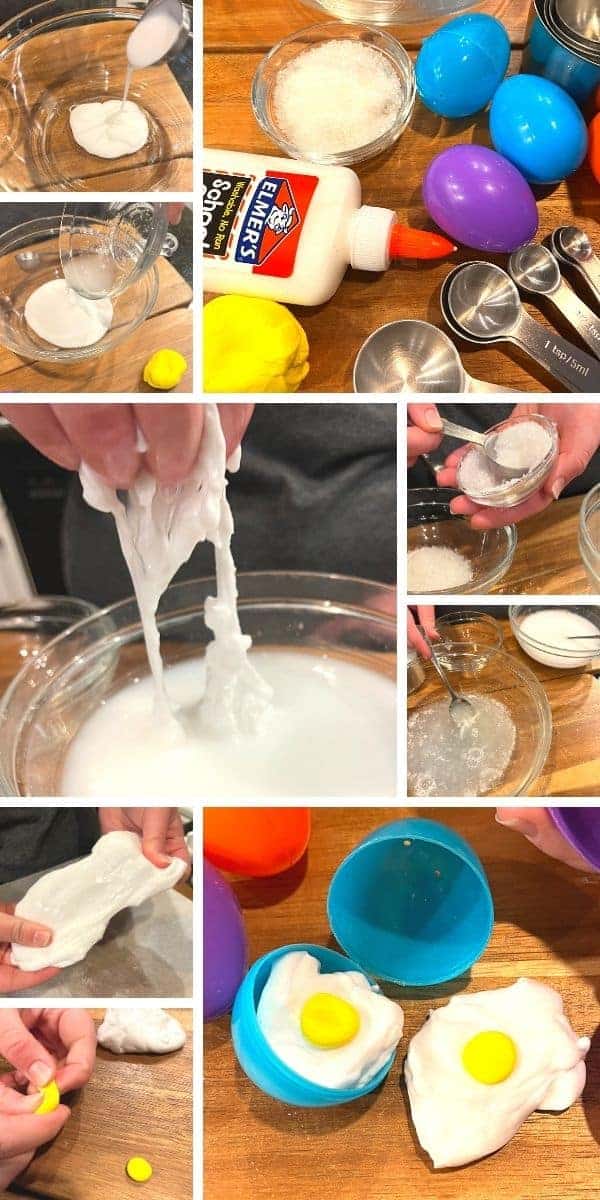 HOW TO MAKE EGG SHAPED SLIME
How To Make Slime With Soap Flakes And Water
These slime filled Easter eggs (slime putty eggs) aren't just for Easter (although they do make fun Easter slime gifts for kids)! They're a fun activity for kids any time of year!
This makes slime fluffy and stretchy, but don't pull slime too fast. When you do, it breaks the bond and will snap instead of stretch. Be sure to stretch slime slowly when playing with it.
You don't necessarily need the plastic eggs for this, but the egg shaped mold makes a fun presentation for kids to crack the egg open for a slime egg surprise!
Also, you can use clear glue for a raw egg look, but we wanted a fried egg look for our egg slime.
For slime storage, you don't necessarily need fancy slime cases. We just used a resealable plastic bag or a jar with lid.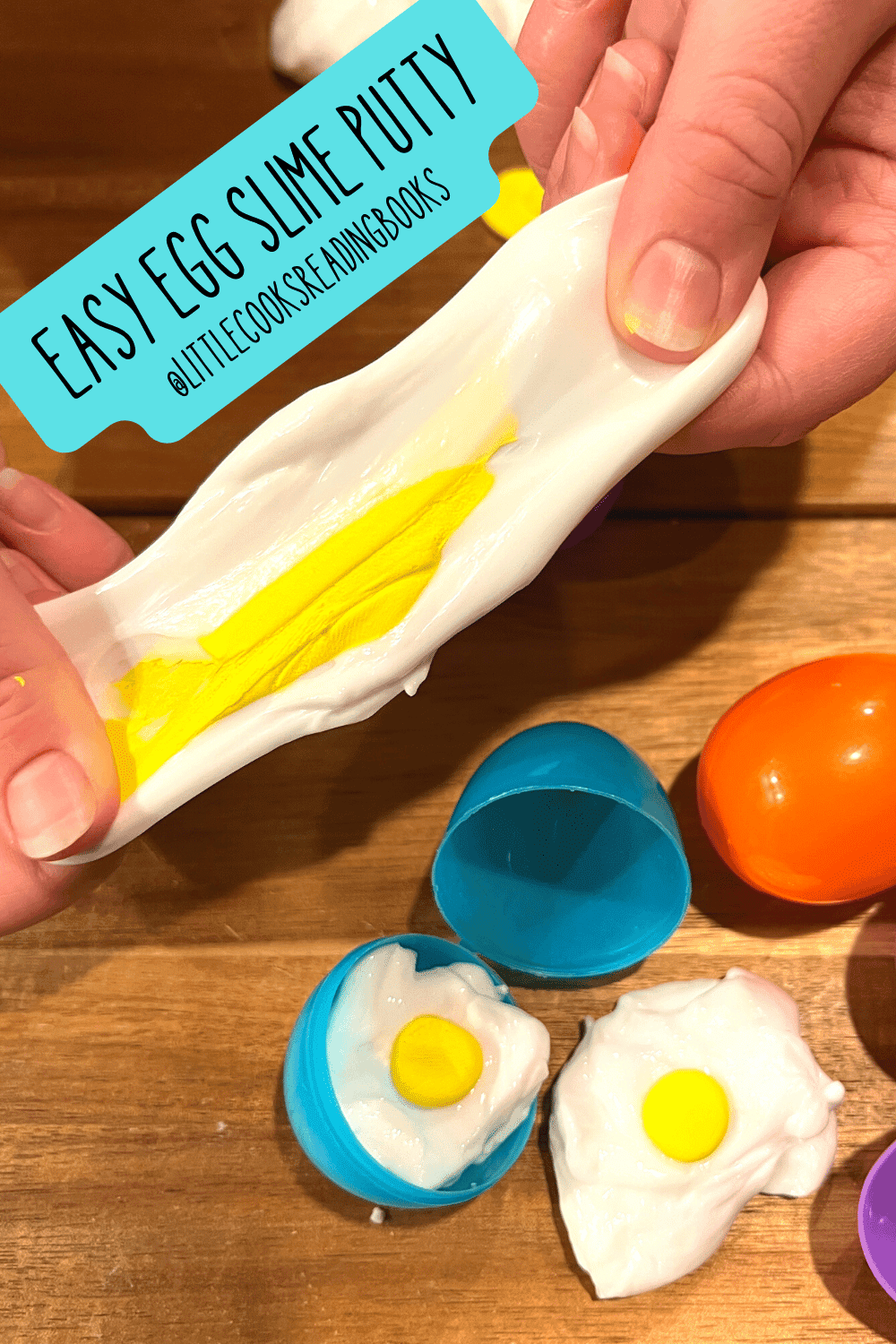 IMPORTANT CRAFT TIP: We made these egg yolk slime-filled eggs using this air dry clay for the yolk. Since it is an air dried clay, it will eventually harden. However, if you eventually mix the clay into the slime (like in our picture of slime where its all yellow above) you can still play with the slime as normal. (This is how to make your Playdough into slime, too!) You can also just tint some slime yellow for the egg yolk slime toy.
Here's how to make the perfect Borax solution for slime…
Yield: 4
Egg Shaped Slime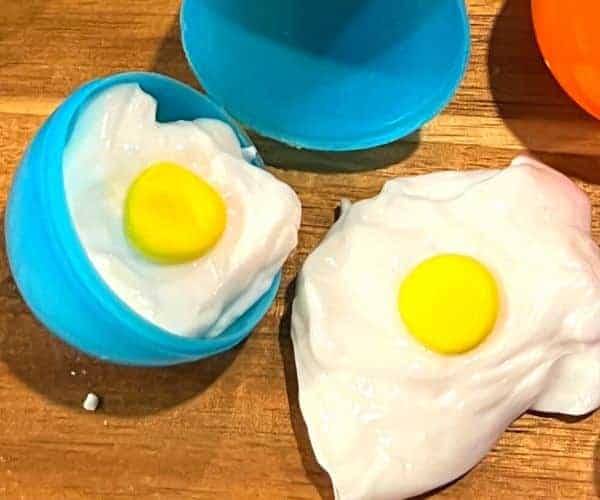 Egg slime is such a fun Easter basket idea, a fun Easter craft, or fun for any egg themed ideas!
We've put important craft tips in the post. BE SURE TO SCROLL UP TO READ THEM BEFORE MAKING CRAFT SLIME RECIPE!
Materials
1/2 cup Elmer's white school glue
1/2 cup warm water
1 teaspoon Borax laundry detergent flakes
1/2 cup warm water
Yellow Model Magic clay
Tools
2 medium bowls
Spoons or craft sticks (for stirring)
Measuring cups and spoons
Plastic craft gloves (optional, but recommended for safety)
Wax paper
Sealable plastic bags
Instructions
In one medium bowl, add 1/2 cup of warm water. Slowly stir in Borax and continue to stir until mostly dissolved. Set aside.
In the other bowl, add Elmer's white glue. Mix in the other 1/2 cup of warm water. Stir.
Slowly add some of the Borax solution to the glue and water mixture. Stir. Add more of the Borax solution and stir again until it starts to thicken. THIS MAY TAKE A FEW MINUTES. (If it doesn't thicken after a few minutes, add more of the Borax solution. You may or may not use it all.)
Put on plastic gloves for mixing your slime (recommended for safety!). Mix and knead the slime in the water with your hands. (It will go from being gooey and then stringy before it thickens!)
Once it's holding together, remove slimy slime from water and place on wax paper. Continue to knead the slime with hands to thicken it. The more you play with it, the thicker the slime will get (like store-bought slime). Don't pull apart quickly! (It snaps. Always stretch slime slowly, even during play.) Once thickened, set aside.
Wash and dry hands and arms. Roll small balls of the yellow clay. Smash them flat slightly to make the yolks. (The number you will need will depend on how many eggs you make, which will depend on how large your plastic eggs are. We easily made 4 and could've made more, but my daughter kept some out to play with.)
Separate the white slime into the number of eggs you have. Open the plastic eggs and place the white slime in the larger side. Place one of the clay "yolks" on top. Snap the other side of the egg to shut the egg.
Give out for Easter or a fun party favor.
Store slime filled eggs in plastic bags for up to 2 weeks before disposing of the slime.
Notes
You can mix the egg yolk slime clay into the white slime. Your slime will become yellow, but will still feel like slime and you will still be able to pull it like slime. If you don't mix in the clay yolk, the yolk will eventually harden because Model Magic clay air dries.
How To Play With The Slime
The best way to play with slime from this recipe is to eventually mix in the clay (the slime egg yolk). It will make the white slime turn into yellow slime, but will still be stretchy. If you don't mix in the clay yellow yolk within a day, the air dry clay will harden. We still played with our egg shaped toy slime days after mixing it and it was fine and fun for homemade slime recipe!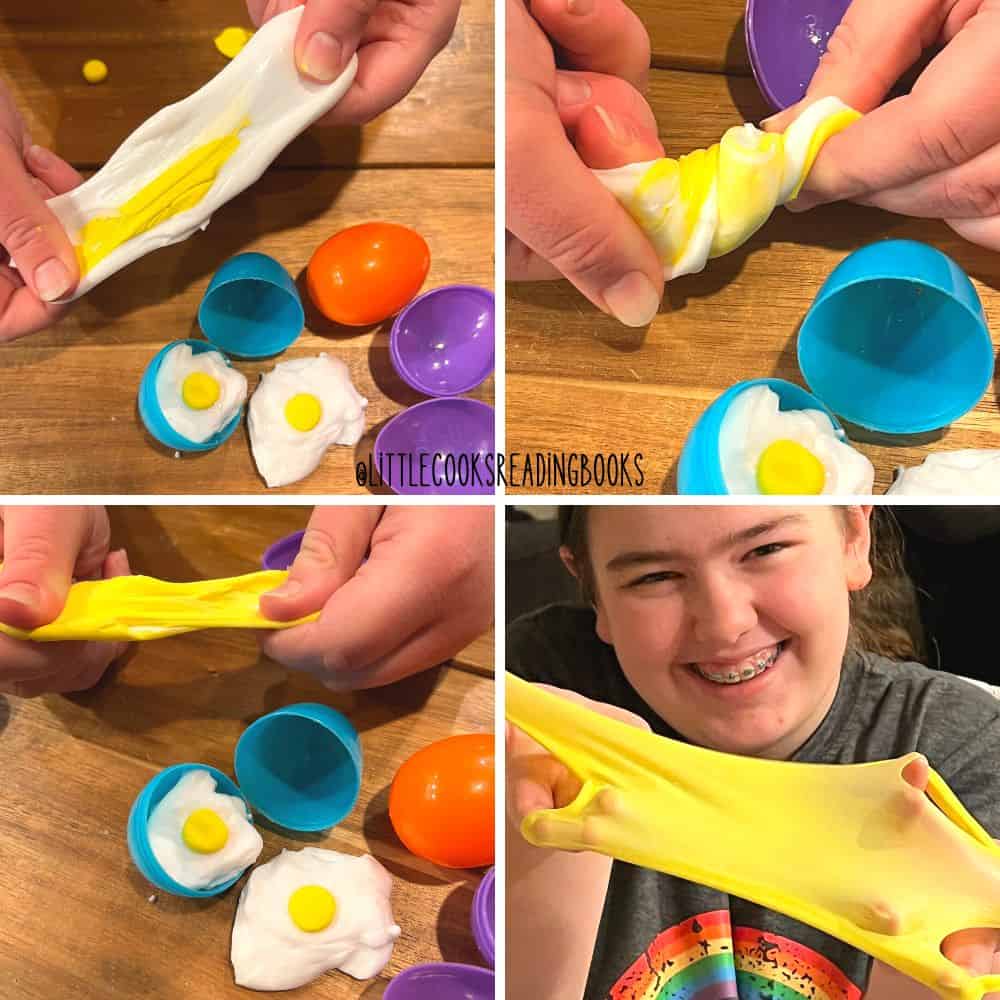 Children's Books About Eggs
These are great egg kids books to read with your slime egg pocket toy activity!
TRY THIS FUN KIDS' CRAFT NEXT: Hand Flower Craft
Let us know how your egg shaped slime craft turns out!
LOOKING FOR FUN COOKING PRINTABLES FOR KIDS?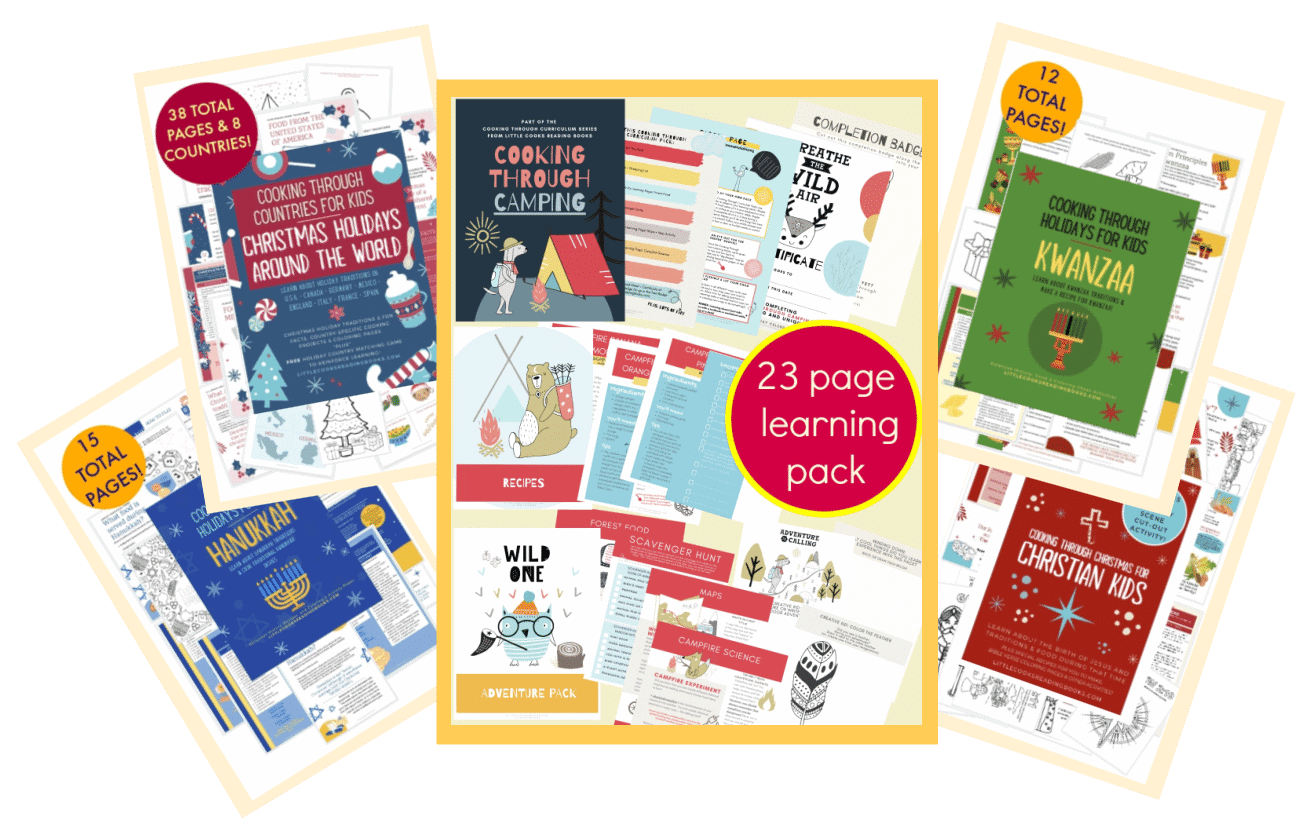 As an Amazon Associate I earn from qualifying purchases. Please refer to our
DISCLOSURE
.