Last Updated on
With this hand craft, you'll learn how to make handprint flowers with a sweet handprint flowers poem about growing. This is a great preschool craft or kids' activity for any occasion because it can be a gift for Spring, Mother's Day, grandparents, birthdays, handprint gifts for mom (or handprint art for mom), teacher projects, camp crafts, and more!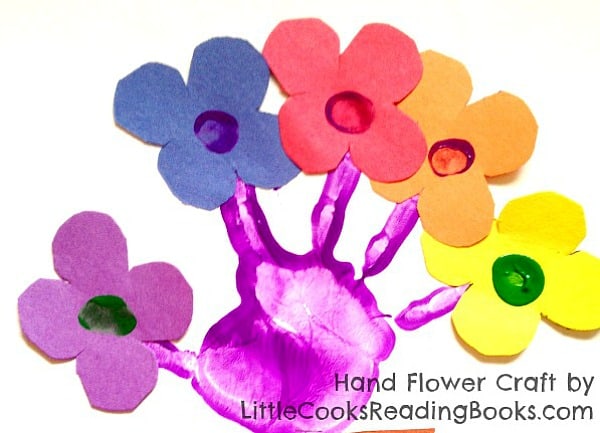 If you're looking for a way to preserve your child's handprint, look no further than these handprint flowers!
Affiliate links are used on this site. As an Amazon Associate I earn from qualifying purchases. Read more in our DISCLOSURE.
When we made it, we were looking for a gift to give to grandma for Mother's Day.
I wanted it to be personal, so I knew we were going to make a craft that provided something about my daughter.
We decided to make the handprint flowers craft with a hand poem and it turned out way cuter than I thought!
My mom loved it so much that six years later she still has it hanging on her refrigerator.
(It really is so cute!)
DISCLOSURE: Affiliate links are used on this site and may be used in this post.
---
ALSO CHECK OUT: HOW TO MAKE A DIY FAIRY GARDEN

---
Handprint Flowers Poem
Here's the handprint flowers poem that we used.
(Some people also call it the Mother's Day handprint poem.)
I'm not sure where this saying came from so I can't credit it here.
If you know, will you leave it in the comments so I can give it proper credit?
The Hand Flowers Craft Poem:
This is to remind you

When I have grown so tall
That once I was quite little

And my hand was very small.
I thought this was also perfect since it mentioned "growing" and we were making the flowers growing out of a pot.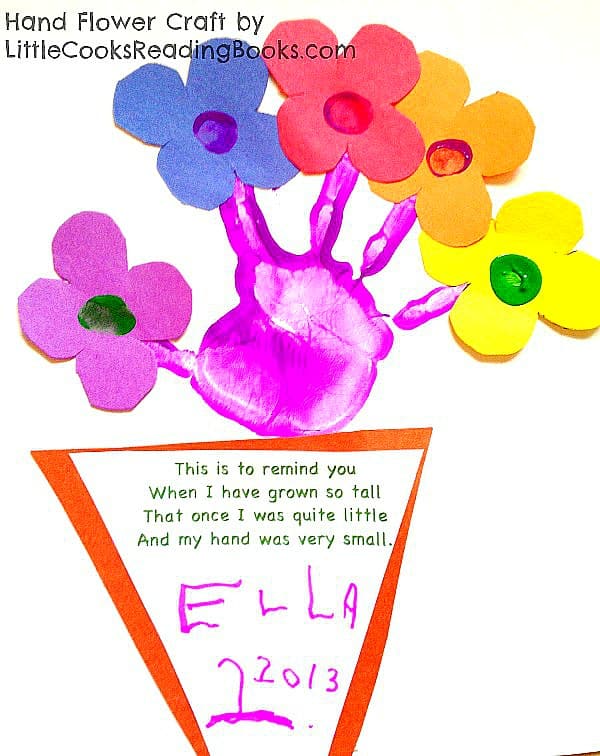 Children's Hand Flower Craft and Poem
How To Make Handprint Flowers
You'll Need:
1 piece white construction paper
1 piece brown construction paper
5 pieces assorted bright colored construction paper
Washable paints (color(s) of choice)
Poem (above) printed on white paper from computer or written by child
Scissors
Glue


Directions
1. Free-hand draw a vase on the brown construction paper. (It doesn't have to be perfect. It's basically a triangle with the pointy tip cut off/straight across.  )
2.  Free-hand draw five flower shapes on five different colors of construction paper. (If you aren't comfortable free-hand drawing, just draw four overlapping small circles for the flowers and then, after cutting, flip them over and glue the side down that has your drawn circles on it.)
4. Allow the child to practice cutting by cutting out the vase shapes and the flower shapes. (For smaller children, you can pre-cut the shapes or buy paper flowers.)
5. Cut the poem out in the same shape as the vase, just slightly smaller.
6. Glue the poem onto the brown vase and then glue them both on the white construction paper.
TIP: Be sure to place the vase at the bottom of the paper so there is room for the handprint and flowers!
7. Place paint onto a paper plate or craft tray, have child spread fingers, dip palm into paint and then place the hand print just above the vase.
TIP: Keep those fingers spread so there is room to put the flowers on!
8. Glue the flowers onto the ends of each fingertip.
9. Make paint thumbprints in the middle of each flower, using different colors for each flower. (We matched the paint color to the flower color, but you can alternate colors and it would still be really cute.)
TIP: Go lightly putting paint on the thumbs or else you will just get globs of flower centers (like you see in our picture) and won't be able to see the thumbprint. You want to be able to see the thumbprint! A good way to do this is to but paint on the thumb and then do a practice thumb "stamp" on a piece of scrap paper and then immediately onto the flower.
I also left room on the poem sheet so my daughter (then age 5) could write her name and the year that she made it.
Children's Books About Flowers and Growing
Want to make this into a read and craft?
Pair up this flower craft with these great kids' books on gardening and flowers:
As an Amazon Associate I earn from qualifying purchases. Please refer to our
DISCLOSURE
.