These DIY May Day basket craft ideas are simple May crafts for all ages and also perfect for kindness projects! We'll also cover May Day basket history, what goes in May Day baskets, and why we do the May Day basket tradition. Perfect for fun May crafts, flower craft for kids, or spring craft for kids of all ages!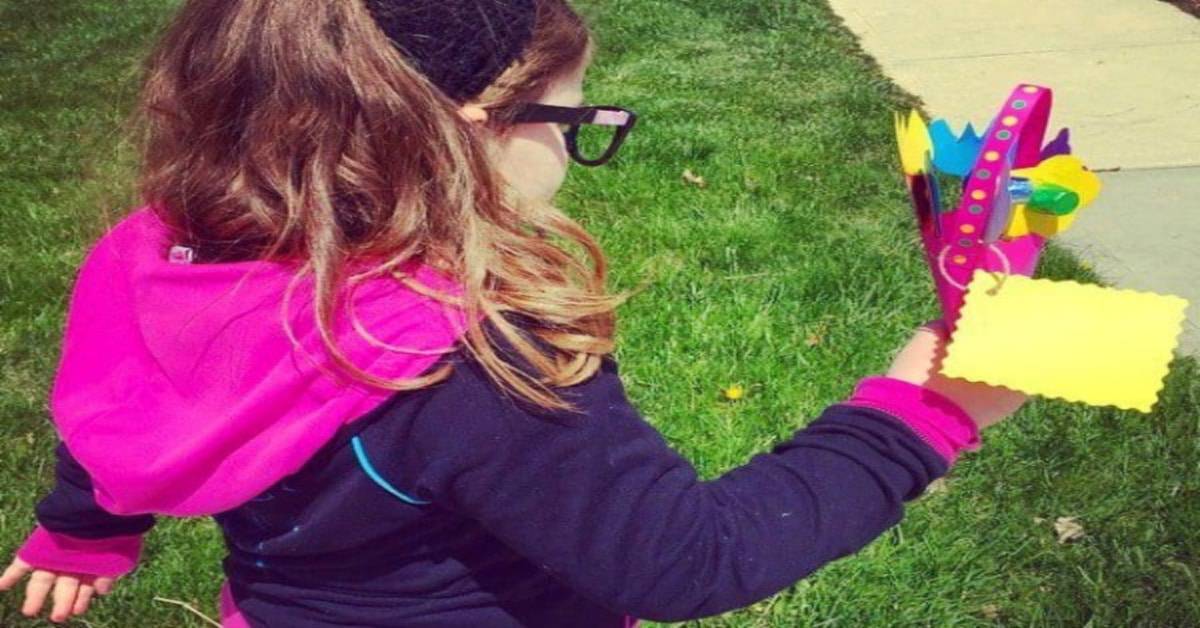 FUN MAY DAY BASKET CRAFT IDEAS FOR KIDS
These cute May Day flower cones are good crafts for toddlers / preschoolers or May kindergarten crafts and up for all ages!
What do you put in May Day baskets?
Traditionally, these are candy and flower May Day baskets, but you can put anything you want in your May baskets!
Ideas for May Day baskets:
Affiliate links are used on this site. As an Amazon Associate I earn from qualifying purchases. Read more in our DISCLOSURE.
Real flowers (make such happy May Day baskets!)
Greenery, leaves, limbs you pick from your yard
Paper flowers
Flower seeds (to plant for later)
Candy
Suckers
Sunflowers
Dried fruit
Baked treats
Notes
Small gifts
Trinkets
The sky is the limit for ideas to put in May baskets and you can tailor each basket to your recipient! May Day baskets of flowers are beautiful, but you don't have to just make it flowers!
Don't miss the full directions on how to make a May Day basket out of paper (you can even upcycle things you have around your house for easy and cheap May Day ideas!). KEEP SCROLLING FOR MAY CRAFT DIRECTIONS and the printable craft instructions card and also a fun history of May Day baskets to share with kids!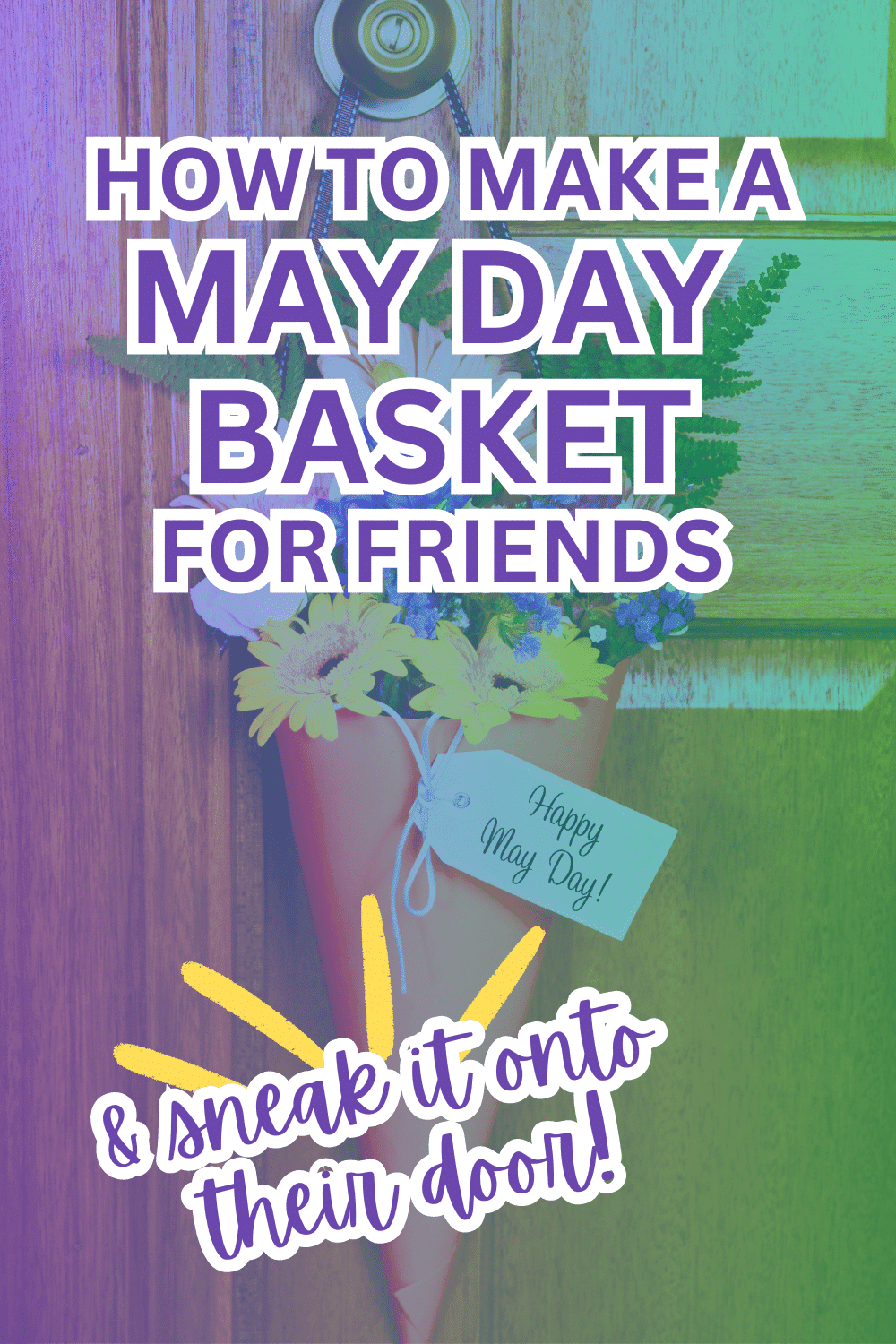 What are May Day baskets?
A May Day Basket is a small, handmade basket that is filled with flowers and other treats. It is then hung anonymously on the front door doorknob (or on the steps) of friend or family member just to let them know that you're thinking of them on this Spring Day (the first of May).
Be sure to read on for the history and meaning behind May Day baskets!
What can you use for a May Day basket?
One year, as an alternative to the paper May Day baskets, we planted real flower seeds in small mason jars, glued twine as a "handle" under the rim lid and gave those as baskets for May Day. Those were a hit and made super cute may day baskets, too!
May Day containers ideas:
Recycled tin cans
Plastic cups
Woven paper baskets
Glass jars (mason jars)
Rolled newspaper
Recycled produce containers (think: the ones berries come in)
Tiny baskets (look at the thrift store and make mini treat baskets!)
Paper plate baskets (simple & cheap baskets!)
Mini colorful pails (like these)
Sturdy, tall cupcake baking cups (like these)
Upcycled containers you have around your house
Paper cone (see our May Day cone basket craft directions below)
Our craft is for easy May Day basket ideas to make from craft supplies you probably already have at home!
What is May Day and why is it celebrated?
May Day is a day on May 1st that celebrates the return of Spring and upcoming summer. It originated with Greek and Roman rituals and festivals, but is still celebrated today, mainly in European countries.
When is May Day?
May Day is an annual holiday. It is celebrate on May 1st (the first day of May) each year to celebrate the change in seasons.
Which countries celebrate May Day?
May Day is mostly celebrated in European countries like France, Germany, Italy, Norway, Sweden and Others. It is celebrated in the United States, but you will not find the same amount of celebrations in America as in other countries. It is designated as an official holiday in some countries.
DID YOU KNOW: In Hawaii, May Day is known as Lei Day!
Chances are, you may not have heard about MayDay!
So, before we get to our May Day basket ideas let's talk about the May Day origin.
MAY DAY BOOKS FOR KIDS – Read: The Rainbow Tulip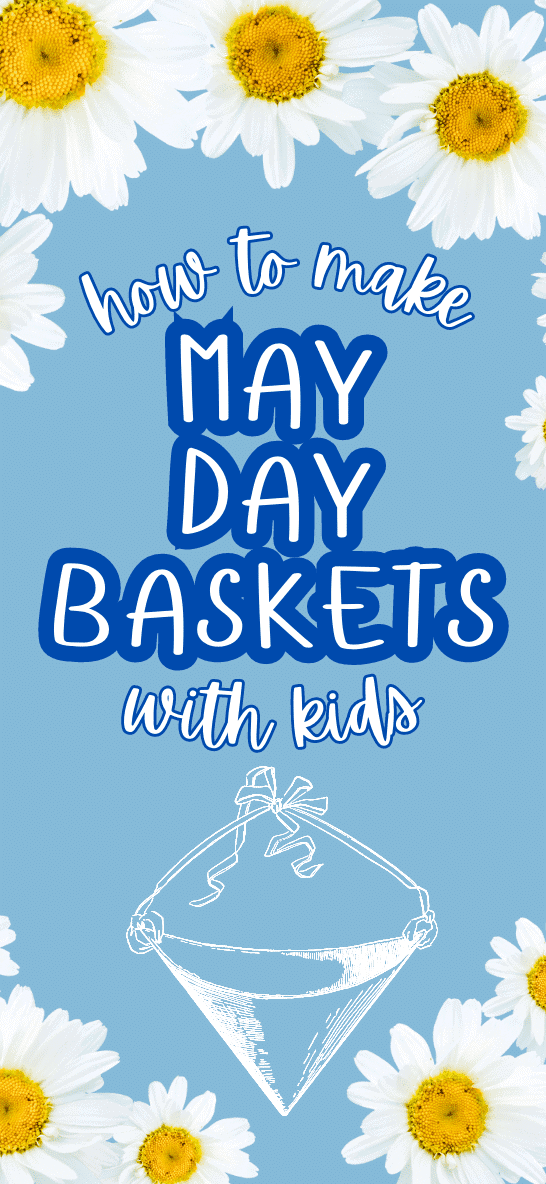 May Day History [Learning About May Day For Kids]
What is the reason for May Day?
May Day is mainly celebrated on May 1st each year to mark the changing season from winter to spring. May 1 on the calendar is around the halfway mark between the Spring equinox and summer solstice. Although the holiday has been around for a very long time, it grew to have a history in agriculture and celebrate the sowing of spring fields.
According to The Old Farmer's Almanac:
"Springtime celebrations filled with dance and song hailed the sown fields starting to sprout. Cattle were driven to pasture, special bonfires were lit, and both doors of houses and livestock were decorated with yellow May flowers. "
May Day history includes the rites of fertility for humans, livestock and even crops.
Puritans saw this as a Pagan ritual and forbade the participation in May Day celebrations so it never became a huge part of American culture.
The aspect of May Day being a Pagan ritual has mostly faded for the majority of communities celebrating. It has been replaced with festivities and celebrations of Spring in general, especially those May Day traditions in America.
You can read more about May Day history on History.com.
AFTER THE MAY BASKET IDEAS, ALSO CHECK OUT MORE MAY ACTIVITY CALENDAR FUN FOR KIDS: Activities for May for Kids
What are some May Day traditions?
Gathering and decorating with flowers
Weaving flower garland
Attending May Day festivals and celebrations
Making flower crowns
Crowning a May King and Queen
Creating a May Pole, or a decorated May Day "tree" that people dance around
Decorating doors with yellow May Day flowers
Playing May Day games and activities
Making a May Day basket of flowers and sneaking it to a friend or family member (see our directions!)
You can even make May Day baskets for work or church! (Yes, you can make May Day baskets for adults!)
If you're wondering where to buy may day baskets, don't worry! We'll cover how to easily make your own below!
The phrase "Bringing in the May" came from the May Day celebration of gathering wildflowers and green branches and decorating with them during the May 1st celebration.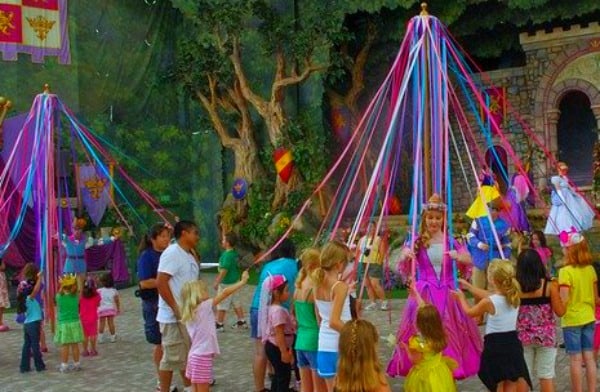 Learning About The Maypole
I remember doing the May pole dance in school, do you?
Generally a pole is wrapped in different colored Maypole ribbons and a dance is performed. People hold the ends of the ribbons and weave in and out of each other.
(It can be confusing, but is fun!)
However, it wasn't always like that…
The Farmer's Almanac tells us this about Maypole history:
"Originally, the Maypole was a living tree brought in from the woods with much merrymaking.

Ancient Celts danced around the tree, praying for good crops and fertility.

For younger people, there was the possibility of courtship. If paired by sundown, the courtship continued so that the couple could get to know each other and married 6 weeks later on June's Midsummer's Day.

This is how the 'June Wedding' became a tradition."
May Day Basket History and May Day Baskets Origin
Before we get to how to make a may basket, let's talk about how the May Day baskets tradition started and the origin of May Day baskets…
What do May Day baskets mean?
A May Day baskets meaning is just a way to let someone know that you are thinking of them!
However, these baskets in May had an interesting beginning. Here's the history behind May Day baskets:
According to NPR:
"A reporter in the Sterling, Ill., Gazette in 1871 explained the seasonal ritual this way:

'A May-basket is — well, I hardly know how to describe it; but 'tis something to be hung on a door.

Made of paper generally, it contains almost anything, by way of small presents you have in mind to put in it, together with your respects, best wishes — love, perhaps. It is hung after dark at the door of anybody the hanger fancies. — Which done, the said hanger knocks and scampers.'

The writer went on to say, in the spirit of the times, that if a boy hangs a May basket on a girl's door and the girl catches him, 'it's a great disgrace.' If a girl is the hanger, 'it disgraces the boy again not to catch her.'"

May Baskets To Make For Kids Activities
What To Put In A May Day Basket
Wondering what do you put in a May day Basket? Fill your May Day baskets with flowers (real or handmade) and also small candy or treats. Then, hang it from the handle of their door or set it on their porch. May day baskets ideas are limited only by your imagination! You can also include a short history of May Day in case they've never heard of it.
Are May Day baskets anonymous?
The history behind the May Day basket is that it was an anonymous way to let someone know you were thinking of them or that you liked them. Although it is super fun to sneak a May Day basket onto someone's front porch or hang it from their doorknob (or even a sneaky May Day basket for employees), today you don't need to keep the May basket gift anonymous if you don't want.
If you're wondering how to deliver May Day baskets, you can:
Sneak them onto a doorknob of their home
Ship them
Put them on a friend or employee's desk when they're not around
Leave them on a front porch or a doormat
Simply hand them to a friend!
How do you make a May Day basket?
Your May basket designs can be as complex as you want — even weaving them with real flowers, twigs, and greenery! For us, we like to keep things simple and make May baskets by rolling a piece of craft paper into a cone and attaching a handle. You can even add a May Day basket tag with well wishes, a friendship quote, or even a May Day poem or quote.
(See our full May baskets ideas directions below! These are such fun ways to celebrate May Day with kids!)
OK!
Let's get to our kids' craft and ideas for making May baskets!
These make great flower art projects for preschoolers and up!
(Yes, they're even great May Day basket ideas for adults!)
We have gotten questions about how to make May baskets out of tissue paper. We use construction or craft or printer paper because it's more durable/sturdy and holds your treats without ripping when you hang it on the door!
Here are our ideas for May baskets and how to start your own May Day tradition. We made our May Day baskets out of construction paper, but again, you can use anything you have at home!
I love this spring project because it's an easy preschool craft or toddler craft, but are great for May crafts for kindergarten and up — even teens will enjoy making them (and these paper baskets easily work for May craft ideas for adults, too!).
They're also simple enough to do as group art activities for May! I love the idea of doing these as May Day basket ideas for elderly and delivering them to nursing homes as a kids group project.
DEFINITELY add this to your May Day crafts or monthly crafts for May ideas!
CRAFT TIP: You can also make mini bottles of the best bubble blowing solution and add those to your MayDay baskets!
May Day Basket Ideas: How To Make Easy May Day Baskets From Paper
Printable May Day Baskets DIY Instructions Step-By-Step For May Crafts Ideas
If you're wondering what to make for May Day, this is the craft everyone talks about!
We had so much fun making these May day baskets for neighbors and friends and then sneaking them onto their front door! That's part of the fun of May Day basket tradition!
We made ours a construction paper May Day basket, but you can use anything you have around your house (even a paper plate cone!).
Also, we made May Day baskets with candy, but if you're unsure of food allergies for the person getting the basket, just use flowers.
CRAFT TIP: If you're wondering what to put in May Day baskets, scroll up for some May basket ideas!
These are even fun May Day activities for adults, so this is a good craft for family time, too!
RUNNING SHORT ON TIME? Search May Day baskets to buy near me
Yield: 4 Baskets
DIY May Day Basket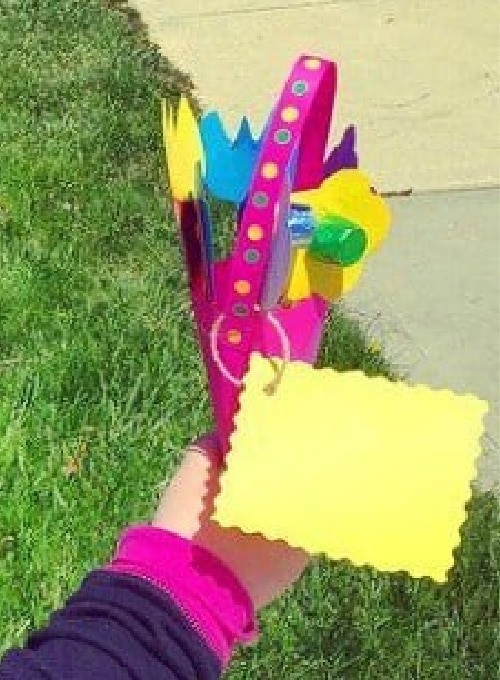 Use your imagination for your May Day baskets craft ideas! It's just a simple cone shape with paper flowers! You can draw on the outside, sticker them, or leave them plain. It's up to you how you want to decorate your May Day basket! Our friends have loved these cute May Day basket ideas and it's a sweet kindness craft for kids to do each Spring.
Materials
Assorted sheets of craft paper (colors of choice)
Green pipe cleaners (for paper flower stems)
Glue Dots (optional)
Tape
Rolo candies, Hershey Kisses, or hard candies of choice (for center of flowers)
Tissue paper (optional)
Stickers (optional, for decorating)
Tools
Stapler
Markers or crayons
Hole punch
Instructions
FOR THE BASKET:
Decorate, draw, or sticker on one side of a piece of colored craft paper. (Optional. You can also leave it plain.)
Roll the piece of craft paper into a cone shape, with the decorated side out. Tape or staple the cone down the open sides so it stays in the cone shape. (This is your May Day Basket.)
For the basket handle, cut a strip of another piece of colored craft paper 2-inches wide along the top of the paper. Color, sticker or decorate the handle (optional). Staple the handle (paper strip) onto the basket (cone) to form a handle.
FOR THE FLOWERS:
Cut flower shapes out of different colors of craft/construction paper. We did some in a daisy shape and some in a tulip shape, but you can cut your flowers any way you want! (It's fun to let kids come up with their own without a template and encourages creative thinking!)
Choose a couple of the flowers (the round/daisy shaped ones work best) and use glue dots or tape to place a piece of the candy in the middle. (We used Rolos.)
Turn the flower face over and tape a green pipe cleaner onto the back for the stem. When you're making the stem for the flowers with the candy in the middle, you may have to double up and twist the pipe cleaners before taping them onto the "flower" in order to make the stem stronger.
ASSEMBLE THE BASKET:
Crumple a piece of tissue paper and stuff into the bottom of the basket (cone). This is an optional step, but we found that it helped make the paper flowers stand up better.
Place a few pieces of candy/treats on top of the tissue paper.
Carefully arrange the paper flowers in the cone basket.
Write a note to your friends, punch a hole in it and loop it around the handle with one of the pipe cleaners (or a piece of twine). (We included a brief history of May Day on our cards.)
Sneak over to your neighbor or friend's house and leave your May Day baskets hanging on their doorknob!

REPEAT THE PROCESS UNTIL YOU'VE MADE AS MANY BASKETS AS YOU NEED. WE FOUND WE COULD MAKE ABOUT 4 BASKETS IN 30 MINUTES.
AFTER YOUR MAYDAY BASKET IDEAS, TRY MORE SPRING FLOWER CRAFTS:
(Super cute for Mothers Day crafts!)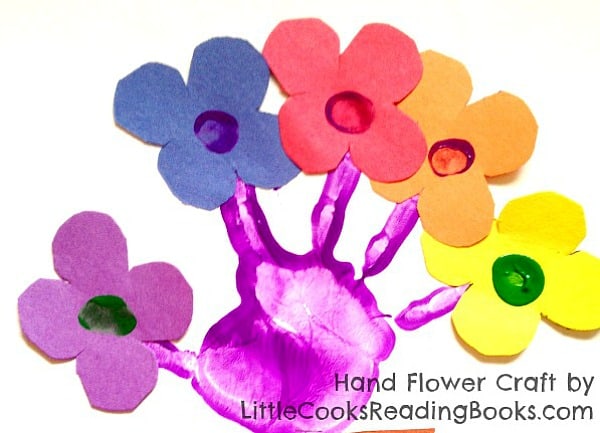 Happy May Day and have fun with your May Day craft basket!
TAG US WITH YOUR MAY DAY BASKET CRAFT IDEAS!
LOOKING FOR FUN COOKING PRINTABLES FOR KIDS?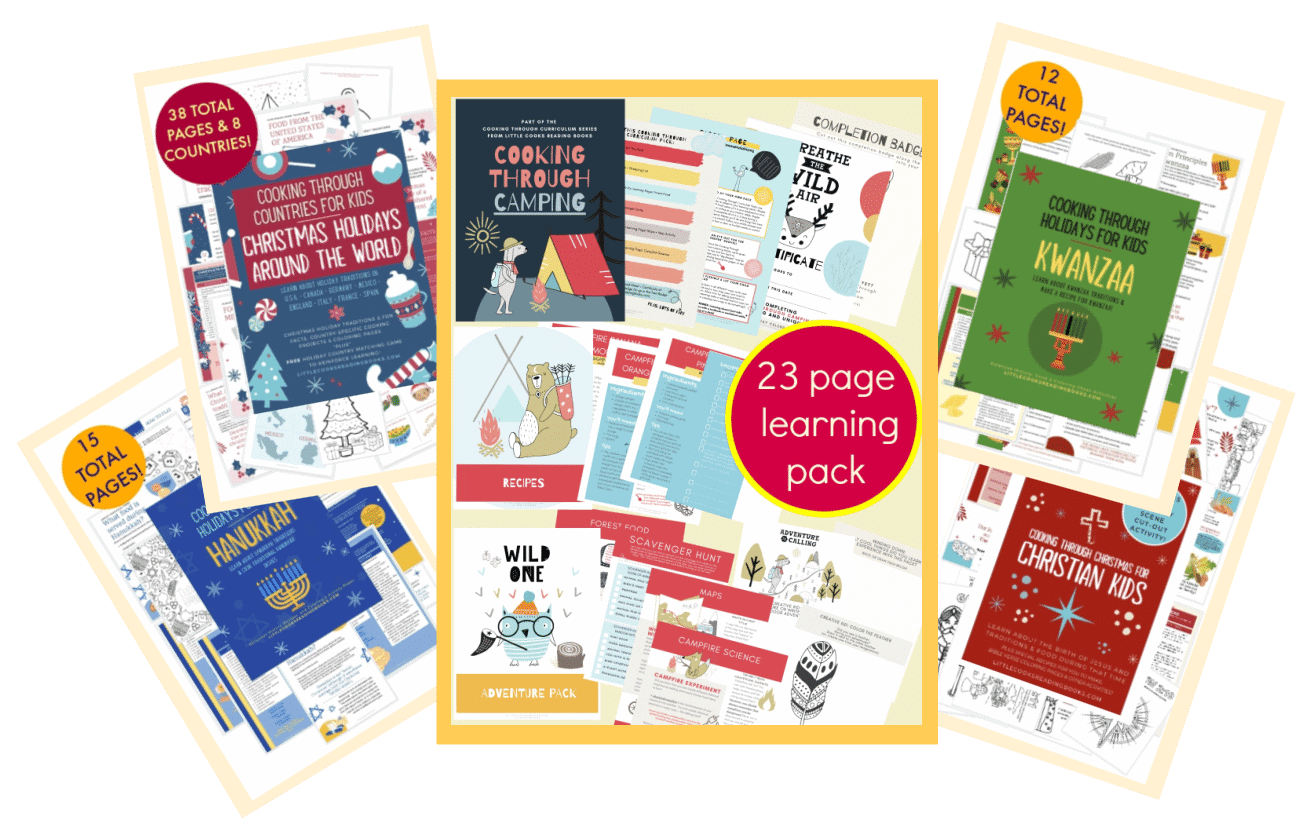 As an Amazon Associate I earn from qualifying purchases. Please refer to our
DISCLOSURE
.