The best DIY bubble solution we've ever made for playing with bubbles! This is how to make homemade bubbles to blow for toddlers and up — great for water table play, bathtub fun for kids, backyard water play ideas, and fun idea for outside play ideas for all ages (even older kids)!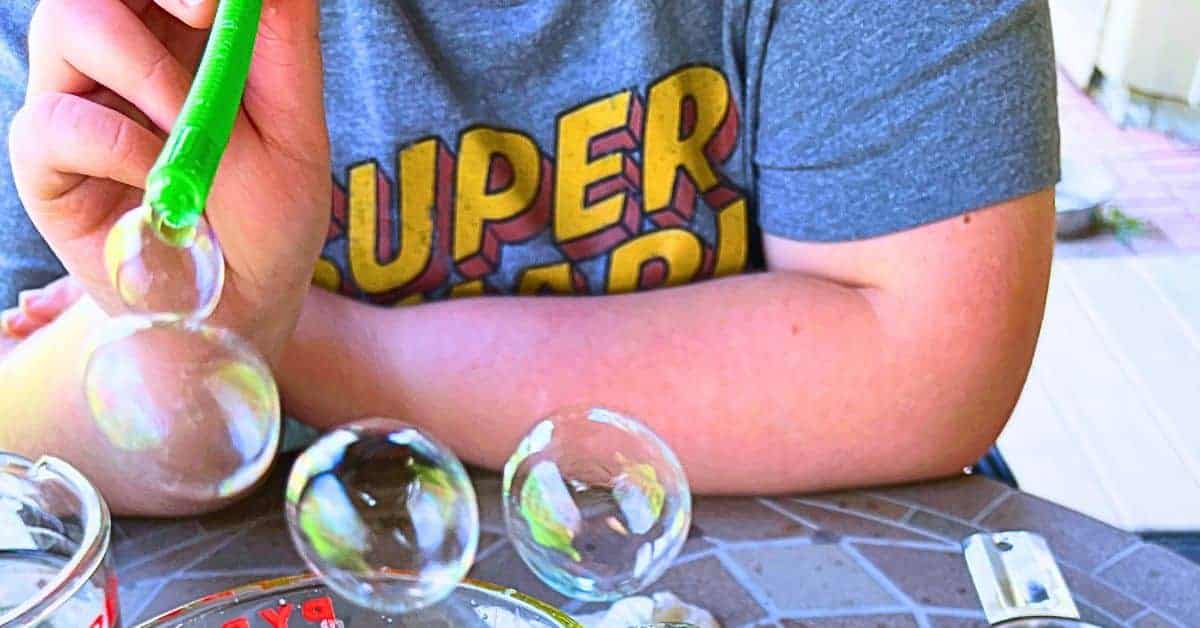 Best DIY Bubble Solution For Kids
What's better than childrens bubbles for kids activities?! These homemade bubbles are so much fun and it's a project with ingredients you have at home. I love this making bubbles recipe because it's such a simple craft to do with all ages. Plus, if you're wondering how do you make bubble mixture without glycerin or what is a safe homemade bubble solution, this is it! (Don't miss our tips for making homemade bubble wands, too!)
How To Make Bubbles Recipe With 3 Ingredients
Water
Dish detergent
Syrup
Get the free printable super bubbles recipe instructions below. KEEP SCROLLING for the secret tips to your own homemade bubble solution and hard to pop bubbles for kids. I honestly like these better than store-bought bubbles! You can even make this recipe in a big batch for group play with bubbles.
Affiliate links are used on this site. As an Amazon Associate I earn from qualifying purchases. Read more in our DISCLOSURE.
We call these DIY unpoppable bubbles, but of course the bubbles still pop. They just last longer than other bubbles. In our experience, this bubbles recipe made bigger bubbles that flew longer and didn't pop easily when they hit the ground or other surfaces! (More like bubbles that bounce!)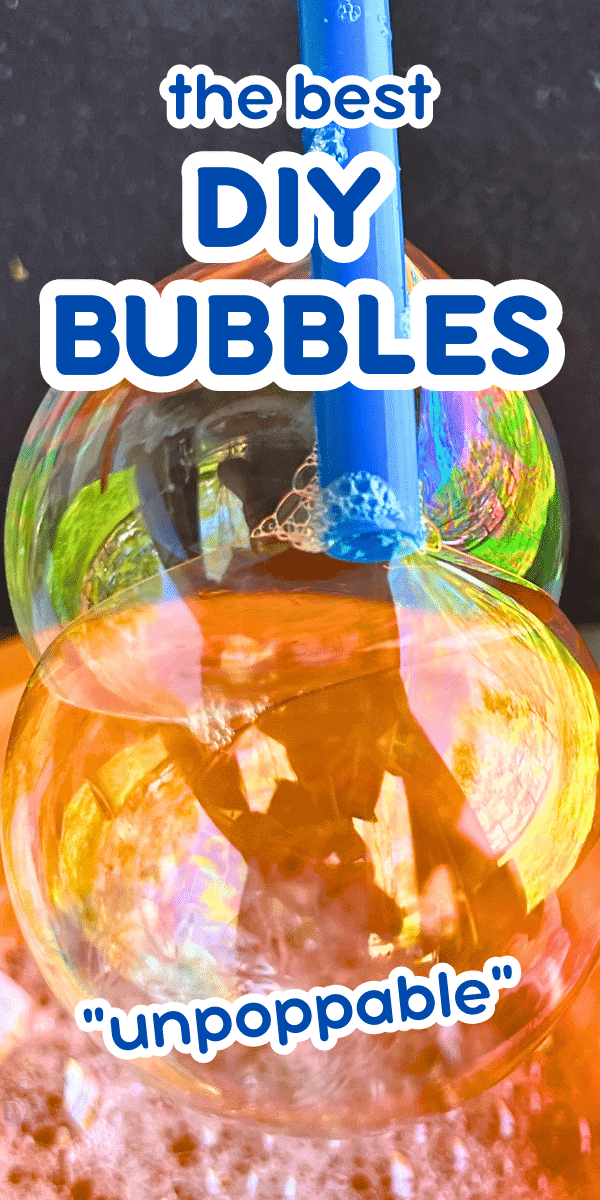 Can you make your own bubble solution?
Yes! There are several ways to make your own bubble mix. There are many easy bubble recipes. These are simple recipes for homemade solution, many from a household ingredient list you probably already have.
Homemade bubble solution recipes:
Sugar, warm water, and dish soap
Glycerin, water, and dish soap
Syrup (Karo syrup is the secret ingredient), dish soap, and water*
Dishwashing liquid and water (this is how make bubble water / the original recipe for soap bubbles)
*In our experience, this is the best bubble recipe.
If you've made other DIY recipes for bubbles with simple ingredients, let us know and we'll add it to our best bubbles recipe list!
Can you make bubble solution with just water and soap?
If you want to know how to make bubbles easy recipe, you can use a simple dish soap and water solution. If you're wondering how to make bubble solution without glycerin or corn syrup, making a simple solution like this is a great alternative. Keep in mind that this basic recipe for bubbles may not make the best bubbles and definitely doesn't make unpoppable bubbles, but it is a quick and easy solution that can still produce some bubbles for water table play or just fun play outside.
This is an easy way to make own bubble solution, even if it doesn't make the greatest bubbles or the biggest bubbles!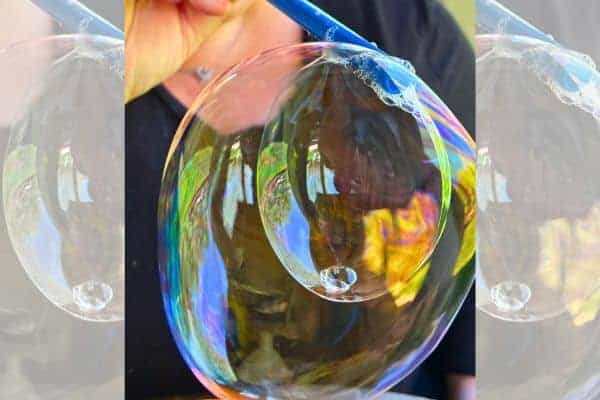 Can I use this DIY bubble recipe as DIY bubble machine solution?
If you're wondering what is the best homemade bubble solution for bubble machine, you can try the recipe with glycerin or corn syrup because it makes stronger bubbles. However, this is not professional bubble solution recipe. Be sure to read the instructions about what you can and can't put in your bubble machine before you use DIY bubble machine bubbles.
(You don't want to ruin your bubble blower with your own bubbles!)
By the way, we have a couple of these inexpensive bubble machines and have had a lot of fun with them at parties and just in backyard play! The batteries run out a little fast, but we've had no other issues with those bubble blowers!
NEED MORE WATER FUN IDEAS? CHECK OUT: Best Backyard Water Fun and Water Activities for Kids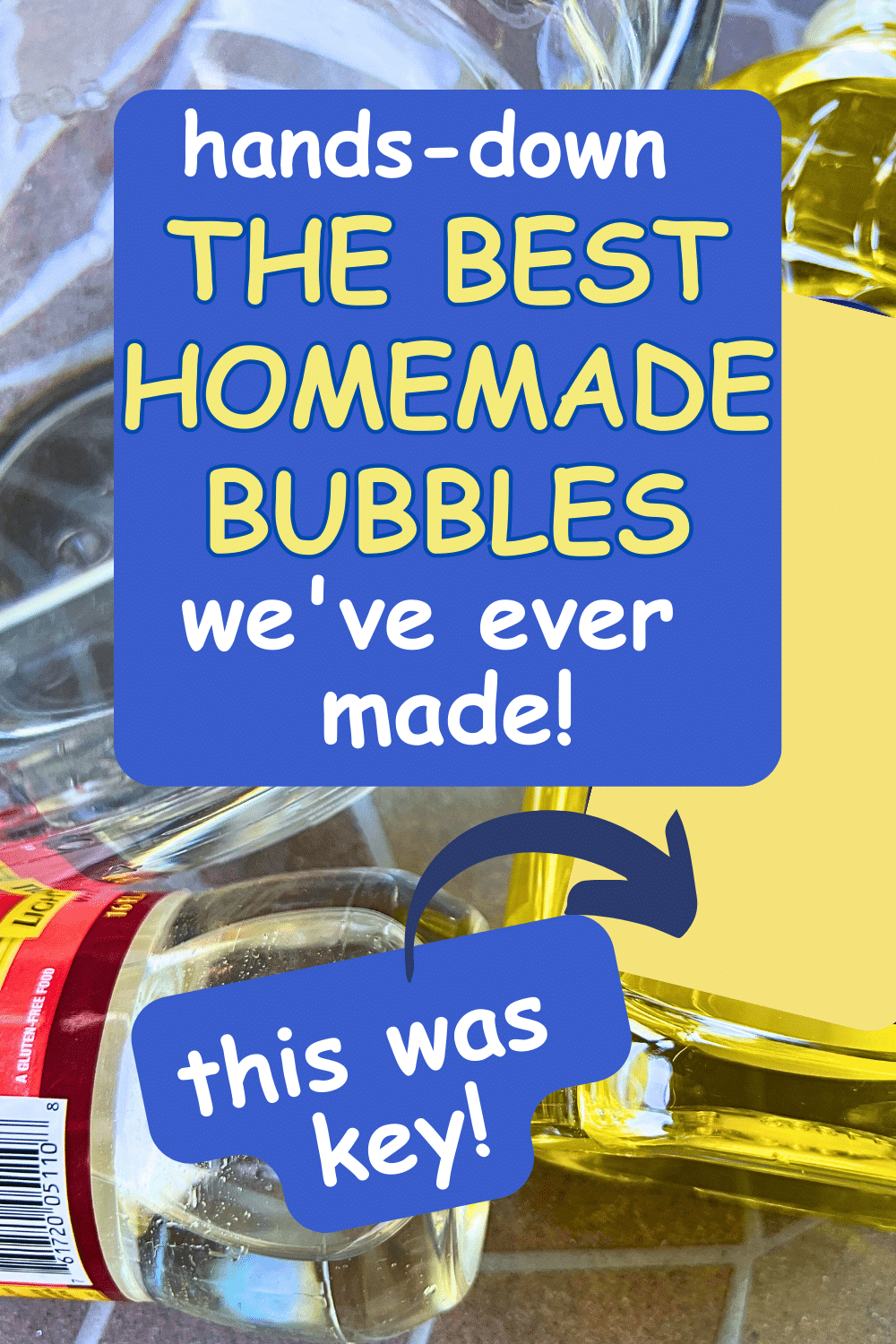 How do you make a good bubble solution for kids? (SECRET TIPS TO BUBBLE MAKING)
What ingredient makes bubbles not pop?
The secret tip to DIY bubble soap that makes them harder to pop (sometimes called "unpoppable bubbles") is corn syrup. Corn syrup helps to improve the strength and durability of the bubbles because it contains glucose, which is a type of sugar that can make the bubbles stronger and more elastic.
When you blow a bubble, the soap film that forms on the surface of the bubble is thin and fragile.
The soap film can easily break or pop if it is too thin or if it dries out quickly.
Corn syrup helps to thicken the soap film, making it stronger and more resistant to popping and what makes what people call un-poppable bubbles, which really means that they're harder to pop than thinner bubbles.
You can also use glycerin to homemade bubble solutions to improve the strength and durability of the bubbles.
CRAFT TIP: Here's where to buy glycerin for bubbles if you want to make homemade bubbles with glycerin (but, honestly, light corn syrup works just as well, if not better and you probably already have the pantry ingredients at home!). Best bubble formula: If you're using glycerin instead of corn syrup, use 2 tablespoons of glycerin for every 1/2 cup of corn syrup for the best bubbles solution.
What dish soap is best for bubble solution?
We have tried making the best bubble solution many different ways over the years. We found that Joy Dish Soap makes the best bubbles ever, especially if you're wondering how to make bubbles that don't pop easily! We have not had good experience with generic soaps for any of our blow bubbles recipe projects.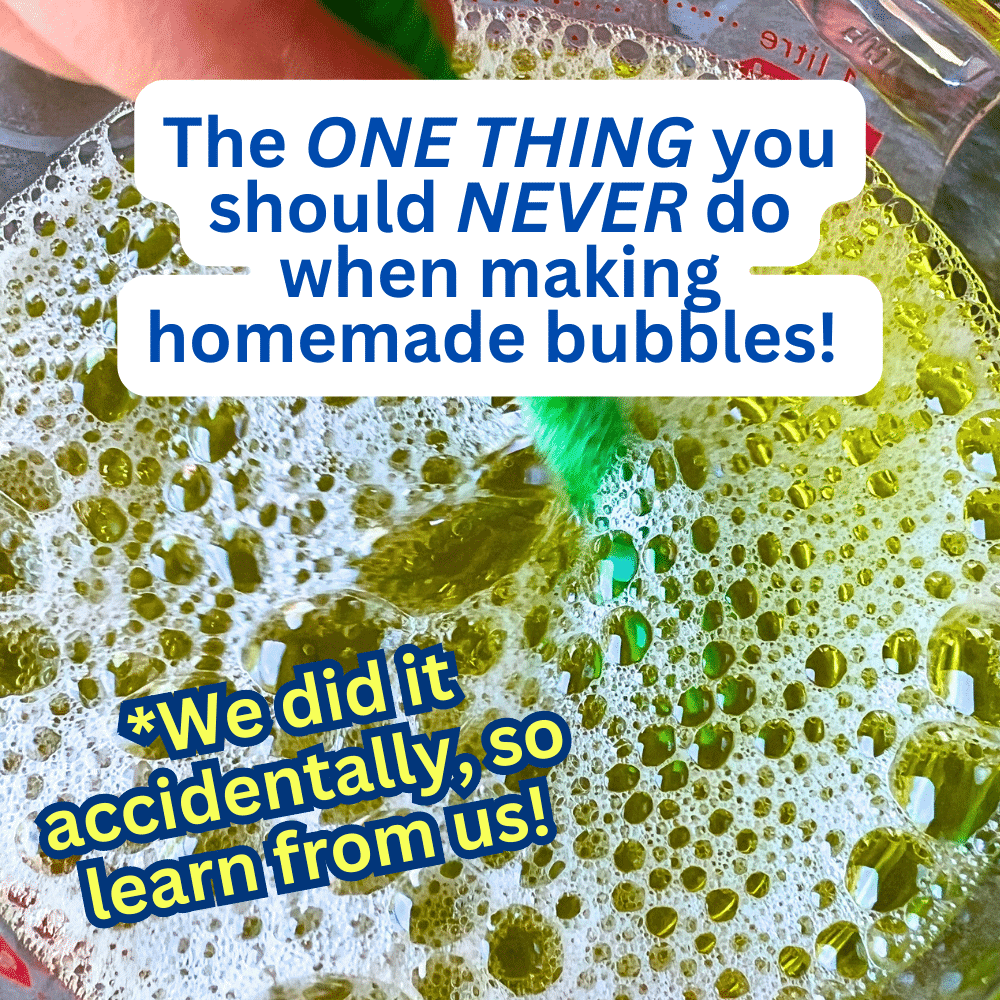 Secret Tip To Making Homemade Bubbles With Dish Soap
One of the best bubble DIY tricks that we learned while making this bubble recipe is don't stir the bubbles until they foam or until bubbles form on top of the solution. If this happens (like it did when we made bubbles and had too much foam), scoop the foam or bubbles off the top before you begin to blow bubbles (or it won't work as well and bubbles will pop easily).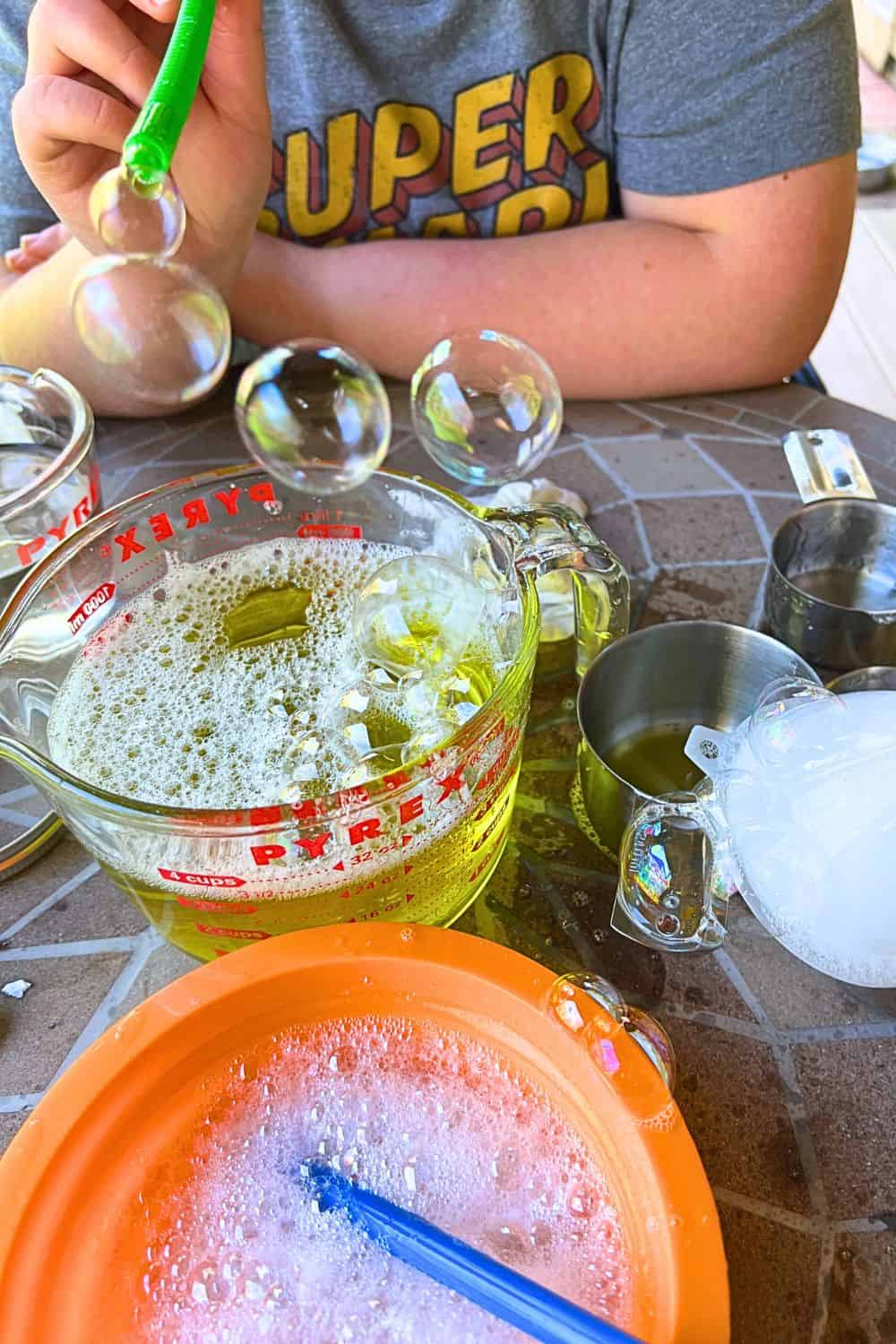 How To Make A Homemade DIY Bubble Wand
If you're making DIY bubbles, you're probably wondering what do you use to blow the bubbles (since you didn't buy bubbles that came with a plastic bubble wand). Here are some fun ideas for how make bubble mixture wand from stuff you have at home. It's fun to see what creative wands for bubbles you can make for your homemade recipe bubble solution!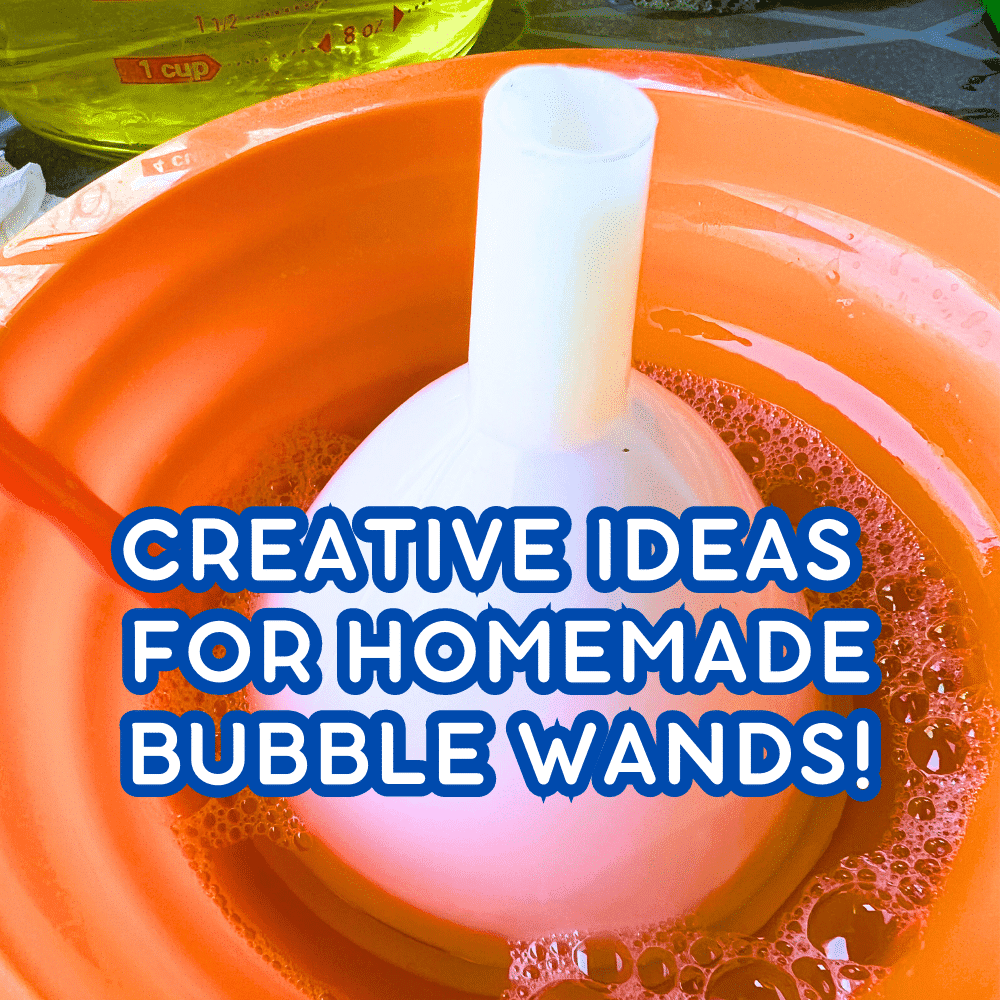 How do you make a simple bubble wand?
Pipe cleaners bent to a circle (leave some of the stem as a handle to dip into the recipe for homemade bubbles)
Drinking straws (be careful not to suck up the soap water – ask me how I know!)
Wire hangers or paper clips bent into a loop (leave some at the bottom for a handle)
Plastic bottles – cut off the bottom of a water bottle or soda bottle and blow through the drinking part
Cookie cutters
Small strainers or colanders
Thick string, yarn, or twine tied into a circle
A cereal bowl with a straw attached (like this) is a lot of fun for a DIY bubbles recipe! (That's the orange bowl you see in our bubble pics that we used with the recipe for blowing bubbles.)
Mason jar rims (take the insert out of mason jar lids and use the rim as the bubble wand – we did this and it works great!)
Small cooking funnel
Plastic rings off of milk jugs
Slotted spoons
Re-use old bubble wands
If you've used a creative DIY bubble wand for your DIY bubble solution, let us know and we'll add it to our list of your own bubble wands when making homemade bubbles for kids for your outdoor activity ideas!
OK!
Let's get to how make bubble solution at home…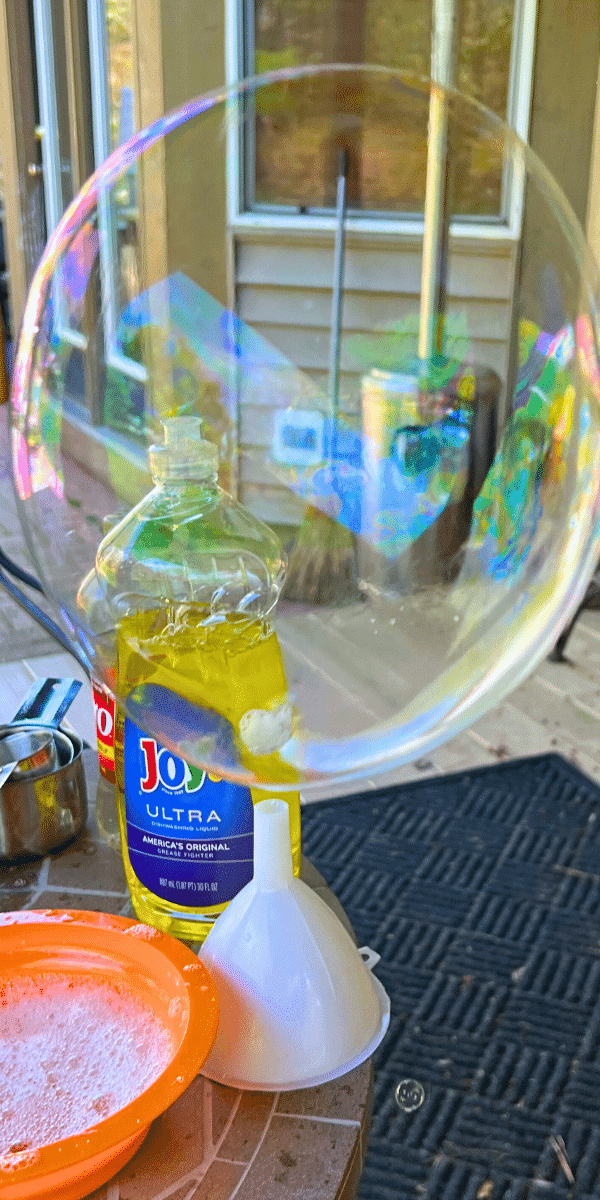 How To Make Bubble Solution (3-Ingredient No Glycerin Bubbles)
What is the best homemade bubble solution?
This is probably the easiest and best homemade bubbles solution that we've ever made (and we've played around with A LOT of different bubble ingredients!). We were able to make lots of small bubbles as well as gigantic bubbles with this simple recipe.
If you're wondering how to make bubbles that dont pop, this is the closest we've gotten to bubbles that float for a long time.
This is also a cheap bubble recipe if you need a huge amount of bubbles for a DIY bubble party! You can easily double this recipe if you're making a DIY giant bubble solution or want it for a children's birthday party or group kids activities.
Here's our homemade bubbles recipe (aka: the best recipe for huge bubbles!)…
Yield: 5 Cups
Best DIY Bubble Solution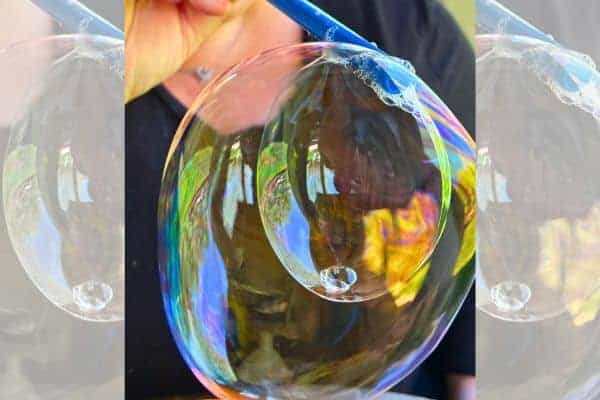 This easy bubble recipe only uses three ingredients. Once you've used this bubble mix recipe you'll never us another! We make our homemade bubbles with corn syrup and not glycerin (mainly because we like to try to make things with stuff we already have if we can!).
We put secret tips to the best bubbles in the post. If you didn't see them, scroll up and read them before you a bubbles recipe!
Materials
3 Cups water
1/2 Cup light corn syrup (like Karo Syrup)
1 Cup Joy Dish Soap*
Tools
Large mixing bowl
Spoon
Measuring cups
Homemade bubble wand (see post for ideas)
Instructions
In a large mixing bowl, add water and corn syrup. Stir until combined.
Slowly add Joy dishwashing soap into the water and corn syrup mixture. Gently stir the mixture until combined. DO NOT STIR VIGOROUSLY OR IN A WAY THAT FORMS FOAM OR SOAP BUBBLES ON TOP. If foam or bubbles form on top of the solution, carefully spoon them off the solution and discard. (The foam or extra bubbles on top will prevent your bubble wand from grabbing the good solution and making good bubbles!)
Dip your bubble wand into the solution (do not stir your bubble wand in the solution) and blow the best bubbles ever! If you find that your bubbles are popping easily, stir in a little more corn syrup to your mixture.
When you're finished, store your home made bubble solution in a jar with a lid or an airtight container with a lid. It will last for at least a few weeks or more when stored in a cool, dry place! (If it smells weird when you open it, discard it.) Do not freeze your bubble solution. It will separate when you defrost it and won't make bubbles.
Notes
*You can use any dish soap that you like, but after testing several homemade bubbles solutions over the years, we have found that Joy Dish Soap makes the best bubbles for some reason!
How To Make Giant Bubbles (Giant Bubble Recipe With Corn Syrup)
We didn't try this bubble juice recipe with a giant bubble wand, but I think these will be good for a giant soap bubbles recipe because they're strong bubbles. If you want to know how to make a huge bubble, you have to make a big bubble wand to go with your DIY bubble mix!
You can make a DIY large bubble wand out of pipe cleaners or even twine, rope, or string loop and make it as large (or small) as you want.
If you use larger bubble wands or make a DIY giant bubble wand, you'll need to use a cake pan or a cookie sheet (or another large container) to be able to fit your homemade bubble wand into it and dip it into the DIY bubble mixture.
Or, you go make really big bubbles with a hula hoop and bubble solution poured into a baby pool (or anything else that would fit the size of the hulahoop!). This is my favorite idea for how to make a huge bubble wand for your homemade recipe or big batch of homemade bubbles.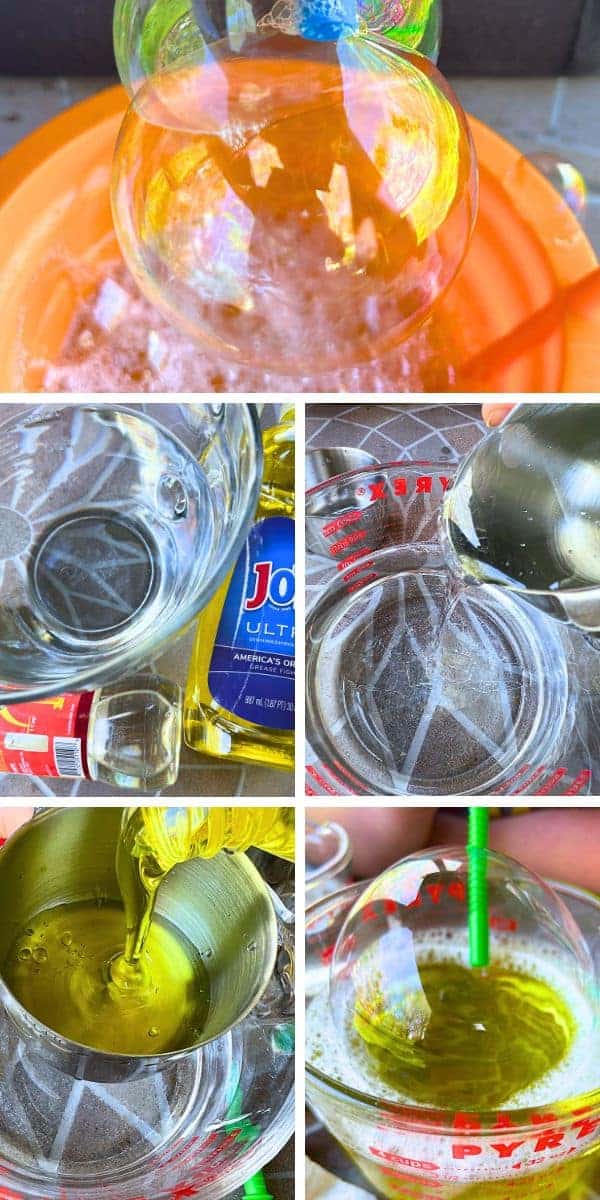 Craft And Read for Kids: Making Bubbles With The Ultimate Bubble Solution Paired With Bubble Kids' Books
These are great bubble books to pair with making a homemade bubble recipe, bubble parties, or a bubble craft! Add this to your read and craft — make the best bubble mix and read bubbles books!
Children's Books About Bubbles
AFTER THE BUBBLES RECIPES, ADD MORE FUN OUTDOOR CRAFTS FOR A SUNNY DAY: TRY DANDELION PAINTING NEXT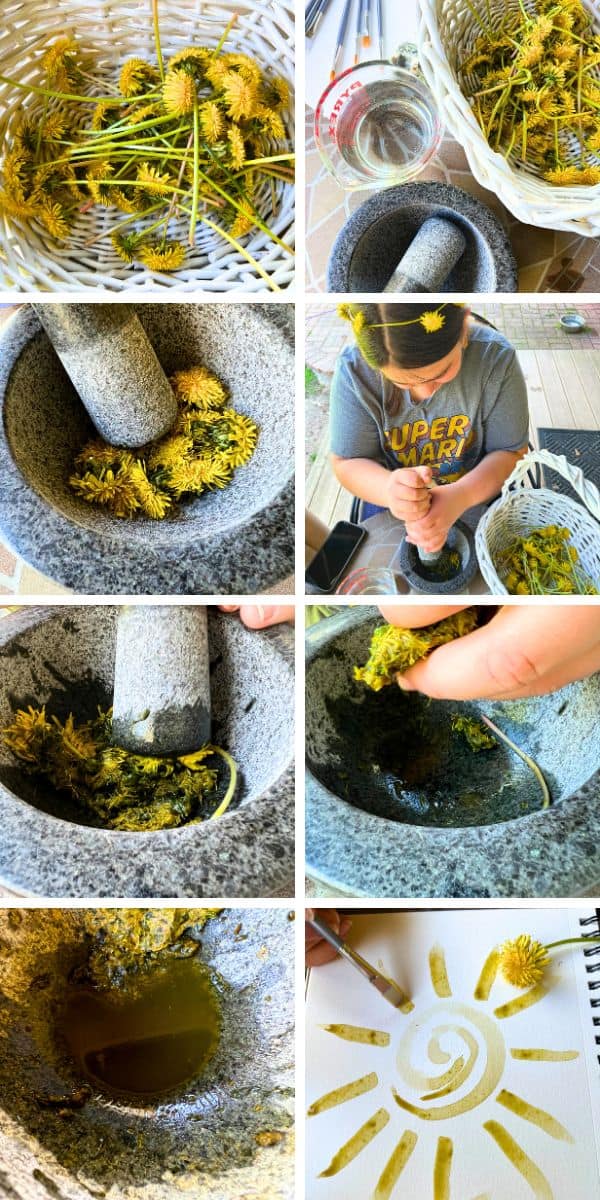 Have fun with these homemade bubbles for blowing, awesome bubble fun, water play for hours of fun, or even a science experiment!
This is the best DIY bubble solution ever!
LOOKING FOR FUN COOKING PRINTABLES FOR KIDS?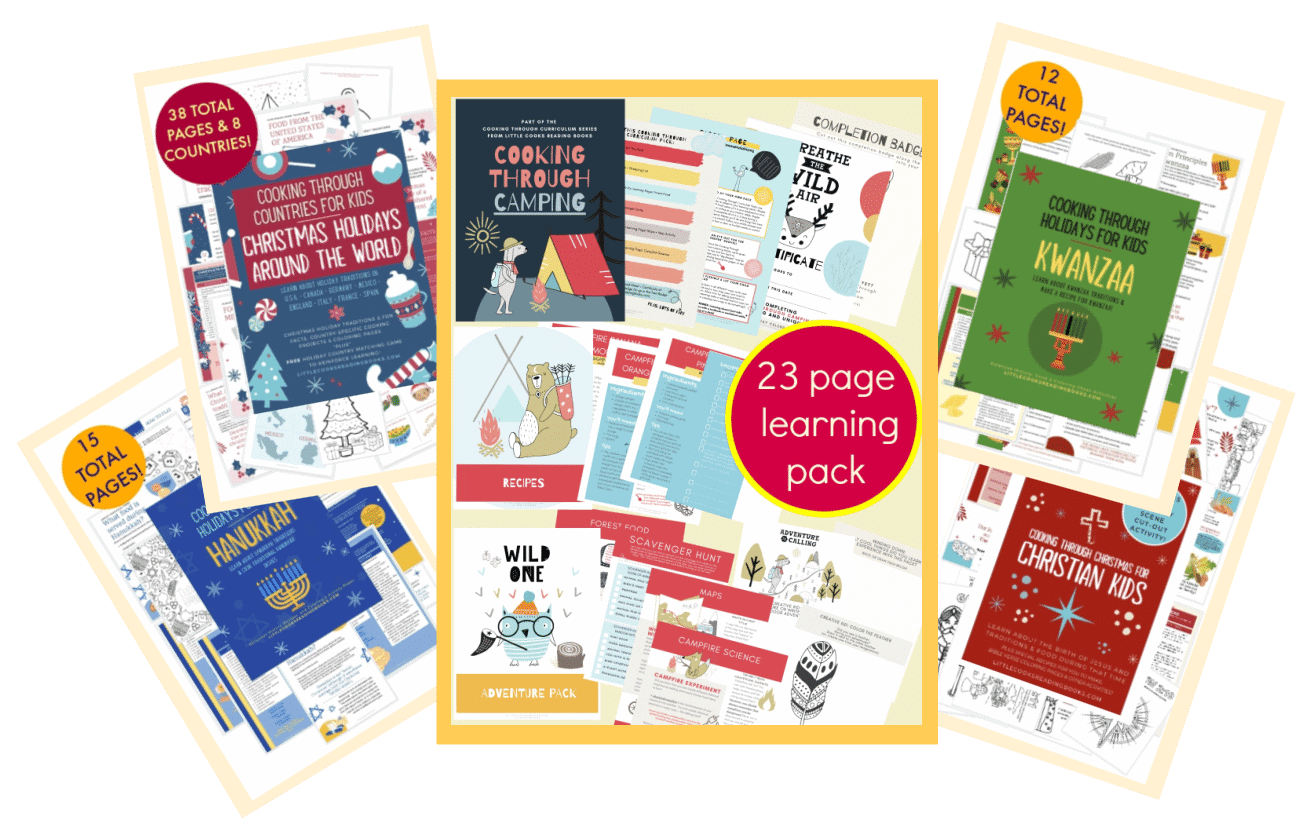 As an Amazon Associate I earn from qualifying purchases. Please refer to our
DISCLOSURE
.