This how to make dandelion paint project is such a fun nature craft for kids that they'll be begging you to make homemade paint from flowers all the time! Definitely add making natural paint from plants to your creative projects for kids, dandelion crafts, or ecofriendly kids activities for spring fun or summer ideas. You'll love making this easy flower watercolor with children and learning how to make yellow paint from dandelions!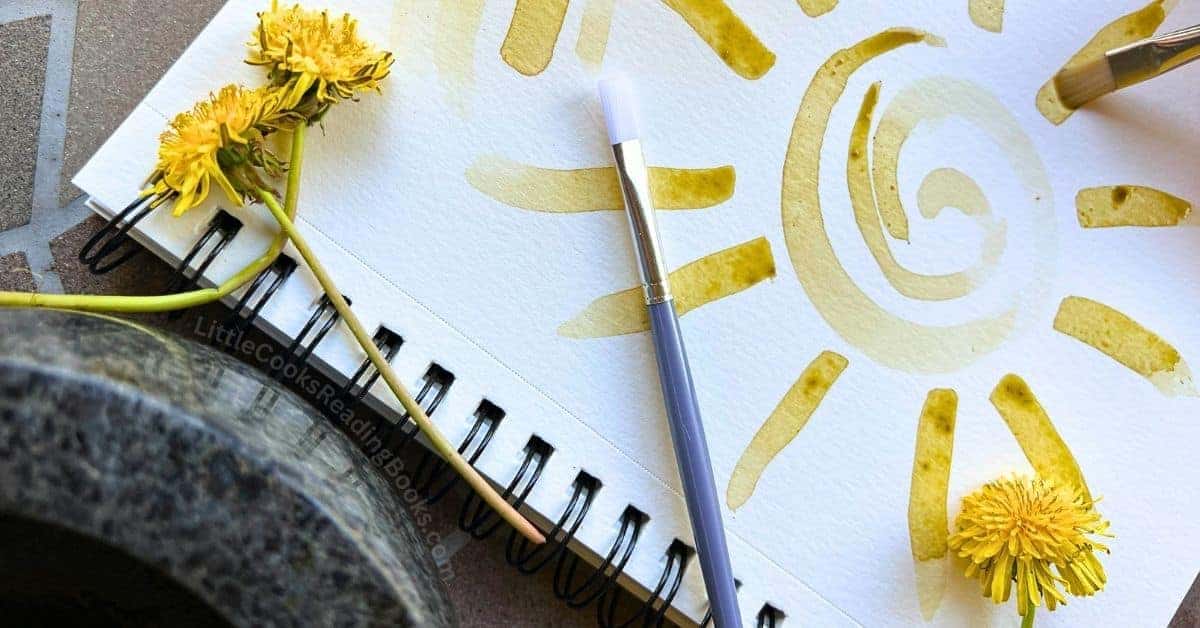 How To Make Dandelion Paint For An Easy Nature Craft For Kids
Have you ever made dandelion watercolor paint? This dandelion paint craft really is one of those fun art activities for all ages — from easy toddler crafts, preschool craft ideas through teen craft ideas. (My daughter was 15 when we painted with dandelions and it inspired her to start a painted plants journal!) This is such a fun natural watercolor painting project for all ages — even DIY painting flowers paint for adults!
How do you make paint out of flower petals?
For a dandelion painting project, you'll need:
Freshly picked dandelion flowers
Hot water
Mortar and pestle (or a bowl and rock)
Watercolor paper
Paint brushes
See the full craft instructions and dandelion paint pictures below! KEEP SCROLLING for the yellow dandelion painting directions and important craft tips for dandelion flower painting!
Affiliate links are used on this site. As an Amazon Associate I earn from qualifying purchases. Read more in our DISCLOSURE.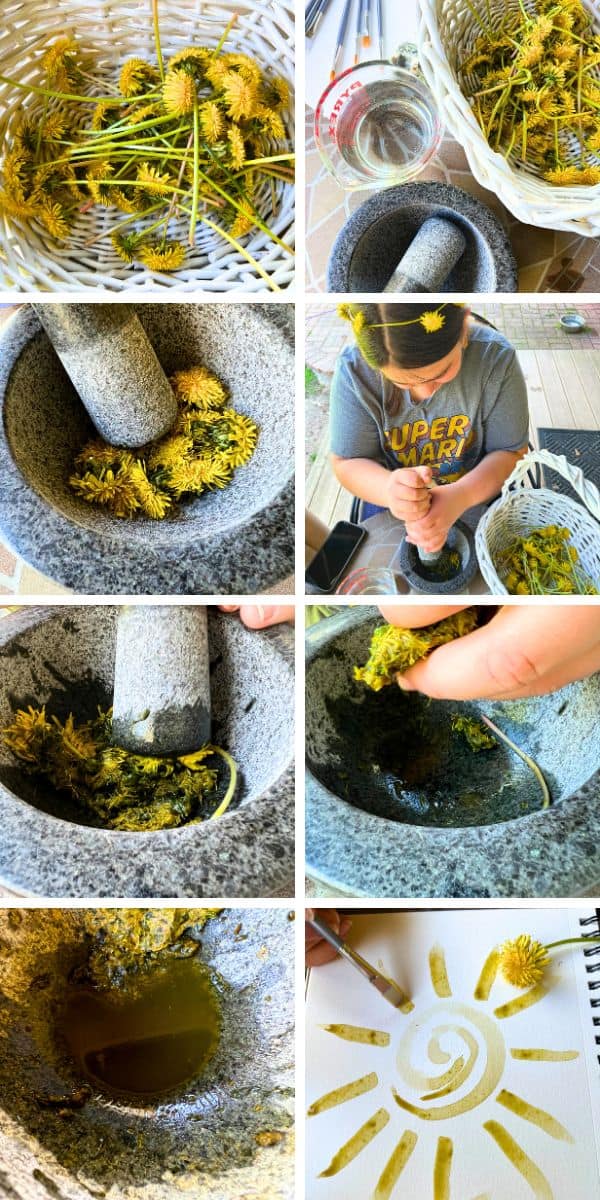 How To Make Paint From Nature
You don't have to stick with just dandelions, you can try painting with plants and flowers of all different kinds and colors and even making paint from berries! Today, we're making natural paint from dandelions and learning how to make paint from flowers! (It's the same process for how to make dye from dandelions!)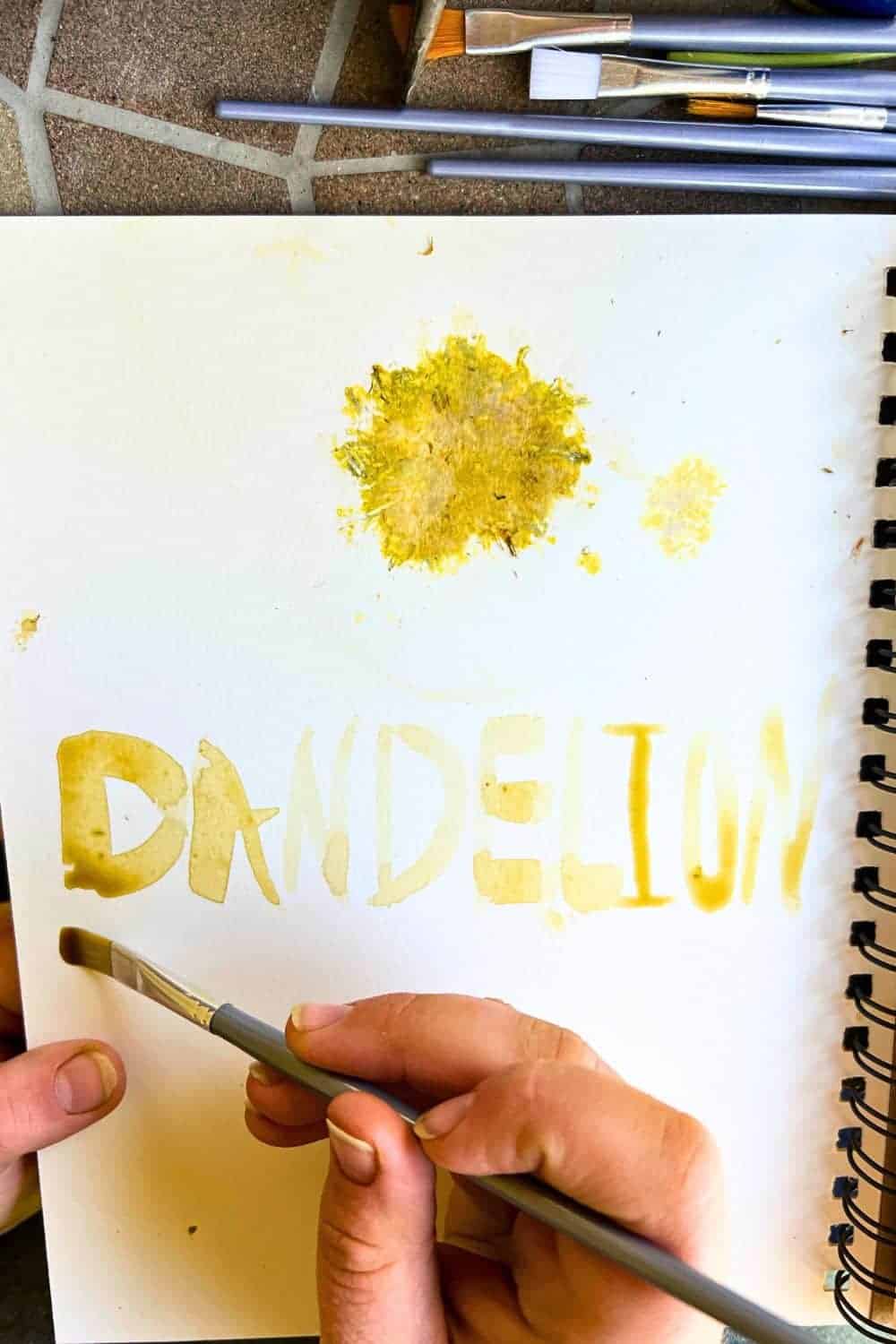 How long does watercolor take to dry?
Watercolor paints take anywhere from a few minutes to several hours to dry completely. The drying time of watercolor depends on several factors, including the thickness of the paint (how much you put on the paper), the size of the painting, the humidity outside, and the temperature. You can usually see when watercolor dries on paper, but you can test it by placing your finger lightly on part of the painting.
For our dandelion craft painting, it was dry in just a few minutes.
Let's get to making your own paint from flowers and how to make your own watercolor paints from dandelions from your backyard! A fun way to learn how to make water paints for kids!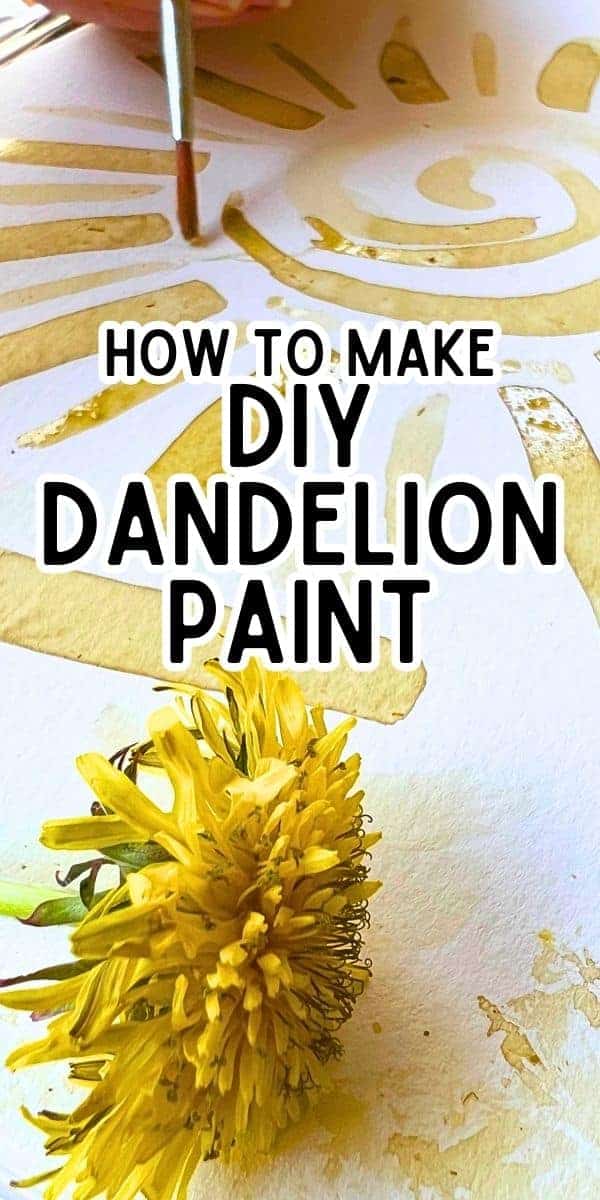 How To Make Paint From Dandelion Flowers (Dandelions Watercolor Paints)
This process makes a watercolor paint (plant pigment) extracted from the flowers of dandelions.
You can make anything you want for your dandelion painting images.
My daughter made a simple dandelion painting and painted a sun with paintbrushes dipped in the dandelion paint and then also dipped dandelions in the paint and painted with dandelions to add some texture.
It was really cool and my kid is now a forever dandelion painter / plant painter!
ART TIP: Since you're already outside with kids picking dandelions, make this an outside art project! Making paint from flowers is great for spring projects or outdoor summer day kids activities!
Learning new painting techniques and how to make liquid watercolor paints and DIY flowers painting pigment is fun art project for all ages!
How To Make Paint From Plants (Dandelion DIY Painting Tutorial)
Craft Materials For DIY Paint
Dandelion flowers (we used around 12 to make paint with flowers, but you may use less or more)
1/4 cup hot water (more or less, as needed)
Watercolor paper for painting (watercolor papers like this are thicker than regular paper and better for this art project)
Paint brushes
Paper towels / moist towelettes (to clean off hands)
Art aprons / art smocks / (optional, but might stain clothing if you get it on there)
Dandelion Paint Directions For Dandelions Painting
STEP 1: Pick Fresh Dandelions
Right before you're ready to start this dandelion art project, pick your dandelions.
Dandelions wilt easily, so it's best to get them fresh right before you're ready to do the art painting.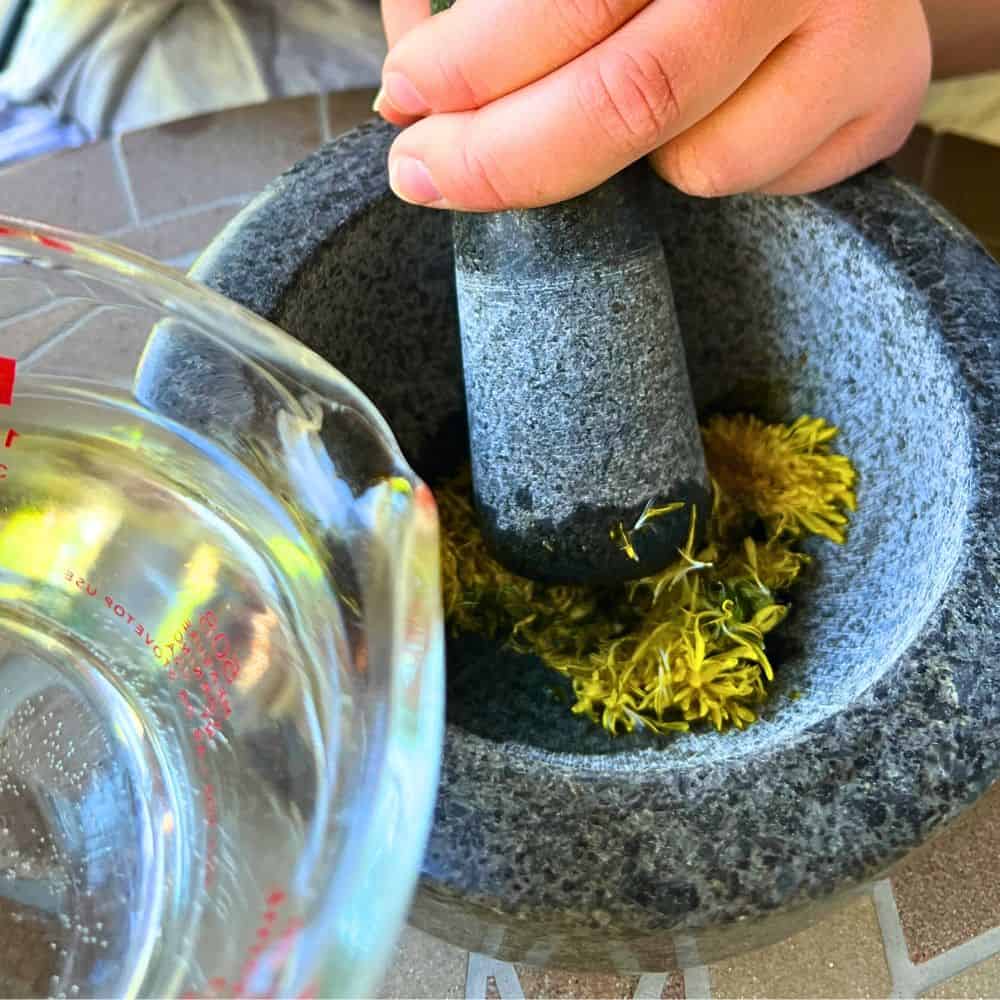 STEP 2: Smash The Flowers
To make flower paint, you really have to smash the flowers to extract the liquid from the flowers.
We used a heavy mortar and pestle (we have this one), but you can also use a heavy rock and in a pan or bowl that you don't care about scratching up.
In a mortar or a bowl (or other container), squish, crush, grind, and twist the flower of the dandelion with a pestle or rock.
Don't worry, you won't see any magic dandelion paint yet, so keep pressing dandelions and crushing your painting dandelions!
Kids will love this part of making dandelion watercolor paints!
GREAT WITH A DANDELION PROJECT: BEE ACTIVITIES FOR KIDS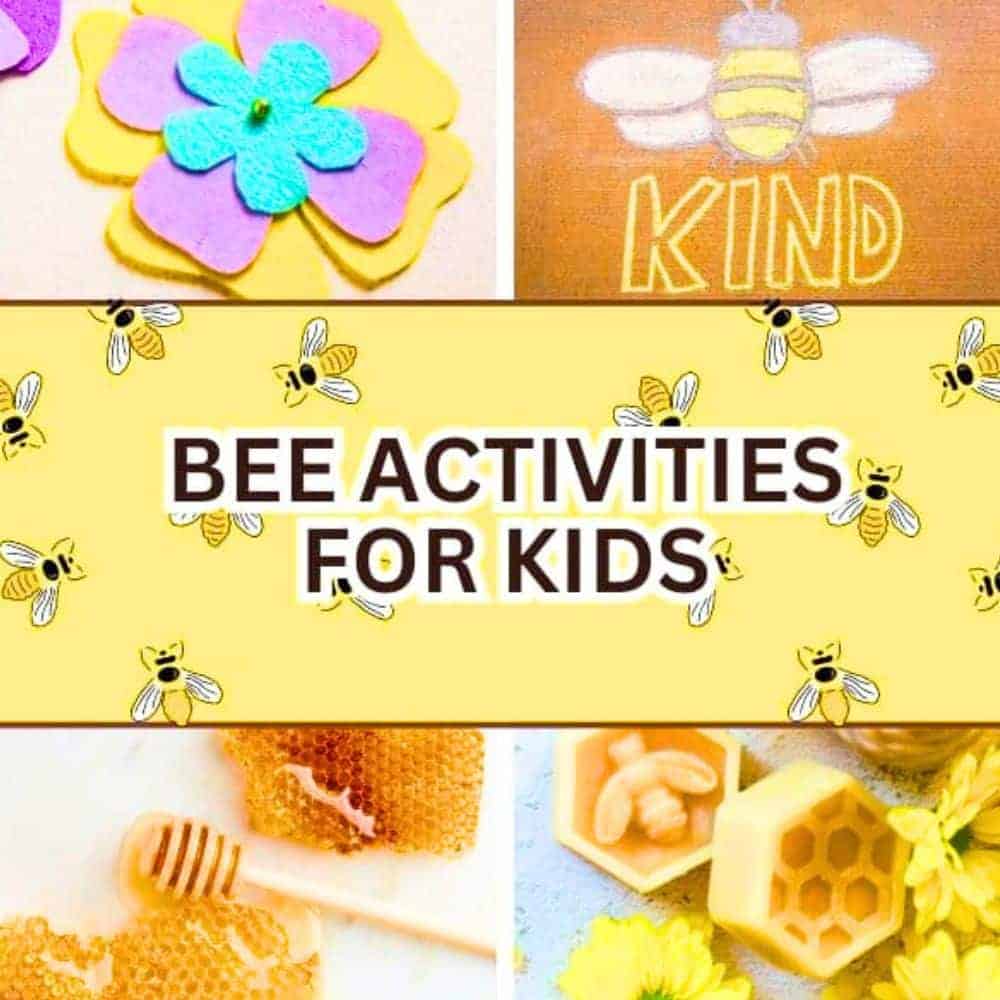 STEP 3: Add Hot Water To The Dandelions
Add a small amount of hot water to the dandelion mixture.
You will need much less dandelion in water than you think — so start with around 1 teaspoon of water.
Mix the water into the smashed dandelion flowers.
Continue to press down on the flowers, grinding and smashing them. If you're doing this as a toddler craft or preschooler craft, you may have to do the majority of this part because you really need to press down rather hard.
You will get a really gross looking mixture, but you should start seeing some colored water mixture in the bottom of the mortar or bowl.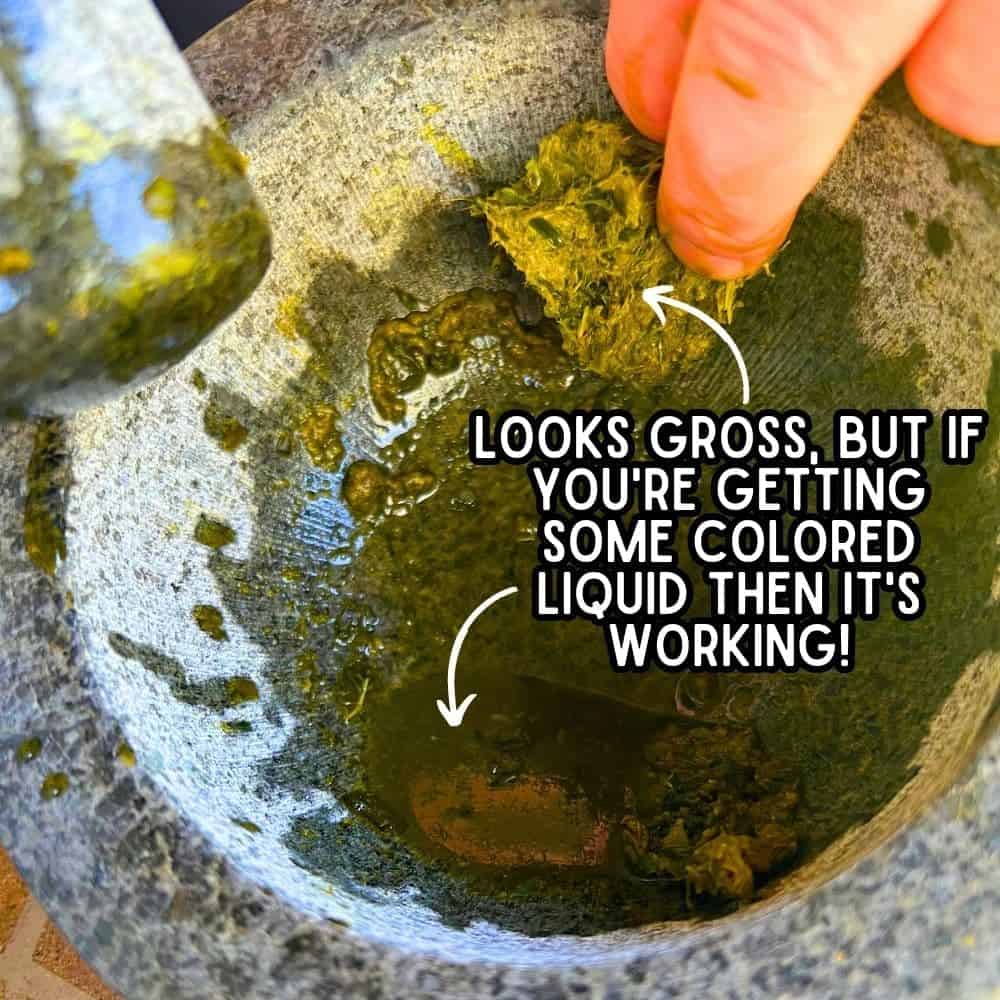 IMPORTANT CRAFT TIP: You will NOT get a ton of liquid, so resist the urge to keep adding water. Remember, the more water that you add, the more the colors will be diluted.
Test to see how much liquid you have by squeezing the dandelion mush. You should have about 1-2 tablespoons of liquid. (Remember, a little watercolor paint goes a long way!)
If needed, you can continue to add more dandelions. Just be sure to smash and grind them completely before adding more hot water (if needed).
STEP 4: Let The Dandelion Liquid Sit (The Most Important Craft Tip!)
Once you've gotten the amount of dandelion liquid that you want, you need to let the liquid sit for at least 20 minutes to form into the paint color.
We let our dandelion paint sit for 40 minutes and got this really cool brownish yellow color (almost like a sepia color and definitely not the bright yellow dandelion art color I expected! It was a really cool color!).
You can even create your own dandelion paint color chart where you paint a stripe of paint and put the time under it (at 10 minutes, at 20 minutes, etc.) so you can see the differences.
CRAFT TIP: Don't expect a pretty dandelion painting pastel yellow color (like the bright yellow or gold of dandelion flowers). Your paint will probably have more of a brownish-yellow tint, depending on how long you let the dandelions steep. The longer you leave the flowers in the water, the deeper the color.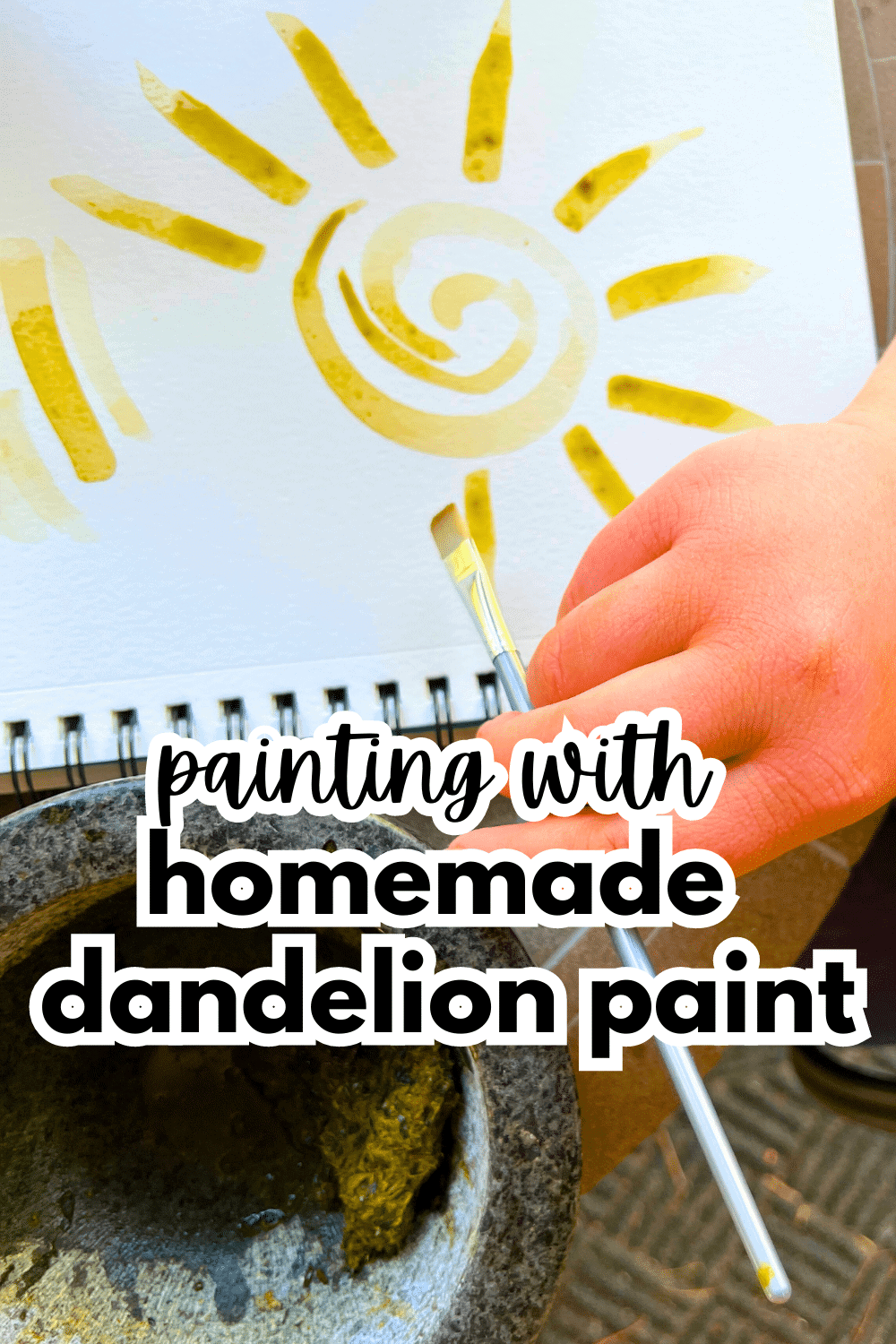 STEP 5: Paint With Dandelions!
After 20 minutes, stick a paintbrush into the dandelion paint and test the color on paper. If it's too light or you want a different color let it sit longer and re-test at 10 minute increments.
(Again, we let ours sit for 40 minutes for the color you see in the dandelion paintings here.)
When you're ready, paint away! You can use paint brushes or try to paint with dandelions flowers. Just dip a fresh dandelion flower into the paint and dot paint with them. (This is a fun way for toddlers to paint or for preschoolers to do dandelion hand painting!)
CRAFT TIP: You could also try making this a dandelion spray paint by putting it into small spray bottles like this. We didn't try it this time, but we're going to next time. I'll post back here when we do!
STEP 6: Store Your Dandelion Paint
Once you've finished with the paint, you can pour it out on the ground since it's just water and dandelions. (You can also throw the dandelion mush and unused dandelion parts back into the yard or garden. That's what we did!)
If you want to keep your dande lion paint, strain the paint of any dandelion parts, dandelion petals, dandelion stems, or mashed dandelions.
Place the natural watercolor paint in an airtight container and store it in the refrigerator or a cool, dry place. (Be sure to date and label the paint!)
The dandelion paints will last a few weeks, but you should check it regularly to make sure that it's not moldy or has gone bad. If it seems off (smell, mold, etc.), discard it and don't use it. But, good news! You can easily make more!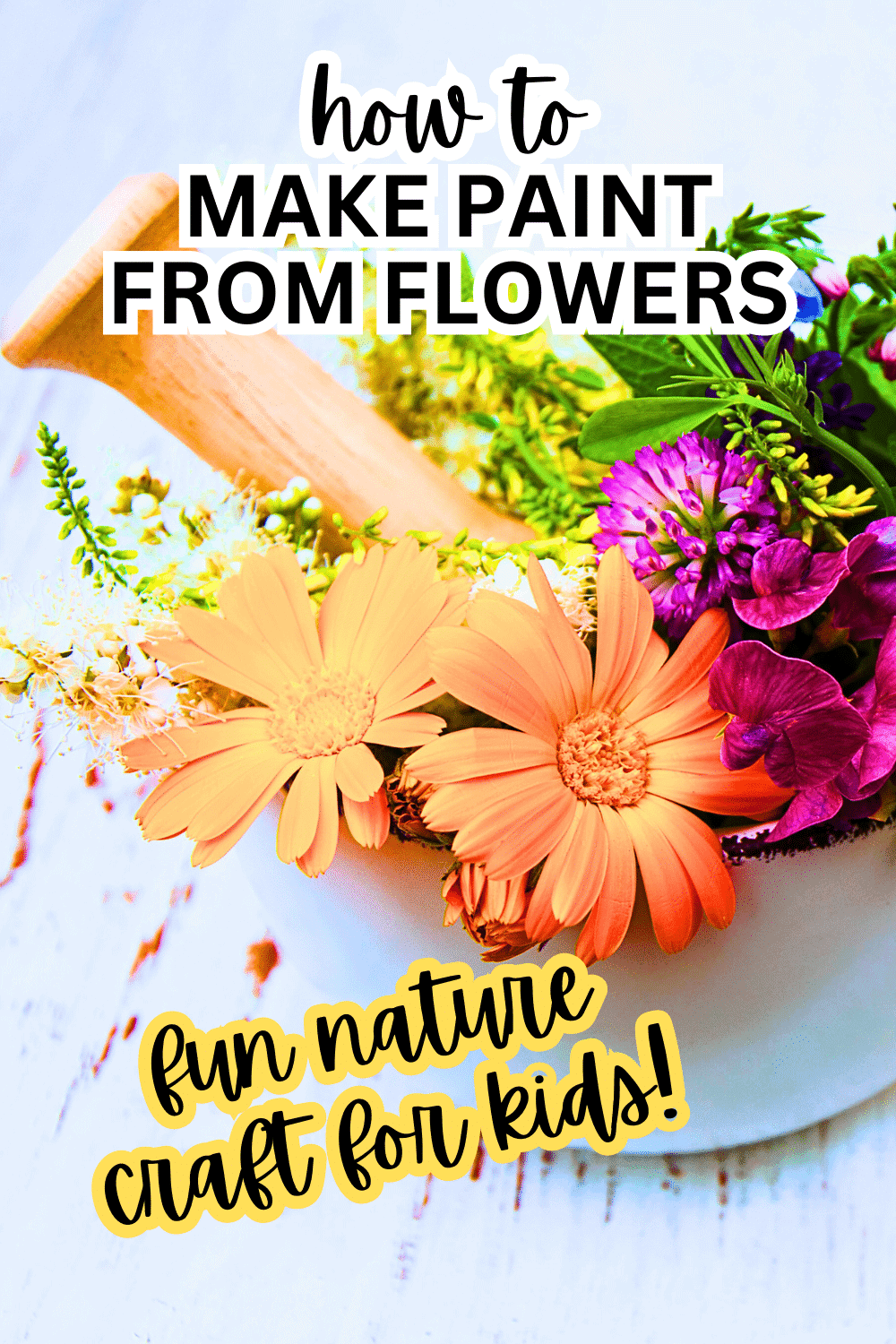 What flowers can you use to make paint?
You can also try many different other flowers to make flower paint once you've done the dandelion craft! In general, the more vibrant the flowers, the deeper, richer color of paint (if you let it sit long enough!).
Making Flower Paint
Try these flowers for bright flower petal paint ideas and easy wildflower painting:
Marigold: Marigold flowers can be used to make a bright yellow or orange pigment.
Rose: Rose petals can be used to make a soft pink pigment and more. There are many rose colors for a rose petal paint and flower petals painting!
Lavender: Lavender flowers can be used to make a pale purple pigment.
Dandelion: Dandelion flowers can be used to make a yellow pigment.
Hibiscus: Hibiscus flowers can be used to make a vibrant red or pink pigment.
Pansy: Pansy flowers can be used to make a range of colors, from purple and blue to yellow and orange.
Sunflower: Sunflower petals can be used to make a yellow pigment.
Cosmos: Cosmos flowers can be used to make a range of colors, from pink and purple to white and yellow.
Cornflower: Cornflower flowers can be used to make a blue pigment.
Black-eyed Susan: Black-eyed Susan flowers can be used to make a yellow pigment.
Wild Iris: Wild Iris flowers can be used to make a blue or purple pigment.
Red Poppy: Red Poppy flowers can be used to make a vibrant red pigment or even a pink pigment if you let it steep in water for less time.
Coreopsis: Coreopsis flowers can be used to make a yellow or orange pigment.
Zinnia: Zinnia flowers can be used to make a range of colors, including pink, orange, and red.
Chrysanthemum: Chrysanthemum flowers can be used to make a range of colors, including yellow, orange, and red.
Goldenrod: Goldenrod flowers can be used to make a yellow pigment.
Have you used other flower paints that you've loved? Let us know and we'll add them to how to make pigment from pressed flowers!
MORE DANDELION ACTIVITIES FOR KIDS: MAKE A DANDELION CRAFT BEE!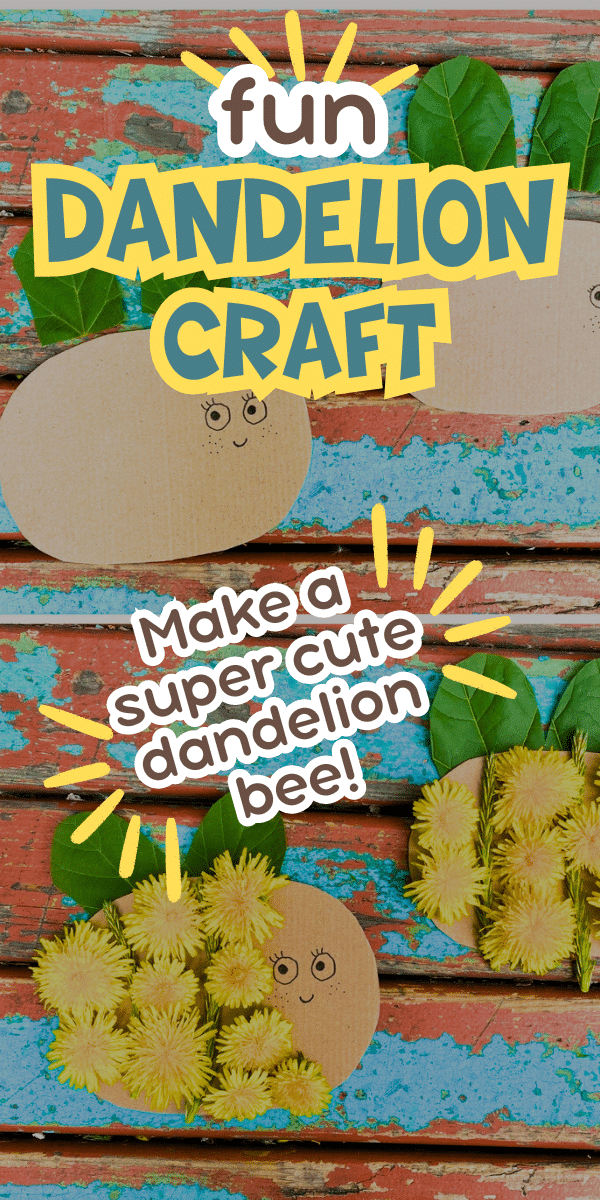 CRAFT AND READ: Childrens Books About Dandelions
Kids' Dandelion Books for Read Alouds
Try these children's books about dandelions to for a craft and read pairing:
MORE DANDELION ACTIVITIES FOR KIDS: Learn are dandelion plants edible and how to make a salad from dandelions!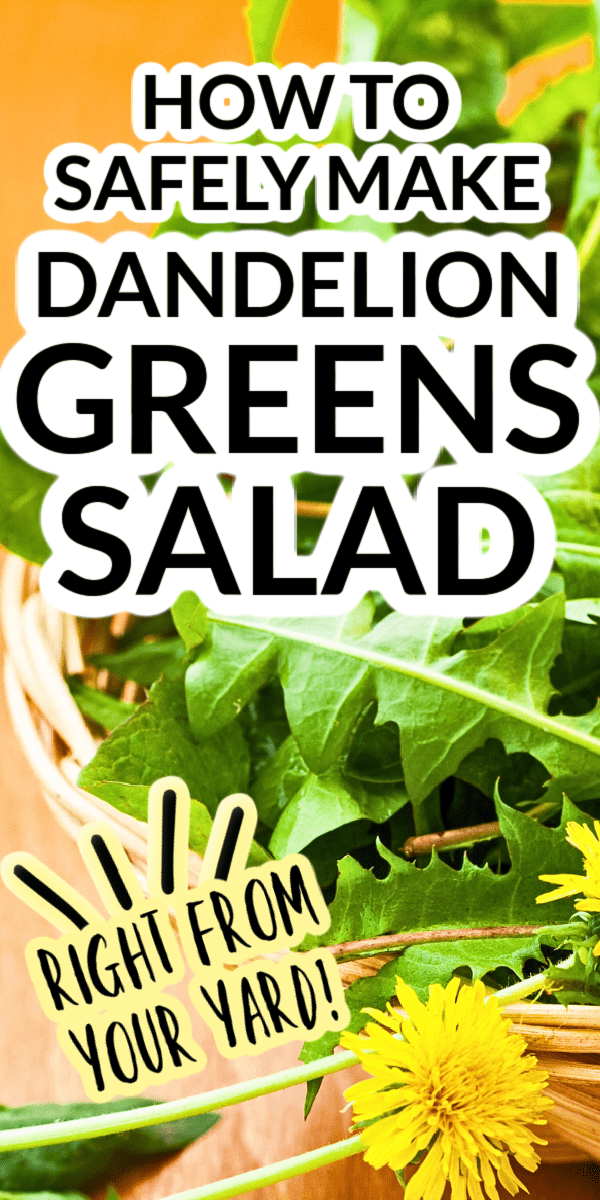 Let us know how your dandelions project / dandelions art turns out!
Have fun with learning how to make dandelion paint with kids!
LOOKING FOR FUN COOKING PRINTABLES FOR KIDS?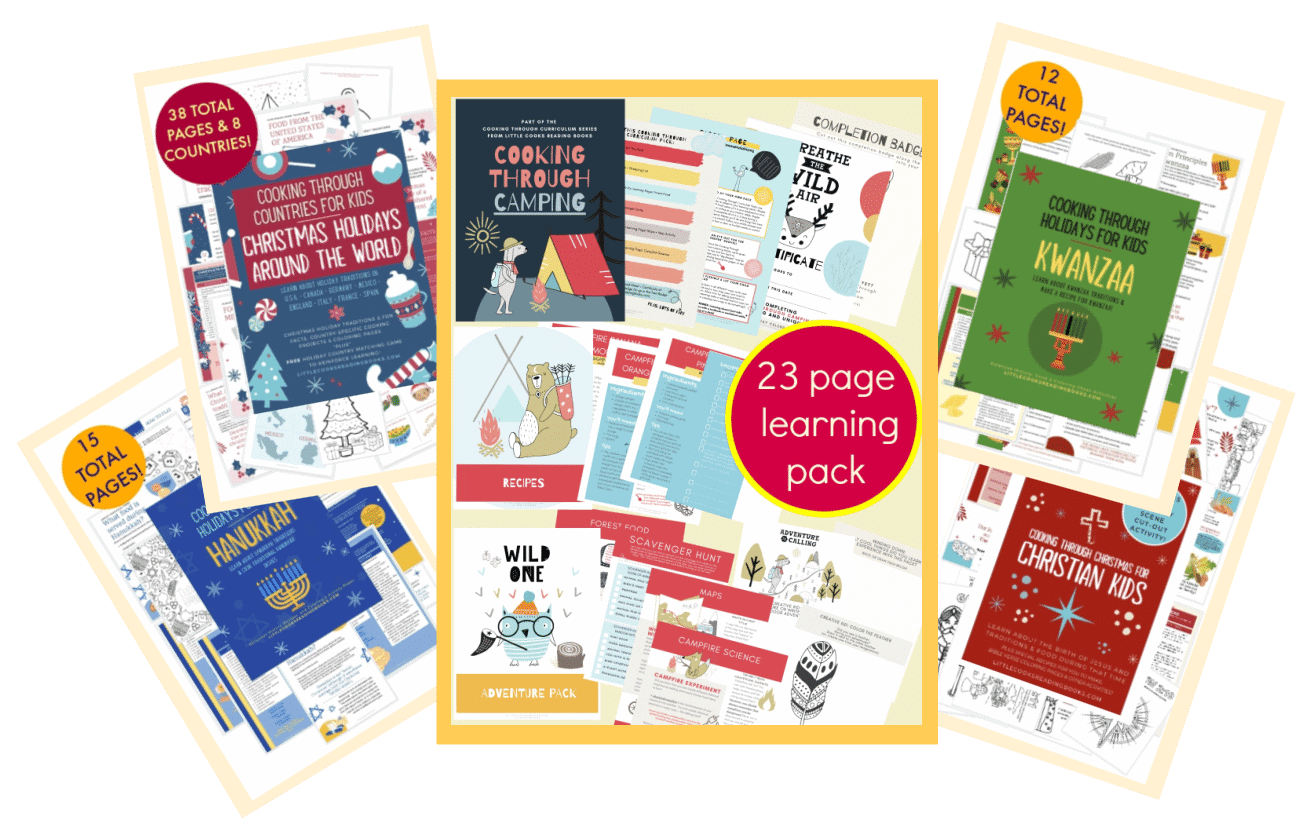 As an Amazon Associate I earn from qualifying purchases. Please refer to our
DISCLOSURE
.