Need Halloween breakfast ideas for toddlers and kids? These Halloween foods are great for holiday breakfasts, a Halloween brunch, daycare breakfast ideas / daycare Halloween treats, or even fun snacks right before heading to a pumpkin patch party!
Creative Halloween Breakfast Ideas For Toddlers And Up!
These are such fun Halloween party breakfast ideas for kids. They're easy recipes to do at home for a breakfast Halloween surprise or for fun breakfast ideas for Halloween kids activities or slumber parties. Fun ways to say, Surprise! Good morning happy Halloween!
Easy Halloween Breakfast Ideas
Fun ideas for a breakfast party:
Hocus Pocus Breakfast Rolls
Vampire Halloween Donuts Ideas
Fried Apple Zombies and Zombie Punkins
Build A Face DIY Silly Monster Toast
Halloween Skull Eggs With Bone Bread
Healthy Candy Corn Halloween Breakfast Parfait
Jack o Lantern Fruit Cups
Cranium Crostini Skull and Bones Toast
Breakfast Sausage Mummies
Halloween Monster Eggs and Toast
Pumpkin Cornbread With Honey Drizzle
Spooky Boo Bites On A Bed Of "Blood"
Monster Mash Franken Toast
Halloween Monster Pancakes
Frankenstein Monster Halloween Granola Bars
Pumpkin Face Smoothie Halloween Drink
Halloween Spider Pancakes
Silly Monster Eggs and Toast
Healthy Halloween Fruit Plate (Funny Fruit Shapes)
Halloween Spider Eggs
Green Monster Smoothie For Halloween
Pumpkin Face Oatmeal
Ultimate Breakfast Halloween Treat
Get the full kids Halloween breakfasts / halloween brunch ideas and how to make these Halloween recipes (complete with Halloween breakfast images for inspiration!). KEEP SCROLLING for the ideas for easy Halloween treats for party!
Affiliate links are used on this site. As an Amazon Associate I earn from qualifying purchases. Read more in our DISCLOSURE.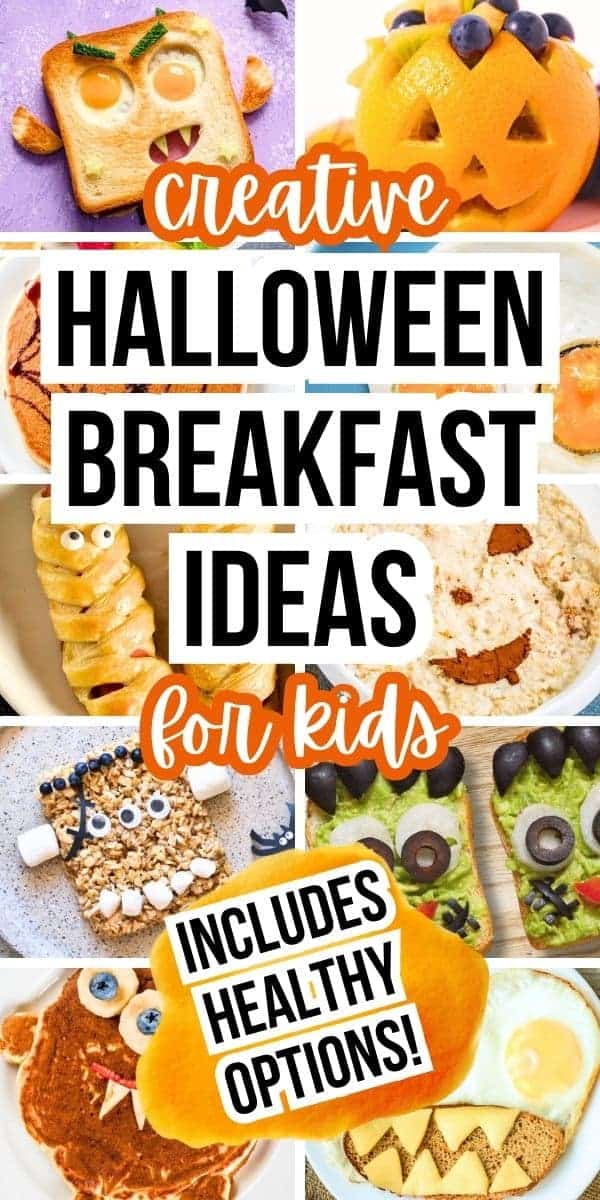 Before we get to the funny Halloween food, here are some funny breakfast celebration ideas names!
Fun Halloween Food Names Ideas
Monster Mash Pancakes
Ghostly Toasties
Spiderweb Waffles
Pumpkin Patch Pancakes
Boo-nana Pancakes
Mummy Muffins
Creepy Cereal Crunch
Spooky Sausage Sliders
Witch's Broomstick Bagels
Frankenstein Fruit Salad
Jack-O'-Lantern French Toast
Candy Corn Parfait
Haunted Hash Browns
Dracula Donuts
Spooky Spider Scramble (Halloween egg omelet)
Skeleton Smoothie Bowl
Vampire Veggie Omelet
I also put some more Halloween themed food names within some of the recipe ideas below.
Easy Breakfast Halloween Ideas Kids
These are great after a kids Halloween sleepover or for Halloween breakfast potluck ideas too for easy Halloween breakfast recipes! Pick a few of these for a fun breakfast ideas party for children or Halloween sleepover breakfast ideas!
Let's get to the breakfast fun ideas for kids, including pumpkin parfaits, Halloween smoothies, Halloween pancakes ideas and more creative breakfast creations and surprise breakfast ideas for the season that go beyond the Halloween breakfast casserole! (There are even cheap breakfast potluck ideas to buy!)
Or, use these for ideas for Halloween buffet or Halloween table.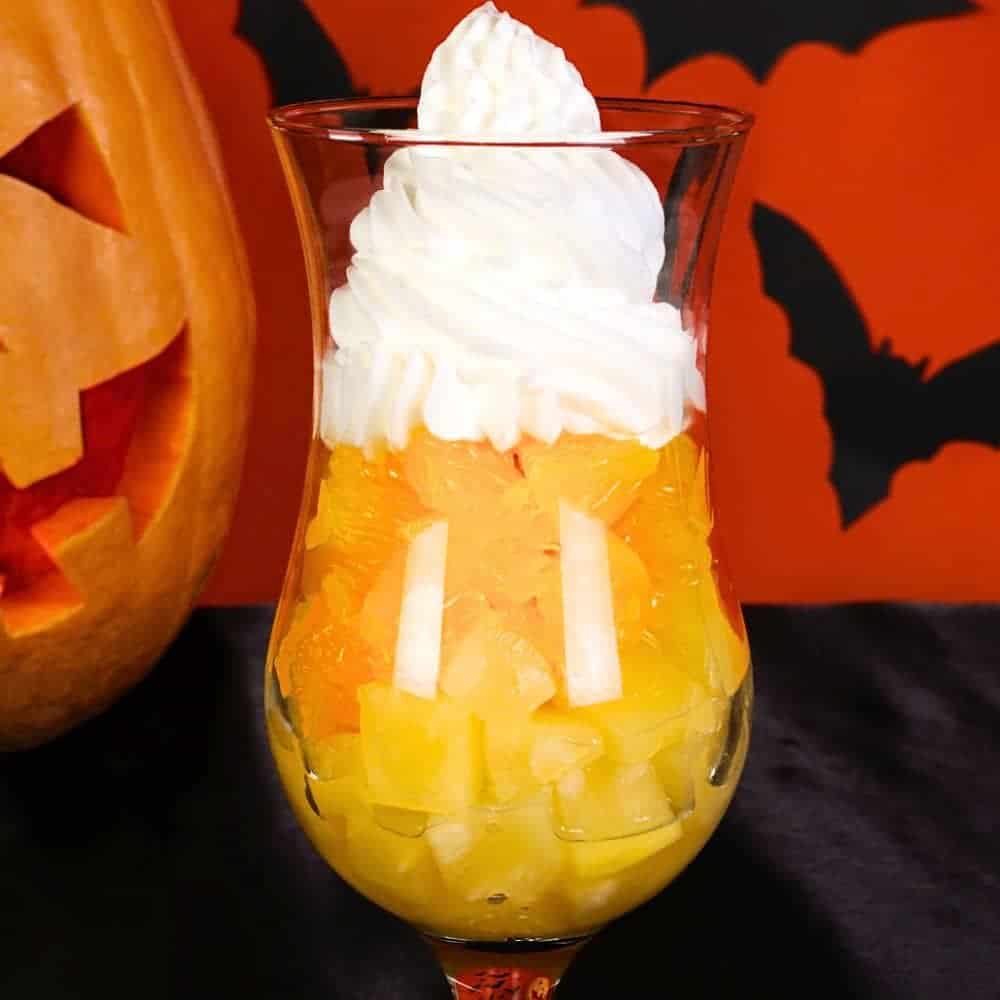 Healthy Candy Corn Halloween Breakfast Parfait
I love this for an easy halloween breakfast that's still a healthy Halloween recipe!
In a clear cup, simply layer pineapple, then oranges, and then top it off with whipped cream so that it looks like a candy corn.
You can also use orange and yellow sprinkles or top it off with a candy corn candy.
If you make these for Halloween food ideas for kid party, use small cups like these.
It's such a super simple Halloween breakfast and also great if you're looking for Halloween dessert ideas for toddlers for parties.
(If you're using this for Halloween food ideas for toddlers, be sure to cut the fruit to the appropriate sizes for easy swallowing!)
Fun Recipe Name: Creepy Cornucopia Parfait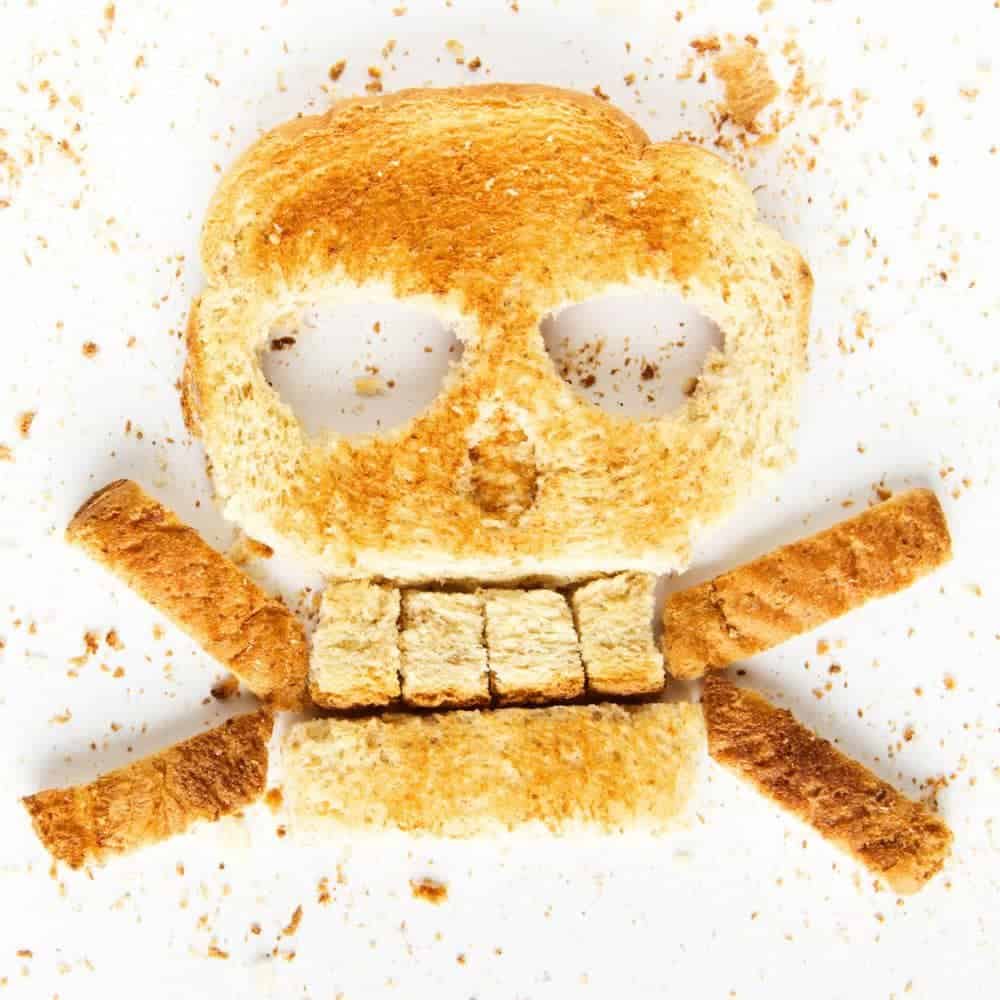 Skeleton Toast Recipe (Skull and Bones Toast)
This is another one of those super easy Halloween breakfast foods. You can create skull head toast by using a piece of toast and a pair of kitchen scissors to cut out the skull head, eyes, teeth, and "crossbones" (which are really just crust of the toast).
I think it would be fun to give older kids the pieces of toast and have them assemble it into the skull and crossbones like an edible Halloween puzzle.
Want to up the gore spooky factor? Serve the toast with red jam for Halloween blood.
Fun Halloween Food Name: Spooky Spine Bread or Haunted Bone Bites (? Cranium Crostini ?)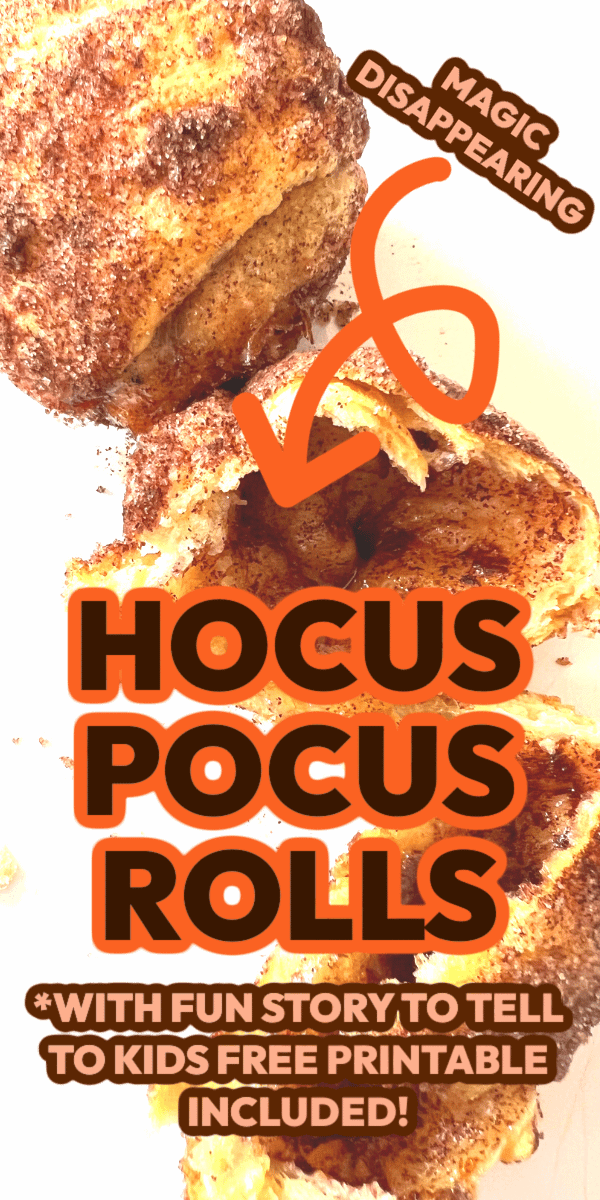 Hocus Pocus Rolls (Vanishing Breakfast Rolls)
These Halloween rolls are always a hit, especially for toddlers and preschoolers.
These are really fun for Halloween party ideas for preschool class because you can put the rolls together as a class and then experience the whole vanishing part!
LEARN HOW TO MAKE DISAPPEARING BREAKFAST ROLLS WITH A HALLOWEEN STORY PRINTABLE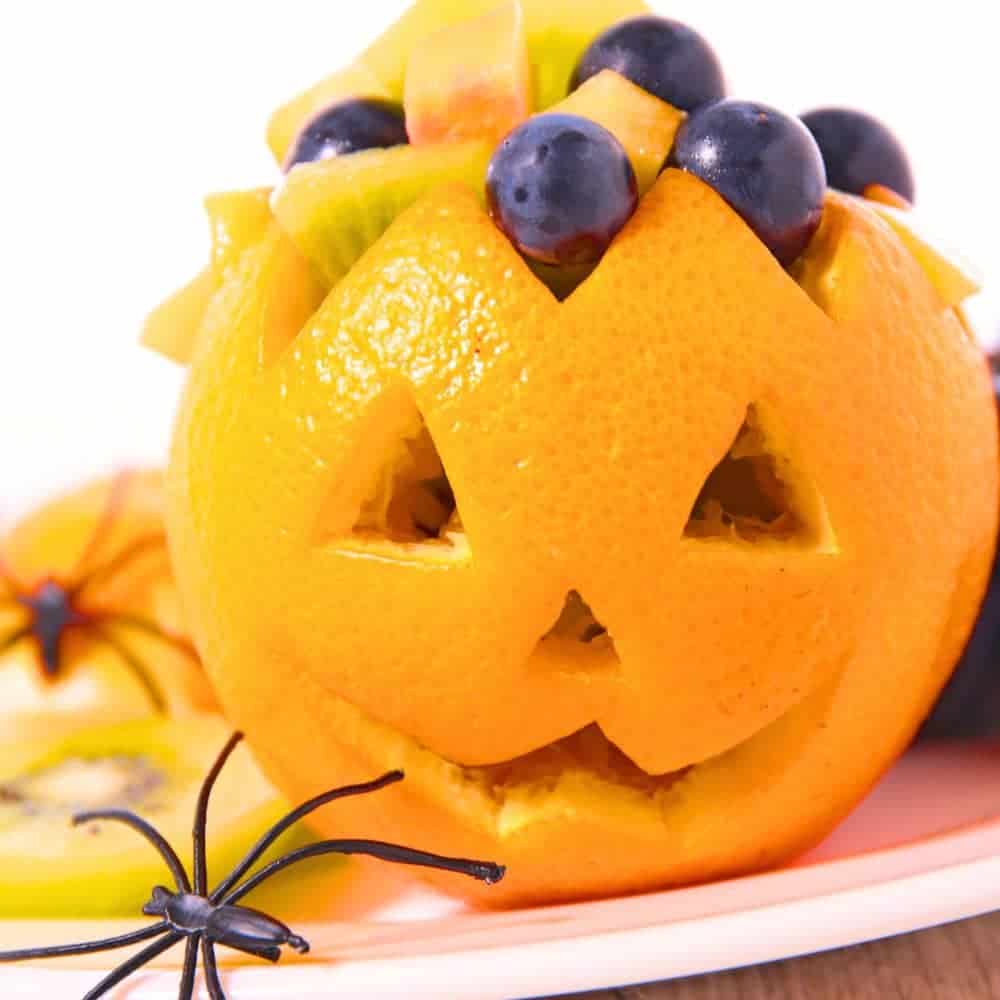 Filled Jack-o-Lantern Orange (Jack o Lantern Fruit Cups)
Aren't these orange jack-o-lantern fruit cups so sweet? This is one of those cute breakfast ideas that kids of all ages love and, honestly, it doesn't get a lot easier than these pumpkin face orange cups. Have fun and do different faces for each pumpkin orange!
To Make The Jack-o-Lantern Orange:
Cut the top off of an orange.
Scoop or cut out the orange insides. (Reserve them to be used for the fruit salad!) It doesn't have to be perfect because you're just going to be refilling it with fruit!
Using kitchen shears, cut a jagged edge top of the orange pumpkin (see pumpkin picture).
Using a knife, carefully cut a punkin' face into the orange (the same way you would when carving pumpkins).
Cut fruit of choice (including the orange guts you removed) into small, bite-size pieces. Fill orange pumpkins with fruit salad.
Chill until ready to serve.
These also work well for Halloween holiday table buffets for parties or even preschool Halloween parties.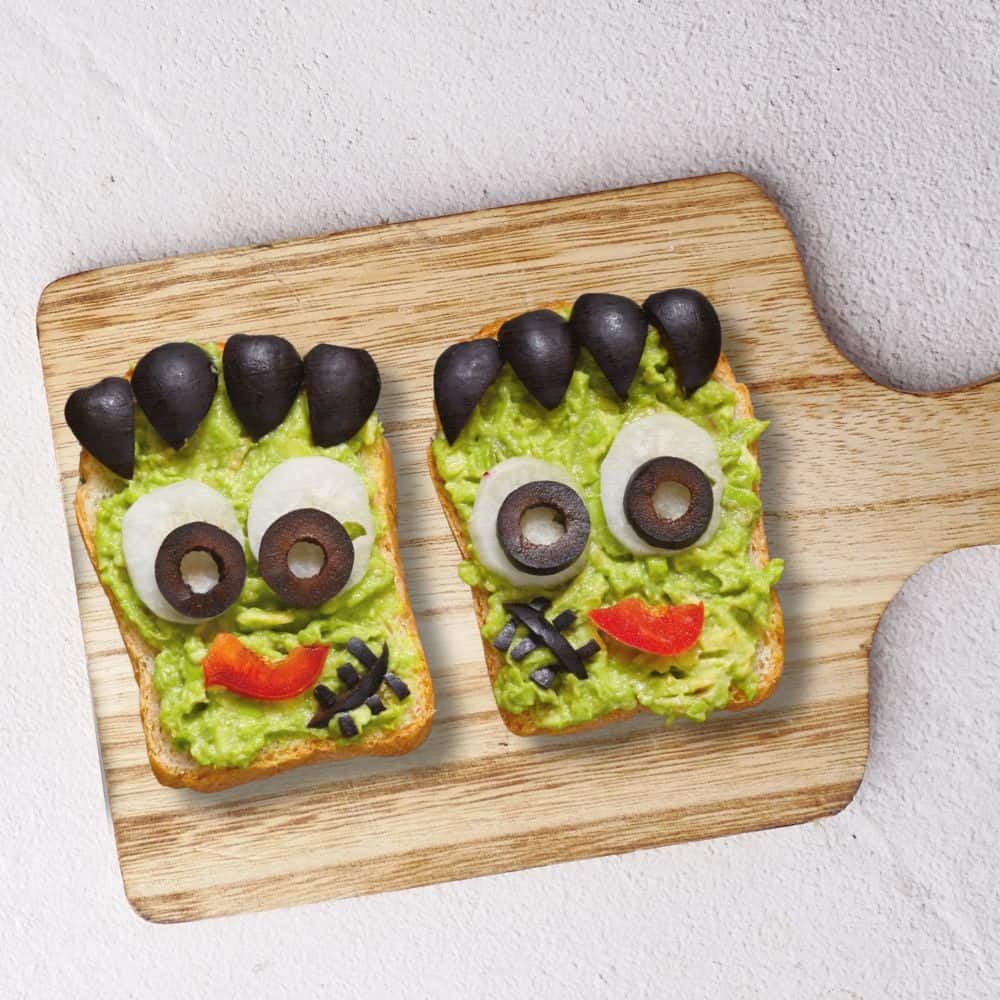 Monster Mash Franken Toast (Halloween Toast Ideas)
Who doesn't love avocado toast?!
And, green avocado toast just happens to make a great base for a Frankenstein monster face.
Mash some avocado and then spread it on toast.
Use black olives for hair, eyes and scar. (Add thin radish slices or mozzarella cheese under the eyes.) Use a small slice of red pepper for the mouth. And, voila! A super cute and healthy Halloween breakfast idea for kids of all ages!
A quick Halloween meal ready in just minutes!
Definitely add this to your Halloween themed meals in the morning!
Fun Halloween Recipe Name: Monster Mash Smash Toast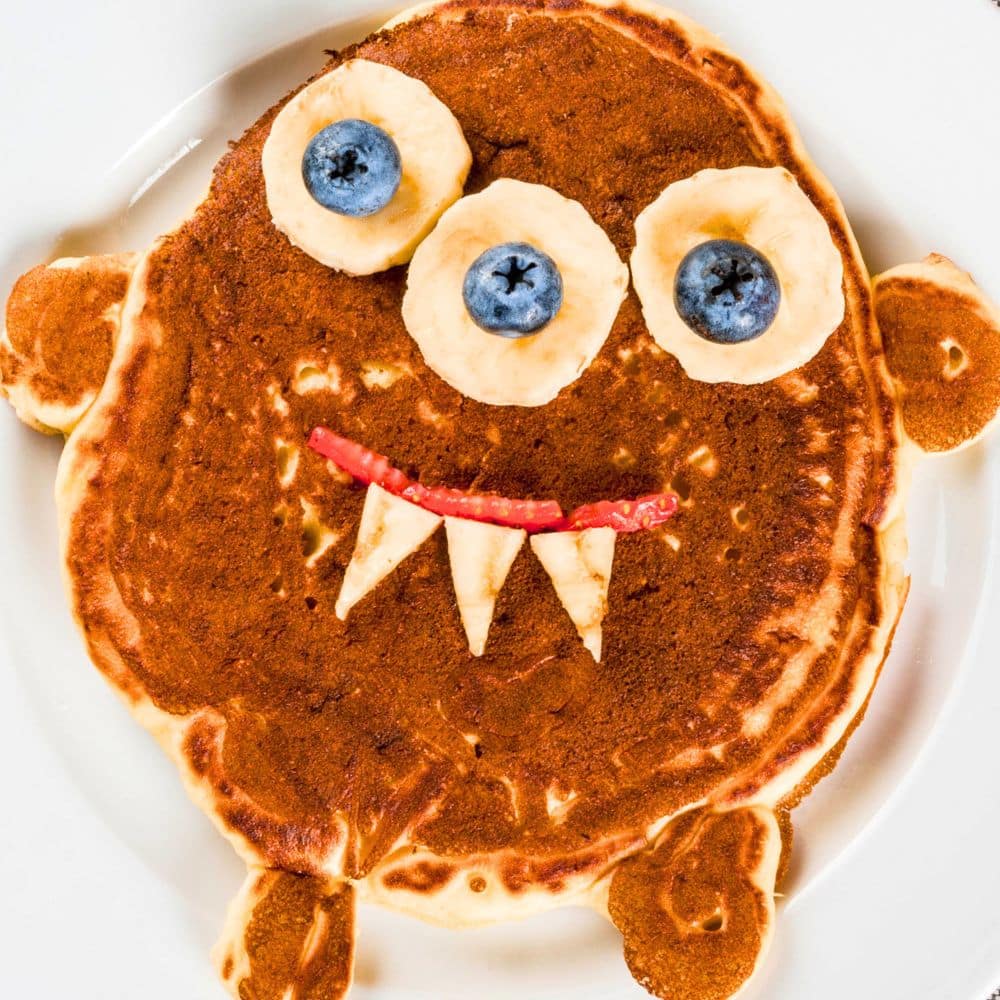 Halloween Monster Pancakes
Ditch the Halloween crepes and make these easy Halloween pancakes instead!
The fun thing about this Halloween breakfast idea is that you just make some random shaped pancakes and provide a bowl of cut up fruit.
Then, the kids can make their own Halloween pancake monster faces!
Pumpkin Face Smoothie Halloween Drink
This smoothie (not pumpkin flavored, just a pumpkin face) was one of my daughter's favorite Halloween breakfasts one year.
It's a healthy Halloween smoothie and super easy to make with kids!
Learn How To Make A Pumpkin Face Smoothie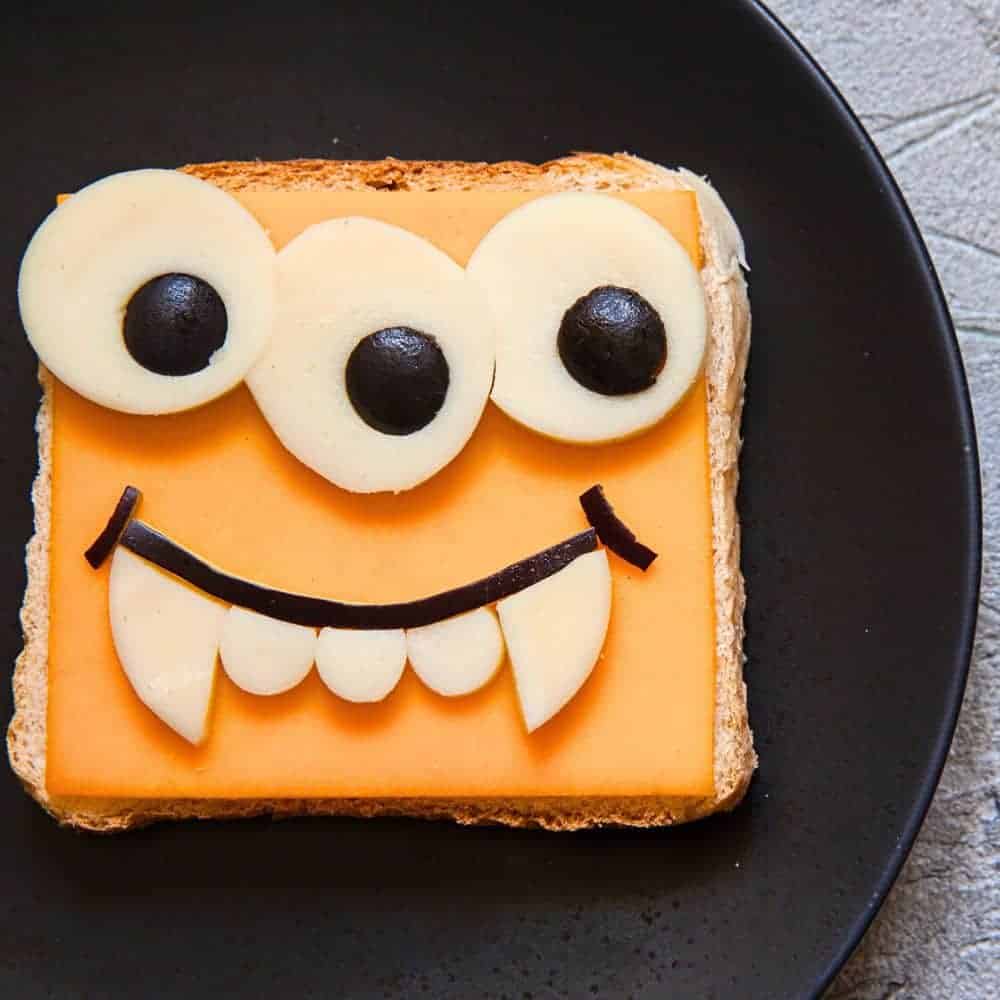 DIY Silly Monster Toast
This is a fun Halloween idea for breakfast because kids can make their own Halloween monster face.
You provide the toast, cheese slices, vegetables, and fruits and kids have fun decorating their own breakfast faces!
Cute if you're looking for easy monster ideas for Halloween break fast!
Pumpkin Cornbread With Honey Drizzle
Pumpkin cornbread is great for Halloween meals. It's a surprising flavorful breakfast with just a honey drizzle or with our cinnamon butter!
This is one of those Halloween breakfasts for adults and kids that's great for Halloween potlucks or even Halloween breakfast buffets.
Learn How To Make Pumpkin Cornbread
Spooky Breakfast Bites (Spooky Halloween Pancakes)
Want spooky breakfast ideas for teens or tweens or ideas for a spooky brunch?
Try these bloody ghost pancakes for a good mix of cute & spooky Halloween breakfast ideas!
You can make random trailing pancake patterns and then place them on top of strawberry syrup or strawberry jam for the Halloween gore food factor.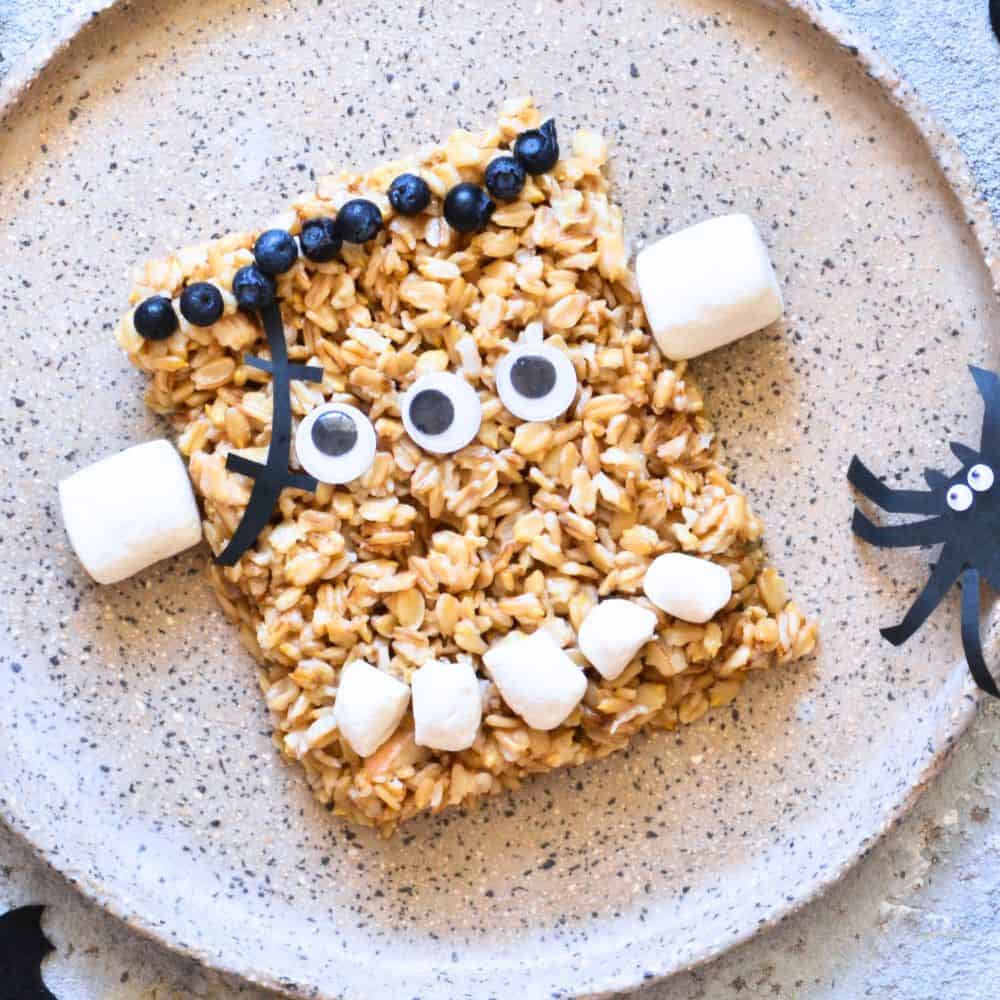 Frankenstein Monster Halloween Granola Bars
I love these for Halloween themed breakfast with no cooking because they're so easy (and fun kids food!).
All you do is put a few granola bars together and then use marshmallows, chocolate chips, blueberries, edible candy eyeballs (or whatever you have to decorate with) to turn them into a granola monster face for Halloween breakfasts!
PRO RECIPE TIP: If you use the chewy granola bars, they will squish together and hold for a square face.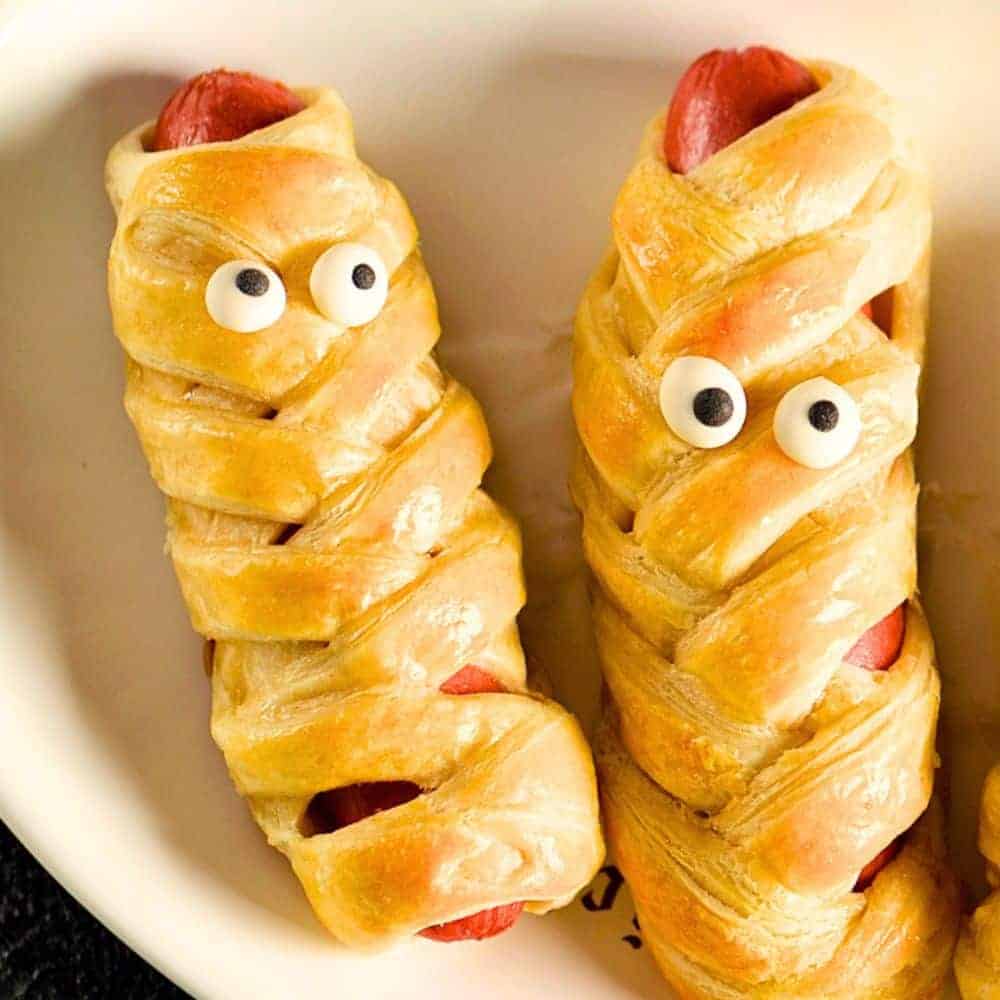 Breakfast Sausage Mummies
If you want Halloween meat ideas, add breakfast sausages mummy figures!
Simply wrap breakfast sausage links in strips of crescent rolls to look like mummy wrap.
Bake according to the refrigerated crescent rolls directions.
Serve with edible eyes and blood dipping sauce (aka: ketchup).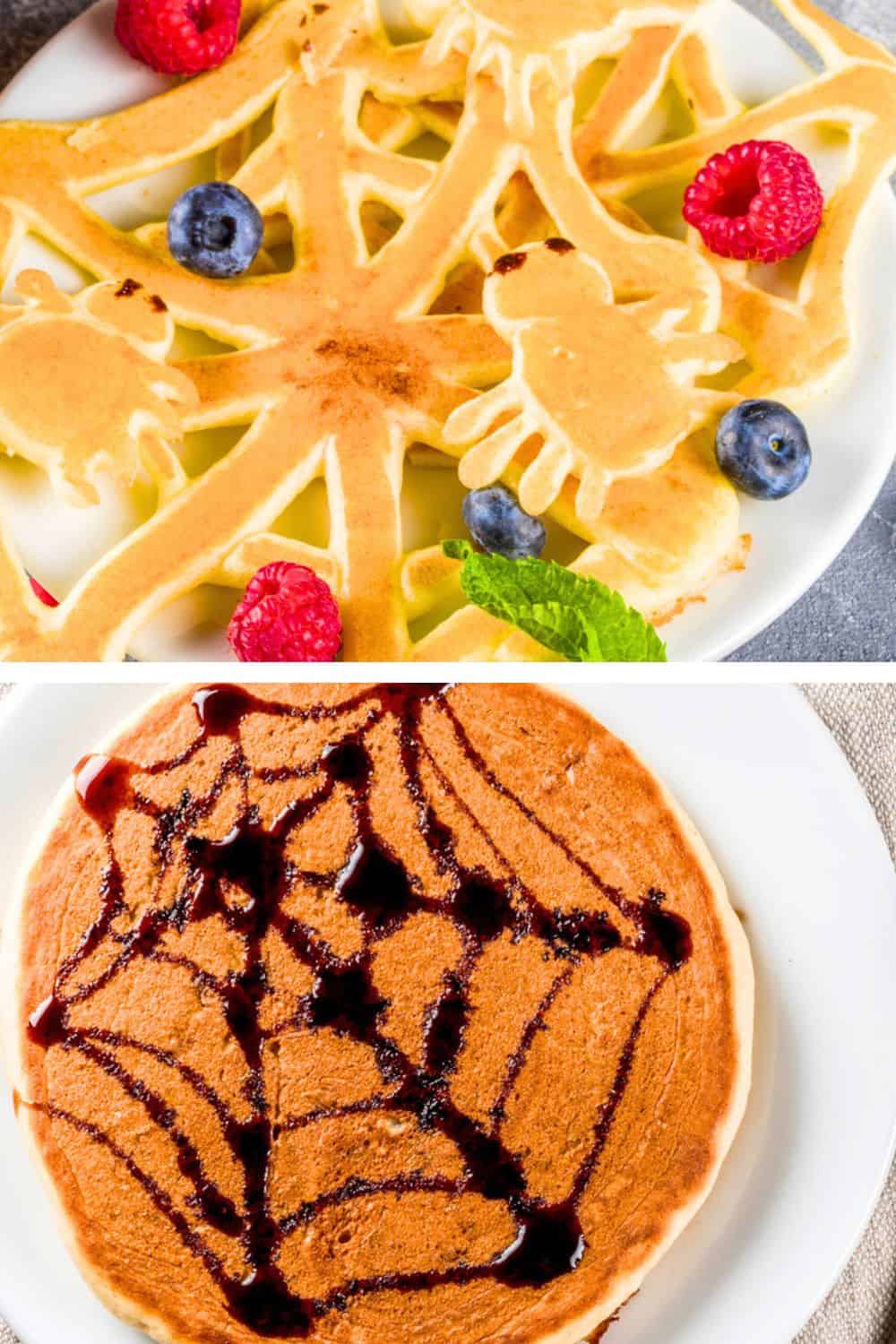 Halloween Spider Web Pancakes
If you're really crafty and handy with pancakes (unlike me), you can use squeeze applicator bottles like these and freeform the pancake batter into the grease to fry.
Or, if you need an easier option (like me), you can use chocolate syrup right on the pancakes (or even get this cute waffle spider web maker if you're looking for easy Halloween waffle ideas).
Be sure to press some of those fun Halloween spider rings into the pancakes so the kids can play with them and wear them after eating.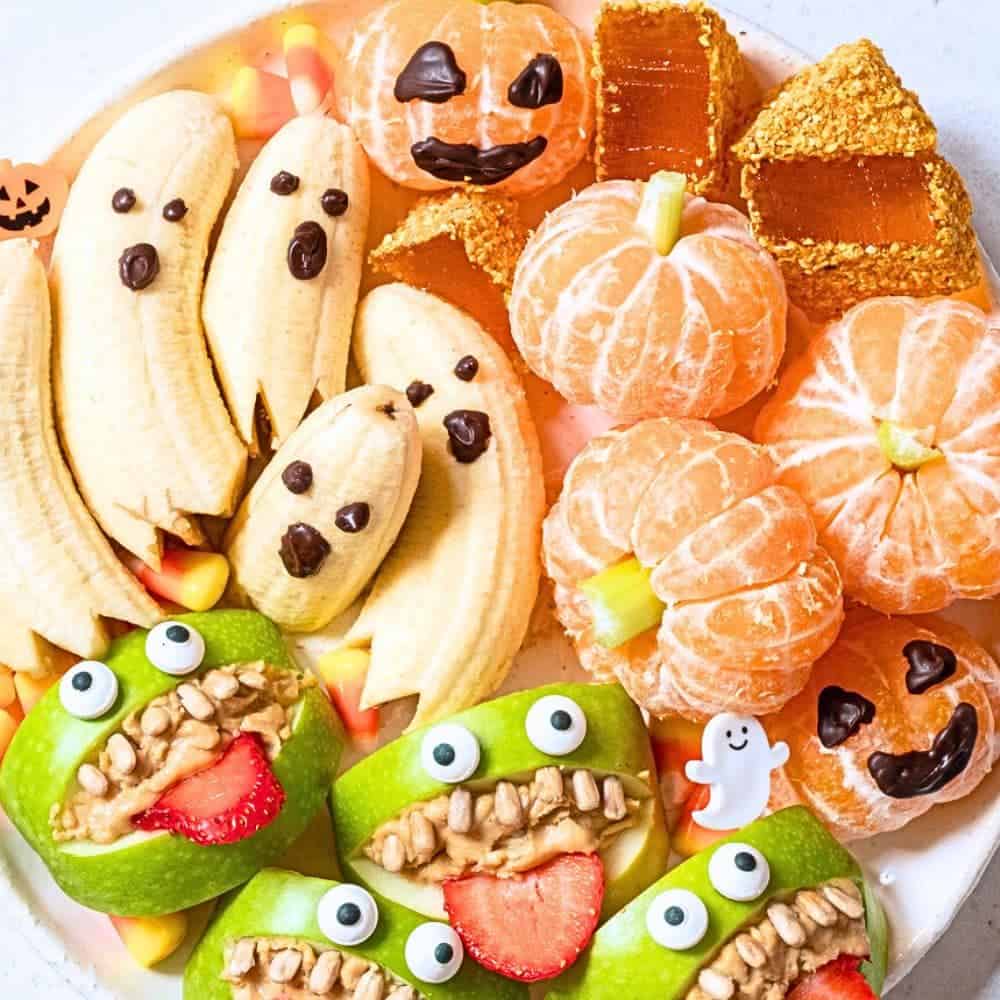 Healthy Halloween Fruit Plate
This fruit Halloween breakfast charcuterie board is probably one of my favorite healthy Halloween breakfast ideas!
Not only is this a healthy holiday fruit platter, but it's super cute on a Halloween food table (so it's not just for breakfast Halloween).
These are easy Halloween brunch recipes for kids, but they will be just as popular for healthy Halloween brunch ideas for adults.
Great for healthy Halloween daycare treats or group Halloween birthday party ideas, too!
Also, check out how to make a fall apple board, which is great for Halloween foods also.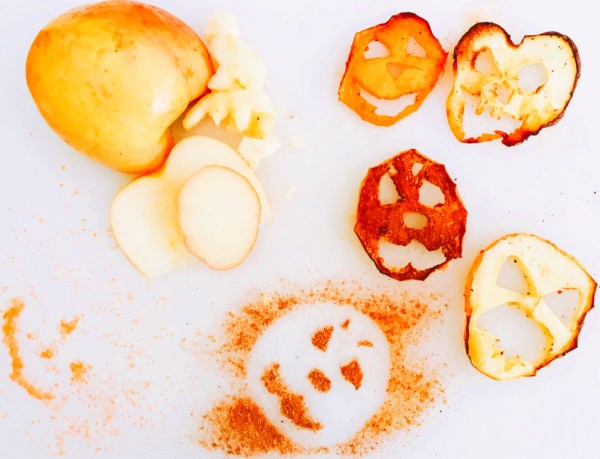 Fried Apple Zombies
Full disclosure? My daughter and I laughed so hard while we were making these!
So, while they're great to put on your Halloween breakfast table, it's even more fun if you make these Apple Zombies / Creepy Pumpkin Faces together.
(You never know how they're going to turn out after the apples are baked, so it makes it a fun Halloween food craft to do together.)
LEARN HOW TO MAKE AIR FRIED APPLE ZOMBIES HERE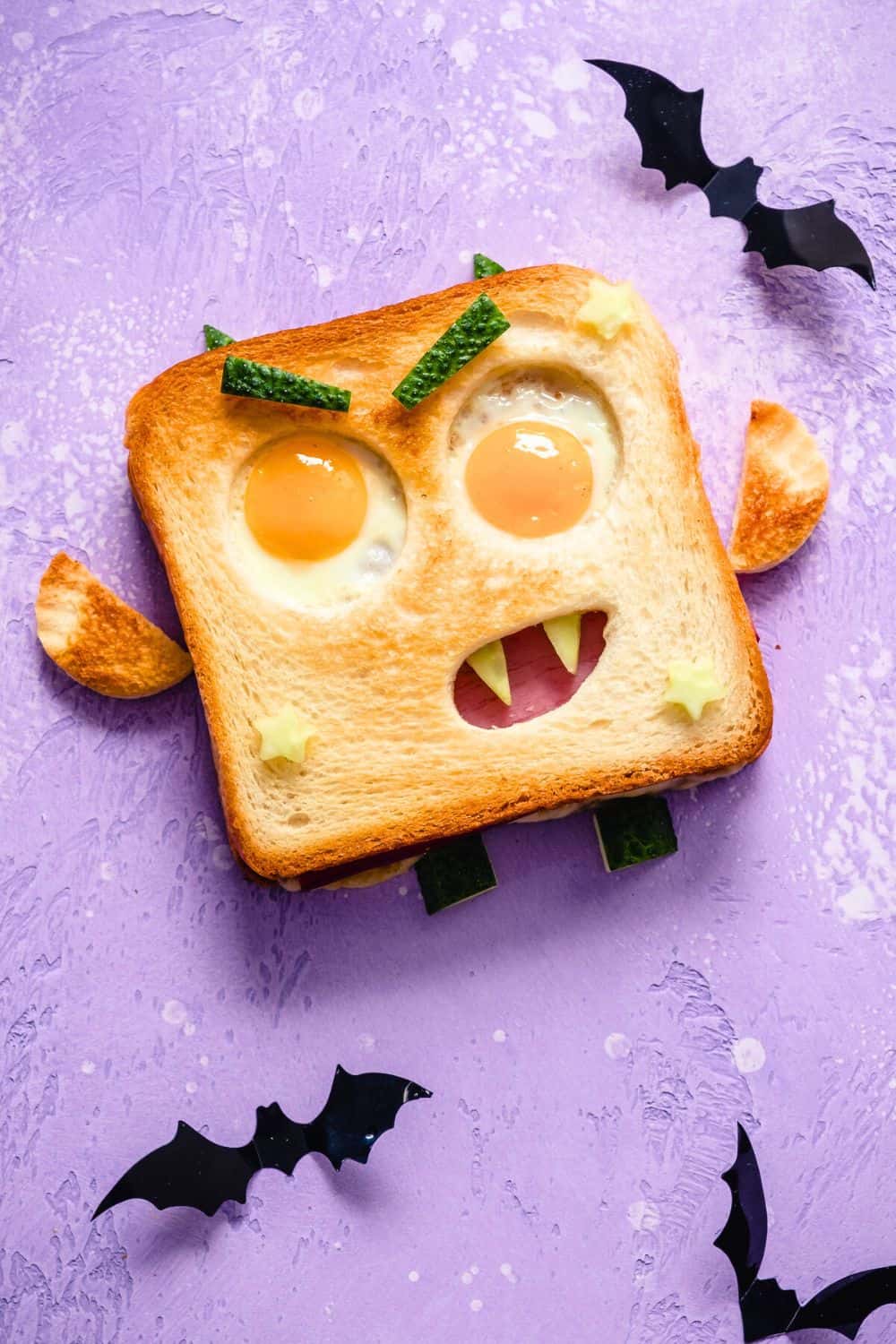 Silly Monster Eggs and Toast (Friendly Halloween Monster)
If you're familiar with eggs called toad in a hole or eggs in a basket, this is the same concept. It's simply an egg cooked in a hole in a piece of toast.
Clearly this works best for sunny side up eggs (which my daughter calls "runny eggs" and loves them), but you could do eggs over easy or hard and still get this effect.
It's one of those funny breakfast ideas for Halloween that kids will love!
Learn How To Make The Friendly Halloween Egg Monster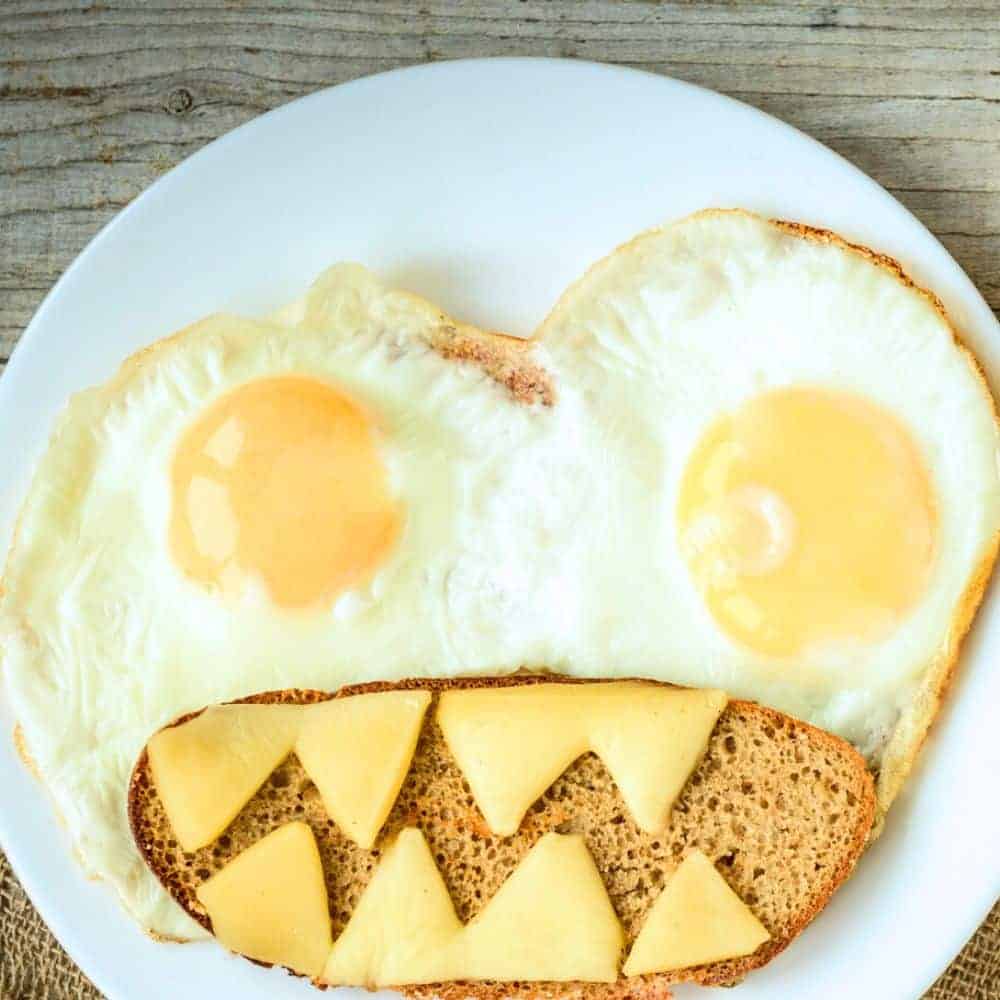 Halloween Monster Eggs and Toast
If you're looking for another Halloween breakfast eggs recipe, try this egg toast monster.
It's easy to make with just two over easy or over-hard fried eggs (fried next to each other so they connect).
Add the toast and cut cheese slices into sharp monster teeth on top of the toast mouth.
PRO RECIPE TIP: Use the short, longer rye bread or wheat bread. They make great monster mouths!
MORE HALLOWEEN FOOD FUN: Easily Transform Store Bought Halloween Treats Into Fun Party Foods!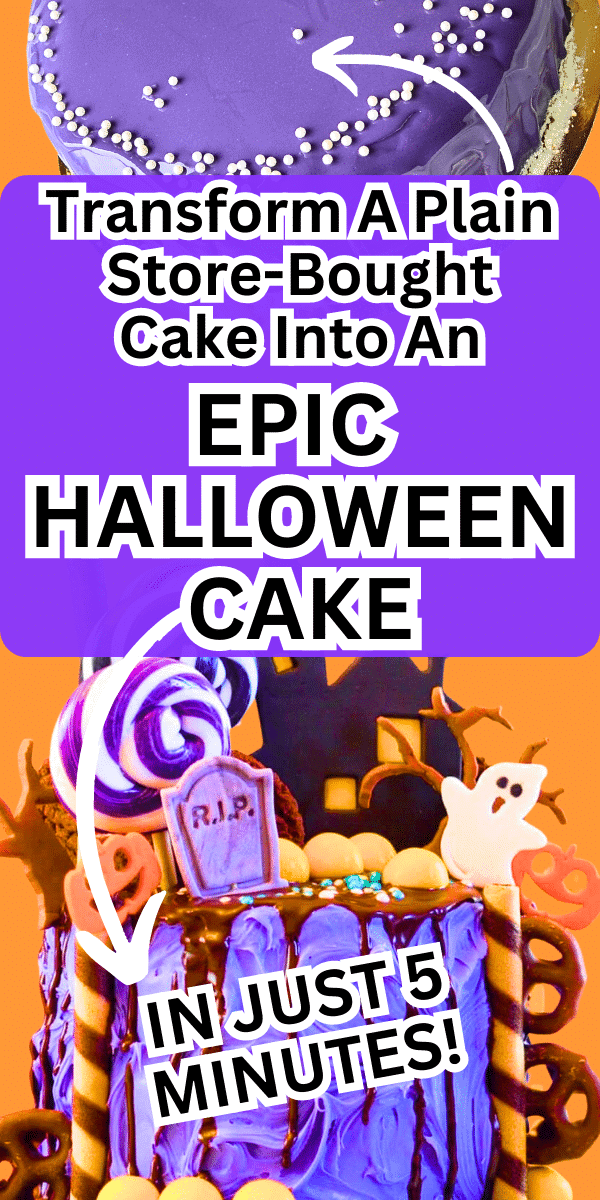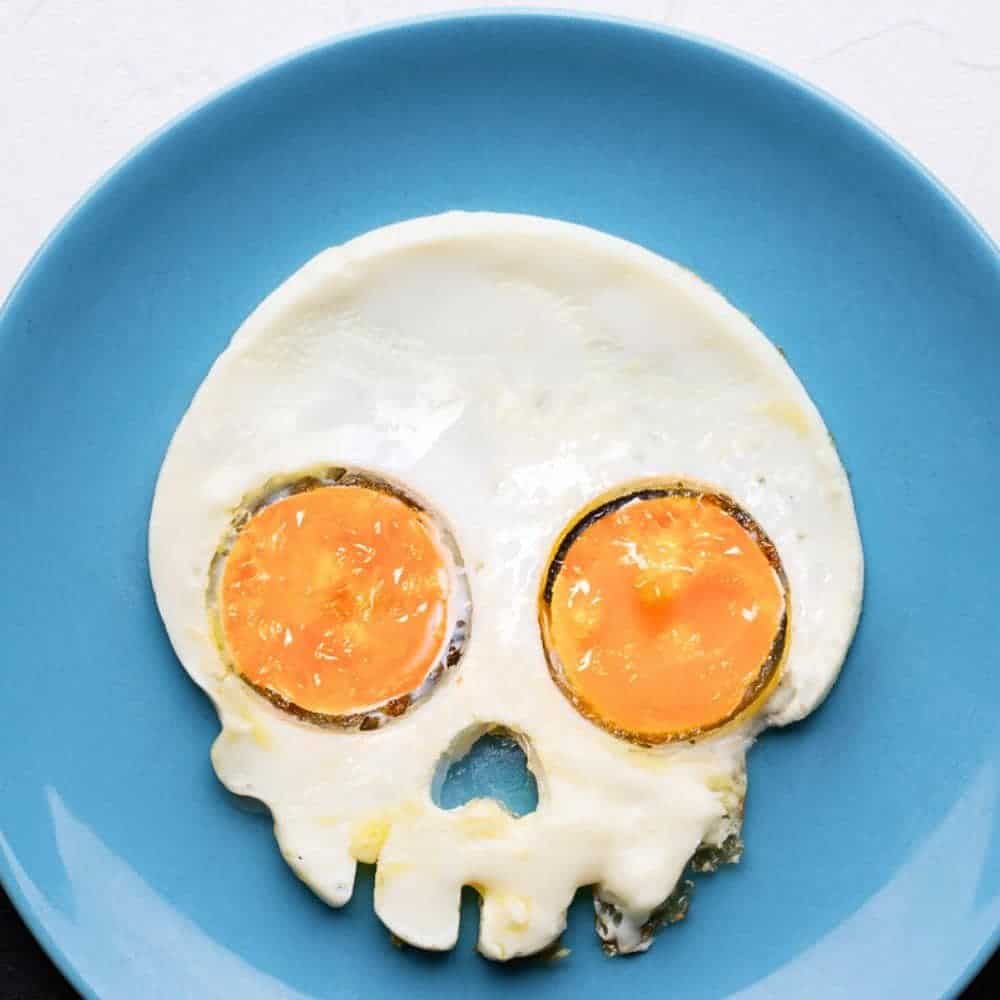 Halloween Skull Eggs
If you're good at using egg molds, this can be one of those really fun breakfast foods for Halloween!
Use a skull egg mold like this and fry eggs like normal.
If you want gross Halloween foods (and your kids like salsa), put it on a spoonful of salsa and drizzle salsa over the top for fake blood (or use ketchup if your kids like eggs with ketchup).
You can even do a side of toast bones. (Use a bone cookie cutter like this.)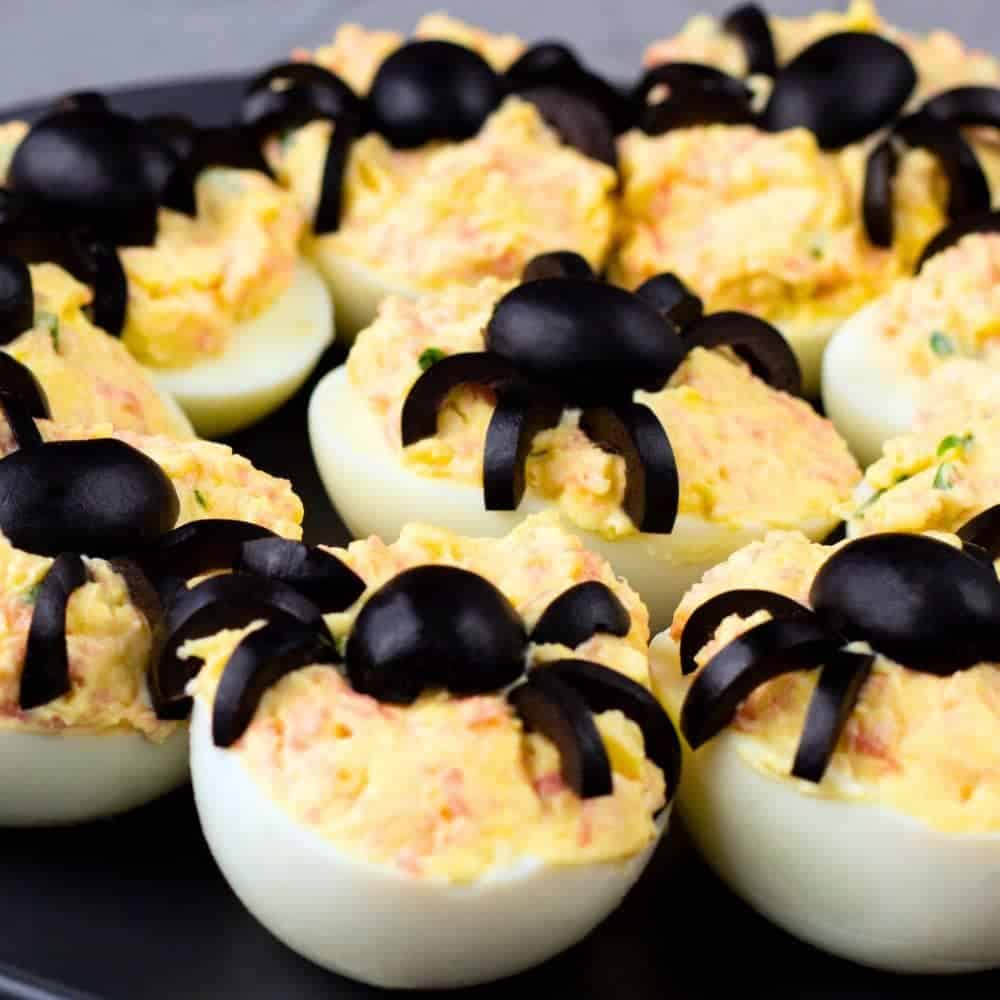 Halloween Spider Eggs
My daughter loves deviled eggs so she would eat these for a Halloween breakfast in a heartbeat!
These are actually great for Halloween buffet ideas for any time of day, but my daughter loves deviled eggs for breakfast.
Why not take boring deviled eggs up a notch and add cut up black olives to the top to make them spider eggs for Halloween!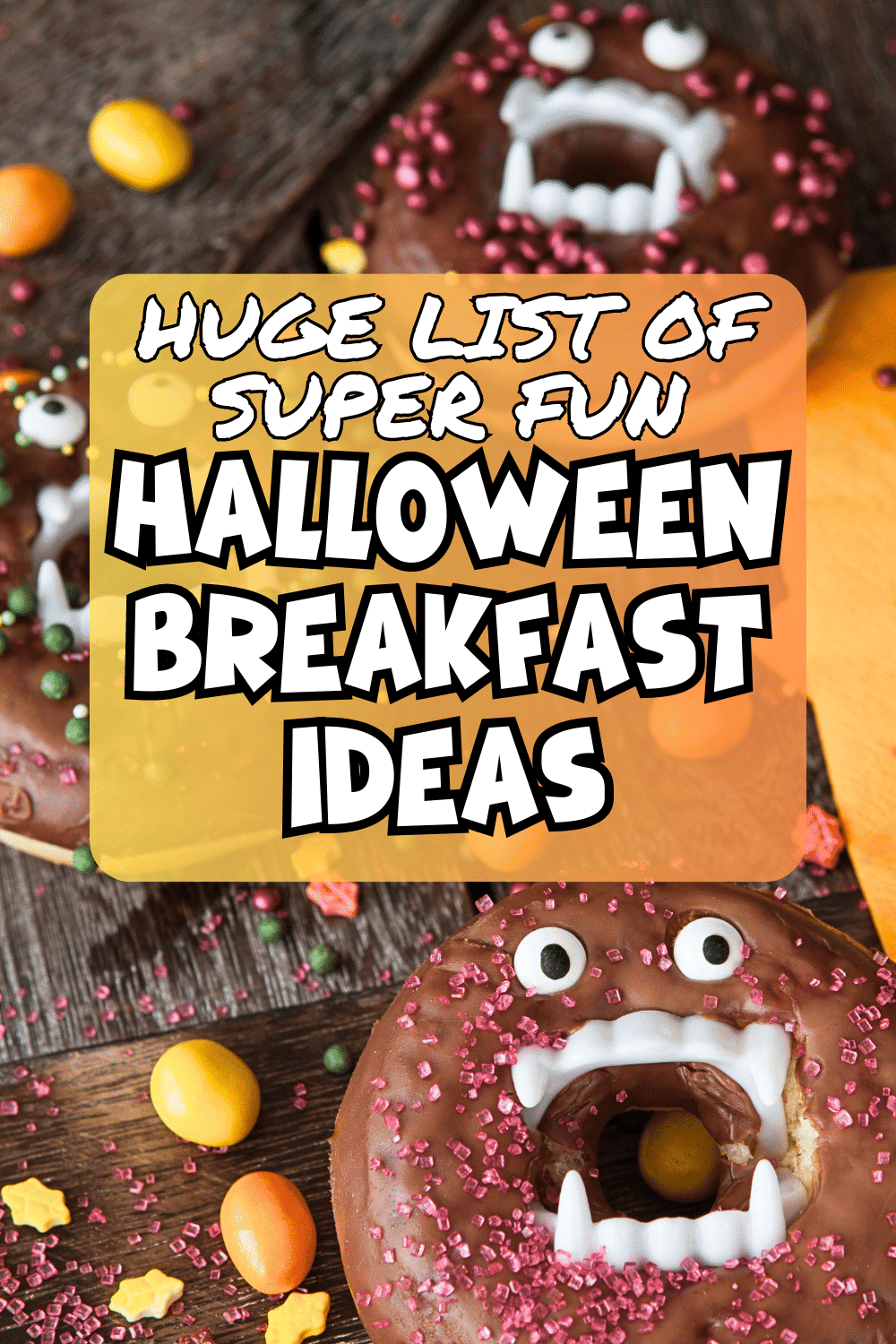 Monster Halloween Donut With Teeth (Giggle Monster Donuts or Vampire Donuts)
Want easy Halloween donut ideas?
Buy Halloween colored doughnuts and then add edible googly eyes in Halloween colors and those fun vampire teeth like this.
Make sure you get the Halloween doughnuts with holes (and not the Halloween eclairs).
These make easy store bought breakfast potluck ideas or DIY halloween snacks and treats for trick or treating, too.
MORE HALLOWEEN FUN: Check out how to play the Halloween hanging doughnut game. It's so much fun, even for a Halloween breakfast themed party!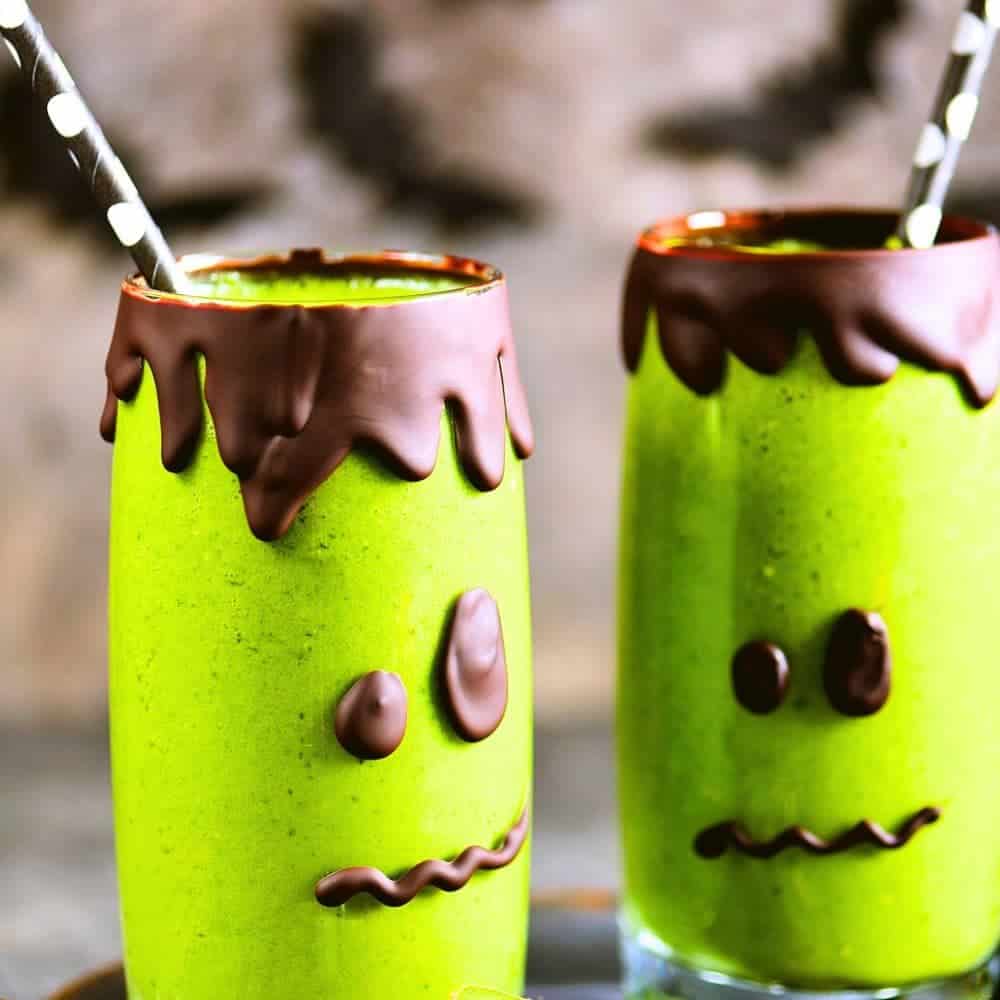 Green Monster Smoothie For Halloween
Super cute Frankenstein monster idea using your favorite green smoothie and some chocolate for the Frankenstein monster hair and face.
Make the smoothie and set aside.Dip your clear glass into melted chocolate. (We use these.) Use a knife to form the hair, if needed. After the chocolate dries, carefully pour in the green smoothie. Then, make a face using the melted chocolate. Serve!
GET A GREEN SMOOTHIE RECIPE THAT KIDS LOVE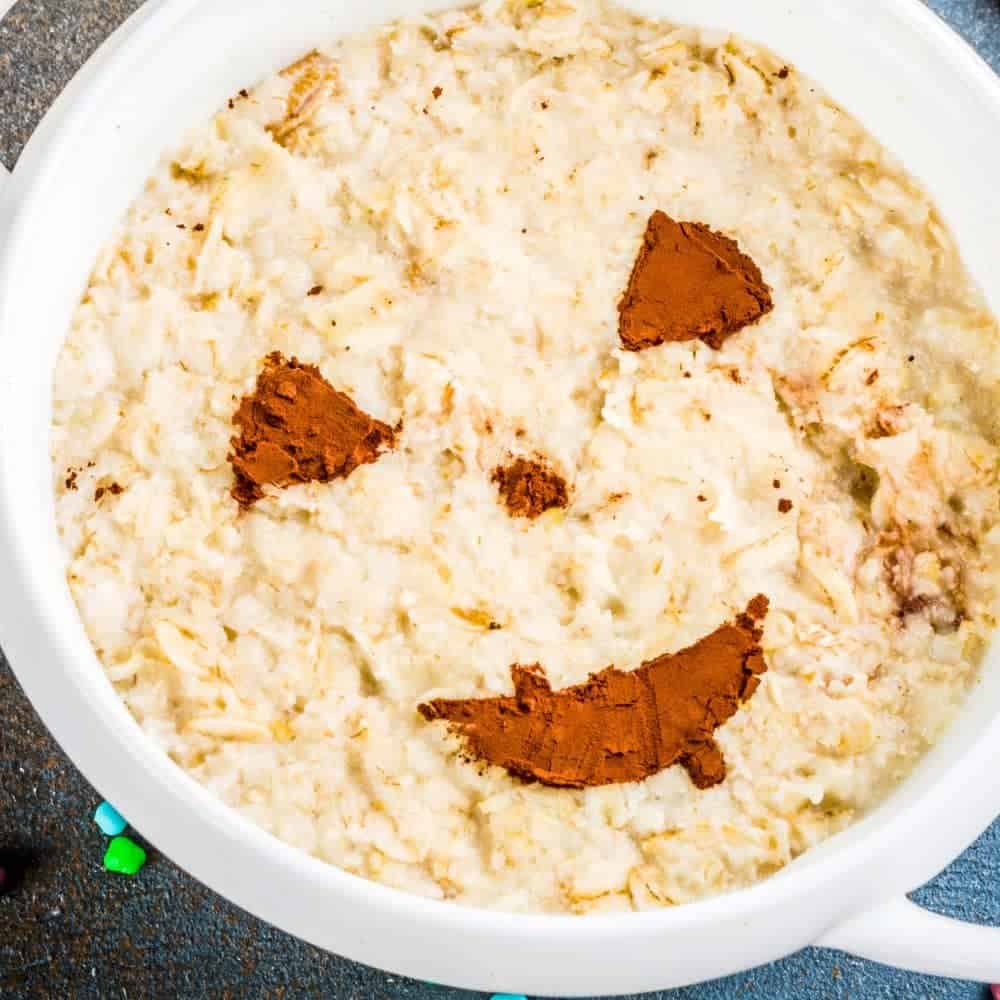 Pumpkin Oatmeal
I like this for Halloween bowl ideas or fall themed breakfast ideas for any time during the season, too.
This is actually an easy recipe to make for a crowd. Make the oatmeal in a crockpot as a brunch potluck recipe then when you arrive at the party simply add the cinnamon or pumpkin spice Halloween face.
(You can use Halloween stencils like this for fun potluck breakfast ideas.)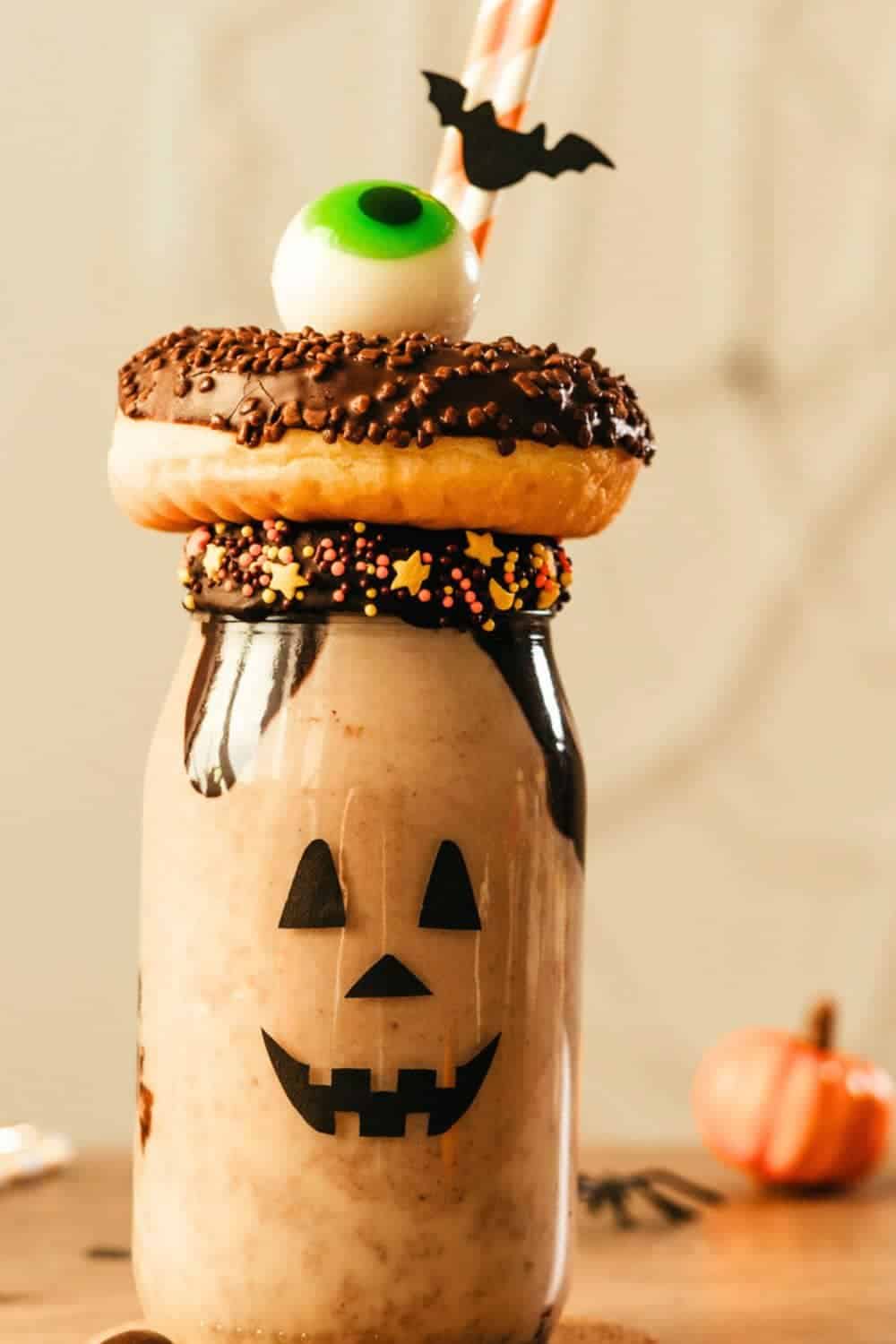 Ultimate Breakfast Halloween Treat
OK. I know what you're thinking with your sugar rush thoughts, but that's why I named this last recipe a special treat for Halloween.
This is one of those super cute Halloween brunch party ideas that everyone loves because it's a real treat breakfast!
How To Put Together A Halloween Milk With Doughnut Party:
First, grab some cute milk jars like this.
Make a pitcher of chocolate milk (or a cup or two, depending on how many kids you are making this Halloween treat for). Set aside.
For each milk jar, place a pumpkin face sticker like this (or, you can make faces with melted chocolate).
Dip each milk jar in melted chocolate and immediately roll in Halloween sprinkles. (It's fun to get sprinkles that match the sprinkles on your Halloween donuts.) Set aside for chocolate to dry.
Right before serving, use a small food funnel to carefully pour chocolate milk into the milk jar. Top with a straw. Thread the donut onto the straw. Decorate with spider rings or other fun Halloween favors.
If you have a Halloween birthday, this is really cool for birthday breakfast ideas and easy fun breakfast recipes!
If you have any fun Halloween theme breakfast ideas, Halloween brunch ideas for potluck, or Halloween themed brunch recipes, let us know and we'll add them to our list!
Want more Halloween party foods or scary Halloween recipes? Check out gross Halloween party recipes that kids love!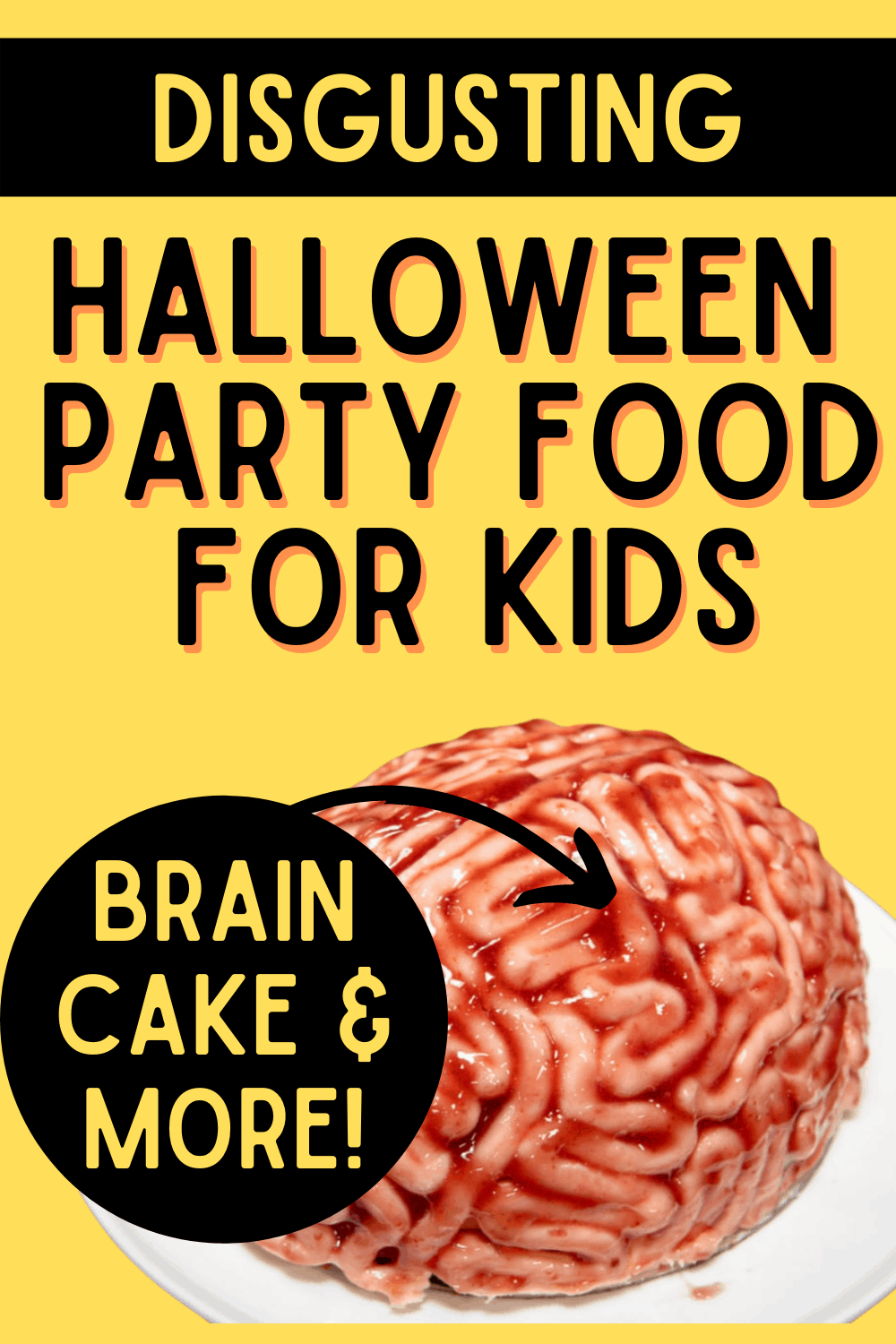 Have fun with this Halloween breakfast ideas for toddlers and kids!
LOOKING FOR FUN COOKING PRINTABLES FOR KIDS?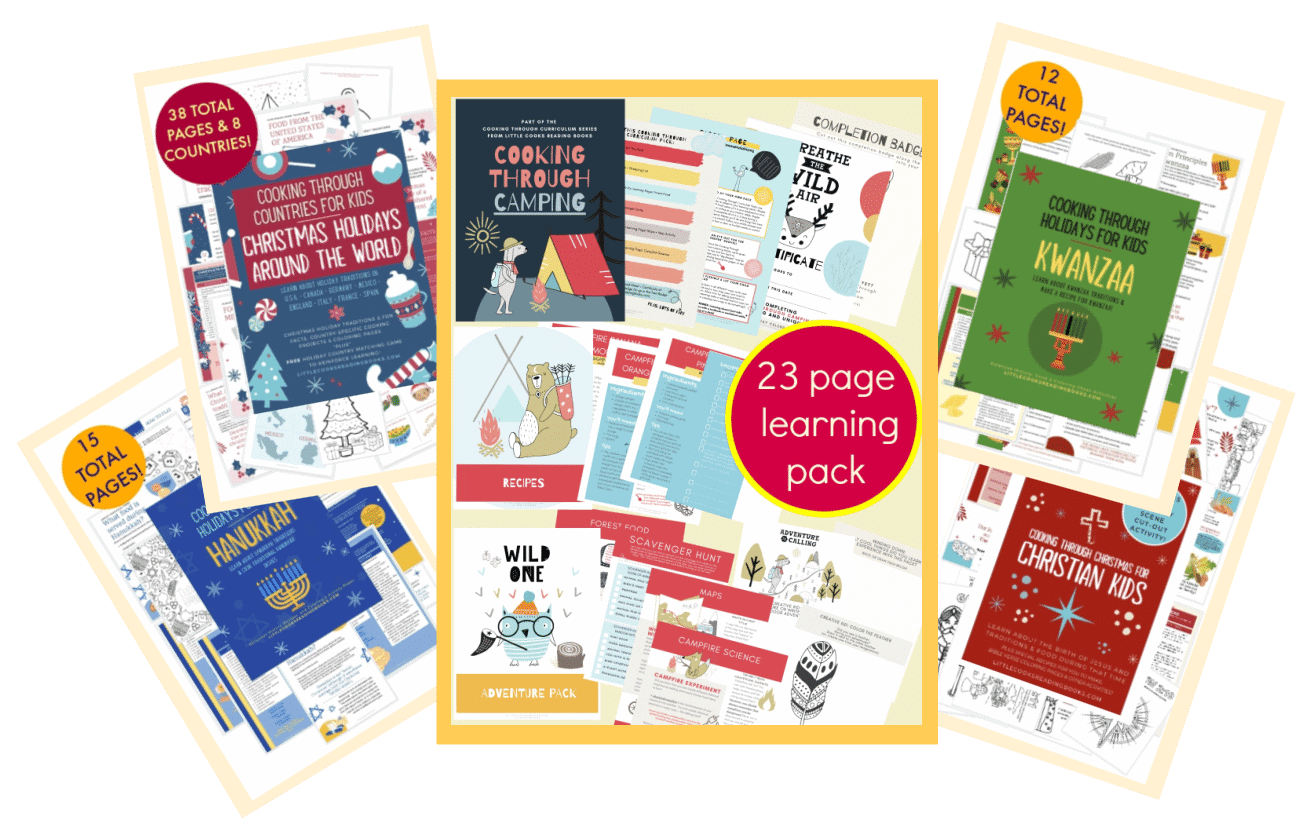 As an Amazon Associate I earn from qualifying purchases. Please refer to our
DISCLOSURE
.